The art project by Rafael Gomezbarros is a reflection about forced displacement
Seven hundred ants by Colombian artist Rafael Gomezbarros have occupied the public areas of the Rijksmuseum, from floor to ceiling. This installation entitled Casa Tomada sees Gomezbarros taking attention to the theme of migration and forced displacement. The ants symbolize the industriousness, resilience and cooperative spirit of people forced to leave their homes due to political unrest, violence, economic conditions or climate change.
The installation is part of Crawly Creatures, the Rijksmuseum's upcoming exhibition on the changing perception and symbolism in the arts and sciences of small animals such as toads, snakes, ants and spiders. Casa Tomada will be on display from today ahead of the Crawly Creatures exhibition, which opened to public on September 30 and will be on display up to January 15, 2023.
"I use my work to evoke the image of travelers and immigrants in different cities" said the artist Rafael Gomezbarros. "To achieve this I make interventions in public space, triggering interactions between the public, the place and Casa Tomada. In this way, I want to start a conversation about sensitive topics such as uprooting and a new social order", he added.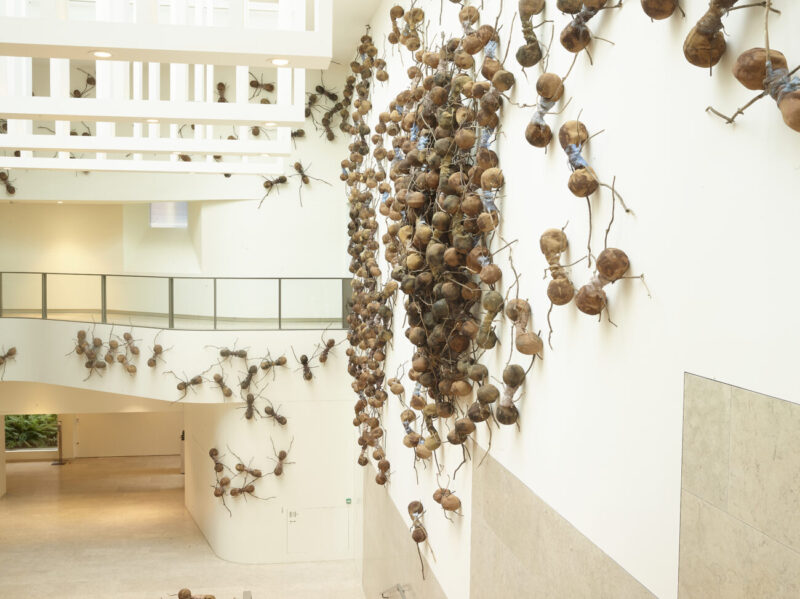 The installation Casa Tomada (House Taken) includes hundreds of handmade ants, each almost a meter long. The work's title is a reference to the 1946 short story of the same name by Argentine author Julio Cortázar. It tells the story of a house that is gradually conquered, prompting the occupants to flee. Migration and the forced displacement of human beings are at the center of this work. Gomezbarros' installation is a response to Colombia's civil war (1964-2016), which led to millions of Colombians having to leave their homes.
The artist modeled the bodies of ants from casts of human skulls, which are covered in Colombian sand, and bound the casts together using cotton strips of T-shirts commonly worn by Colombian agricultural workers, a segment of the population severely affected by the conflicts that occurred within the country. The ant legs are made from the fragrant branches of the jasmine plant-during the civil war, such branches were used to mask the smell of victims' bodies.
Casa Tomada has been exhibited since 2008 in various countries and political contexts, in different cities, including Bógota, Manchester, Skåne, Santo Domingo, Santa Marta, and Linz. Wheresoever the installation is shown, it acquires new meaning based on the local context.