AS SUPER HEROES AGAINST LOCKDOWN'S CONCERN, THE CHARACTERS OF ANCIENT PAINTINGS REINTERPRETED BY SABINE PIGALLE, AUTHOR OF MY CORONA DIARY IMAGES
Interview by Sandra Bardin
Translation by Fiammetta Cesana
Preciously dressed Renaissance ladies, knights in armor, princesses, court dignitaries and other protagonists of the best museum or private painting collections, awakened by secular stillness and projected in the present time with the obligation of face mask, break into our daily life in silent but vibrant encouragement to resist the climate of uncertainty triggered by Covid-19 and its lockdown.
The "My Corona Diary" series, a collection of images published on Instagram one per day for the whole quartine period, was created by the artist Sabine Pigalle for our consolation/edification but above all to sell the works, devoting their income to support the community #artistsupportpledge, a solidarity chain between artists particularly affected by the economic downturn of this period.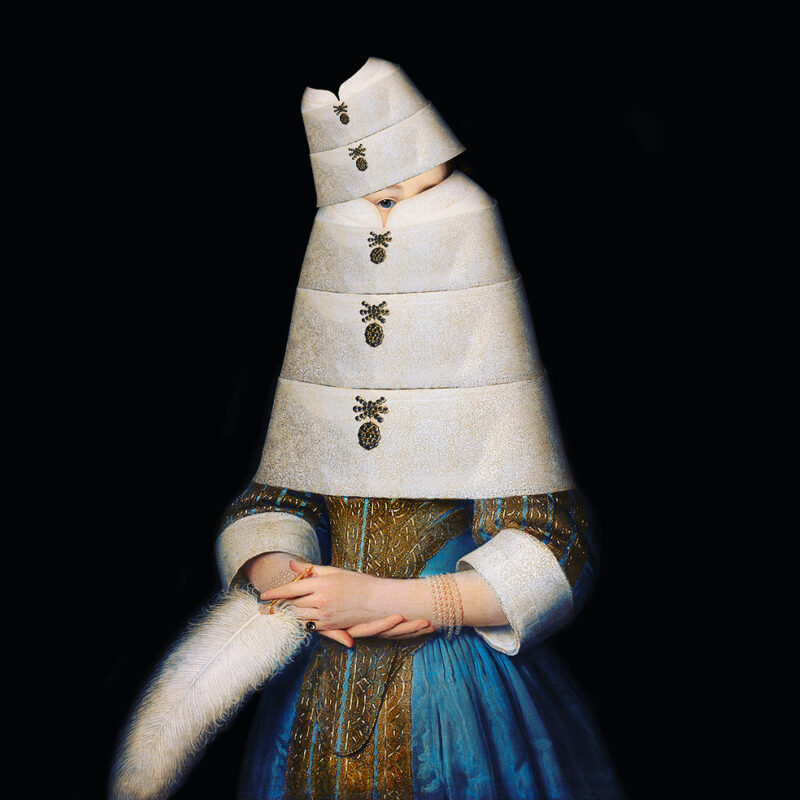 The 61 images constitute a fantastic space-time journey that Pigalle manages to achieve by mixing the eras, the art of the ancient Masters and contemporary taste with her ingenious procedure in an overall effect of great stage presence. This effect was already visible in previous series by the author, but here in particular underlined by a subtle irony which is her signature as artist and, everything lets us suppose, as individual.
Born in France in '63, taking humanistic studies at the Sorbonne, Sabine Pigalle lives and works in Paris: as art critics explain, she is a "visual artist attributable to the Post-photography movement, she joins the new generation that navigates the troubled borders of reality and fiction by producing transversal works that hybridize photography, collage, painting, digital interventions, ancient and contemporary art, figuration and abstraction".
She exhibits in the most popular international galleries; the latest exhibition is currently on show at the Château de Carrouges, Center des Monuments Nationaux, in Normandy, 15 June – 6 September 2020.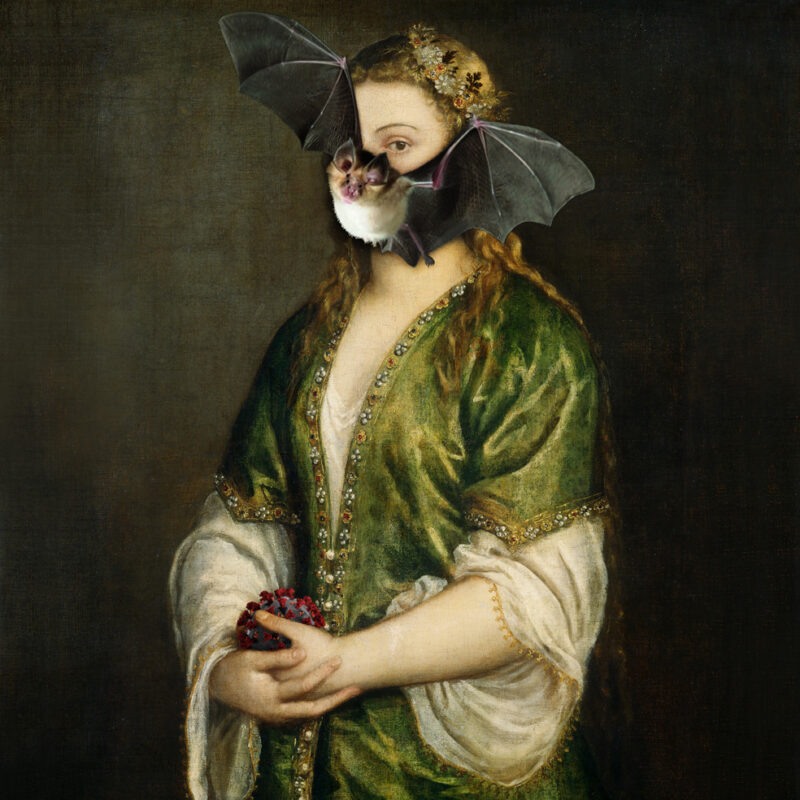 Sandra: Sabine, by reinventing ancient masterpieces you have ranged from Flemish masters to Italian Renaissance painters. Who was your favorite artist? Or perhaps, the most suitable for the situation?
Sabine Pigalle: In general, although I have used many Renaissance masterpieces, at the end Magritte was the one who better served my purpose, thanks to the symbolic strength of his works: he was perfectly suitable for the expression of inner thoughts, and of course I mixed elements of his paintings with those of the old masters and other elements, such as armor, helmets, masks etc. that conveyed the condition of confinement.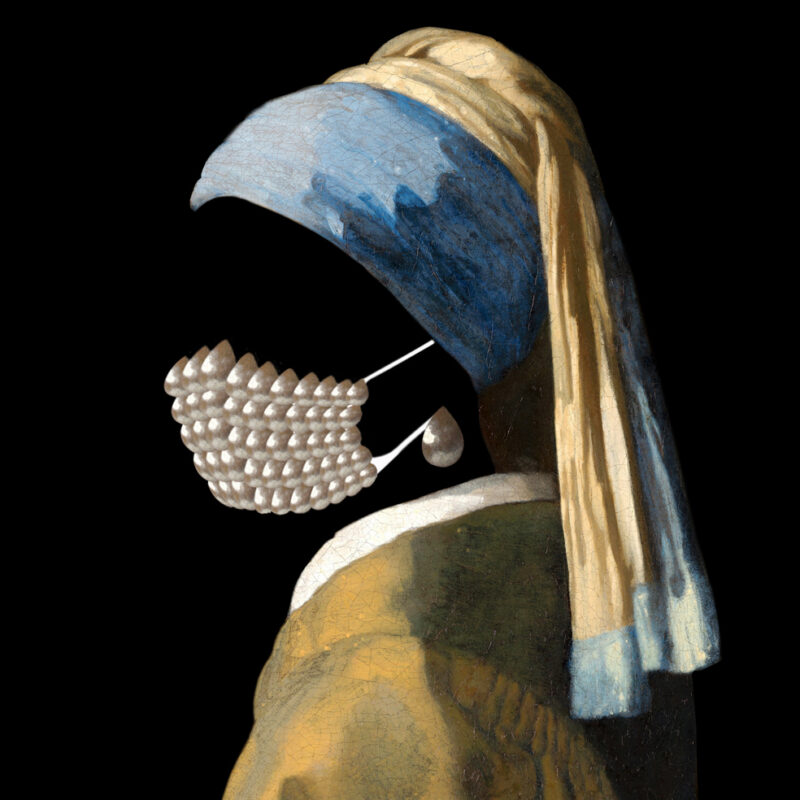 S: What you call "Melancovide", sadness/depression of lockdown, is it really finished? As an artist, how do you comment on the quasi-recovery of normality?
SP: In my opinion, sadly, the "Melancovide" will not really cease until the true end of this epidemic, because even if we have gone through a first wave, we will suffer the economic consequences for a certain period: there is really nothing to cheer about at moment, unfortunately… It seems more difficult than ever to have certainties about the future. It is certain, however, that some aspects of our daily life will have changed – teleworking, consumption of mass tourism, ecological ethics… Who knows, maybe for the best. Back to Basics? Hopefully!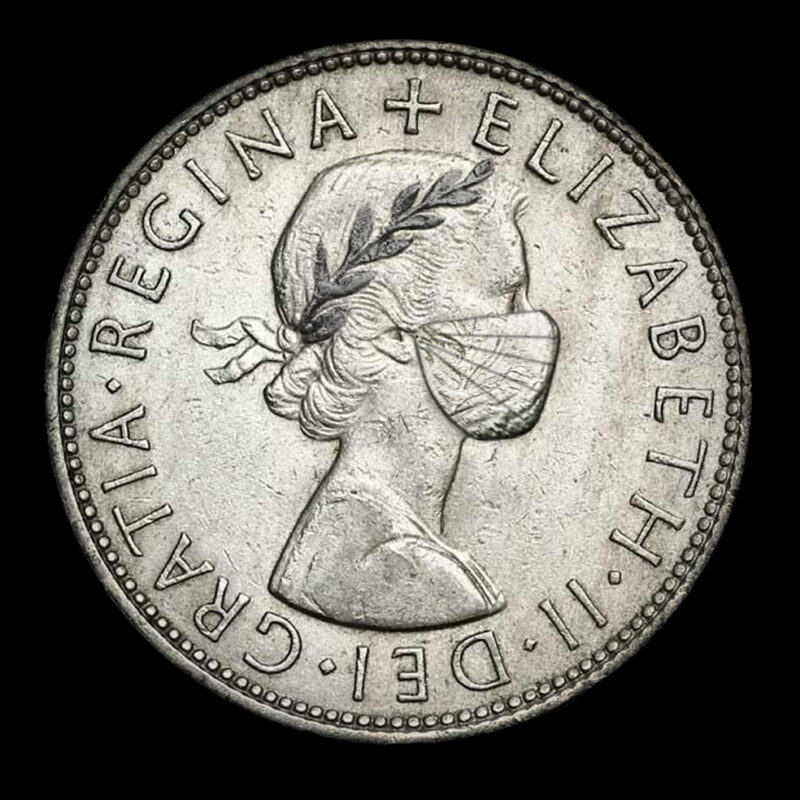 S: Your new series is dedicated to the seven deadly sins. How come this choice?
SP: I aimed at finding a way to link the choice of a mask to the personality, since this new accessory will be particularly interesting in the fashion sphere: we will inevitably see new hit accessories, isn't it?
Based on the idea that we wear something in relation to what we want to show of ourselves – "you are what you wear" – just like clothing, the accessory defines the personality you want to highlight. Ironically, I adapted this idea to the negative nature of the seven deadly sins: the mask can say a lot, therefore, while one's masquerading, the mask falls!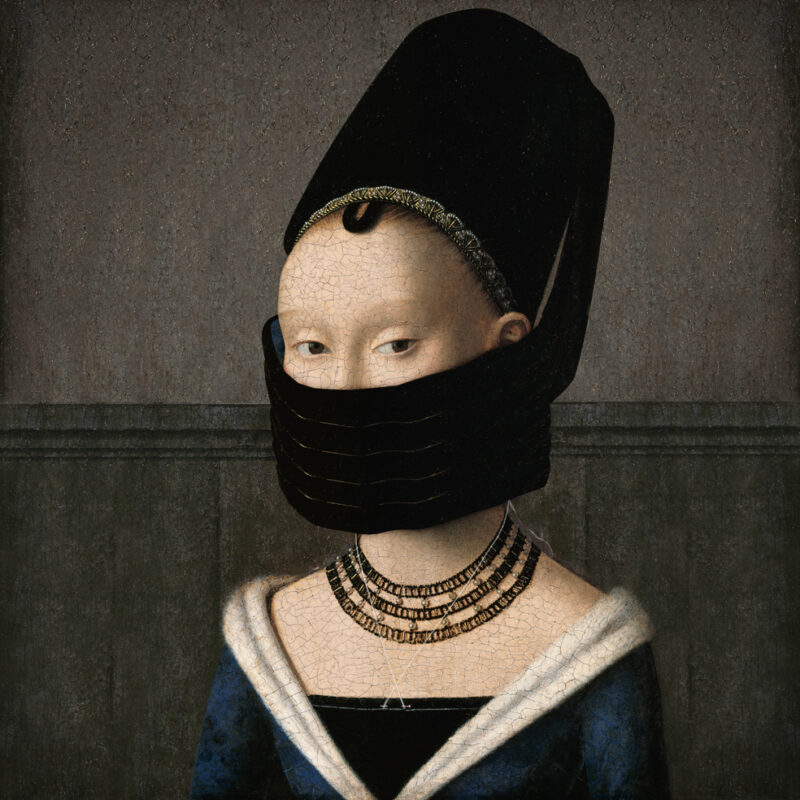 S: How important was the experience in the fashion world, for your gaze as a visual artist which favors the photographic medium?
SP: It was the technique I was familiar with, so I started exploring this medium naturally… Today my work is no longer truly photographic, but we could rather call it "digital embroidery". Embroidering in French also means "embellishing" when telling a story.
All the images of My Corona Diary series, visible on the sabinepigalle.fr site, are on sale online in favor of #artistsupportpledge at the special price of €200 each. For information and purchases, [email protected]
Cover image: Sabine Pigalle, My Corona Diary series, To Our Everyday Heroes