"IF YOU WANT TO GET LAID, GO TO COLLEGE. IF YOU WANT AN EDUCATION, GO TO THE LIBRARY" – FRANK ZAPPA
In this tough moment of lockdown, we want to re-share with you a piece by the architect Patrizia Catalano, "Bibliophilia", published on DRY Issue #1, in relation to a scene from the 1997 movie "Will Hunting" starring Robin Williams and a young Matt Damon. Both works are of great inspiration to reflect on the importance of reading books, and then, now that the "temples" of libraries are closed, to encourage all of you to make your home your own independent library. So stay safe and read anything you like!
"I suspect that the human species – the unique species – is about to be extinguished, but the library will endure: illuminated, solitary, infinite, perfectly motionless, equipped with ferocious volumes, useless, incorruptible, secret." – Jorge Luis Borges, "The Library of Babel", 1941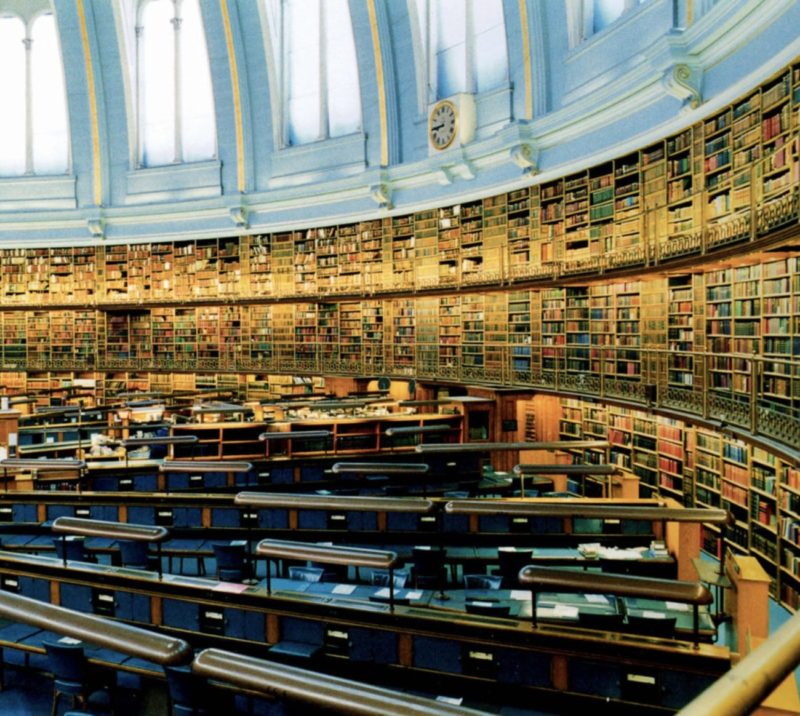 Bibliophilia by Patrizia Catalano
In the preface of his 'The Books in My Life' Henry Miller writes "one should read less and less, not more and more," and then adds: "I have undoubtedly read a hundred times more than I should have read for my own good." That was back in 1952. Miller alludes to the need to choose the books that count for our life experience, and in his typical style he seems to buck the current with respect to all those who recommend reading as an indispensable elixir of personal growth. The German photographer Candida Höfer inserts in her repertoire of excellent works of architecture, "where what counts is the relationship between light and space," large libraries portrayed as splendidly chilly, magnificently empty places. A Calvinist order for one of the places that fascinates us most by virtue of its implicit complexity.
But the library, as Borges suggests, is a labyrinth, an image of the infinite universe that is more like an inferno of the mind, a place where knowledge gets cancelled out. The Library of Babel foresees the challenges of the contemporary imaginary, where the virtual clashes with the real through the infinite network of its space-time nodes. We can find Borges' library, his nightmare, the infinite sequence of hexagonal rooms and identical volumes, at any moment in our tablets, our computers or telephones, in the augmented realities that obscenely multiply the image of humankind like mirrors. Space is mobile, as is time, and the library stops being a place to become a space. A perspective shared by Haruki Murakami, who in his latest book 'The Strange Library' traps the young protagonist in the secret underground zones of a mysterious library run by dour old man, a fellow in sheepskin and other strange, curious characters.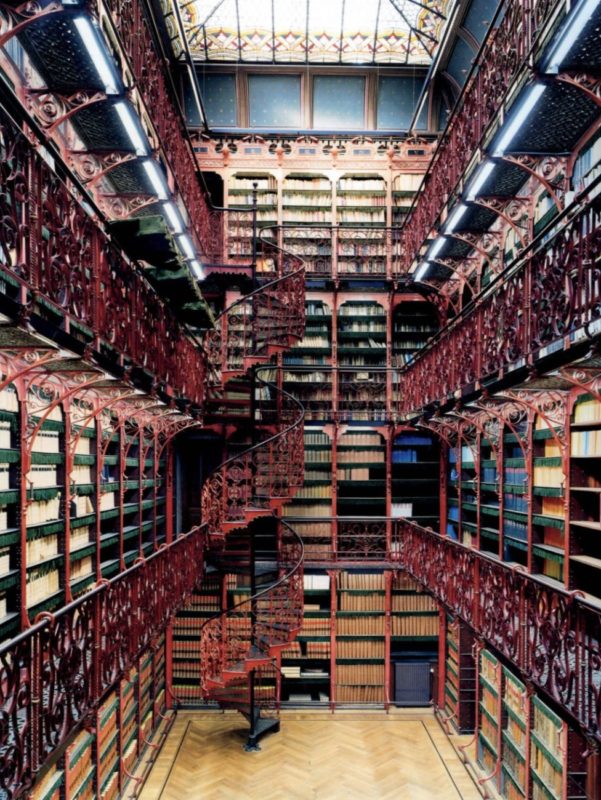 Today people are reading again, more and better. Books (on paper) are making a comeback with respect to their digital brethren. Above all, reading is back as a public pleasure, like coffee or eating out, to be shared in specially designed venues. In Washington the closing of Barnes & Noble, the famous American bookstore chain (lost our lease!) has brought the capital the distinction of being the only American city with only independent bookstores. An independence reflected in the diversification of offerings. This seems to be the mantra now, channeled by the social networks, thanks to rankings of the most interesting and original booksellers of the moment. From bookstores that stand out for their location, like the Polare in Maastricht, in a Dominican church from the 1200s, or El Ateneo Grand Splendid in Buenos Aires, housed in a former theater from the 1920s, to venues whose appeal is their originality, like Acqua Alta in Venice, with books presented in old gondolas and bathtubs, the Cook & Book bookshop + restaurant in Brussels, and The Last Bookstore in Los Angeles, with its 250,000 new and used volumes and a fine selection of vinyl records "to combat the virus of Amazon day by day." All the way to bookstores – maybe the most fascinating – that are famous because their customers have included great writers: Librairie des Colonnes in Tangier, a favorite of Samuel Beckett, Paul Bowles and Marguerite Yourcenar, or Shakespeare and Company in Paris, frequented by Ezra Pound, James Joyce and Ernst Hemingway.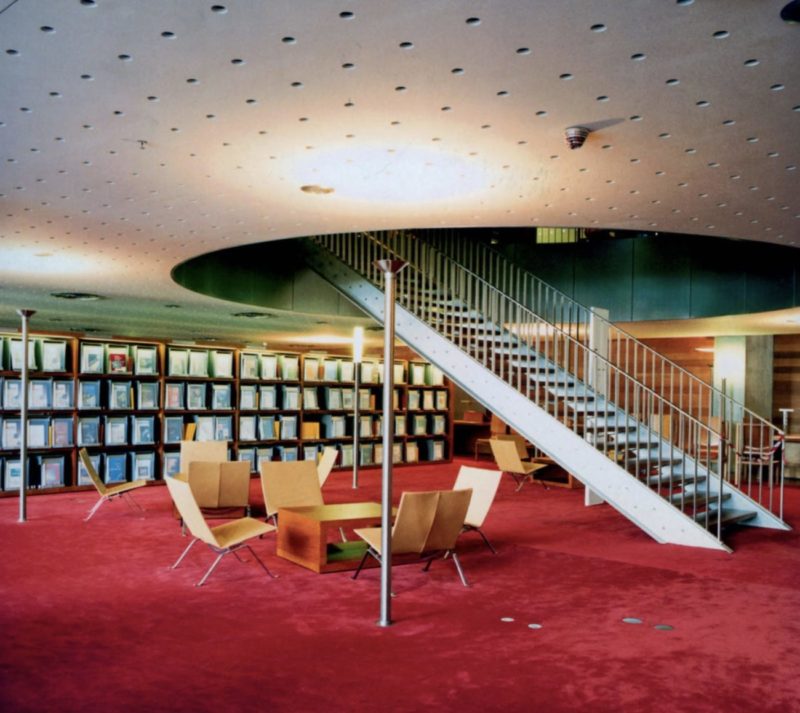 So what is the state of mind of someone who can rediscover (or continue to discover) the pleasure of places of book worship? The American writer Paul Collins approaches it in 'Sixpence House: Lost in a Town of Books', an experience in the village of Hay-on-Wye, the Welsh "bibliophiles' Mecca" that contains one bookstore for every 40 inhabitants, site of one of the best known annual literature festivals. In this bookworm's paradise Collins lives the pleasure of immersion in a space where you can get lost, to paraphrase Borges, like a labyrinth, an English- language Library of Babel, only to find the way home again. Like a truffle hunting dog, you can track down exhilarating, apocryphal, unusual and in any case magnificent books.
Tomes of proper good old paper, of course. After all, as Umberto Eco remarks, books "have their own sensuality" that reaches us through sight, touch, smell (book sniffers do exist), but also through hearing, because the sound produced by turning their pages has a particular, incomparable charm. Maybe this is what helps us to reclaim the book as an object and a place, and reading as an emotion, a mood of life.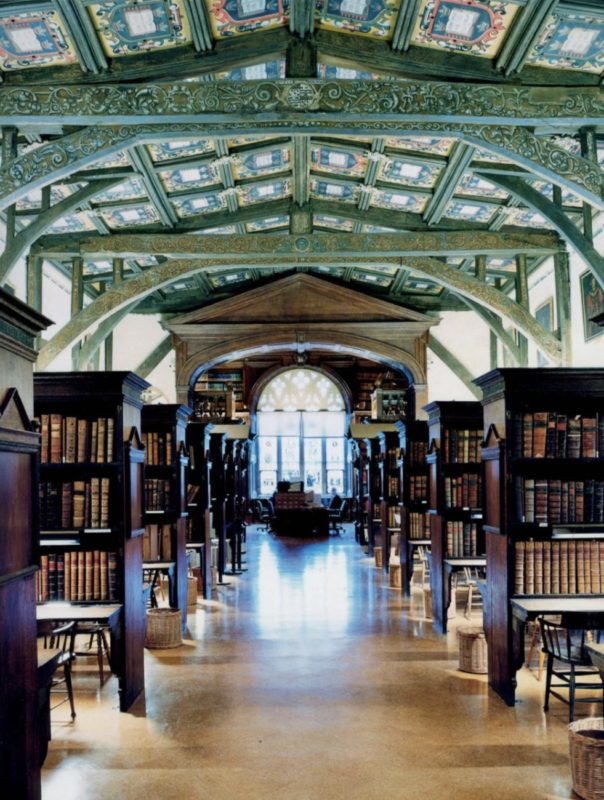 This is why the most outstanding architects get hired to create special spaces, first of all Renzo Piano, who in Athens is building the Stavros Niarchos Foundation Cultural Center with an immense library (24,000 square meters) to store as many as 750,000 volumes. At the end of his second term, Obama is planning to construct a large library for the Barak Obama Presidential Center, assigning its design to a leading architecture firm through an invitational competition.
Readers are everywhere, you just have to find them and, above all, feed their desire for emotions. So to get back to the value of places that welcome and propagate the intelligent pleasure of reading, it is worth examining the past and present meaning of those extraordinary spaces known as neighborhood libraries, especially in extreme, troubled and peripheral zones. Places where authors could and should go to talk about their books, to tell stories, read poems, and to help people imagine landscapes beyond the hedges.
Patrizia Catalano is architect and journalist, independent curator of art design events, author of interior design books published by Rizzoli New York, Electa and Mondadori Arte.
DRY takes up the challenge
Like each of us, even journalists and publishers are facing many battles at this time. As the storytelling of the present is likely to fall apart in the attempt of keeping up with a super digital and fast world, we need to identify the different topics and find time and space to deepen them. Our original mission of creating meanings which prevail on the overload of the repeatable, making future interact with memory, retains all its relevance today. So we made the decision to repost a selection of subjects and images from our First Issue Archive (April 2016) to show you how they lend a dramatic currency to the actual painful happenings, wishing it could help you to understand and sensibly reflect on the consequences of the virus global diffusion. We hope you'll enjoy the reading.
The DRY team