20 YEARS LATER WE ARE STILL DAMAGED SOULS SEEKING ART FOR PURIFICATION – DISCOVER CHEN ZHEN'S EXHIBITION AT HANGAR BICOCCA IN MILAN
Text by Fiammetta Cesana
Twenty years after his death, Chen Zhen's East-meets-West huge installations are more contemporary than ever. This time hosted in the 5,500 sqm of Pirelli HangarBicocca of Milan, his visually as well as socially impactful operas compose the exhibition 'Short-Circuits', curated by Vicente Todolí, which brings the name of the concept theorized by Zhen himself.
With the phenomenon of short circuits the Shanghai-born artist claimed the importance in the creative research of moving an artwork to a different context from the one in which it was originally thought. The Milanese show, gathering works of Chen Zhen's last decade of production between 1991 and 2000, proposes in fact combinations of his installations never seen before, creating an immersive exploration through social and political issues brought with capitalism and globalization and which, although meant to represent circumstances of the ww2's and cultural revolution's aftermath, are still impressively relevant.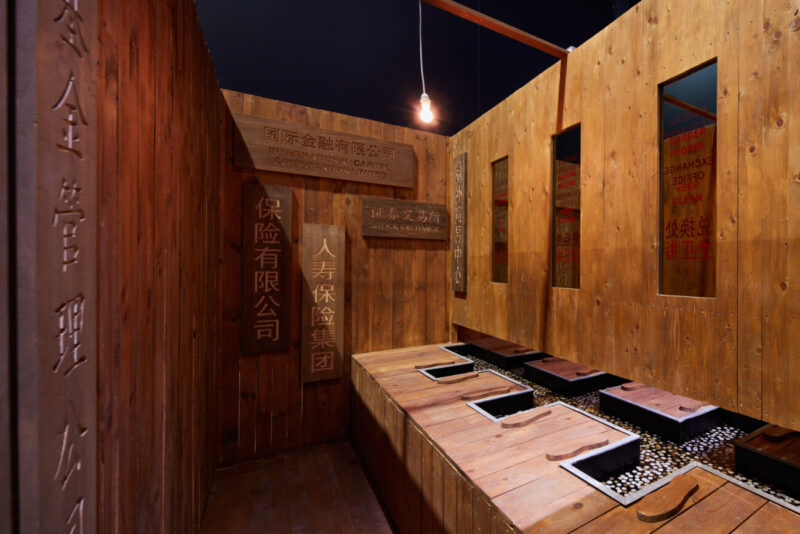 For Chen Zhen the environmental and cultural contaminations to which an opera is inevitably subject to are crucial in the understanding of its meanings, especially when it comes to deepen the relation between contemporary habits and traditions, individual and collective conscience, material and spiritual realm… and so between trivial systems and essential values. And so his installations are an accurate assemblage of objects, symbols, whose significance alters according to the unexpected surroundings and other elements' interventions making us question the very nature of what we are looking at.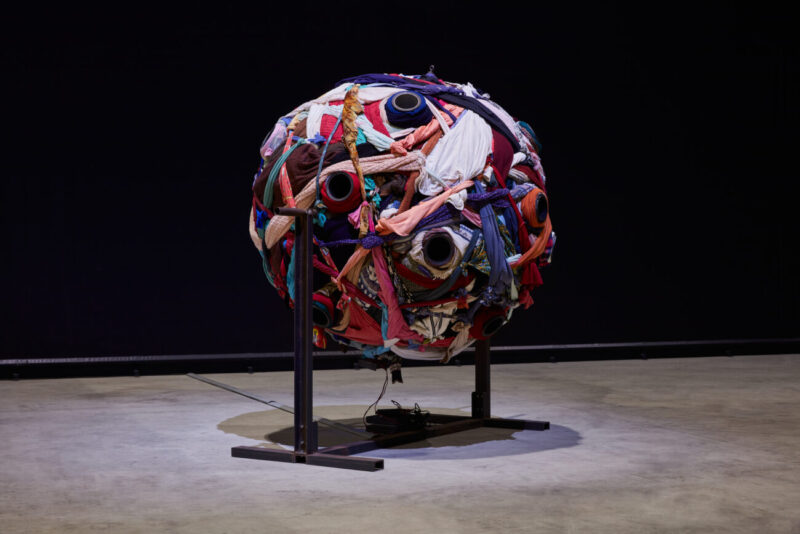 At only 25 he was diagnosed with an haemolytic anemia, which made him start to use art as a means of healing and purification. Several chairs and beds coming from different parts of the world are covered with cow's skins in the installation 'Jue Chang, Dancing Body – Drumming Mind' (2000), while dancers perform amongst them reflecting the meditative Chinese approach to connect body and spirit. This is one of Chen Zhen's latest works and the only one performative, however it embodies a tie that is kind of a leitmotif in his therapeutical production: the connection between our physical and inner existence.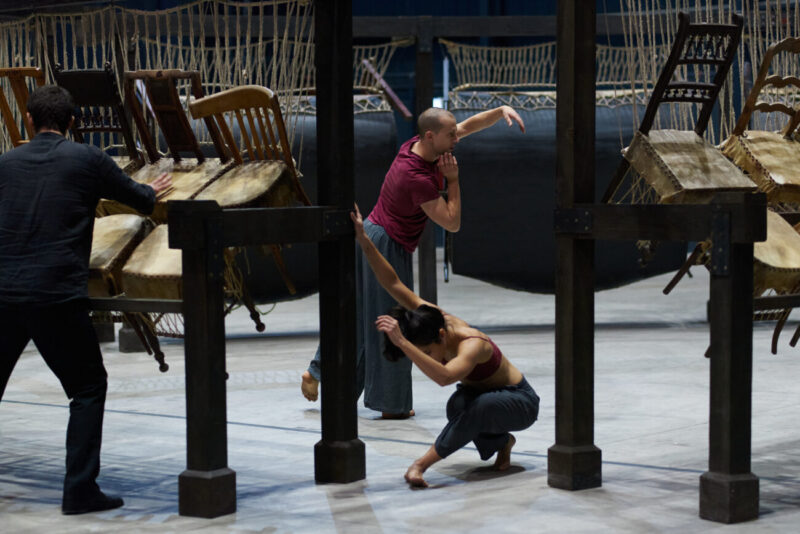 In 1989 Zhen had moved to Paris, bringing with him reflections raised by the counterculture youth's movements and starting abandoning painting for installations. His condition of Chinese young artist dislocated to western, capitalism-oriented ambient made him realized, 30 years ago, something that today is increasingly common to our 'nomadic' lives. He indeed coined the term 'transexperiences' referring to what "summarises vividly and profoundly the complex life experiences of leaving one's native place and going from one place to another". Born and raised reading Mao's red book and absorbing Buddhist principles, his coming to Europe and discovery of illness urged Zhen to re-find spiritual well-being in a world devoured by consumeristic instinct where nature in consistently set apart.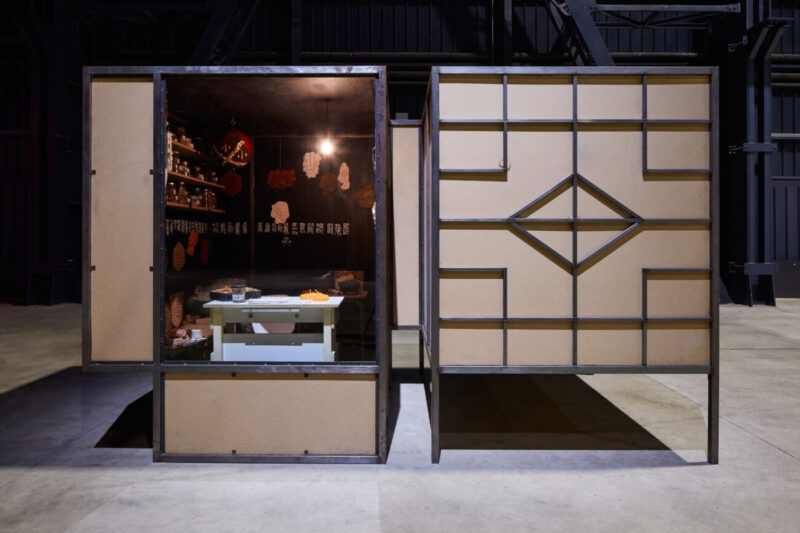 In the 1997 installation 'Fu Dao / Fu Dao, Upside-down Buddah / Arrival at Good Fortune', he juxtaposes objects you can easily find a western apartment, like televisions and ventilators, with upside-down Buddha's statues. Then three year later, the artist created the 'Purification Room' where all the furnitures are covered with clay, which seems recalling on one side the overwhelming invasion of disease over the body and, on the other, the need of erasing what is superficial to focus and give space to our intimacy.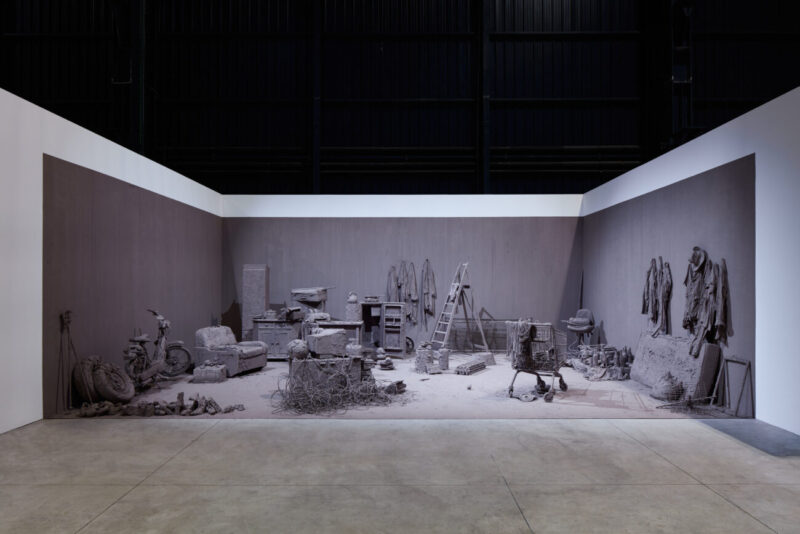 In a context of global migratory movements and crossing borders, the urgency of cooperation among nations of his time, that in 2020 is the same if not dramatically amplified, is a dear matter to the artist's installation practice. In the 'Round Table', built for UN's Place in Geneva in 1995, Zhen set 29 chairs over a big round table as an allegorical enactment of international leaders' meetings and of the fundamental step of being united in our diversities – ethnic, linguistic, religious and ideological – to overcome any planetary issue.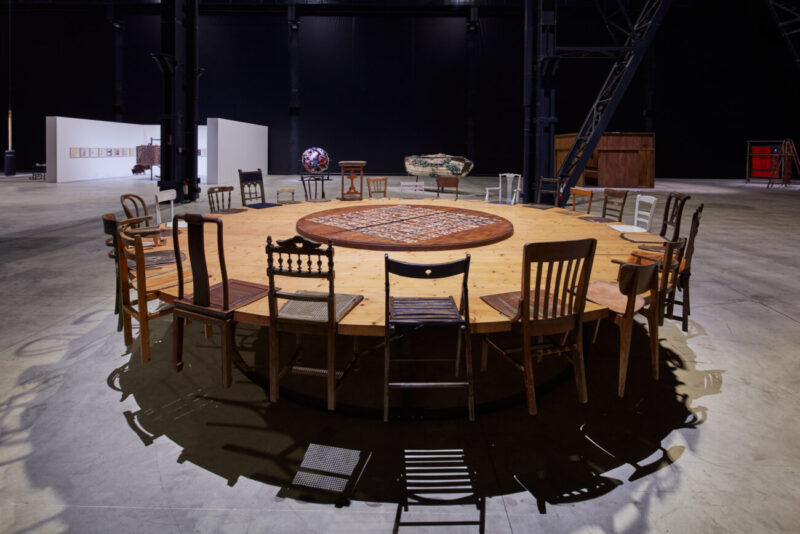 Then the Short-circuits exhibition presents his 2000 opera 'Six Roots Enfance / Garçon – Childhood / Boy', which traces human life's steps according to the evolution of the six senses, identified by Buddha as sight, hearing, taste, smell, touch, and conscience. Showcasing a boat's wreck with tiny statues of people working and struggling above, today we'd easily associate Zhen's installation with the migration's crisis across the sea.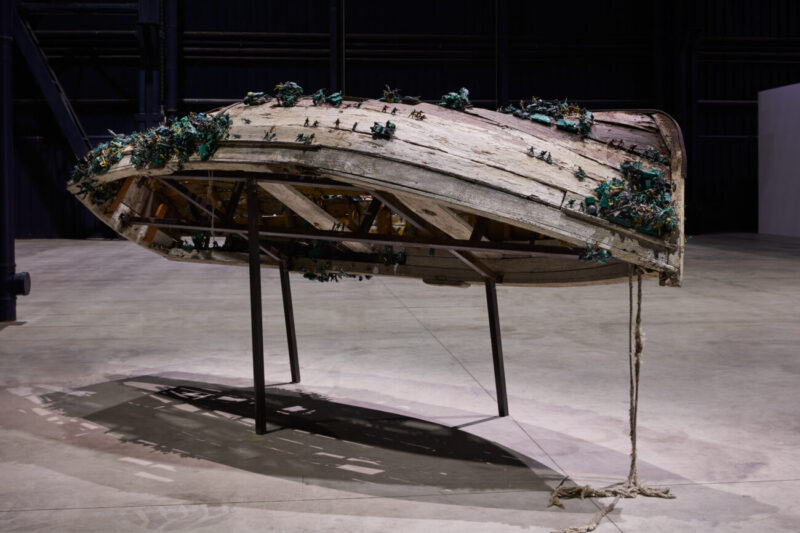 However, despite populations' conflicts, displacements, and opposite political parties, at the end of the day we are only damaged souls who desire for serenity and use beauty to find it. To harmoniously engage with societal structures and the ancestral laws of nature, we need to restore balance through our corporeal and spiritual essence. For the artist, the changeable and enveloping being of water can activate this process of in and out cure; so in his 2000 'Jardin-Lavoir', placed in the Hangar's Cube room, is a series of beds transformed into bathtubs. Filled with water, the eleven beds also host floating and sunk objects, like clothes, shoes, books, electronic devices… this is for Chen Zhen a garden to purify yourself and meditate.