HAVE YOU EVER THOUGHT OF MAKING ART IN THE WOODS? CHIARA LECCO'S EN PLEIN AIR STUDIO GIVES A SENSE TO LOCKDOWN'S TEACHING
Text by Fiammetta Cesana
On the Apennine hills overlooking the Po Valley, Northern Italy, a family of Sardinian origins settled last century founding a farm based on sheep breeding. Chiara Lecco, 44, who has never lost her attachment to nature and the value of working the land, after the lockdown decided to make the bond between family traditions and being an artist even stronger. She started the 'Clarulecis' project, an open-air art studio near the farm, immersed in the woods, which has been transformed into a collective where the furniture's elements and working materials are provided by nature itself.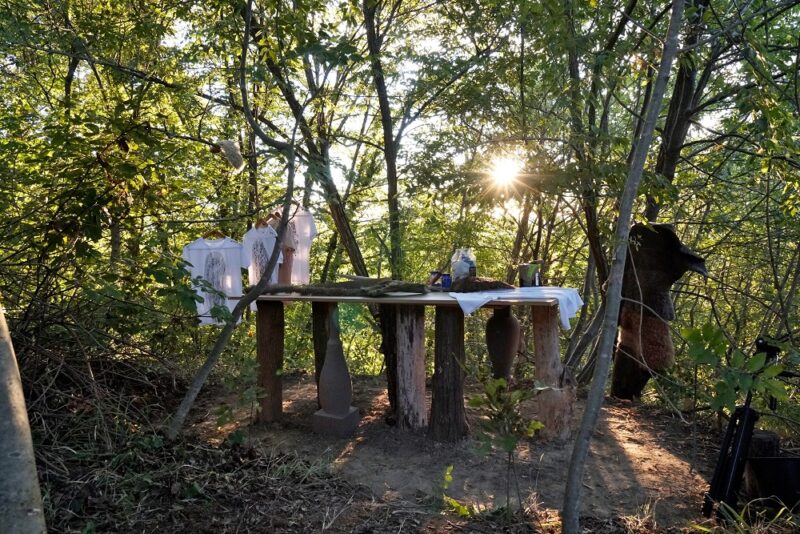 Chiara, who has always made ancestral techniques combined with the study of the 'skin' – meant both as an organic part and as a boundary between inside and outside – the center of her artistic research, finds in the Clarulecis' family collective the purest and most primordial sense of it. The first works produced in the wild atelier are in fact the so-called 'Primitive T-Shirts'. A naturally human garment, truly attributable to a second skin, which makes no distinctions of age, gender or class. The t-shirts are printed directly through matrices obtained from artifacts and rural finds, and then pursing with rugs, sculptures, large shawls and small furnishing accessories.
Thus the artist discovers a contemporary bucolic approach to the arts, a sense of communion between people not necessarily artistic, but also of inner maturation, shaping beauty stimulated by the vibrancy of the flora. An exchange of energies which permeates the skin and set unity between each other and the surrounding context.
What better outcome of the lockdown period than dilating times to reconnect to ourselves, the others and the natural environment? Now that restrictions are still crucial part of our daily life, we need to re-embrace this harmonious bond to build a new, regenerated skin suitable for such impredictable times.
'The dialectic that is created between an artist and his/her work is very intimate, private, non-verbal, every external suggestion is filtered and returned by a single person. The formula of the collective, on the other hand, gives me the opportunity to make different minds, not strictly related to the artistic sphere, interact in a varied dialectic: what results is not an exclusively artistic material, but one permeated by different creative fields.'