Artworks by Aziz Hazara on show at ICA Milan until July 15, 2023
Condemnation by Aziz Hazara (Afghanistan, 1992), curated by Francesca Recchia, presents in the spaces of Fondazione ICA Milano an articulate reflection dedicated to the many decades of war that Afghanistan has gone through and the unhinging of the stereotypical narratives that have resulted. On display for the occasion is an exhibition that involves six works by Aziz Hazara in the construction of a true multimedia experience, aimed at sketching the complex relationship between religion, society and politics that runs through the daily lives of Afghans.
Condemnation takes form from a long-standing dialogue between artist and curator, whose roots lie in a common desire to explore and defuse the vocabulary that underpins the narrative of Afghanistan we are generally accustomed to. The artist's reflection, which stems from the aftermath of the Western civilizing mission and two decades of the war on terror, focuses on the use of words and how they have been used to justify the international presence in the country. The very title of the exhibition – condemnation – originates from the ritualistic practice of different Afghan governments condemning massacres and acts of terrorism by cyclically employing the same words.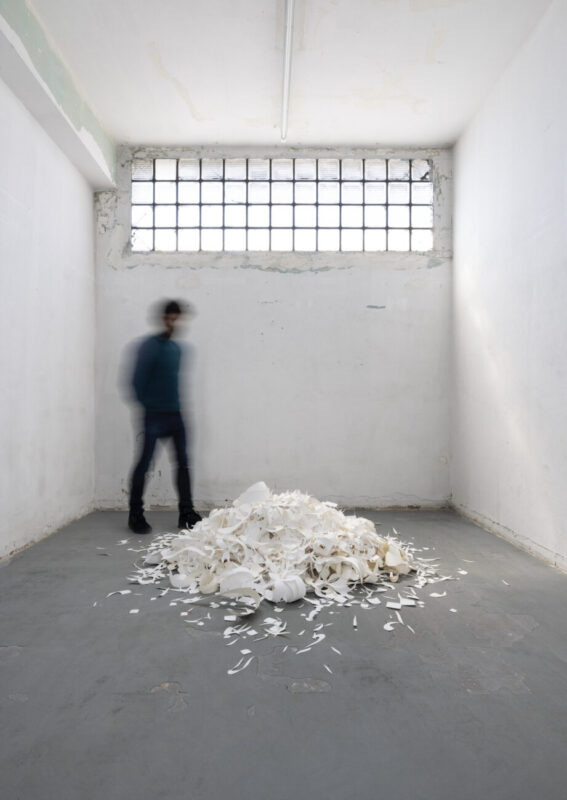 Curator Francesca Recchia said that "in virtually identical words and with invocations to the same God, every government condemned the tragic loss of life, the horrors caused by enemies of the state, the blasphemous act of killing innocents. Diplomats and spokesmen of international organizations in turn joined the chorus, using the same words and appealing to the same or another god. And so, while everything changes, the words and images remain the same."
The exhibition presented at the ICA Milan Foundation traces a parable in Aziz Hazara's artistic production, in a skillful combination of irony, theological references and vital questions that invite the audience to question the reassuring banalities to which they are addicted. From the paper cutouts that make up the work Condemnation (2023), we move on to the multichannel sound installation Bushka Bazi (2023), where the artist explores material culture and the transformation of everyday objects in the context of the war on terror, and the archival prints Chalk Drawings (2020), where a hand draws a chalk box around black plastic sandals. With Coming Home (2021) Aziz Hazara presents four tons of garbage, abandoned by international troops leaving the Afghan territory when the occupation ended, in a reflection dedicated to the leftovers of war also captured in the archival print I am looking for you like a drone, my love (2021). Finally, with the video projection Takbir (2021) the artist uses the sound dimension to stage the small forms of daily rituals that develop in the context of an ongoing conflict.
Inserting itself in the furrow of the artistic research carried out by Fondazione ICA Milano, the exhibition Condemnation traces a path of reflection through the historical recurrences, dramatization and simplification of otherness that the narrative of a conflict can assume.