ON THE OCCASION OF LISETTA CARMI'S NEW EXHIBITION AT MAN, WE SHARE WITH YOU DRY ISSUE #8'S PHOTOGRAPHIC STORY AND WHATSAPP CHAT WITH THIS VERY INTUITIVE ARTIST
Interview by Pasquale Leccese
Editing by Fiammetta Cesana
From yesterday, January 19, to June 13, MAN (Museum of Arts of Nuoro) in Sardinia is hosting the exhibition "Lisetta Carmi. Voci allegre nel buio. Fotografie in Sardegna 1962-1976" (Lisetta Carmi. Joyful voices in the dark. Photographs in Sardinia 1962-1976). The 96-years-old artist, protagonist of the cultural black box of Italy in WW2 aftermath, has carried out in her tireless years of work an anthropological and ethnographic research by staying long in a one place and deeply engaging with its inhabitants. From Genoa, Rome and Paris, to Venezuela, Columbia, Mexico, till Afghanistan, Turkey, Pakistan, India and Nepal, Lisetta Carmi went far beyond the aesthetic pleasure of photographic practice, using her camera to capture precise historical stints and sensibly shape a natural bond between humans and landscape.
In addition to the narration of Sardina and its people, which Carmi encountered during numerous journeys in the island from 1962 to 1976, the ongoing MAN's anthology comprises also a section to the artist's series "I Travestiti", dedicated to the marginalized community of transvestites of Genoa. On CollectibleDRY Issue #8, accompanied by some memorable shoots of "I Travestiti", Pasquale Leccese has an intriguing and funny WhatsApp chat with Lisetta Carmi, who tells him about that time and her durable kinship with the transvestites. She is a sweet lady and a real badass!
Pasquale Leccese: Lisetta, how did you come to be photographing transvestites?
Lisetta Carmi: I had a beautiful home on a top floor in their quarter. When I saw them I said: "I must go and photograph them!" and that's what I did, for six years. Then, Gianni Martini (gallery owner and friend) found these marvellous colour photos and decided to produce a book of them.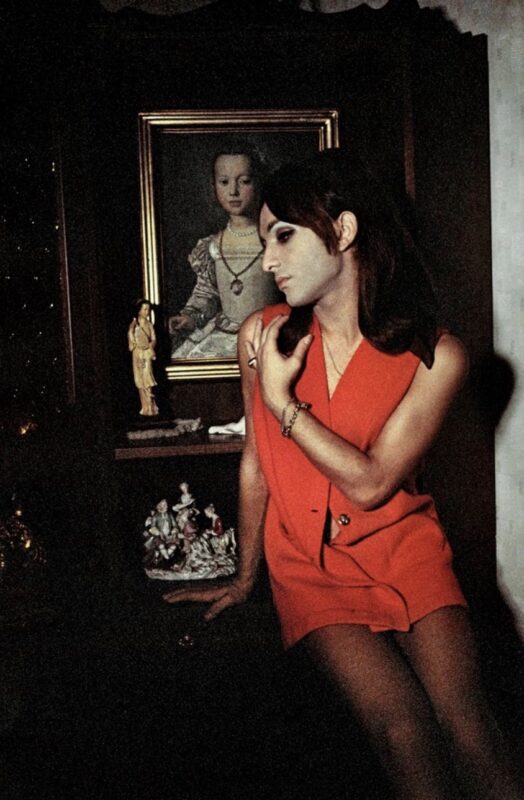 PL: Did you know them all by the end? Given that you photographed them for so long…
LC: All of them! I even protected them, to the extent that the police would gladly have arrested me. Can you believe it, once a policeman went up to a transvestite to interrogate him and then he gave him some money, asking if I would make love with him. And the transvestite said: "But she's a friend, she takes photos of us!" When I was there with them, they would say to me: "Lisetta, go away! The police are coming" but I would reply: "I've got nothing to be afraid of" and I would stay there. If they had wanted to they could certainly have arrested me. But they never did me any harm. Then I took all these colour photographs, this bundle of photos that Gianni discovered and now he wants to make a book of them.
PL: So you took the black and white photos specifically in order to have them published in a book, while these colour photos you rediscovered by chance?
LC: No, they were all together in a bundle. I have a passion for taking photos, you see, a passion for the lives of people who are persecuted. I took them and I bundled them up and put them away because I didn't have any ambition to be a great photographer, it didn't matter to me. The only thing I want is to give a voice to the poor, to those who cannot speak. That's what spurred me to become a photographer. So I was staying there in that district and Mauro, my friend who was washing Gitana's diapers, told me that there was going to be a New Year party in the house of a transvestite and he asked me to go with him.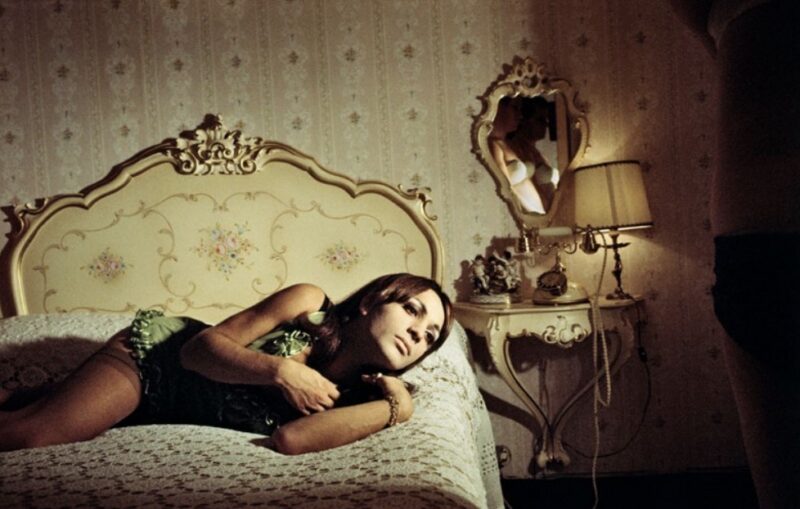 PL: Gitana was one of these transvestites?
LC: Yes, in fact she was the leader of all the transvestites. She was the artist De Pisis's lover when she was young. As I was saying, I went to the party and I brought my Leica with me and took lots of photos. Then I went home and printed them, and after five or six days I went back and gave each of the transvestites three photos that I had taken of them. Then I realised that it was an unknown environment and so for five years I continued to photograph the transvestites. After that, Luciano D'Alessandro helped me to publish them in a book, you know. Luciano was the only unselfish Italian photographer and he knew the publisher Sergio Donnabella well, so he introduced him to me. And he published the black and white book, which cost ten million lire – that was a huge amount in those days! – but he told me: "Ten million is nothing to become friends with you." This book, has now become quite rare. Lots of people asked him to re-publish it but I said no: I always wanted it to remain unique.
PL: There was also Bocca di Rosa, the one who Fabrizio De André sang about?
LC: Yes, that's right, there was! All of them were there. And when I did the book, I had to get each of them to sign it to give their permission; when I got to Gitana, we went to a bar to have a chat and at a certain point she said to me: "Lisetta, either you put me on the cover or I won't sign anything!" So I put her on the cover!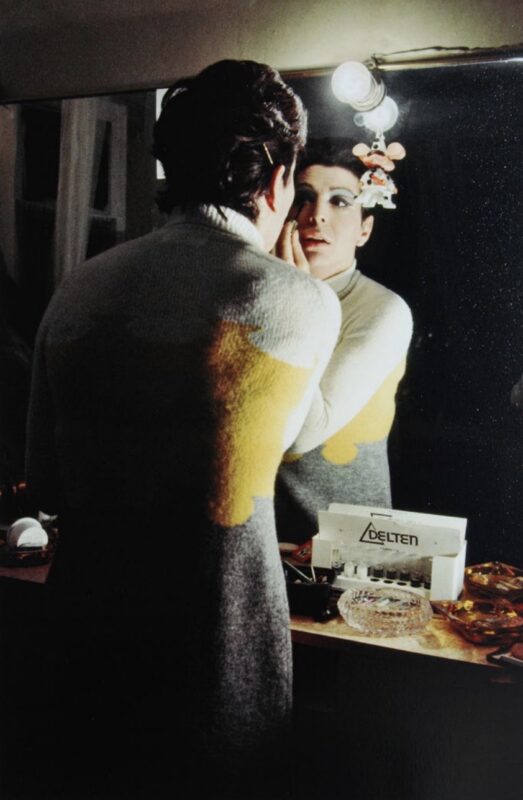 PL: Did these transvestites have other jobs during the day?
LC: No, they went to bed during the day, because they were out and about all night… And then in the afternoon they would get dressed up and make themselves up. Before she died, La Morena called me because she wanted to say goodbye for the last time. When I went round to see her, she pulled out the book of transvestites: she still had it! They were all my friends… And I loved them. My father was ashamed of my work, but when his accountant asked him if I would give him a copy of my book about the transvestites it set his mind at rest: he finally understood the value of my work!
PL: Do you remember who came along in Genoa, to the Palazzo Reale…?
LC: Of course I remember: it was Novia, the one who worked in a pair with Gitana. She was beautiful, and she's still alive. She came along just to say 'Hello'!
PL: Do you remember that she told you: "Lisetta, now I'm a woman!"
LC: She was unique: but I don't like the transvestites there are nowadays…
PL: Om Namah Shivaya, Lisetta
LC: Om Namah Shivaya!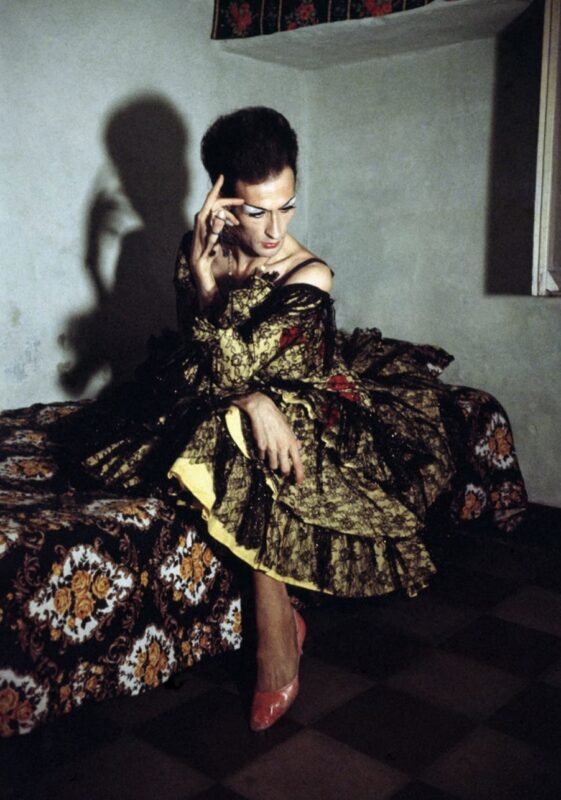 Full story on CollectibleDRY Issue #8