THE GREEK THEATER OF SIRACUSA, IN A NIGHT FULL OF DREAMS AND BEAUTY: MIRCEA CANTOR'S PERFORMANCE "THE SOUND OF MY BODY IS THE MEMORY OF MY PRESENCE"
Text by Fiammetta Cesana
A night that was magical. In a time suspended between the dubious sound of the present and the essential memory of a remote past's treasures. Few steps away from the Latomie del Paradiso, where the huge Ear of Dionysus once overheard enemies' conspiracies and today still listens to carefully thanks to surprising acoustics. The Archaeological Park of Neapolis welcomes its visitors through the Temenite hill, the sweet rustle of the cave-nymphaeum's waterfall on the top of rock tiered steps. The Greek Theater of Siracusa, in a night full of dreams and beauty. How to better start this new chapter of human history?
Yesterday, August 30th, for the first time in the history of the National Institute of Ancient Drama (Inda), the Greek Theater of Siracusa hosted an original site-specific performance. Taking place during the special Inda 2020. For Solos season, the world premiere spectacle is the fruit of the work of the Romanian artist Mircea Cantor, winner of Marcel Duchamp Prize in 2011. "The sound of my body is the memory of my presence" wants to celebrate and express the need of rebirth after the upheaval of Coronavirus pandemic.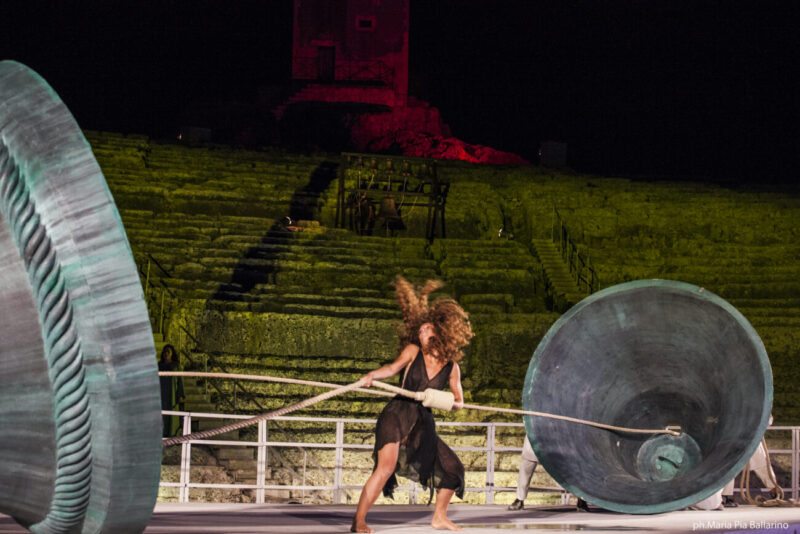 Opening the evening it was the awarding of the "Custodi della Bellezza" Prize to Fiammetta Borsellino, daughter of the national justice's hero Paolo Borsellino killed by mafia, and the "Golden Eschilo" Prize to the jurist and sociologist Eva Cantarella.
Teachers and students of the Academy of Art of Ancient Drama have been involved in the realization of Mircea Cantor's performance, including Dario La Ferla as stage movements' designer, Simonetta Cartia and Elena Polic Greco on the choir direction, Simone Caserta on the music, and Denis Latîșev at the bells. This unique show, rich in beauty and meaning, will be visible till September 6th at www.indafondazione.org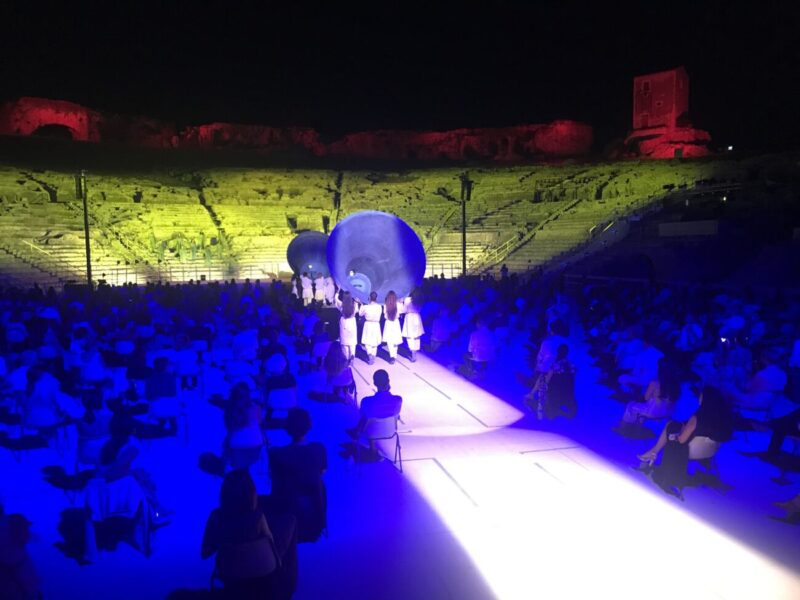 "Human creativity is the best vaccine in troubled times. One of the essential conditions of my performances is the body and the presence of the human being. I have reflected for some time now on the idea of sound and in particular on human voice, and for this Inda project I wanted to associate the human voice with something that could make it resonate as an instrument, summoning the ideas that the voice itself arouses, so I imagined a bell, a beautiful and mysterious object, ever-present in human history and in various cultures." – Mircea Cantor