IS IT POSSIBLE TO SHARE ART DURING LOCKDOWN WITHOUT DIGITAL MEANS? YES, BRINGING IT TO THE STREETS! DISCOVER KCAW X HIGH STREET WINDOWS
Text by Fiammetta Cesana
Kensington + Chelsea Art Week pledges every year to promote the work of creatives by artistically rethinking the streets of Southern-West area of London. Last September we saw a variegated design competitions between artists to win the chance of painting a Black Lives Matter dedicated mural in Freston Road. The mural, which was visible from October until Christmas, leaves now space for a new exciting project, "High Street Windows", in the pursuit of reviving the spirts of neighbors forced to full lockdown again. We talked a lot about the online resort for exhibitions to subvert pandemic restrictions, but this time we are sharing another arts-rescuing possibility. Instead of using digital platforms to show the artworks, as many galleries and museums currently do, KCAW finds another way to not make us give up on art… bringing it to the streets!
Eight artists have been selected to reinvent the windows of emptied shops in the local high streets. So now during their allowed daily stroll, West Londoners are pleased with new beautifully designed corners which, alongside the positive vibrancy of their colors, also aim to sensitive passers-by on current social issues.
The urban operas of Ian Kirkpatrick, Dotmasters, Alexander Ikhide, Gala Bell, Fiona Grady are already on show, while further three will be coming soon.
Let's immediately see their stunning window creations!
Ian Kirkpatrick, "Nocturne", 193 Kensington High Street, Photo by Graham Fudger / KCAW
Inspired by the historical evolution of arts, from ancient cave painting, Greek mythology, to digital graphics, his work combines local cultural heritage with global occurrences.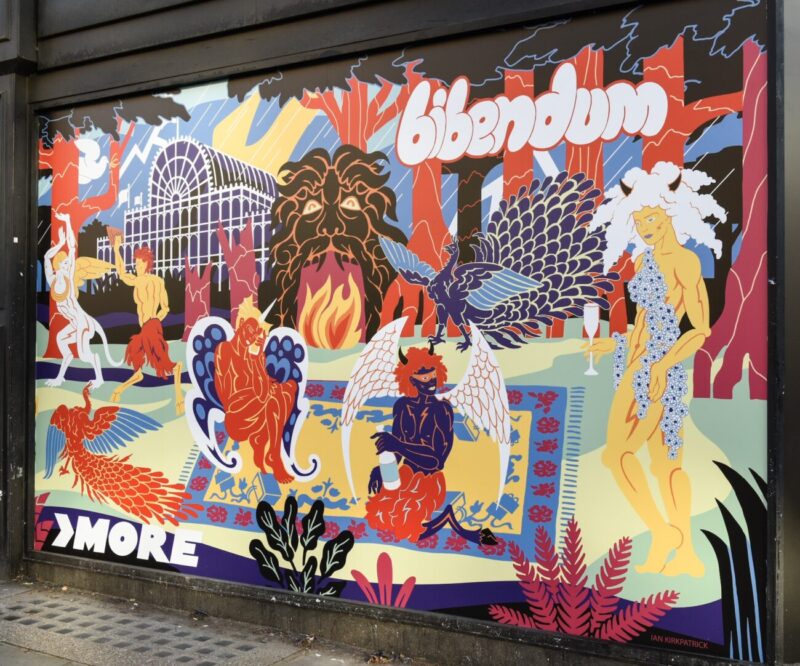 Dotmasters (Lite), 35-36 Thurloe Place, South Kensington, Photo by Graham Fudger / KCAW
Making the building a giant luminous box, Léon Seesix humorously (British-ly) use the street practice "Dotmasters". The installation is the result of experiments of lights and material he made during the lockdown, where small boxes represent the boundary between the inside and the outside.
Alexander Ikhide, 24-25 Cromwell Place, South Kensington, Photo by Graham Fudger / KCAW
The multidisciplinary artist uses a mix of media and artistic/surrealist techniques, like photography, collage, digital image and text, interrogating African diasporic traditions in contemporary social context and raising questions about representation of black identity and body.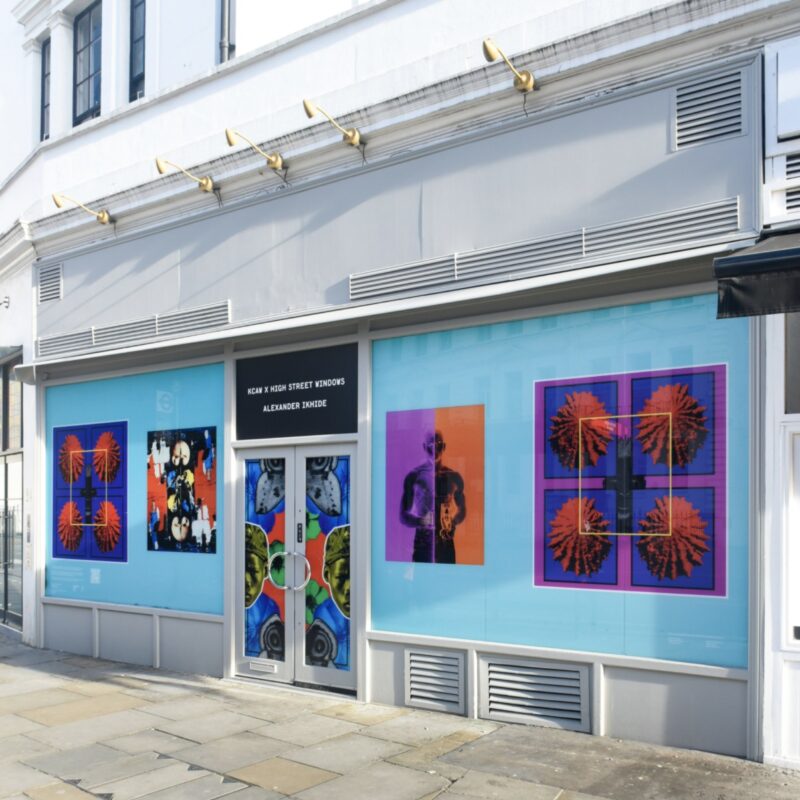 Gala Bell, "Fry Up", 32 Thurloe Place, South Kensington, Photo by Graham Fudger / KCAW
"In a cross over between the comfort of the kitchen and the dominion of the studio, it felt perfect that any artwork should undergo hot oil in the method of deep-frying. The alchemy of painting is surprisingly close to the recipe and material substances of batter – egg yolk in tempera, linseed oil mixed with pigments, the ground white powder of gesso, the heat and energy of hands. Both the space of the kitchen and the space of the studio operate as a lab of material transformation" – Gala Bell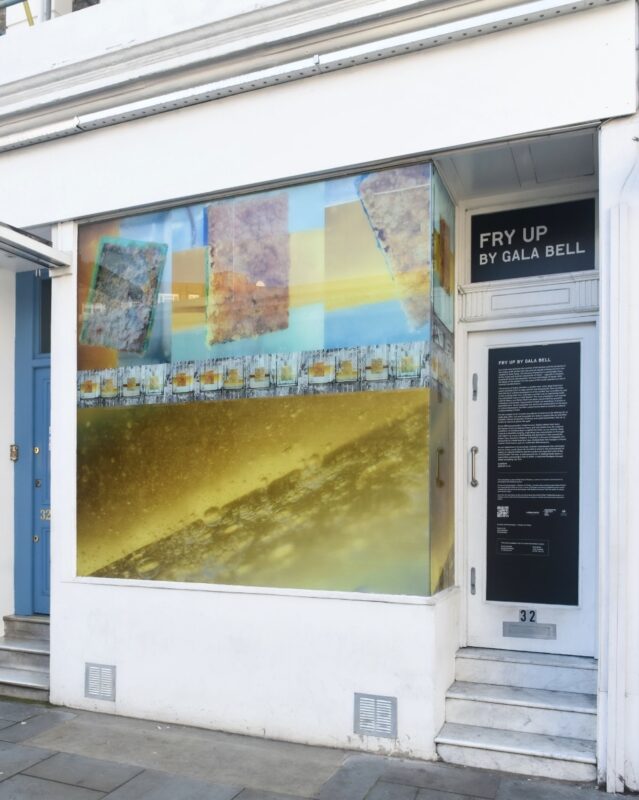 Fiona Grady, "Art Deco Paradise", 154 Kensington High Street, Photo by Graham Fudger / KCAW
An enchanting game of colors and shapes is revealed through surrounding light's alterations in the installation of Fiona Grady. The London based artist creates geometric vinyl forms, subtly linked to stained glass, which delight the crowd with a kaleidoscopic kind of window.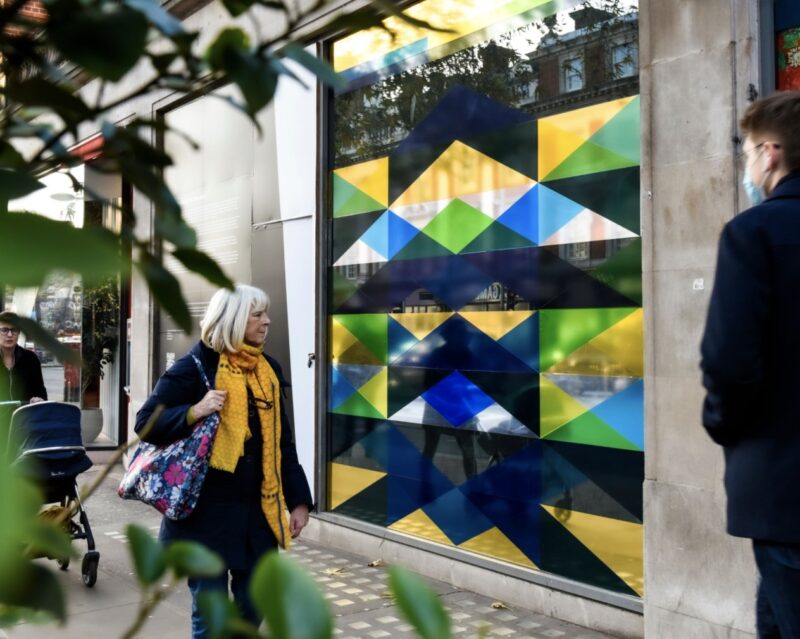 Find out more about KCAW x High Street Windows at: kcaw.com