"LOUIS VUITTON X" EXHIBITION CELEBRATES THE 160-YEAR-OLD FRENCH MAISON BETWEEN TRAVEL, FASHION AND ART
Text by: Annarosa Laureti
Since its birth in 1854, Louis Vuitton name has been going hand-in-hand with the concept of Travel, to say it better with that of the "Art of Travel". Starting with luggages, trunks, bags and accessories, the French maison's artistic approach has also involved over these years prêt-à-porter creations as well as those of design "objets nomades".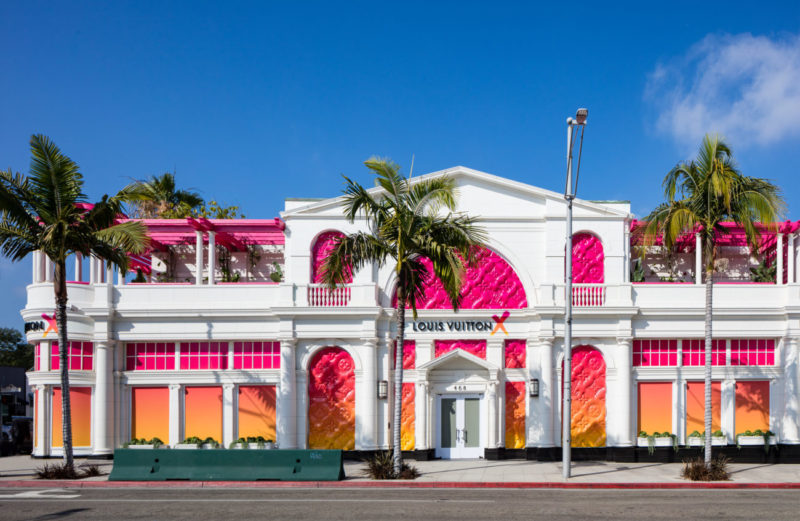 More than a simple retrospective, at the Louis Vuitton two-floored building in Rodeo Drive, Beverly Hills, it goes on stage a truly time travel. Over 180 iconic archive pieces, wisely divided and disposed into ten different rooms, in fact, retrace the several maison's artistic collaborations.
The journey inside Louis Vuitton history begins with an homage to Monsieur Vuitton himself, whose young soul was masterfully captured by Yang Pei-Ming and Alex Katz's portraits.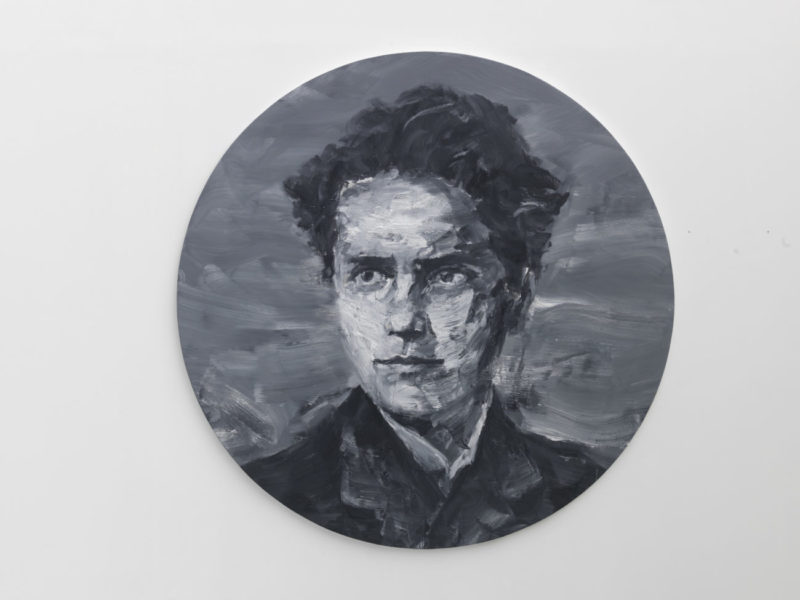 Then the second stop showcases different precious objects of design excellence: from a Monogram picnic trunk once belonging to the Egyptian Prince Youssouf Kemal to the presentation case designed for 2018 FIFA World Cup trophy, passing through some design furniture pieces of Objets Nomades Collection.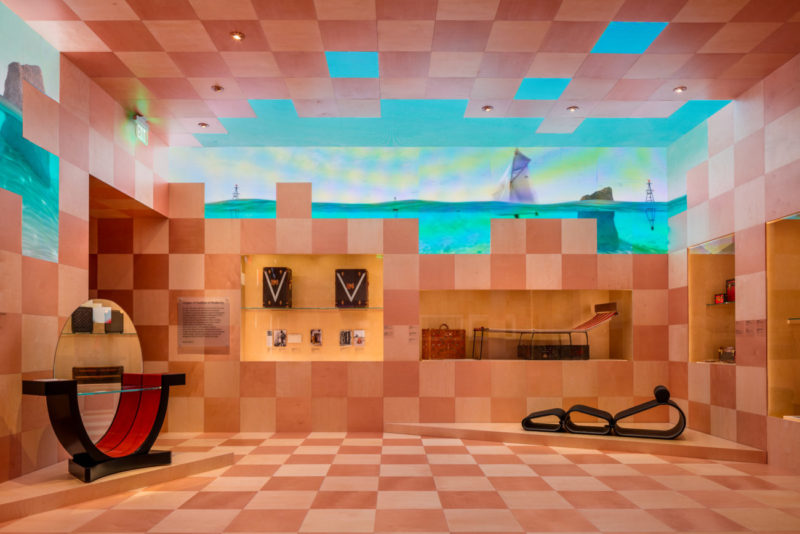 Visiting the "Reinterpreting Icons" and "The Monogram as black canvas" rooms you will easily find out how the collaboration with artists, designers, and architects as well, became a truly mantra for the maison during the past 20 years. If the first room shows legendary reinterpretations of the iconic 1896 Monogram motif – for example the DJ's record room case created by Helmut Lang in 1996 on the occasion of the centenary, the curios trunk desk for photographers by Cindy Sherman or again the punching bag and the tote bag with holes details respectively designed by Karl Lagerfeld and Rei Kawakubo – in the second one it is displayed how a hand luggage – the chameleonic Keepall Bag – could be a new and modern kind of canvas for artists of the caliber of Jeff Koons, Damien Hirst, Takashi Murakami, Stephen Sprouse, Wes Anderson, just to name a few.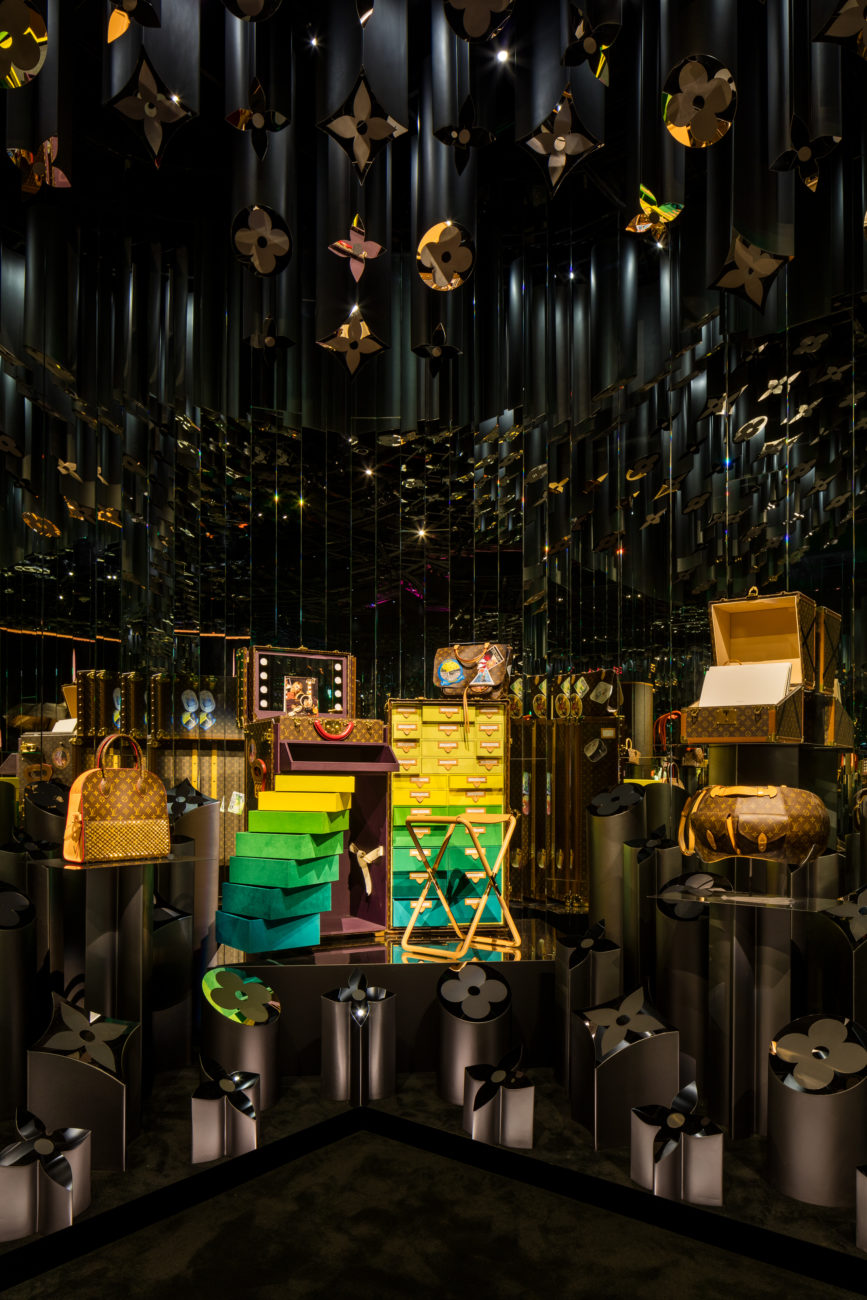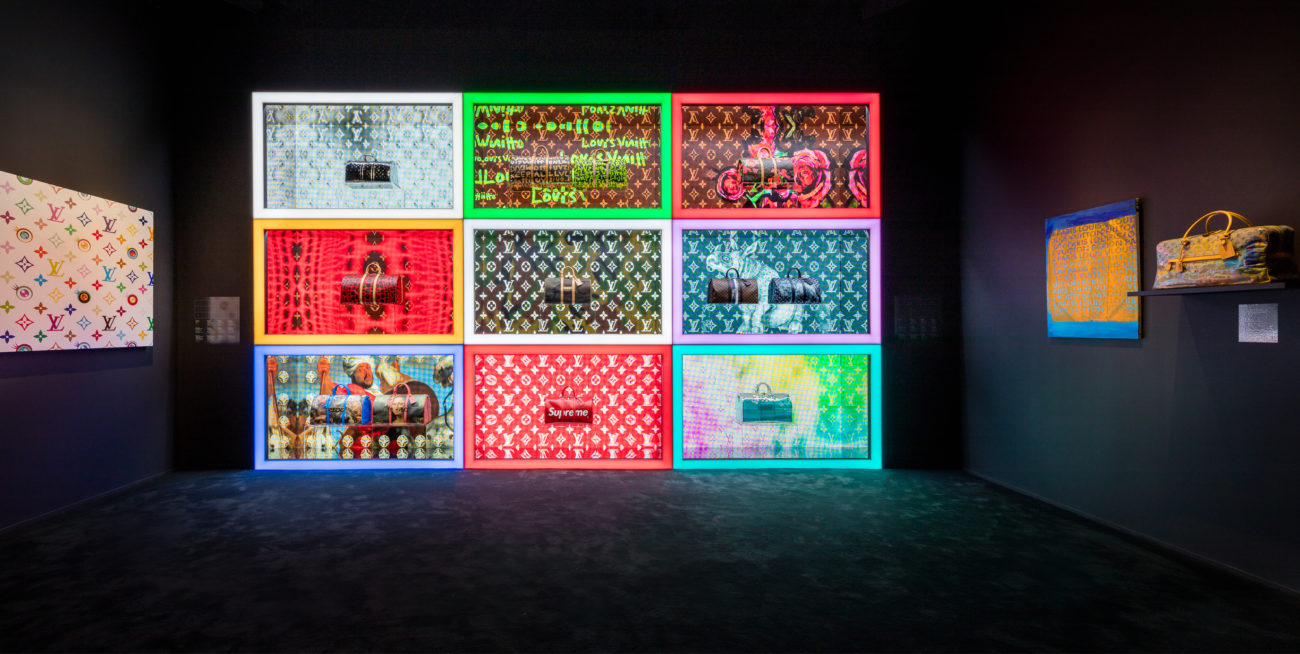 Louis Vuitton X exhibition, Courtesy of Louis Vuitton
Louis Vuitton X exhibition, Courtesy of Louis Vuitton
"Art on Silk" room sees indeed silk scarfs hanging on the wall as real paintings and masterpieces dating back to 80s as well as to the XXI century's second decade.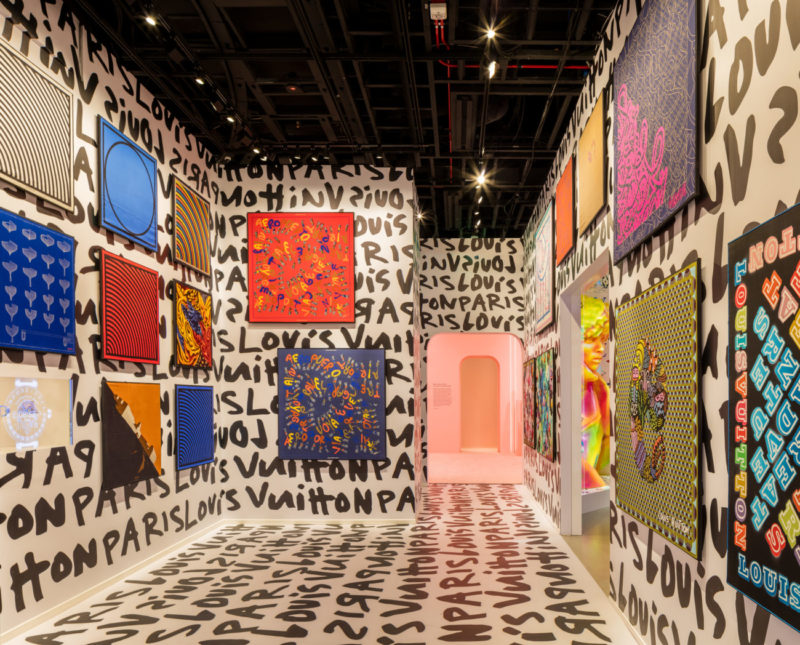 The very concept of rendezvous between fashion and art, and star-system too, becomes so clear when the fabulous journey reached the stops dedicated to wonderful garments from the latest Collections to that of looks specially designed for red carpet occasions.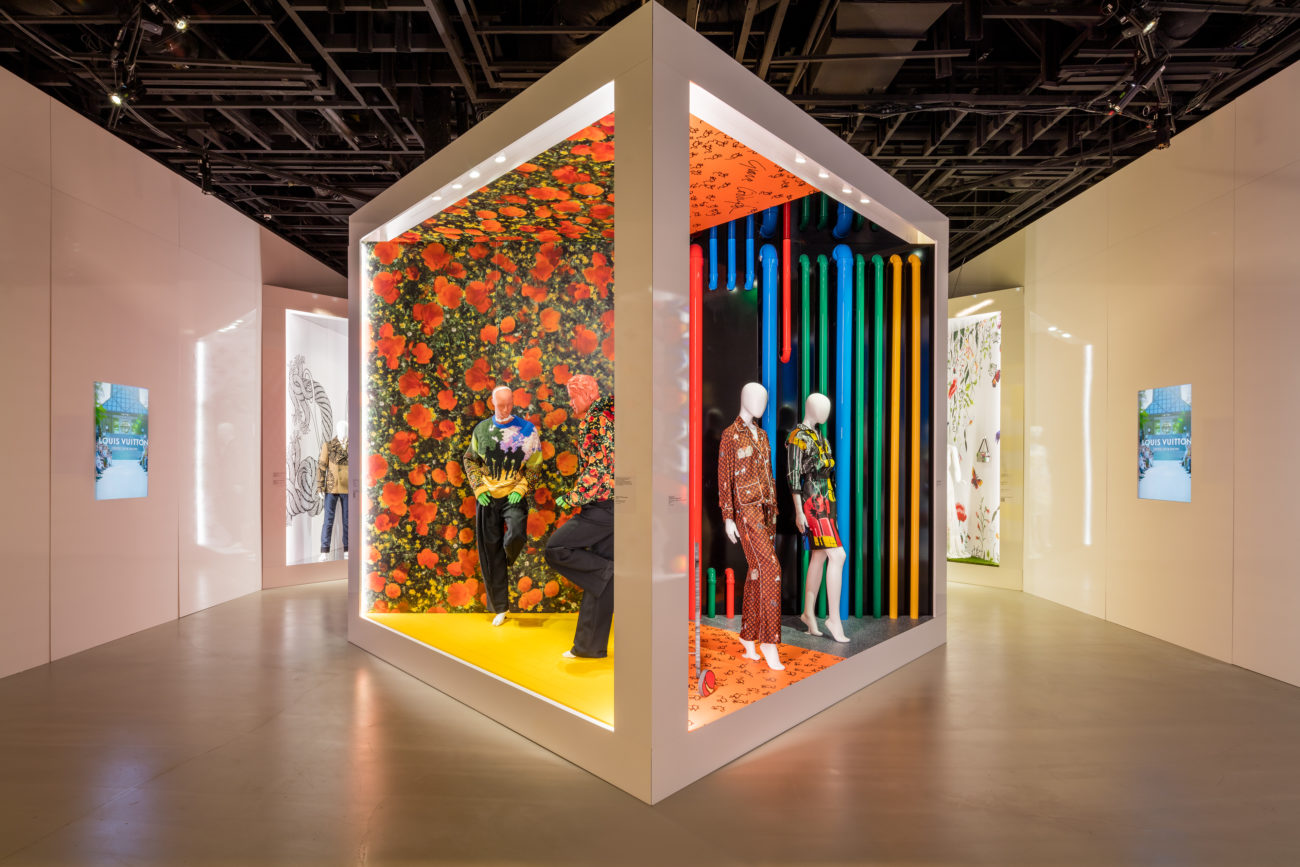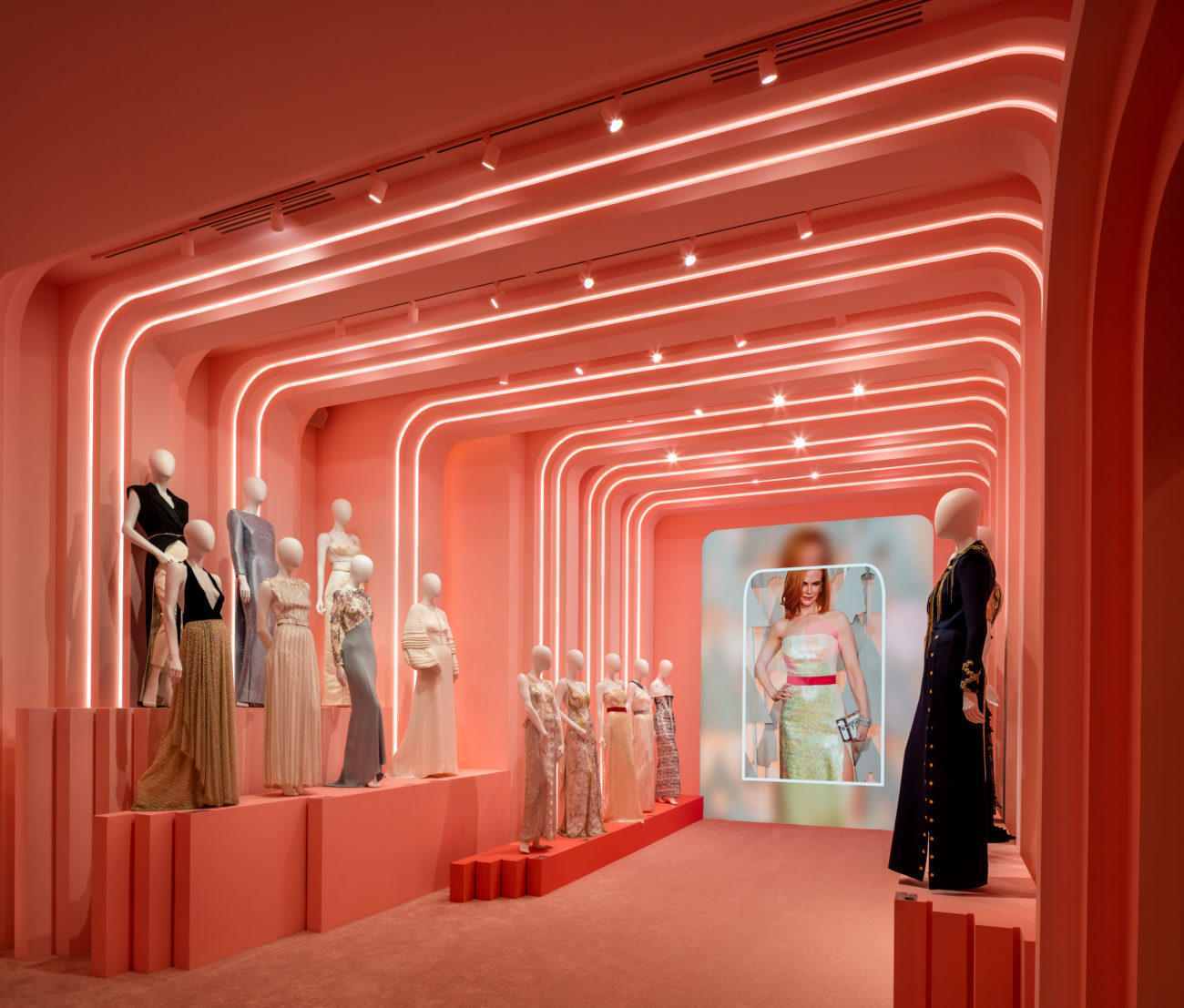 Louis Vuitton X exhibition, Courtesy of Louis Vuitton
Louis Vuitton X exhibition, Courtesy of Louis Vuitton
Louis Vuitton X exhibition, Courtesy of Louis Vuitton
"Louis Vuitton X" journey will let you know more deeply maison's universe also throughout an immersive video installation – the "Magic Malle" – and with a real atelier experience in the "Artisans' room".
The magic, historical and artistic trip ends up with the "Artycapucines" room, where it is presented for the very first time the last limited edition collection of the iconic Capucines bag, occasionally customized by six leading contemporary artists: Sam Falls, Urs Fischer, Nicholas Hlobo, Alex Israel, Tschabalala Self and Jonas Wood.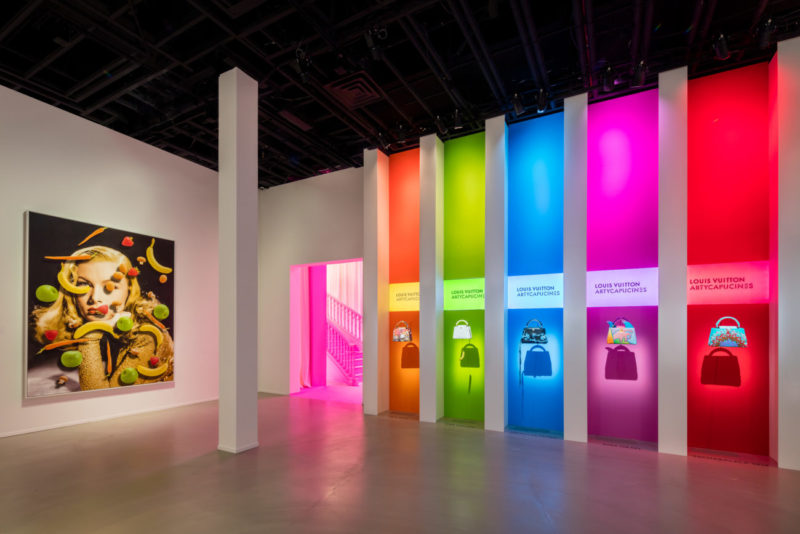 More than a final fashion chapter, this last stop is not a simple and ordinary happy ending, but a new prelude of the long awaited sequel of Vuitton's artistic approach to fashion.
Louis Vuitton X
468 Nort h Rodeo Drive, Beverly Hills, CA
From 28th June till 15th September 2019
Monday – Saturday: 10:00am – 9:00pm
Sunday: 11:00am – 7:00pm