Between art and fashion, the stunning work by Ossie Clark and Celia Birtwell is on display at Museo del Tessuto and Sozzani Foundation
Mr & Mrs Clark. Ossie Clark and Celia Birtwell. Fashion and Prints 1965-1974 is a shared project by Museo del Tessuto di Prato and the Sozzani Foundation. Curated by Federico Poletti, the exhibition develops and enhances an important nucleus of clothes designed by the London designer and from the precious collection of Massimo Cantini Parrini, the famous, award-winning costume designer.
Mr & Mrs Clark details the drawing skills of Celia, who developed prints inspired by nature and the artistic avant-garde, while Ossie, with his skill in cutting and modelling, gave life to sensual, feminine dresses. Their union was immortalised by David Hockney in the famous painting Mr and Mrs Clark and Percy, which not only represents a portrait of two designers, but also a manifesto of a new creative class between art and fashion.
Curator Federico Poletti comments: "The work of Celia Birtwell and Ossie Clark is presented together for the first time here, as Ossie's shapes and cuts would not have had the same impact without Celia's prints. Thanks to those who have generously loaned rare materials of great historical and artistic value, we were able to create a unique exhibition also in terms of the different types of materials on display. The exhibition includes 40 iconic garments from their period of greatest notoriety (1965-74), 10 paper dresses, 7 precious sketchbooks of Ossie and Celia, numerous never-before-seen drawings, editorials shot by important international photographers, as well as rare memorabilia, up to videos of the incredible performances/fashion shows of Ossie Clark".
This first room features the large projection of a video interview with Celia Birtwell (born 2 January 1941 and still active as a textile designer) where she talks about first meeting Ossie at the Royal College of Art in Manchester, thanks to her friend and artist Mo McDermott, through whom Celia would also meet David Hockney. She then discusses the collaboration with Alice Pollock and the Quorum period, a boutique and meeting place for artists and musicians up to the incredible performances with the models and musicians Pattie Boyd and Amanda Lear. Celia Birtwell herself recounts in the video: "Ossie could have been an architect. He was great at making three-dimensional shapes, which I've never been able to accomplish. I do flat patterns and he could make shapes and volumes, which I think is a talent which I don't have. This was a great marriage of two ideas. Ossie could encapsulate my fantasy drawings and make them real… Ossie was perhaps the first to put music in a fashion show, he got models of different ethnicities, interesting people from everywhere, who danced during the show. A multicultural phenomenon in its day and started a whole movement off ".
The first part of this same room is entirely dedicated to Ossie Clark, who already revealed an early talent in his first drawings for admission to the Royal College of Art in Manchester in 1962. The drawings with which he won the competition for the 'Down Shoes' footwear factory in 1964 are also on display, up to the famous sketches of the jumpsuit designed for Mick Jagger in 1973 in which Ossie used the same approach to design for men and women, crossing gender boundaries. His precious sketchbooks are also on display to help visitors understand his creative process, from the earliest dating back to the time of the Royal College of Art in Manchester (early 1960s) to those of the golden period (1968-69) where Ossie's style became edgier and more abstract, playing with the shapes of high-waisted dresses, Botticellian dresses and bell bottoms with floral patterns, which would become the must-have of the time. This section also testifies to his interest for 1920s and 30s French couture during his studies, and for the collections of the Victoria & Albert Museum where he focused on the French couture of the pre-war years, using the style of the fashion drawings of the Gazette du bon ton as a reference point. The influence of Vionnet is self-evident, and Clark himself would say: "You can make the most extraordinary models with a bias cut…" and moreover, "I'm a master cutter. I'm the scissor king".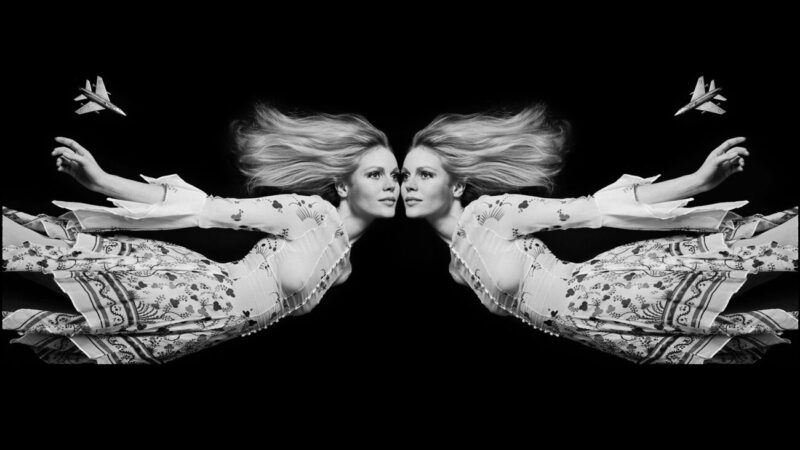 The second part of the exhibition recounts the artistic world of Celia Birtwell, who studied at Salford Art School in Manchester. She graduated in Textile Design and moved to London in the early 1960s, where she produced the first fabrics for op-art-style furnishings. She was also impressed by the exhibitions and collections of the Victoria & Albert Museum, in particular by Leon Bakst and Sergei Djagilev's costumes for the Russian Ballets and the art of the historical avant-garde. Celia's style – a combination of flowers and stylised leaves reminiscent of Botticelli – play on the unpredictability of combinations, sometimes with geometric elements and references ranging from medieval English tapestries to Cubism and Pointillism. The starting point for understanding her prints can be found in an exploration of the illustrations preserved in her precious notebooks displayed and digitised for the occasion. As Celia herself recounts: "Drawing was natural and I found it almost therapeutic. I started from defining the face that had to have personality, otherwise I wouldn't continue… It took me five minutes to create the Mystic Daisy print, which was one of the best-selling and had a long life".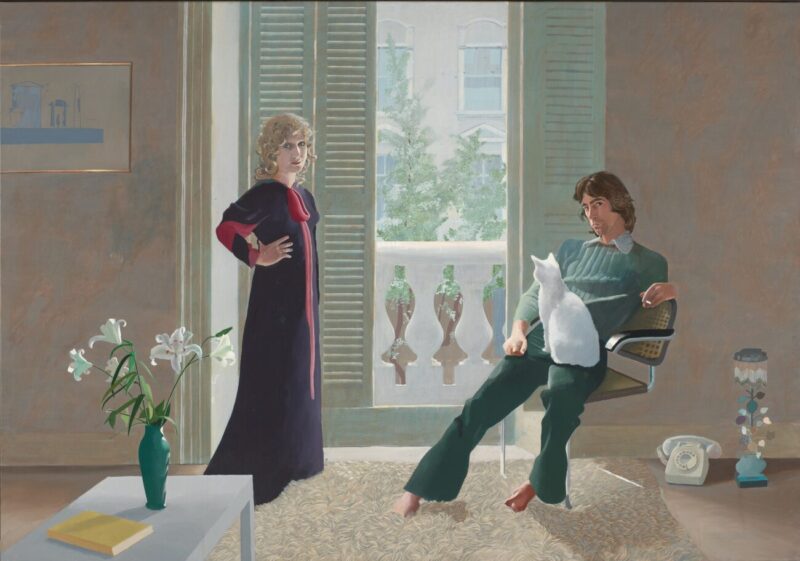 The large exhibition hall is dedicated to some extraordinary photographers who have distilled images of Ossie and Celia's clothes of great evocative strength, such as David Bailey, Alfa Castaldi, Jim Lee, Sarah Moon, Norman Parkinson and Justin de Villeneuve. The items displayed in this hall also include a corner dedicated to the special relationship between Celia Birtwell and David Hockney. The artist began to portray her as early as 1969 with her romantic floral-print dresses. Celia and David nurtured a great friendship that brought them to travel all over the world, sometimes together with the photographer Peter Schlesinger. They visited Marrakech, San Francisco, France and especially Paris, united by a common love for art and exhibitions. Hockney said, "Celia's face is not a mask, but it can reveal many faces".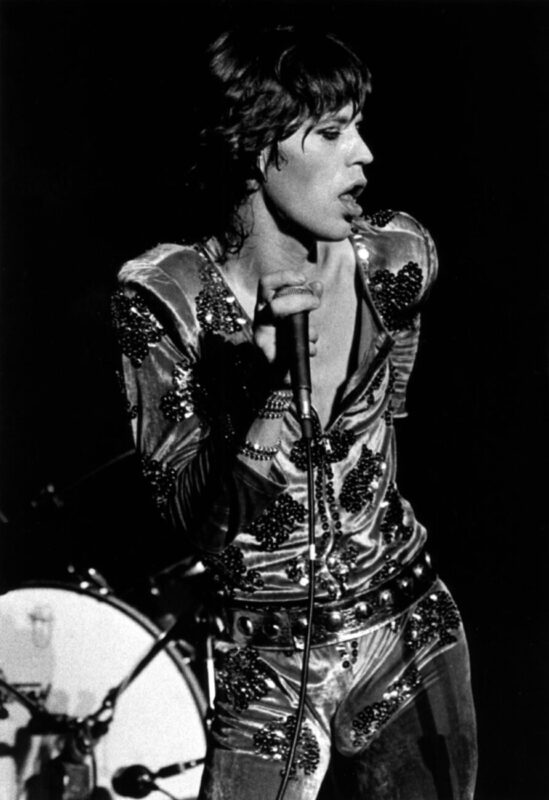 After the dual exploration of Ossie and Celia comes the heart of the exhibition with the spectacular display of 40 looks arranged on platforms in chronological order, from the first polka dot dress of 1965 to the creations of 1974, the date that marks their last collection. After that point, Ossie and Celia continued their work independently. The last part of this rich exhibition itinerary to explore is the wardrobe that includes 10 paper dresses. They are the perfect expression of that sense of cultural and social renewal that existed in the 1960s and became a mass phenomenon that spread throughout the United States of America and Europe. Between 1966 and 1969, the younger generations became voracious consumers of these two-dimensional, colourful and inexpensive clothes. Paper dresses soon became a merchandising tool capable of conveying the fashion style of the moment, but also political and cultural messages of the time. It was this great expressive potential that prompted many companies to collaborate with designers, including the same Ossie Clark, Paco RabanNe, Pierre Cardin and Givency, and artists such as Andy Warhol and Herry Gordon for the design and production of these paper dresses. In 1966, Ossie Clark collaborated with Zika Ascher to make the first paper dresses using prints designed by Celia Birtwell and printed on a cellulose and cotton fabric. This small exhibition – a true unicum – was made possible thanks to Massimo Cantini Parrini, who first and foremost collected all these special creations which are impossible to find today.