In the spaces of the Museo del Violino in Cremona, the true origin of street art is on stage: a wide selection of works by Paolo Buggiani and Keith Haring from an extraordinary encounter between the two, immersing visitors in the New York of the early 80's
Text by: Domenico Costantini
Anyone who, in 2022, tried to drive around New York City in a flashy car – or even just skating on a colourful pseudo-sail – would have been surrounded in minutes by dozens of police cars and charged of terrorism. 40 years ago, a time that seems as distant as a geological era, things were very different and on board of that car – or on those skates – you would have seen Paolo Buggiani, igniting urban antagonism through performances with a high 'political' content.
As the phenomenon of murals generically defined as STREET ART, spread through many different cities today, this extraordinary exhibition entitled Made in New York. Keith Haring + Paolo Buggiani (& Friends) presented by Cremona (Stra)Contemporanea and curated by Gianluca Marziani and Stefano Antonelli. Explores the ORIGINS of a spontaneous movement that, over the years has become a great source of inspiration for artists. This extraordinary exhibition examines the ORIGINS of a spontaneous movement that, for more than forty years, has animated walls, streets, buildings and all surfaces on which artists have been expressing their vision.
It all started in NEW YORK at the end of the 1970s, when the American metropolis was a melting pot of generational movements such as graffiti, rap, skateboarding and break dancing. Paolo Buggiani, a Tuscan born in 1933, has always had one foot in Italy and one in the Big Apple. His actions created a stir and a spontaneous beauty: imagine a sail/wing of fire, piloted by the artist in a special suit and roller skates, a sort of mythological thunderbolt drawing lines of energy through the avenues of New York. We are at the turn of the seventies and eighties, when Paolo Buggiani and his friends were using the metropolis as an open-air museum, and being as inventive as ever. Among with the young people there was one who would become a legend of contemporary art and a friend. His name was Keith Haring.
The exhibition traces the figure of Buggiani, the man who plays with myth and metamorphosis, imitating the figures of Icarus and the Minotaur. The fire machines that the artist wears during his performances, documented by many videos, made over the years on streets all over the world.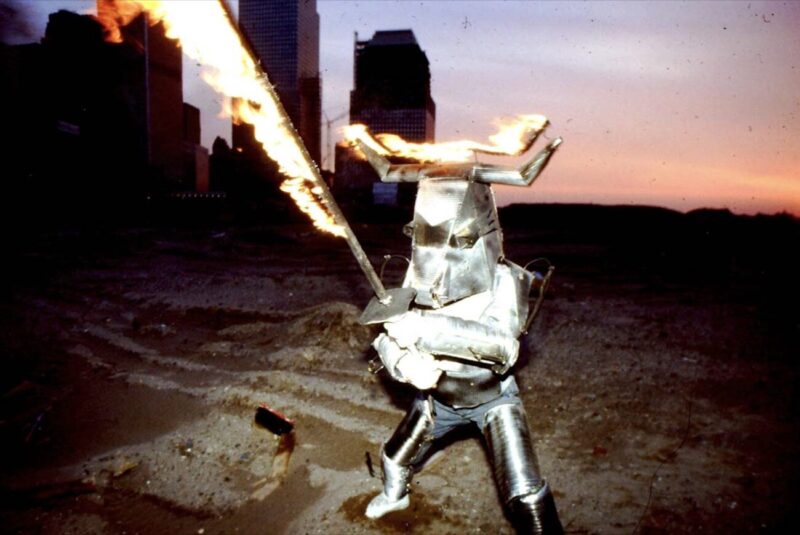 His different sized sculptures made out of fibreglass, of which the fire traces the contours, are full of irony and admonition towards the world, nature and society, but at the same time, references to the history and mythology of our culture.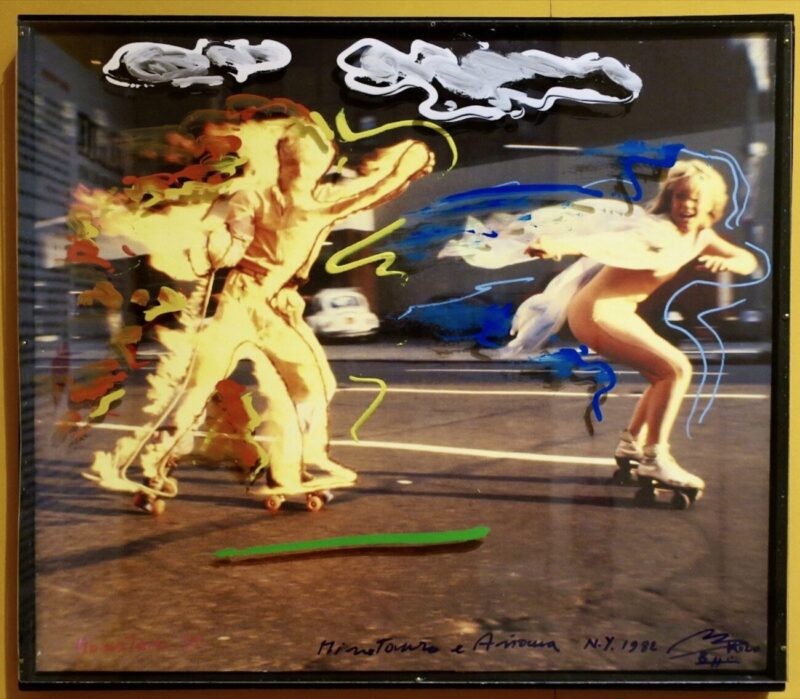 Buggiani is the flying skater from New York who opposes matter to abstraction, anarchy and the rules of everyday life. His actions have contributed to the development of different types of work: photographs of an old New York in the Art Nouveau style, recovered in a tangible way with effects comparable to a camera obscura giving an optical result of "painting on reality" and in other cases of a "three-dimensional painting". Others are compositions that anticipate today's times such as images of contemporary wars, alternating with provocative and surprising interventions such as "suspended" between skyscrapers. Buggiani's is, at the same time, a message of freedom, rebellion and peace.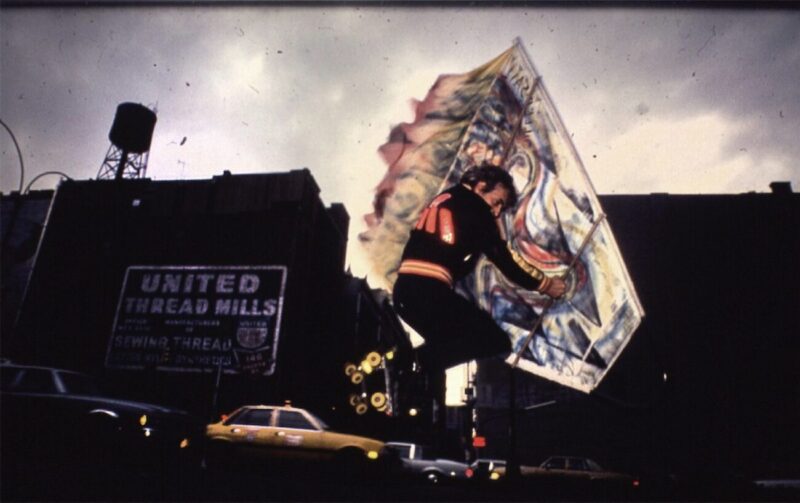 On CollectibleDRY Issue 17 2021 in between our pages Paolo Buggiani released an interview:
"About my wearable art overalls, in my opinion they offered the privilege of wearing a unique work of art different from any other. Because each one is individually painted by hand, through immersion in the three basic colours: red, yellow and blue… These colours can produce orange by the combination of red and yellow, green with the combination of yellow and blue, and purple with the combination of red and blue….. with endless bright shades. Then my signature and the progressive number reaffirm the uniqueness of the work. The fact that I presented them in Milan, at Beatrice Monti's gallery and then in a performance with the Brera students in Piazza Duomo reaffirmed my concept of ideally separating art from ordinary fashion."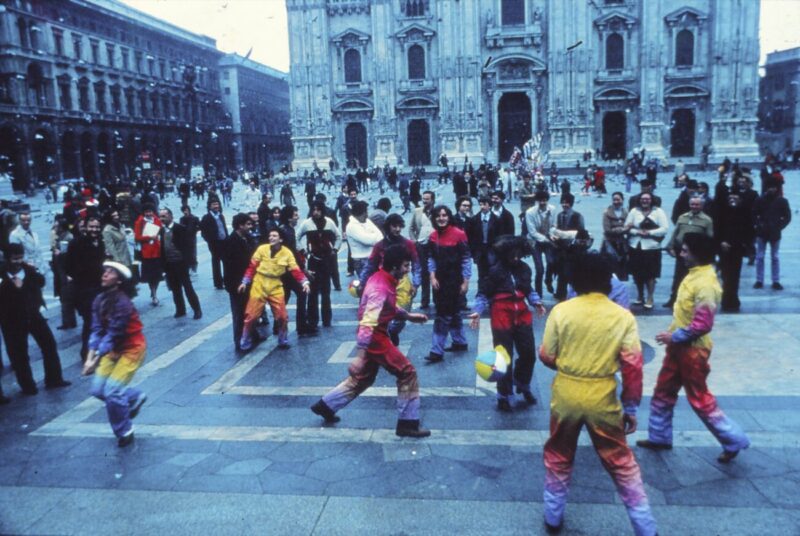 "My research into art often takes place in a parallel reality, where everyday obstacles can become non-existent to make way for desired realities. The infinite space of the universe contains both our subjective and objective time, likewise infinite in objective space and time. Ephemeral art and more enduring art come closer together and the mystery of the message can exceed the duration of the matter that creates the mystery. Wearable Art is where the painting comes out of the picture to be worn on the moving body, becoming performance."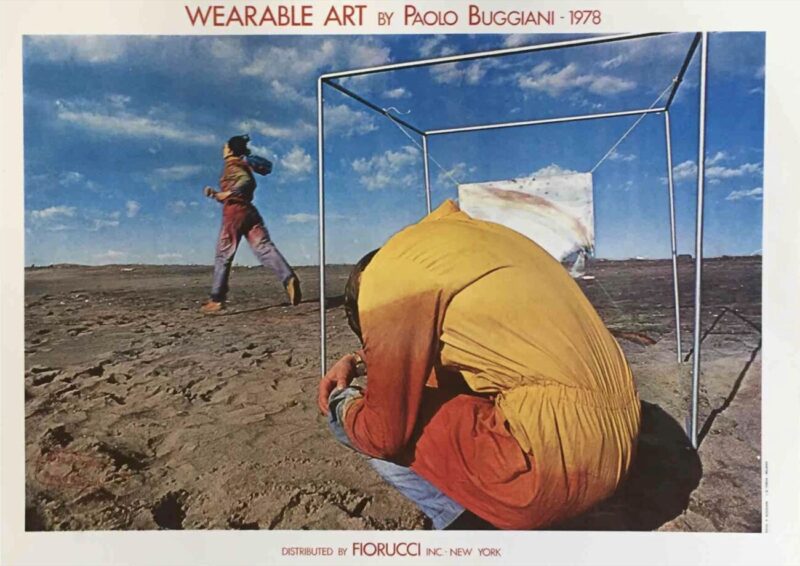 "Unsuccessful Attack to the World Trade Center NYC 1979 is a symbolic gesture of irreverence towards the economic power that the Twin Towers represented at that time. An impulse worthy of Don Quixote hanging from a rope above the city traffic. The shot is from 1979. Now it often happens that people, seeing this photo, think it is digital manipulation and I have to explain to them that it is not."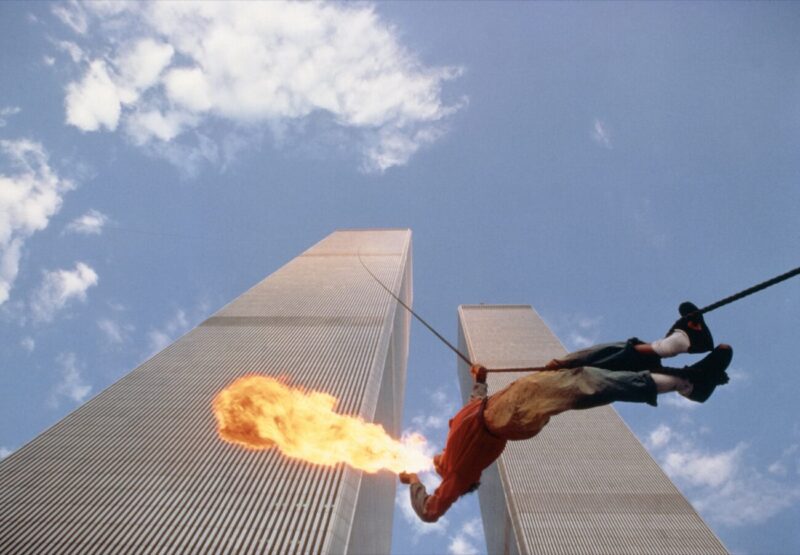 The exhibition also presents about twenty original works from those magical days, saved from systematic destruction and preserved by Paolo Buggiani, the first to sense the power in the present but also the potential future of that brilliant elf. As a testimony to their friendship, a precious drawing by Keith Haring shows us a man with wings, a dedication: FOR PAOLO.