Jeremy Daller's crazy performance with inflatable structures in Milan
Text by: Charlotte Garlaschelli
Any idea of what big art event is being prepared by Fondazione Trussardi for the Milan Art Week? This year it will be curated by highly esteemed Massimiliano Gioni, whereas the internationally renowned British artist Jeremy Deller will offer an event that will subvert and entertain, while also providing its audience with a chance to reflect. His performances are famous for involving mass participation of people. Jeremy's repetition of facts originates from an anthropological, social and historical foundation, detecting the possibility of modifying reality within the spectacular, while constantly balancing between imagination and practice.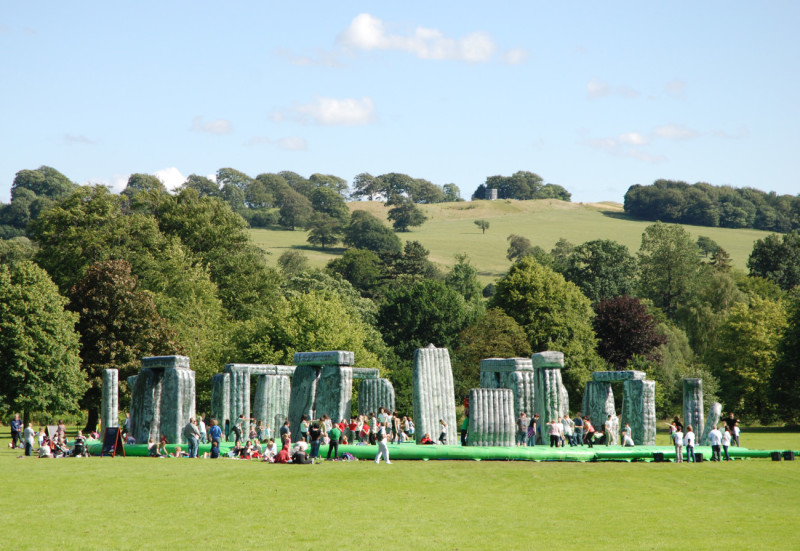 The exhibition will be held between April 12 and 15 at Milan's CityLife Park. It will revolve around huge architectonic constructions of the Stonehenge reproduced on a 1:1 scale, but inflatable. The place will therefore turn into a playground, where the boundaries between historic identity, the holiness of places, mass culture and art will fade away. The performance's focal point will be social aggregation and the recovery of collective memory, which nevertheless has already changed its traits. Sacrilege was first exhibited in Glasgow during the Visual Arts Festival, then during the London Olympics in 2012. Since then, it has been travelling around the world, with stops in such big cities as Madrid, Sydney and Hong Kong, and an amount of success that is usually granted to big artworks only. After all, Deller had already criticised and published in 2001 his re-enact of the Orgreave Battle, which recalled the 1984 protests of the Trade Unions miners against the Thatcher government. In that case, after a long and careful research on field, eight hundred actors recreated the famous battle-scene together with the local people.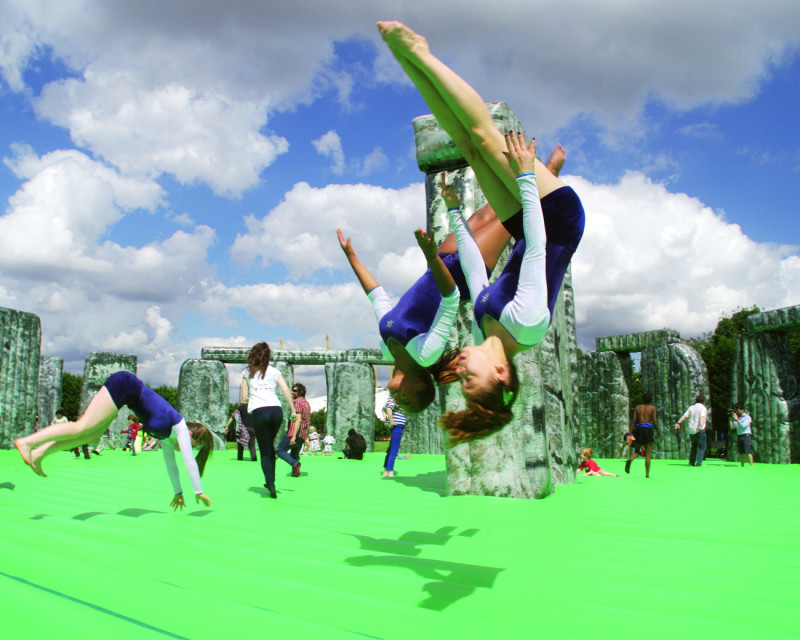 In this case, one of the landmarks of British identity and human archaeological culture of the Neolithic period – as well as a UNESCO heritage site since 1986 – loses its sacred aura and gains a new identity that needs to be rediscovered and redefined, while displacing the souls of our ancestors and triggering a popular bustle of joy and play.
The outstanding activity of the Trussardi Foundation should not go unnoticed, as it aims at enhancing and rediscovering unusual or forgotten places. With Deller's work, a double reference to artificial fair fun in the City Life Park, created as the playground of Expo2015, will also become a reflection about space and territorial culture, historical icons that stand through time, a memorandum of the actual human activity, which creates and modifies places and its own works. Always and anyway on the thin and unheimliche line between fiction and reality.