MORE THAN A KILOMETRE OF HAND-SANDED CONCRETE "BOW", SIGNED BY IRIS VAN HERPEN, SHAPES THE NEW STRUCTURE OF THE NETHERLAND'S WORLD-RENOWNED BIODIVERSITY INSTITUITE
Curated by: Fiammetta Cesana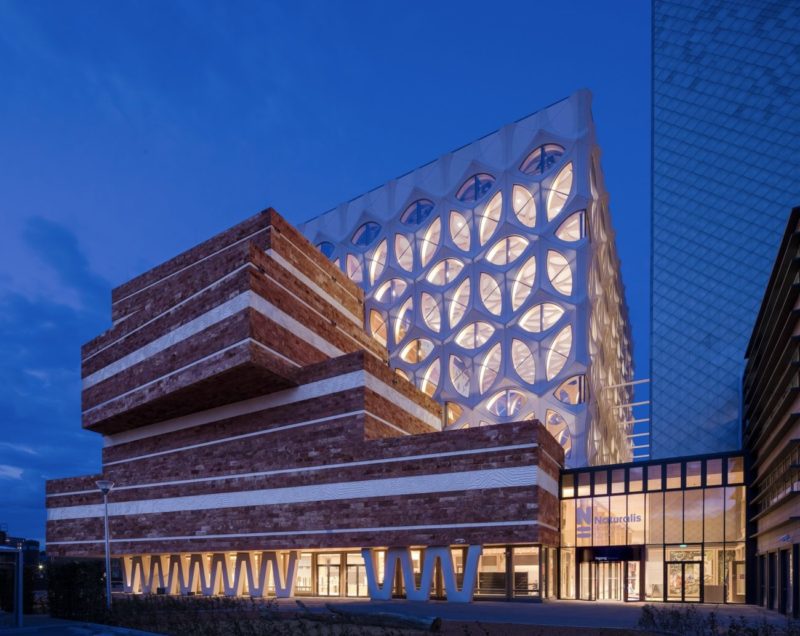 IRIS VAN HERPEN AND NATURALIS BIODIVERSITY CENTER
Opened to the public by the end of this summer, the Leiden based Naturalis Biodiversity Center presents a surprising design by the Dutch fashion creative Iris van Herpen. In collaboration with Neutelings Riedijk Architects, she created a concrete structure which treads the whole building tightening it like a white bow.

With a collection of forty-two million objects, ranked amongst the five largest natural history collections in the world, the new instituite, which is focusing its studies on the global decline of biodiversity and climate change, comprises nine exhibition halls, research facilities and laboratories. All of this beribboned by van Herpen's high tech three-dimensional textures.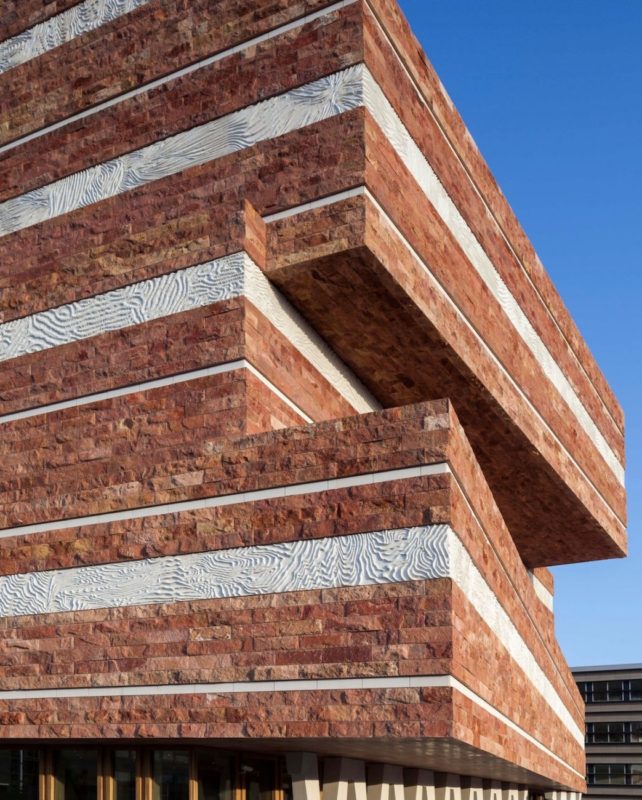 FROM COUTURE TO ARCHITECTURE TO SCIENCE AND NATURE
Guest member of the Parisian Chambre Syndicale de la Haute Couture and part of the Fédération française de la Couture, Herpen has always carried out a multidisciplinary approach to fashion design. Often hailed as a pioneer in adopting 3D printing technologies, her works are intrinsically related to architectural studies which brought over the years to several collaboration with international architects and artists, such as Philip Beesley, Anthony Howe, Jolan van der Wiel and Neri Oxman. Also her love for the beauty of nature in all its variegated forms made the project for Naturalis Biodiversity the perfect synthesis of her rational and imaginative souls.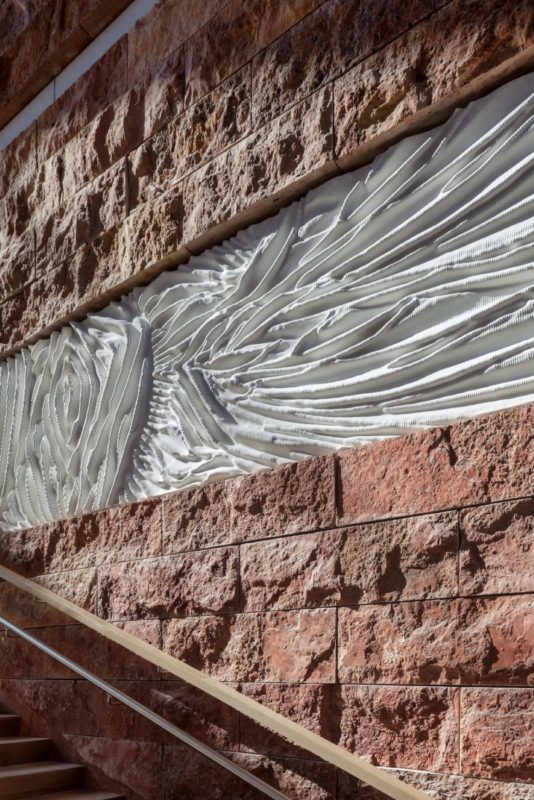 Using a new construction technique specifically developed for this collaboration, the 263panels were moulded from a tailored blend of concrete and small grain sized marble aggregate, resulting in a delicate texture that feels and looks as smooth as fabric. In addition to the relief pattern and to the texture of the concrete itself, the interplay of lines provides a third dimension to each panel that reflects the complexity of our geological structure. Inspired by Naturalis' DNA, the composition of fossils and the erosion of stones, Van Herpen's creation displays the evolution of the forces behind the forms interlinking her contemporary vision to our planet's natural memory of the past.
Fashion, art and science find in this unusual tapestry a visionary expression, revealing the importance of giving voice to the history of our nature so that it does not lose its future.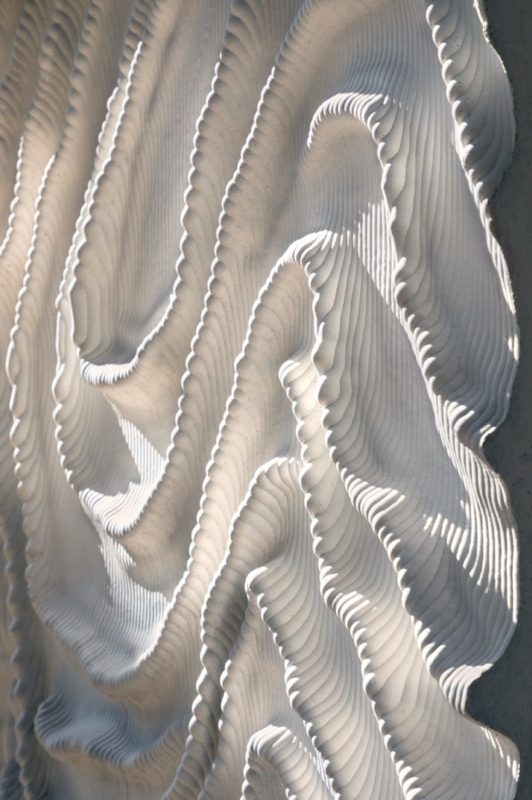 "The extraordinary Naturalis collection and the infinite freedom of frozen forms I found in the archive, inspired me to explore the transport of time within nature's ever-evolving dance. The erosion details within rocks, re-sculpted by water throughout centuries and the eternalised mysterious beauty of fossils moved me to drape and pleat with stone instead of silk. Three-dimensional biomorphic patterns entwine the in-and outside of Naturalis, like the archeology of a dress." – Iris van Herpen