FOR THE SWEETEST AND MOST REFINED VALENTINE'S DAY, DISCOVER THE NEW LOVE-MADE COLLECTIONS BY GINORI 1735
Text by Fiammetta Cesana
Yes it's 2021, yes we are struggling with a global pandemic, and yes we are sacrificing a lot of the life we used to know. But there's one only thing we cannot, and never will, give up on. That thing building the ground of our happiness, essential of being human, of deeply feeling alive…that thing that makes us, today and forever, win any battle, even this dreadful one against the virus.
Of course, I am speaking of that only thing Love.
If we may have lost sight of how much love means in our everyday life, fortunately it misses few time to the day of love par excellence, the best occasion to dedicate moments to the dear one, or maybe to find courage and finally declare our feelings, or why not to spend sometime alone and treat ourselves with love.
Giving space to love is vital and sometimes a small, but well curated gesture can surprisingly lift up our mood and change the way we see all the problems. So for your upcoming Valentine's Day this year we chose to share the beauty and values of a secular brand that through its creations promotes a new Renaissance, which is what we are all hoping for.
With its three centuries of history, Ginori 1735 is guardian of Italian pure porcelain's excellence and leading in luxury design. The ability of the manufacturer to made the teachings of this very long past of craftsmanship a way to embrace new techniques and aesthetics is charming. What better occasion than the day about Love to celebrate timeless values getting shape in new wonderful forms? Especially in times like these, we need to re-give significance to slowness and cure, to the magic of details and simple moments enjoyable among domestic walls, just like sharing with our love a nicely cooked and set dinner.
Actually, Ginori 1735 has thought of all the best simple events to live at home with our cherished one, a breakfast in bed, a fancy aperitif and the most romantic dinner.
It is said that breakfast is the most important meal. So on February 14, whether we are in the company of our sweetheart or we enjoy it alone, breakfast must be a real treat. In the delight of staying a few more moments in bed, let's get cheered by the fantastic world of the "Il viaggio di Nettuno" collection. From the emerald and scarlet Labirinto mug, to the pink one with the sea blue three-shell candle holder, till the brand-new red coral mug. The latter in particular has been created by the London artist Luke Edward Hall, celebrating love through the most passionate color. This special edition mug is available in limited quantities on the brand's e-shop (see the link below).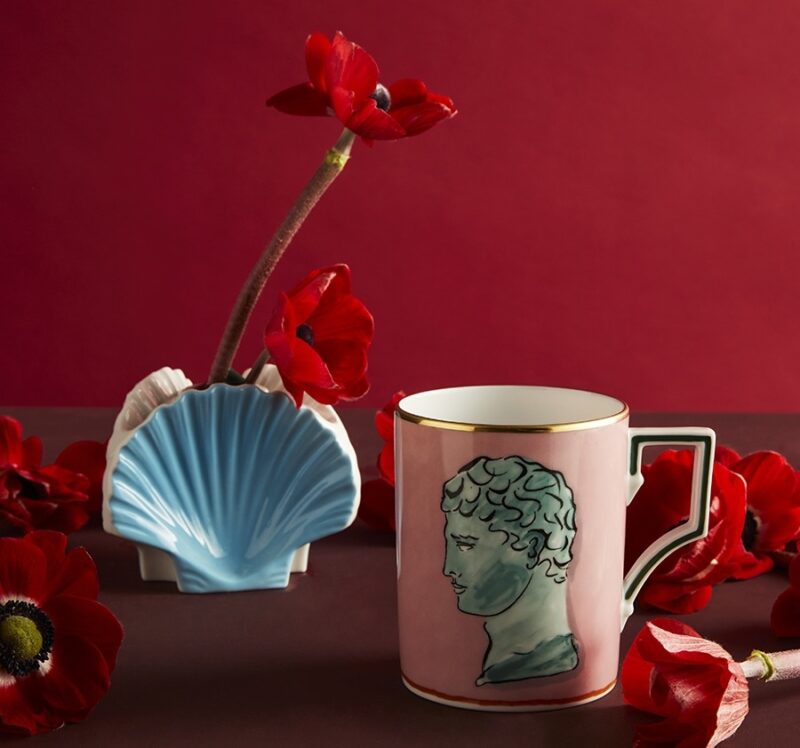 It's 7:30 pm, it's time to turn off the computer and finish our smart-working day with a love-made aperitif. Between appetizers and delicious sauces to dip them in, we absolutely need something sparkling! From the same mythological collection dedicated to Neptune, the coasters hold Baronetto's crystal flutes while the precious Medici champagne goblets with gold rim are combined with Totem's coasters.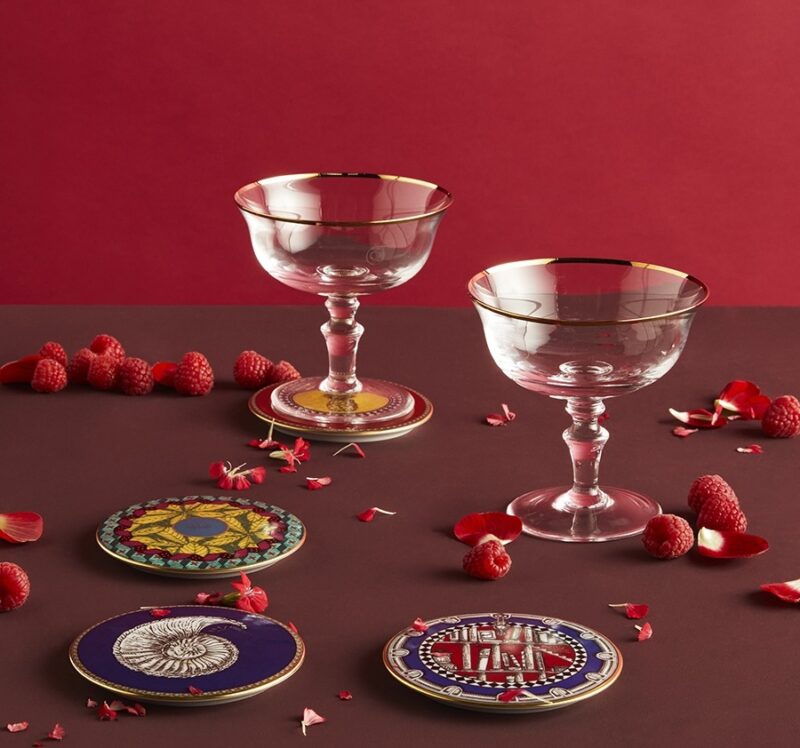 Dulcis in fundo, the romance of this special day culminates with the mise en place for a dinner with plenty of passion and exotic touches. From the Magnifico collection, flatware in white and platinum accents, and in vermilion from the Oriente Italiano collection, get illuminated on our table with the Oro di Doccia magenta and turquoise candles.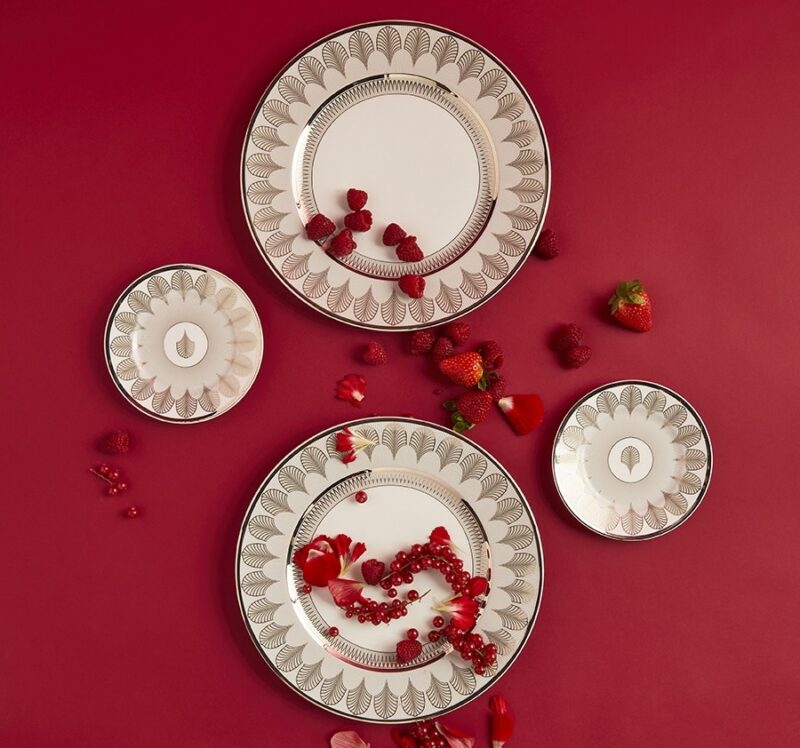 Riding this wave of passion, myth and exotic warmth, in addition to our table set's composition, Ginori 1735 for this Valentine's Day proposes us also two unique gifts, the Oro di Doccia magenta silk foulard and the cup from the Babele red collection, showing love with a refined object to wear and taking care of our home's spaces.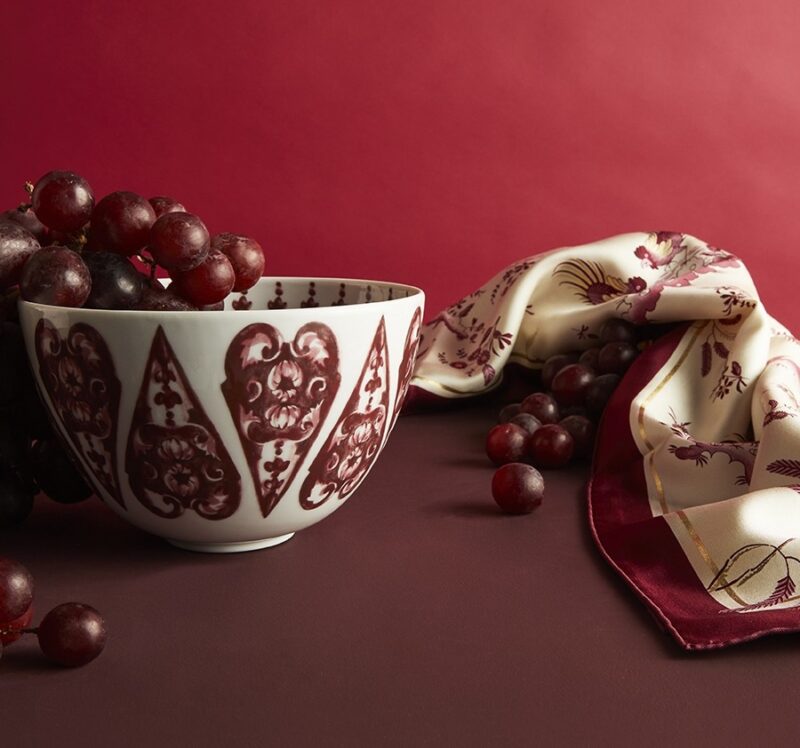 For your romantic shopping visit Ginori 1735 and treat yourself with the sweetest and most refined of Valentine's Days!