There is no time for candle-blowing: at 80 years old Dame Vivienne Isabel Westwood is back on a quest to save the world
Text by: Josephine Giachero
What happens when a living legend turns 80 and she tells you DO NOT BUY A BOMB through a poster collaged with adorable blue-eyed kittens? That's right, you're not going to do it.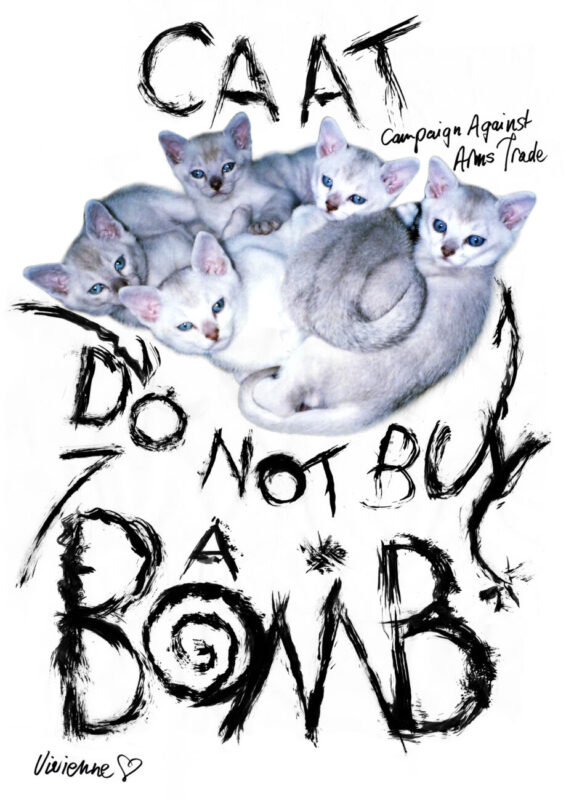 In her eight, glorious decades of existence, Vivienne Westwood has eagerly addressed topics worthy of concern like no other contemporary designer, and today she is pledging the world to reconsider its principles. The designer's activist interests, desire to challenge the status quo, and innate elegance have not withered with age; they have flourished the more.
Andreas Kronthaler, the fashion heroine's 55-year-old husband, captured her today in a portrait sequence carrying a spongy cake with orange fresh flowers: bright-eyed, with ethereal long white hair and green face paint splashed upon her wrinkle-less visage.
The punk icon on her birthday performed a revised version of Without You from My Fair Lady in a 10-minute video titled Do Not Buy A Bomb, presented by CIRCA. Through her powerful live video message to the world from Piccadilly Circus, she challenged the public to "Tell the children the truth" through a warning of society's indifference to imminent environmental disasters, a cry against the arms trade and its contribution to climate change. She sang:"What a fool I was, what a dominated fool… To think that you were the Earth and the sky…"
Joseph O'Connor, CIRCA's artistic director disclosed in a statement forwarded to DRY: "We are honored to provide a platform for this British icon on the screens by Piccadilly Lights to celebrate 80 years in style. Vivienne Westwood has a long history as an activist on issues such as climate change, civil liberties and nuclear disarmament. Causing others to think and reflect or consider their own actions."
"I have a plan to save the world. Capitalism is the economy of war and war is a great pollutant, so STOP the war and change the economy to have an equitable distribution of wealth: NO MANS LAND. Let's be clear, you and I can't stop the war, but we can stop the production of weapons and that will stop climate change and financial disaster."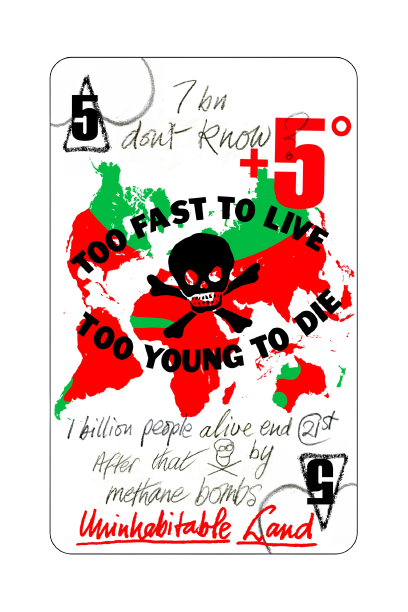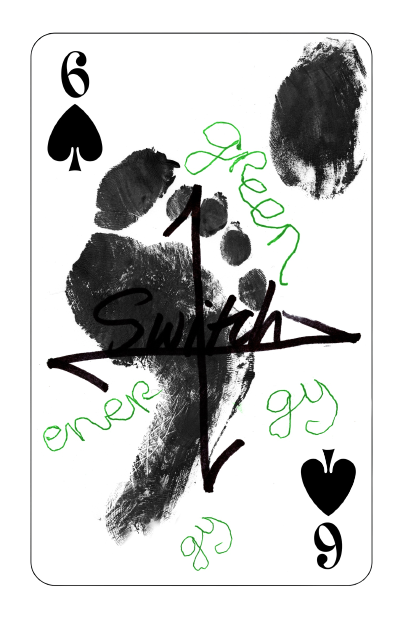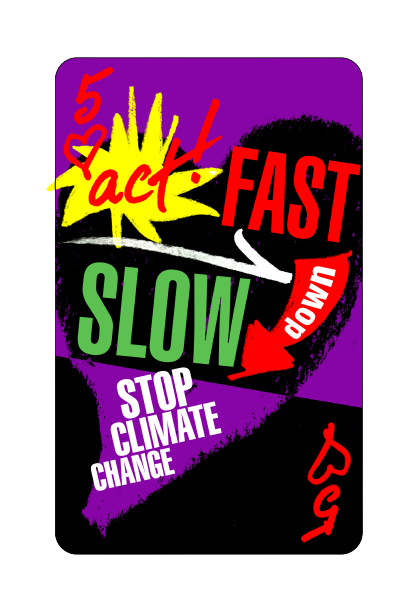 Her contribution to British fashion was formally recognised in 2006, when Queen Elizabeth II bestowed the title of Dame of the British Empire on her. Vivienne Westwood has always used her fashion shows and collections to promote positive activism campaigns; she has spent years mobilising international attention to ecological crusades to raise public consciousness about the consequences of climate change and excessive consumerism.
In 2012, Westwood launched Climate Revolution at the Paralympic Games closing ceremony in London, and she continues to advocate for charities, NGOs, and individuals to band together to take action against disillusioned political leaders and corporations. She is a founder of the human rights movement Liberty, the godmother of Reprieve, and an advocate for Amnesty International War Child. After founding CoolEarth.org – which aims to preserve rainforests and halt climate change – Westwood and her husband visited the Asháninka forest project they helped save in 2013, spent a week with a tribe on the Peruvian side of the Amazon rainforest, and the Dame used the opportunity to petition the Peruvian government on their forestry policy. She is also an ambassador for Greenpeace, having designed the organization's official "Save the Arctic" logo in 2013 and launching a global movement to stop fracking and industrial fishing in the region in 2015.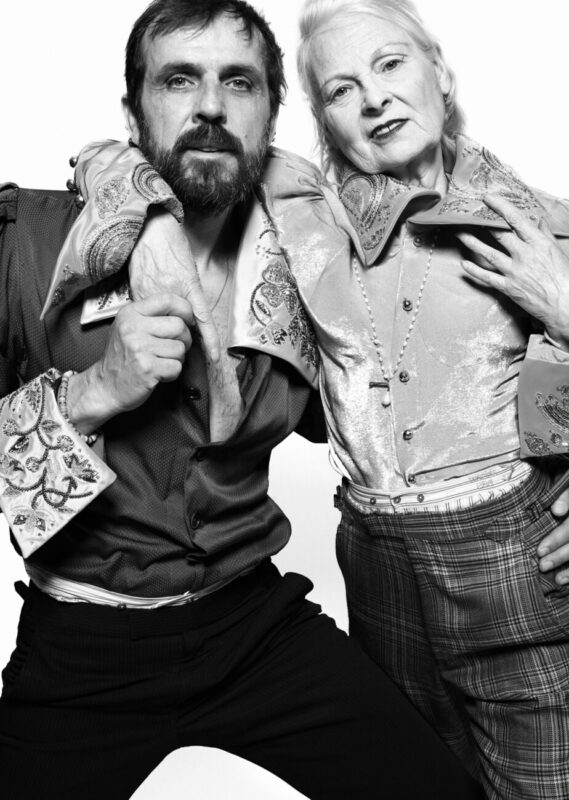 In 2010, Vivienne Westwood collaborated with the International Trade Center, a United Nations joint organisation, to manufacture bags as part of their Ethical Fashion Initiative. The programme supports the work of thousands of artisans in impoverished African communities and enables small businesses to join the international value chain, ensuring wages for some of the world's poorest people. The collections are made from recycled materials, which reduces the need for deforestation in the region.
In collaboration with the British Fashion Council and with the help of the Mayor of London's office, in 2017 she launched the initiative SWITCH to Green to encourage the fashion industry to use a renewable energy supplier and participate in the ambitious climate action. The movement is still ongoing, and it urges representatives from all industries to commit to using SWITCH in all offices and shops. Vivienne won the Positive Change award at the British Fashion Awards in 2018 for her consistent work in the industry
Anarchic, otherworldly Westwood, and activist at heart, often peppers her designs with slogans and other political calls to action. She started off as a primary school teacher, oftentimes selling her jewellery creations at the Portobello Market. But it was only in 1971 that she began making Teddy Boy clothes for McLaren and in 1971 they opened Let it Rock at 430 Kings Road. Without a shadow of doubt, it was her who popularised bondage pants and other elements of BDSM, as well as safety pins and chains.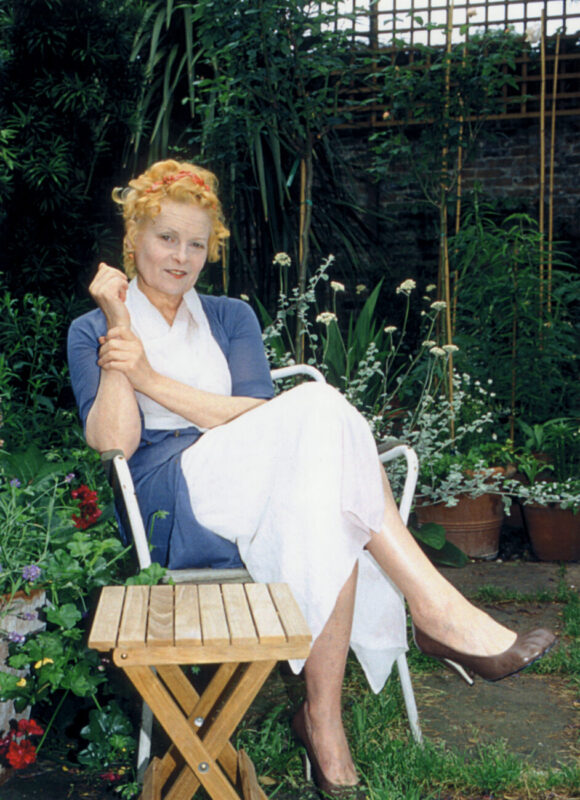 Westwood and McLaren started to design offensive t-shirts, which resulted in their prosecution under obscenity laws; their response was to re-brand the shop and create even more hard core photographs. By 1974, the shop had been renamed Sex, a place that was "unlike everything else going on in England at the time," with the slogan "rubberwear for the workplace." "I was messianic about punk, wondering if one could place a spoke in the machine in any way," Westwood said of the punk fashion movement of the 1970s. The Sex Pistol's God Save the Queen, managed by McLaren, reached number one in 1976 but was denied air time by the BBC. The shop reopened as Seditionaires, refashioning the straps and zips of obscure sexual fetishism and inspiring a do-it-yourself aesthetic. It was dubbed 'Punk Rock' by the media. The collapse of the Sex Pistols and the mainstreaming of Punk left Westwood disillusioned; the shop was renovated and renamed Worlds End in 1980, a name that is still in use today.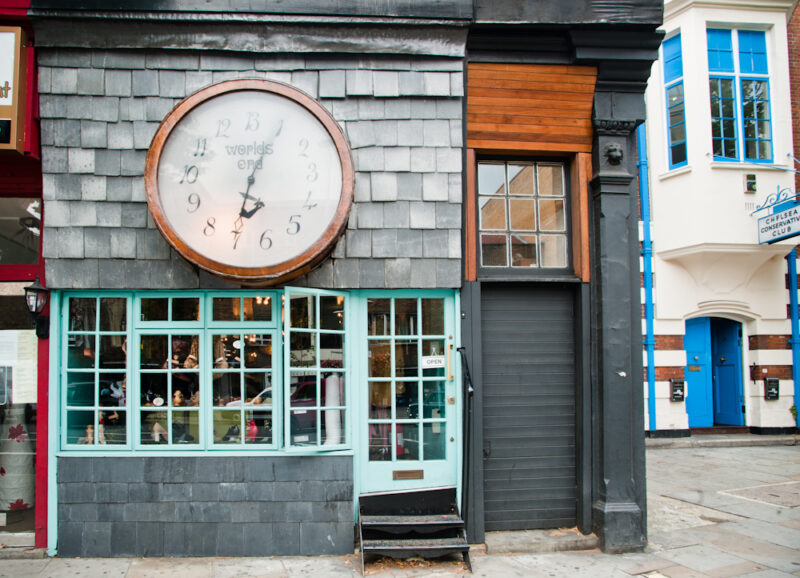 Westwood's style also influenced punk pioneers such as Viv Albertine, who wrote about it in her memoir: "Vivienne and Malcolm use clothes to shock, irritate and provoke a reaction but also to inspire change. Mohair jumpers, knitted on big needles, so loosely that you can see all the way through them, T-shirts slashed and written on by hand, seams and labels on the outside, showing the construction of the piece; these attitudes are reflected in the music we make. It's OK to not be perfect, to show the workings of your life and your mind in your songs and your clothes."
Westwood and McLaren's first catwalk presentation was The Pirate Collection in 1981. This provided a romantic look that exploded onto the London fashion scene and cemented the collection's place in history. She labelled the years 1981–85 as "New Romantic," and 1988–91 as "The Pagan Years," during which "Vivienne's heroes shifted from punks and ragamuffins to 'Tatler' girls dressed in upper-class garb." From 1985 to 1987, Westwood drew inspiration for the mini-crini, an abbreviated version of the Victorian crinoline, from the ballet Petrushka. Its mini-length, bouffant silhouette influenced puffball skirts popularised by more known designers like Christian Lacroix. In 1989, the mini-crini was characterised as a synthesis of two opposing ideals: the crinoline, which represented a "mythology of restriction and encumbrance in woman's dress," and the miniskirt, which represented a "equally dubious mythology of emancipation.". Her 17th and 18th century cutting techniques, especially the radical cutting lines she created for men's trousers, are still greatly influential today.
"Someday you will say the right thing at the right time to the right person and you will make a difference. Write in your articles, in your columns and on social media, as a journalist you are an activist. I've always associated fashion with activism: one helps the other. Maybe fashion can stop the war."
– Vivienne Westwood, April 8. 2021
"Buy Less, Choose Well, Make It Last" possibly remains one of the Dame's most influential quotes. But today, on the occasion of the impressive milestone in age, Westwood's war is more about the world's sense of injustice and the threat of weapons than it is about fashion: "It is a war for the survival of the human race and that of the planet. The most important weapon we have is public opinion: visit art galleries, begin to understand the world we live in. As soon as you start doing this you become a defender of freedom."