Text by: Charlotte Garlaschelli
At the Accademia delle Scienze in Turin will be on show "Endless curiosity. A journey through universe in the company of Tullio Regge" (the show will run until the 18th March 2018). Tullio Regge was a well known scientist, famous for his theory of symmetry in quantum mechanics and impact processes among particles, but also an excellent science populariser and an eccentric designer. He even designed the Detecma armchair produced by Gurfram, now exhibited in some of the most important international design and art museums.
For this occasion, a group of seven renown Italian chef was asked to elaborate a dish inspired by Regge's discoveries. Matteo Baronetto, Antonino Cannavacciuolo, Michelangelo Mammoliti, Christian Milone, Alfredo Russo, Davide Scabin e Mariangela Susigan are the chefs participating to this iniziative, playfully called "Endless curiosity. A journey in the company of chef."
Davide Scabin, a real "scientist" among chefs, has invented a recipe called "Cyber Egg". The creation of an egg that can be cut with a scalpel, dates back to 1997, is now considered to be one of the Scabin's signature dishes and a perfect homage to Regge. It's possible to taste this very particular egg at the Combal.zero in Rivoli where Scabin works untill the 20th of February 2018.
Since the 17th century the egg has been considered the most scientific ingredient in the dishes. In fact in 1650 Juana Inez de la Cruz, a nun, a poet and a feminist ante litteram, developed her metaphysical theory of science in the kitchen.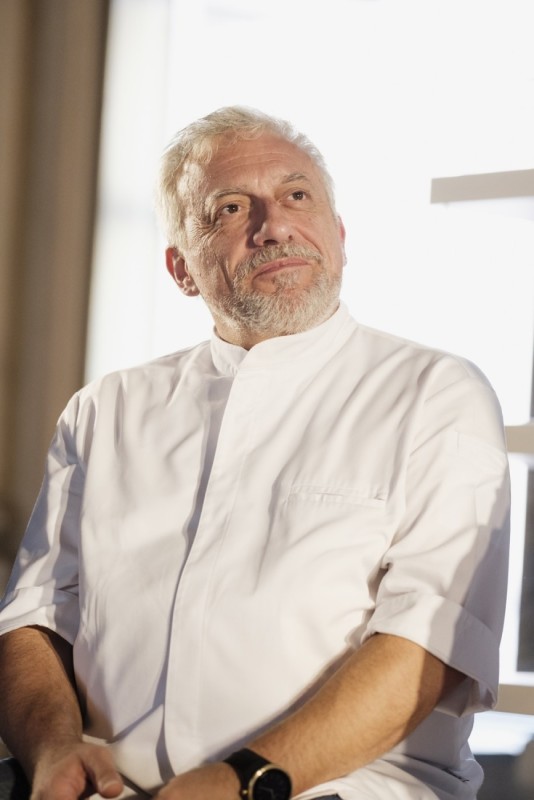 She combined philosophy, science and culinary art and stated that the egg embodies perfection in the form of edible matter, as it is capable of shifting form and state: it thickens in a pot and stiffens when mixed.
Probably not unlike the 17th century Mexican philosopher, Davide was once standing in his kitchen, pondering over an egg, during an afternoon of work. The egg was really there in a basin, ready to be beaten, but the chef's eye moved towards the whole eggs resting on his shelf, with their fragile and perfect shells. Let's say it, they really represent the shape of the infinite. And this is when his spatial recipe came to life, as an experiment with an alternative penetrable eggshell.