Marbella has much to offer apart from the excellent cuisine, Club scene and beach-clubs. If you want to explore the city, here are two destinations you can't miss.
One is the plaza de los naranjos, which is situated in the heart of Marbella Old Town. It is not only the real center of Marbella its also an olfactory experience with its mesmerizing scent of oranges, the kind of scent that one only knows from the can.
Secondly you should have a stroll down Avenida Del Mar and check out the original Salvador Dali statues of the promenade.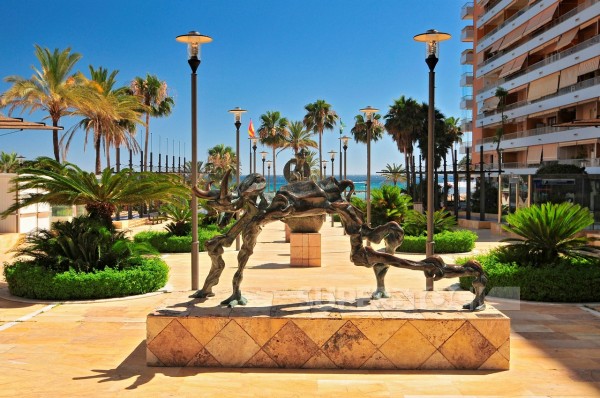 Moreover, I'm a big art lover, and my favorite Gallery is the sister gallery of the Parisian Moretti & Moretti. Currently they have a great street style exhibition called "Same Fight 4 Street Art" featuring pieces of Blek le Rat and Hubertus van Hohenlohe. Hubertus, apart from being a great Alpine skier, is also a fantastic photographer. His signature is photographing in such a way that his own image is somehow implemented in the shots, as Patrick Moretti, the owner of the gallery, explained to me. Hubertus von Hohenlohe, is one of the artists that is changing the sometimes a little dusty image of Marbella. The gallery is super charming as it is and the owners are very personal.
When you are in Marbella, apart of the charm of the city itself, you should not forget the big picture. This part of the world is a cultural hotspot. In not more than two hours drive you can visit world famous cities like Sevilla, Ronda or Granada.
With a view over Granada you will find the Alhambra, the maybe most important and impressive building of whole Spain. The Arabic palace and fortress is of breathtaking beauty and worth to visit. But be aware to plan this trip ahead as you can only enter with a ticket.