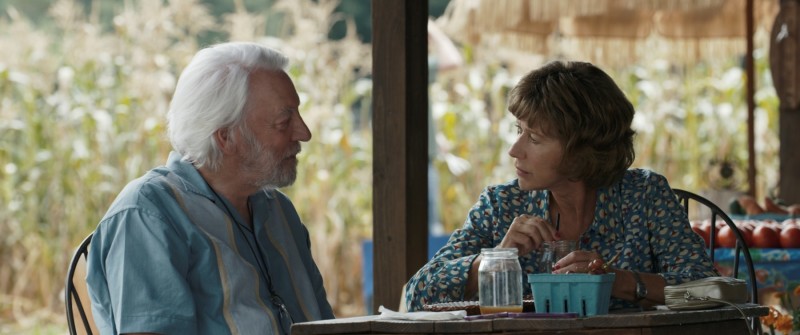 Review by: Luigi Locatelli, scholar and film critic
Translated by: Steve Piccolo
The Leisure Seeker (Italian title Ella & John) by Paolo Virzì. With Helen Mirren, Donald Sutherland, Christian McKay, Janel Moloney.
The Italian press announces triumph, but the English-language press seems perplexed. In effect, this first film in English by Paolo Virzì is not so memorable (as was This Must Be the Place by Sorrentino). A couple in their seventies dust off an old camper from the garage and set forth on an adventurous journey, heading south, matching the cliché of the "adorable escaping oldsters." Overwritten, closed, stifled, a film that simply repeats the initial idea and takes no risks. Even the ending, which is supposed to be a surprise, is actually very predictable.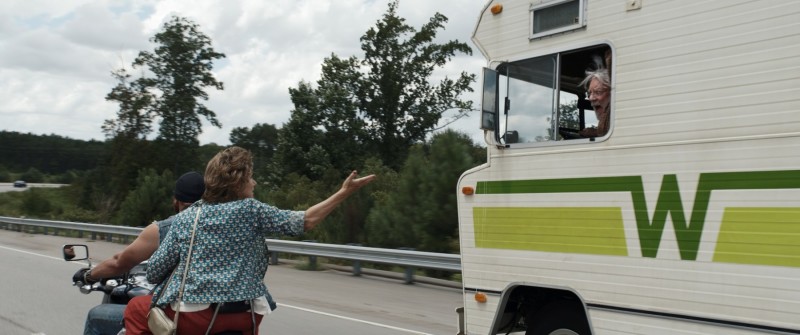 You've probably read a lot about this American Virzì, shot in English with two older starts who still have great international appeal, so I can bypass the explanations and go straight to the comments. First, I didn't like The Leisure Seeker at all, and while at the start I would have given it five and a half, in the end I shifted to just five.
A couple in their seventies – as in other films of this geriatric Venezia 74, Our Souls at Night with Robert Redford and Jane Fonda, and La Villa by Robert Guédiguian: after all, cinema simply reflects the aging of the Occident – from Massachusetts. He was once a teacher of American literature, while she was a housewife, not a working woman. Without telling their children, they decide to drag their decrepit but still workable camper out of the garage – a Leisure Seeker, evidently a vintage rarity – and to depart. It will be a beautiful voyage, "the one we have always dreamed about" (of course). A wonderful vacation, reclaiming their rights to life and liberty. On the road! Which as we know is the continuation, with other means (of locomotion) of the race westward, the update of the eternal myth of the frontier. Heading south, this time, towards warmth, passing through her native land of Virginia (she was a Southern Belle). The destination of John and Ella, as the protagonist are named, is Key West, the home of Hemingway, the writer-fetish together with Melville, so much so that he gets quoted whenever possible, even when it is useless, even running across waitresses who wrote their degree theses on The Old Man and the Sea (stuff that can only happen in an American film by Virzì). Pardon me, but couldn't a slightly less obvious literary myth have been found, someone slightly more obscure, intriguing, less worn out by use? Details like this one reveal whether a film is daring or simply lazy, ready to embrace conventions.
Along the way we discover that John suffers from intermittent senile dementia, with moments of lucidity alternating with complete mental confusion. In any case, among the skills he has mysteriously kept intact there is the ability to drive, so that we can witness brilliant and reckless moves on the highway that alarm the local police. That sort of thing. Many things happen on the way from Massachusetts to Key West, but nothing really interesting. Some scuffles, some jealousy out of its appropriate time frame, et c'est tout. As if the film had been set on the adorable-oldsters-in-flight program, with the automatic rinses and cycles of encounters, revelations, noisy arguments, adventures and misadventures. Everyone is very nice in this America imagined from Italy, even the thugs of the Hell's Angels who turn out to be like big boy scouts who can't wait to lend a hand to our John and Ella. Which just accentuates the sense of the artificial, the improbability of the whole operation. Of course under the lightness of comedy drama gradually lurks, with an ending that was supposed to be surprising and is instead simply coldly plotted out according to the rules of the manual of the astute screenwriter. An escape on the road was also staged in Like Crazy, but at least in that story there was the dizzy countess played by Valeria Bruni Tedeschi to amuse us. In spite of the many miles traveled, The Leisure Seeker is an intrinsically immobile film that tugs away at its initial premise endlessly, without a single shift, a single real risk: a perfect example of false movement. Characters that do not grow or change, like the fixed masks of the Commedia dell'Arte. Comments on America that fail to be interesting (the usual mannered anti-Trumpism, which nevertheless gets a round of applause, the house of Hemingway reduced to an attraction for loutish tourists, and so on). Of course, The Leisure Seeker offers a fine vehicle for its two stars, especially Helen Mirren (a bit too youthful and in form for the part), who might get a nomination of some kind for her efforts. But the reception on the part of the English-speaking press was far from warm. Variety, for example, panned the film in no uncertain terms ("Not even two actors as talented as Helen Mirren and Donald Sutherland can save this dreadfully predictable Alzheimer's road movie"). Of course the Italian critics have shouted praise and hailed the film as a triumph, confirming their own self-absorption. C'est Venise. C'est l'Italie.