Review by: Luigi Locatelli, scholar and film critic
Translated by: Steve Piccolo
Three Billboards Outside Ebbing, Missouri by Martin McDonagh. With Frances McDorman, Woody Harrelson, Sam Rockwell, Abbie Cornish, John Hawkes, Peter Dinklage.
Ovations for this third film by the director-screenwriter of In Bruges. A mother, distressed because her daughter's killer has yet to be apprehended, shouts her rage through three enormous roadside billboards, accusing the police and a silent community. The case is back in the spotlight, but a very dangerous chain reaction begins in the city. Dazzling dialogue, as always in McDonagh (his best weapon).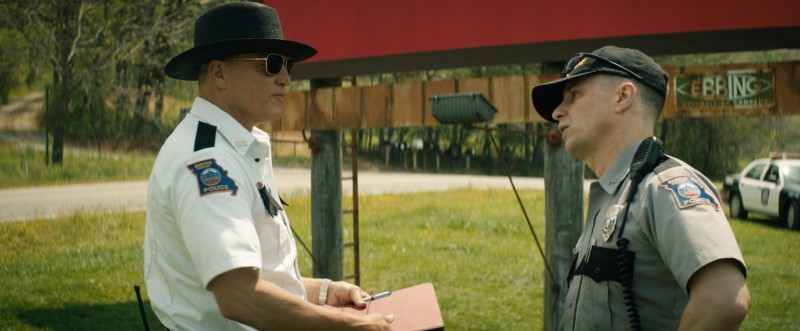 I'm a great admirer of the London-based (with Irish roots) director and screenwriter Martin McDonagh, who began his career in theater and only later turned to cinema (it runs in the family: his brother John Michael also writes and directs films, including the beautiful Calvary). I've been watching and appreciating his efforts since the days of In Bruges, a cult noir about two lowlifes trapped in Belgium's most picturebook city, a tale of blood and cruelty, and of explosive dialogue, compared (who knows why?) to Tarantino at the time, though instead the work is closer to Beckett, Pinter and the Elizabethans). After that came the acrobatic and cerebral Seven Psychopaths, all back and forth between reality and imagination, reminding us of Charlie Kaufman, again with sparkling dialogue and outbursts of brutal violence. The talented director has come up with a third work that makes a splash, perhaps not his best or most daring, but certainly his most balanced and accessible, with a good chance of reaping a good box office harvest around the world. The very positive reception in Venice is a good sign.
To be honest, I was not that enthusiastic about this film (I prefer the first two), since I could sense a certain coy opportunism, an attempt to titillate the spectator's less praiseworthy impulses. With a few snags in the dramaturgical construction. Though the best quality of McDorman, his sublime way of writing dialogue, is still a presence here, and it is a pleasure to listen to such well-written, cutting, brilliant lines (after which we were punished for such indulgence by the press screening of the second Italian entry in the competition, A Family by Sebastiano Riso, with simply unbearable dialogue).
Ebbing, deep Missouri, deepest America. With all the intolerance, the prejudice, the racism not even disguised in the enormous mostly white American outlands (yes, indeed, the places that elected The Donald). Mildred has lost her daughter a few months earlier in the most atrocious way possible: she was raped and burned. The killer has never been identified, and there have been no arrests. Forced to be single (her husband left her for a 19-year-old), with only her older son by her side, she has reached an uncontrollable level of desperation. She decides to take matters into her own hands, renting three billboards at the entrance to Ebbing that had been left empty for years due to lack of traffic. She puts up two huge signs, black caps on a red field. The most shocking: "Raped While Dying." The other two accuse the authorities of failing to take action. Of course word soon spreads through the small city of Ebbing and the local media. The case of the murdered girl is back in the news. The population is divided, though most people are against Mildred, and only a few brave souls support her. All kinds of efforts are made to dissuade her, to shut her up. She receives threats, as do the people who work with her. The bad – psychopathic – Ebbing cop starts to torment her (the good cop is the sheriff, who tries in vain to explain to Mildred that every possible effort has been made, that it is not easy to identify a rapist without evidence or witnesses… her reply: test the DNA of all the men in the area! They think she's crazy. Maybe in America they don't know that in Italy something similar happened to find out who killed Yara Gambirasio). The personal war fought by Mildred forces everyone to take sides, revealing complicity, sloth, apathy, hypocrisy, fear. The whole panoply of provincial rot – with the added aspect of American violence – can be easily imagined. Mildred stands firm and goes back on the offensive after they have tried to knock her down. The film is engaging, like a western, a one-against-all plot in the purest tradition of American individualism. Kudos to Frances McDormand who comes up with an amazing performance (Coppa Volpi? Or will it go to Helen Mirren, or maybe Charlotte Rampling?), giving her Mildred the rage, passion and unshakeable determination of a frontier heroine. The actors (even the marvelous Woody Harrelson) are all at the service of the star, the queen bee. A well-paced film, without a moment of tedium or truce, prompting frequent applause. McDonagh brilliantly balances the dramatic (tragic) and the grotesque, a very difficult feat indeed (isn't that so, George Clooney? I'm talking about Suburbicon). Yet something is not quite right in this apparently perfect narrative machine for which many people here at the Lido are predicting a guaranteed prize, maybe even the Leone d'Oro. We feel a certain malaise regarding this woman so sorely tested by life, who obstinately wants, claims, demands justice even without proof, to the point of wanting to do it herself. Some will say that Mildred, with her three billboards, simply wants to force the police to get moving. But she hurls this justified motivation beyond its limits. Of course many films and entire genres of cinema have focused on this dark zone of the psyche. The many Italian crime films on the theme of "citizens want justice, the courts tie the hands of the police," or the avengers portrayed by Clint Eastwood and Charles Bronson in the 1960s. Mildred comes from that place, from those archetypes, and before we applaud her with such enthusiasm maybe we should take a minute to think it over. I believe that Martin McDonagh, always interested in exploring the reactions of people in extreme conditions, wants above all to put us face to face with a clinical study. The citizen who wants justice, even if it means breaking the law, is actually not that far from the psychopaths of McDonagh's previous film. It seems to me that his cinema is completely amoral, not fettered by morals, phenomenological, a cinema of observation where as in certain laboratory experiments McDonagh puts his character-guinea pigs in borderline situations to watch their reactions. Mistaking Three Billboards for a politically virtuous film, on the side of women and a better America, is a skewed perspective, in my view, an optical distortion, an illusion. We might say that to a certain extent McDonagh makes hay with good causes, because that is how to win over audiences, to get good reviews and prizes. Behind the phantasmagoria, the fireworks of his perfect dialogue, however, we can glimpse certain weaknesses and snags in the screenplay. How can a suicide write all those complicated, fully substantiated letters before dying? And how is that confession of the rapist to a friend possible, when there is a policeman there, a few inches away, listening? But these are almost invisible flaws in a brilliantly packaged film that will undoubtedly gain acclaim. Just don't call it a masterpiece.
Read the Italian version on Luigi Locatelli's website.