Ferrari unveils for its 75th anniversary the Giallo Modena special edition to celebrate the Italian Monza Grand Prix. Whereas the historic Italian race track Monza Circuit, the oldest in mainland Europe, honors its 100 years anniversary. During the year that marks its 75th anniversary, and the 100th of the historic Monza Circuit, the proud history of Ferrari inspires an exclusive selection of items and accessories that celebrate the brand's iconic yellow.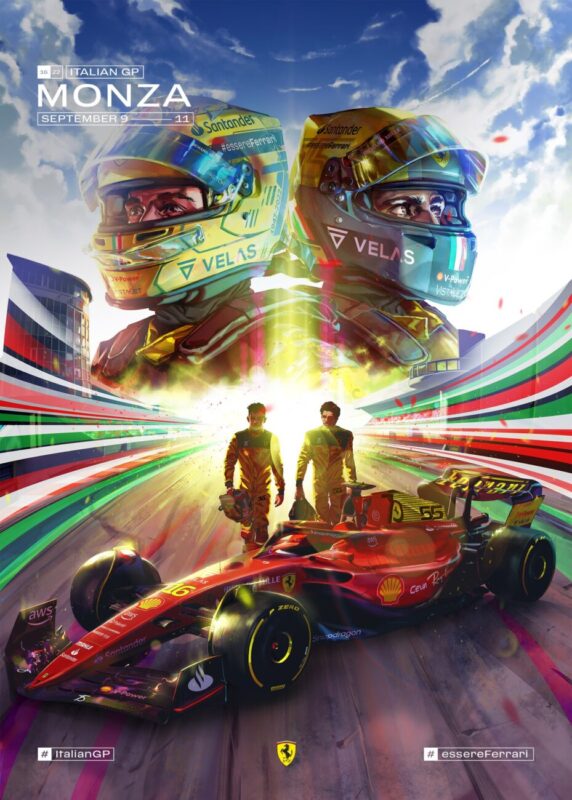 The Prancing Horse Company pays homage to the Monza Formula One GP, launching Giallo Modena, a special selection of products dedicated to its 75th anniversary. To celebrate this unique moment, already an exclusive logo appeared on its F1 cars early this year.
Yellow is part of Ferrari's DNA – it is the colour of the Modena city emblem, Enzo Ferrari's birthplace. Indeed, this colour will take over the Monza GP, emphasizing Ferrari's fearless spirit and unforgettable style. It marks Ferrari's strong connection with the city where it all began in 1929 with Scuderia Ferrari, and then in 1947 with the car company created by the pioneering vision of our founder.
Featured on the shield, yellow made its debut in 1951 on Salvatore Ammendola's 195 Inter Berlinetta. It gradually appeared on more Prancing Horse cars, helmets and the Scuderia Ferrari team uniforms. In the Sixties, drivers chose yellow for their racing cars, and it also featured on the helmets of F1 winners like Michael Schumacher, Rubens Barrichello, Felipe Massa and Fernando Alonso. It's not a coincidence that the logo of the GP number 1000 of Scuderia was yellow – Ferrari "second soul".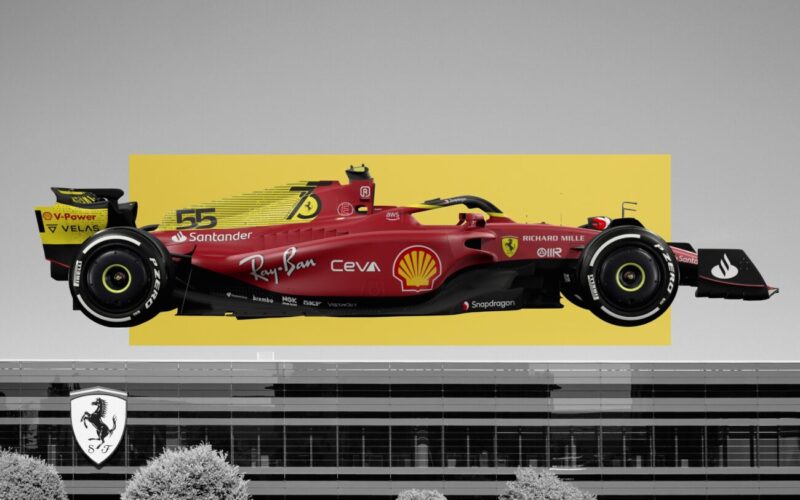 Along with red, this iconic colour is one of the most instantly recognisable attributes of the Prancing Horse. It evokes Ferrari's racing roots and the passion associated with past and present successes. 75 years of history, innovation and achievement have inspired a special edition of items that embody the sense of belonging to Ferrari's universe and will amplify the emotion linked to the Italian Grand Prix.
Today, yellow can be found on a selection of limited-edition products in partnership with Bell Racing Helmets, Puma and Ray-Ban. The collection includes a jersey T-shirt with sponsors' logos, metal/carbon fibre sunglasses, and the replica helmets of Charles Leclerc and Carlos Sainz, available in 1:1 and 1:2 scale.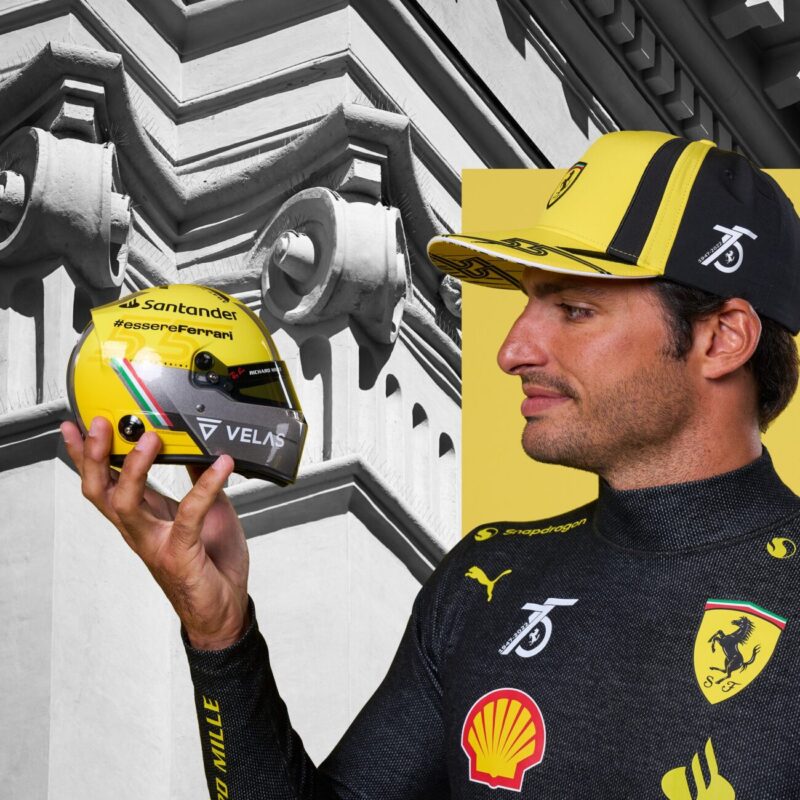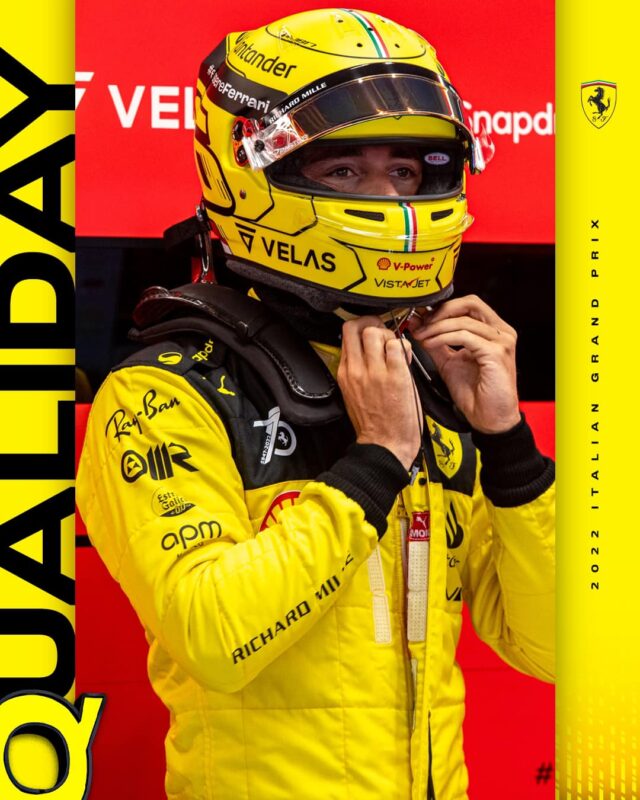 On September 7 Charles Leclerc and Carlos Sainz unveiled at the Milan boutique the special customisation of the F-75 car that will run in the Italian Grand Prix on 11 September at the Monza Circuit. The historic the race track, north of Milan, celebrates too this year its 100 years anniversary. Built in the Royal Villa of Monza park in a scenic woodland setting, it is the oldest circuit in mainland Europe.
Fans can now discover the Giallo Modena special edition selection, exclusively available in Ferrari boutiques and online at store.ferrari.com, in an immersive celebratory display, dominated by the legendary yellow shade at Ferrari's Milan flagship store.
Photos courtesy Ferrari FB page