CHAPTER 4 OF MONCLER GENIUS IS A ROMANTIC STORY OF RESTLESSNESS SIGNED BY SIMONE ROCHA
Text by Diletta Accorroni
Even during this mad 2020, the iconic ski brand Moncler, doesn't cease to shock and spoil us, going on with another beautiful chapter of its successful Moncler Genius project.
Once again, a group of talented fashion designers is invited to give a contribution to the 3rd edition of the program.
12 different installations, 12 different concepts, 12 different visions to build up the Moncler Genius message "One House, Different Voices". Each of them, with a dedicated launch date.
Moncler Genius confirms to be able to pursue a wide-open concept, driven by experimentation and unconventional – exactly as the chosen designers are – ideas. In fact, Reinvention represents its DNA and keyword, while its reason to be is to decode customers' behaviors, expectations and emotional connections. Alongside with JW Anderson, Craig Green, Matthew Williams, Fragment Hiroshi Fujiwara and many others, the former Central Saint Martins' student Simone Rocha has been asked to take part again to the project.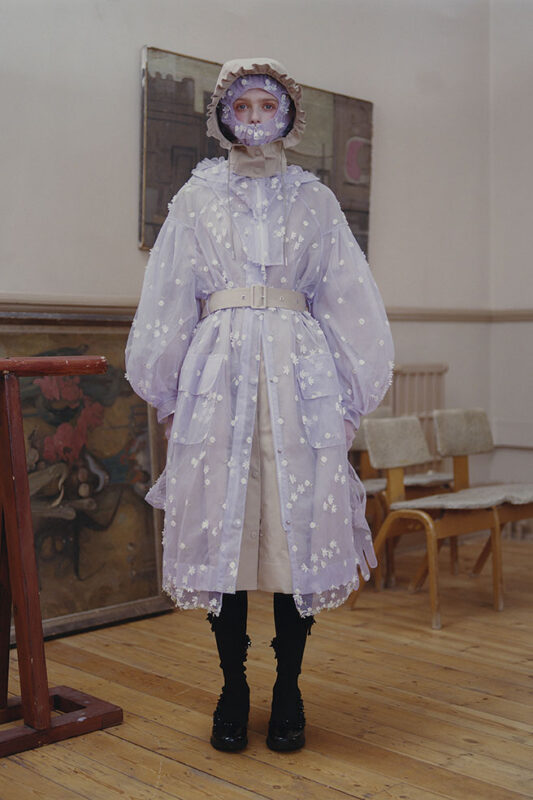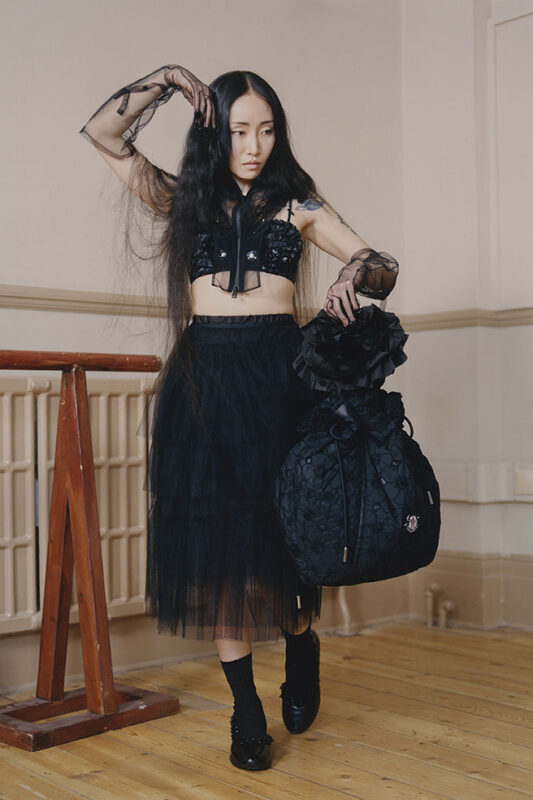 Her collection is the mirror of her romantic attitude and well known signature. Dream, Femininity and Dance are the main elements which inspired the collection; although there are also a few spooky, ghostly and kind of dark elements.
The reference to the late Seventies movie Casanova by Fellini and to its Award-winning costumes is quite obvious. In Simone's collection, exactly as in the movie, the atmosphere is grotesque, paroxysmal and at the same time seductive. Despite the presence of garden pansies, daisies, roses, tulle and ruffles, the impression you got is to confront yourself with an elegant, romantic and exquisite…Gothic collection.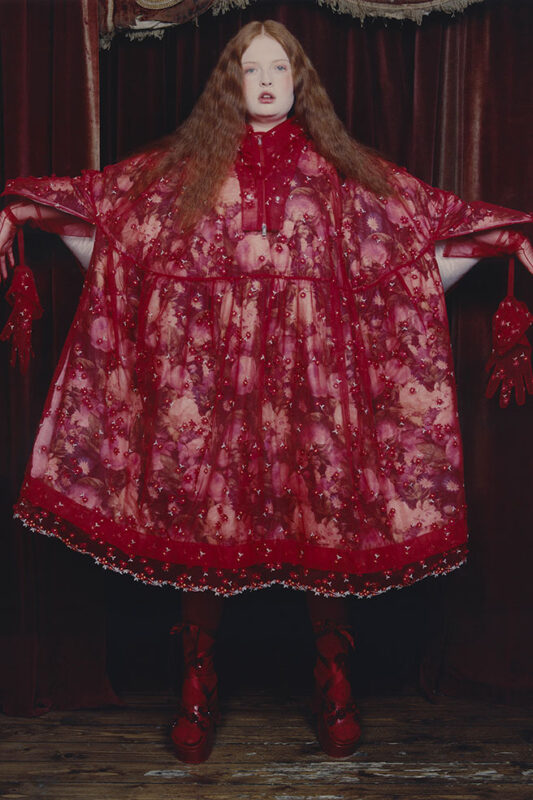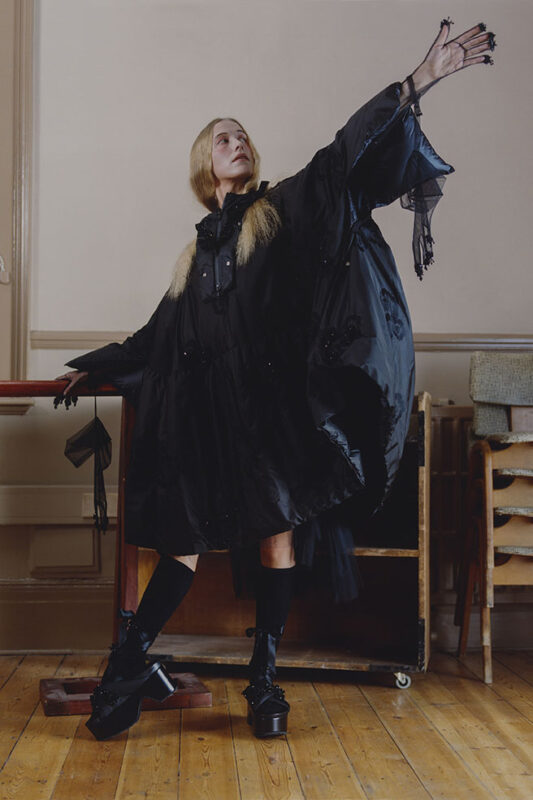 The colour palette is composed by ivory, red, lime, baby blue, beige, and black with a touch that reminds me of some pre-Raphaelites paintings, re-read with an expressionistic tint. The volumes of the garments are over and the proportions are voluminous. All of them embellished with adorable, high-luxury details, such as the logo itself- which consists in a crystal patch.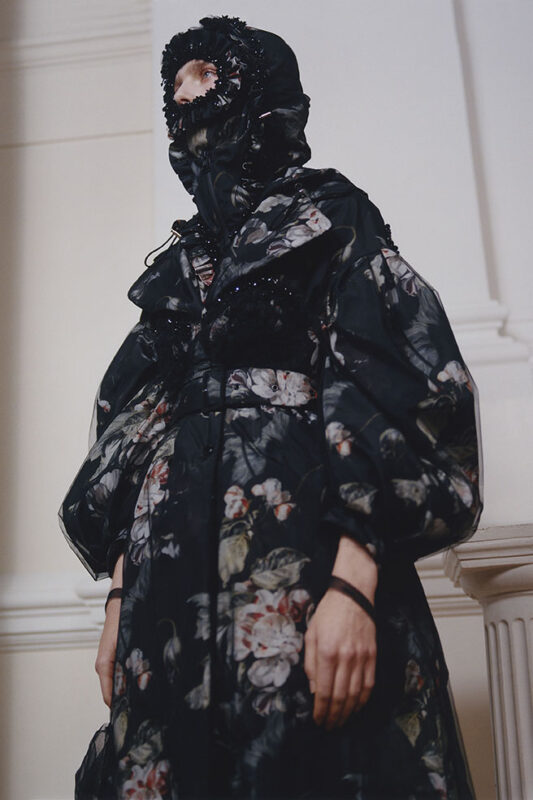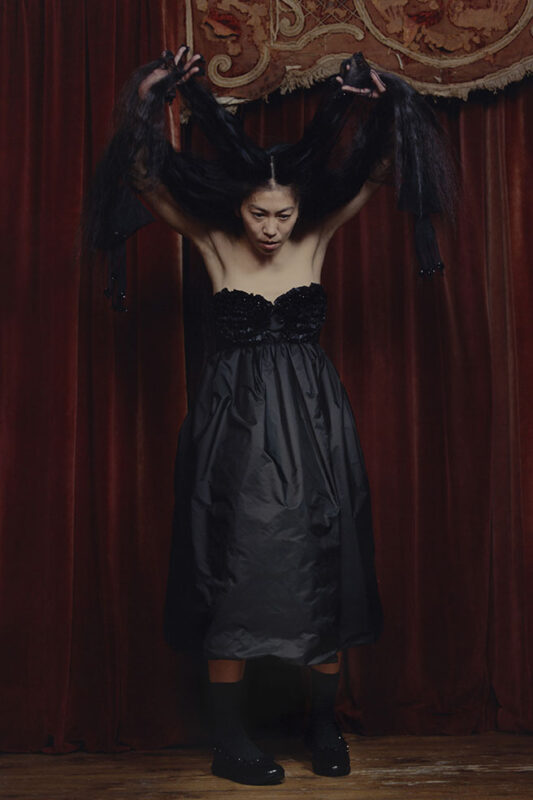 Coming to the materials, the Irish designer perfectly mixed her attitude with that typical of Moncler's outerwear: micro taffetas, laqué, tulle and nylon are merged together in a superb Concidentia Oppositurum of lightness and technicality.