PARIS_ 22June2017 H.10.30 SS18
Inspired by a journey into the desert, this season's ISSEY MIYAKE MEN evokes the presence of a powerful man in the immensity of awesome landscapes, bottomless infinity over his head.
Forced to rely on his own strenght, his clothes are comfortable even in a dry severe environment. The vast openness of the desert, where the extreme heat oif the daytime relaxes into the cool starry night-bringing relief and comfort. This collection seeks to celebrate the modern man, understanding his need to enjoy the vast beuty of the wilderness.
DOUBLE FACE COTTON
Look #1-#4-#6-#7
Refocusing on double-face cotton fabric, Issey Miyake men's classic textile that has been constant since the early 1970's, is transformed into a new style. The earth tone color palette, created in the image of the sandy desert, is realized through garment dyeing. It produces clothing with a depth of color and a soft, relaxing texture.
Look 6 and 7 use this fabric, treated with a shrinking technique, in a patterned form. This makes the fabric shrink minimally, revealing a sand rippleàlike texture.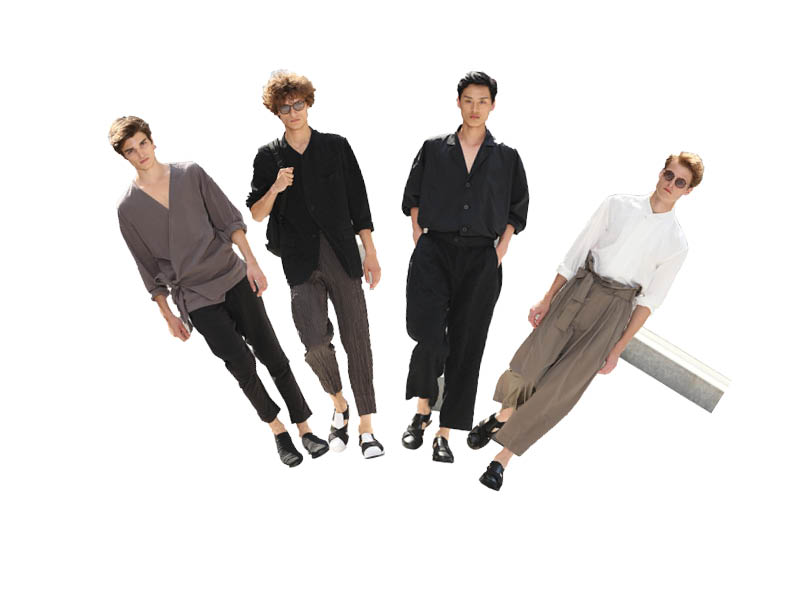 DESERT
Look #11-#17
This section features the texture of the harsh desert. Look 11-17 use cut-jacquard woven with wool, polyester and cotton to express the landscape of a dry desert in an abstract form.
The followuing loooks feature a series of fabrics, which uses a salt-shrinking technique that is applied to express a ripple mark pattern on polyester broad cloth ( look 25,26,39 and 40) and cotton broad cloth ( Look 5, 22 and 29 ).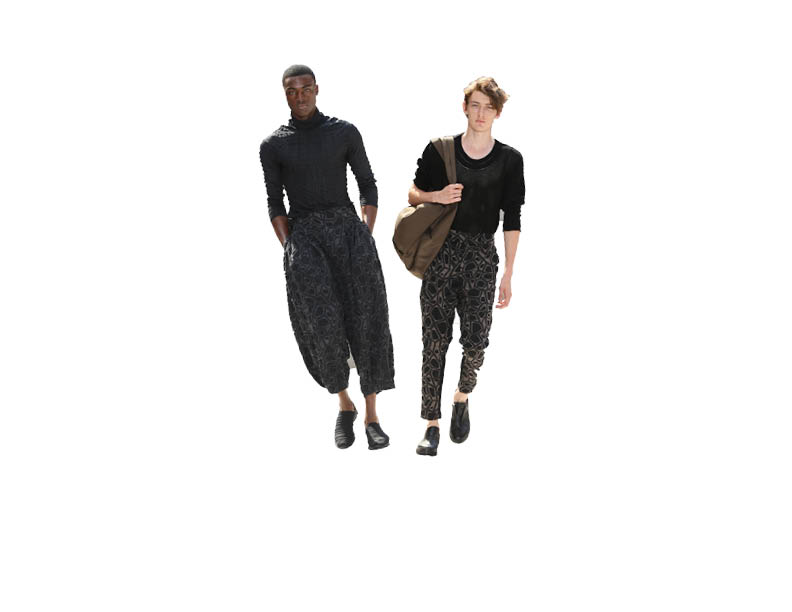 STRATUM
Look #34-#35-#41-#43
Dynamic motifs inspired by the gradations of geologic stratum are created by marble printing using colored glue. The patterns, produced by the hands of skilled craftsmen who intricately combine different colors, are roller-printed on an original, soft-textured polyester developed from proprietary thread. The jacet and pants ( look 42, 43) are teated with pleated pressign after sewing. These vertical wrinkles create a clean.
Can be washed in water, and is quick to dry.