The Gucci Fall/Winter 19-20 show stages the original relationship between mask and persona
In a world where the appearance is often more important, or rather (apparently) more useful for social success, the mask seems to have always negative significance when we try to capture the "true" essence of someone. But if we focus on the in-depth analysis of the object of the mask and of the very act of appearing, we can note the indispensable value that these have, in a metaphysical sense as well, in understanding each persona.
The new Gucci collection, Fall/Winter 2019-2020 presented during the Milan Fashion Week, invites us to ride this wave of thought, placing the mask as a common thread between visible and invisible. Recalling the German philosopher Hannah Arendt – who claimed that man truly expresses himself when he chooses to show himself to others, and therefore in the moment he wears his mask – Alessandro Michele, Gucci's creative director, reveals both the mask's ambiguous and intrinsic meaning to our personality.
The mask that everyone chooses to put on, in order to live, and to survive, in the social context, is an integral part of us. It represents what we feel we are. And it is precisely this idea we have of ourselves that allows us to construct a shield, in the pursuit of showing and hiding at the same time. The mask indeed becomes the tool which exposes and protects us from others. Thanks to it we are able to properly join our community, by doing this in two essential ways: as different members with distinctive characters, but still tied with each other by the fact of wearing one. So the mask, fitting to our face but turning to the outside, becomes the surface of intersection between the individual and the social, between being and appearing… between style and fashion.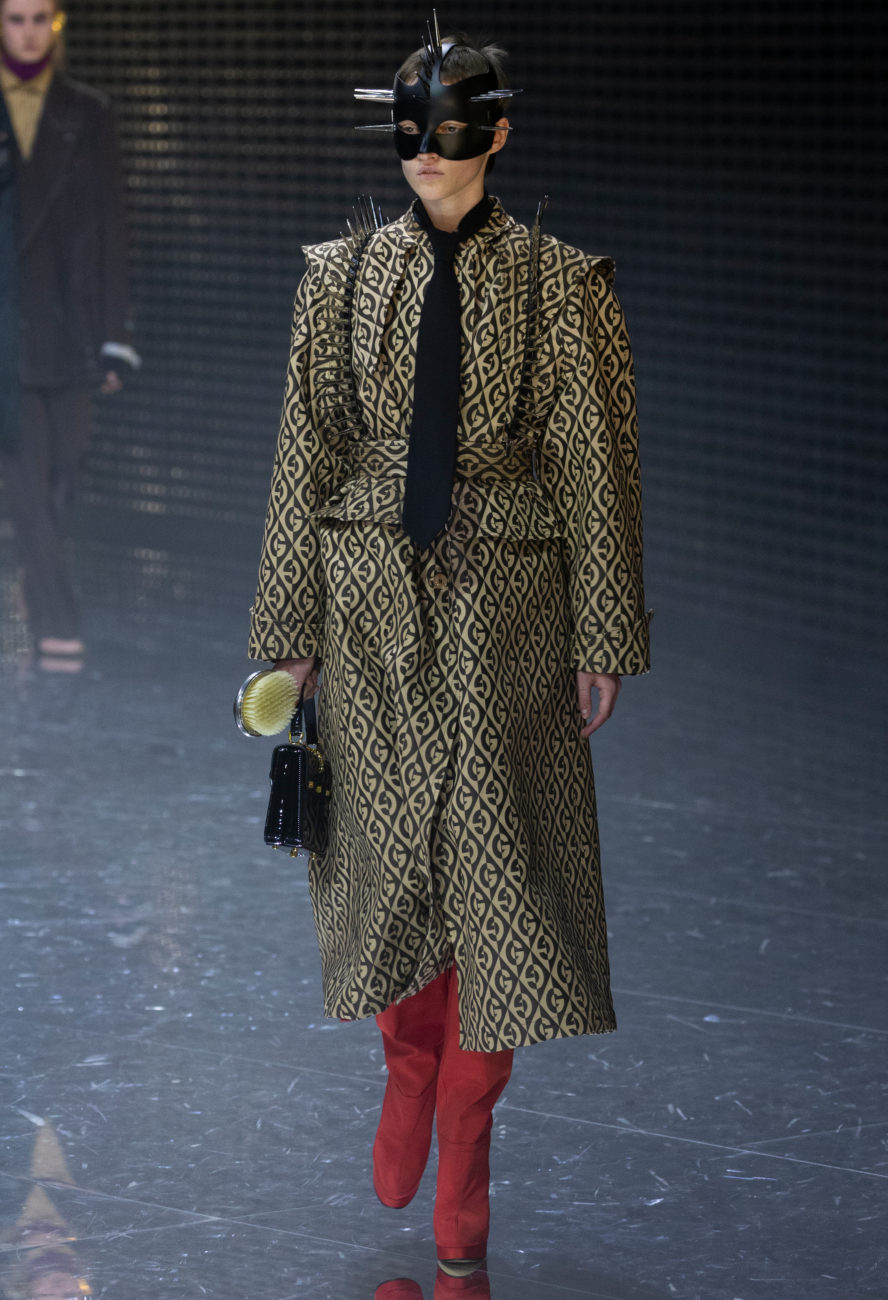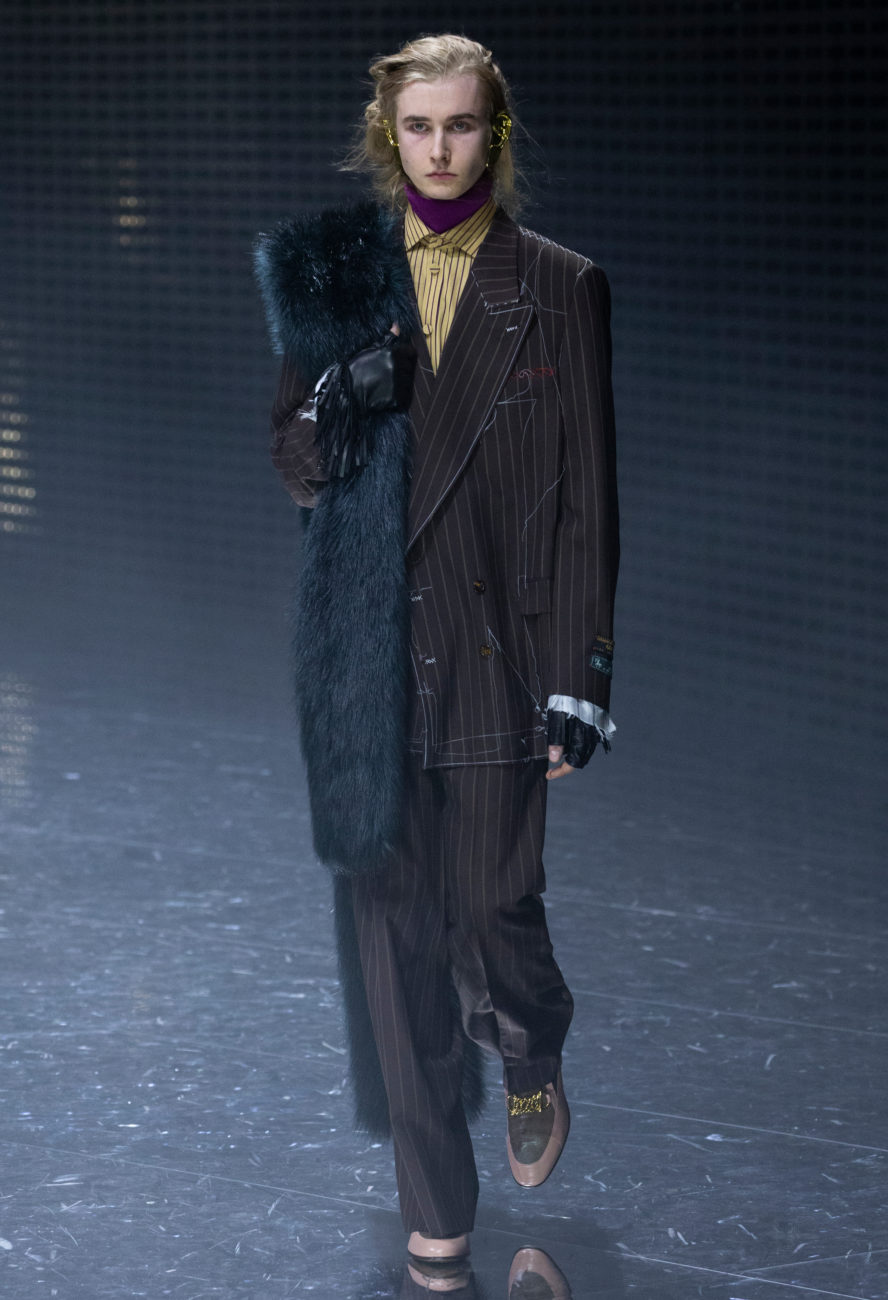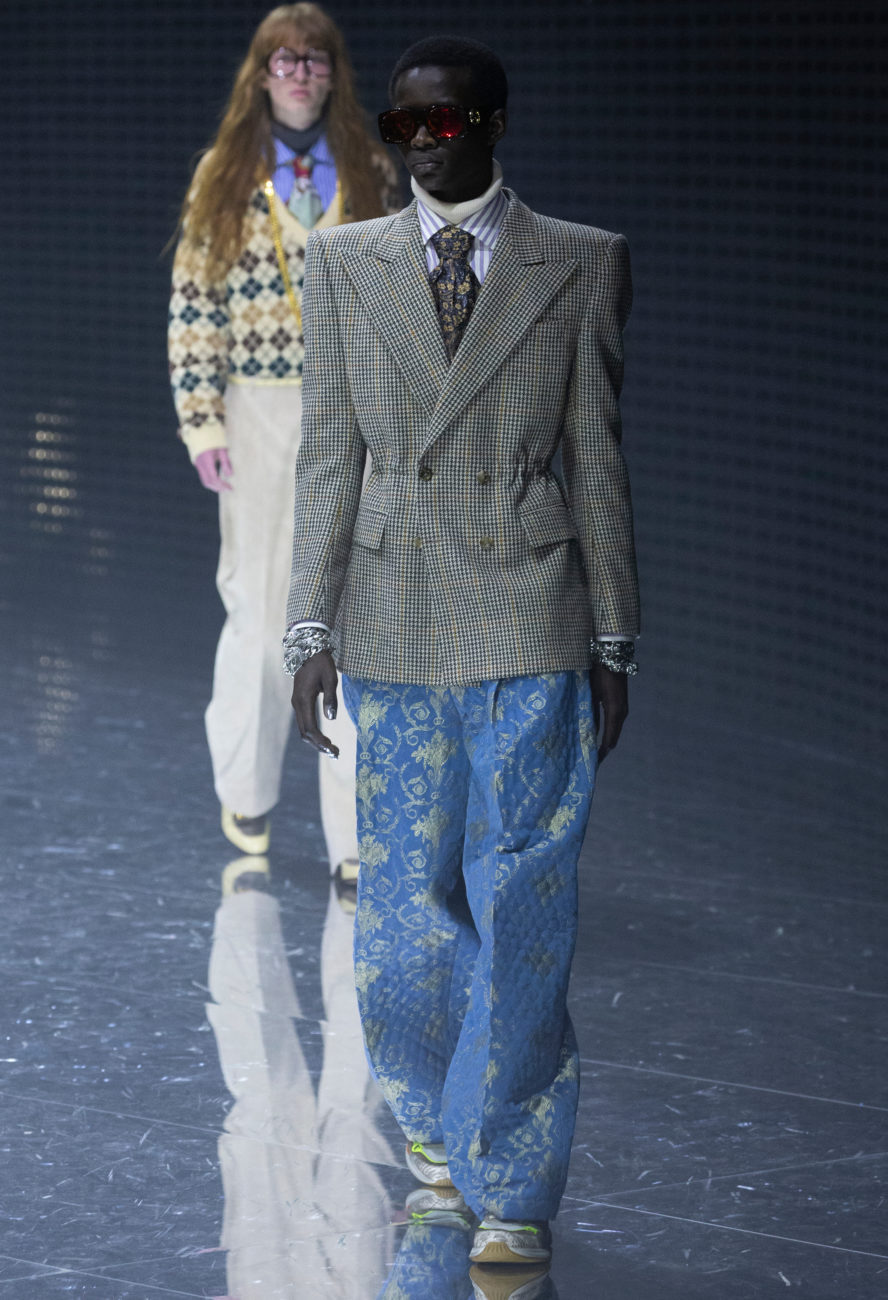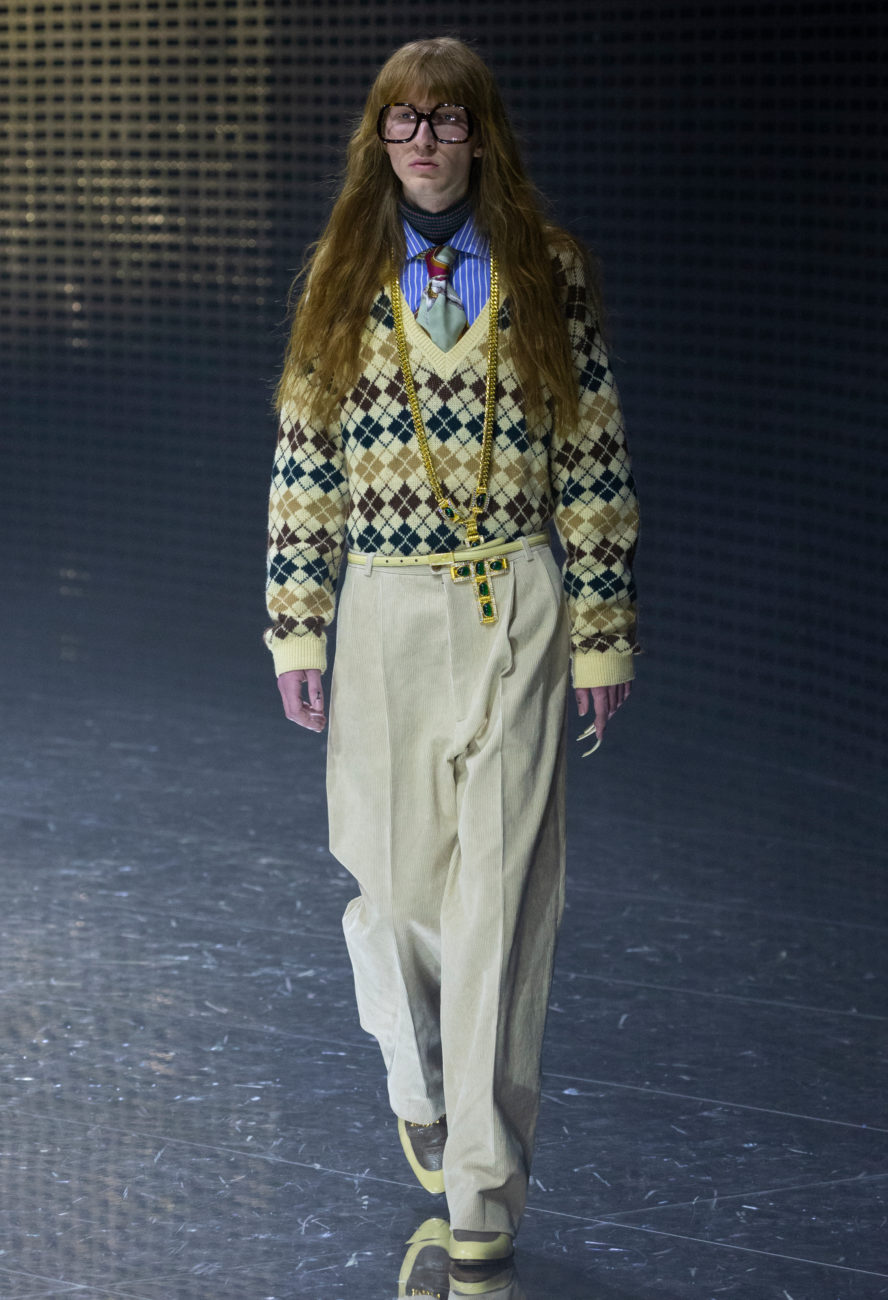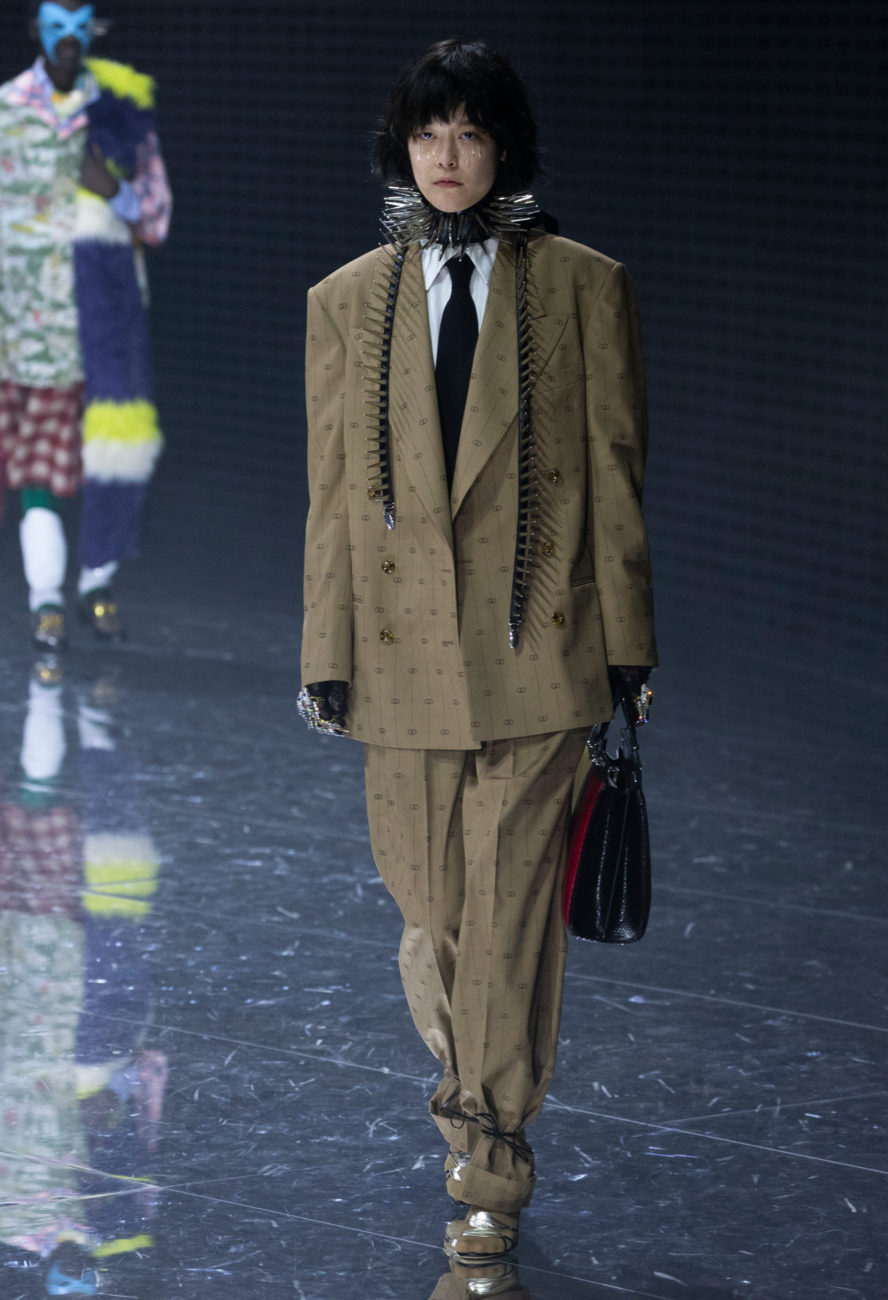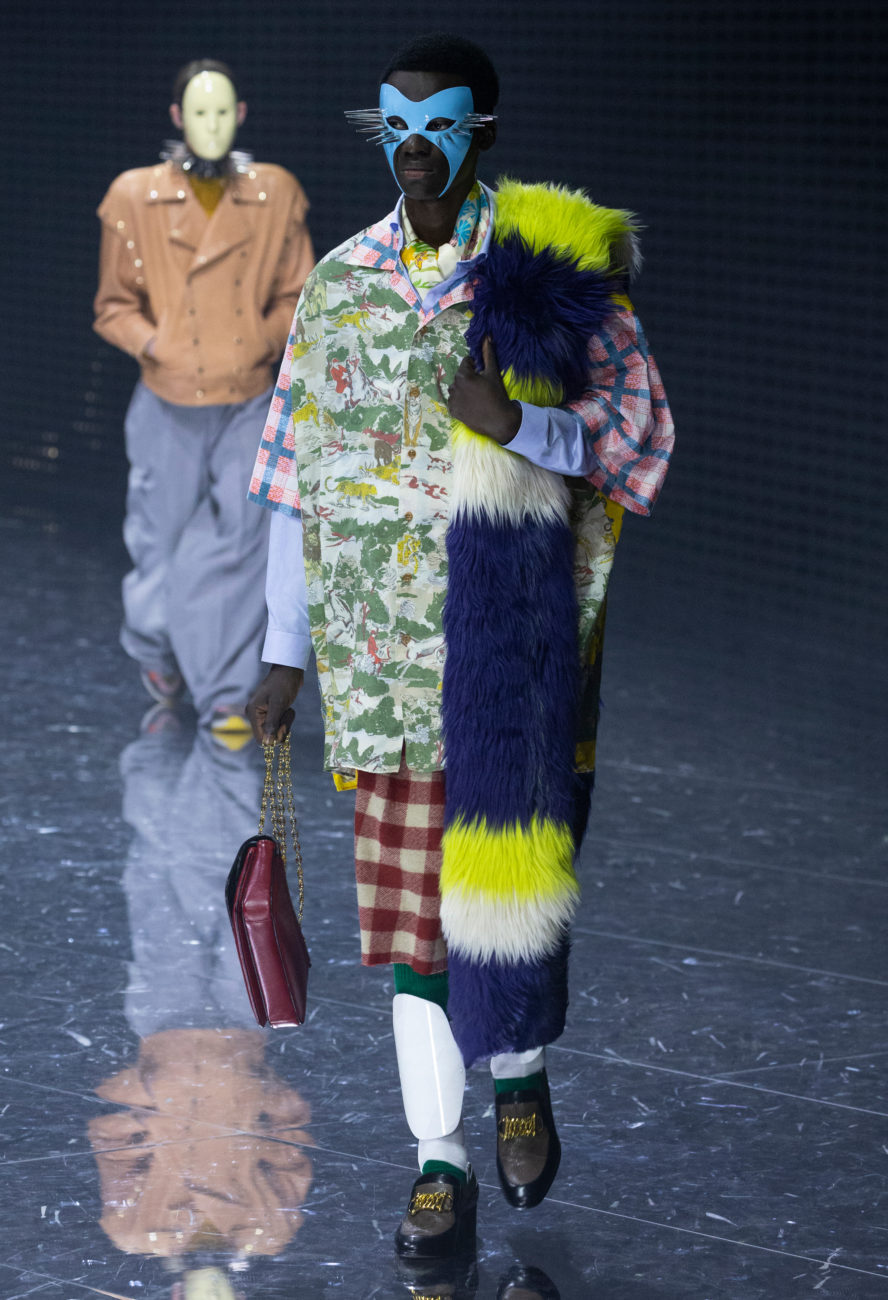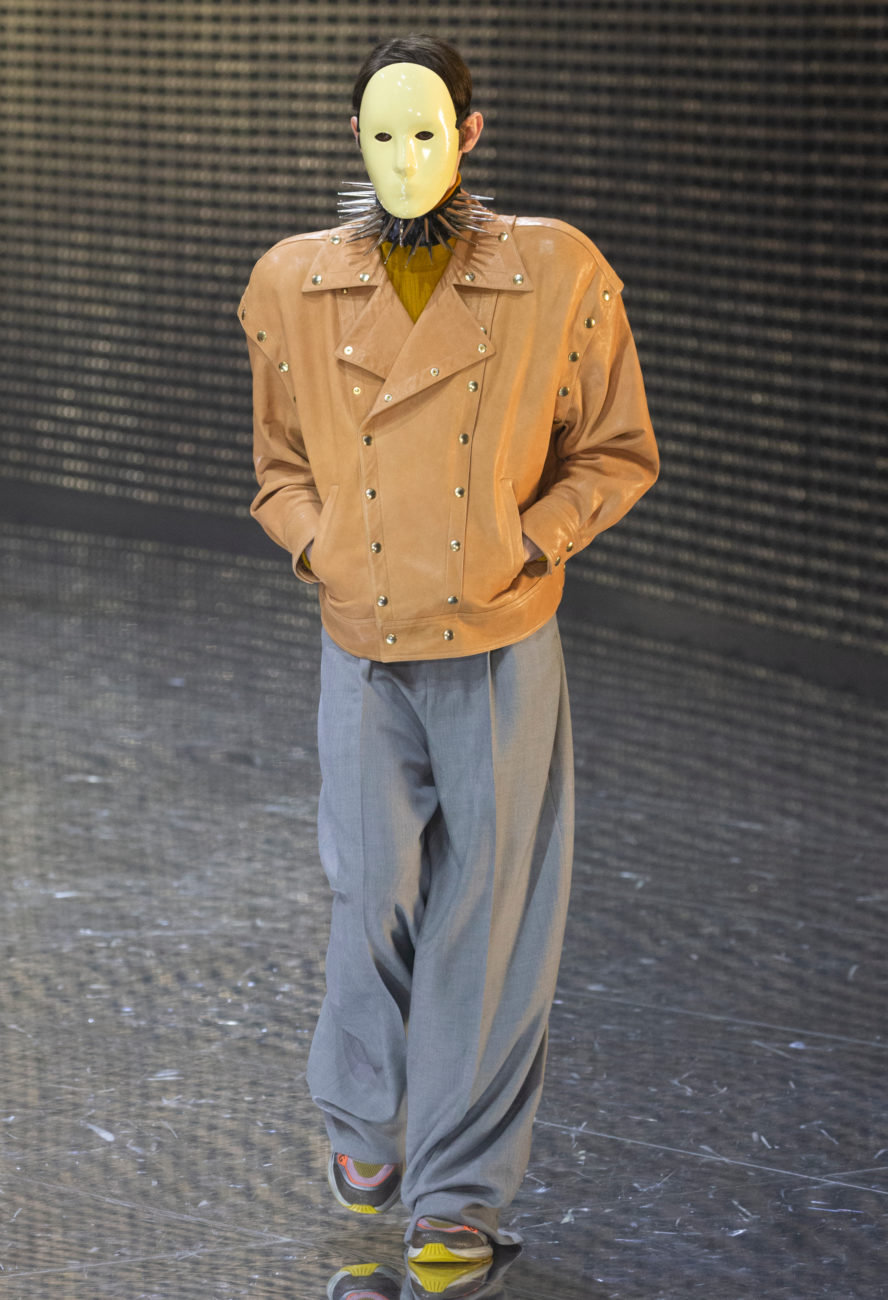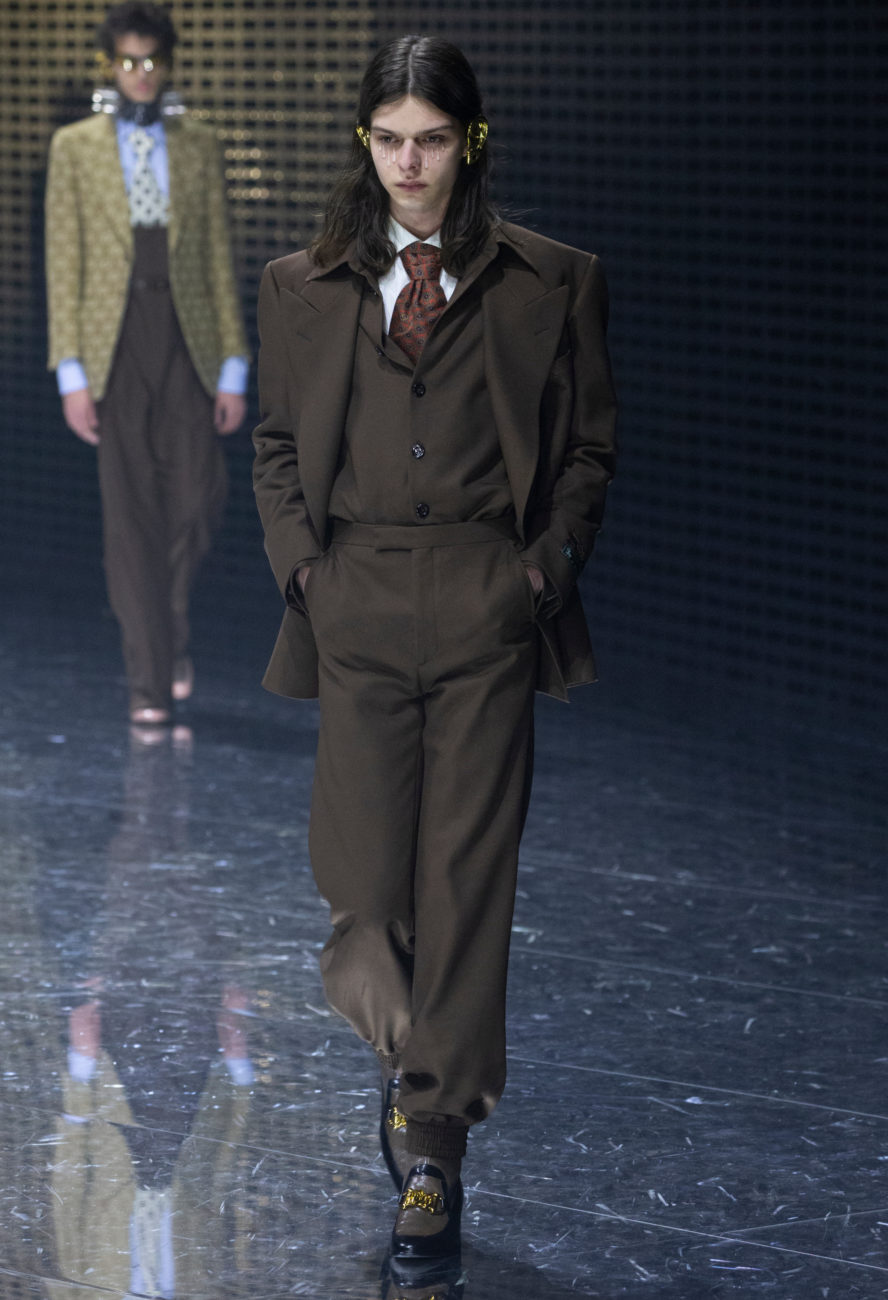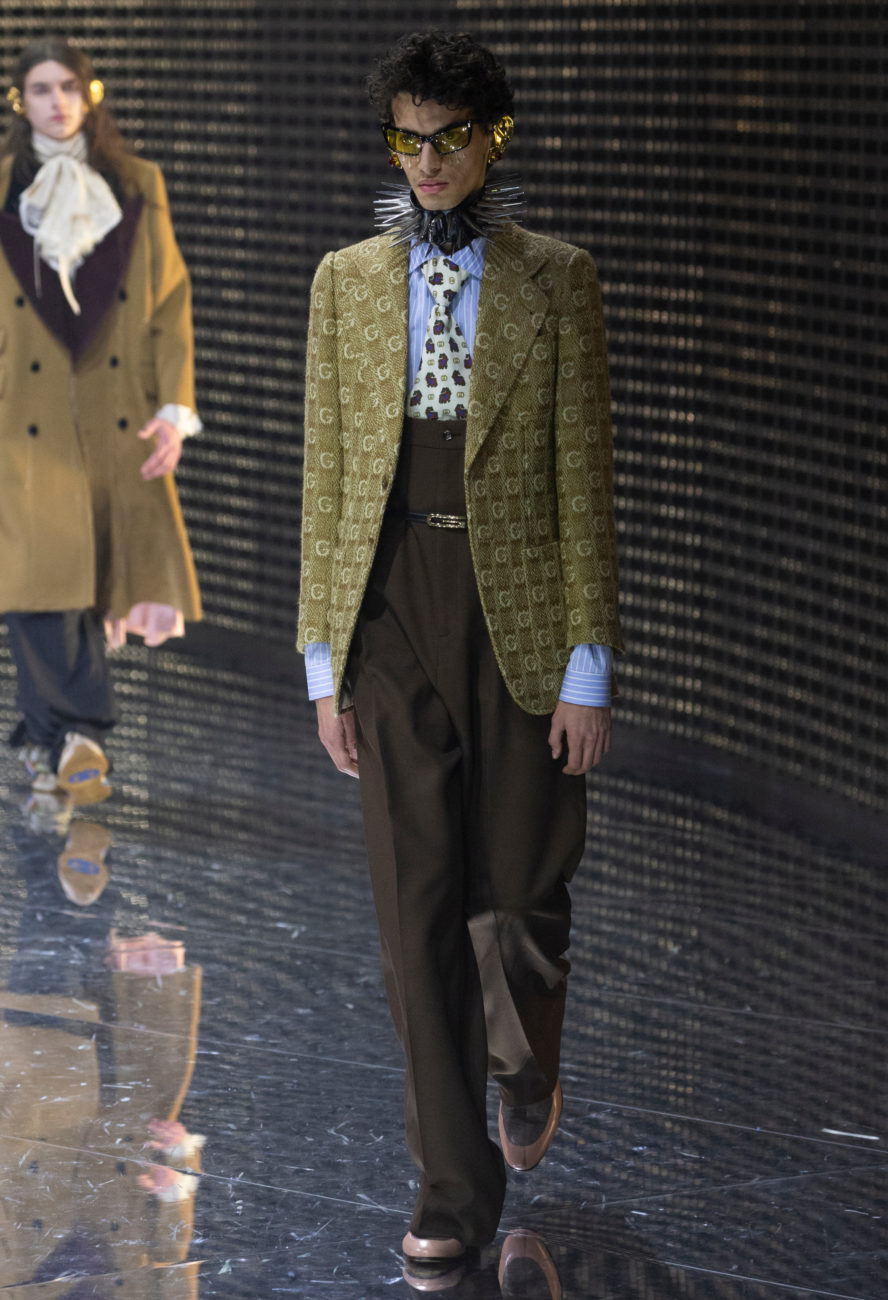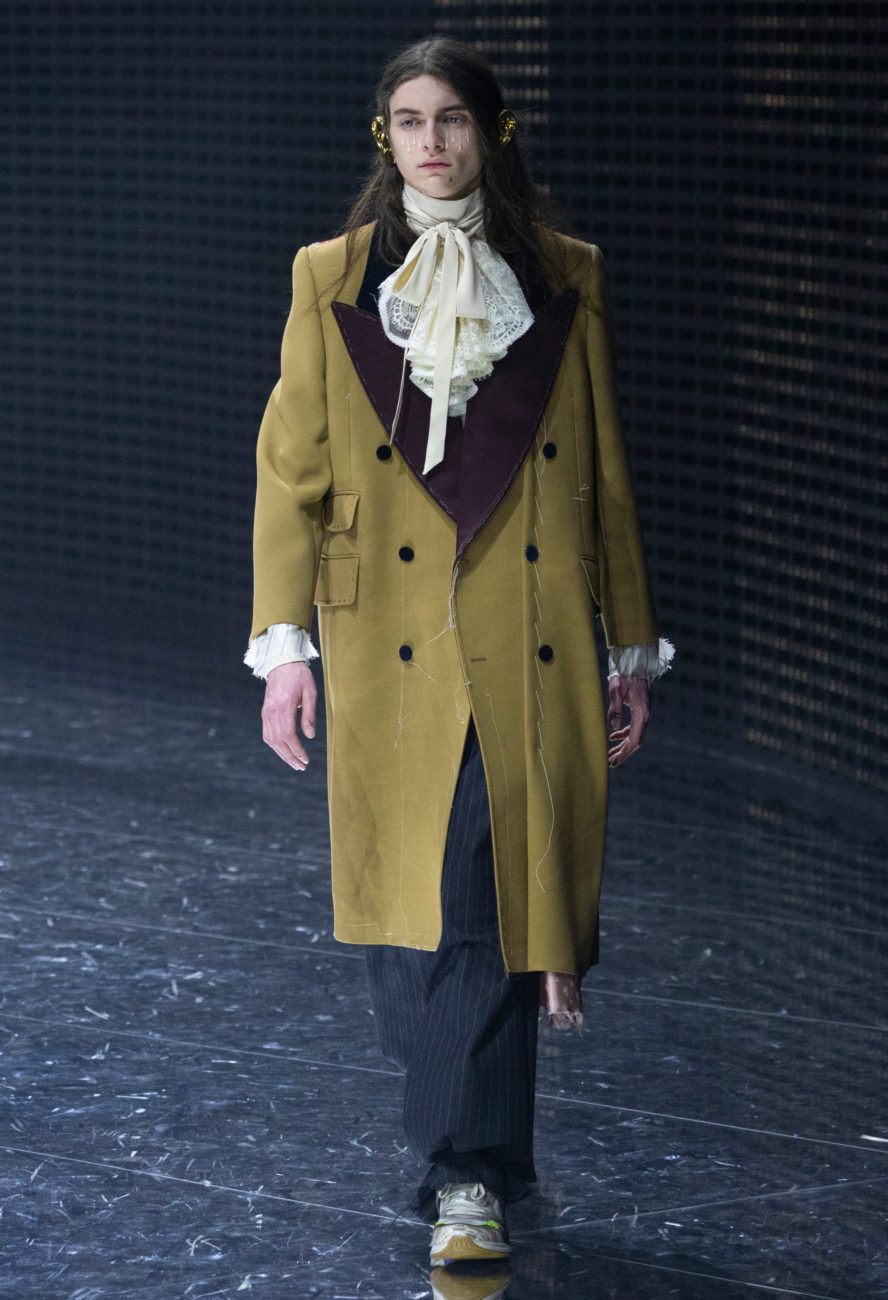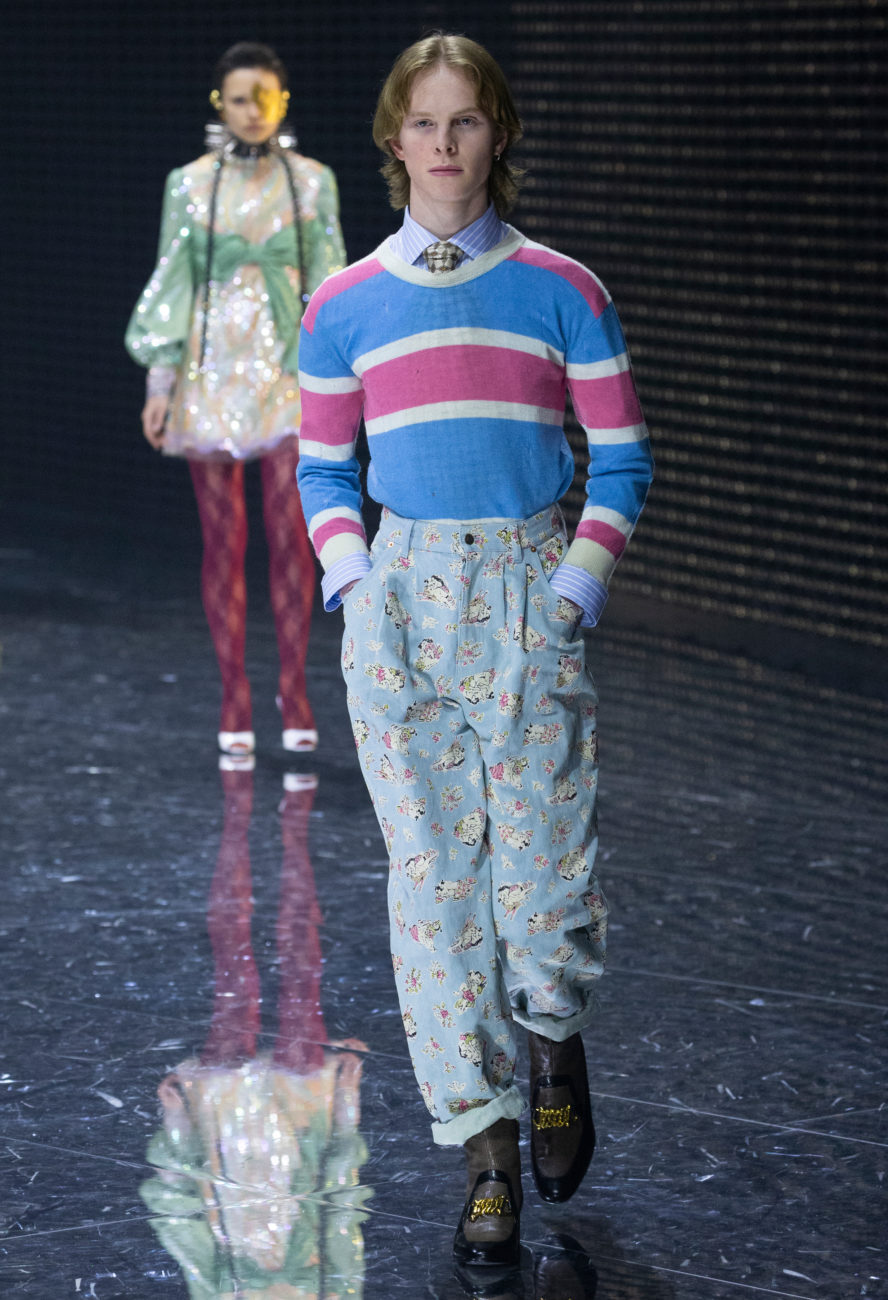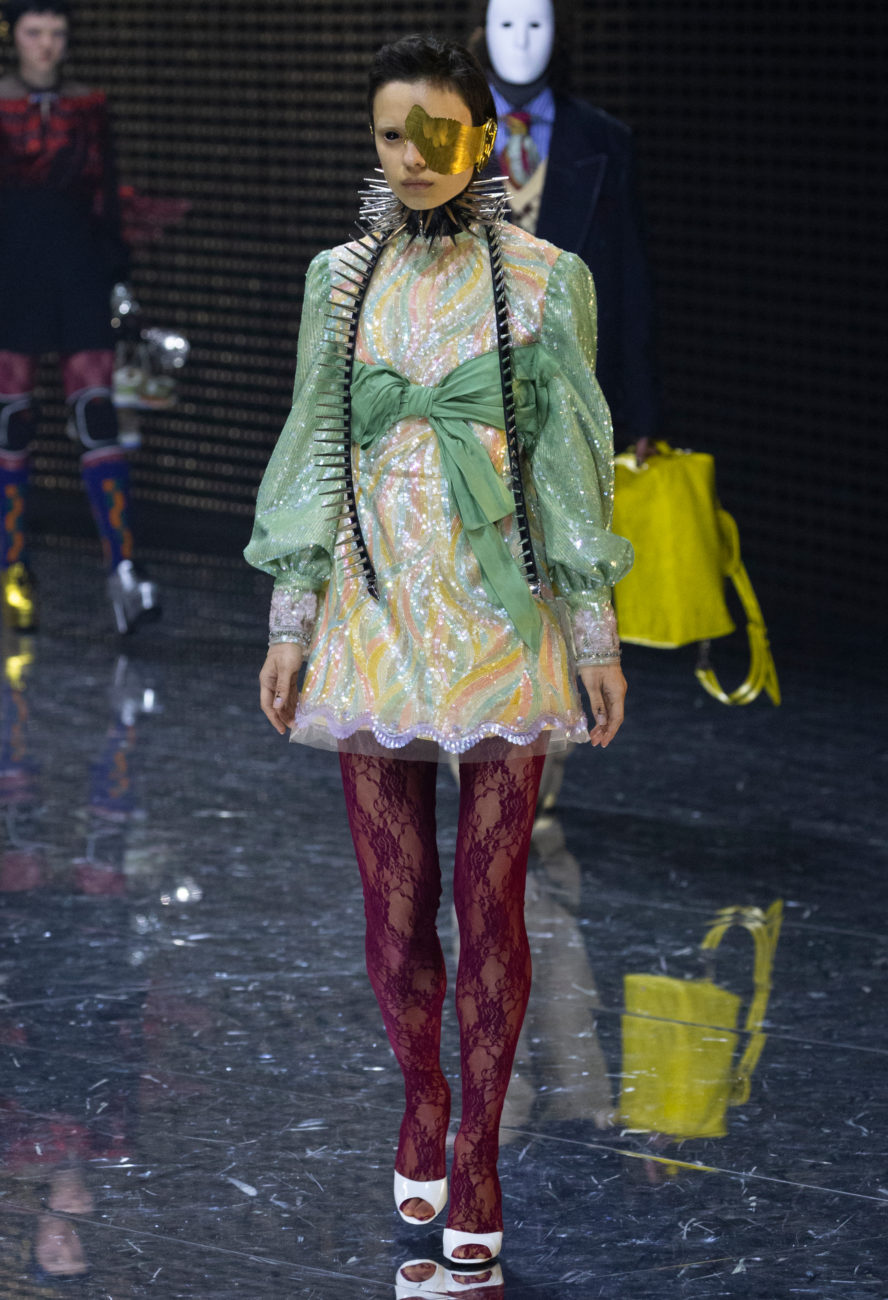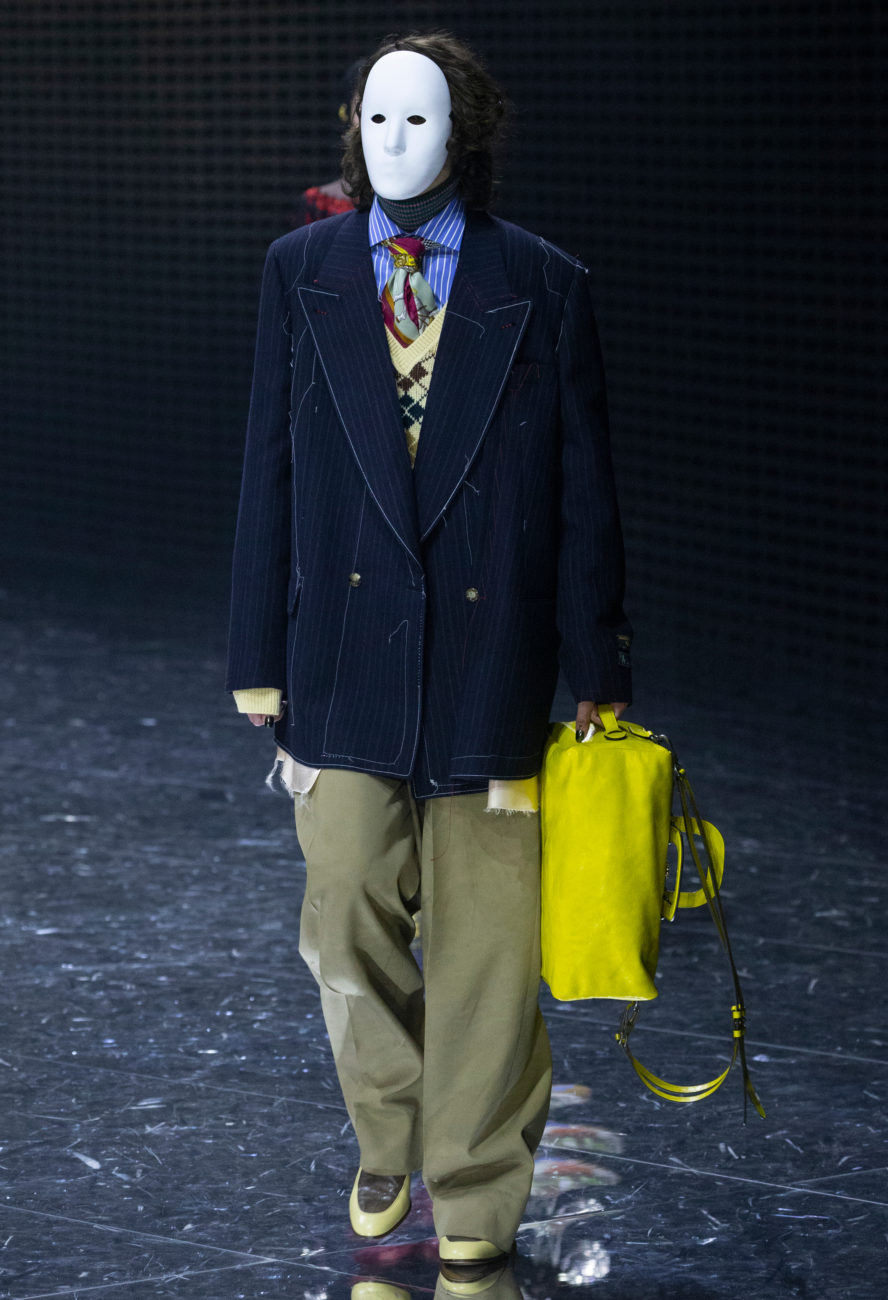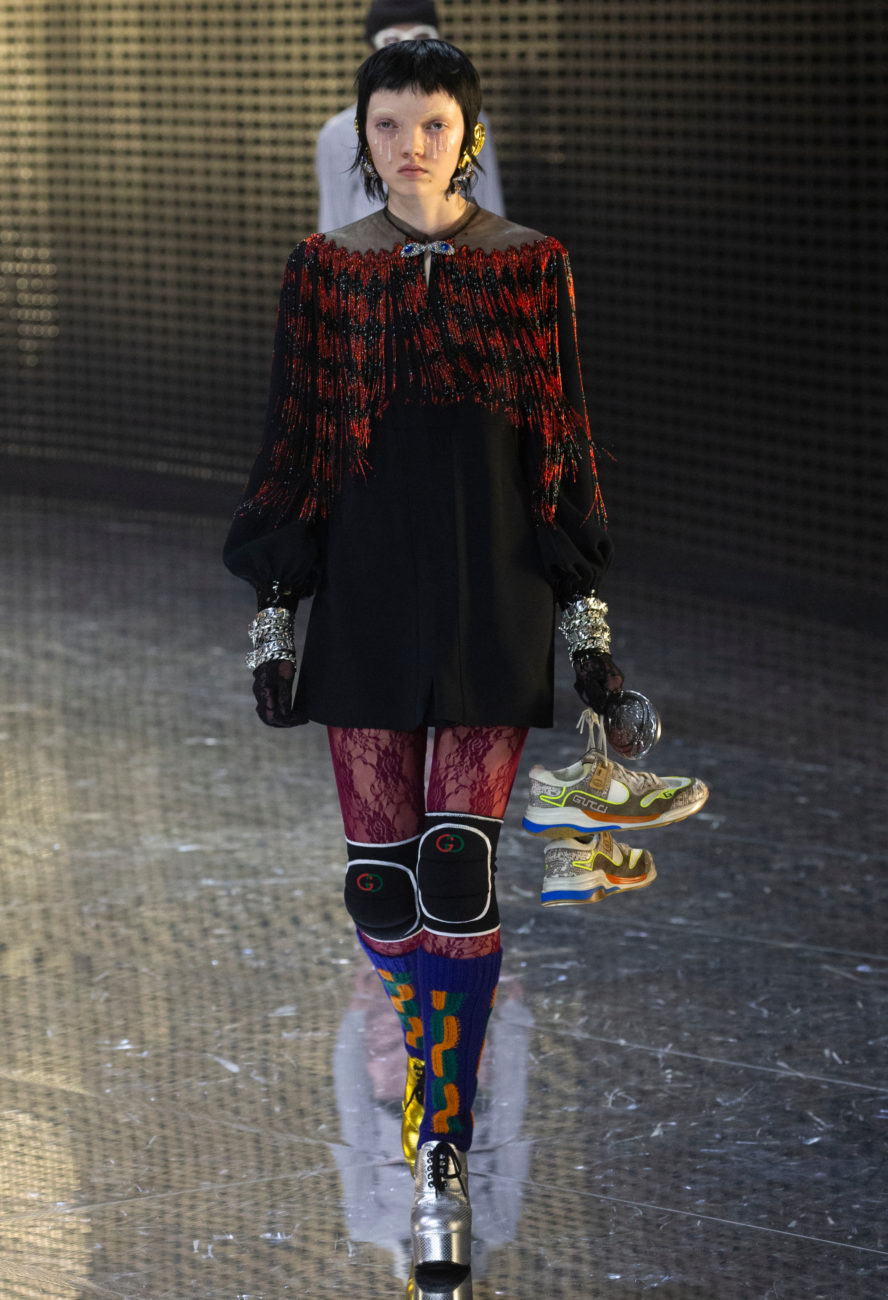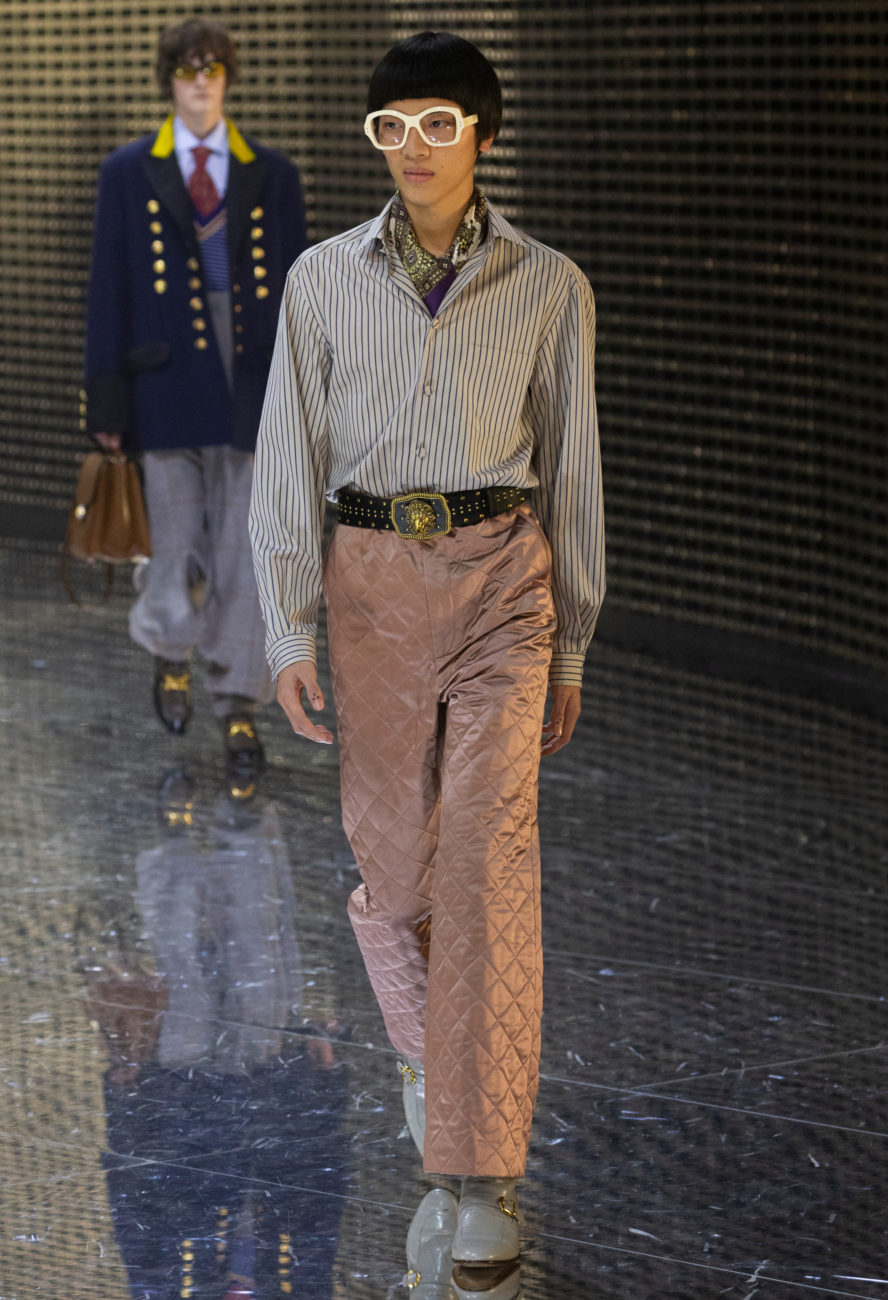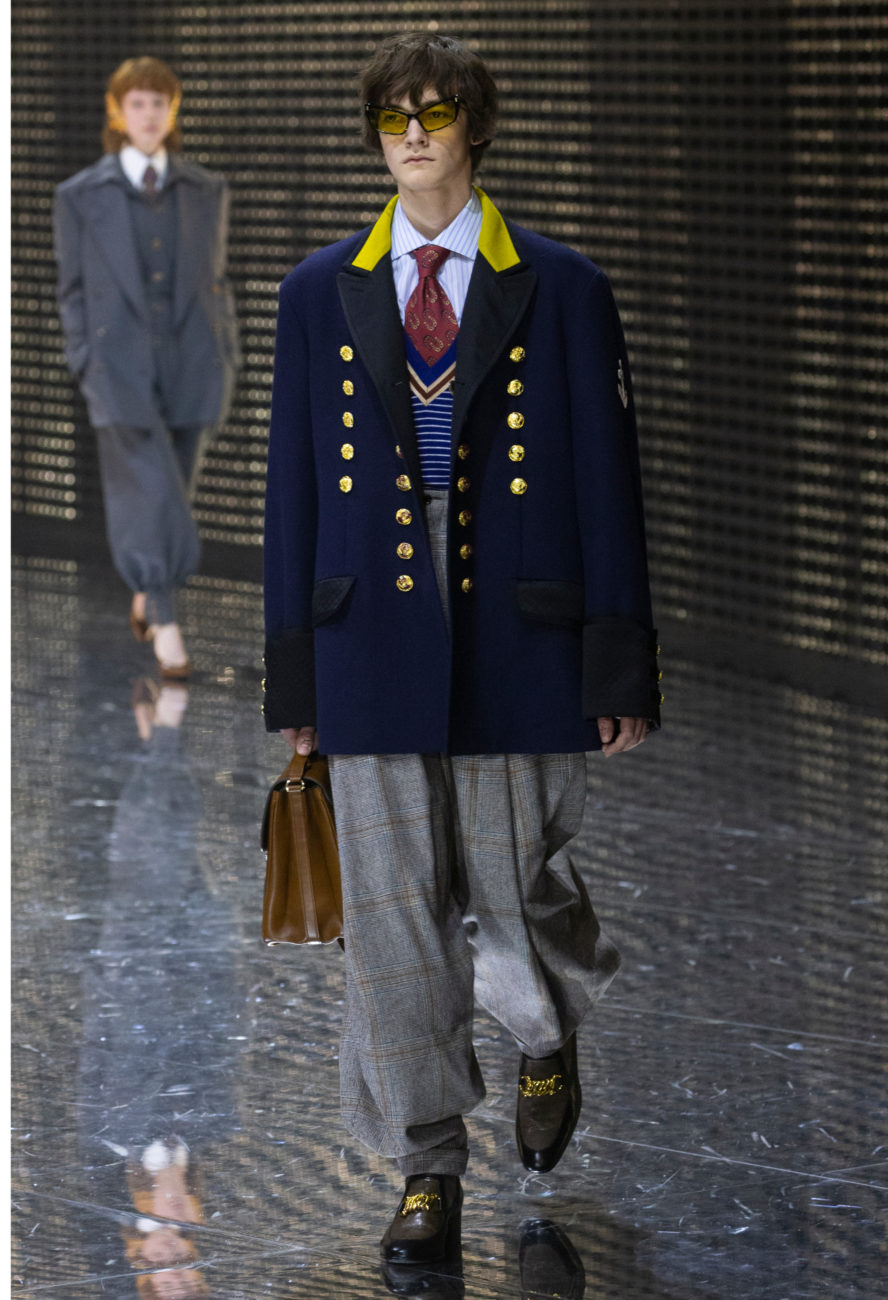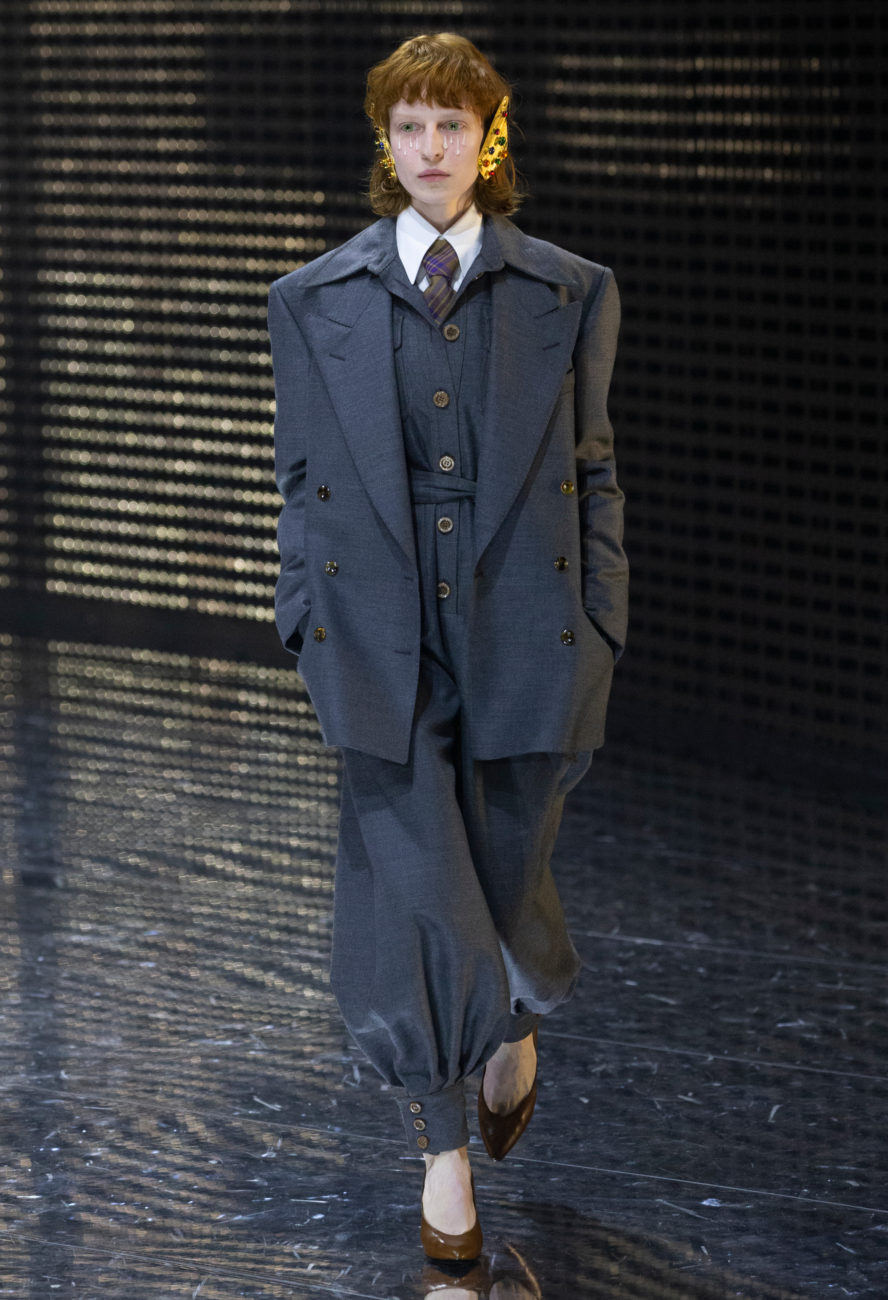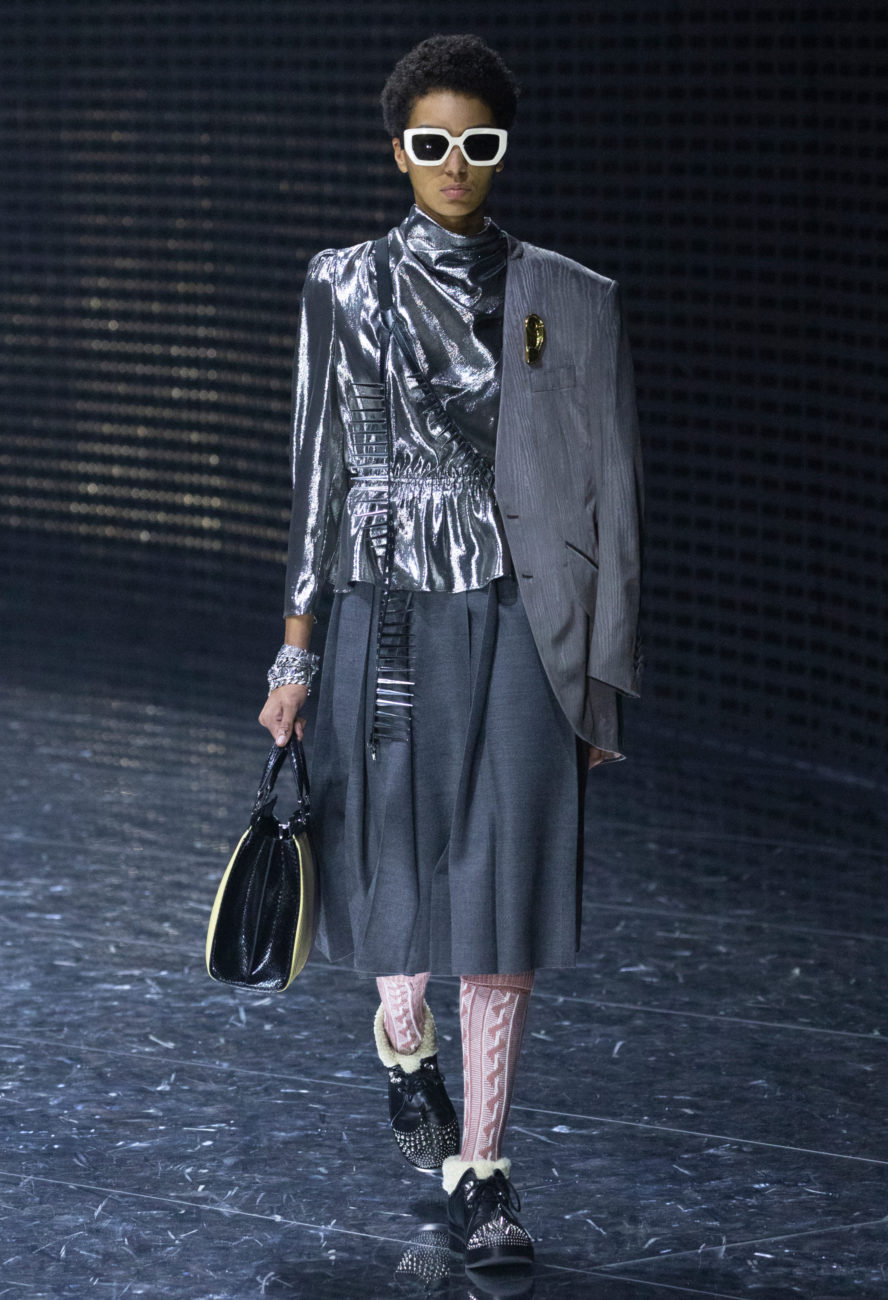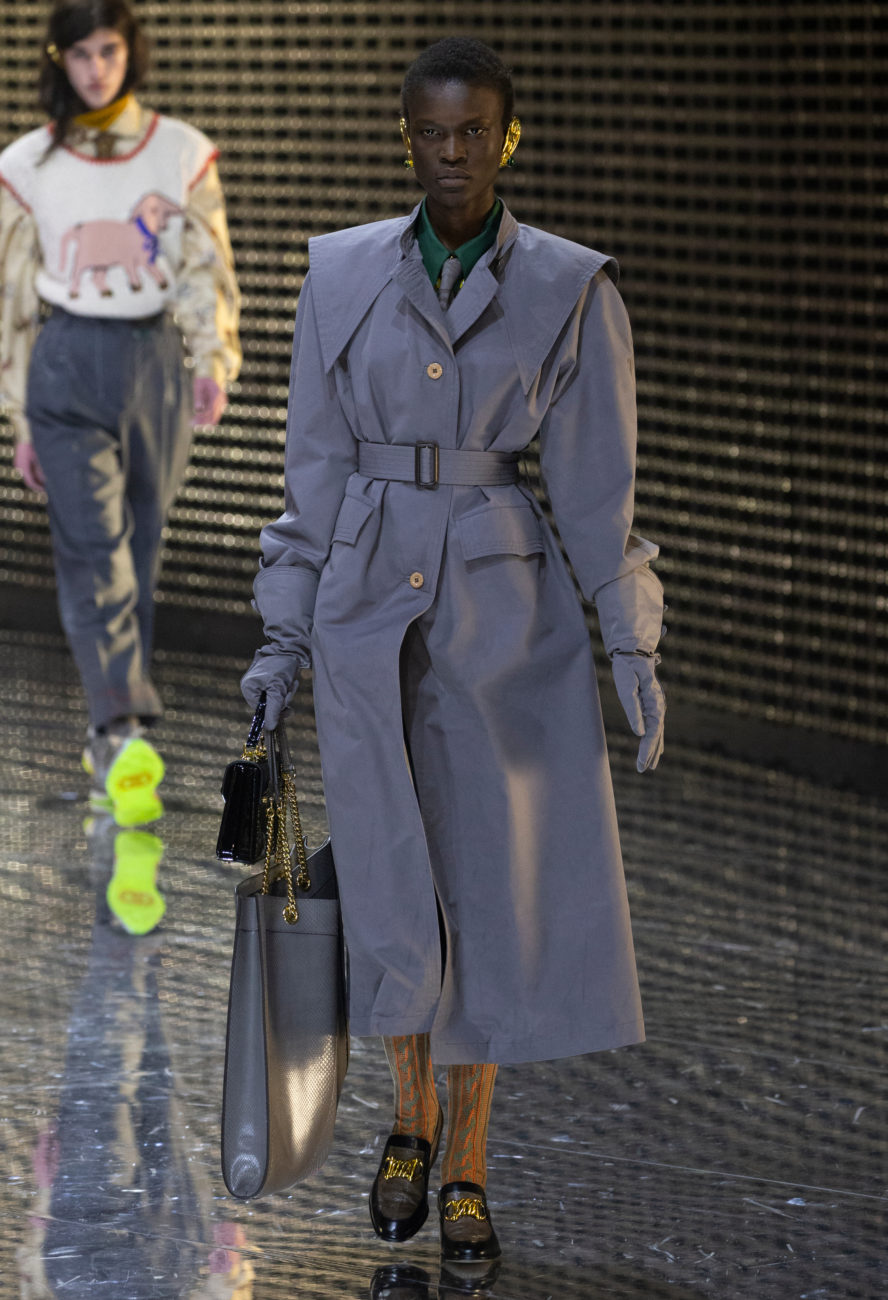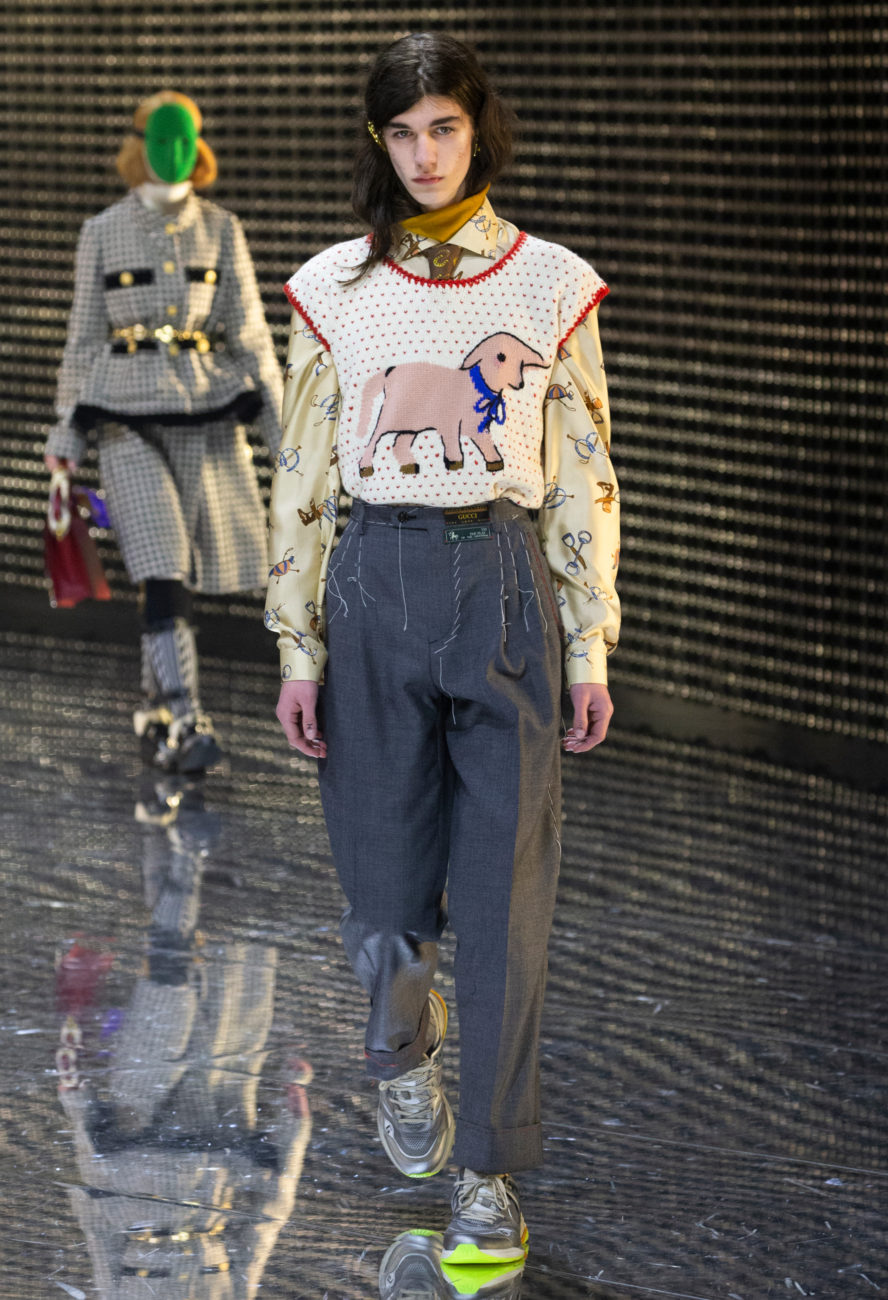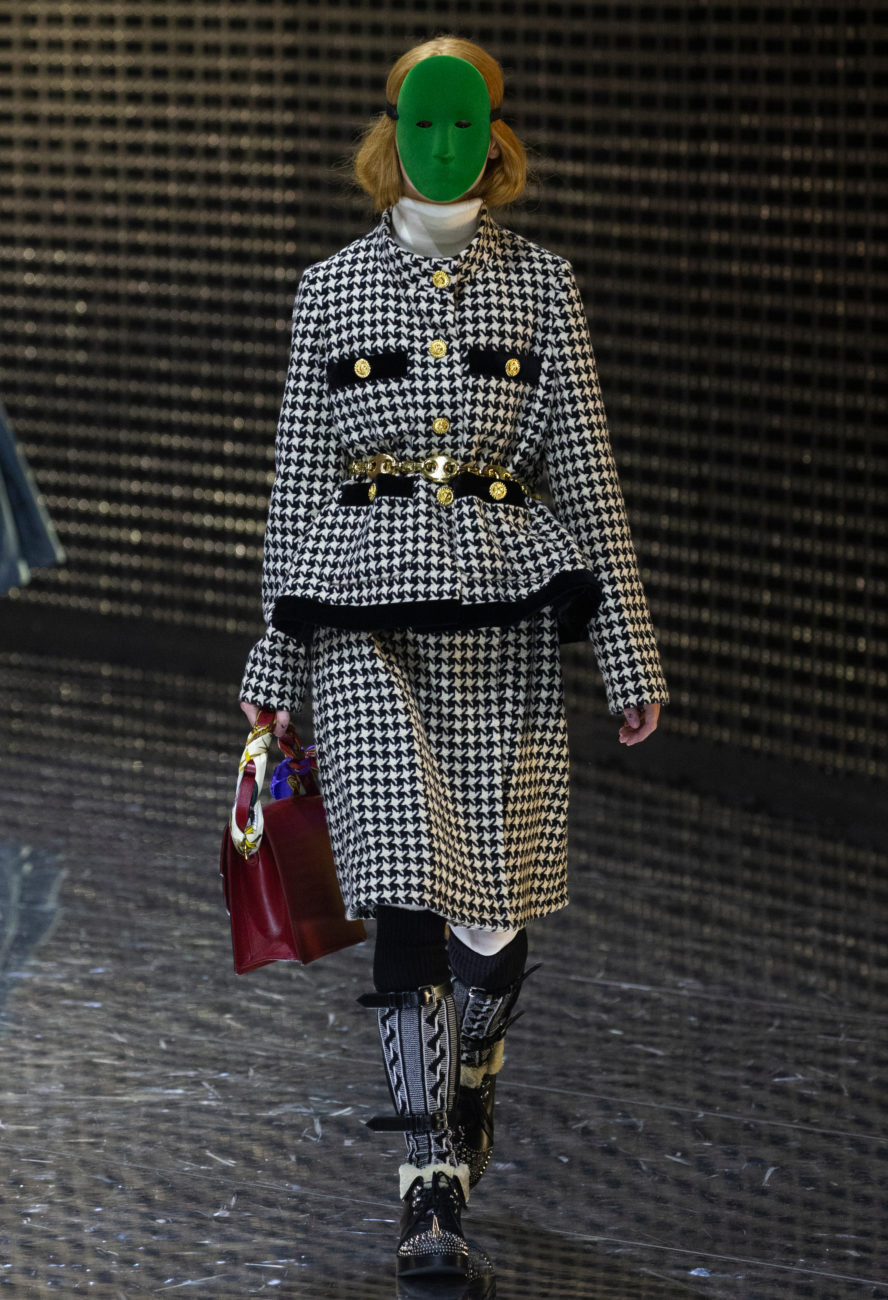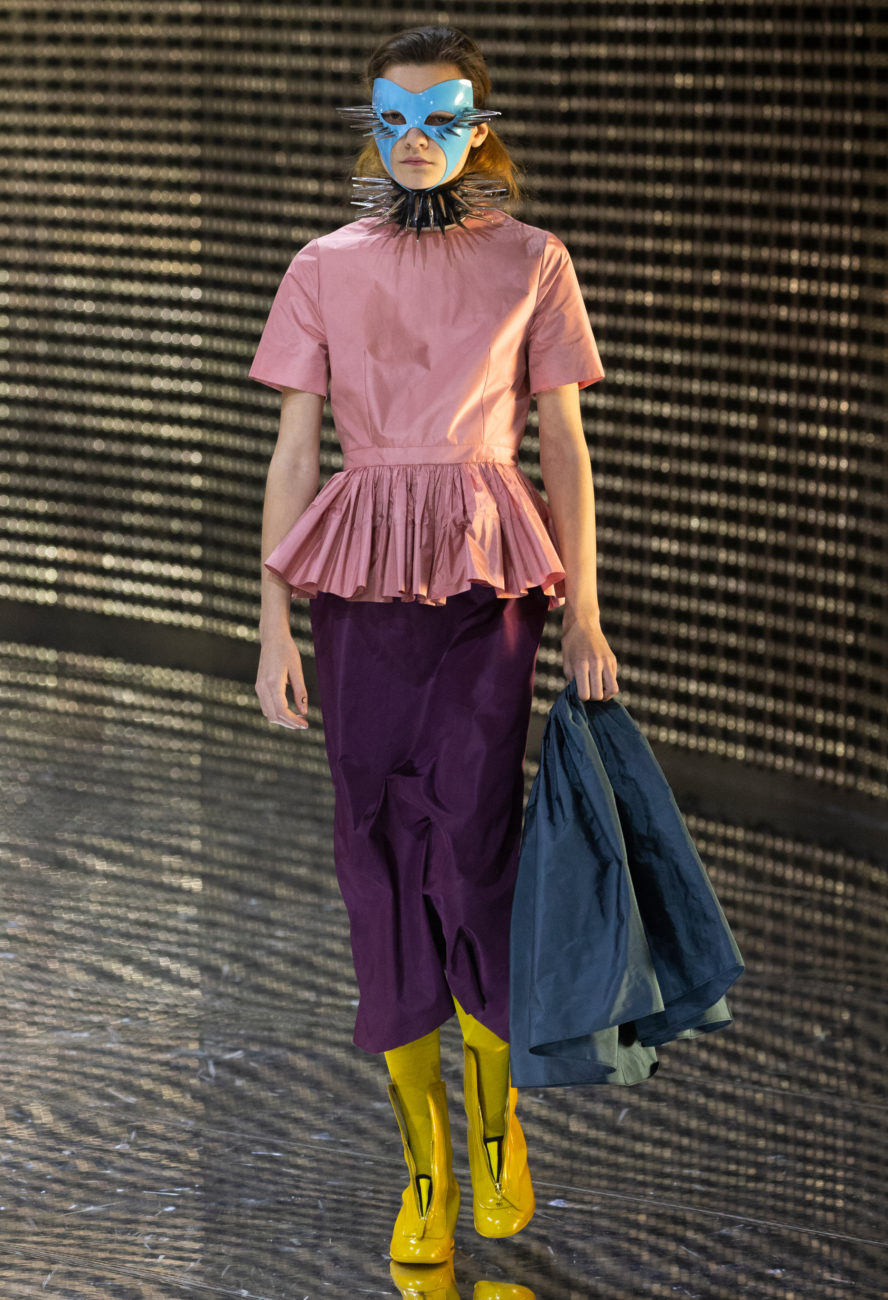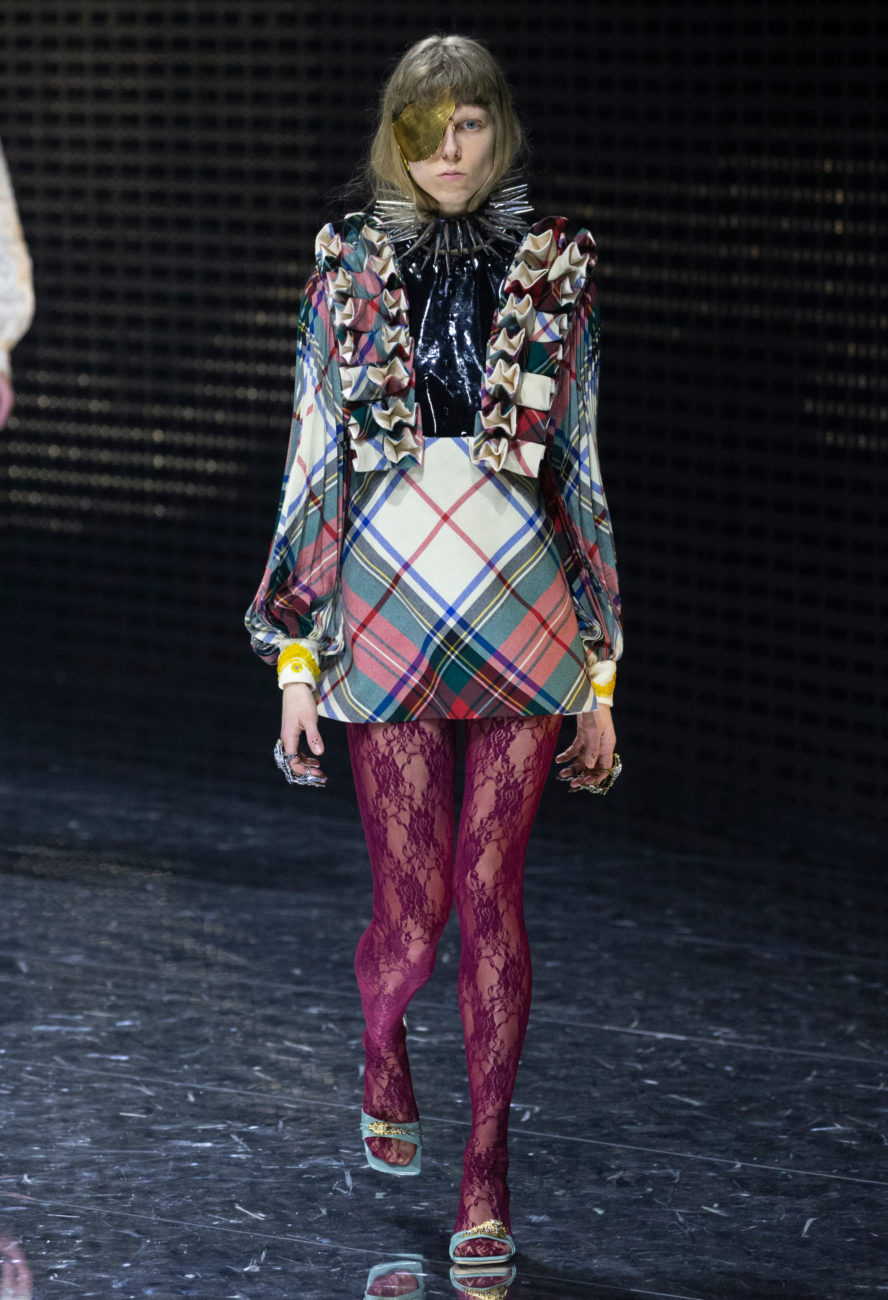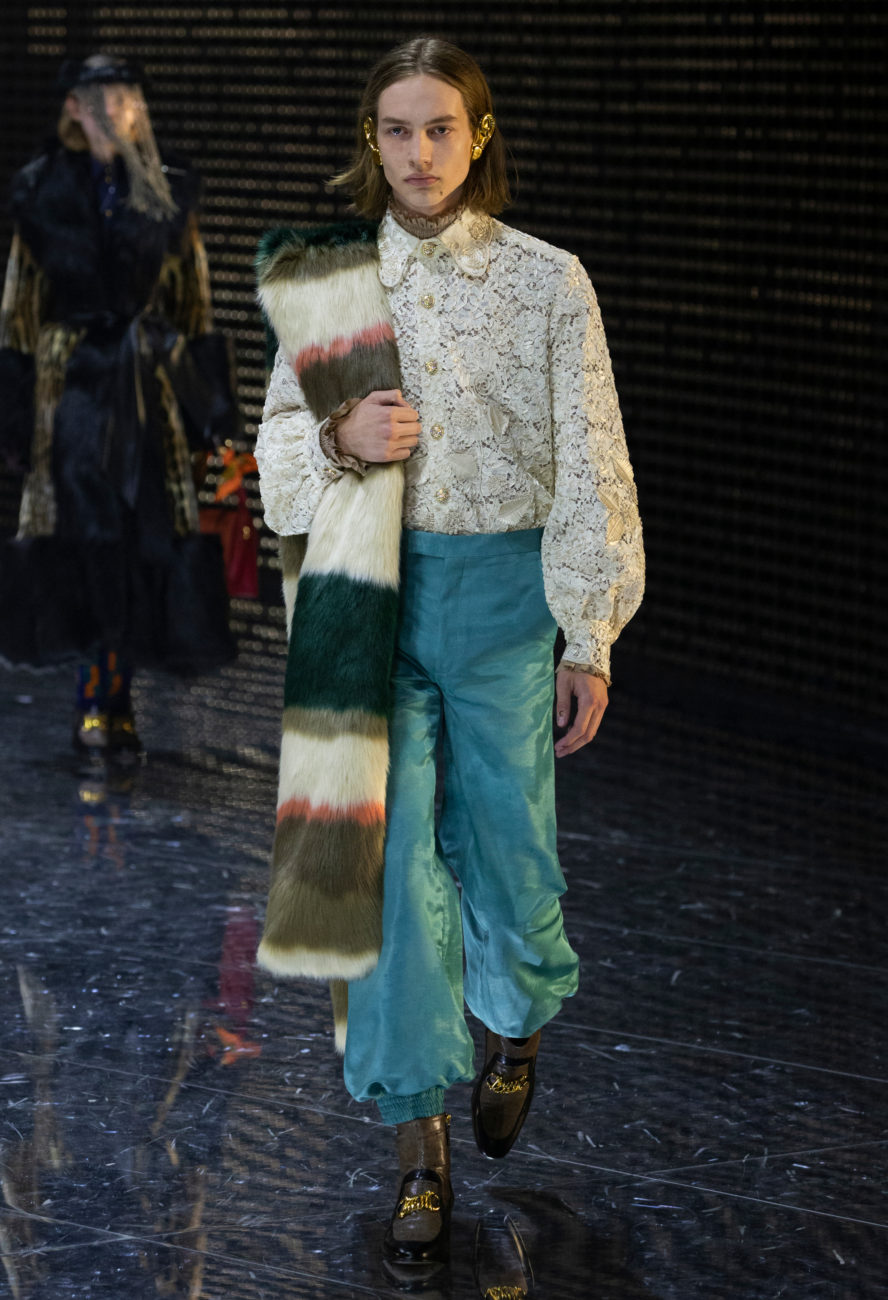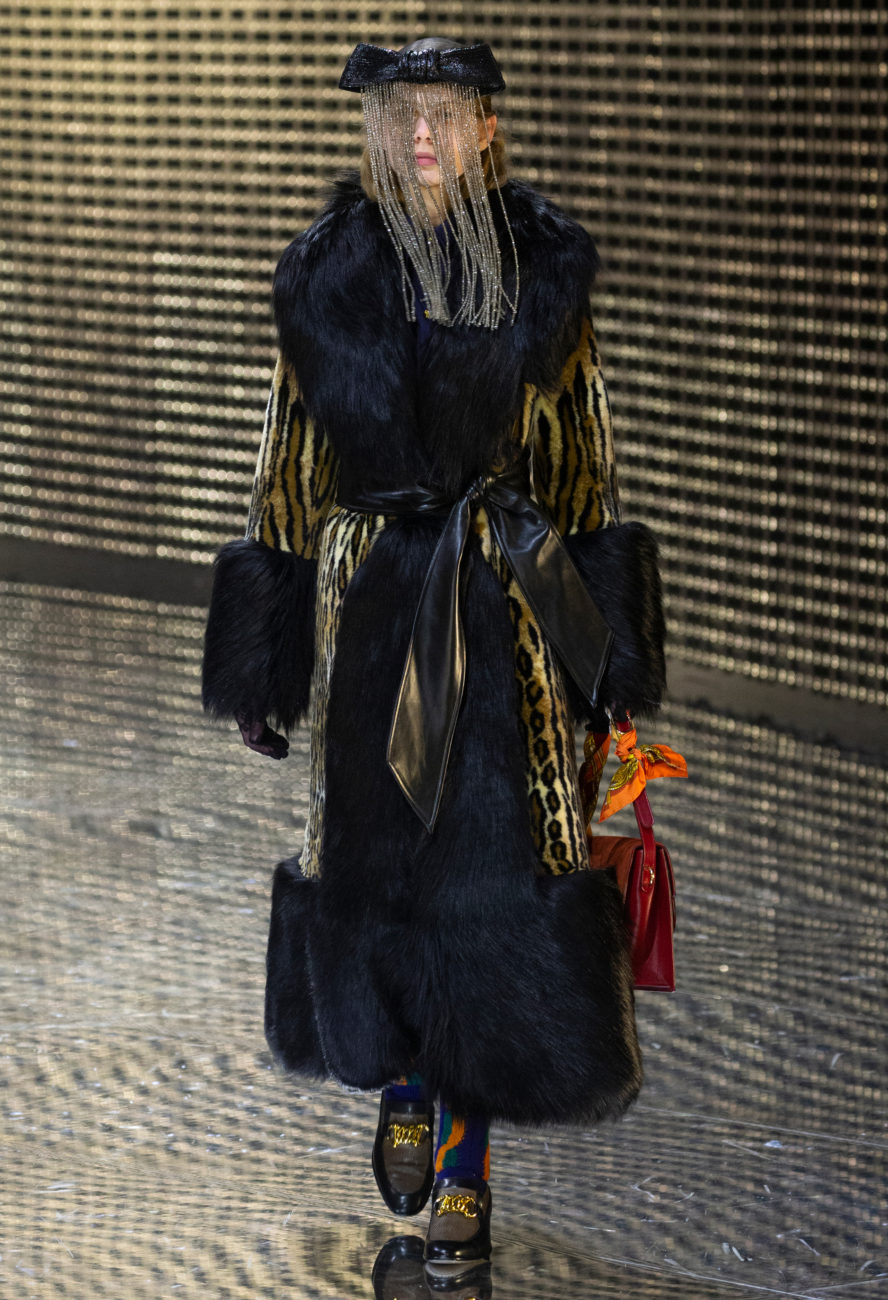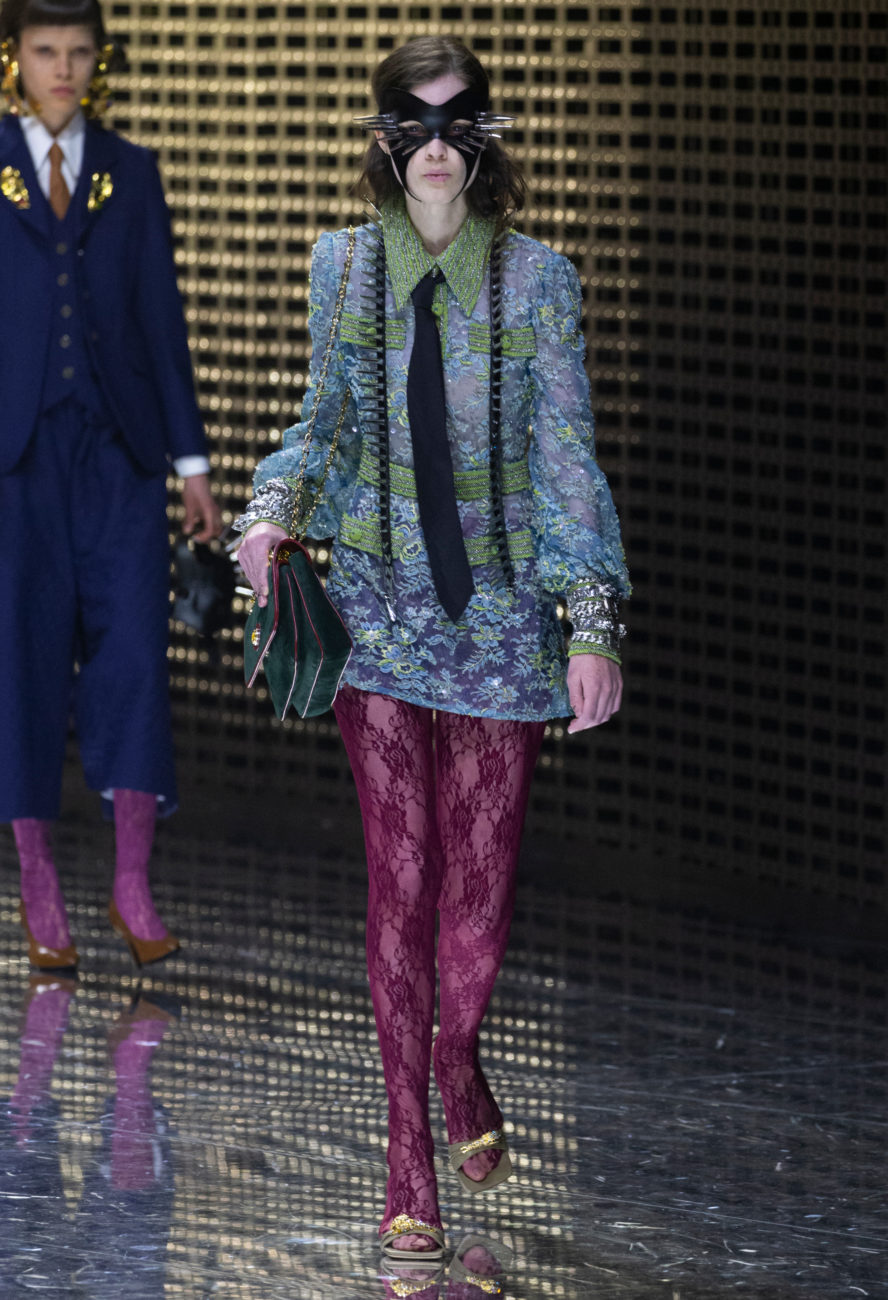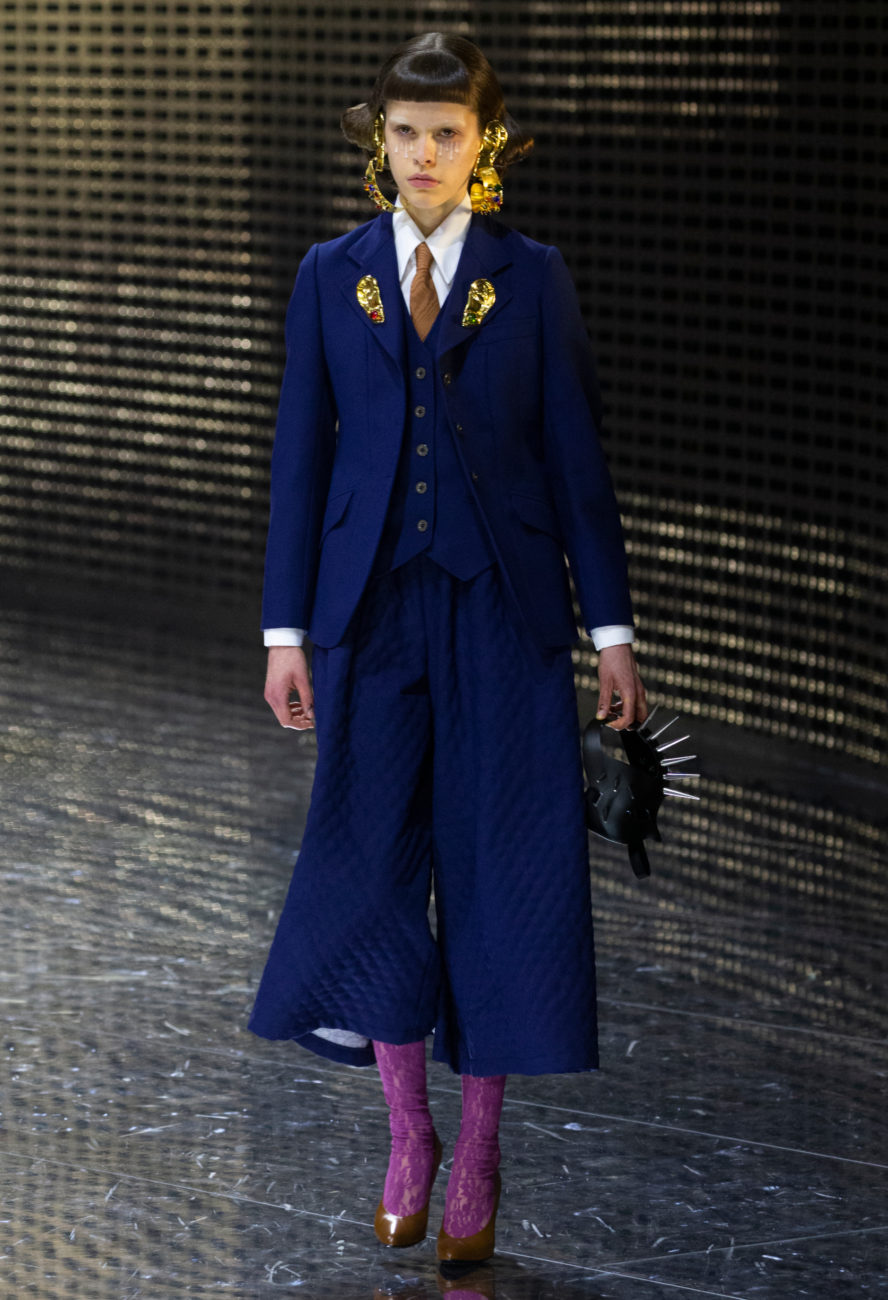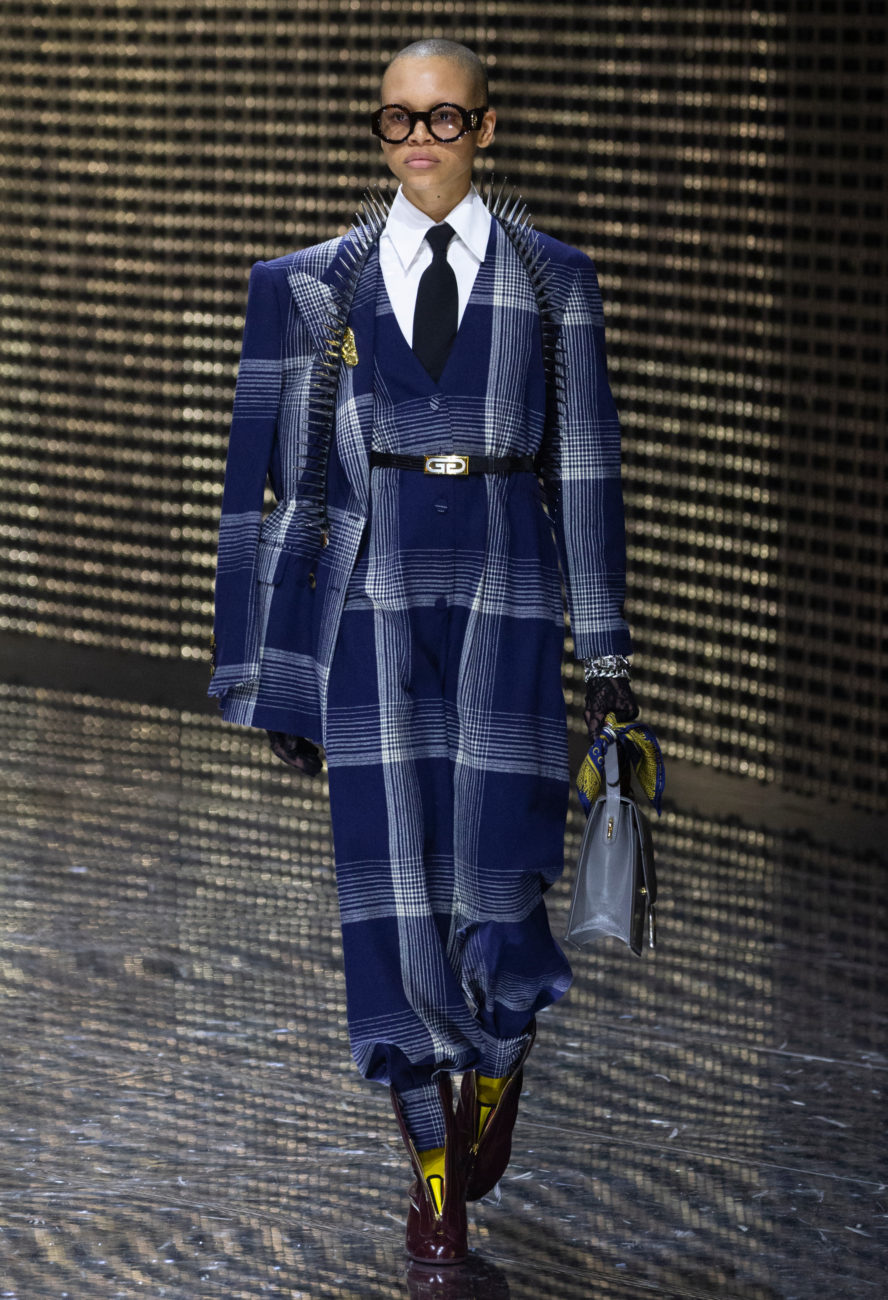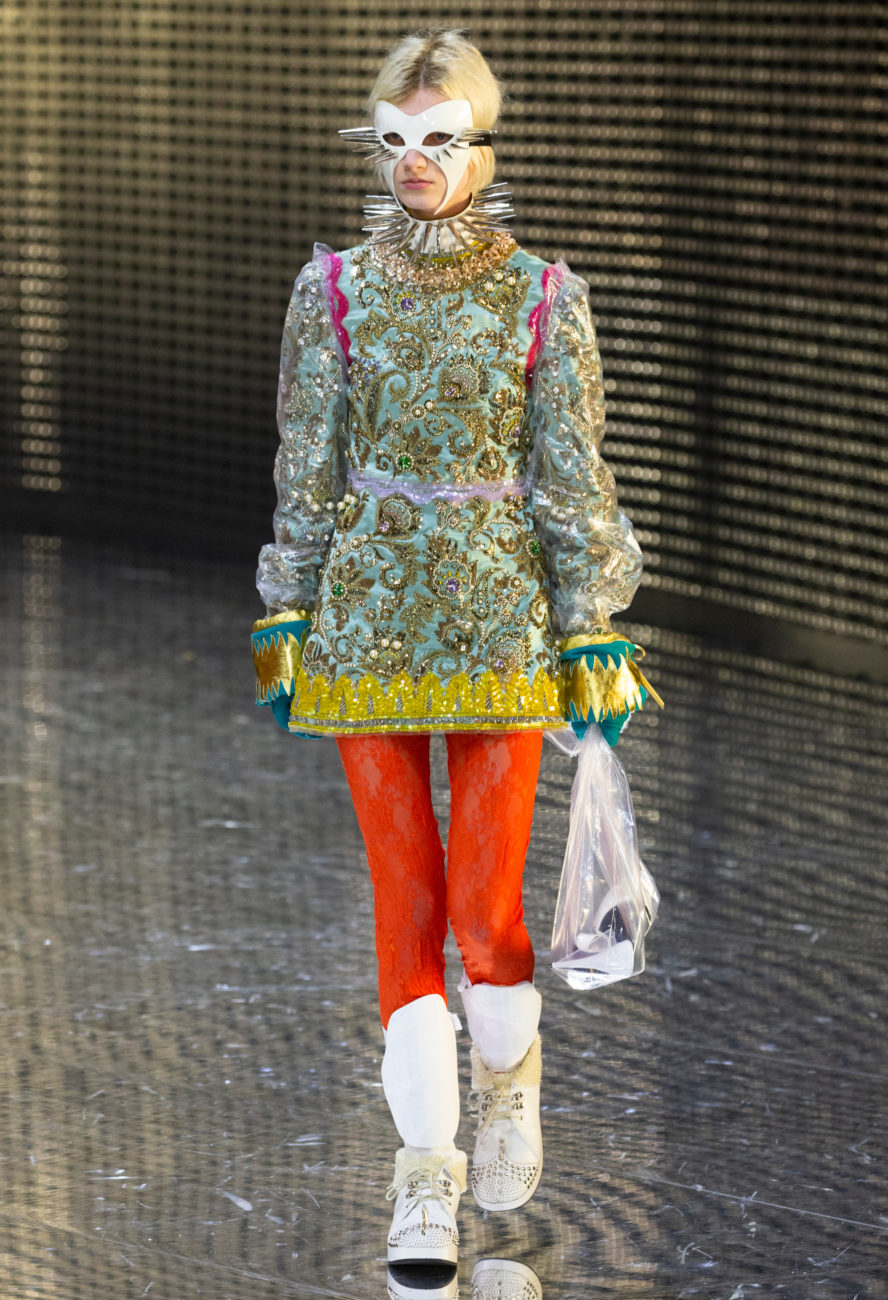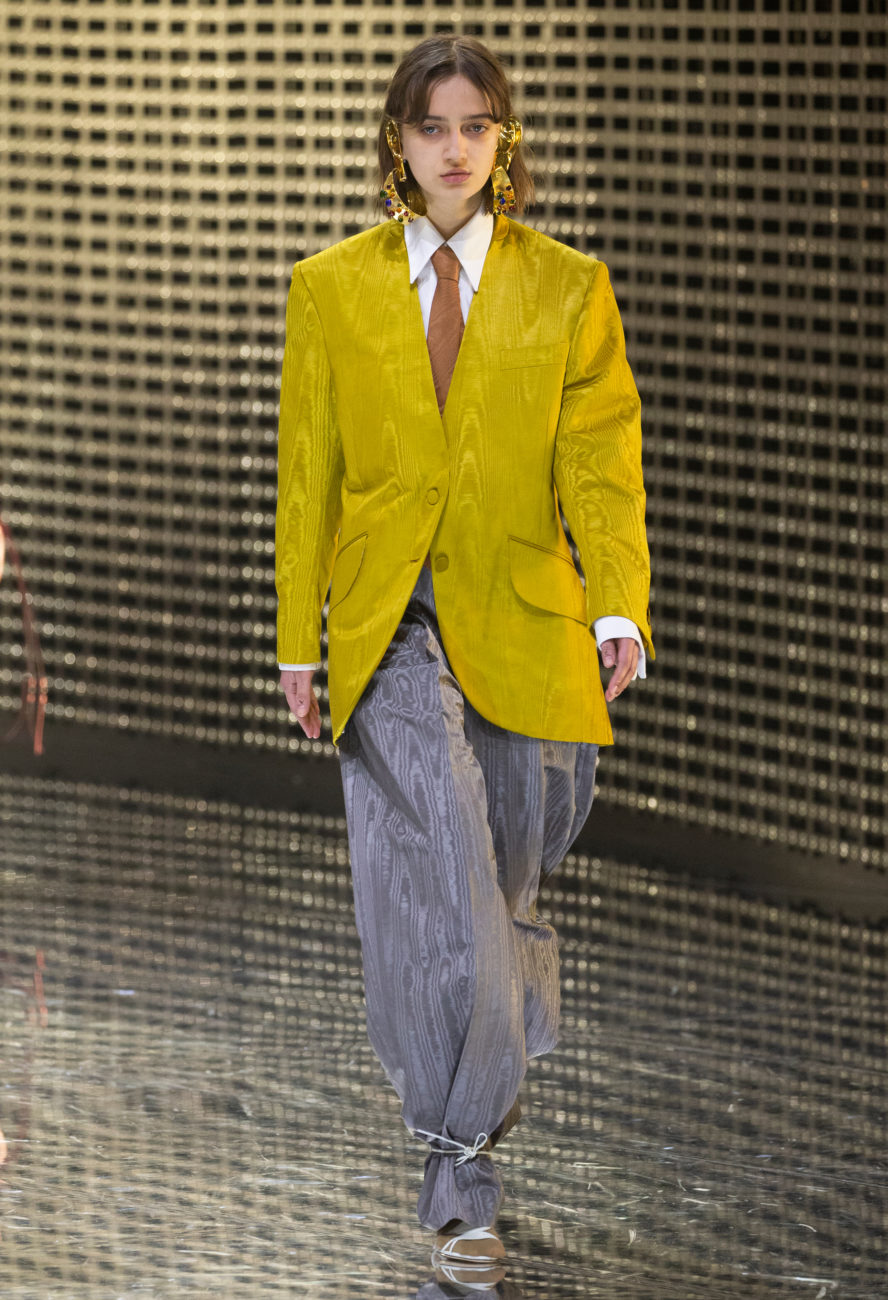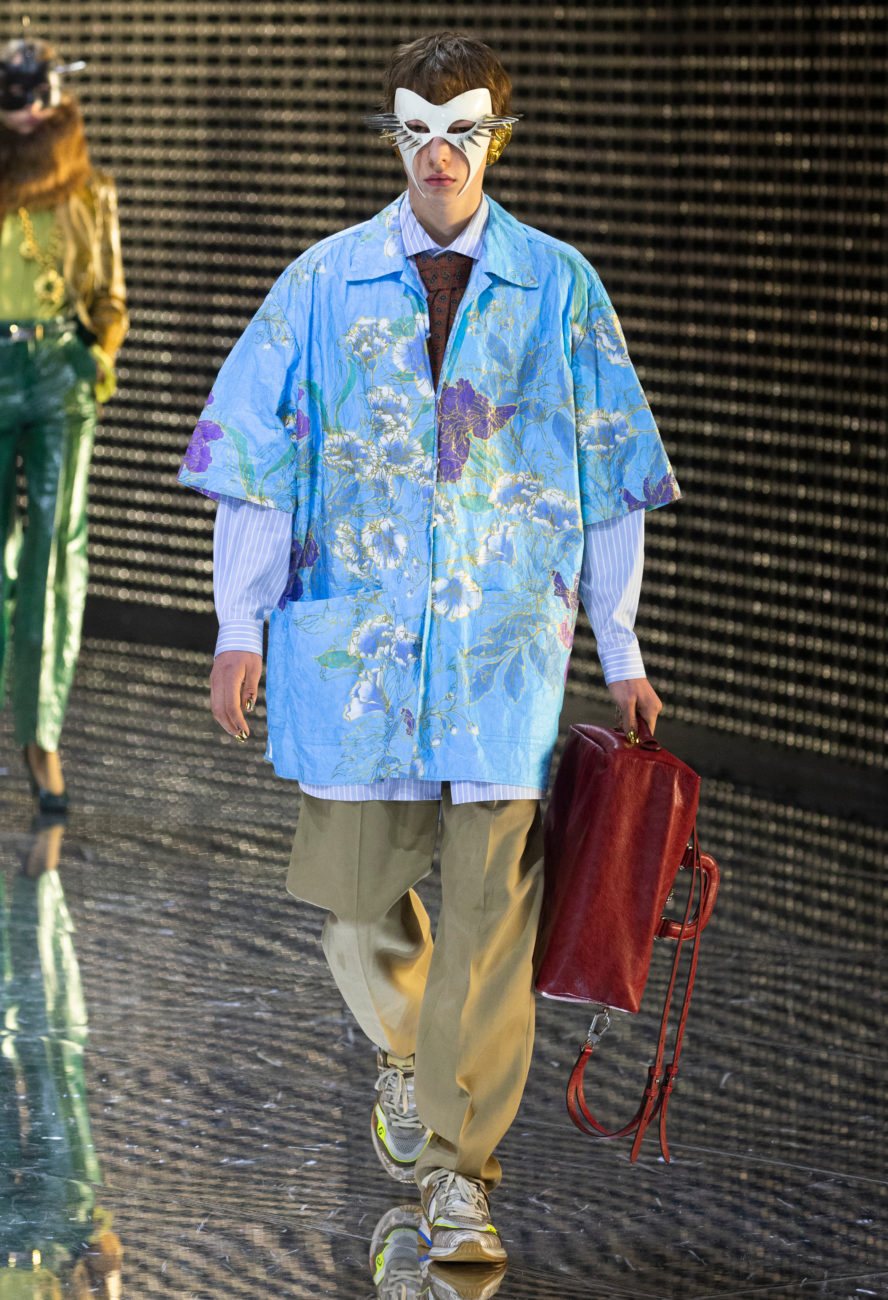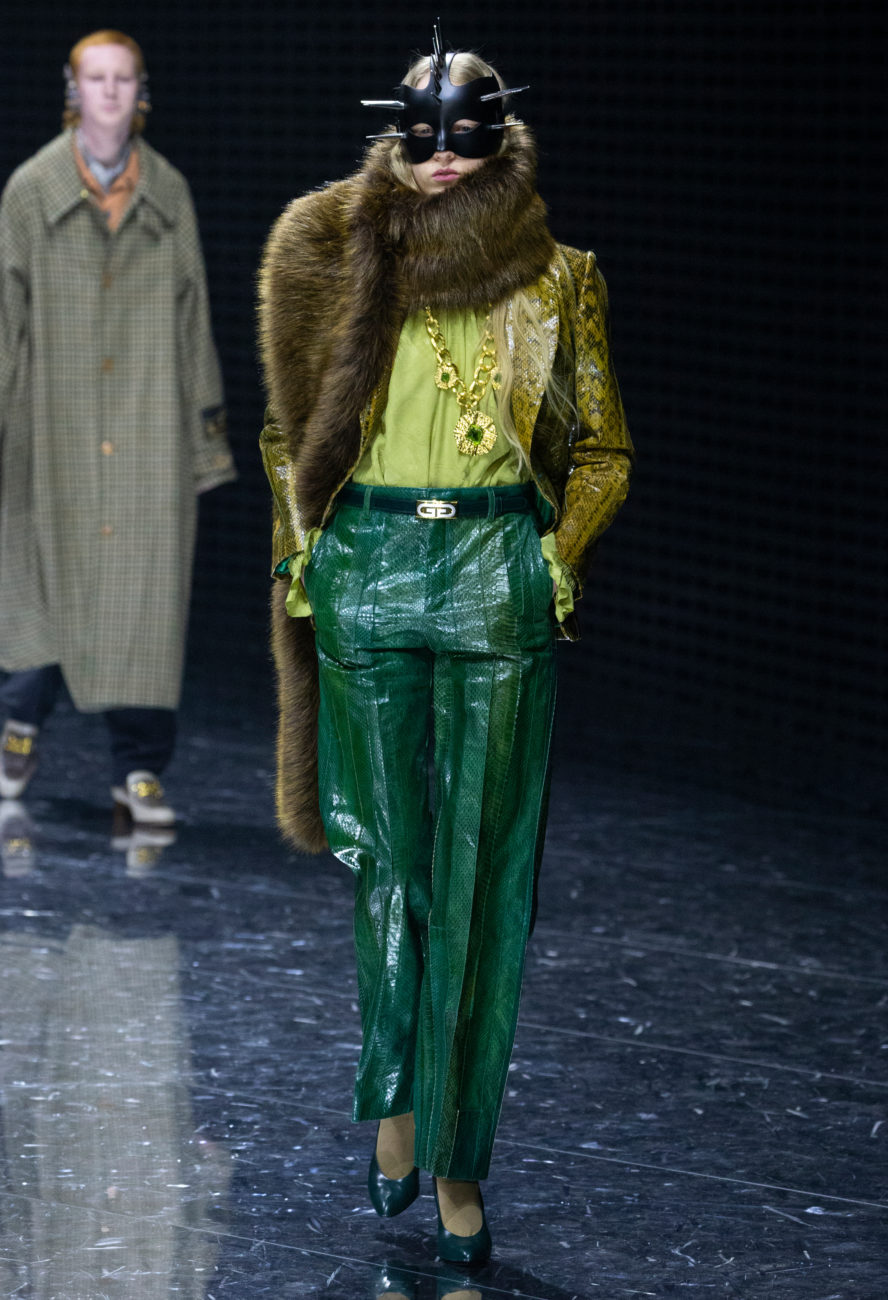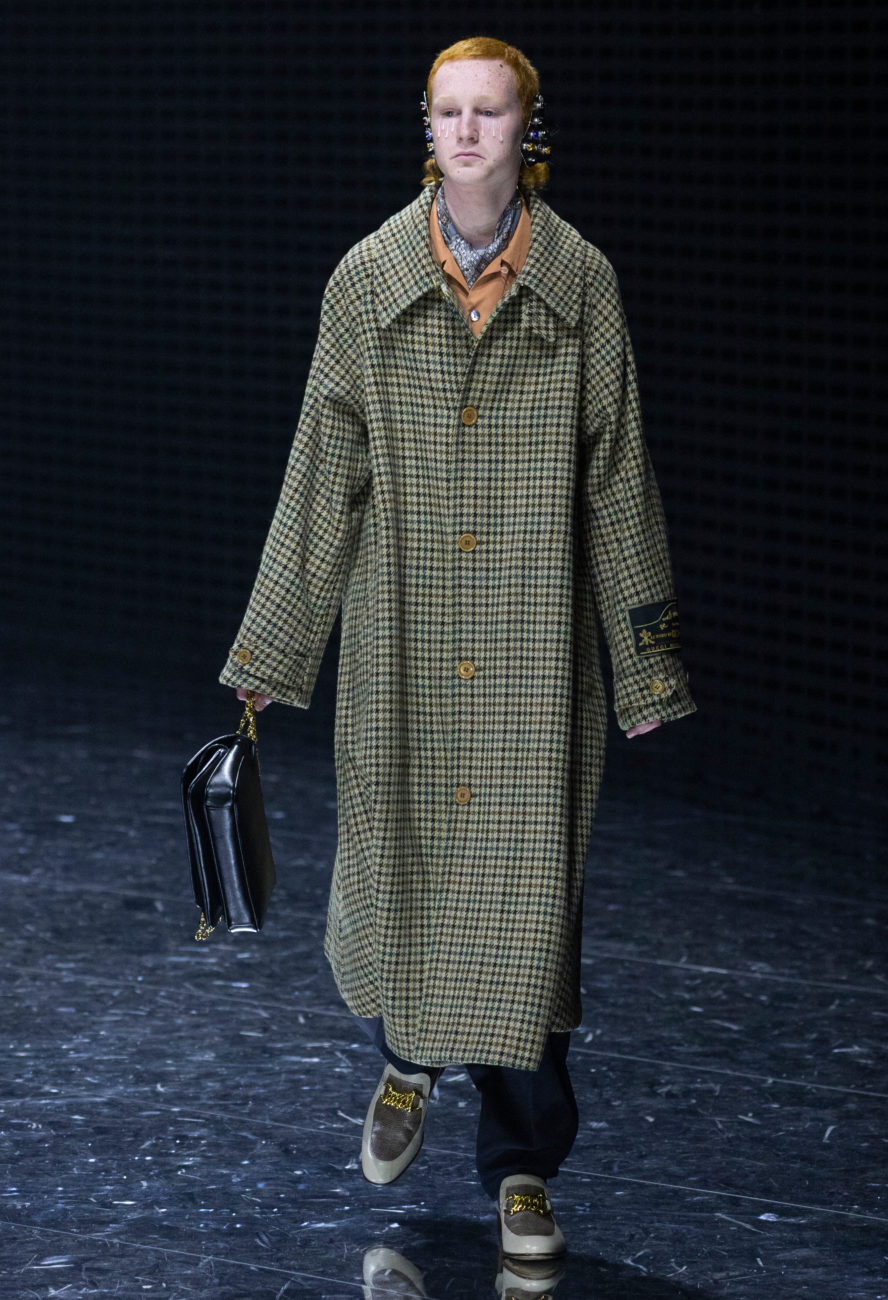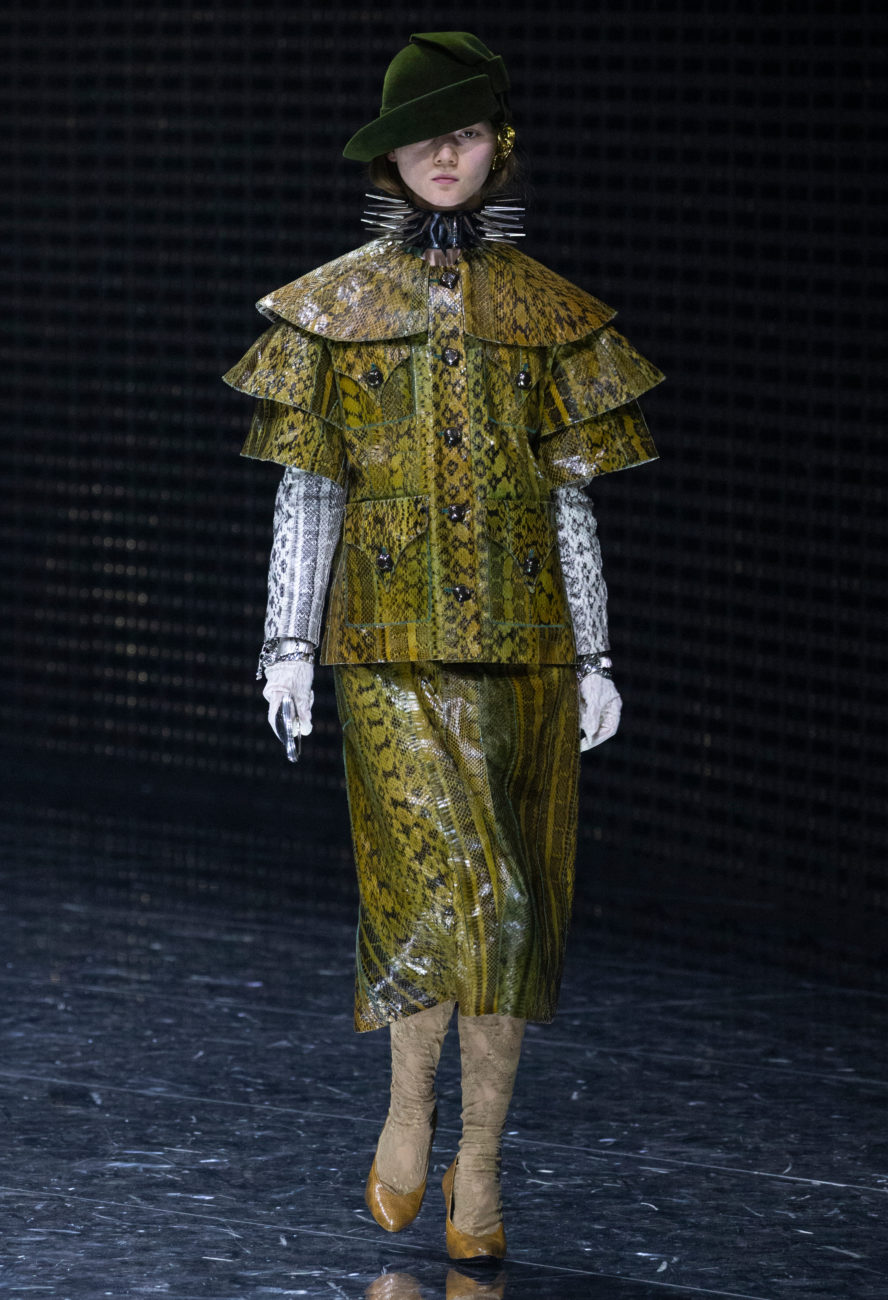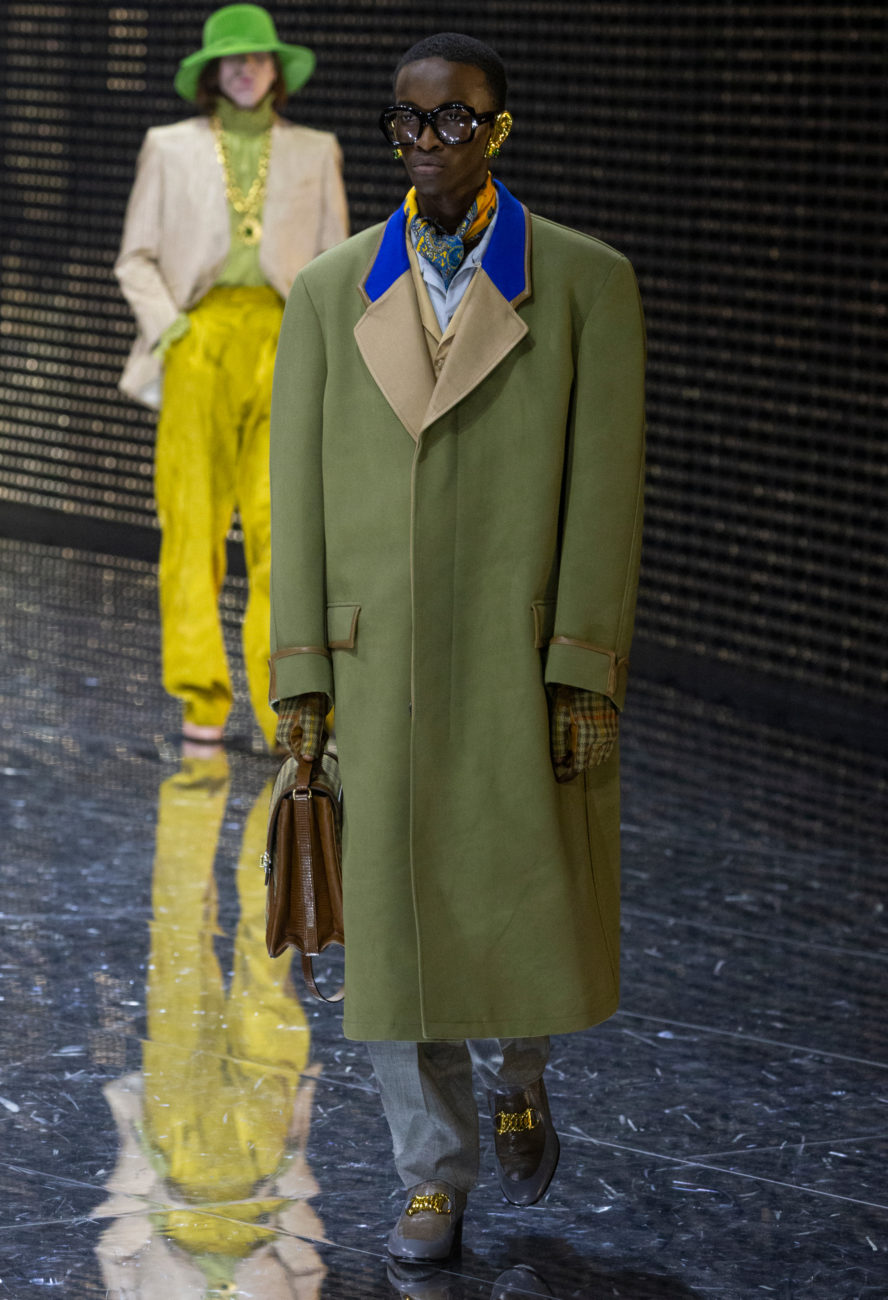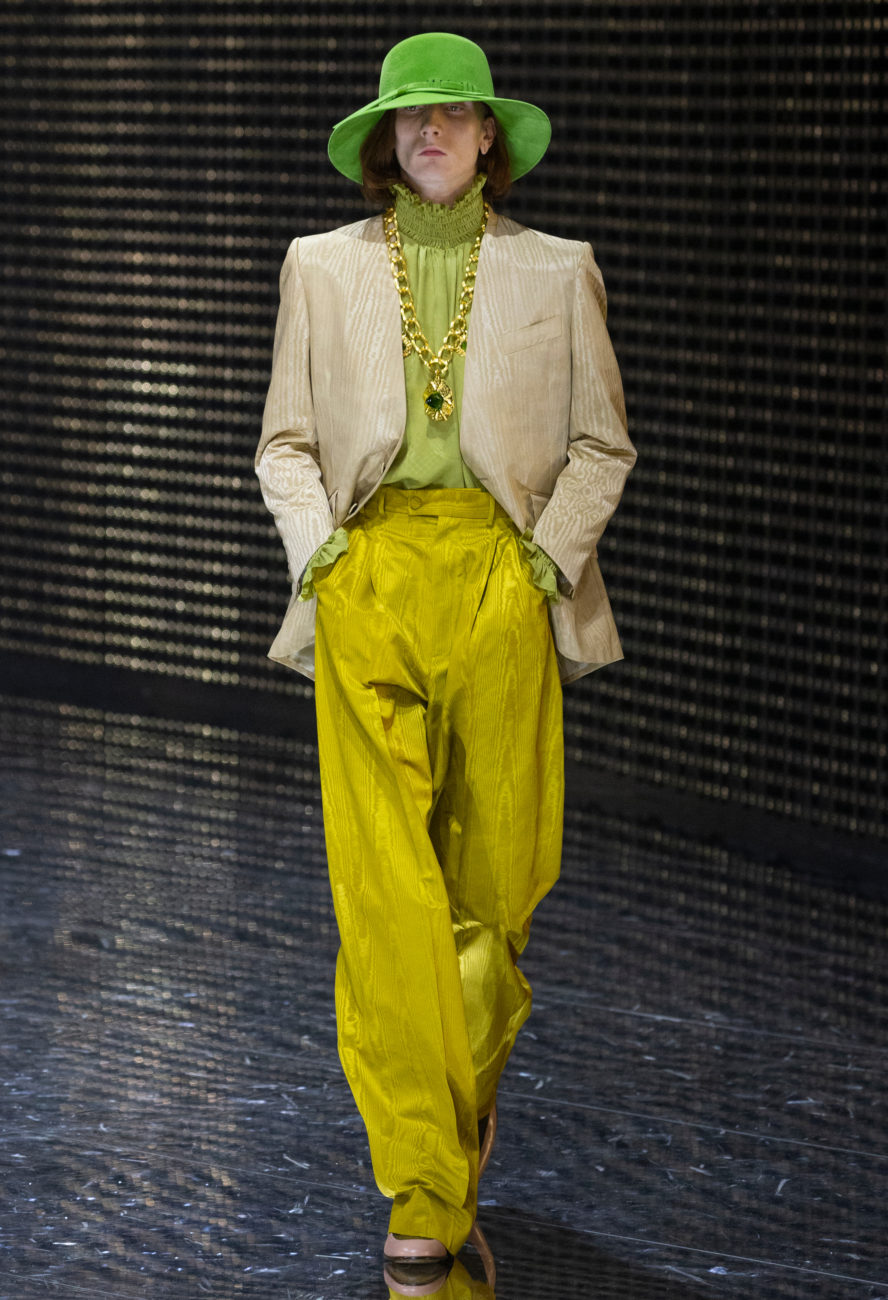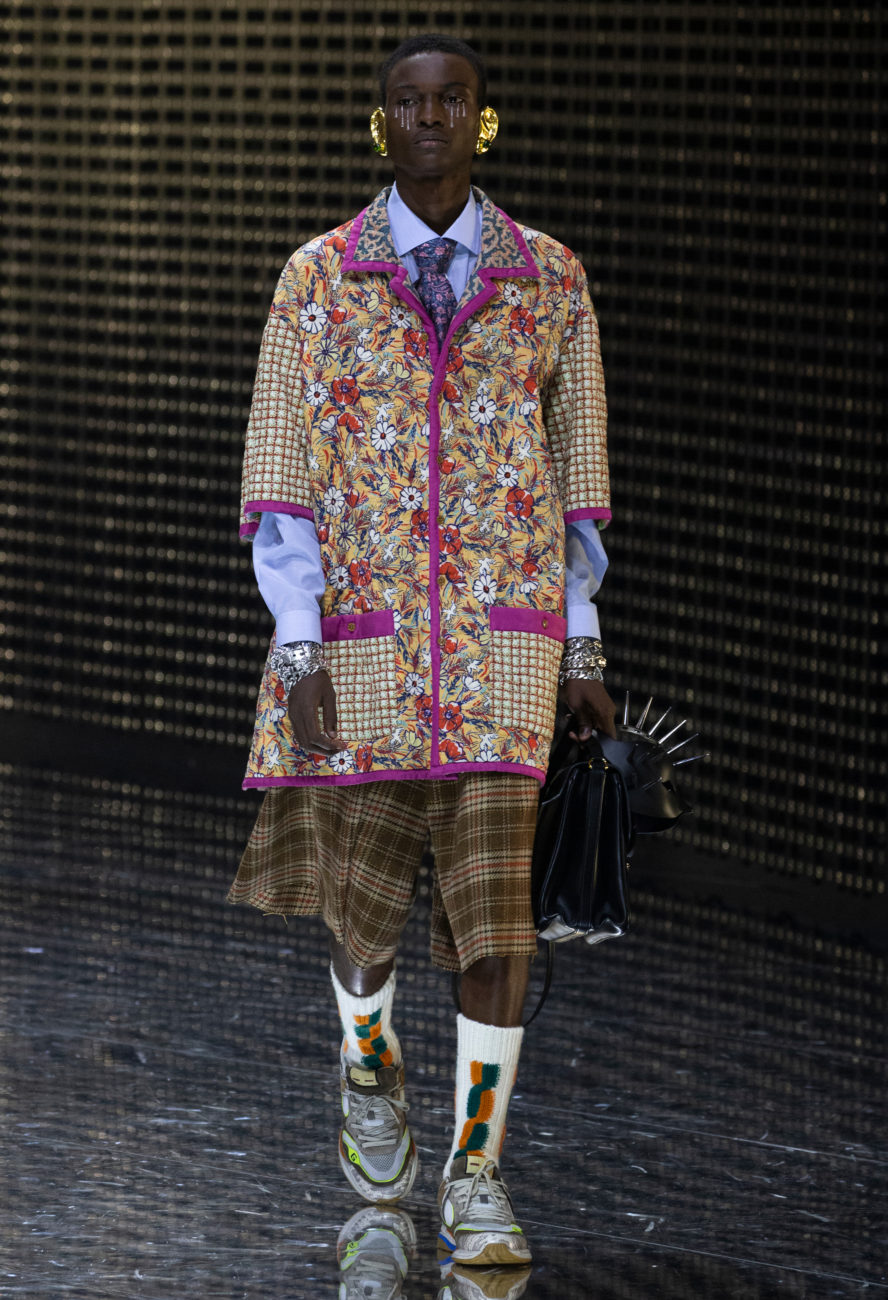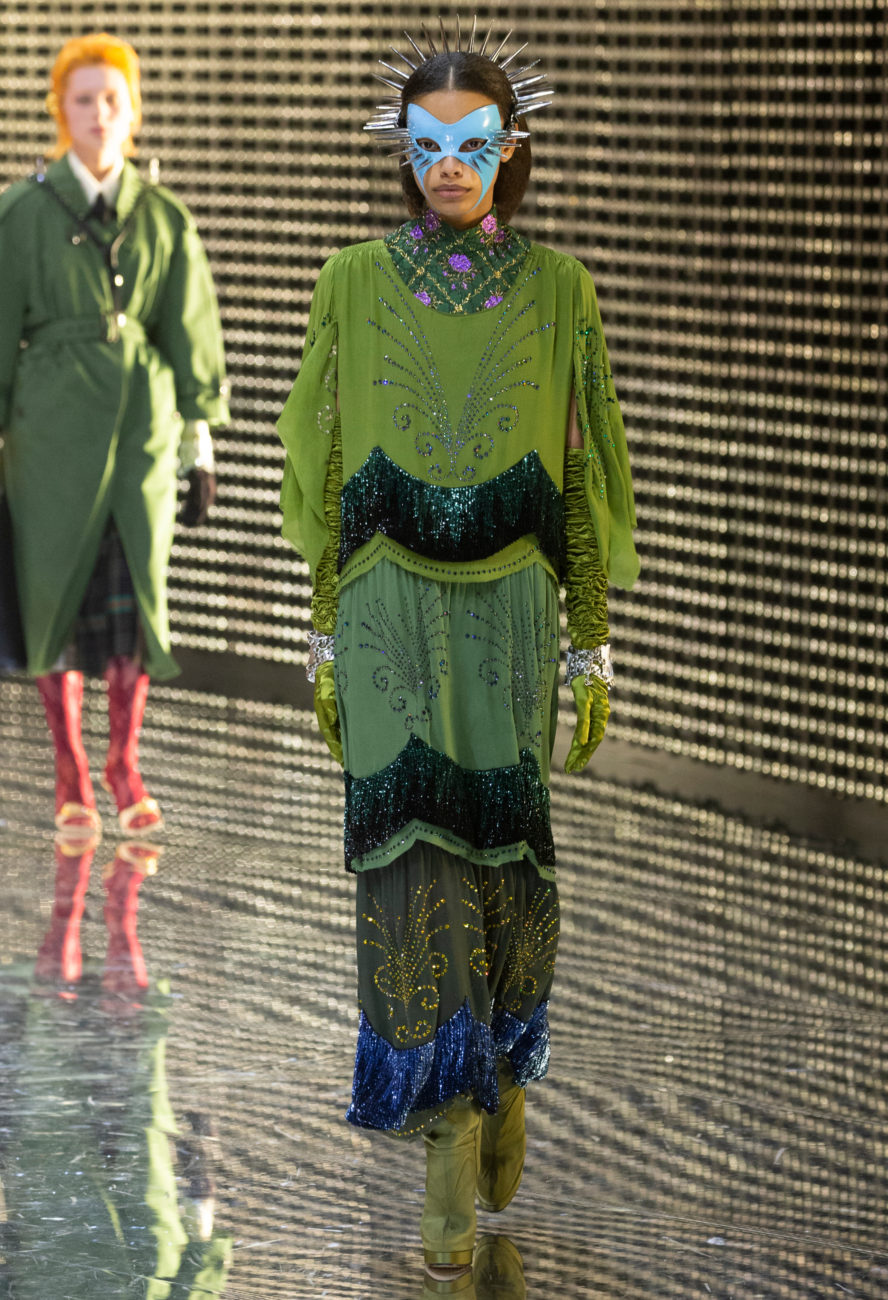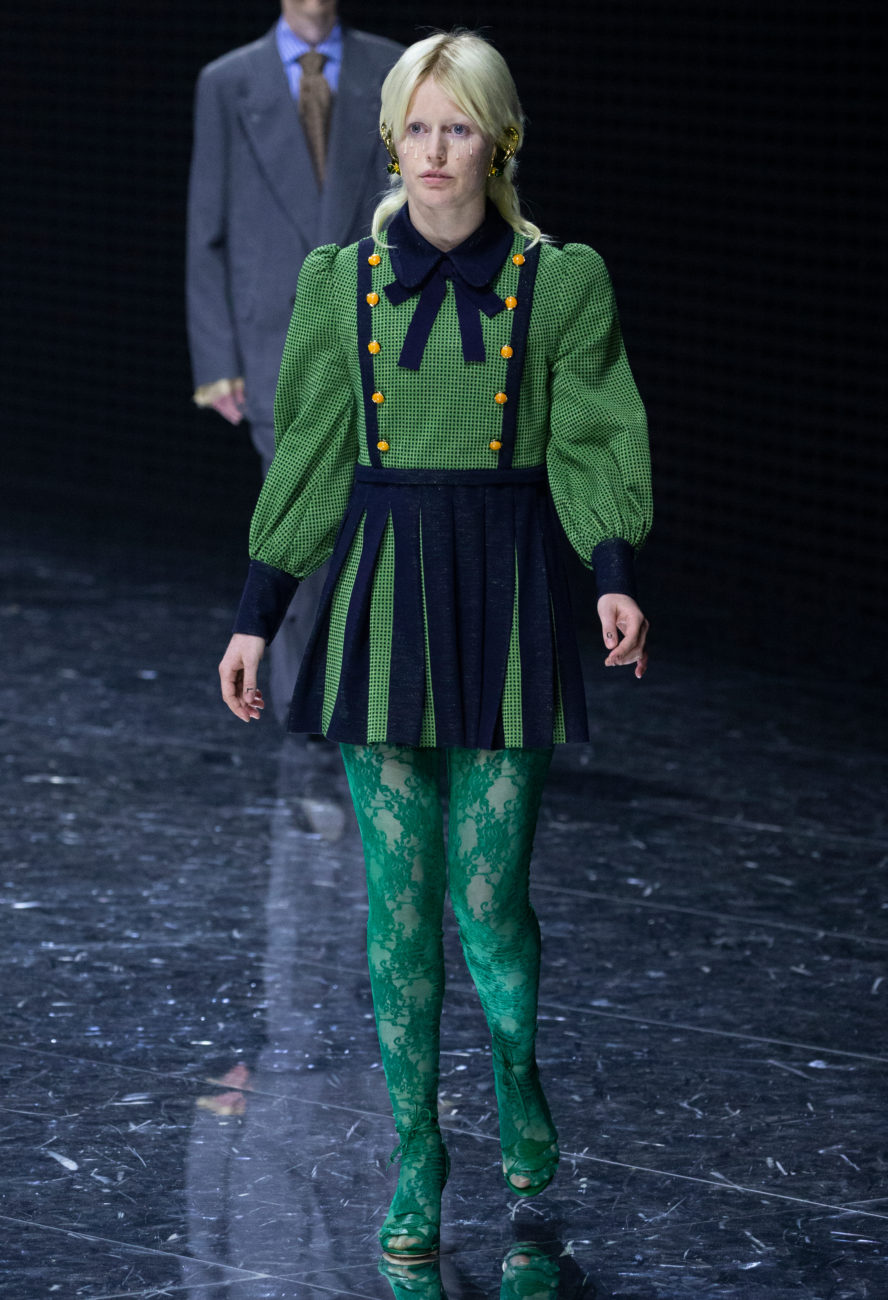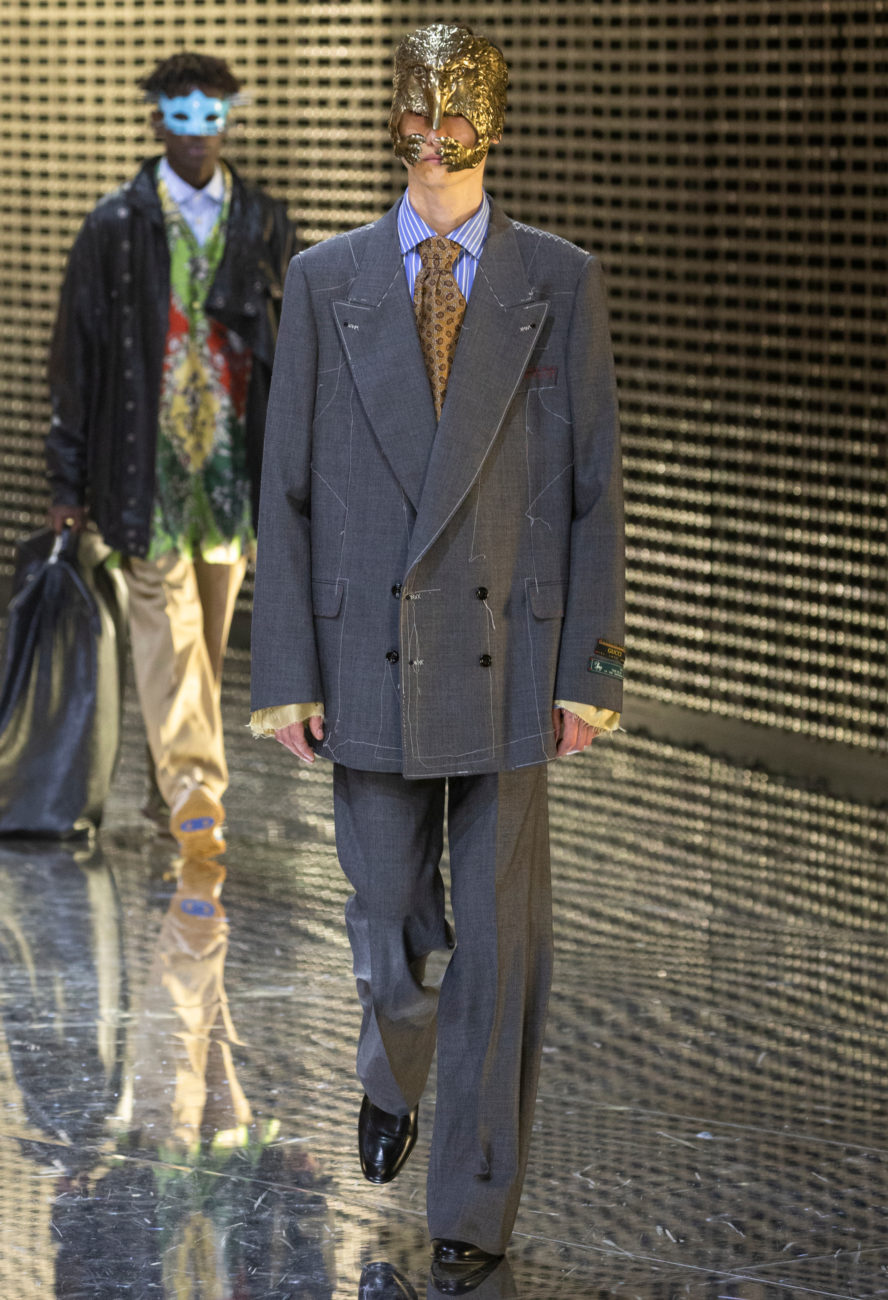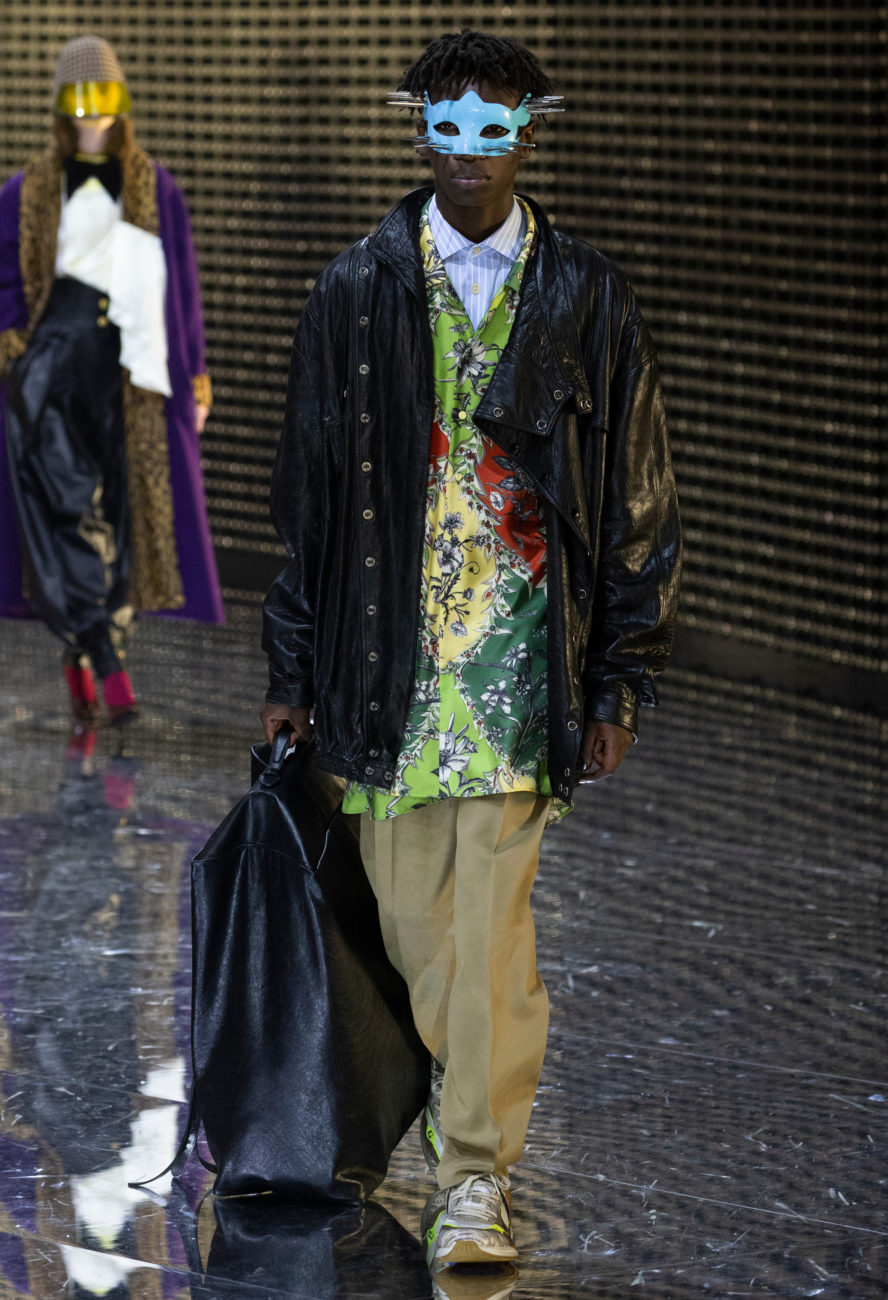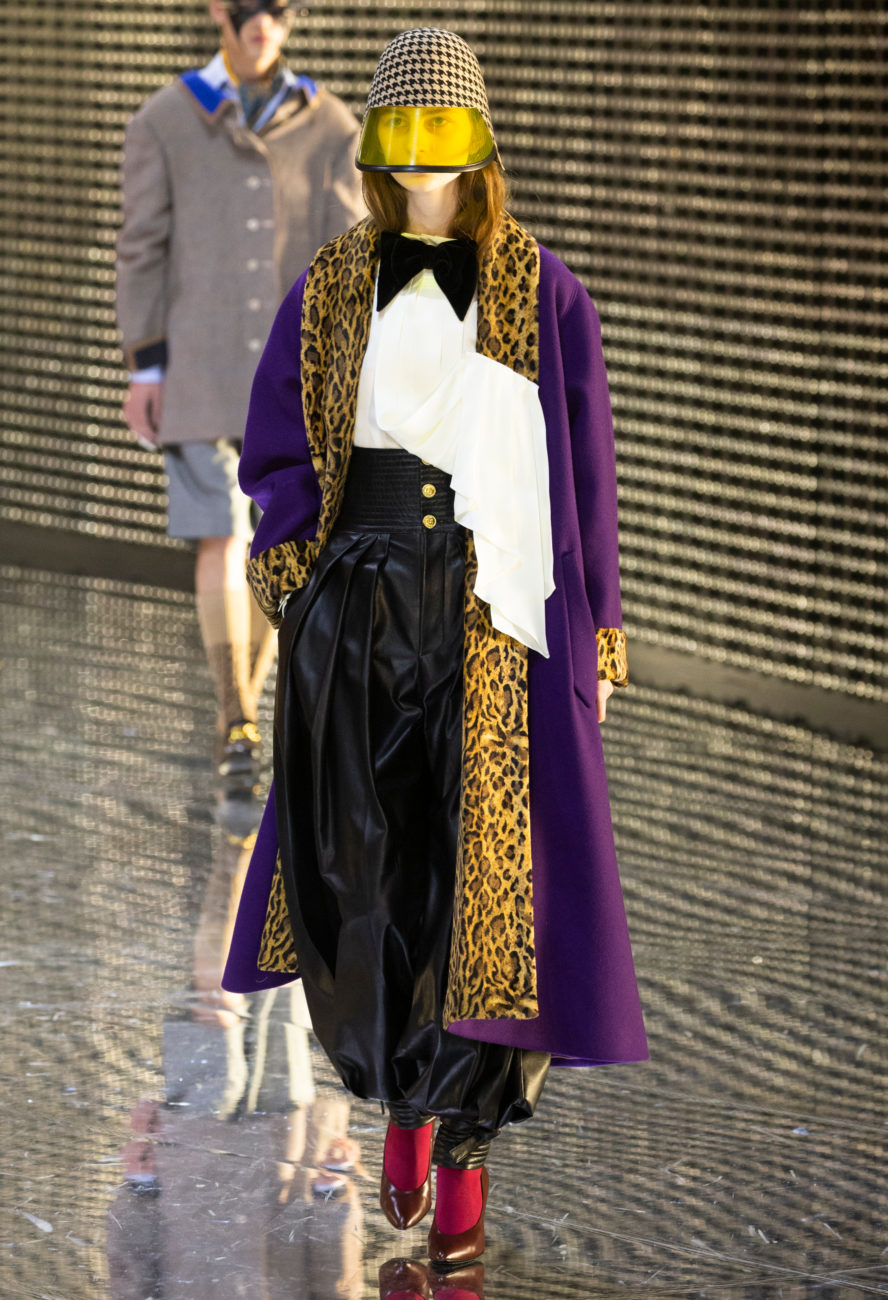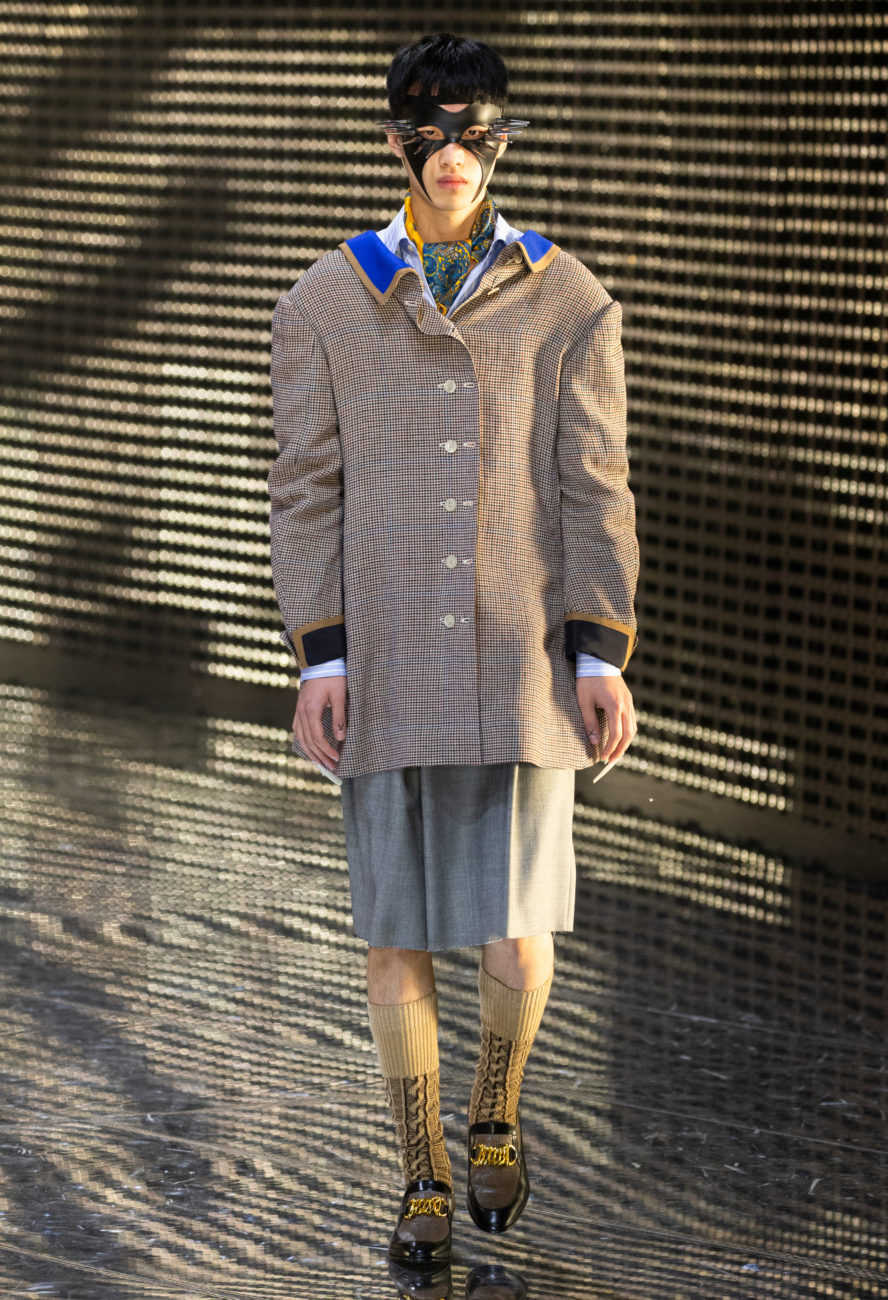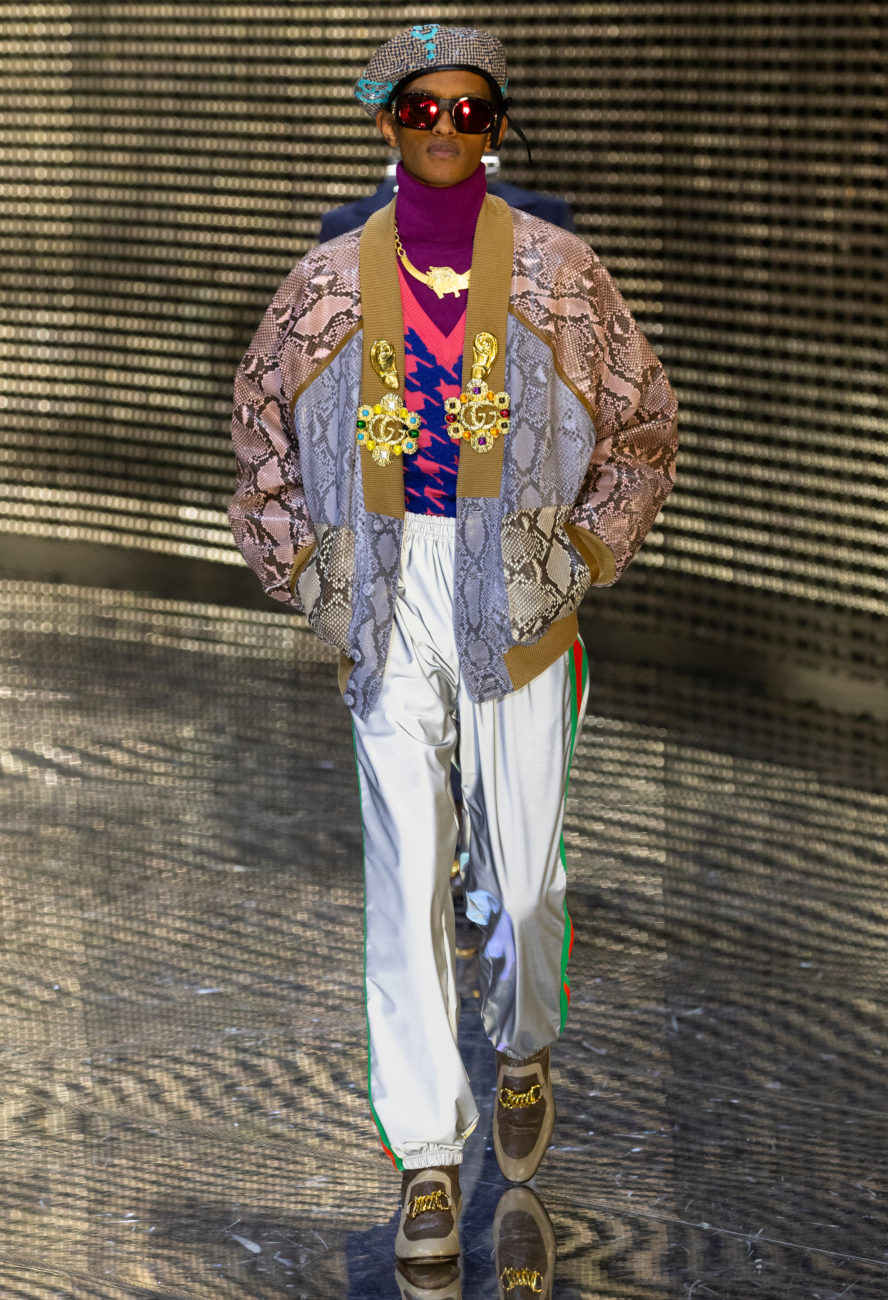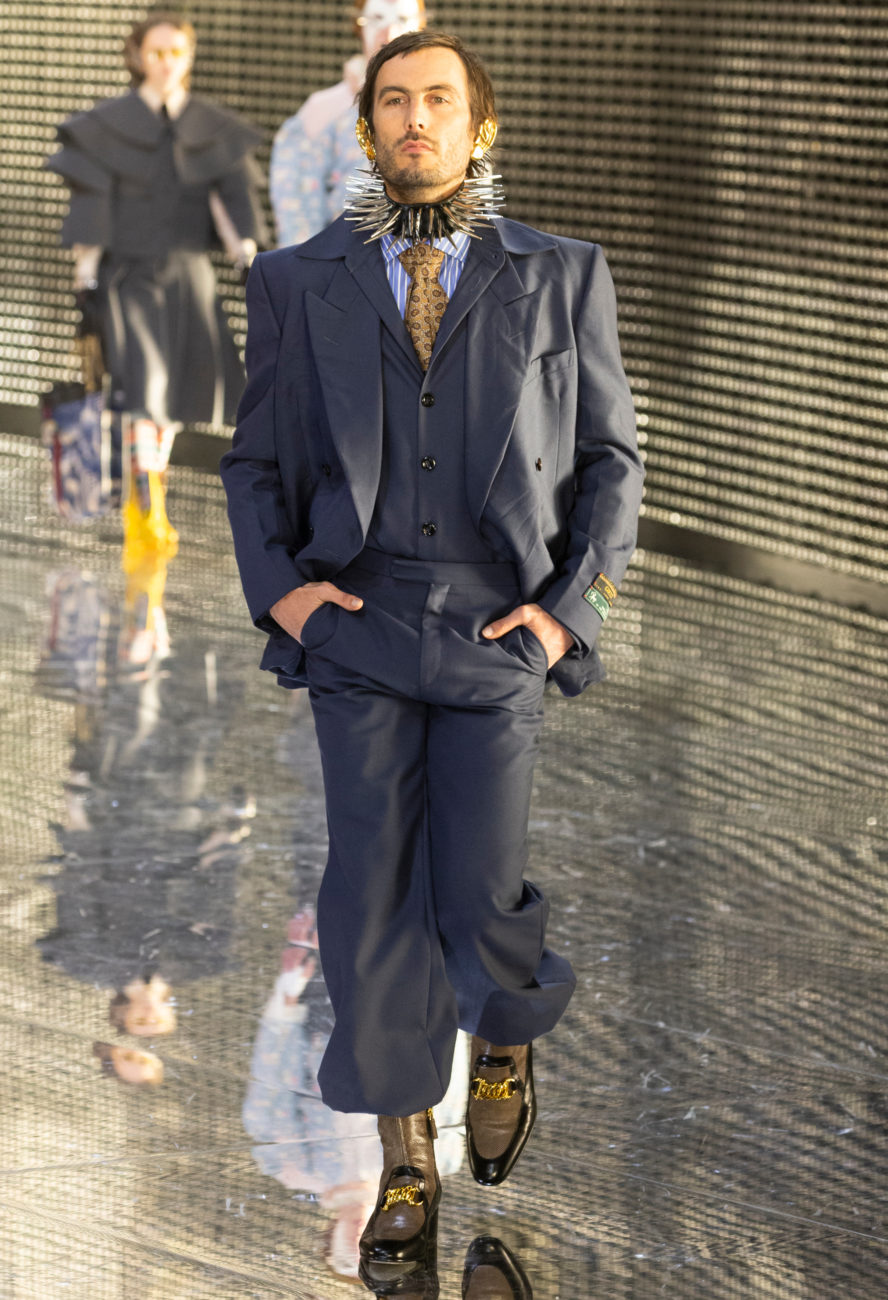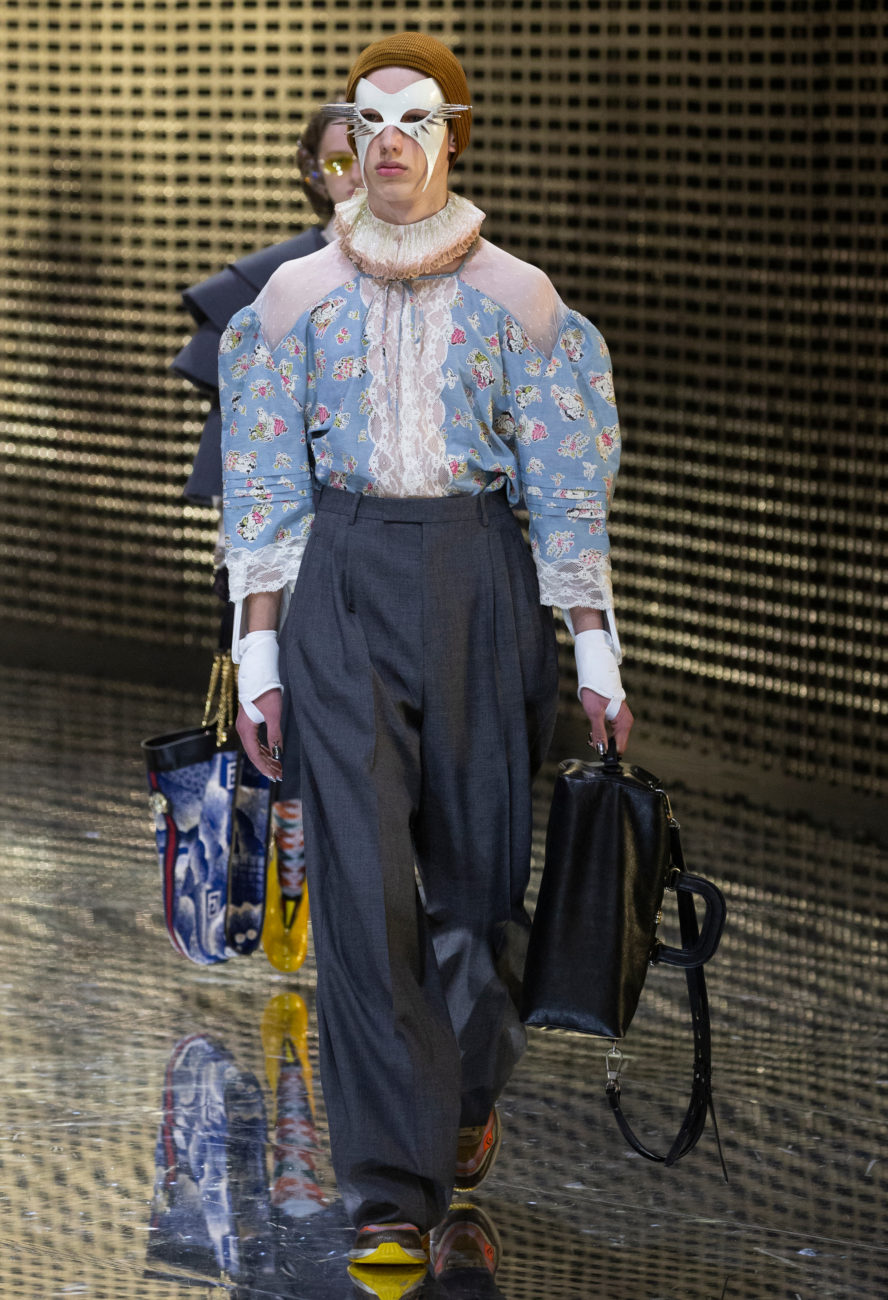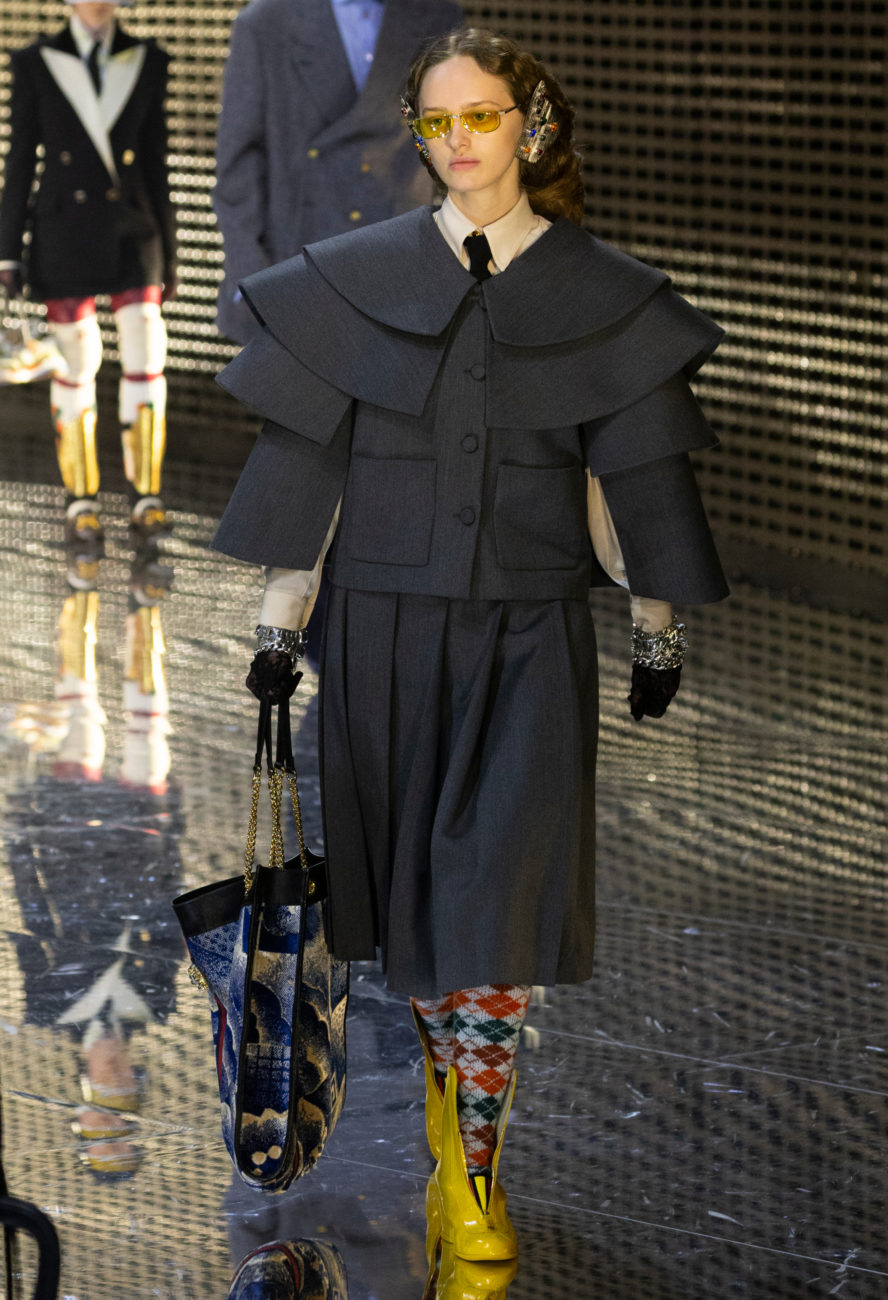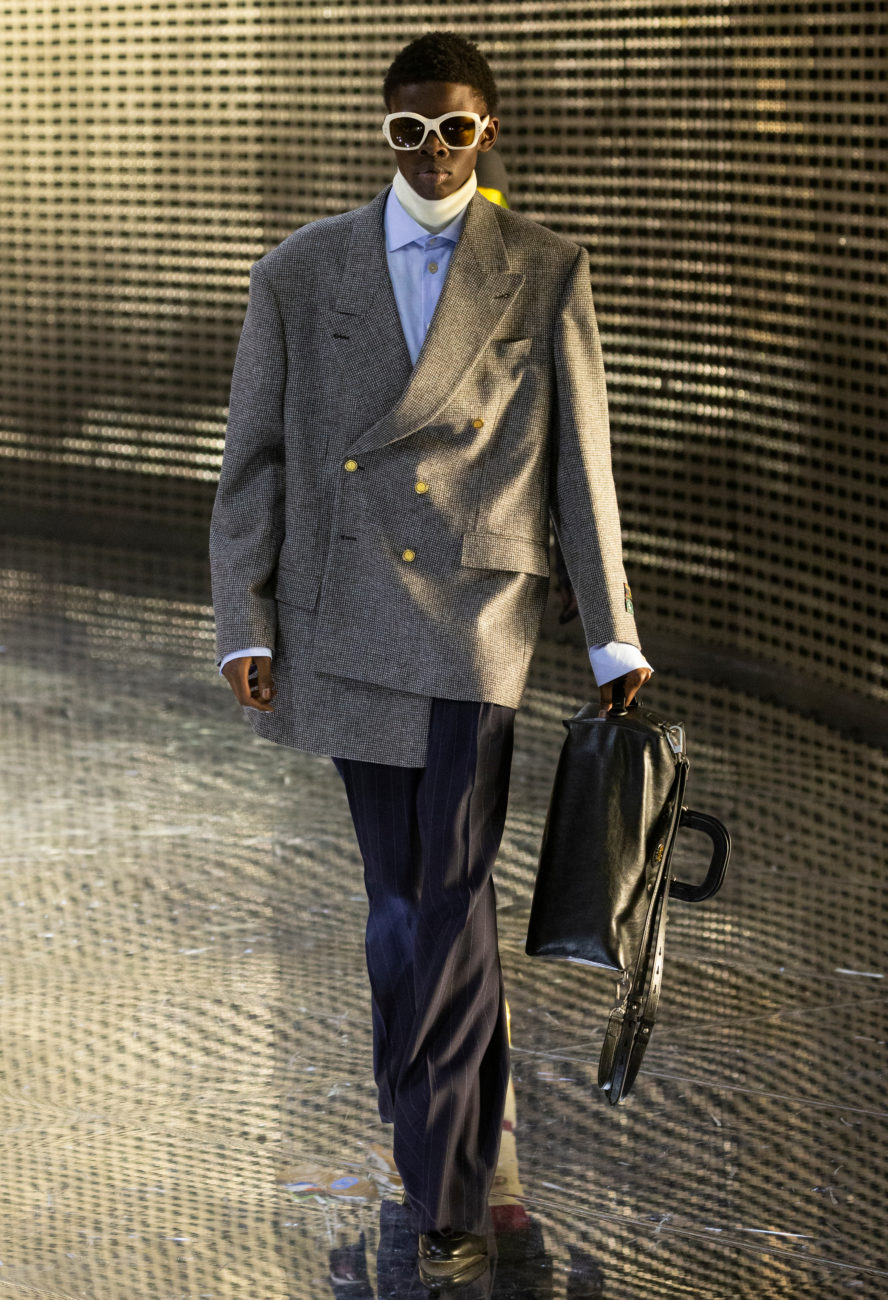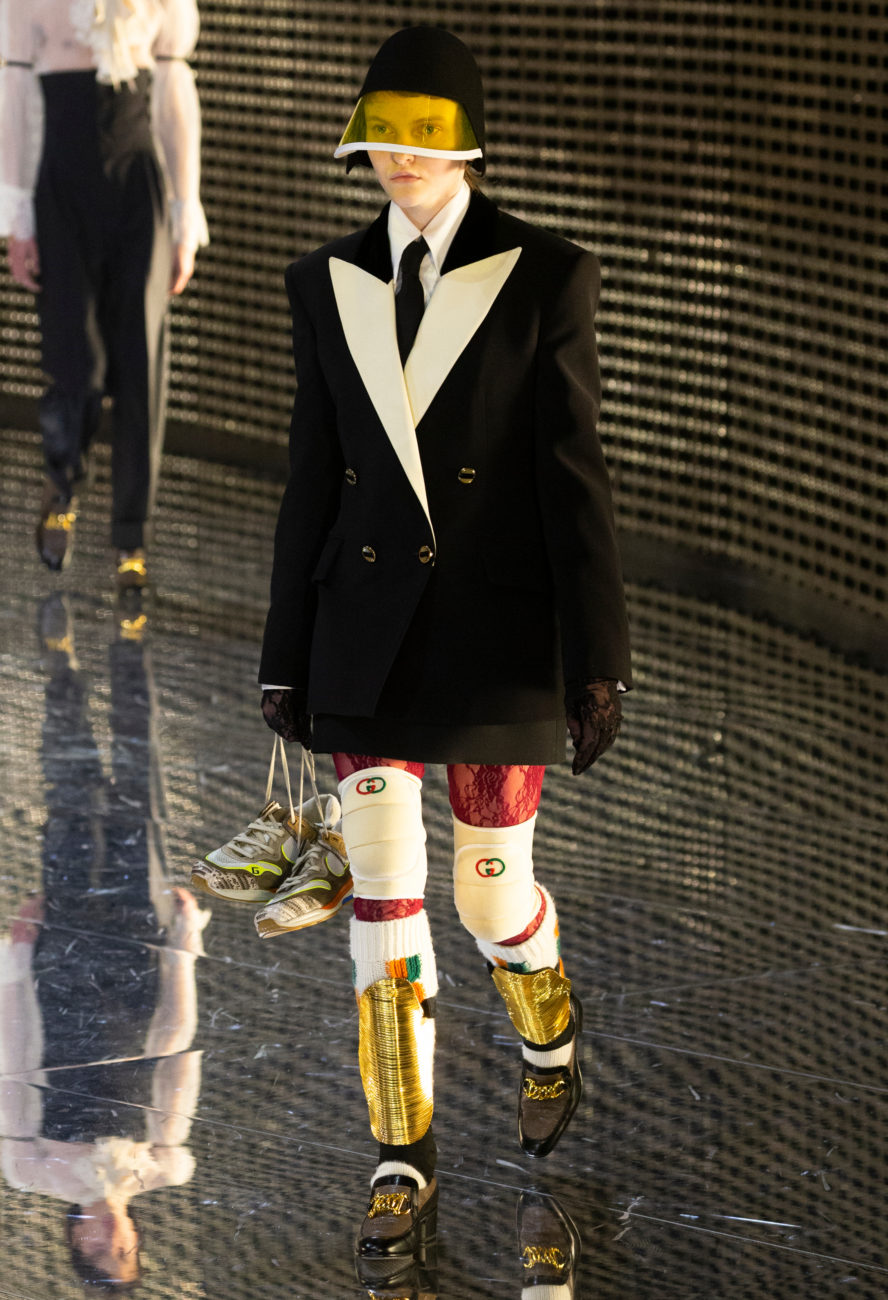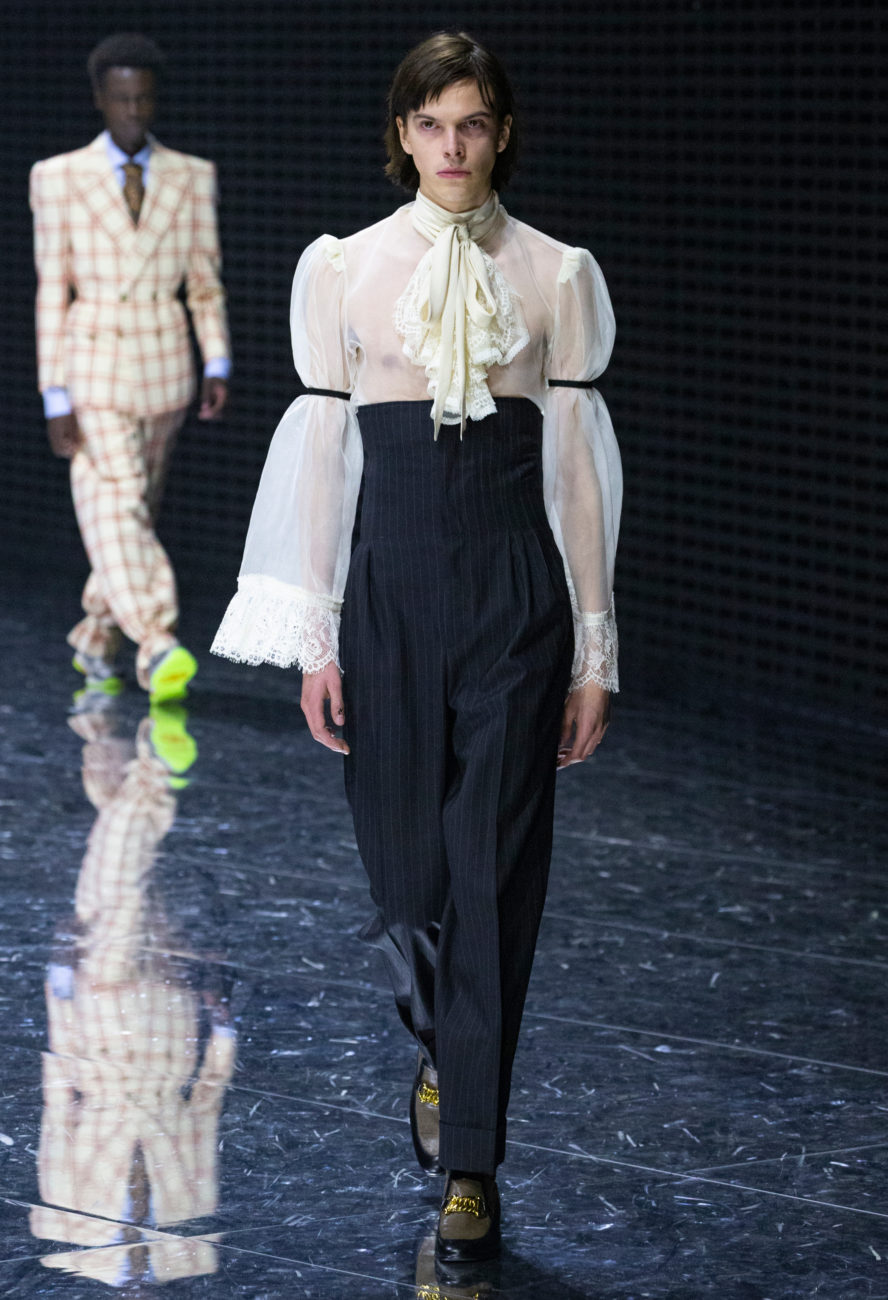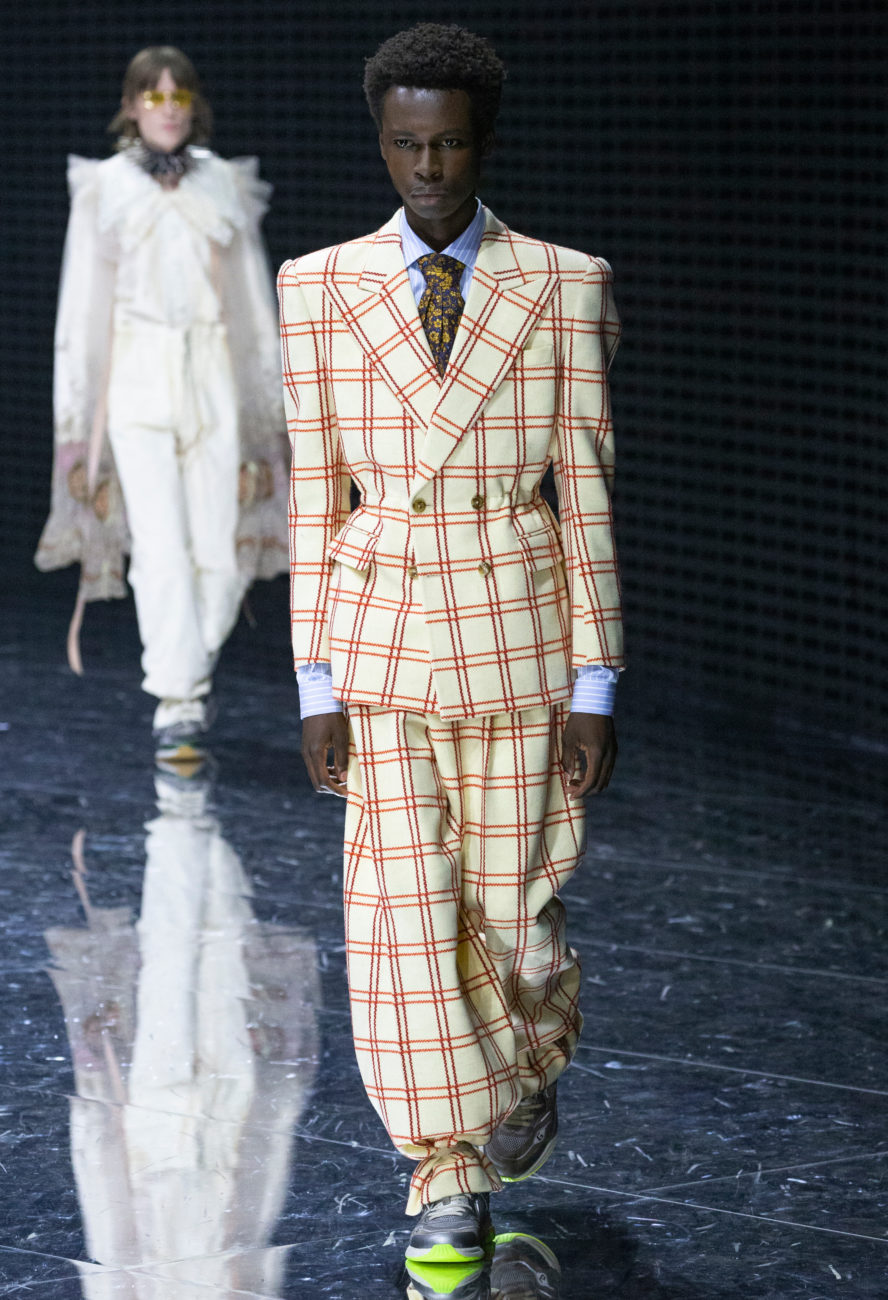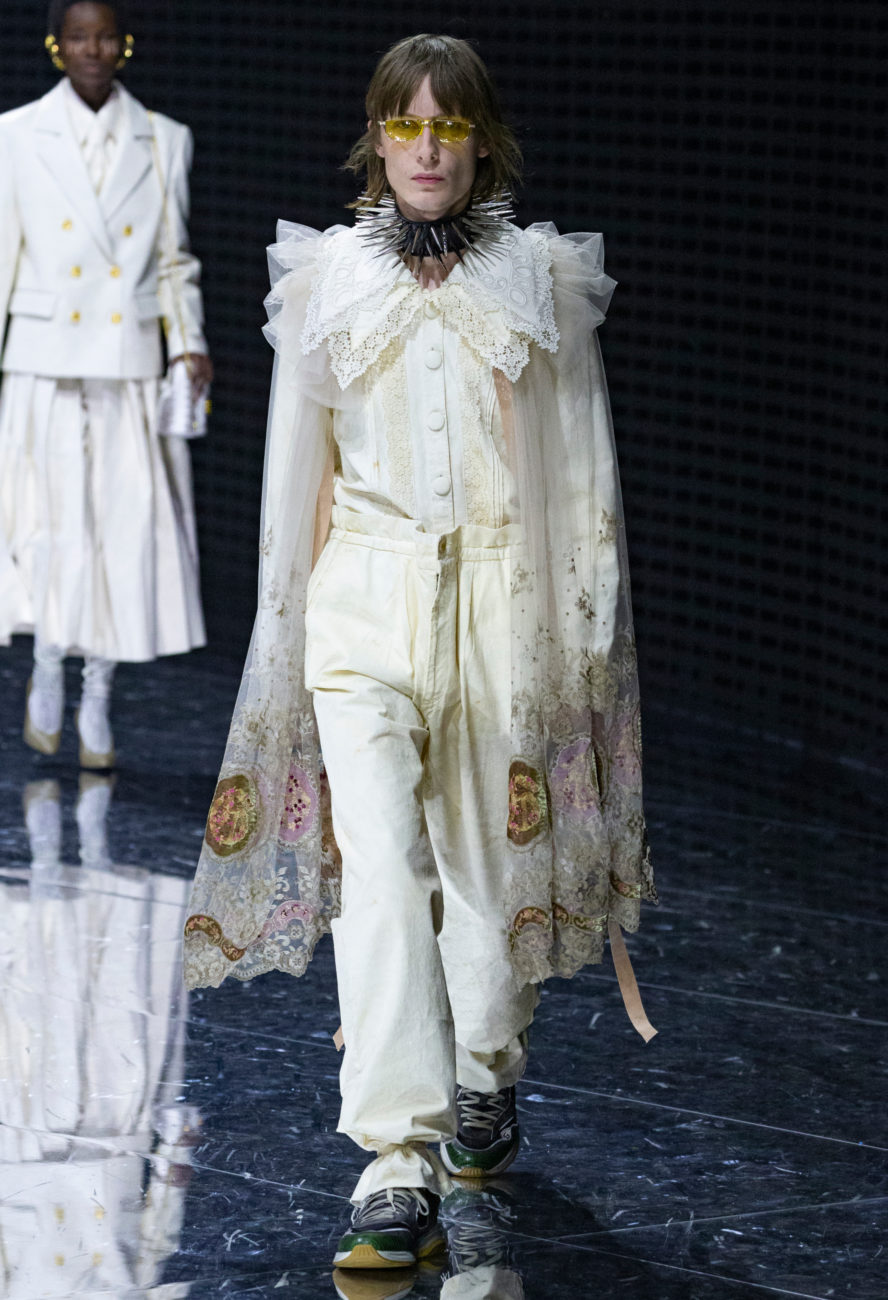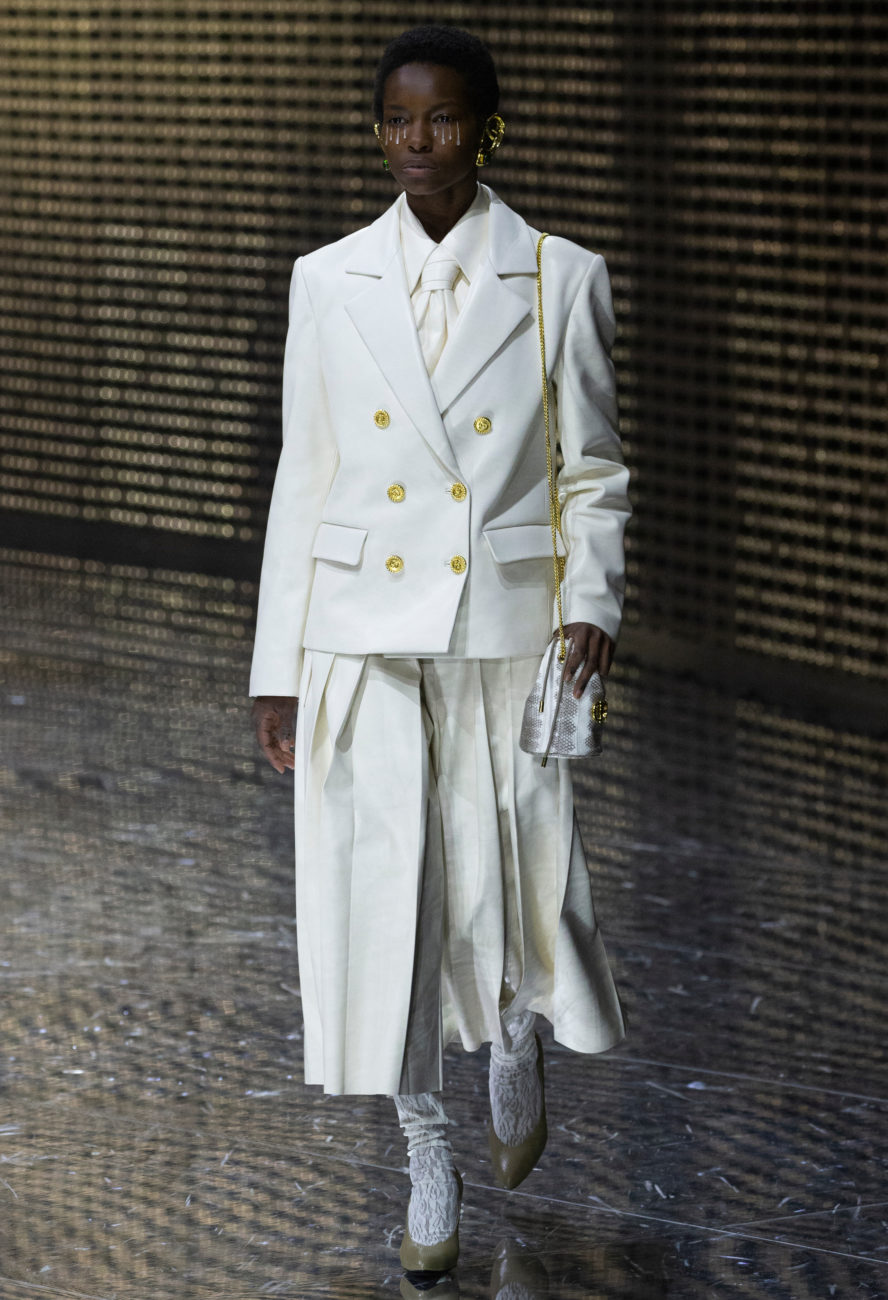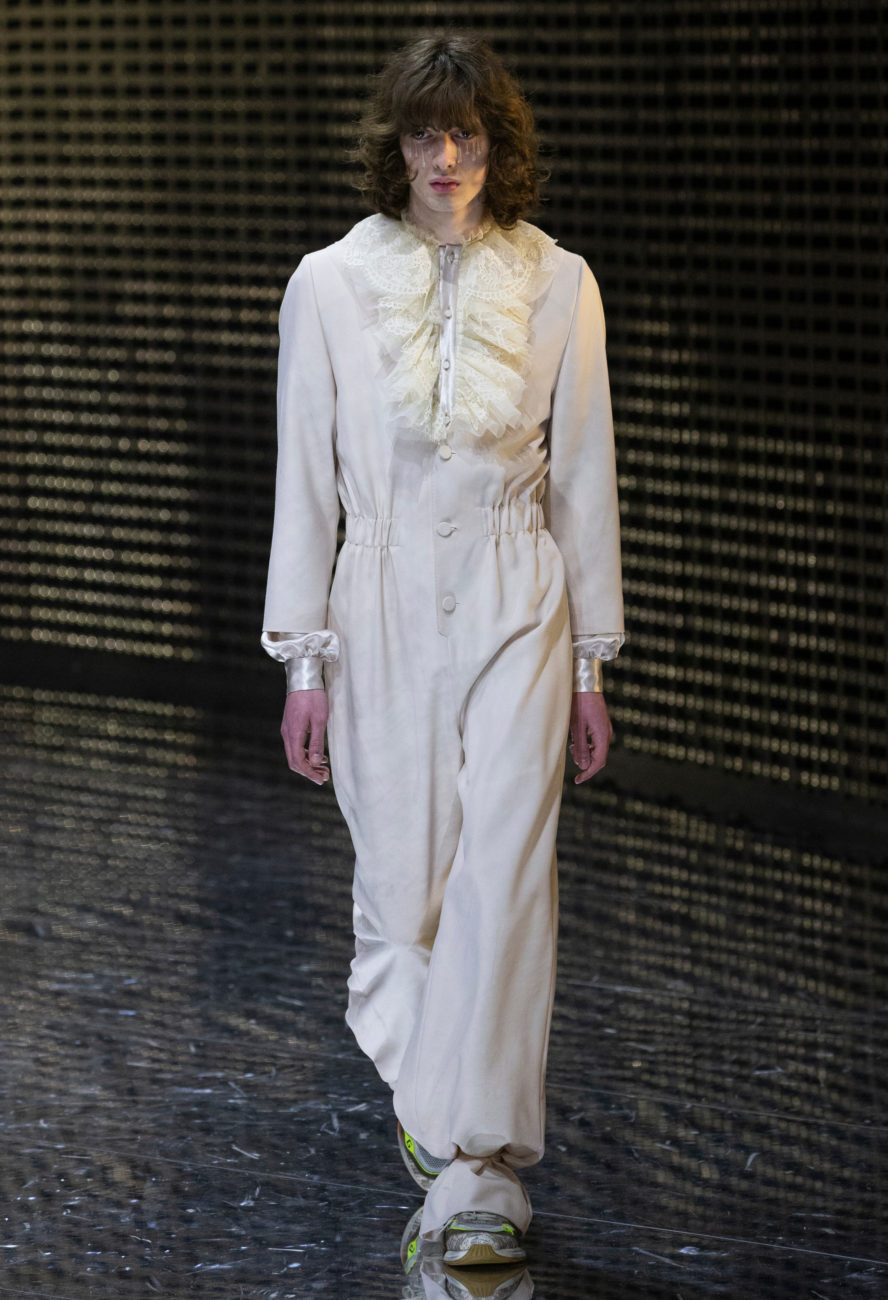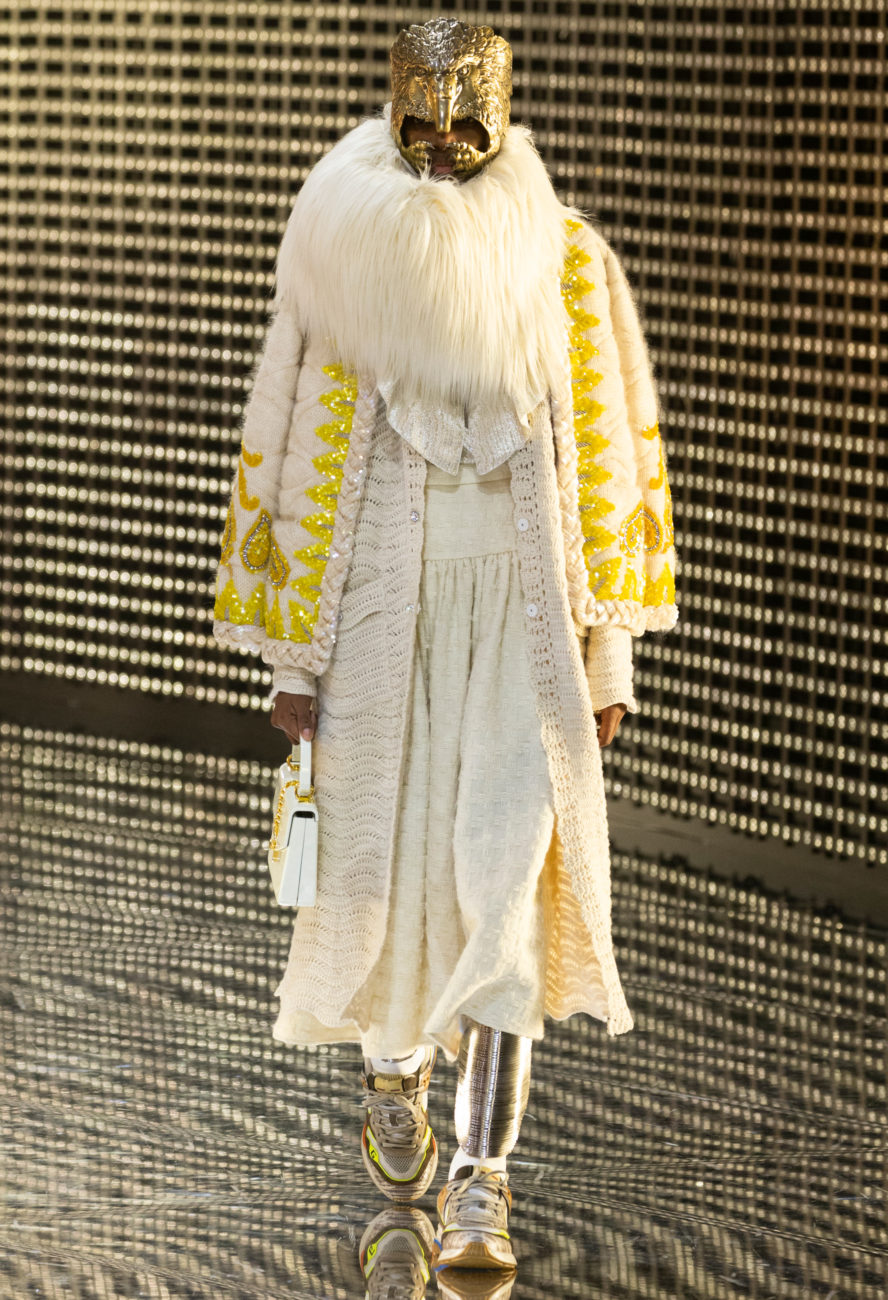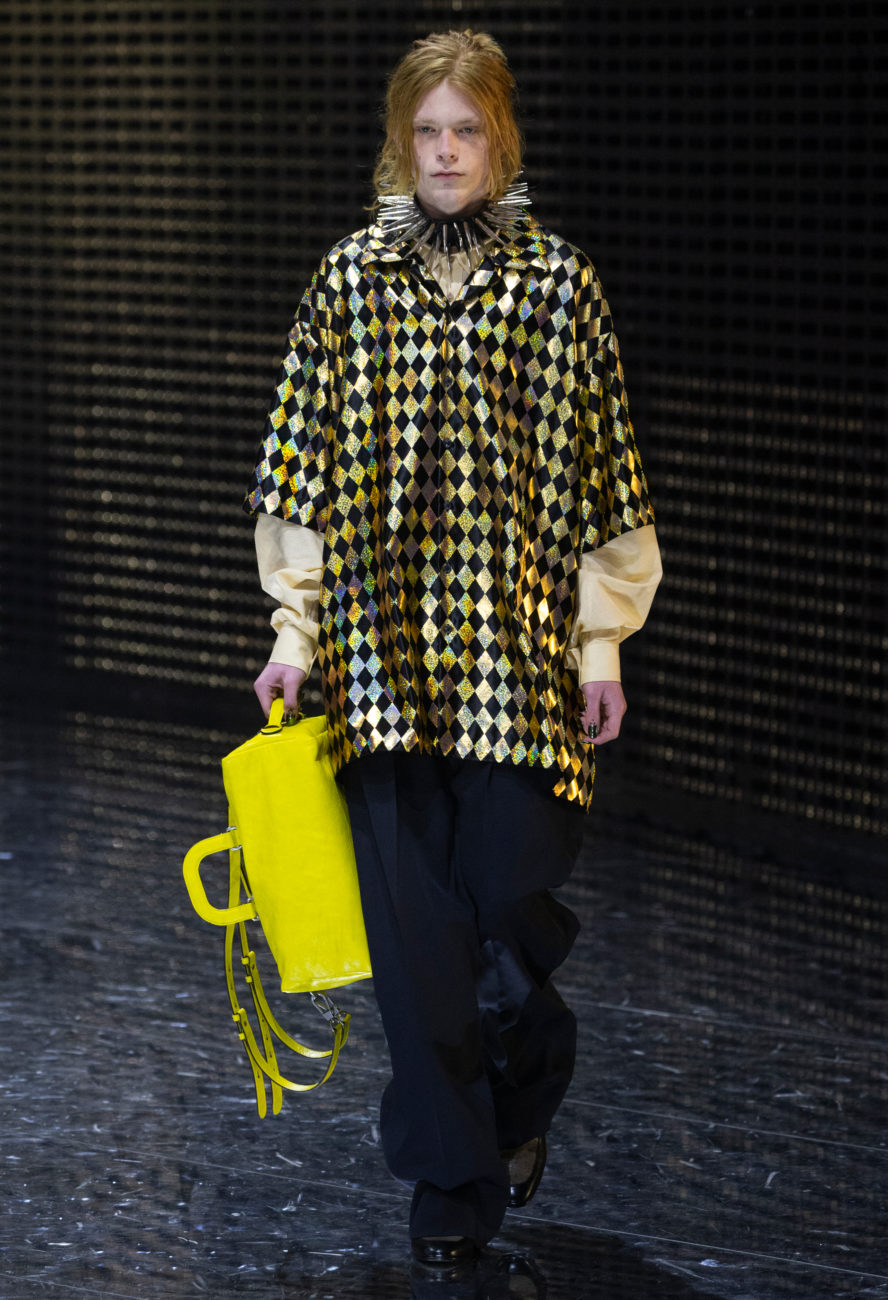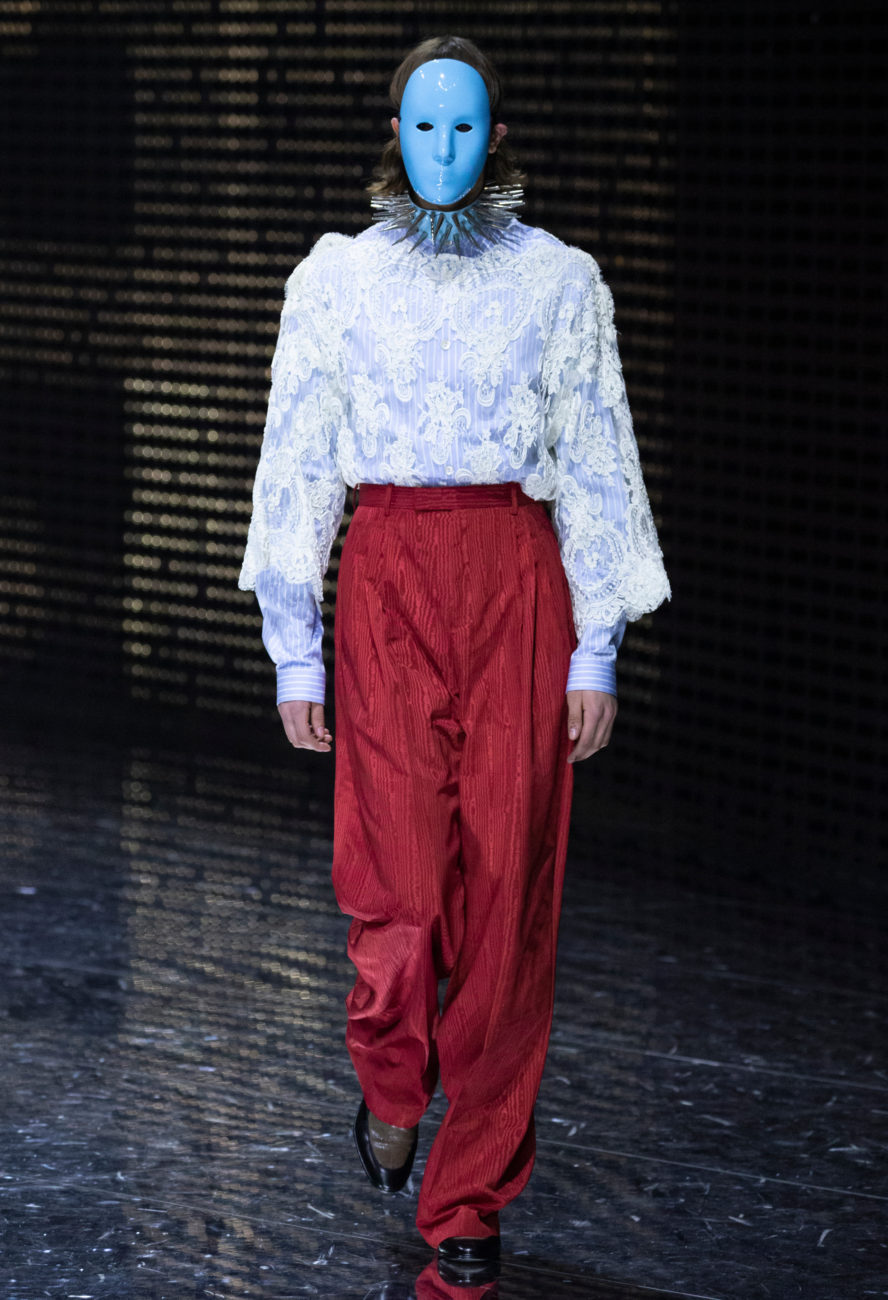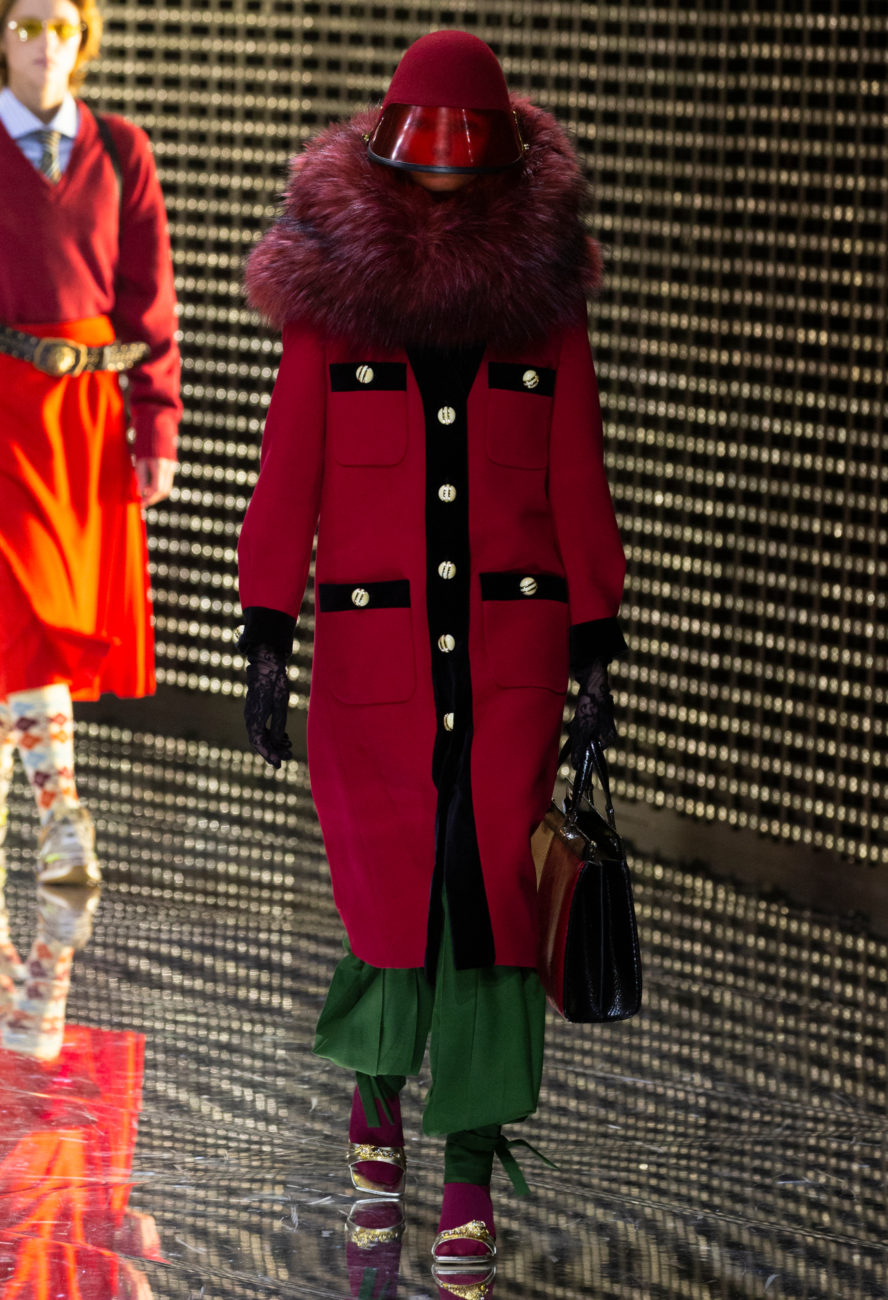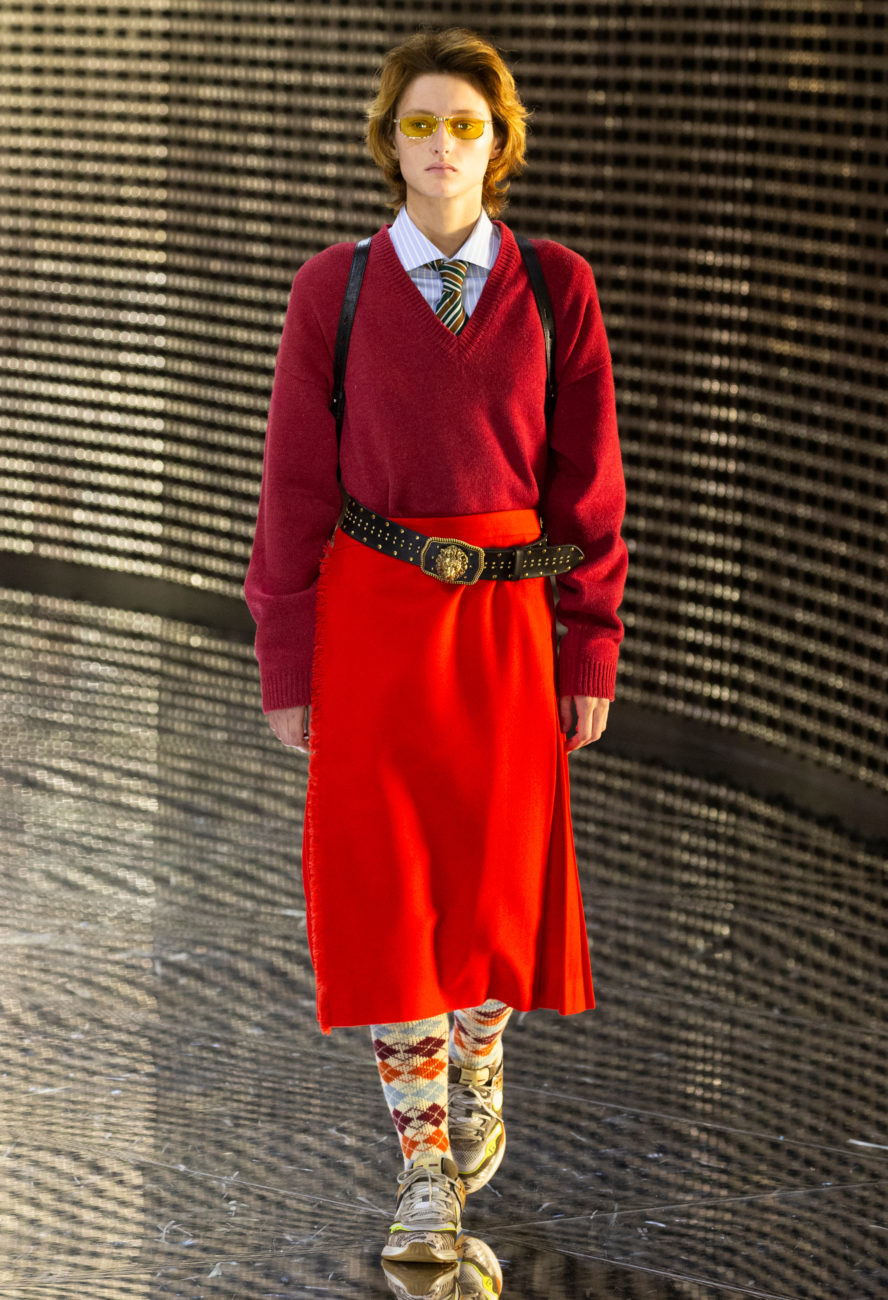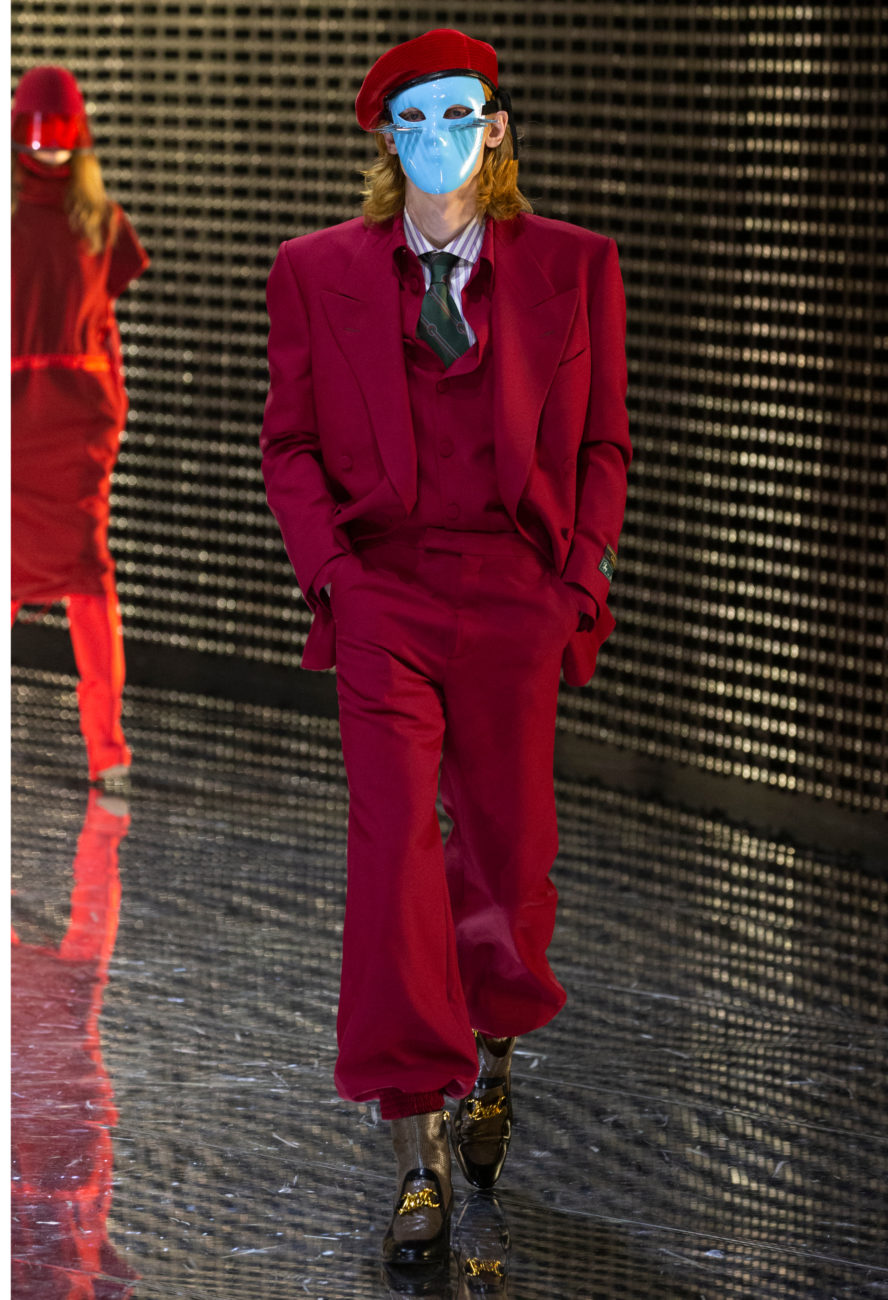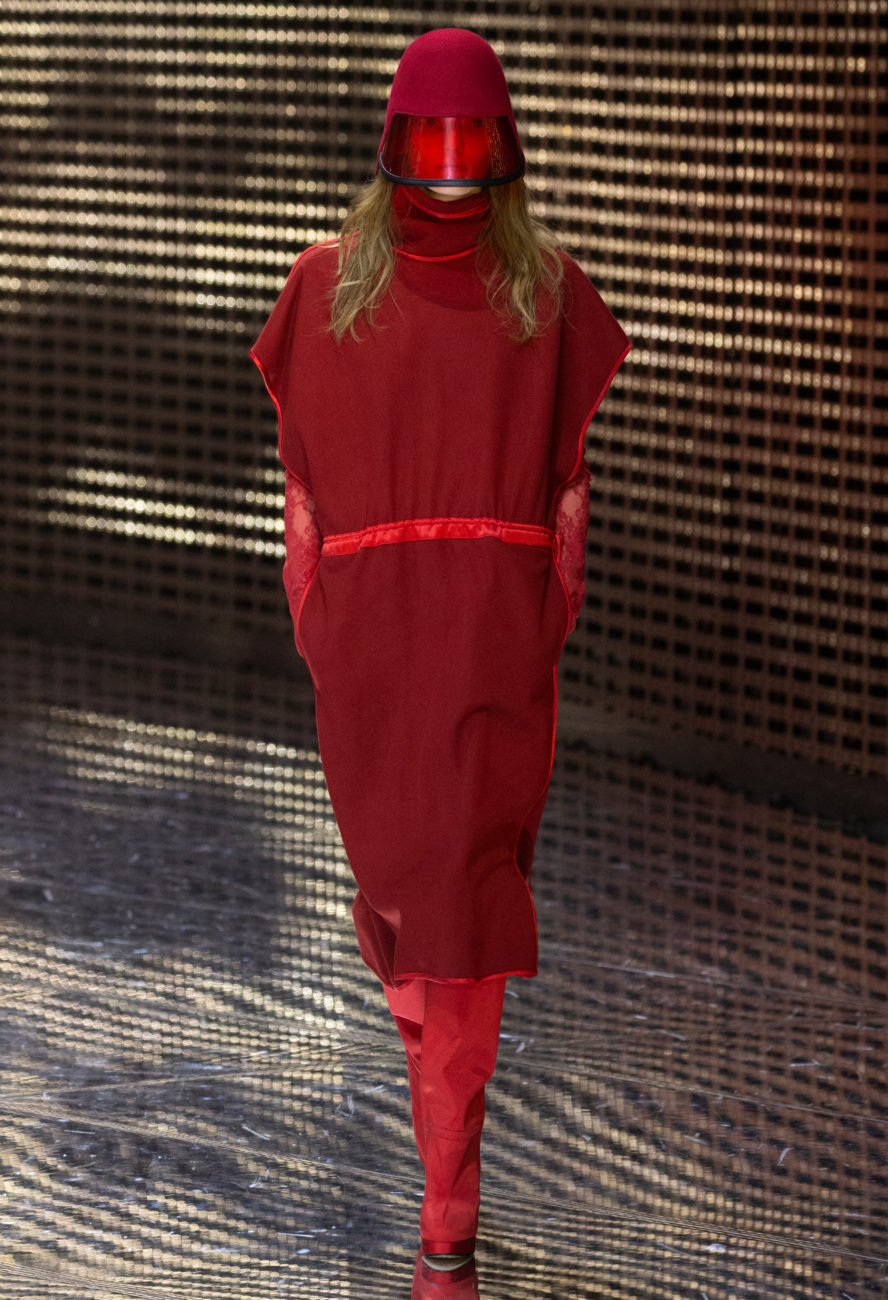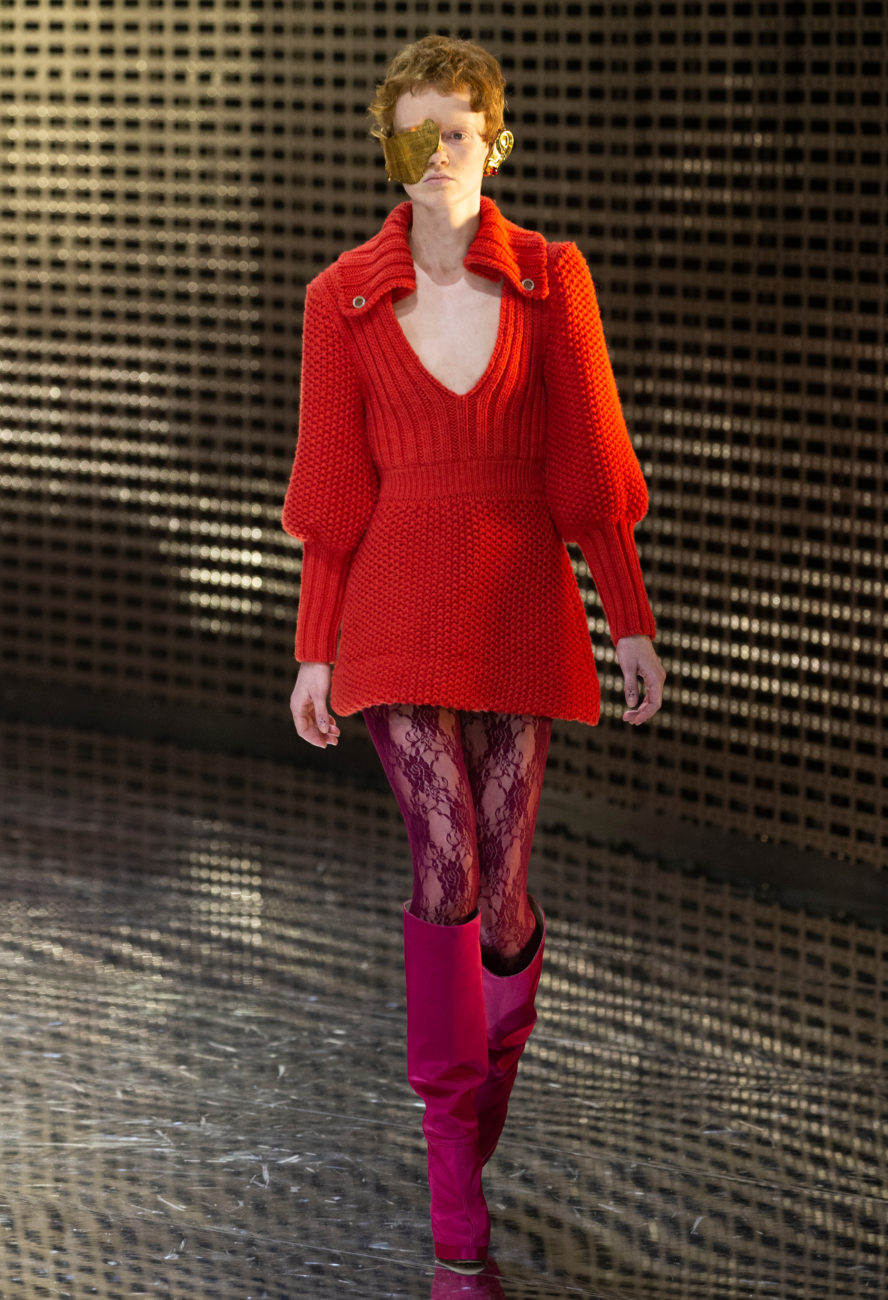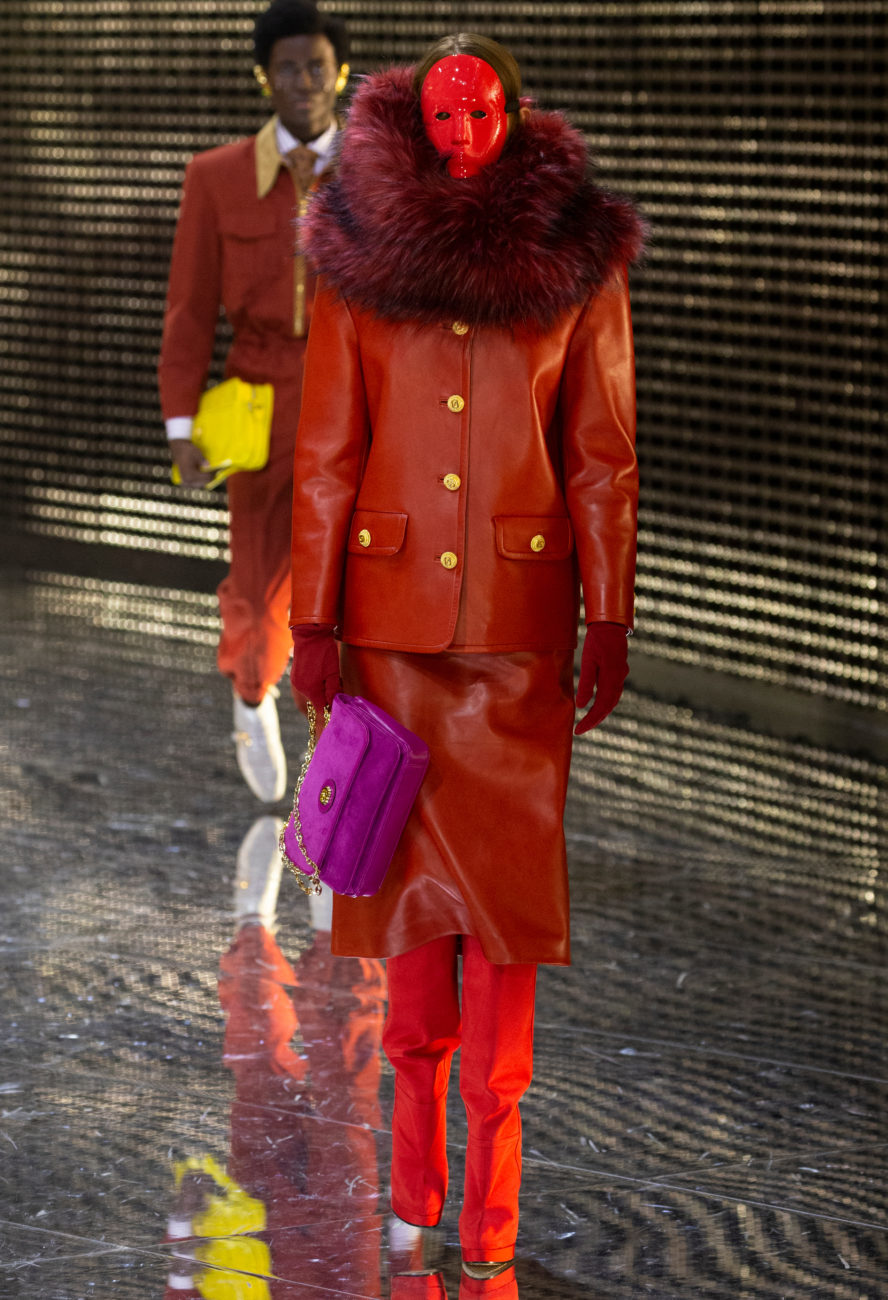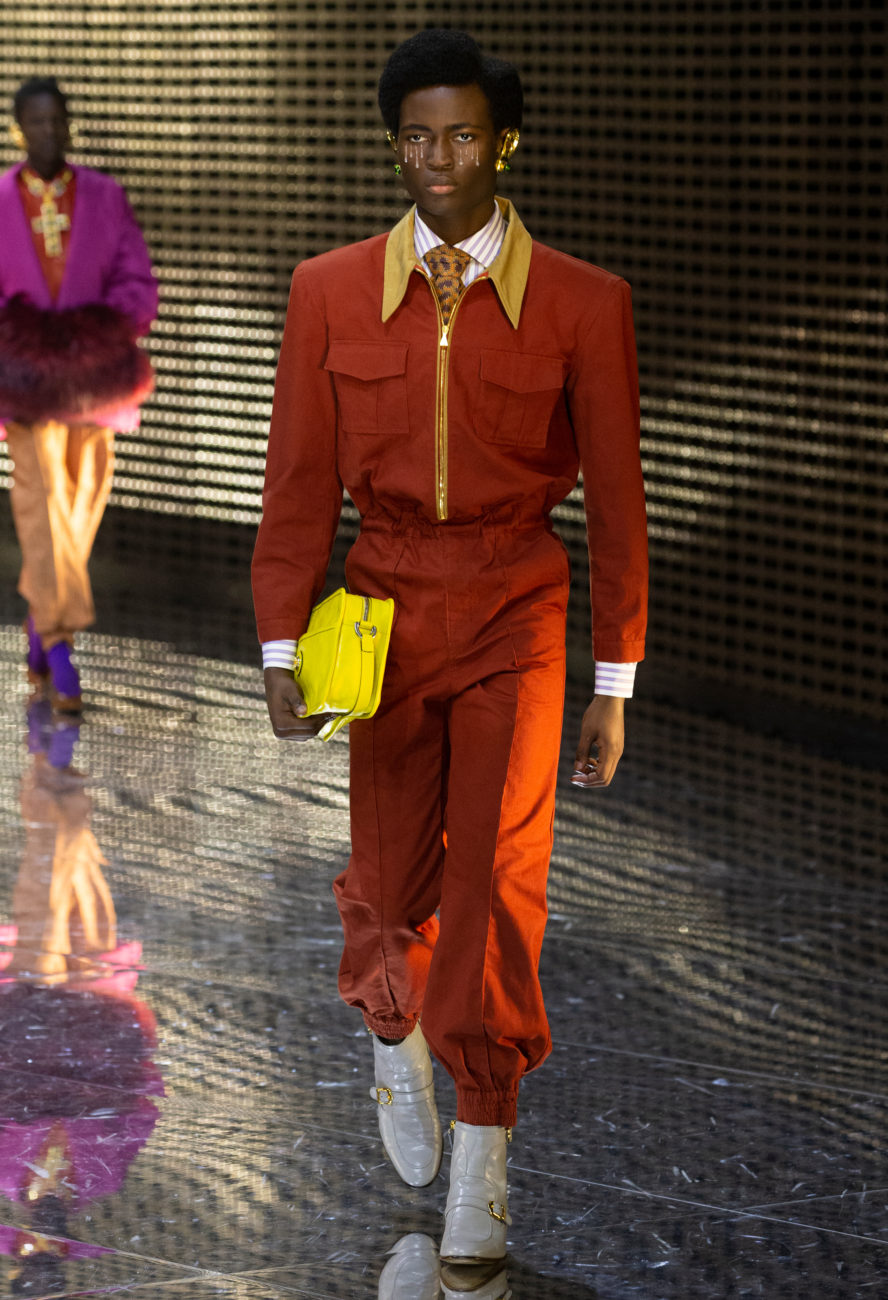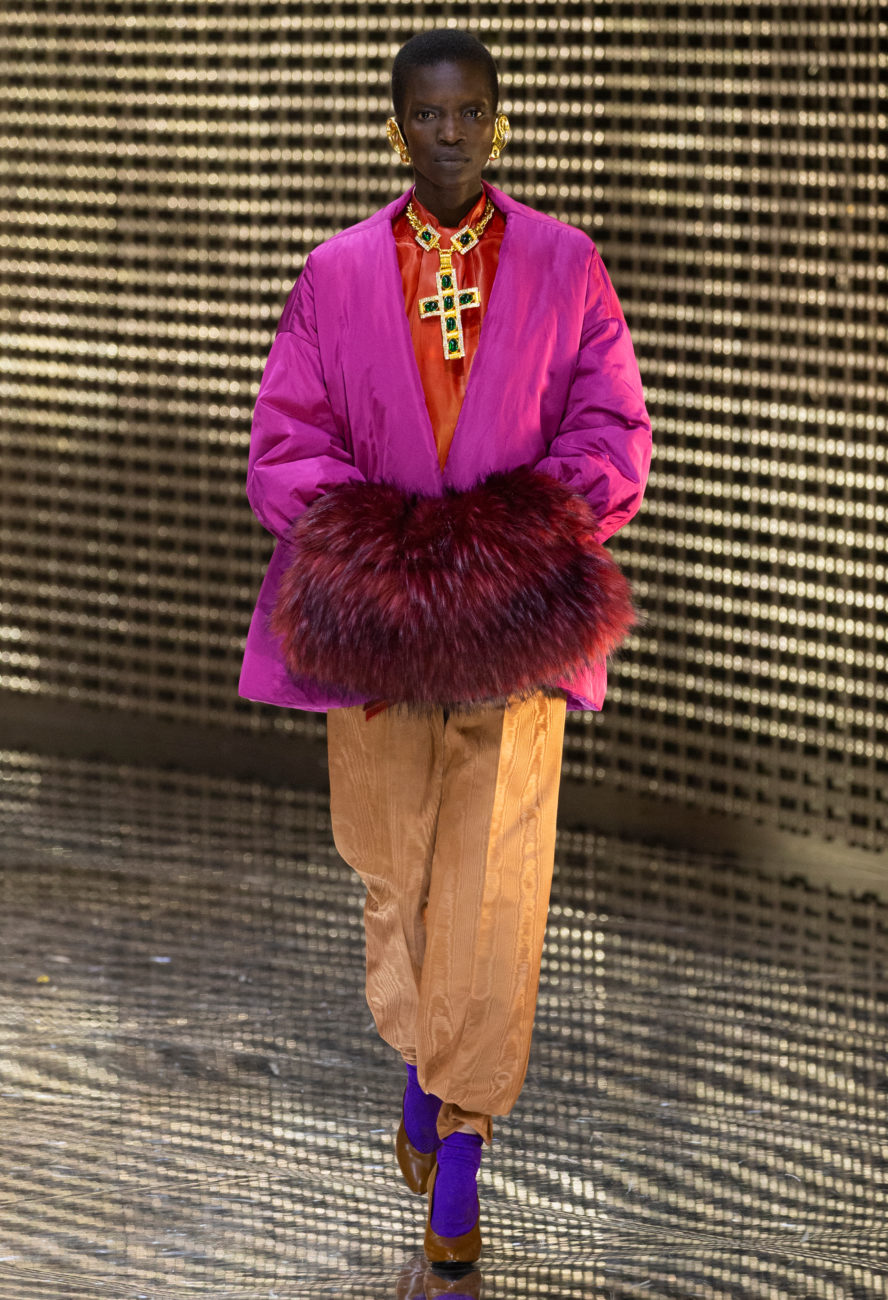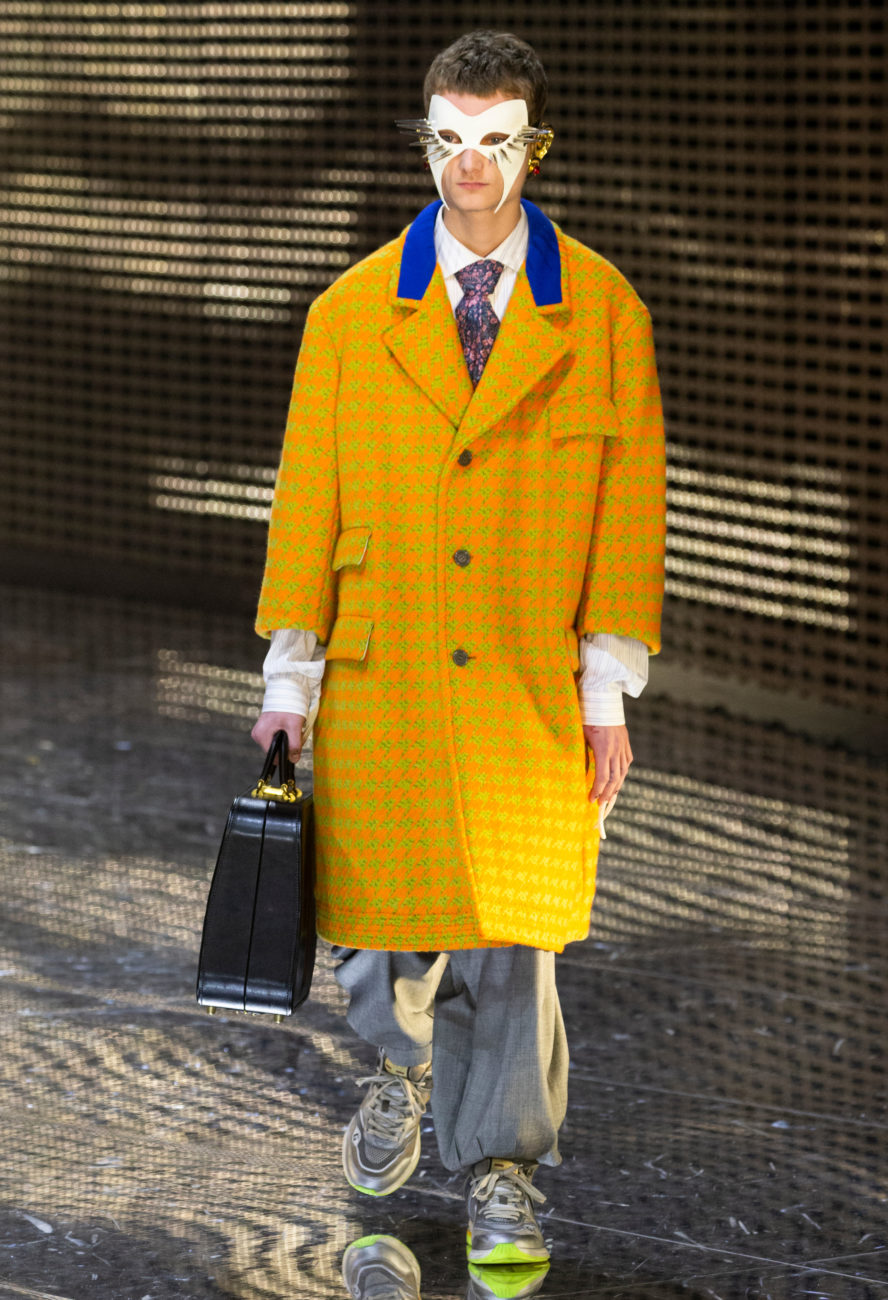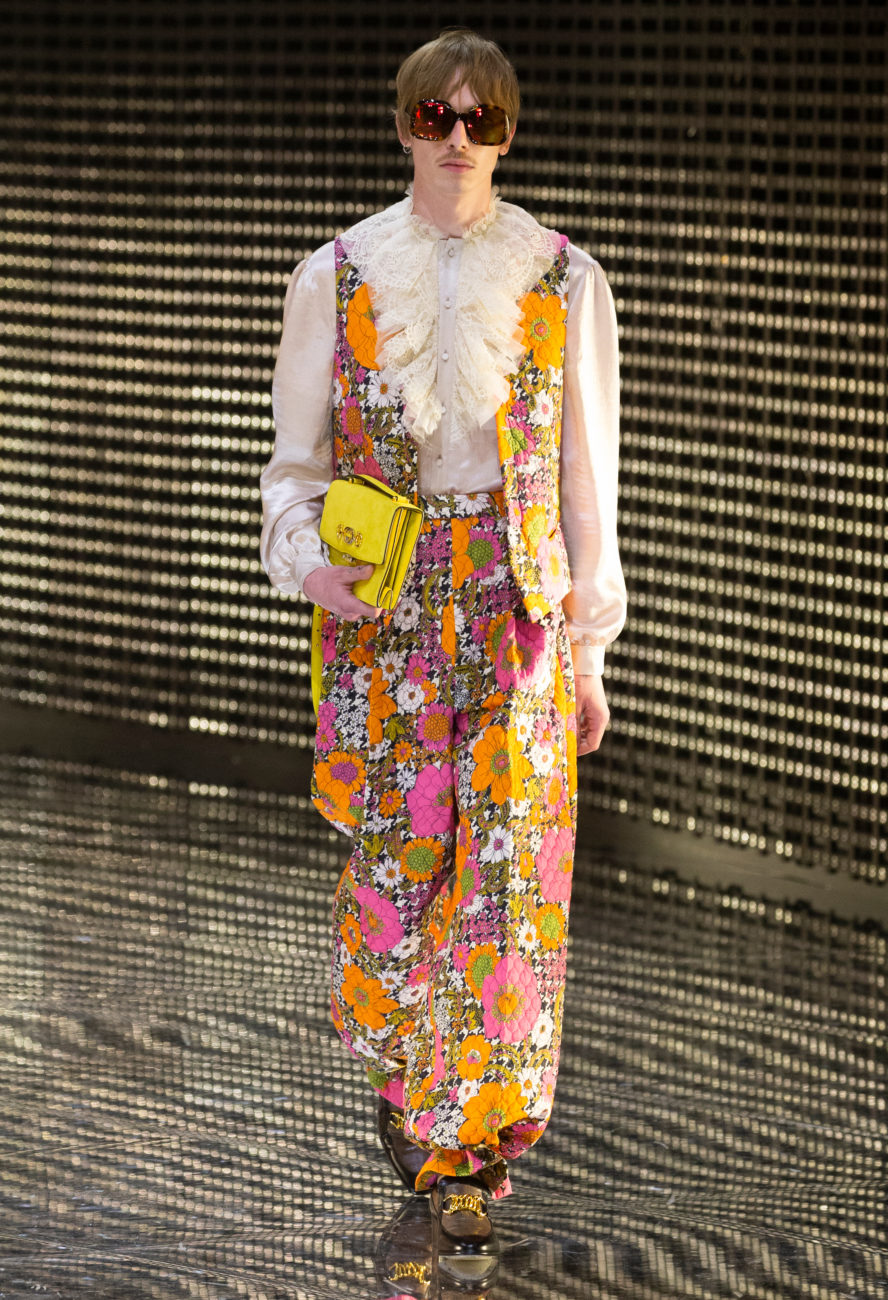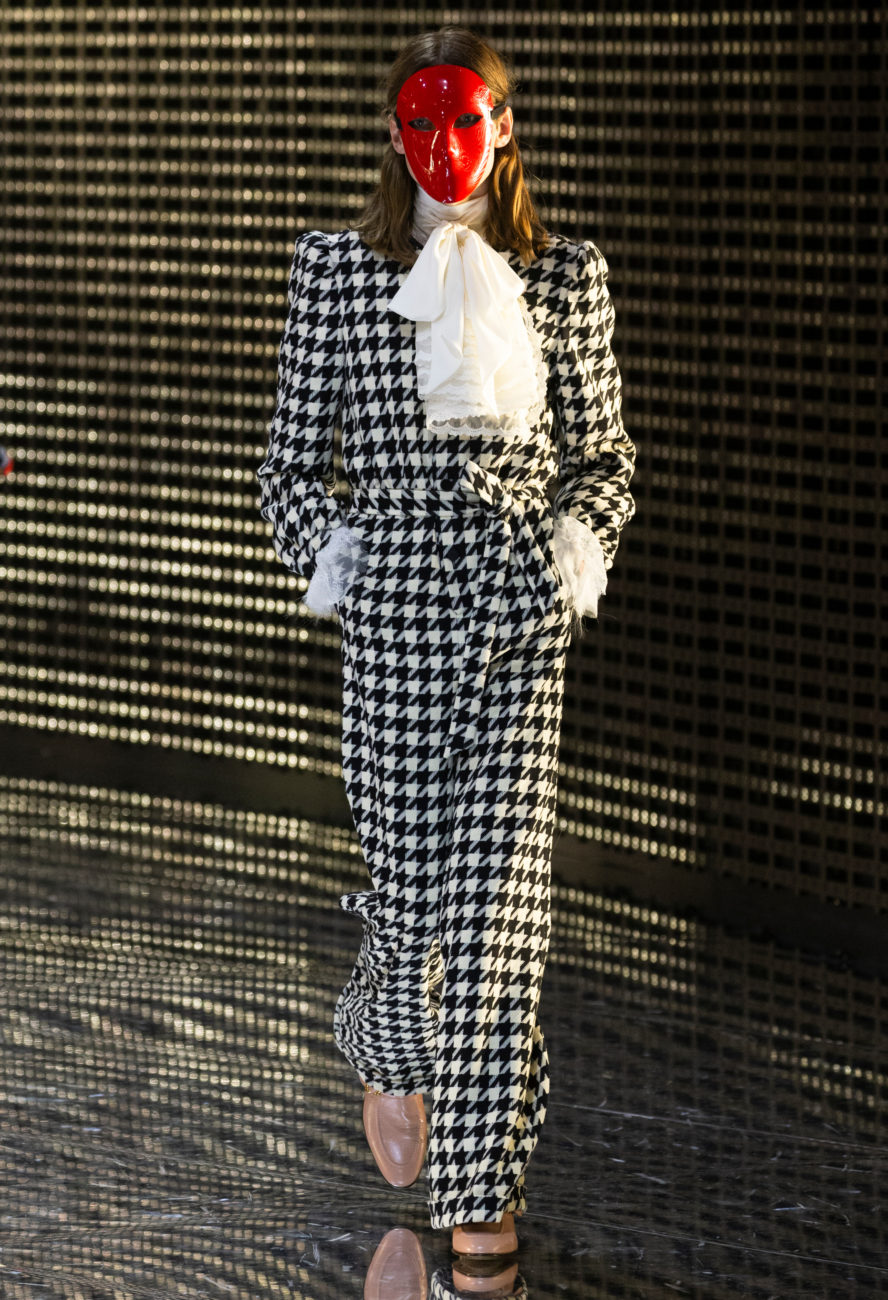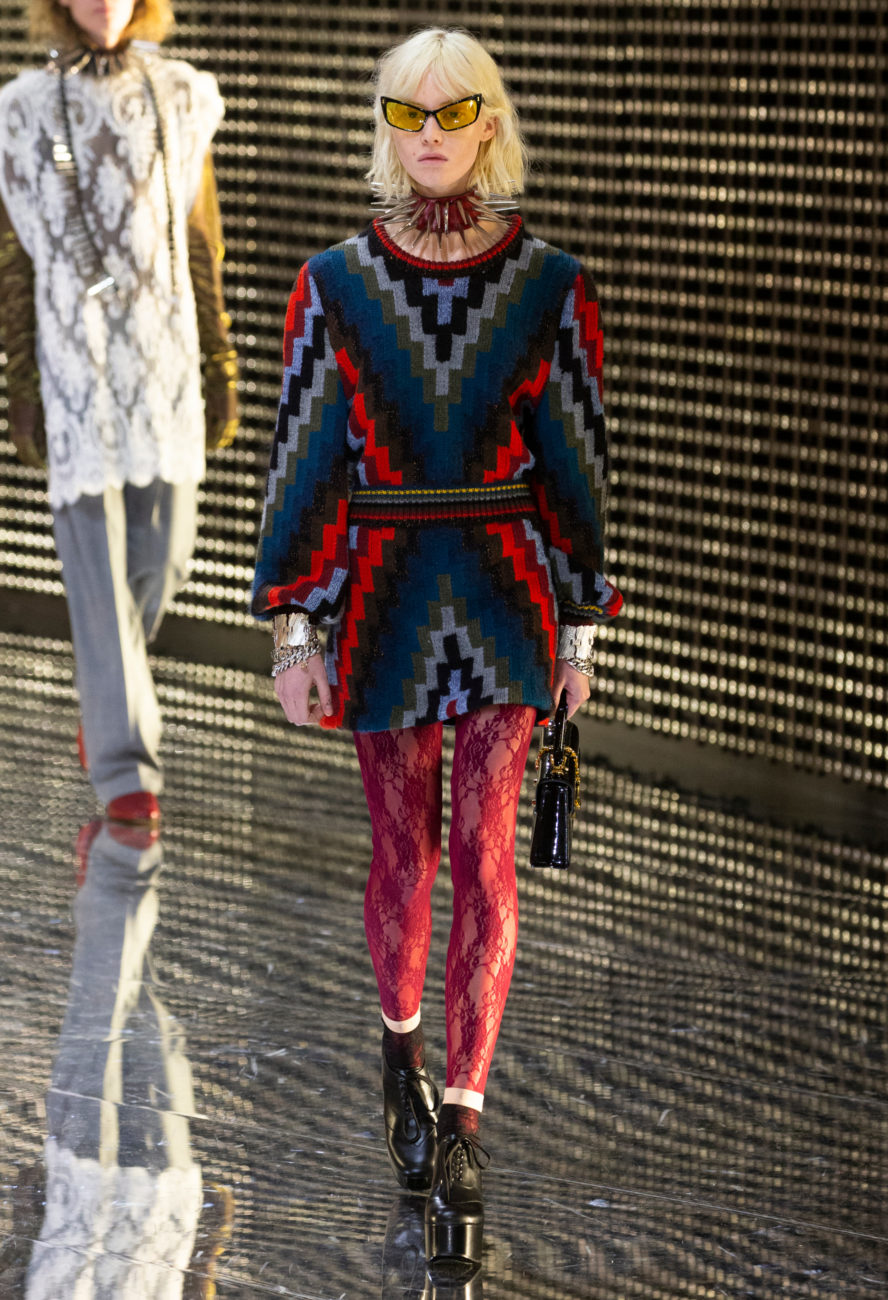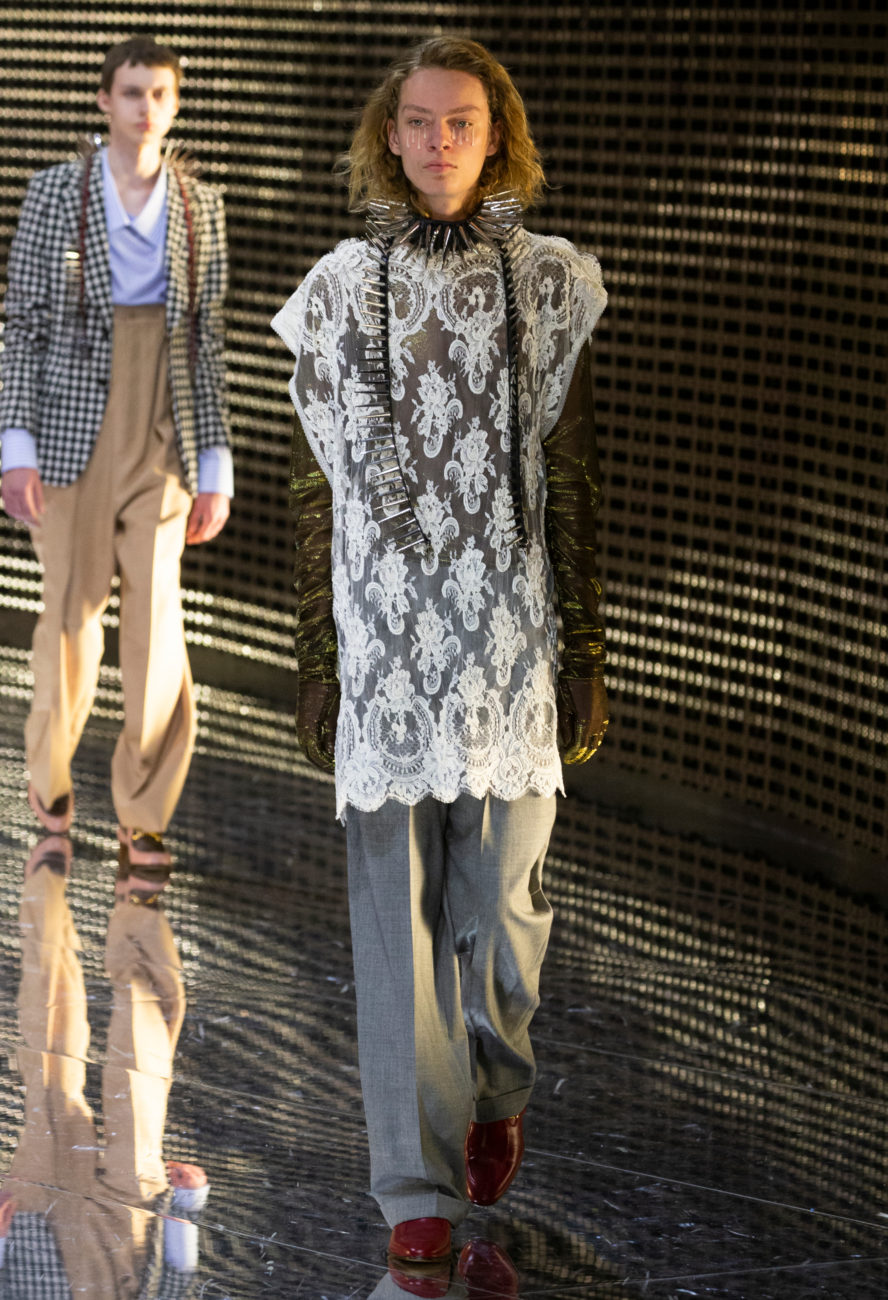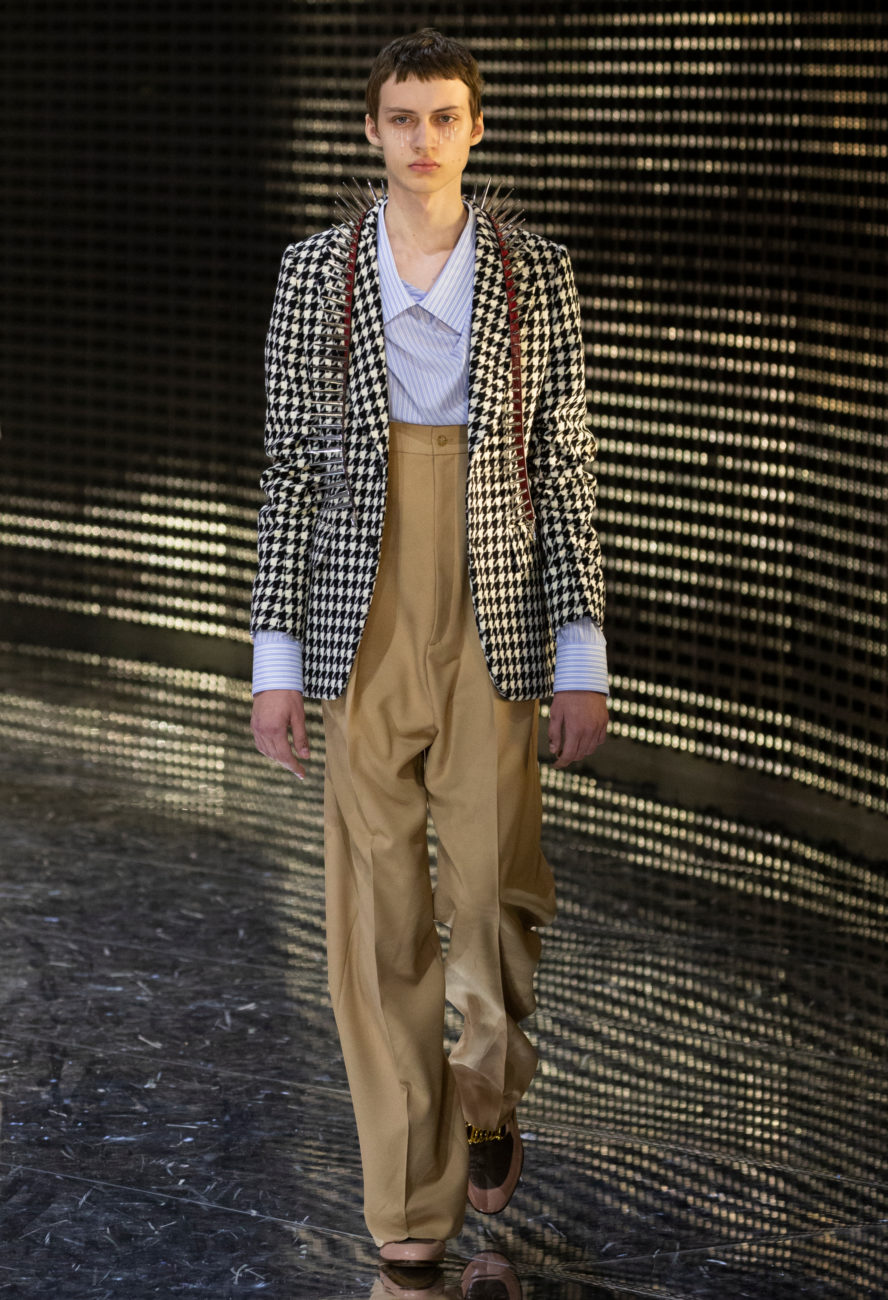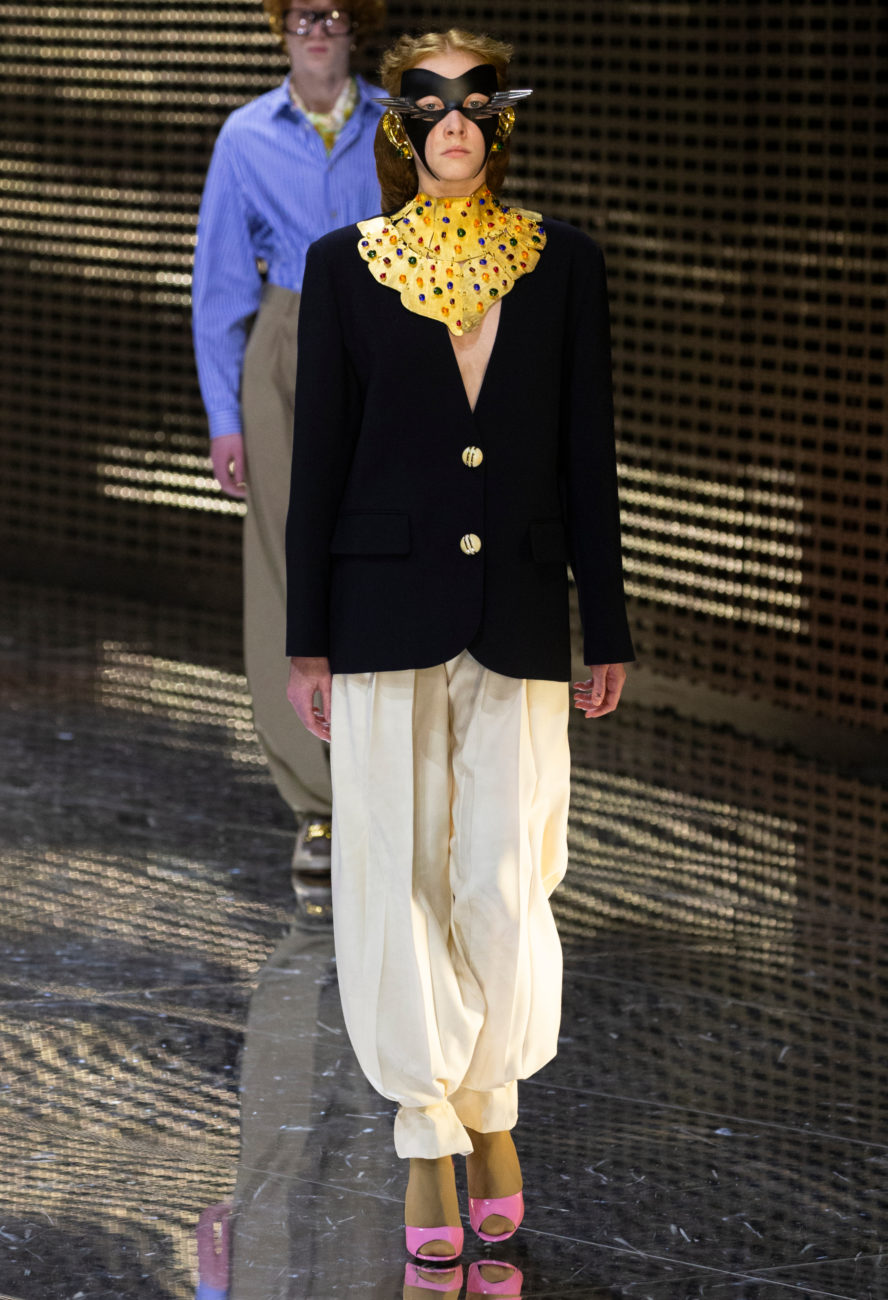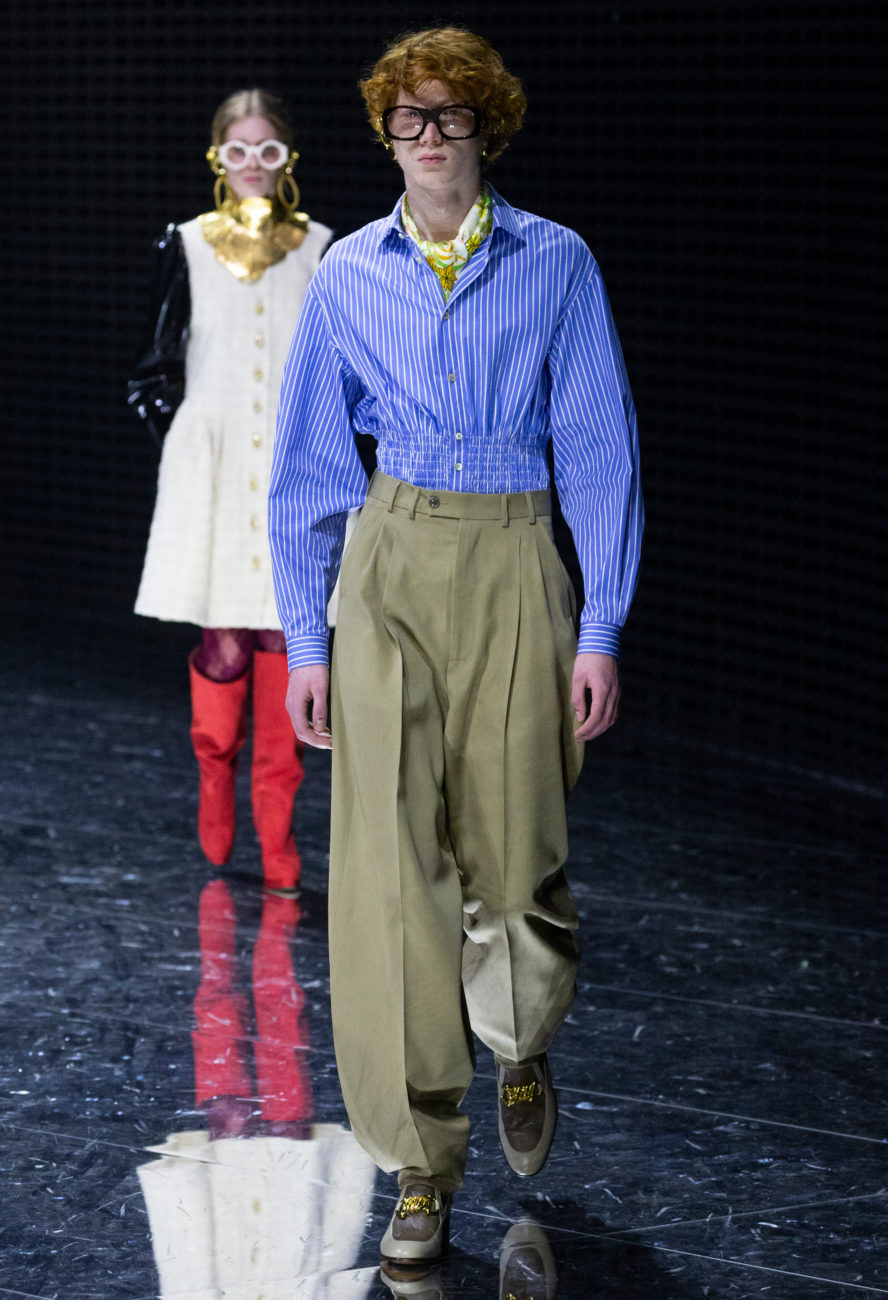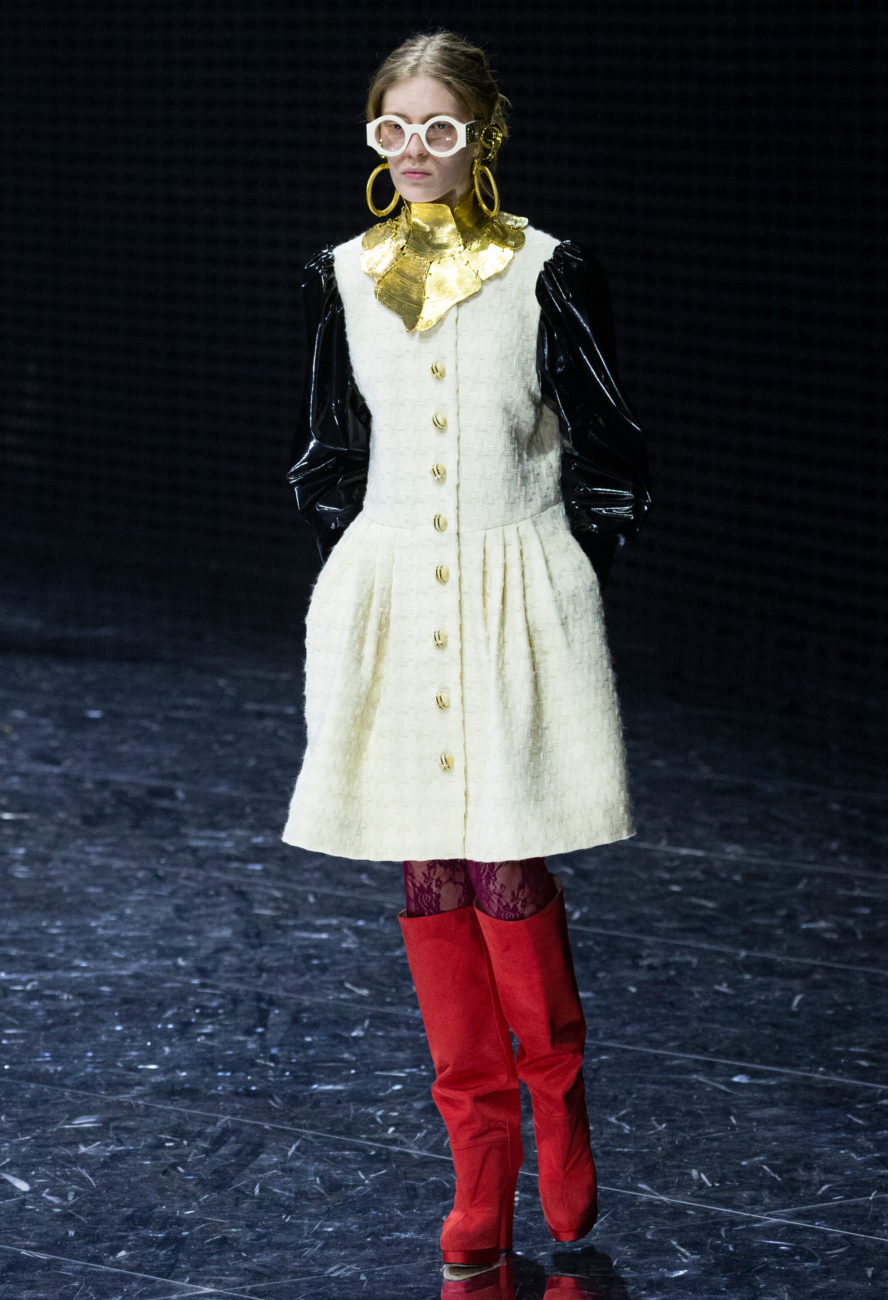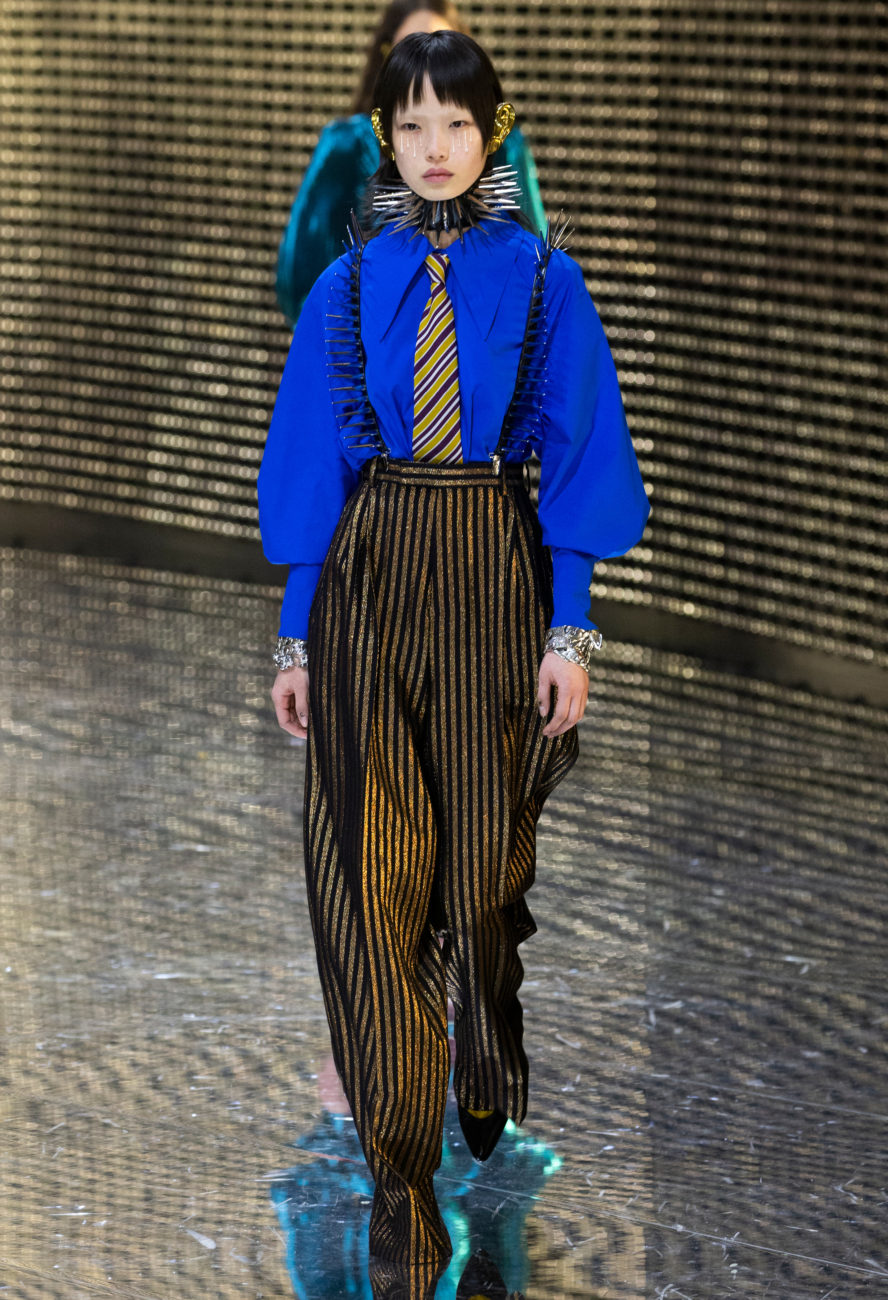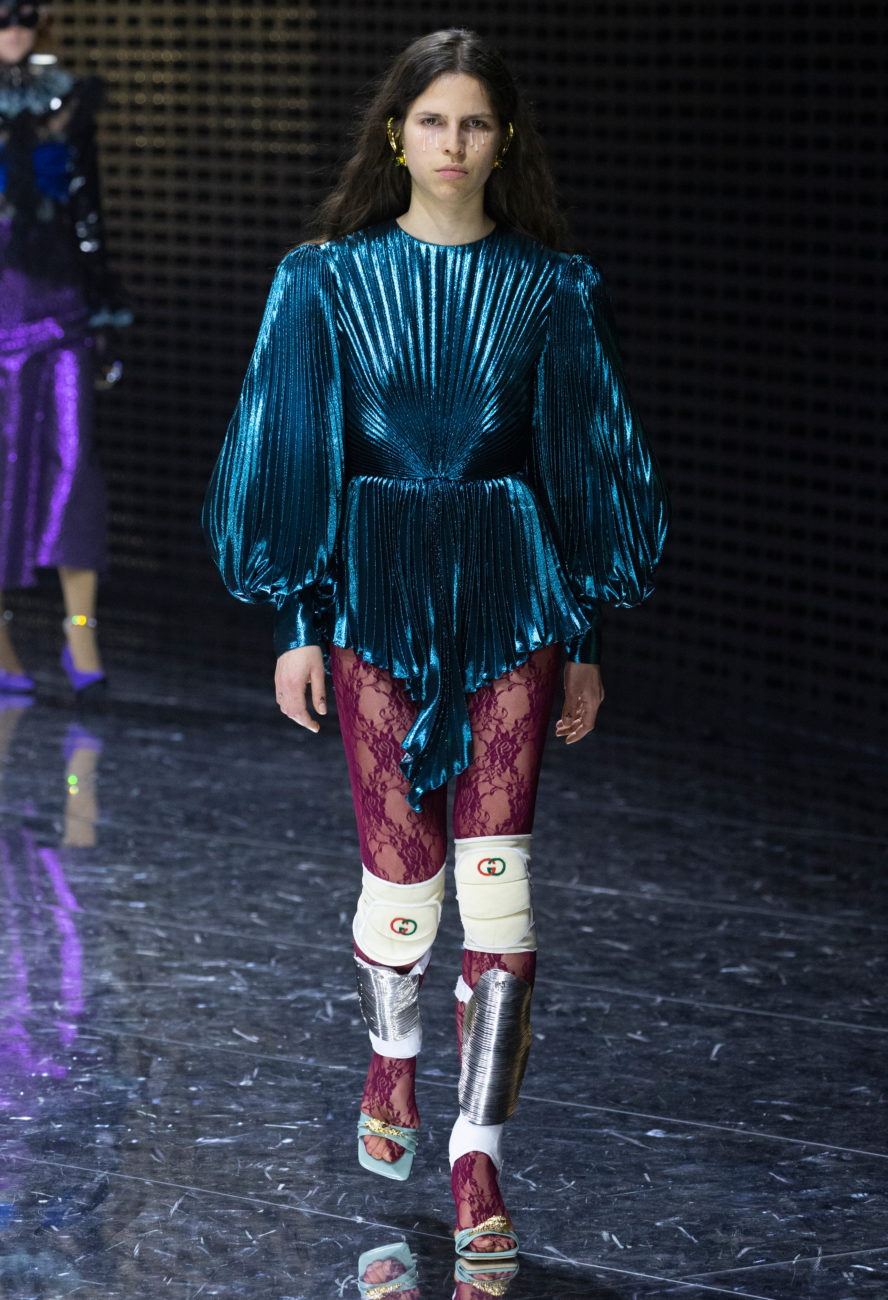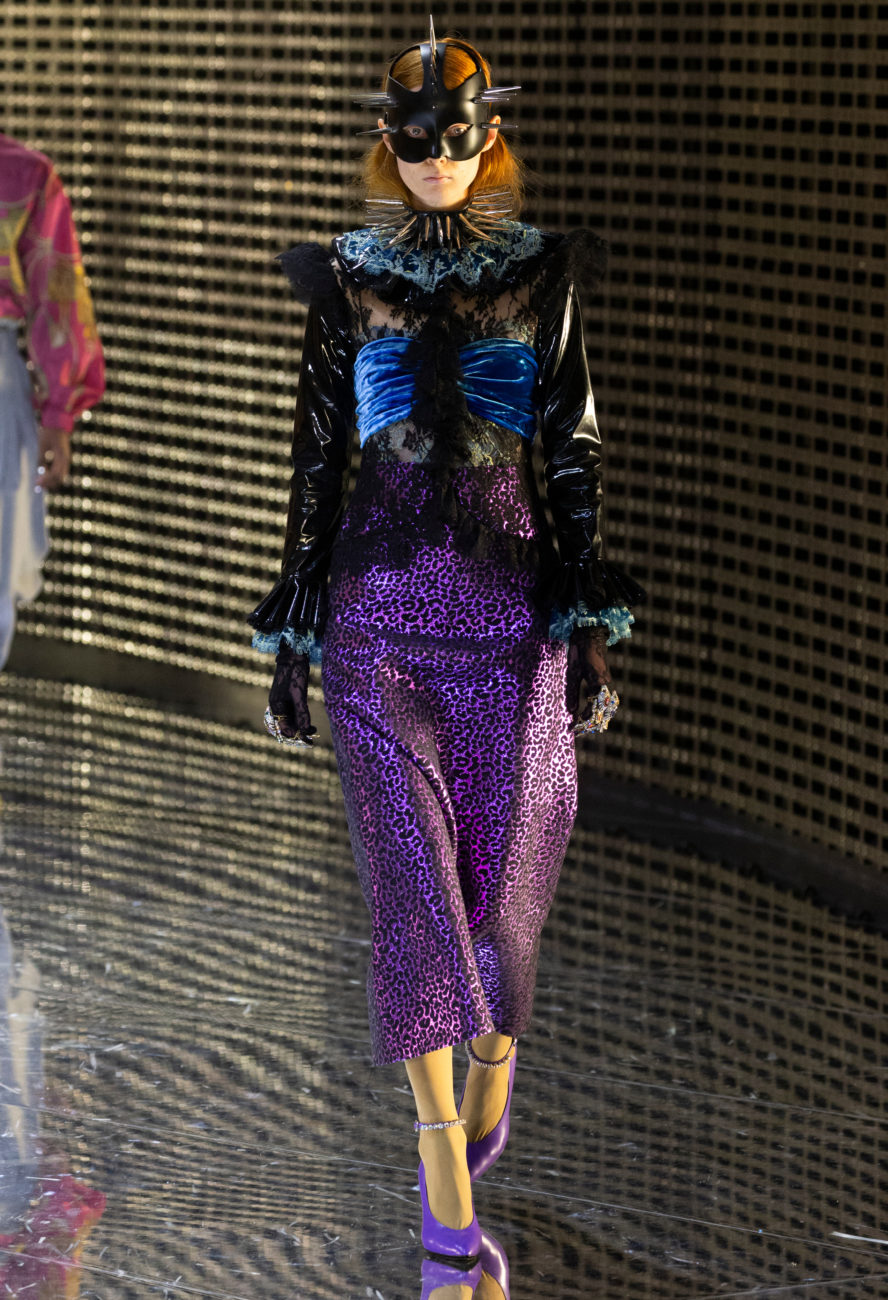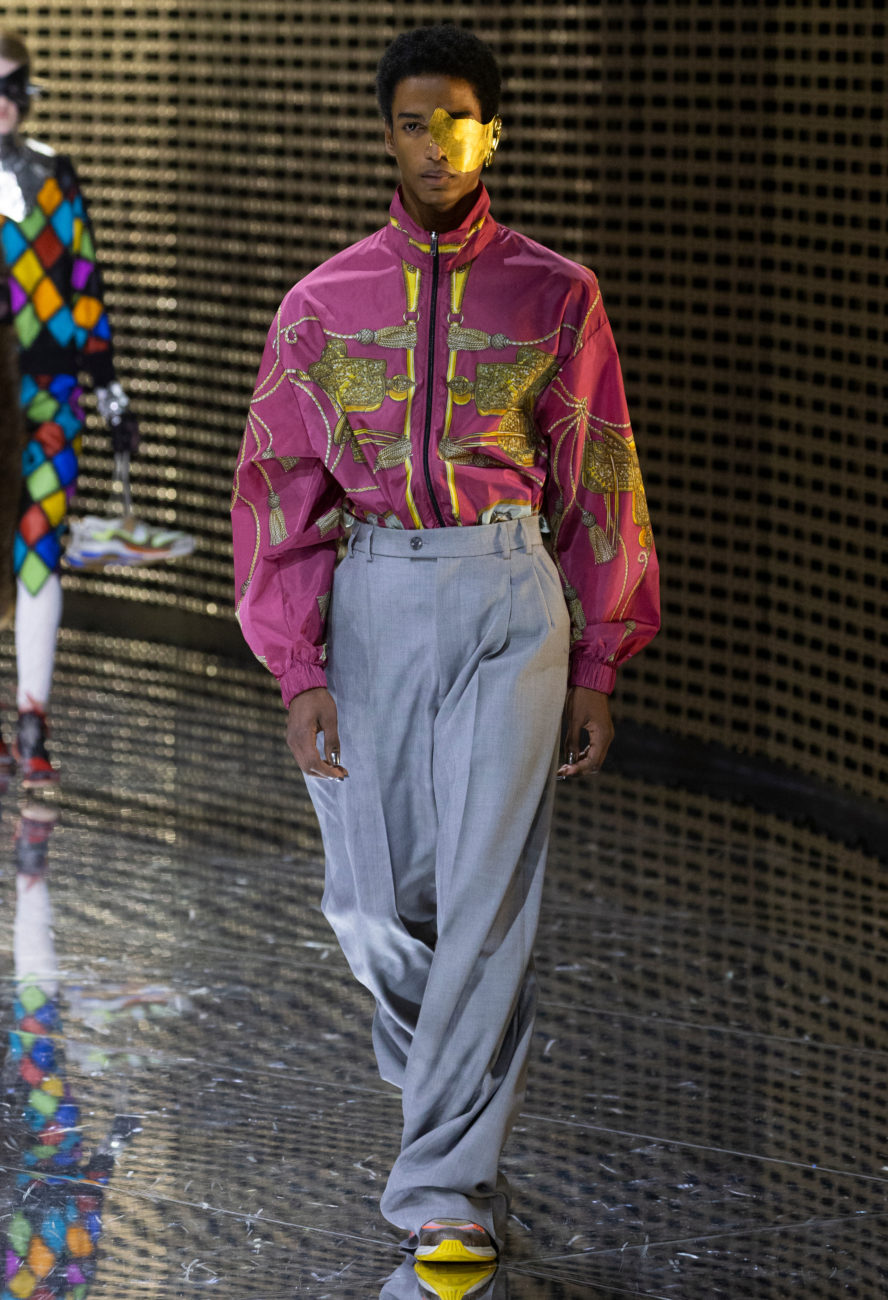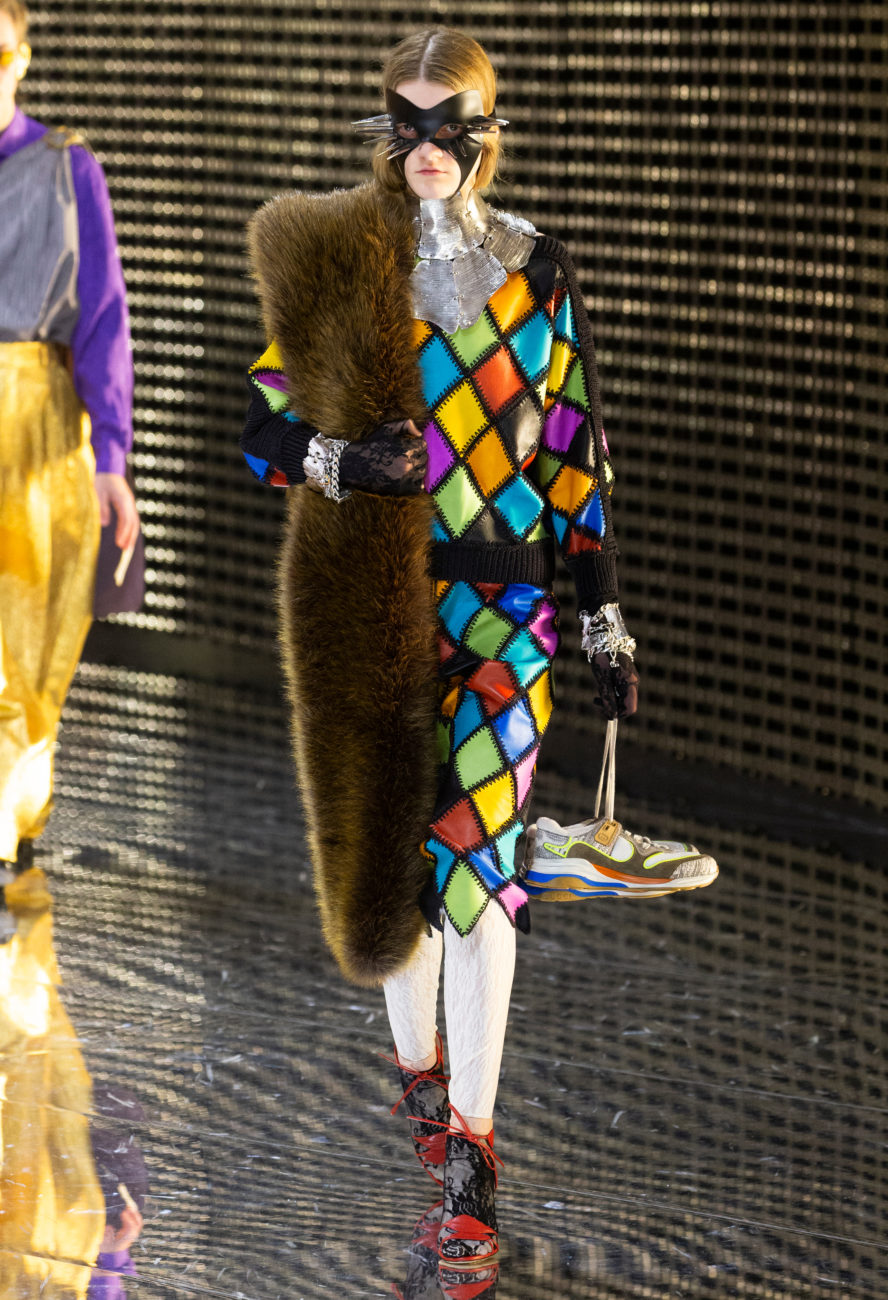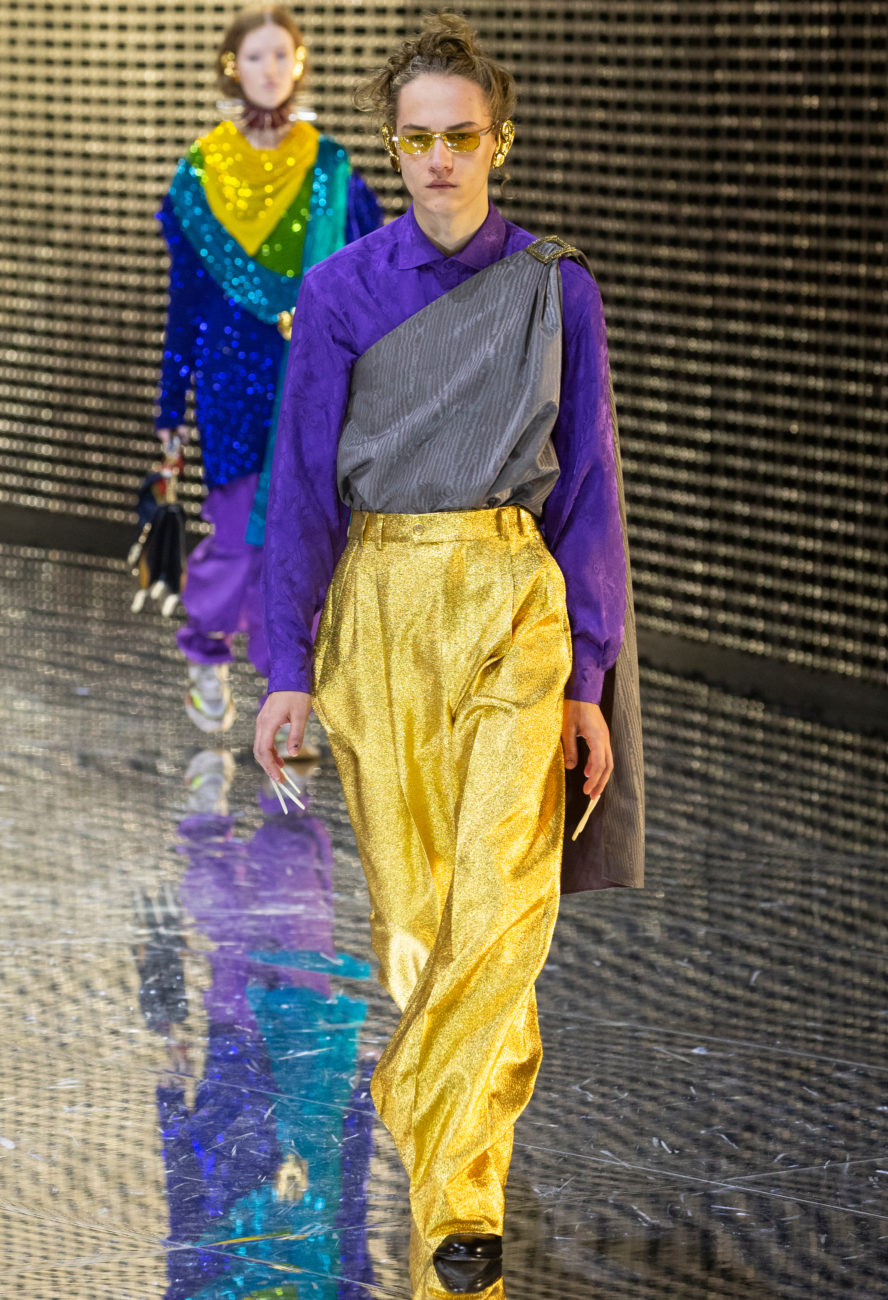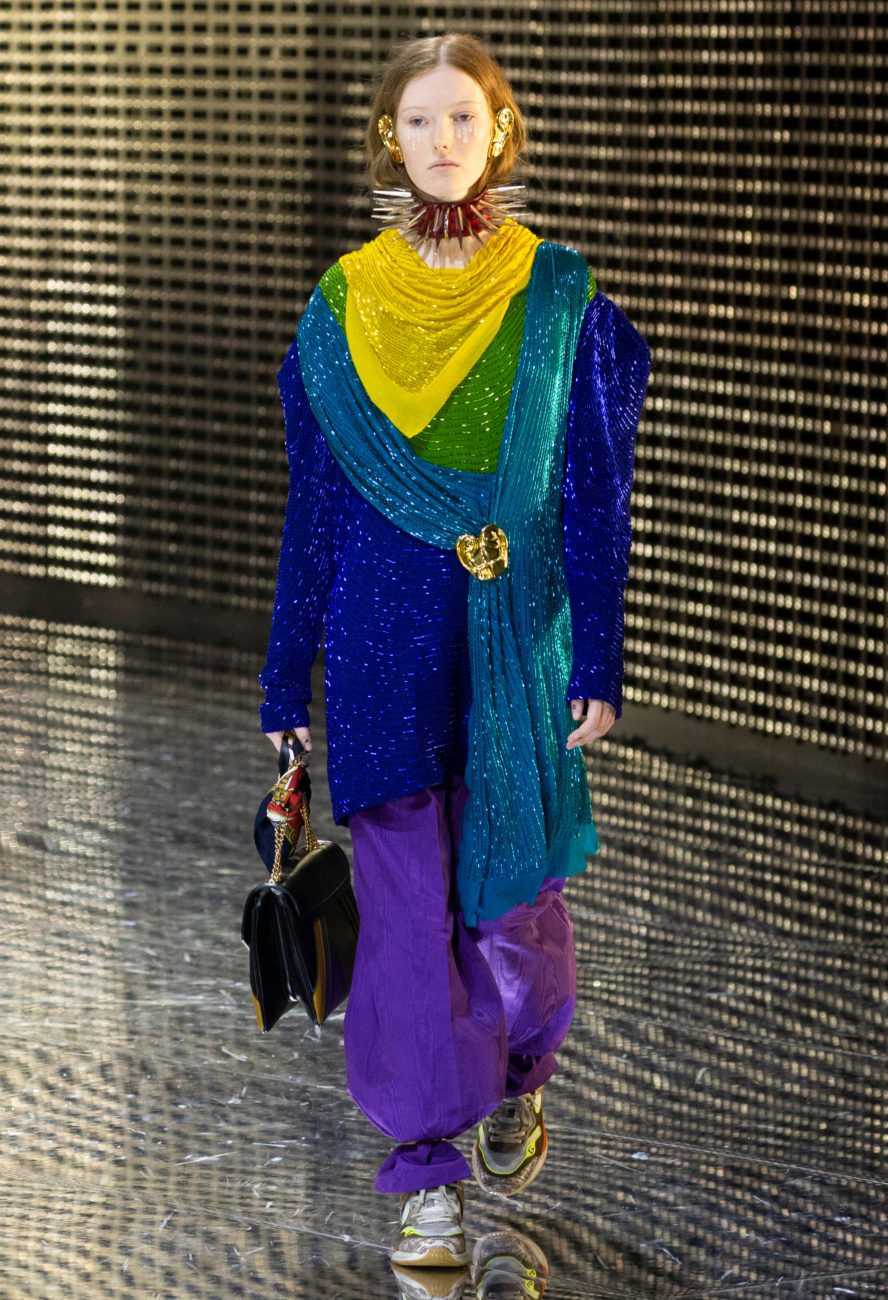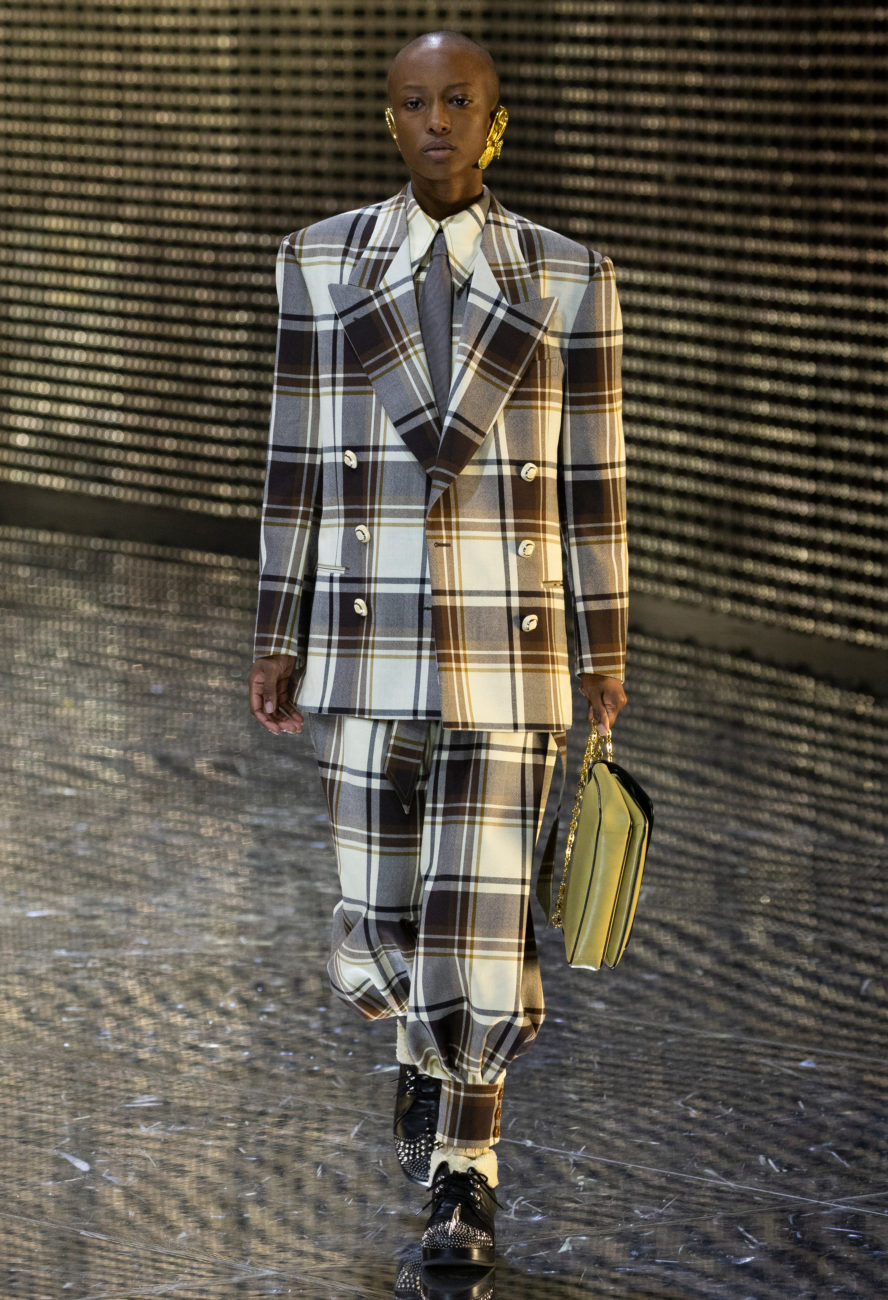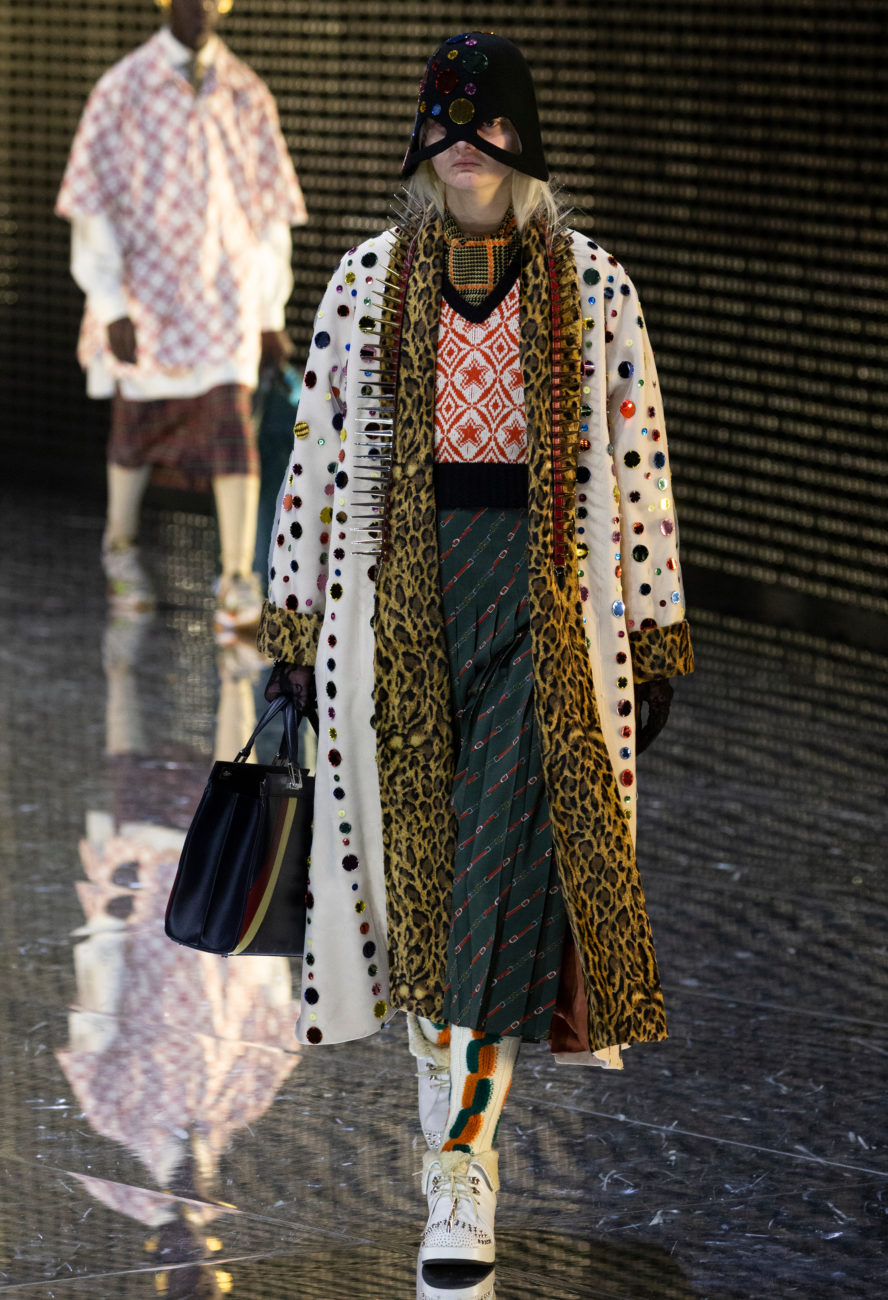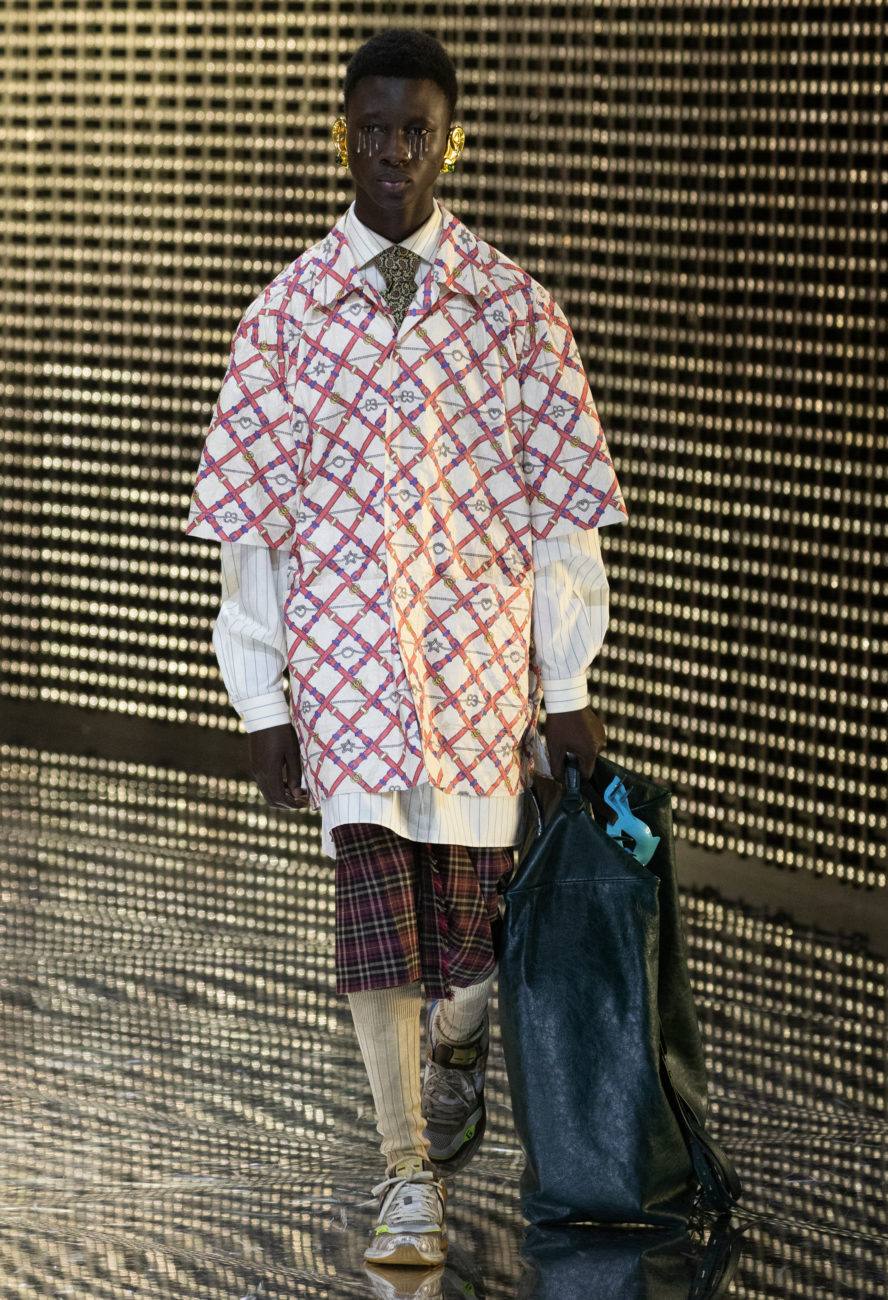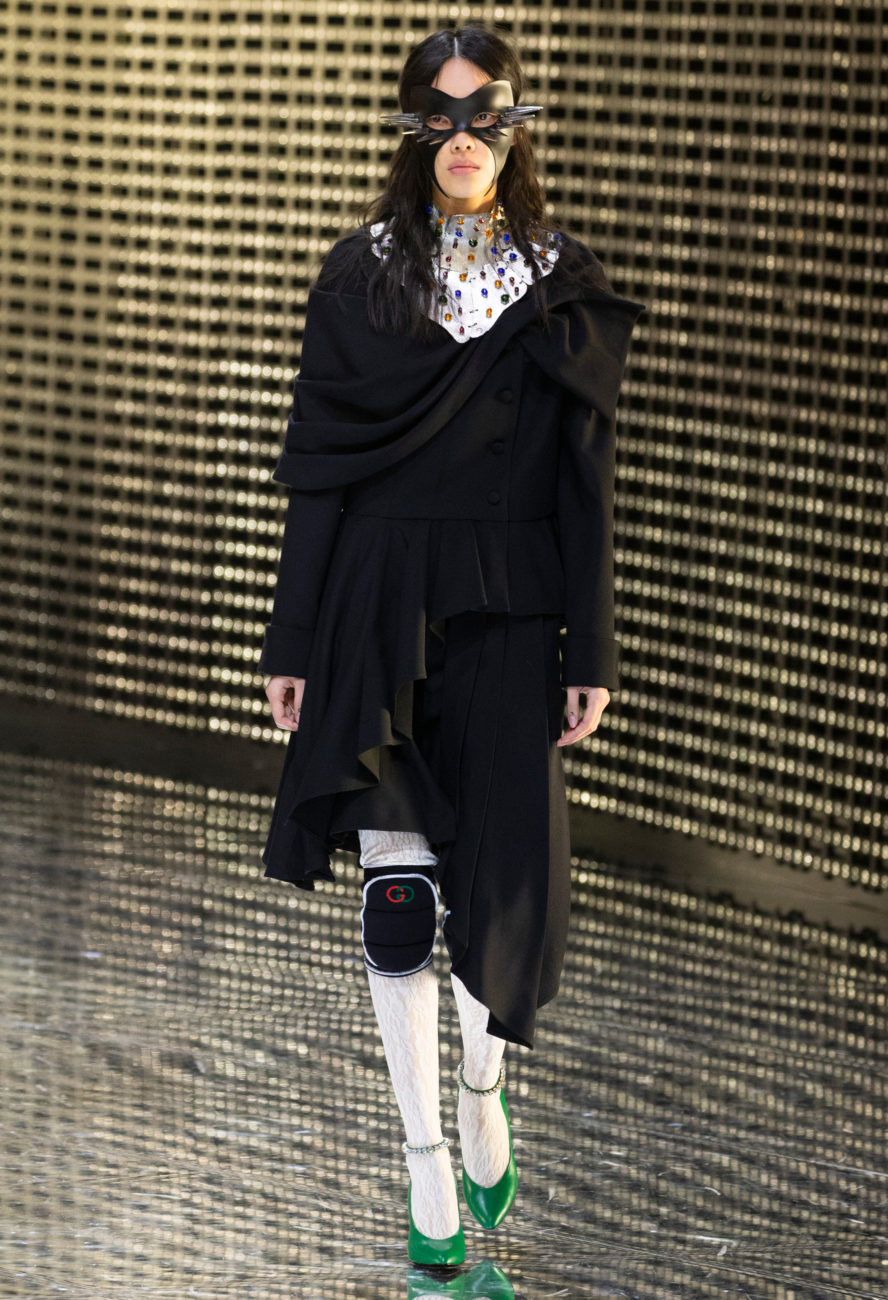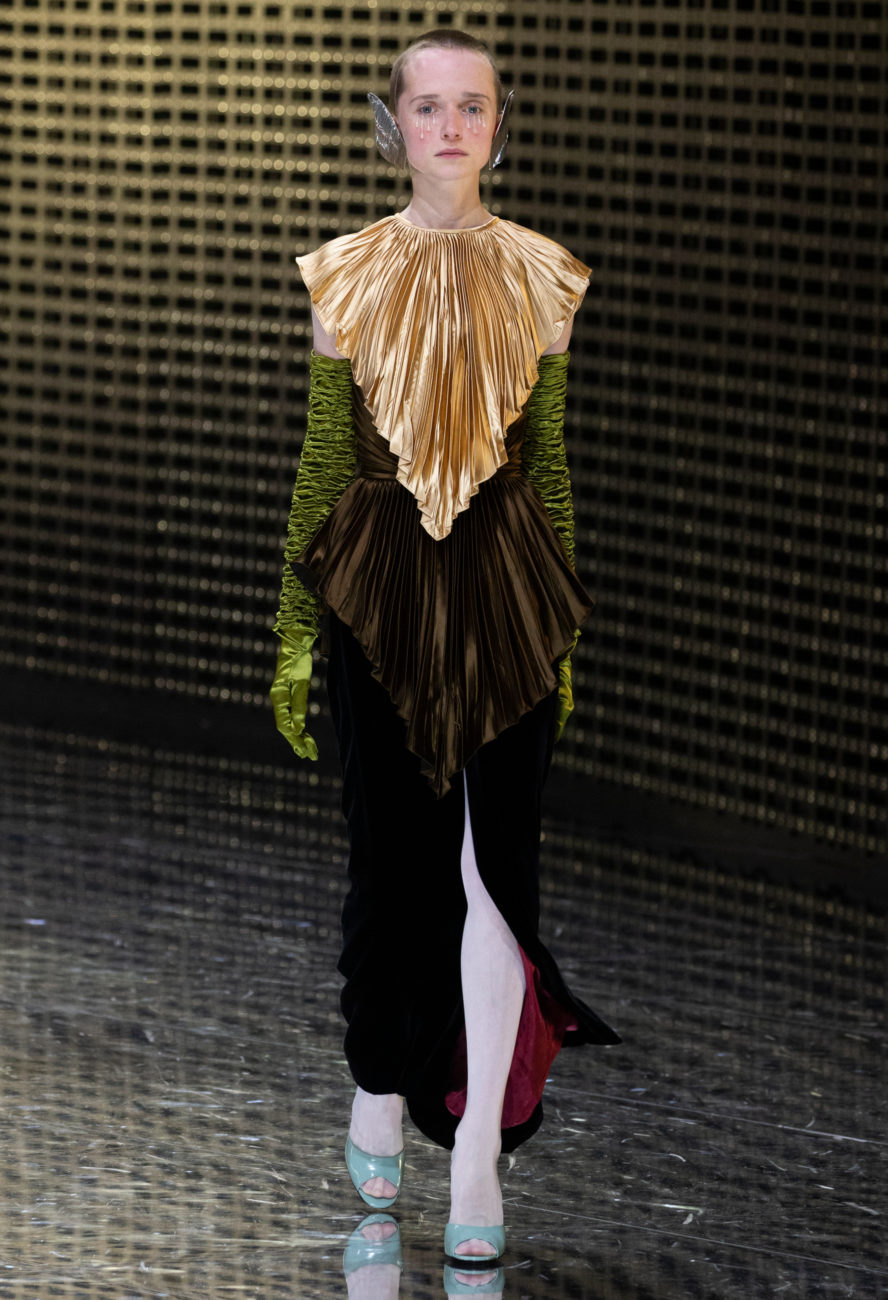 Gucci, Fall Winter 19-20 show, Milan Fashion Week, looks, Alessandro Michele, mask, visible and invisible
Gucci, Fall Winter 19-20 show, Milan Fashion Week, looks, Alessandro Michele, mask, visible and invisible
Gucci, Fall Winter 19-20 show, Milan Fashion Week, looks, Alessandro Michele, mask, visible and invisible
Gucci, Fall Winter 19-20 show, Milan Fashion Week, looks, Alessandro Michele, mask, visible and invisible
Gucci, Fall Winter 19-20 show, Milan Fashion Week, looks, Alessandro Michele, mask, visible and invisible
Gucci, Fall Winter 19-20 show, Milan Fashion Week, looks, Alessandro Michele, mask, visible and invisible
Gucci, Fall Winter 19-20 show, Milan Fashion Week, looks, Alessandro Michele, mask, visible and invisible
Gucci, Fall Winter 19-20 show, Milan Fashion Week, looks, Alessandro Michele, mask, visible and invisible
Gucci, Fall Winter 19-20 show, Milan Fashion Week, looks, Alessandro Michele, mask, visible and invisible
Gucci, Fall Winter 19-20 show, Milan Fashion Week, looks, Alessandro Michele, mask, visible and invisible
Gucci, Fall Winter 19-20 show, Milan Fashion Week, looks, Alessandro Michele, mask, visible and invisible
Gucci, Fall Winter 19-20 show, Milan Fashion Week, looks, Alessandro Michele, mask, visible and invisible
Gucci, Fall Winter 19-20 show, Milan Fashion Week, looks, Alessandro Michele, mask, visible and invisible
Gucci, Fall Winter 19-20 show, Milan Fashion Week, looks, Alessandro Michele, mask, visible and invisible
Gucci, Fall Winter 19-20 show, Milan Fashion Week, looks, Alessandro Michele, mask, visible and invisible
Gucci, Fall Winter 19-20 show, Milan Fashion Week, looks, Alessandro Michele, mask, visible and invisible
Gucci, Fall Winter 19-20 show, Milan Fashion Week, looks, Alessandro Michele, mask, visible and invisible
Gucci, Fall Winter 19-20 show, Milan Fashion Week, looks, Alessandro Michele, mask, visible and invisible
Gucci, Fall Winter 19-20 show, Milan Fashion Week, looks, Alessandro Michele, mask, visible and invisible
Gucci, Fall Winter 19-20 show, Milan Fashion Week, looks, Alessandro Michele, mask, visible and invisible
Gucci, Fall Winter 19-20 show, Milan Fashion Week, looks, Alessandro Michele, mask, visible and invisible
Gucci, Fall Winter 19-20 show, Milan Fashion Week, looks, Alessandro Michele, mask, visible and invisible
Gucci, Fall Winter 19-20 show, Milan Fashion Week, looks, Alessandro Michele, mask, visible and invisible
Gucci, Fall Winter 19-20 show, Milan Fashion Week, looks, Alessandro Michele, mask, visible and invisible
Gucci, Fall Winter 19-20 show, Milan Fashion Week, looks, Alessandro Michele, mask, visible and invisible
Gucci, Fall Winter 19-20 show, Milan Fashion Week, looks, Alessandro Michele, mask, visible and invisible
Gucci, Fall Winter 19-20 show, Milan Fashion Week, looks, Alessandro Michele, mask, visible and invisible
Gucci, Fall Winter 19-20 show, Milan Fashion Week, looks, Alessandro Michele, mask, visible and invisible
Gucci, Fall Winter 19-20 show, Milan Fashion Week, looks, Alessandro Michele, mask, visible and invisible
Gucci, Fall Winter 19-20 show, Milan Fashion Week, looks, Alessandro Michele, mask, visible and invisible
Gucci, Fall Winter 19-20 show, Milan Fashion Week, looks, Alessandro Michele, mask, visible and invisible
Gucci, Fall Winter 19-20 show, Milan Fashion Week, looks, Alessandro Michele, mask, visible and invisible
Gucci, Fall Winter 19-20 show, Milan Fashion Week, looks, Alessandro Michele, mask, visible and invisible
Gucci, Fall Winter 19-20 show, Milan Fashion Week, looks, Alessandro Michele, mask, visible and invisible
Gucci, Fall Winter 19-20 show, Milan Fashion Week, looks, Alessandro Michele, mask, visible and invisible
Gucci, Fall Winter 19-20 show, Milan Fashion Week, looks, Alessandro Michele, mask, visible and invisible
Gucci, Fall Winter 19-20 show, Milan Fashion Week, looks, Alessandro Michele, mask, visible and invisible
Gucci, Fall Winter 19-20 show, Milan Fashion Week, looks, Alessandro Michele, mask, visible and invisible
Gucci, Fall Winter 19-20 show, Milan Fashion Week, looks, Alessandro Michele, mask, visible and invisible
Gucci, Fall Winter 19-20 show, Milan Fashion Week, looks, Alessandro Michele, mask, visible and invisible
Gucci, Fall Winter 19-20 show, Milan Fashion Week, looks, Alessandro Michele, mask, visible and invisible
Gucci, Fall Winter 19-20 show, Milan Fashion Week, looks, Alessandro Michele, mask, visible and invisible
Gucci, Fall Winter 19-20 show, Milan Fashion Week, looks, Alessandro Michele, mask, visible and invisible
Gucci, Fall Winter 19-20 show, Milan Fashion Week, looks, Alessandro Michele, mask, visible and invisible
Gucci, Fall Winter 19-20 show, Milan Fashion Week, looks, Alessandro Michele, mask, visible and invisible
Gucci, Fall Winter 19-20 show, Milan Fashion Week, looks, Alessandro Michele, mask, visible and invisible
Gucci, Fall Winter 19-20 show, Milan Fashion Week, looks, Alessandro Michele, mask, visible and invisible
Gucci, Fall Winter 19-20 show, Milan Fashion Week, looks, Alessandro Michele, mask, visible and invisible
Gucci, Fall Winter 19-20 show, Milan Fashion Week, looks, Alessandro Michele, mask, visible and invisible
Gucci, Fall Winter 19-20 show, Milan Fashion Week, looks, Alessandro Michele, mask, visible and invisible
Gucci, Fall Winter 19-20 show, Milan Fashion Week, looks, Alessandro Michele, mask, visible and invisible
Gucci, Fall Winter 19-20 show, Milan Fashion Week, looks, Alessandro Michele, mask, visible and invisible
Gucci, Fall Winter 19-20 show, Milan Fashion Week, looks, Alessandro Michele, mask, visible and invisible
Gucci, Fall Winter 19-20 show, Milan Fashion Week, looks, Alessandro Michele, mask, visible and invisible
Gucci, Fall Winter 19-20 show, Milan Fashion Week, looks, Alessandro Michele, mask, visible and invisible
Gucci, Fall Winter 19-20 show, Milan Fashion Week, looks, Alessandro Michele, mask, visible and invisible
Gucci, Fall Winter 19-20 show, Milan Fashion Week, looks, Alessandro Michele, mask, visible and invisible
Gucci, Fall Winter 19-20 show, Milan Fashion Week, looks, Alessandro Michele, mask, visible and invisible
Gucci, Fall Winter 19-20 show, Milan Fashion Week, looks, Alessandro Michele, mask, visible and invisible
Gucci, Fall Winter 19-20 show, Milan Fashion Week, looks, Alessandro Michele, mask, visible and invisible
Gucci, Fall Winter 19-20 show, Milan Fashion Week, looks, Alessandro Michele, mask, visible and invisible
Gucci, Fall Winter 19-20 show, Milan Fashion Week, looks, Alessandro Michele, mask, visible and invisible
Gucci, Fall Winter 19-20 show, Milan Fashion Week, looks, Alessandro Michele, mask, visible and invisible
Gucci, Fall Winter 19-20 show, Milan Fashion Week, looks, Alessandro Michele, mask, visible and invisible
Gucci, Fall Winter 19-20 show, Milan Fashion Week, looks, Alessandro Michele, mask, visible and invisible
Gucci, Fall Winter 19-20 show, Milan Fashion Week, looks, Alessandro Michele, mask, visible and invisible
Gucci, Fall Winter 19-20 show, Milan Fashion Week, looks, Alessandro Michele, mask, visible and invisible
Gucci, Fall Winter 19-20 show, Milan Fashion Week, looks, Alessandro Michele, mask, visible and invisible
Gucci, Fall Winter 19-20 show, Milan Fashion Week, looks, Alessandro Michele, mask, visible and invisible
Gucci, Fall Winter 19-20 show, Milan Fashion Week, looks, Alessandro Michele, mask, visible and invisible
Gucci, Fall Winter 19-20 show, Milan Fashion Week, looks, Alessandro Michele, mask, visible and invisible
Gucci, Fall Winter 19-20 show, Milan Fashion Week, looks, Alessandro Michele, mask, visible and invisible
Gucci, Fall Winter 19-20 show, Milan Fashion Week, looks, Alessandro Michele, mask, visible and invisible
Gucci, Fall Winter 19-20 show, Milan Fashion Week, looks, Alessandro Michele, mask, visible and invisible
Gucci, Fall Winter 19-20 show, Milan Fashion Week, looks, Alessandro Michele, mask, visible and invisible
Gucci, Fall Winter 19-20 show, Milan Fashion Week, looks, Alessandro Michele, mask, visible and invisible
Gucci, Fall Winter 19-20 show, Milan Fashion Week, looks, Alessandro Michele, mask, visible and invisible
Gucci, Fall Winter 19-20 show, Milan Fashion Week, looks, Alessandro Michele, mask, visible and invisible
Gucci, Fall Winter 19-20 show, Milan Fashion Week, looks, Alessandro Michele, mask, visible and invisible
Gucci, Fall Winter 19-20 show, Milan Fashion Week, looks, Alessandro Michele, mask, visible and invisible
Gucci, Fall Winter 19-20 show, Milan Fashion Week, looks, Alessandro Michele, mask, visible and invisible
Gucci, Fall Winter 19-20 show, Milan Fashion Week, looks, Alessandro Michele, mask, visible and invisible
Gucci, Fall Winter 19-20 show, Milan Fashion Week, looks, Alessandro Michele, mask, visible and invisible
Gucci, Fall Winter 19-20 show, Milan Fashion Week, looks, Alessandro Michele, mask, visible and invisible
Gucci, Fall Winter 19-20 show, Milan Fashion Week, looks, Alessandro Michele, mask, visible and invisible
Gucci, Fall Winter 19-20 show, Milan Fashion Week, looks, Alessandro Michele, mask, visible and invisible
Gucci, Fall Winter 19-20 show, Milan Fashion Week, looks, Alessandro Michele, mask, visible and invisible