Collectible DRY in conversation with Camilla Vender, the "landlady" of Borgo Egnazia, a symbol of Apulian hospitality in the world, a project dreamed and turned into reality among white stone walls and centuries-old olive groves, creating an enchanted place
Interview by Silvia Motta

Born in Milan, living in London, businesswoman, mother of two daughters, Camilla Vender has made Puglia her land of choice: "I fell in love with the dazzling light of this land, the way the tuff is tinged pink at sunset, the flavors, the smells, the people here and the intensity they put into everything they do, so that everything takes on meaning."
You are the Founder and Creative Director of Bottega Egnazia, a unique place set in the enchanted atmosphere of Borgo Egnazia. How did this falling in love come about? And when?
In 1998, I traveled around Puglia by car. The light at dusk and the kindness of the people, all of them, dazed me. I left with a very strong melancholy, a desire to return that I had never had. When I met my husband in NY and found out he was from Puglia, I found peace in him.
You say of Apulia that it is a "state of mind". What does it mean to you?
There is something immanent in the solemnity of this land that conquers your soul and infuses you with a sense of freedom, peace, and authenticity that I have not been able to experience anywhere else.
Has this land made you discover things you didn't think you had inside?
It has made me discover a love for the earth, I have learned to cultivate my vegetable garden, to pick almonds with my daughter Maria and to sit under the tree with a stone to crush them slowly so as not to break the fruit. I discovered that early figs taste best if you eat them straight from the trees with your fingers sticky with their milk, and Mimina patiently taught me when the crops were ready. I knew nothing about farming, I had no idea how green beans grew or what shape pea plants were. In the garden, however, I want to be alone, I want to go at my own pace, smell the scent of basil and listen to the sounds of the wind and cicadas at sunset…my peace sign!

Tell us about Borgo Egnazia…. I know it, it's a magical place, what is it for you?
HOME.
Was Bottega Egnazia a natural evolution of the spirit of Borgo?
It happened by chance, the more I traveled around Puglia, the more artisans I met: those who made baskets out of reeds picked by hand in the marshes, those who had the patience to spend days shaping ceramic tomato ramasoles, those who sculpted lamps out of tufa. I would spend hours watching what they were doing, I asked too many questions, but I wanted to understand and see everything. I was more eager to be told how to shape a crochet doily with sugar or to study the different techniques of antique lace than to chat with guests. My husband always teased me, he didn't understand, but I wanted our guests to see what these artisans were creating…. Bottega Egnazia was born this way.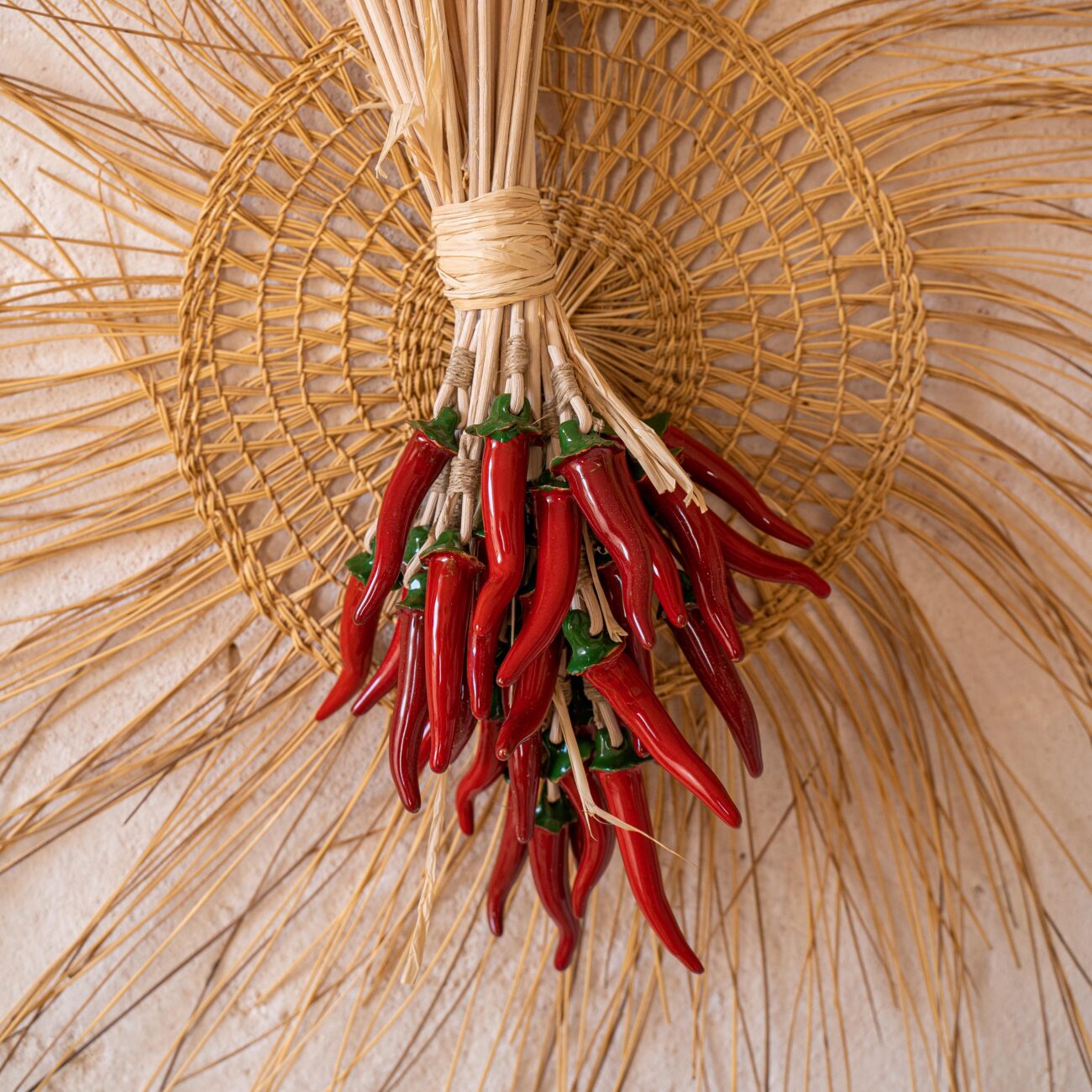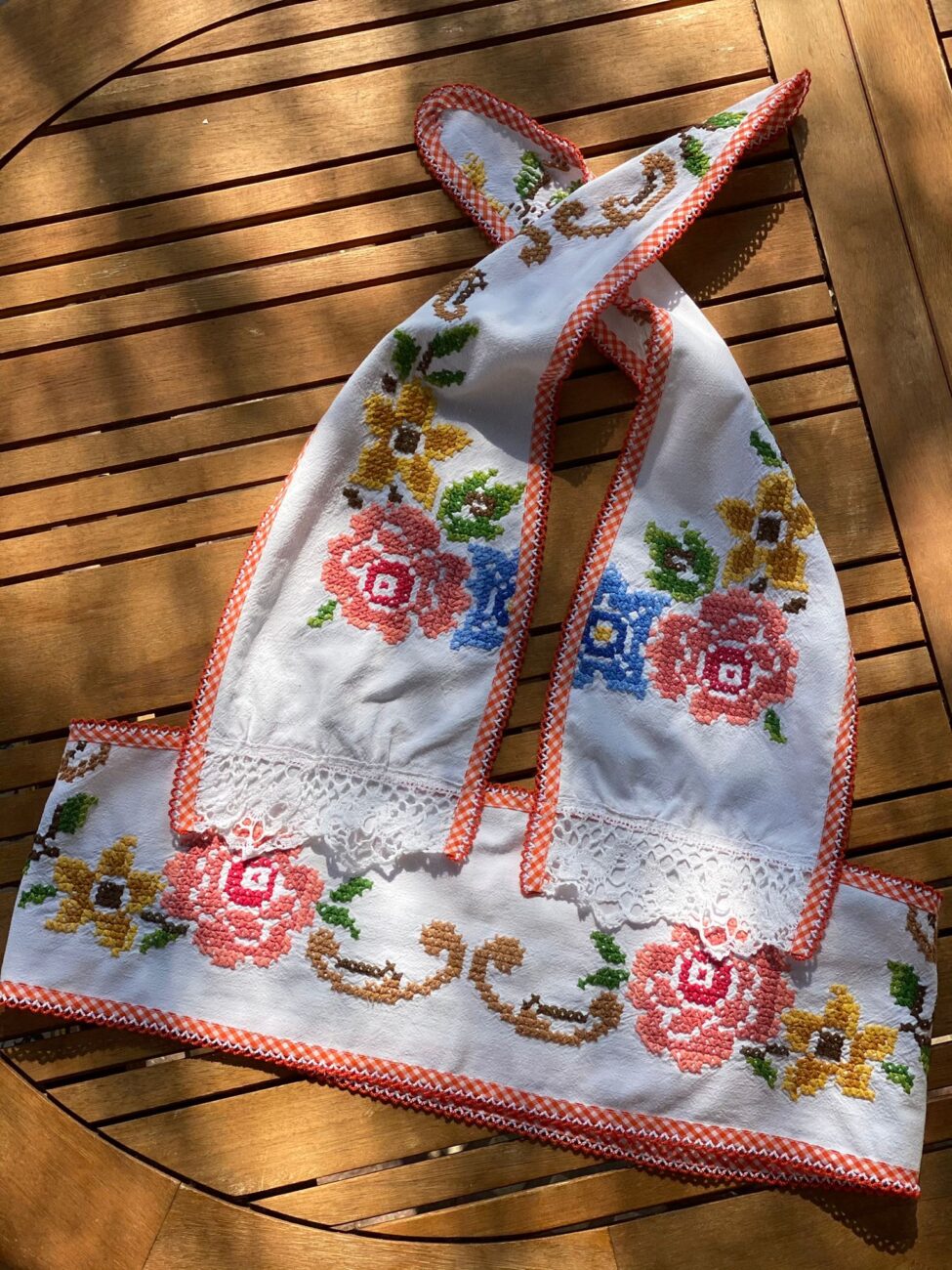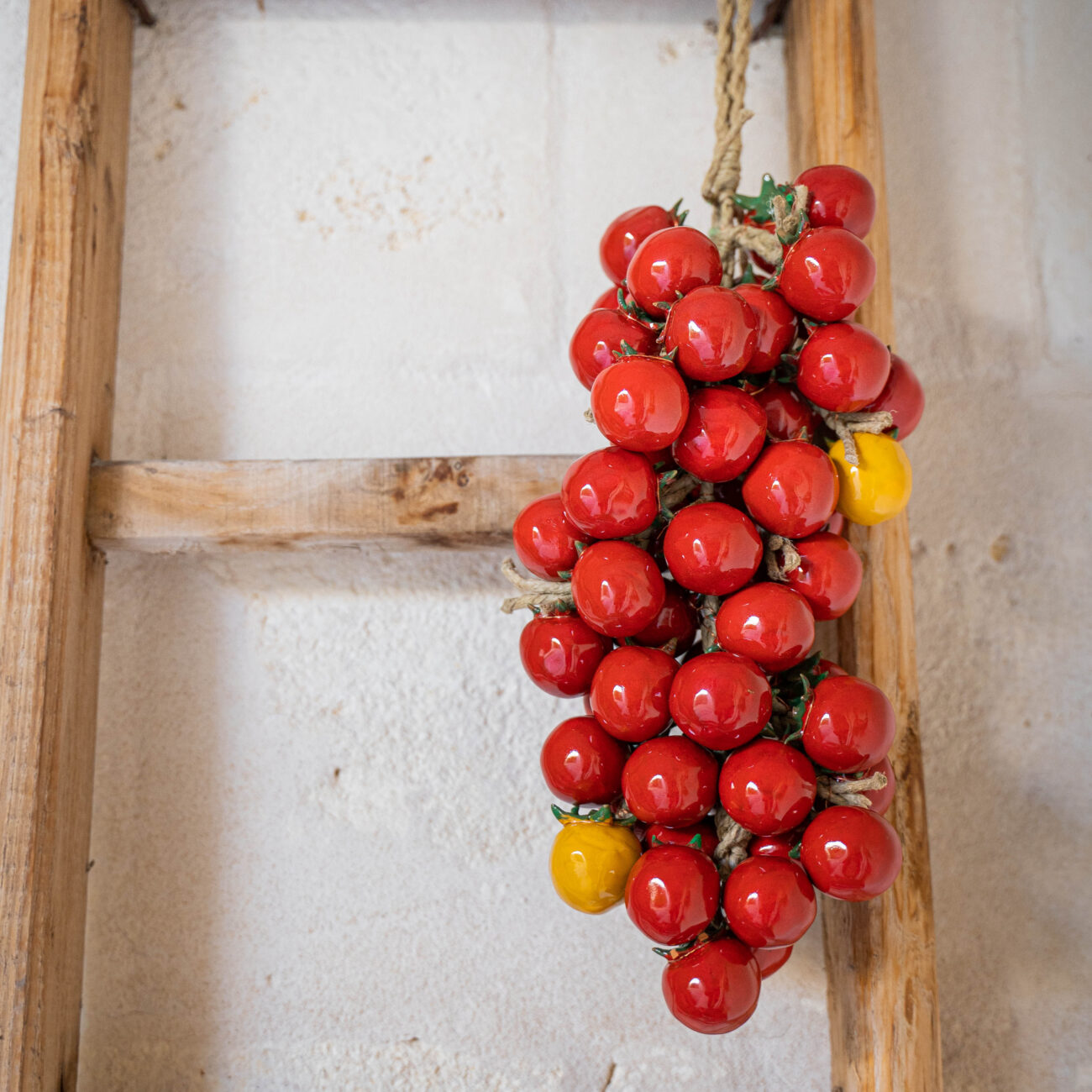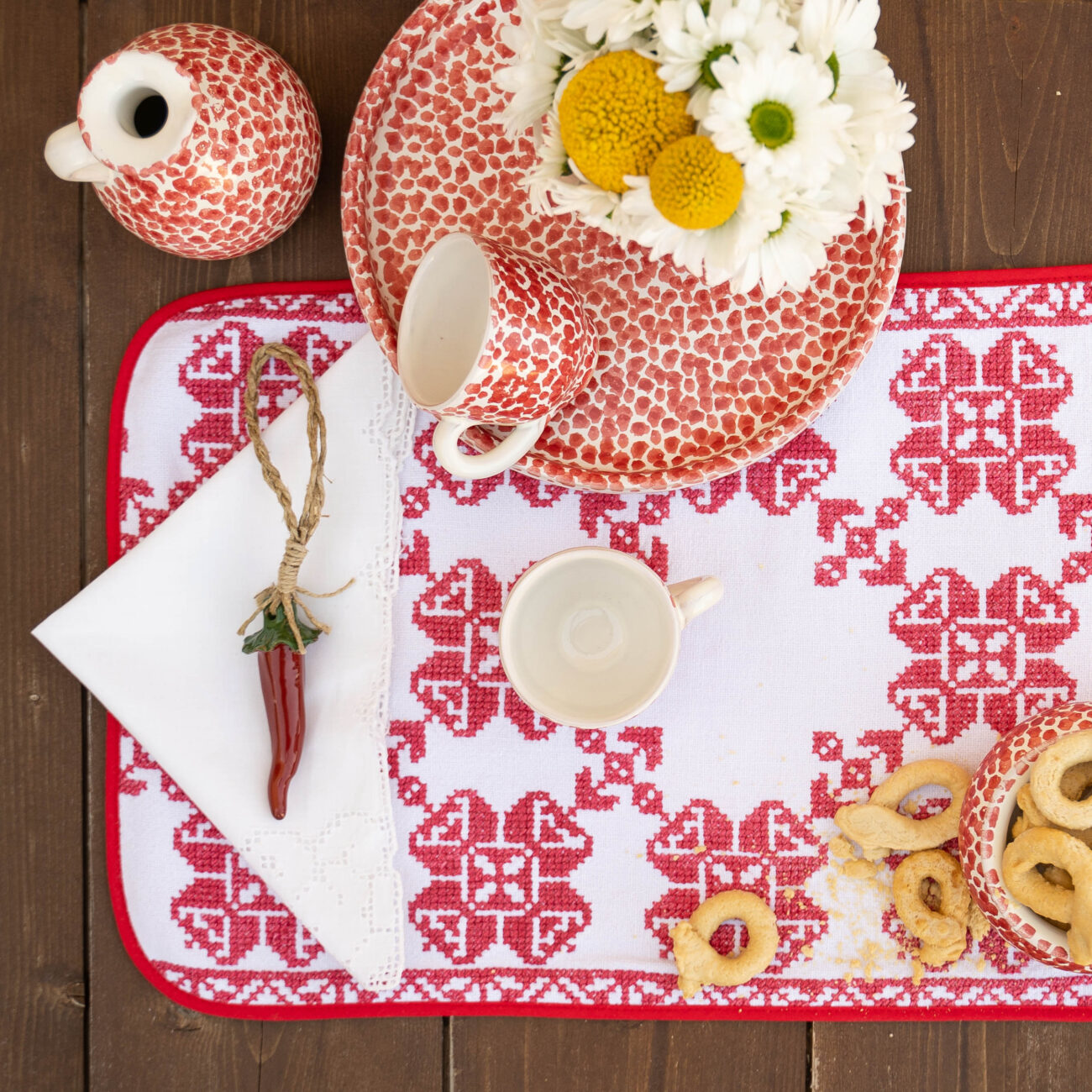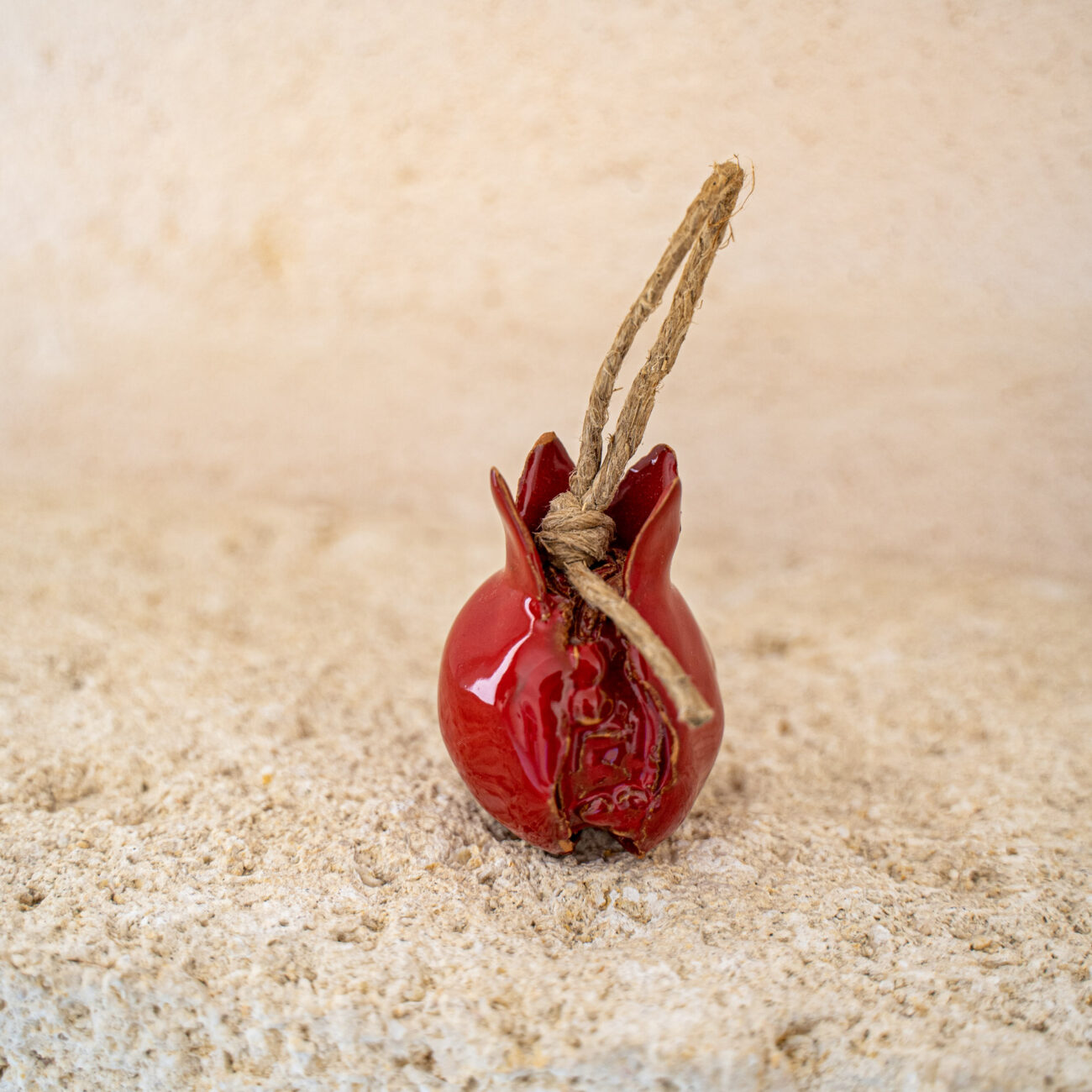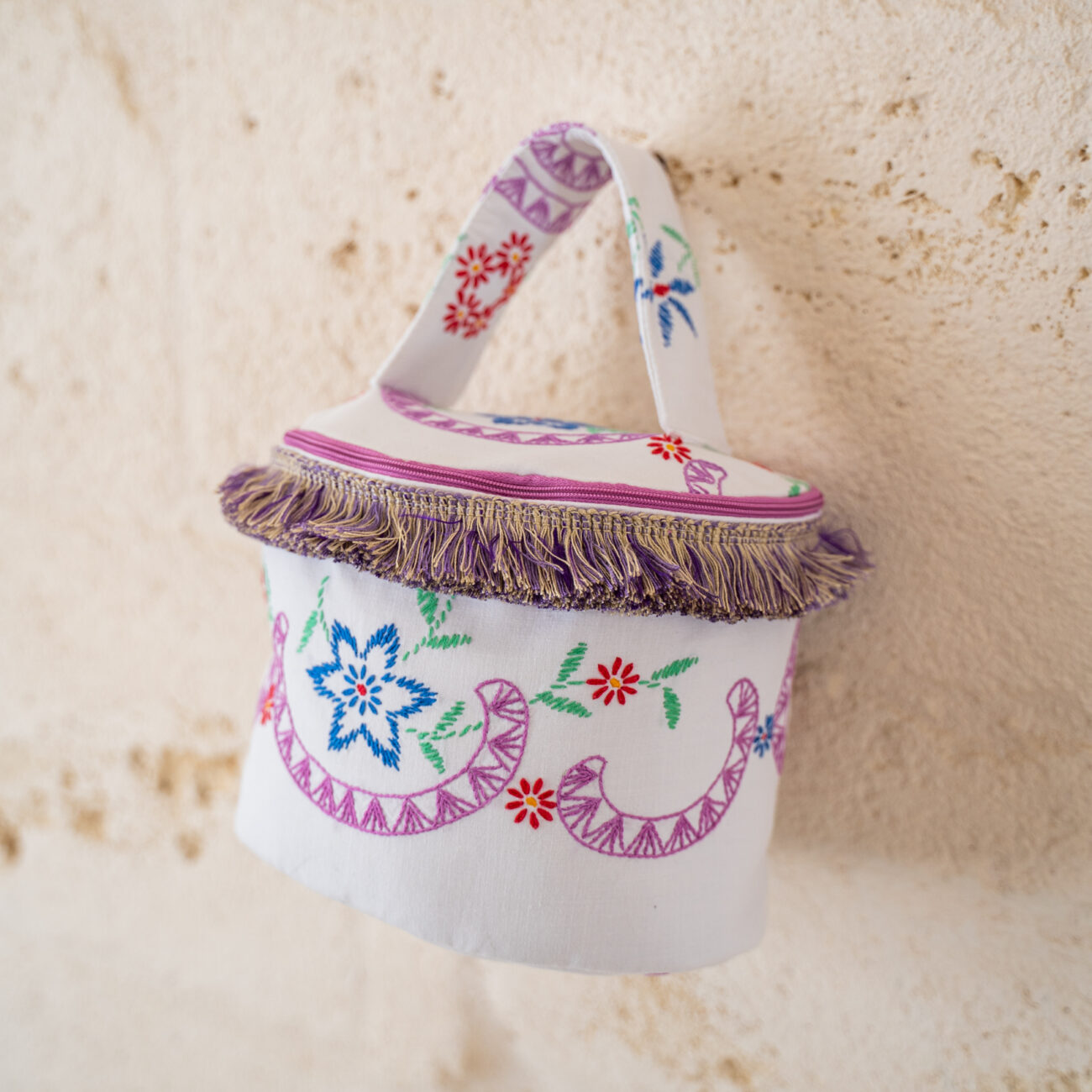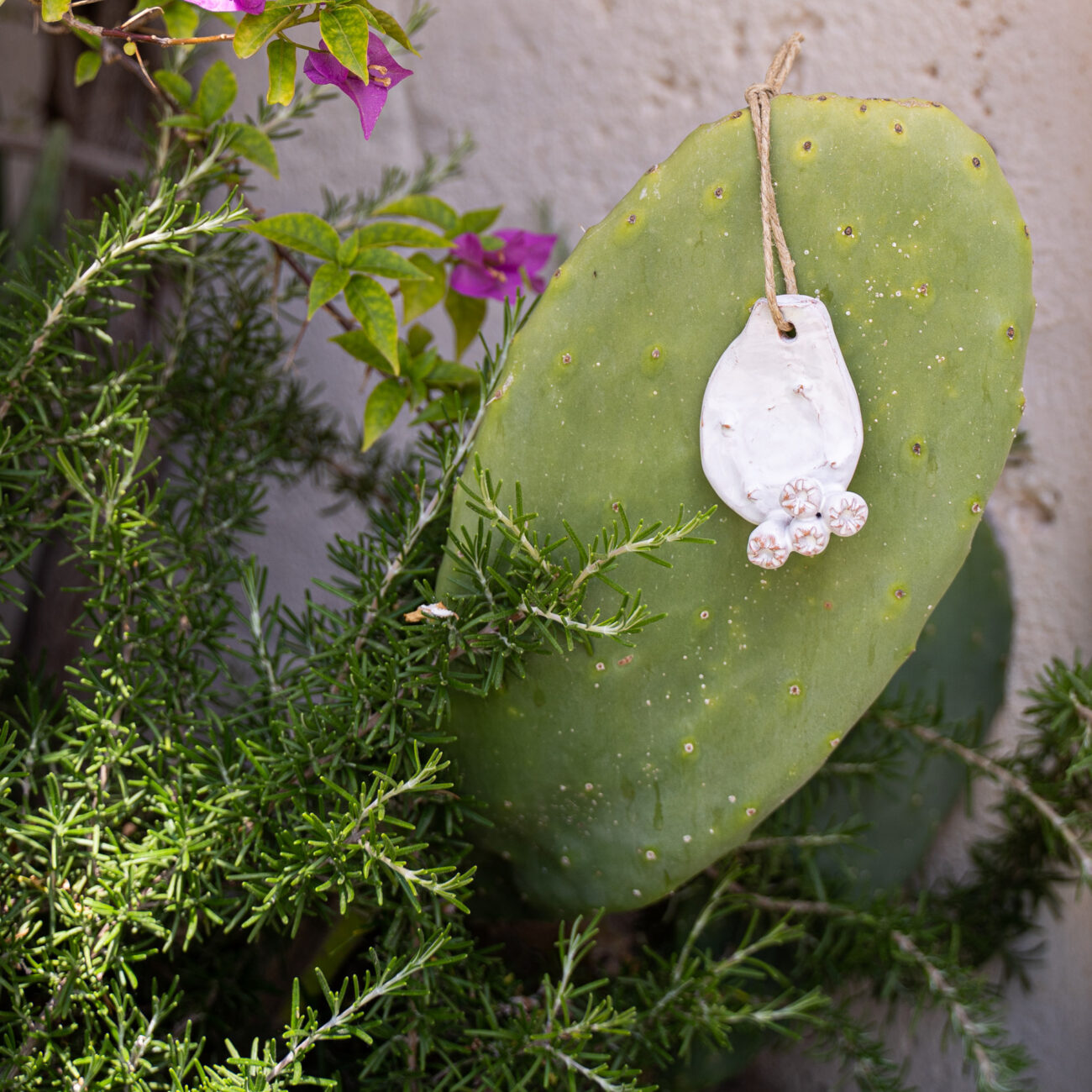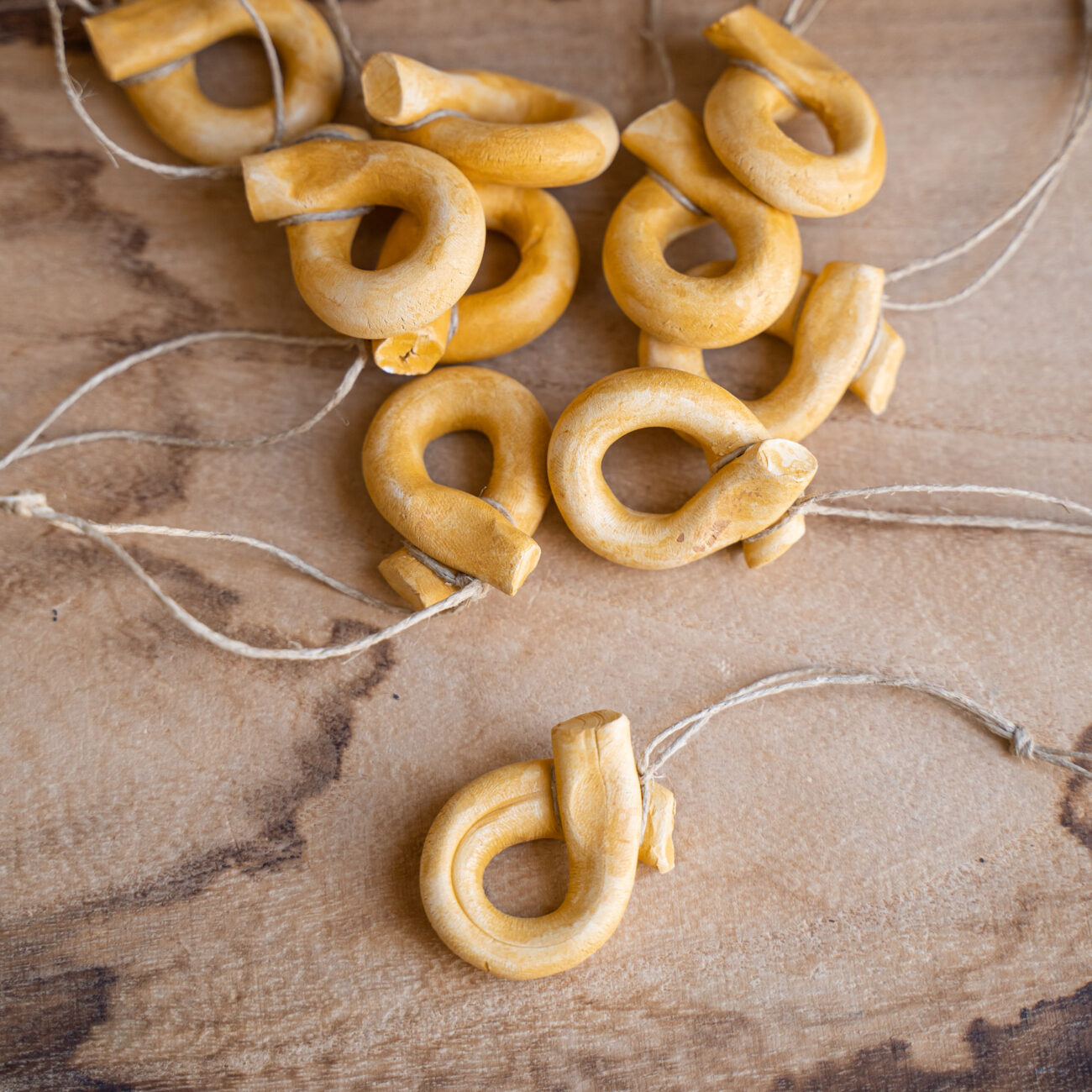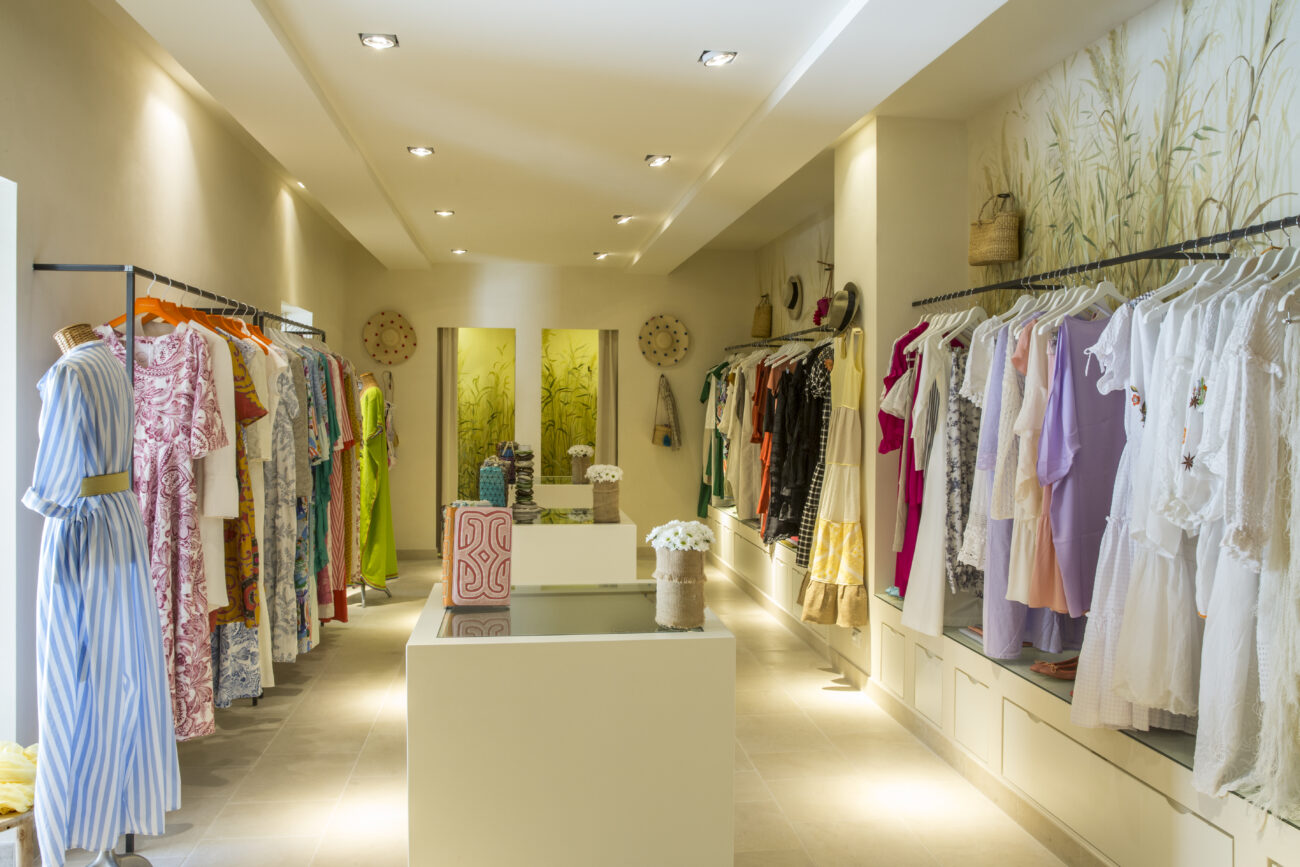 What were the encounters in your research that most impressed you?
Definitely Francesca Siciliano: an 85-year-old woman with a beautiful husband who went to the swamps all her life to gather bulrushes, she would dry them and then sit on the ground and start weaving her baskets…which for me are priceless. I will never forget her transparent, gentle eyes, nor her hands, ruined by the reed but still very soft.
Are there any pieces you were sorry to sell?
So many, especially the antique lace that we create with the Canfora girls. The truth is that some of the pieces go straight into my wardrobe, then I don't wear them because I'm afraid of ruining them…but in the meantime, I keep them safe! They are one-of-a-kind pieces, made with handwork that no longer exists, like the dress Veronica and Federica gave me: all in chiacchierino, a very difficult and slow knot technique, which came from a huge and rare tablecloth made over 10 years by Signora Celeste…. there is the passing of the days, there is the life of people in these things, eternal afternoons of silent work with the sound of cicadas and the dazzling light filtering through the ajar shutters to keep out the heat, this is what I see in that dress, to wear it, even to own it, is a privilege for me.
Craftsmanship, what value does it hold for you?
Craftsmen should be respected first of all, as people, and then as artists: the work they do tells our story. Too often I see mobile phones and cameras framing and disclosing with little respect and no awareness of the significance of those artifacts, of the history, dignity, and sublime craftsmanship of these people who imagine and succeed in creating wonders from nothing.


Your research leads you to collect objects from all over the world. What is the common thread that connects them?
The common thread is almost always craftsmanship: it doesn't matter where it comes from, it has to tell a story, it happens naturally and there is almost always a bond with the maker.
What do you like most about Apulian craftsmanship? You have rediscovered the art of embroidery, which is being lost….
I have been collecting antique lace and embroidery around the world for many years, and for almost 12 years we have been giving them new life. Now lace is in fashion, copies of machine-made lace or reproductions are often found around…I would like people to learn to distinguish without hesitation between the authenticity of a lace made by women who have worked with their eyes down for years…..
Authentic antique laces are rare, now very rare, when I find them it is like winning a prize!

You describe Bottega Egnazia as a Kunstkammer. Can you explain it to us?
When I was a child, I had a box in which I kept the objects I found lying around and that most aroused wonder and admiration in me: a glass marble, an angel-shaped bar of soap, a little ring from my mother, a tiny little bottle of vanilla concentrate, a notebook, no matter what.
I kept this box like a treasure, my collection of amazing and wonderful things, I would take them out, look at them one by one, and put them away, in the same way, that, from the 16th century to the 18th century, rich collectors used to dedicate a room of the house to their collections of extraordinary objects, the kunstkammer, or wunderkammer, precisely.
Bottega Egnazia is the adult version of my treasure box, a kunstkammer that holds the objects that have impressed me the most and whose value I wish to share with others.
The collections range from clothing to jewelry to food and wine, is it not easy to put together such different categories?
On the contrary. As I said, what guides me in my choice is the emotion that certain things generate in me. It doesn't matter if it is a dress or a loaf of bread, if it is special, if it is unique, if it has its own intrinsic value, it deserves to be valued, appreciated, shared. I am a treasure hunter, not just an object hunter.
If you had a magic wand, what would you change about this world?
I would like us all to learn, me first, to slow down…and to respect each other more.
Above all, Puglia has taught me kindness, kindness for people and kindness for the land.