Riccardo Tisci's latest collection is a love letter to women and their incomparable strength
Text by: Josephine Giachero
The British luxury giant holds two Royal Warrants (to The Queen and Prince Charles), so when the Duke of Edinburgh passed away, the event had been postponed out of respect, regardless if it was initially set to take place weeks ago.
From Where I Stand is the title of Marc Isaacs's short released today, on the occasion of Burberry's show. While the catwalk remains a distant dimension, designers have been seen engaging with promotional films, acting as a suspenseful teaser, and often providing a much engaging spectacle compared to a traditional runway filmed behind closed doors.
Princess Julia, the DJ and notorious icon of the '80s Blitz Kids, along with some young Londoners being filmed in the collection's promotional film, was asked: "What does femininity mean to you?" or, "What comes to mind when you think of the word mother?"
Gender fluid fashion has gathered considerable momentum in recent years, with a number of luxury houses presenting men and women collections, together, as a single unit or sex. As fashion continues to play with gender as means of provocation, oftentimes the risk is that of flattening the sex we are born into, or the one we have made our own. In contrast to this argument, Creative Director Riccardo Tisci has celebrated femininity at its finest; because it is innate, it exists, and it is acceptable to acknowledge it as a single entity, synonymous with beauty and bravery.
Slender models walked around the curved walls, set within the home of Burberry at its flagship Regent Street store in London. To the rhythm of electronic music and against the backdrop of beige pleated curtains, classic Burberry staples were gracefully modelled, but this time more feminine than ever.
Dresses and little vests were surfaced in glamorous golden metallic shapes, evoking a reptilian guise and paired with maxi pouches and suede ankle boots. Red-riding-hood-esque faux-fur cloaks and coats were among the standout pieces in the collection, with printed dresses with twisted drapery also evoking ermine. A full-on-fur coat with dagling faux animal tails, featured a matching aviator hat, with the model morphing into some kind of exotic beast.
The trench has been deconstructed and reconstructed, with bold embellishments adorning topstitching and sleeves, or detachable fastenings that sway free. Fringe details have been subtly incorporated throughout the looks, but also maximialised particularly on sexy leather skirts paired with matching buttoned up jackets. There were no athleisure and sneakers on sight: just sensual over- the knee-boots, slick tailoring and mostly evening-wear.
Impossible not to sense the late Stella Tennant's regal but rebel allure; Burberry, with whom Tennant had a 25-year relationship, honoured her life and style in their first womenswear collection since her death. Growing up with eight sisters and being inspired by women throughout his life — from Tennant, to Madonna, to Mariacarla Boscono — Tisci nurtured such spontaneous sensitivity for women that it makes him a feminist in his own right. And the collection was exactly this. An embodiment of expressive emancipation, projected onto the women he has always wanted to empower.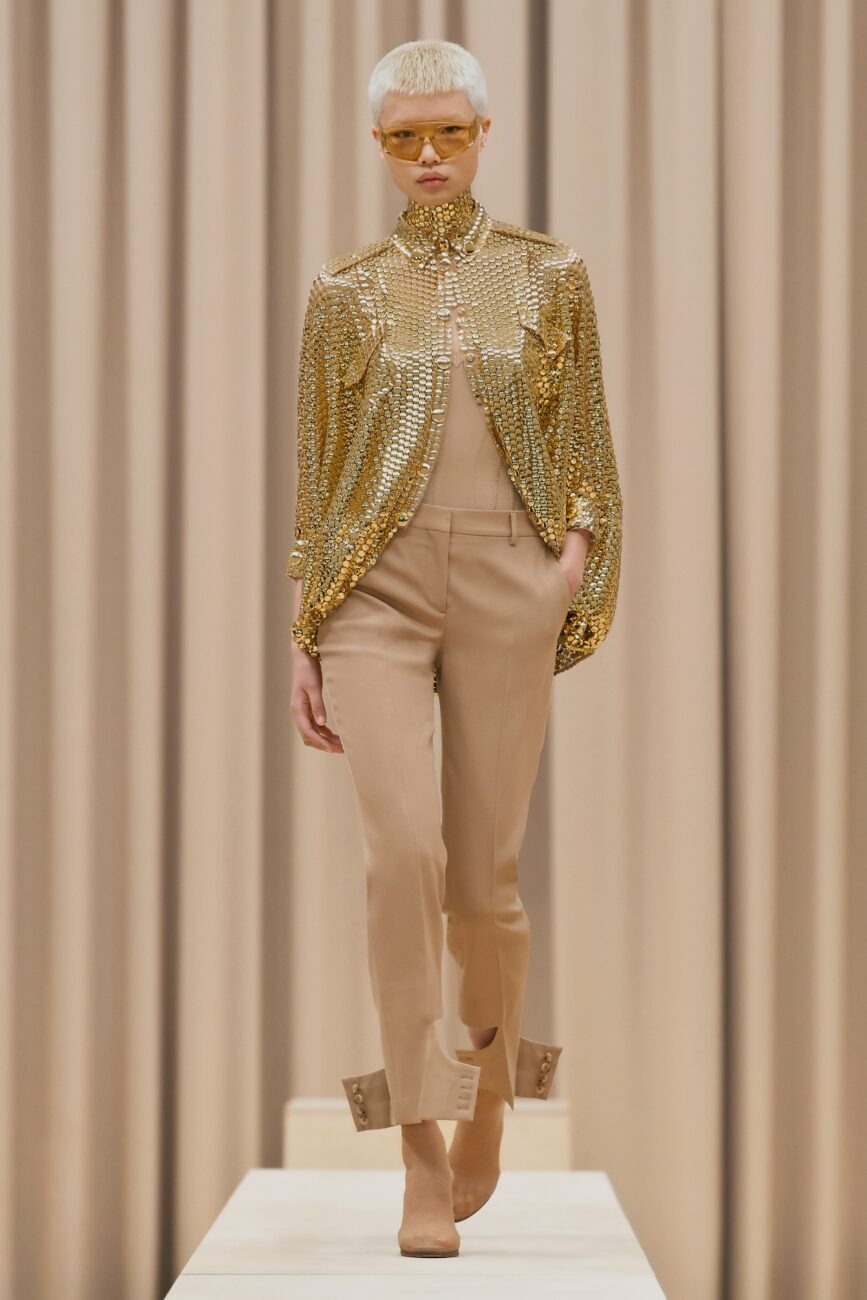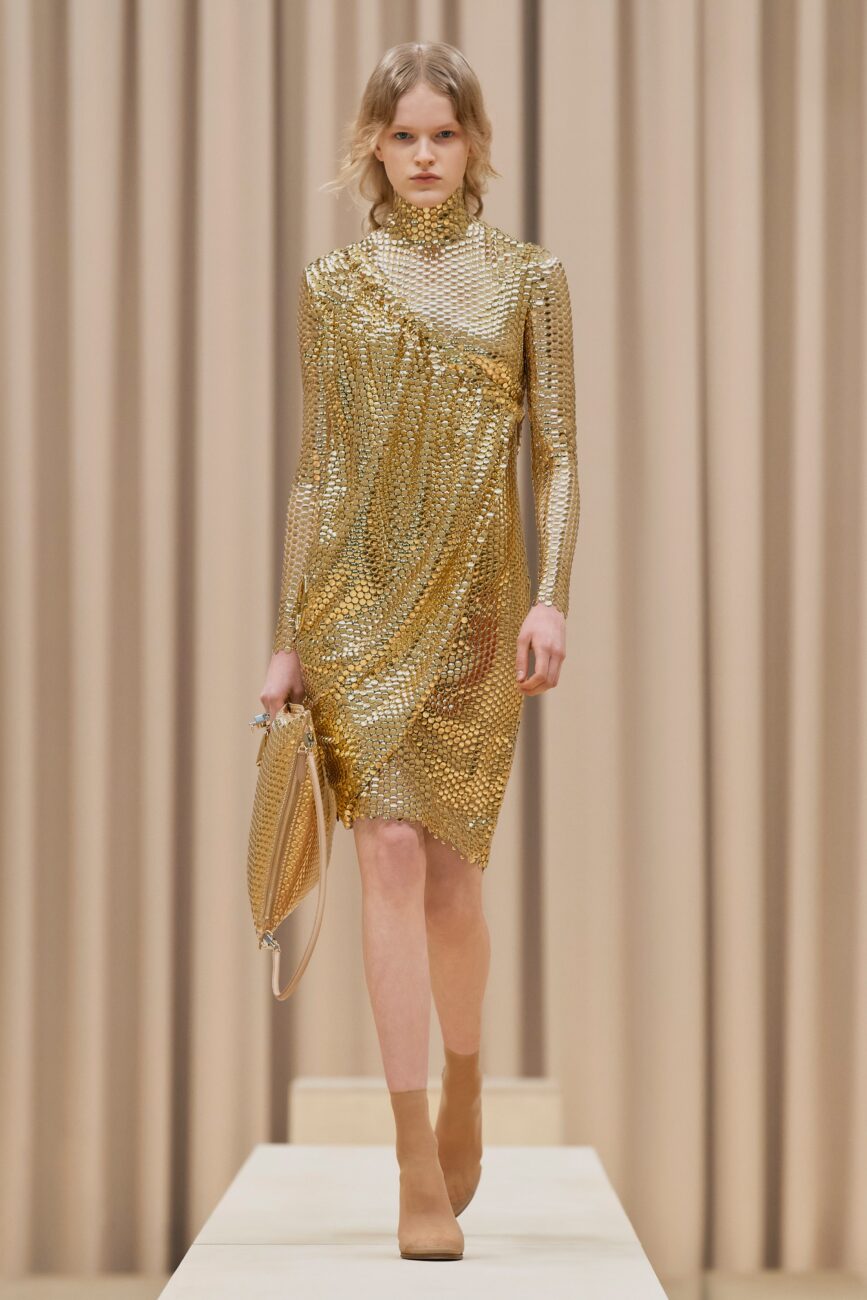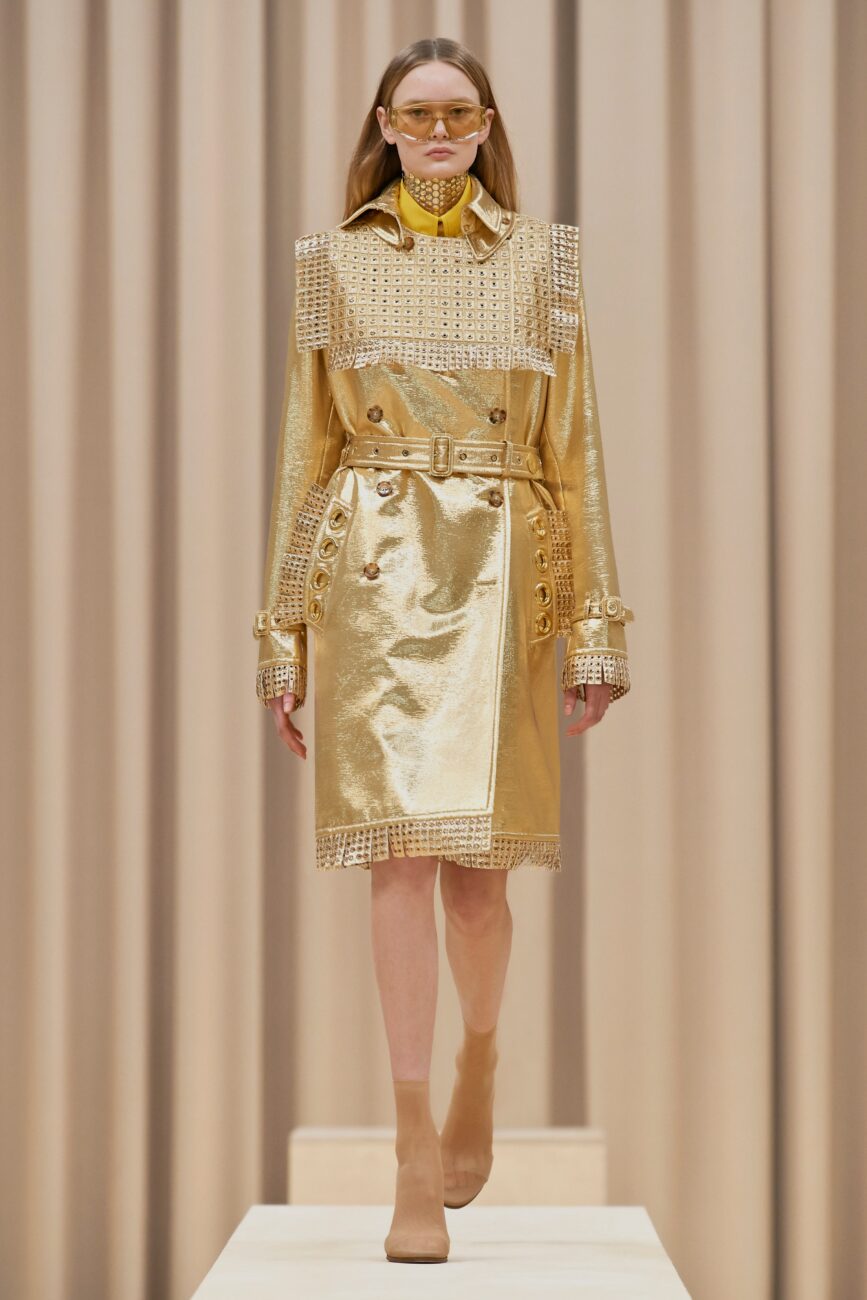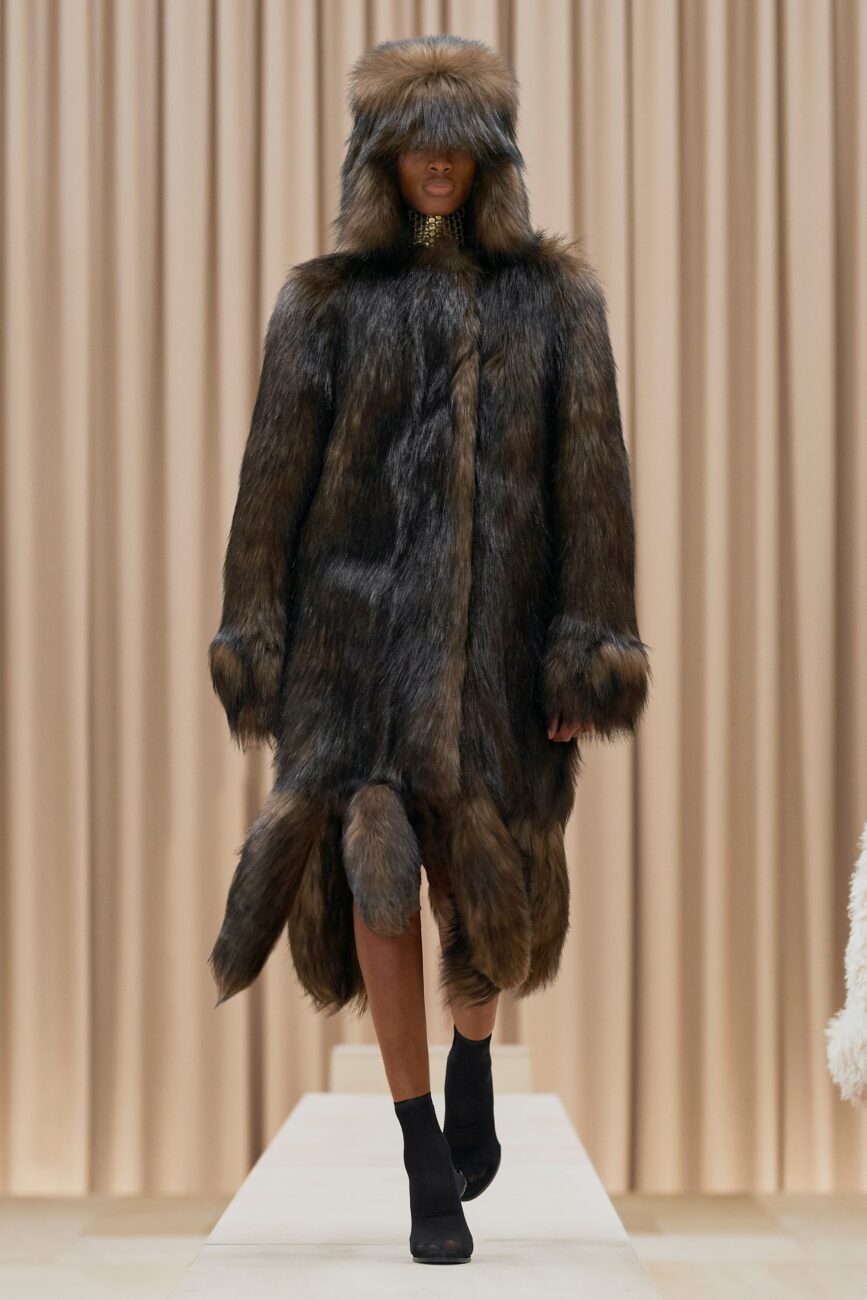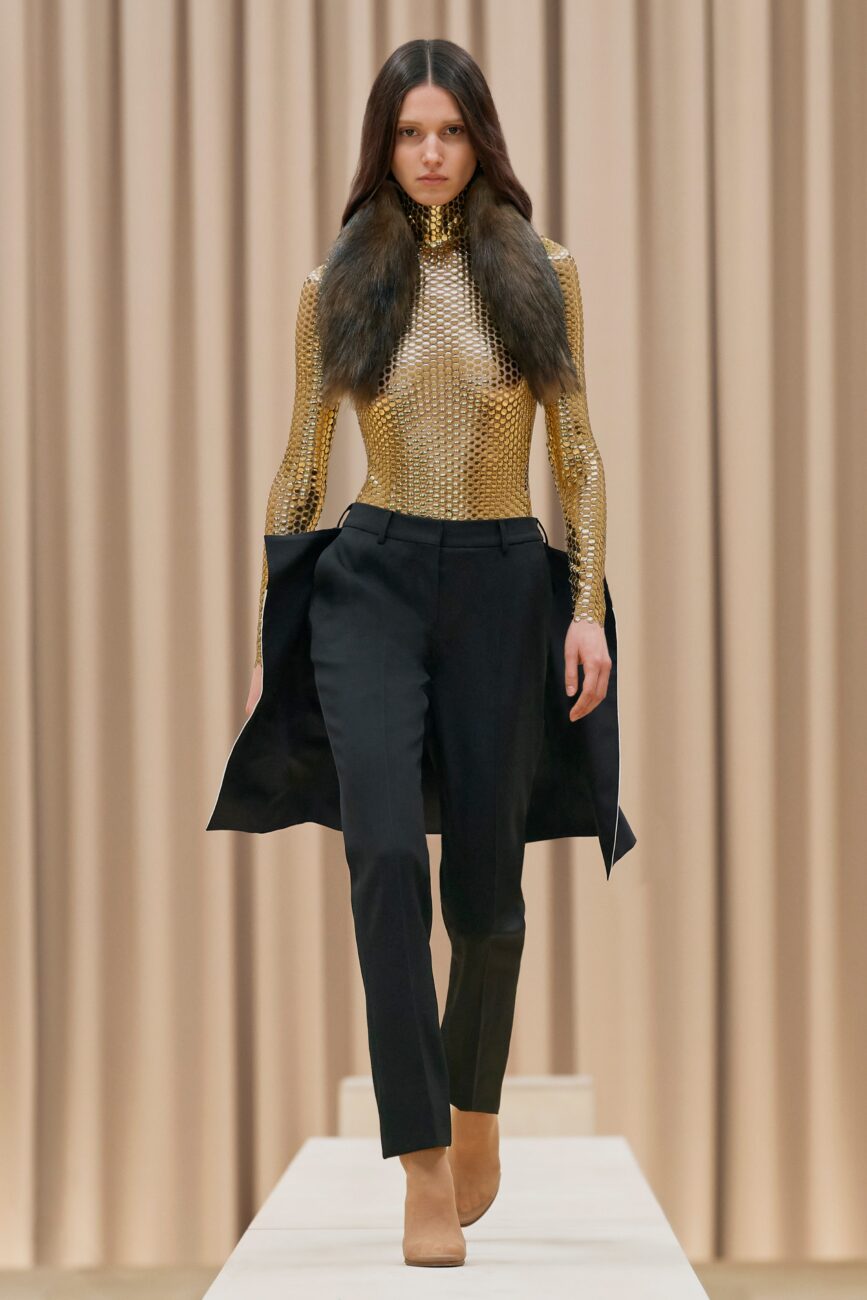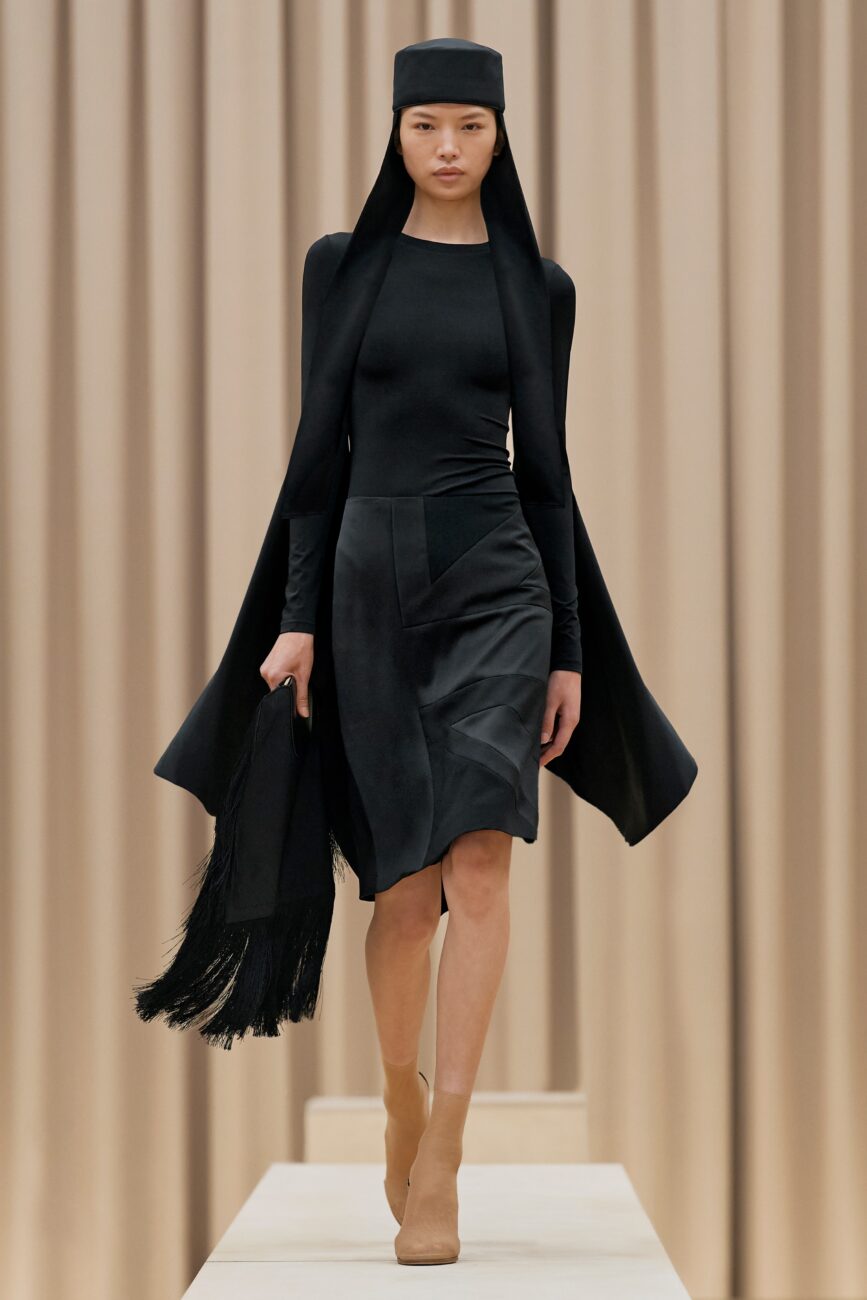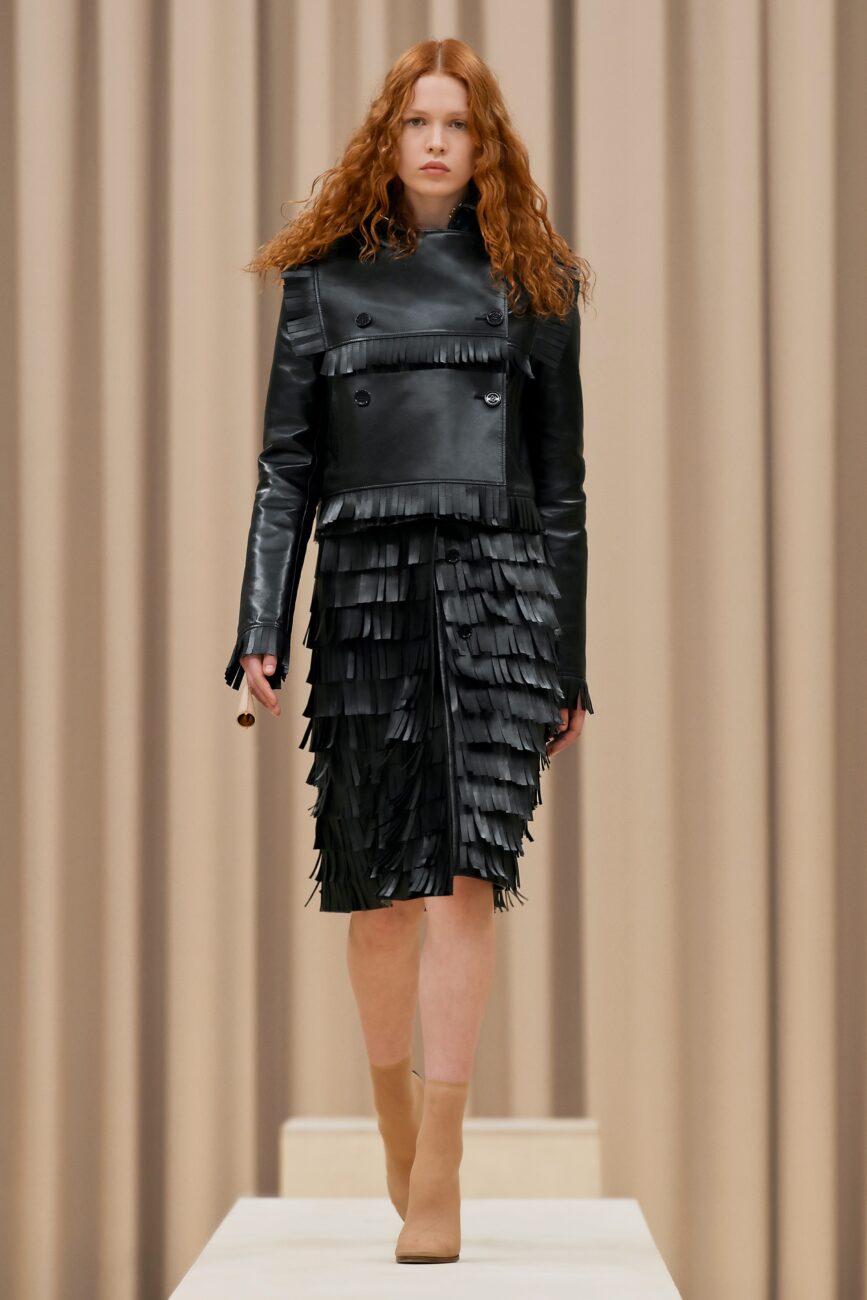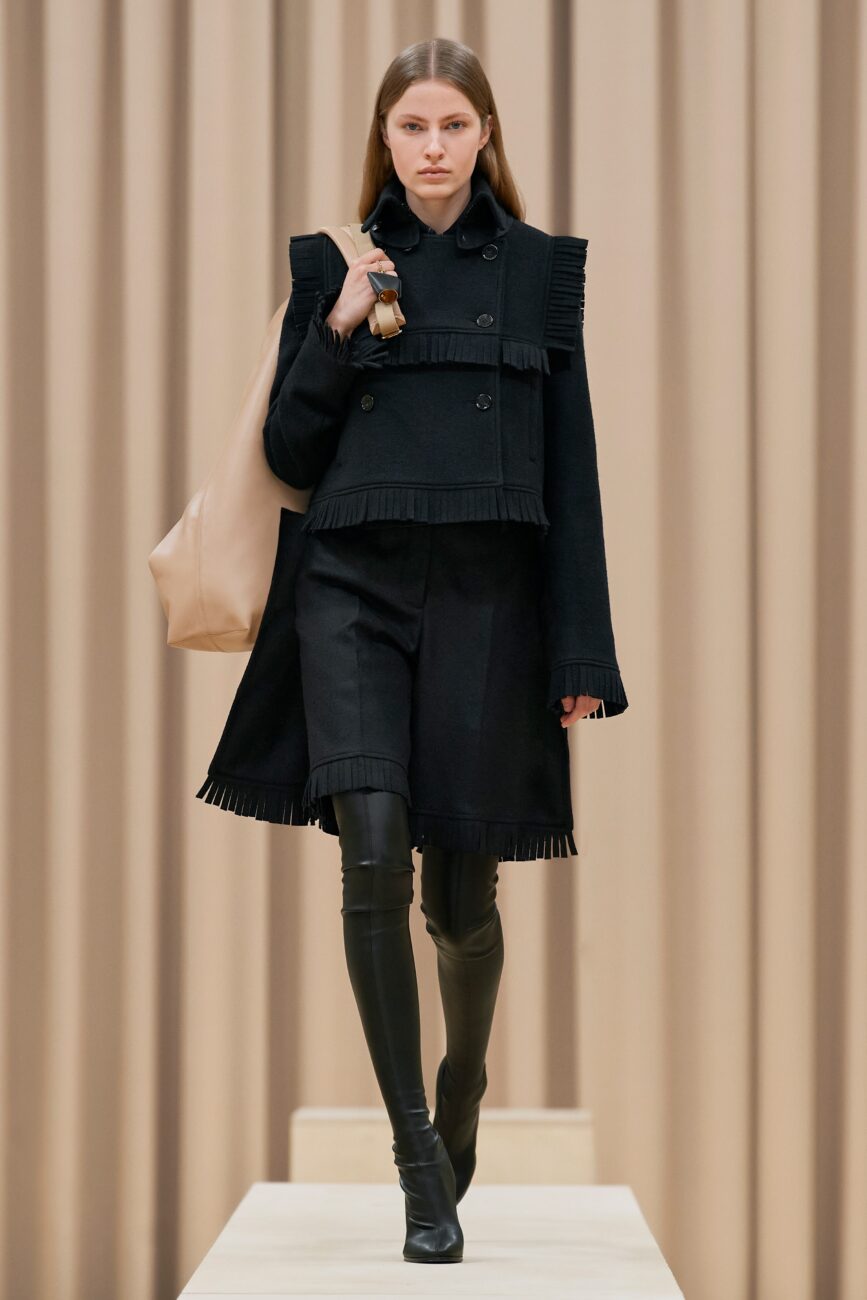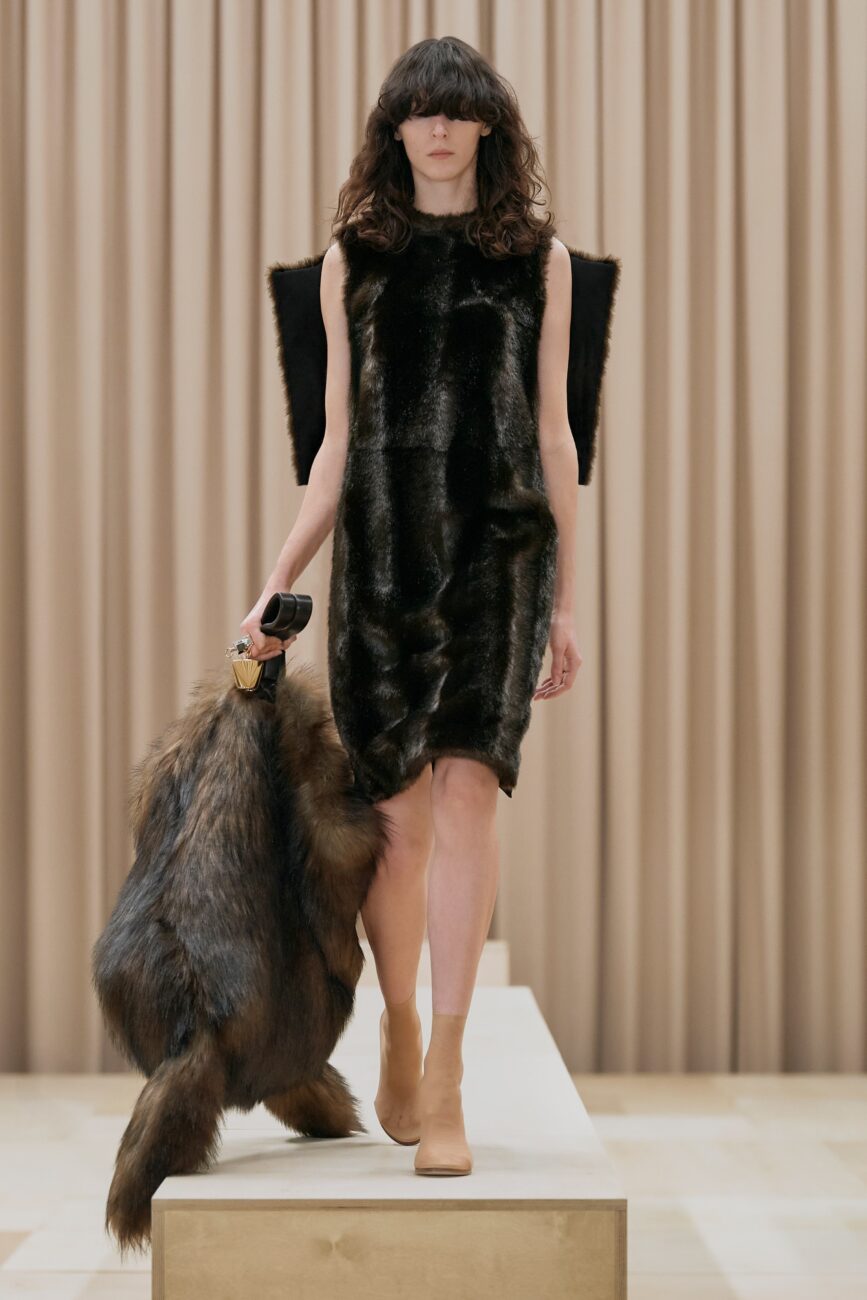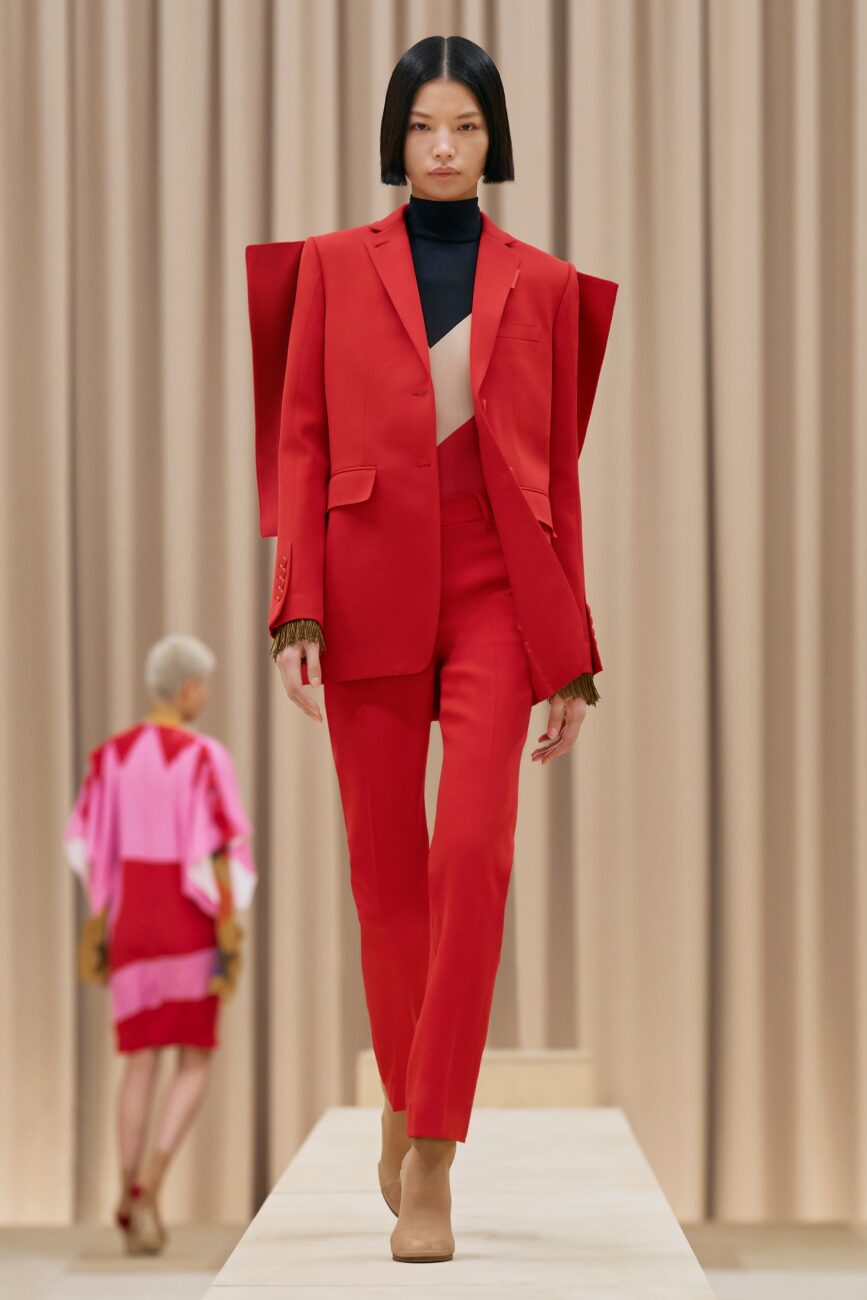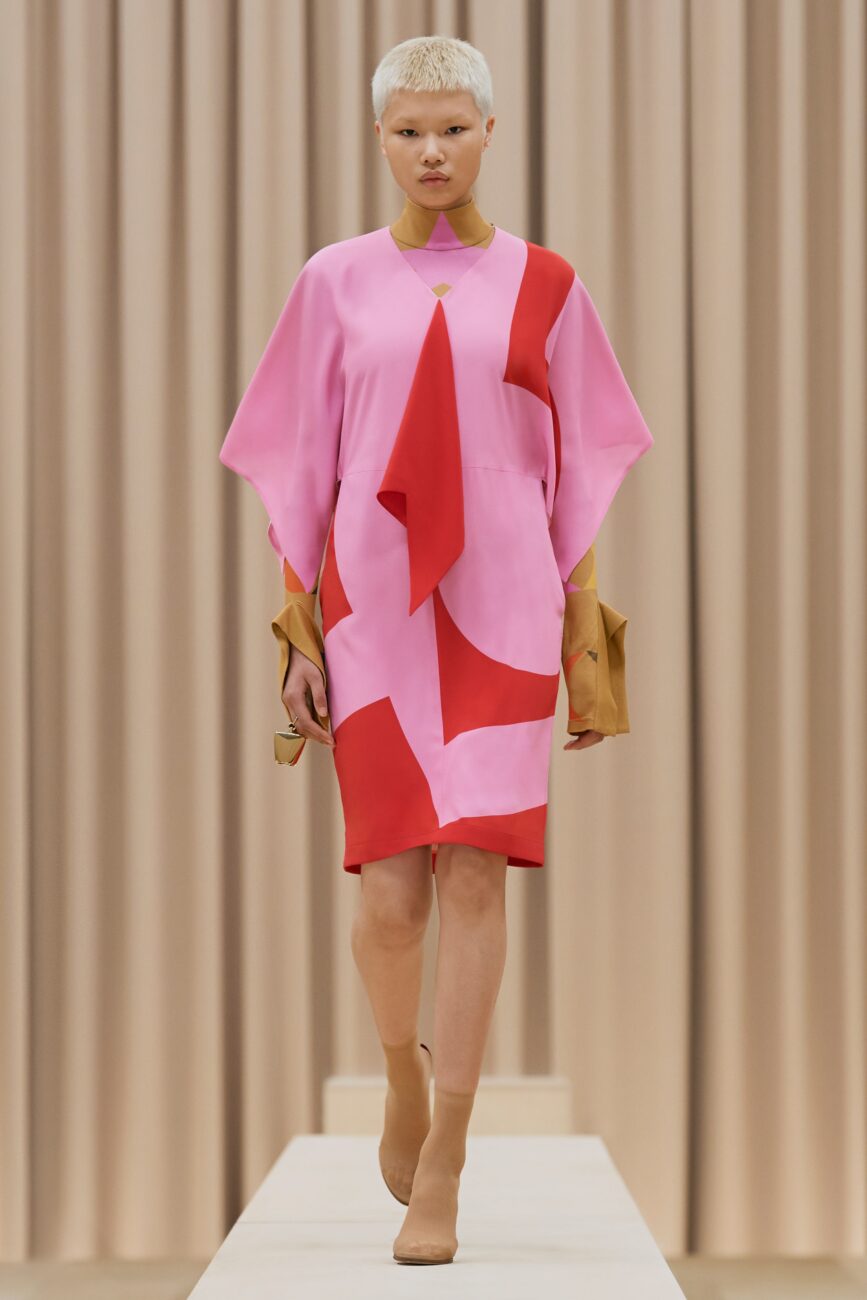 Burberry Look 9. Courtesy of Vogue Runway
Burberry look 10. Courtesy of Vogue Runway
Burberry look 11. Courtesy of Vogue Runway
Burberry look 21. Courtesy of Vogue Runway
Burberry look 23. Courtesy of Vogue Runway
Burberry look 45. Courtesy of Vogue Runway
Burberry look 14. Courtesy of Vogue Runway
Burberry look 15. Courtesy of Vogue Runway
Burberry look 19. Courtesy of Vogue Runway
Burberry look 26. Courtesy of Vogue Runway
Burberry look 27. Courtesy of Vogue Runway