Burberry presented its September 2017 collection, for men and women at its new London show venue, Old Sessions House in Clerkenwell.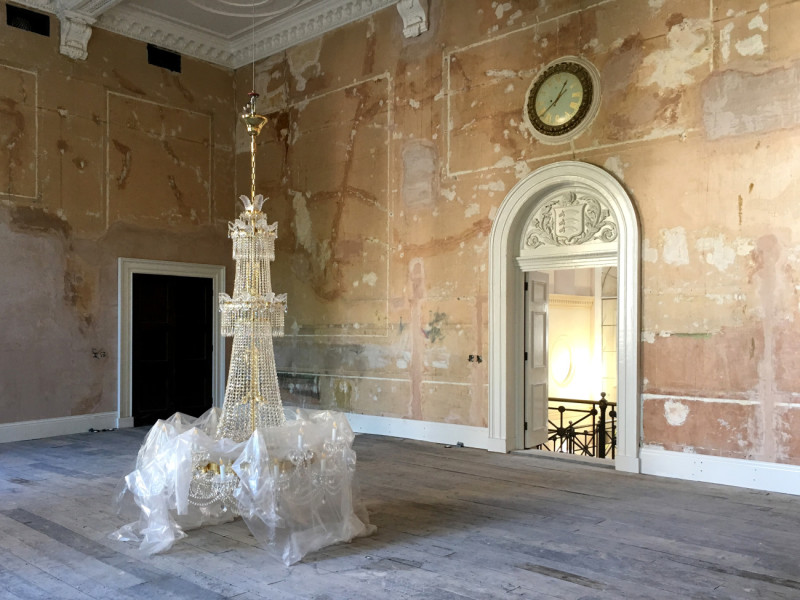 The collection is available for immediate purchase globally, see-now buy-now.
There was an unmistakable British spirit. That traditional Burberry check made a comeback on oversize bags, the turned-up cuffs of long gabardine coats and baseball caps.
Bailey said he wanted there to be a certain "rawness" to the collection, and said he was inspired by the pictures, and in particular the "working class, gritty, Northern images." He wanted to make sure he got the balance right, too. "I like the grandeur. This building, I think, represents what we are trying to say in the collection, there's a little bit of grandeur, but also something that's a bit broken down with age."
The collection was unveiled across two floors of the magnificent old courthouse, which opened its doors for the first time tonight since its restoration. Guests were seated on an eclectic selection of furniture from garden seating to bus shelter benches throughout the space, with walls left bare to show the history of the almost 250-year old building.
Models who walked the show included Adwoa Aboah, Elfie Reigate, Hebe Flury, Dilone, Kiki Willems, Jean Campbell, Olympia Campbell, Toni Bagley, Jonas Gloer, Montell Martin, Xavier Hickman, and Kaia Gerber, Presley Gerber, who presented the collection to a soundtrack by Pet Shop Boys.
Attending the Burberry show big celebrities such as Cara Delevingne, Phoebe Waller-Bridge, Jourdan Dunn, Iris Law, Selah Marley, Naomi Campbell, Kate Moss, Stormzy, Maya Jama, Kris Wu, Zhou Dong Yu, Hayett McCarthy, HOONY, MINO, Koharu Sugawara, Glenda Jackson, Loyle Carner, Olivia Cooke, Raffey Cassidy, Bel Powley, Juergen Teller, Blondey McCoy, Billy Gilmour, Julie Adenuga, Jordan Vickors, Paul Hameline, Lennon Gallagher, Levi Dylan, Cleo Wade, Leo Mandella, Kelvin Bueno, Kurumi Emond, Wendy Yu, Serenay Sarikaya, and Tom Emmerson.
The co-curators of the exhibition Lucy Kumara Moore and Alasdair McLellan, were also in attendance as well as 'Here We Are' exhibitors Gosha Rubchinskiy, Dafydd Jones, Brian Griffin, Homer Sykes, Daniel Meadows and Charlie Phillips.