OUR #14 ISSUE COLLECTS A VERY SPECIAL GUCCI'S EDITORIAL: THE ARCHITECT SARA SALVEMINI TURNS A FASHION STORY IN A WORK OF ART, ALSO TRANSFORMING A JOURNALIST IN A MODEL…
WE ARE HEROES. Our Issue 14 is about individual and collective power we've acquired through decades of sociocultural changes…
In a typical grey, cold morning of Milanese winter, Sara Salvemini left her architecture studio driving her car full of Gucci's treasures: fur playsuits, long embroidered skirts, gold necklaces, hit-girl sneakers and a dozens of colorful bags. For one day she'd direct a fashion shoot in the Planetarium of Giardini Pubblici. In the passenger seat, me, which I'd put on hold an article about ta Londoner art exhibition, getting out the office ready to be a model. We were thrilled and didn't really know what to expect with these new costumes and superpowers.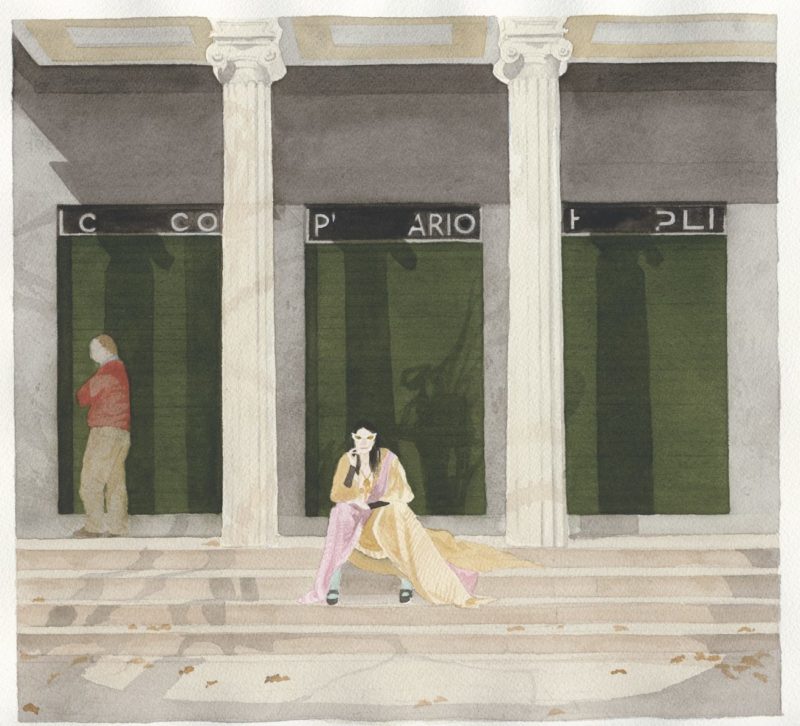 Sara: I'd never done a fashion shoot before. I had a lot of fun! I finally understood the role of all the backstage people, and the logistics. Choosing accurately clothes and accessories, which become precious tens and tens of pounds to carry carefully from one side of the city to the other, arranging the right schedule (making sure that the Milanese grayness won't play tricks), and then the inevitable hitches.
Fiammetta: Not to mention facing it all with a journalist in the guise of a model! Haha… I had always seen fashion as a world to observe, to capture in its consistent fluctuations and contradictions, a magnificent theater to write stories and criticisms about. I've never expected to go on the stage. It was truly electrifying. Modeling is not child's play. I almost risked bronchitis with outfit changes in the middle of Giardini Pubblici.
Sara: You handled it greatly. And then I wanted the poses not to be too constructed, let's say inspired by everyday life.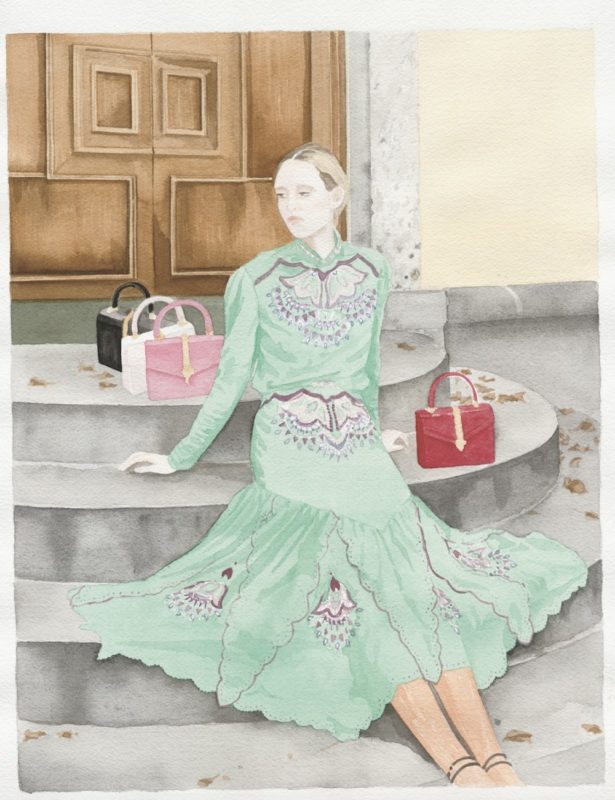 Fiammetta: While you, from an architect and a watercolorist, turned into a fashion photographer. Did you like it? Why did you choose the Planetarium as your setting? (Here my journalistic soul's already back on track)
Sara: I like it when watercolor or other painting techniques are associated with a photographic approach to the image. To me the blend of the two enriches the work a lot. So I tried to build a dialogue between the slightly retro bags and a historical architecture that expressed the high bourgeois taste like that of Piero Portaluppi. The Planetarium is a small pavilion inside the park, and it's perfect to be told in a few images. In addition, it's often surrounded by people who run, train, stretch on its marble stairs. And this original combination is fun and seemed very Gucci! Fashion and architecture have many aspects in common. Both propose situations, suggest behaviors, build imaginaries.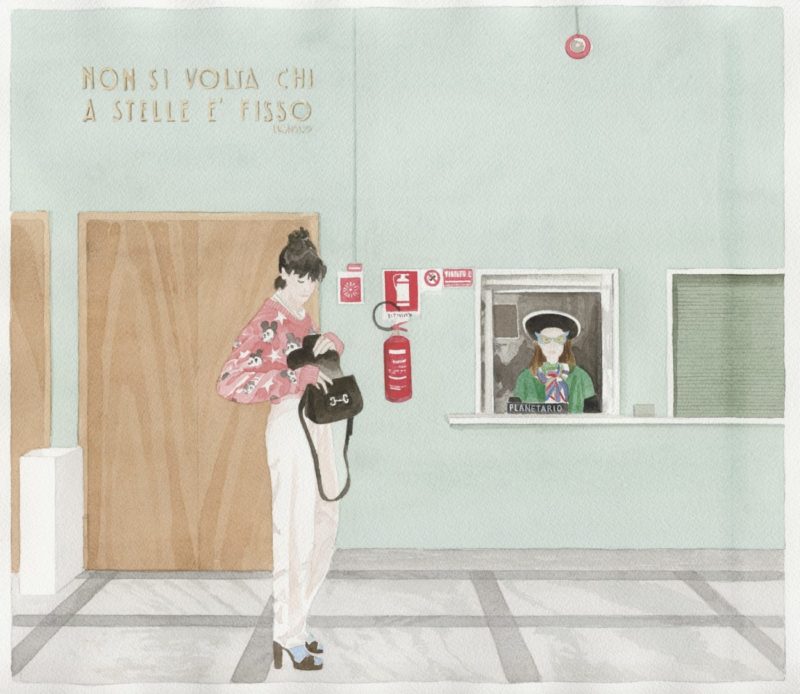 Fiammetta: Speaking of inevitable hitches, we risked a lot trying to shoot inside the Planetarium, we were close to being chased by the security…
Sara: Another occupational hazards we've discovered! But it's all material! I like it when in life weird situations come up, which I wouldn't have foreseen. And I like to represent reality as it happens, space as a stage of an uncontrolled scene. Especially here, in a job like this, where the composition of the image is in itself a very important aspect.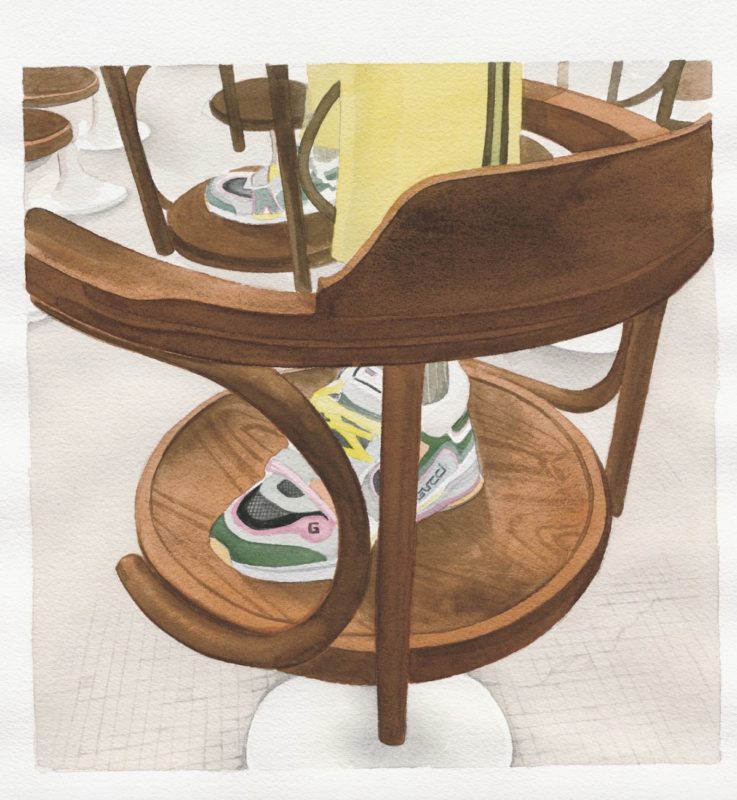 Fiammetta: To me the beauty of this editorial is just that. You've been able to create a work of art and at the same time make us desire the fashion object. The risk was to transform a shoot into something too abstract and oneiric, but instead the precision of your hand and your scrupulous architect's eye respected the details of each garment and accessory, framing them in an urban dimension, a bit dreamy, while still very concrete and linear.
Sara: I really like to paint some details. Not just of architecture. For example, fabrics, advertising posters, some technological objects. Sometimes this interest and this precision, which is also quite an obsession, takes over. Especially in portraits, the context is fundamental and most of the time it identifies with the place, yet sometimes some details such as a scarf, a coat, a pair of glasses are enough to tell about it. A leather shoulder bag or a small hand-held one already say a lot about the moment you are living!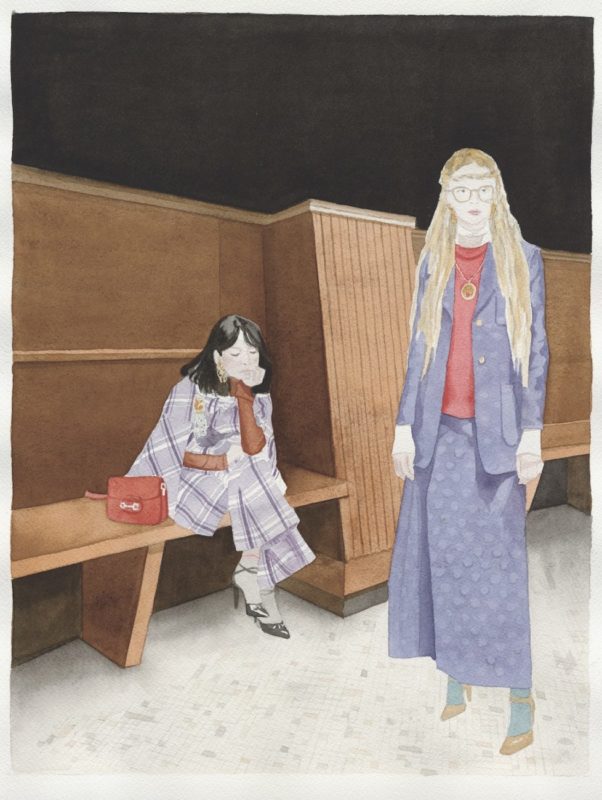 Fiammetta: How did your passion for watercolor begin?
Sara: The passion for drawing and painting has been there since forever. In my life it has always found its space, even and especially when I seemed to be moving in different directions. The watercolor arrived timidly, because it takes up little space and time. All you need is a table and a free evening! I received as a gift a Windsor and Newton box which is still the one I use, replacing only the tubes.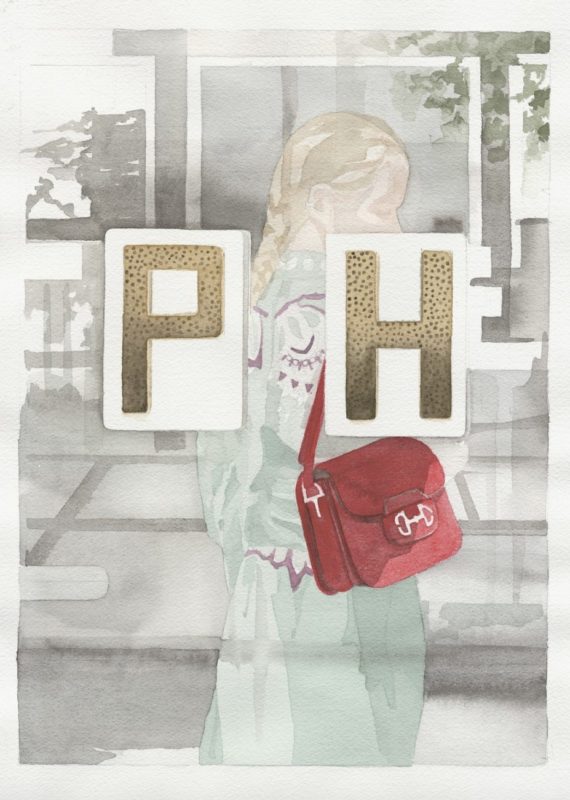 Fiammetta: Your fantastic tubes've made a spell as a fashion fairy godmother. For one day we abandoned our common guise, as architect and journalist, to become (until the fateful 12pm strikes – afterwards the light in the park would have been unsuitable) artist and model. And not only. The magic of this "ball" in fact has changed the very rules of the photo shoot. The creative process, that led to the birth of your watercolors, dominated the editorial's technical aspects: traditional roles united and instinctively overlapped. You've been an artist, but also a photographer and producer, me a model but also a stylist. Did you expect that?
Sara: By reshuffling the cards, the route is no longer up to speed and became surprisingly discontinuous. In a creative process I believe it's always positive and allows you to experiment more.