LINDSEY WIXSON IS ONE OF OUR STUNNING COVER GIRLS OF COLLECTIBLE DRY VOL. 15: A PORCELAIN DOLL HIDES STRONG PERSONALITY AND SKILLFUL HANDS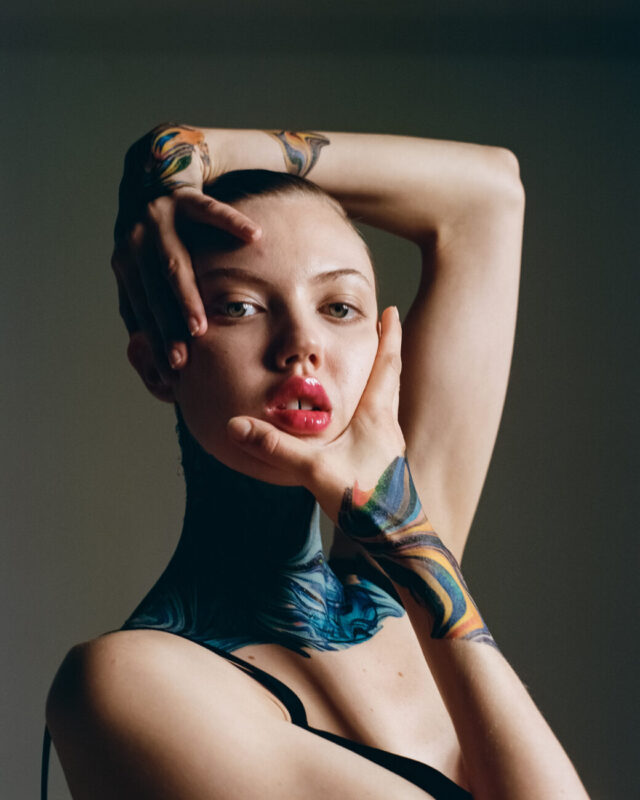 Photography Elina Kechicheva @TalentandPartner
Fashion Editor Woo Lee
Hair Werner Amort @JulianWatsonAgency
Make Up Lili Choi @CallisteAgency
Model Lindsey Wixson @DManagement Group
Photo Assistant Maya Zardi
Fashion Assistant Fabrizio Lorenzi
Interview by Fiammetta Cesana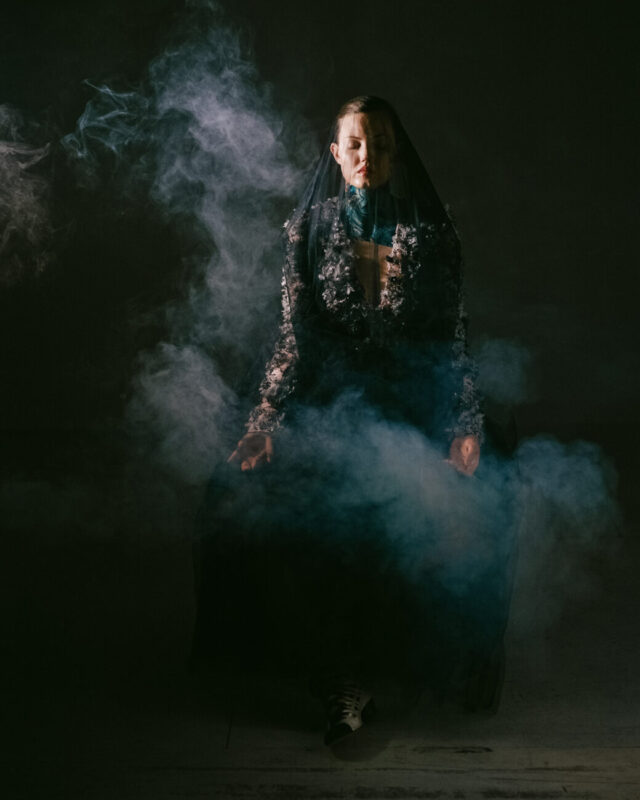 Powder pink jacket in organza embroidered with flowers and feathered butterflies, black skirt in silk tulle, beige and white shoes in velvet and patent leather Chanel Haute Couture
Fiammetta Cesana: Dear Lindsey, it'll soon be your birthday! How does a top model celebrate her marvellous 26th?
Lindsey Wixson: I'll be heading to Kansas to plant 18 trees and 6 bushes. Learning from an arborist how to plant and care for them! I'm so excited to finally be working on the hardscaping, which sets the backbone for a landscape around my house I built back in 2014. That sounds great! So you're a nature lover! Do you believe in sustainable fashion? I feel like sustainability in my life was really inspired by my peers back home. I want to use products that are going to allow me to reduce my waste. I saw the devastating amounts of plastics in the ocean during my time surfing with Derek in the Pacific and cleaning beaches during my honeymoon this past June in Croatia. I couldn't think of a more pressing matter in my lifetime! Turn off the faucet of waste before it's too late. Sustain your life! In a fashion sense I have been archiving my clothing from being paid with clothes in the early days of modelling by some of the biggest designers (Marc Jacobs, Anna Sui, Ruffian, Philip Lim, Chanel). Reusing clothes can make a huge difference and even now I'm using my own vintage!
FC: You started your successful career when you were only a teenager, looking stunning through the lens of the great Steven Meisel. If you went back, would you change any part of your past in the fashion world? Now that brands want to express a more conscious and inclusive attitude, would you advise a young aspiring model to undertake this profession when she's bit "older", or not?
LW: For those starting young in the business now it's a different time in the industry than it was in 2010. However I wouldn't hold back anyone as passionate as I was at 15. It was also situationally important, since I had to provide for my family. I was strongly supported and it enabled me to pursue my dreams as I had expressed and planned my career as soon as I turned 12.
FC: Despite your passion, three years ago you surprised your worldwide fan community by announcing you were going to quit the fashion system because of health issues, and were ready to start a designer line of sculptures. What happened?
LW: Yes, in 2017 I took a step back because of the partially torn ligaments in my largest metatarsal and I also suffered cartilage erosion in the ball of the foot. I soldiered on for a long time before finally not being able to walk at a fashion show but walking anyways during the second show. I had been given a size and a half smaller, a 38.5 in French size while I'm a 40. I was dancing the day before for a photo shoot. I thought it would be my last opportunity to walk on the runway. I was crushed mentally and tried a life outside of modelling.
FC: You still don't wear heels higher than 7 cm. Does it hinder you in your work?
LW: I may never wear heels, if my body can't stand it, because my metatarsal also has a touch of arthritis. So it really isn't a problem if I just say no if they don't get it or understand my disability. I feel fulfilled in my modelling career. I've been making an exception while sometimes it feels fine and at others it hurts.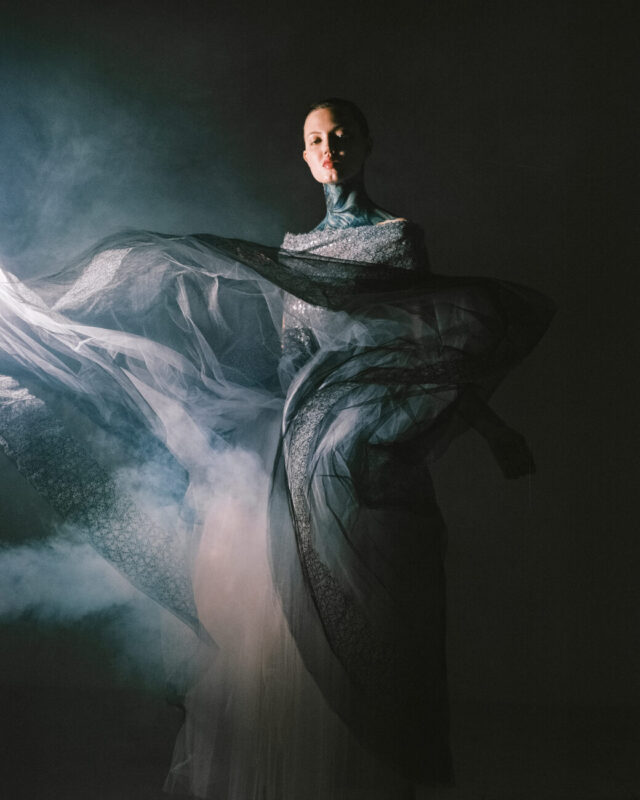 Black and white dress in lace and silk tulle embroidered with flowers and embellished with jewelled buttons Chanel Haute Couture
FC: Alongside your courageous return to the scene, you're still pursuing the project of Wixson design, building furniture and creating beautiful earthenware and clay cups and vases. Have you always had this artistic ability?
LW: I've been doing art with my family for as long as I can remember. My dad is an acoustic guitarist. My sister a hyper-realist portrait painter and works best in water colours! I enjoy sculpting wax with a dremel and making fixtures such as door pulls. I like anything Wabi-sabi! Contemporary! I had to give up doing pottery for several years. I moved to Seattle and tried to do pottery from a boyfriend's father's garage. I was still amateur in my skills set as I hadn't practised for long – just 12 days! So when I moved back to Kansas after the relationship inevitably ended, I hadn't done pottery since 2017. In 2016-2019, I did a commission on designing my own bed frame, working with the skills of hand carver and master carpenter Derek Mabra out of Los Angeles. I also designed everything inside my house. Kitchen cabinets, bathroom vanities with Nick Belak out of Lenexa, KS. I do many things and most of them come from a firm belief in doing things the right way the first time. I've learned a lot in this process. I enjoy meeting craftsmen and working together! You've the sweetest doll face with strong skilful hands.
For the full interview and fashion story, find your copy of Collectible DRY Vol. 15 'Psychedelia':
Collectible DRY – BUY NOW AND SUBSCRIBE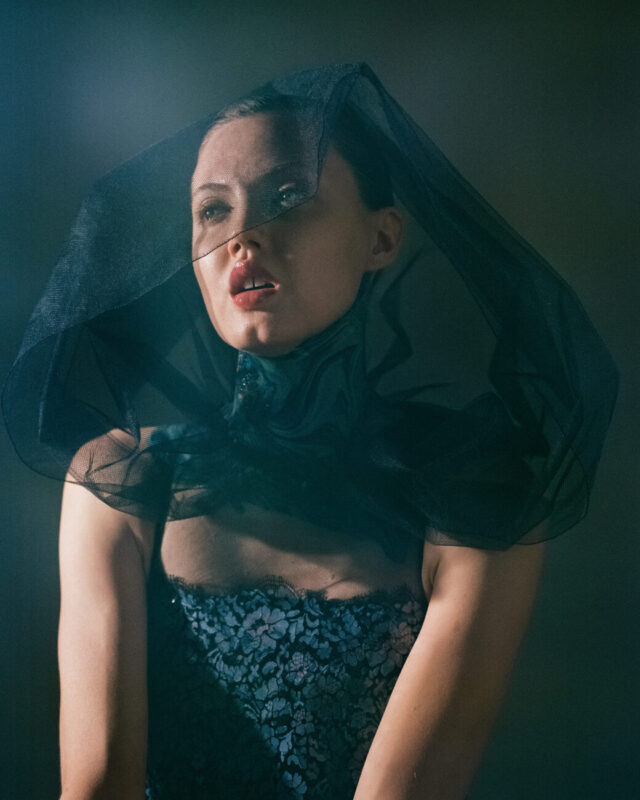 Long black dress in tulle covered on head, bustier dress in lace embellished with silver blue and pale pink flowers Chanel Haute Couture
Cover image: Black and white striped dress in embroidered fabric and silk tulle Chanel Haute Couture
Film Director @dino.zoor by @catturaproduction
Producer Federico Morgantini