OUR COVER STAR AND PHOTOGRAPHER NADIA LEE COHEN FOR COLLECTIBLE DRY VOL. 15 TELLS US ABOUT HER GLOSSY, HYPERREAL AESTHETIC VISION – WATCH THE VIDEO!
Photography Nadia Lee Cohen & Charlie Denis
Fashion Editor Rebecca Ramsey
Hair Jake Gallagher
Make Up Lilly Keys
Producer Virgin Soil Pictures & DMB represents
Production Assistant Lilia Gabbro
Photo Assistant Aaron Sinclair
Make Up Assistant Koah Arellanes
Beauty Text Editor Sandra Bardin
Interview by Riccardo Slavik
Film directed by Nadia Lee Cohen and Charlie Denis
When you enter the saturated world of Nadia Lee Cohen's work you fall into a magical rabbit hole of cinematic and photographic influences, a lynchian suburbia suffused with bemusement and irony, where John Waters' pink flamingos meets the photography of martin parr and man ray. The British creator's stylish images are like stills from movies without beginning or end, leaving the viewer free to fill the blanks in a mysterious, unfinished, script, her videos are as meticulously planned and visually stunning as her images and manage somehow to remain as open to interpretation. Whether she's shooting Sophia Loren in a commercial for CGDS x Barilla or past playmates for Playboy magazine her glossy and twisted vision is unmistakable and arresting. We chatted with her about her work, inspirations and the shoot she created for DRY.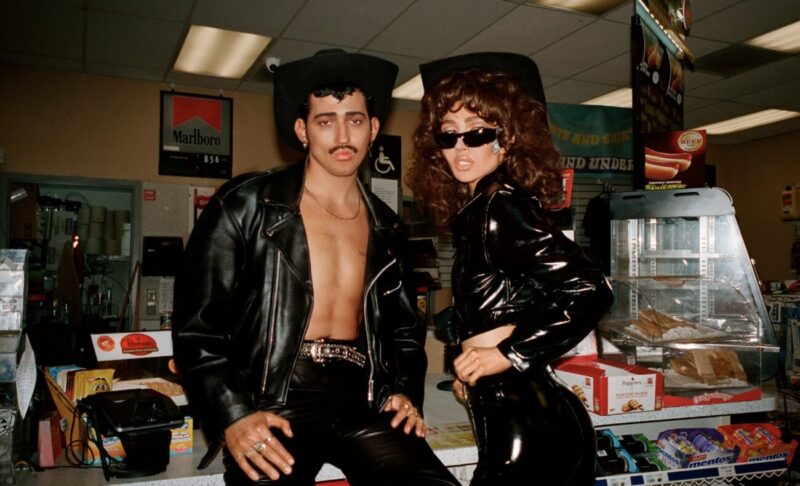 Charlie – His own jacket, Leather pants Comme des Garçons Belt Palace Costume Vintage hat
Nadia – Black vinyl jacket and pants L.A. Roxx Hat Stetson Sunglasses from the gas station
A postcard from L.A. between Eighties reminiscences and the suggestion of an exhibited, voluptuous charm, proudly beyond the rules. Olfactory version of an unconventional aesthetic. Born in Roma, this is the new Valentino fragrance duo, already a symbol of the Aristopunk tribes reflected in the mood in between sumptuous High Fashion and street style provocations. In two versions: eau de parfum Born in Roma Donna, oriental floral electrified by a woody background; eau de parfum Born in Roma Uomo, aromatic-spicy with smoky notes and mineral salt. Rockstud design bottles: pink for her, black for him.


Charlie – Jeans and belt Versace Vintage red T-shirt and boots
Nadia – Denim jacket Philosophy by Lorenzo Serafini Stonewashed jeans Re-Hash
Charlie – Light blue tank and brown leather pants Salvatore Ferragamo
Your work has an arresting cinematic quality, like a still from a disturbing movie, what kind of movies and directors have influenced you growing up? Which movies have informed and shaped your point of view?
Nadia Lee Cohen: I was introduced to Stanley Kubrick at a relatively young age and my first time watching The Shining was a definite turning point in terms of shaping my taste. I was also heavily inspired by casting in trash movies like John Waters' Pink Flamingos and the writing in lower budget cinema like Harmony Korine's Gummo, or Larry Clark's Kids.
Your videos and photos are definitely Hyperreal – that is something which is artificially intensified, and forced to become more than it was when it existed in the real world. Is this a conscious artistic choice?
NLC: I don't overtly strive for this aesthetic, I do think it is a by-product of most of the art and cinema I am drawn to. I was heavily into surrealism in my early teens and discovered the artists from the surrealist movement such as René Magritte, Salvador Dalí, Man Ray, Lee Miller etc. Their work had the ability to encourage the viewer to linger a little longer, a quality I feel is shared with the Hyperreal.
You have mentioned that in the early 2000s you were obsessed by Paris Hilton and Donatella Versace, and recently you have shot cult personality Angelyne. Artistically speaking, who is your ideal woman? Would you say you have a fascination for the performative side of femininity, is that part of your artistic inspiration?
NLC: There is no ideal woman, but I have a definite fascination for a woman that pushes their femininity to the extreme.
For DRY you shot a story that is the quintessential American vision, the "road trip", with Charlie Denis. What was the creative process for this collaboration?
NLC: Charlie and I share a lot of the same visual inspirations and our styles merge really well together. We wanted to create a lo-fi style story based on a few of movies we love, Natural Born Killers, Drugstore Cowboy, Badlands, etc. LA was experiencing a bout of miserable weather which wasn't helping with our "American road trip" aesthetic. On the shoot day we drove 2.5 hours into the desert of Joshua Tree and Palm Springs in search for some sunshine but instead were met with just as much gloom as LA and bad news about the Covid lockdown. We had no choice but to embrace the situation and make the most of the shoot, incidentally the strange dark dystopian feel to the photographs almost has deeper representation of the uncertain time we are living in.
For the full interview and fashion story, find your copy of Collectible DRY Vol. 15 'Psychedelia':
Collectible DRY – BUY NOW AND SUBSCRIBE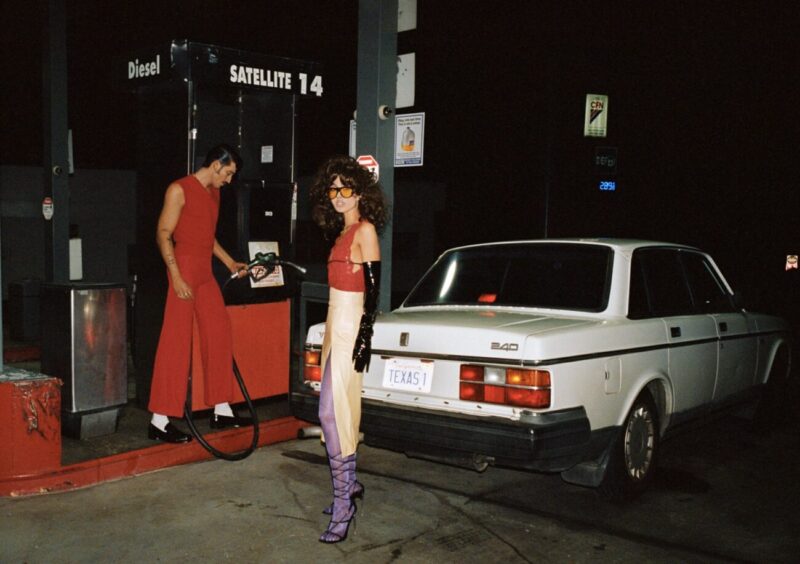 Charlie – Vest and pants Gucci Socks Fogal Loafers Salvatore Ferragamo
Nadia – Top, skirt and gloves Gucci Tights Falke Shoes Versace Vintage sunglasses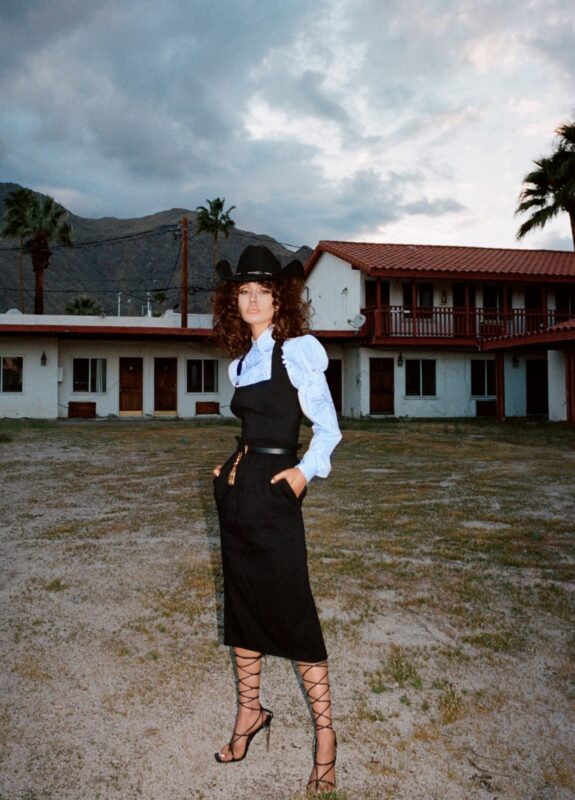 Shirt, black top and skirt, belt and shoes Versace Cowboy hat Stetson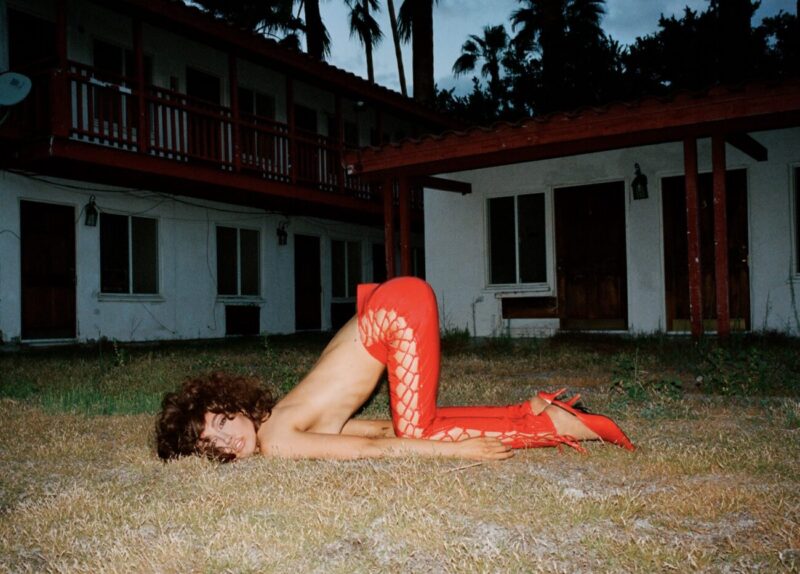 Red pants L.A. Roxx Shoes Dorateymur