ORANGE CULTURE'S ADEBAYO OKE-LAWAL IS THE NIGERIAN DESIGNER HONING FASHION THAT DANGLES ON THE EDGE OF MASCULINITY
Photography Travis Owen
Fashion Editor Gabrielle Kannemeyer
Interview by Chidozie Obasi
It's a landmark moment for Nigeria's creative scene and the young talents that drive it. As the globe sped into a rollercoaster of mishaps since the start of the new decade, counting a hot-headed pandemic and a full-on crisis with racism, society aches for a "new normal." Police brutality and racial injustice might sound like the past, but present incidents have proved the contrary. It's a time for changes, and it seems we, as a collective, are prepared to welcome a new era; rich in prosperity and wisdom, carving a whole new way for solidarity and freedom. As the lust for novelty roles into town, this is the soulpacked designer who is pushing an expressive flow onto fashion's front line.
"It was about saying that whatever society had called me to be wasn't who I wanted to be, and that's fine," Adebayo Oke-Lawal tells me, a gallant soul who felt crushed by the thumps of Africa's sociopolitical upheaval. "I love the fight that the creative scene has led over the years. We haven't had an easy feat, we haven't been given the backing of our government or leadership for eons, support in financial statuses, and to see how despite all we've built in industry is merely incredible," he rationalises. Fashion's connection with Africa hasn't always been the most reverential, given the fact it's often dictated by repressive means of appropriation and misconceptions, leading to a state of contingency amidst society. With good reason, Oke-Lawal is someone who wants to repress stereotypes and constraints through fashion, expressing personal narratives as a weapon against the hooligan beliefs he's battled against in the past. Founder of one of Africa's most popular brands emerged in the past decade, the designer holds a righteous vision that urges to "inspire social introspection, combat against injustice and express new narratives repurposing the implication of being a designer in Nigeria." Member of the Yoruba tribe, one of the Nigeria's leading cultural communities, the creative thrives inspiration from his culture intensified by an ethos that appeals to a generation of austere thinkers. But worthy of an even rowdier applause is his proclivity of creating a reality that holds an identity which speaks beyond words, proudly sitting on West Africa's valued fashion rankings. This creative crafts beautiful garments filled with a purpose. "We want to make clothes that everyone can connect to. We want people to see the clothes and feel something no matter the gender," he reflects. And if clothes could talk, according to Oke-Lawal's vision they would defy manhood's clichés and subvert conventions. Diligence and humility stand at the core, and his contemporary interpretation of social behaviours has been the catalyst of evolution, in a country that told him to "talk louder", "be stronger" and "act braver." Adebayo is a symbol of a generation of visionaries crafting fashion as a celebratory act against the shrewdness of the collective. Keen to find out more, we sat with the man himself to unpack culture, influences and plenty more. No doubt you'd somehow relate.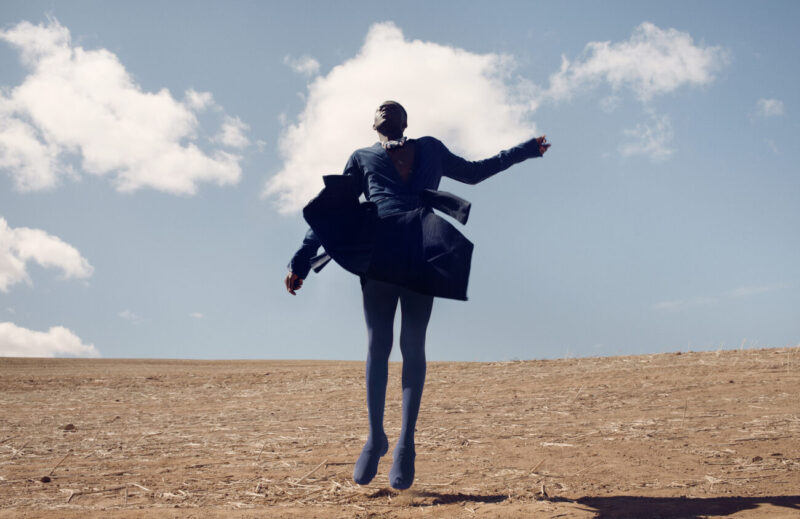 Chidozie Obasi: Glorious work, Adebayo. What's your earliest memory of fashion?
Adebayo Oke-Lawal: I remember when I was a kid, I used to be obsessed with reading Argos clothing shopping catalogue and I would try to recreate sketches of its clothing. I was so obsessed with how clothes looked and were captured, and I would try to redraw them on my sisters or mum. I loved fashion since I was about six, and I remember selling my designs to a store when I turned ten.
CO: In essence, do you believe your brand is an unapologetic rebellion of African's social stereotypes, in a way?
AO-L: To some extent, yes. I want to push against a stereotype that is somewhat diminishing, through brands like mine and many others speaking for themselves. Coming from a place that held on strongly to specific narrations of masculinity and stereotypes of how African fashion should be conveyed, my brand was and has always set the path for that opponent. Thankful though there's been a lot of progress and willingness to frankness in recent years.
CO: You're Yoruba. How do your traditions influence your style?
AO-L: My experiences growing up and our style of clothing. A lot of my pieces are cut outs of buba and iros, prints that are inspired by various Yoruba folktales.
For the full interview and fashion story, find your copy of Collectible DRY Vol. 15 'Psychedelia':
Collectible DRY – BUY NOW AND SUBSCRIBE