An interview with father and son duo Harvey and Zack, from the New York City iconic brand Moscot. They talk about their family's deeply rooted heritage in eyewear and eyecare and how they are crafting the future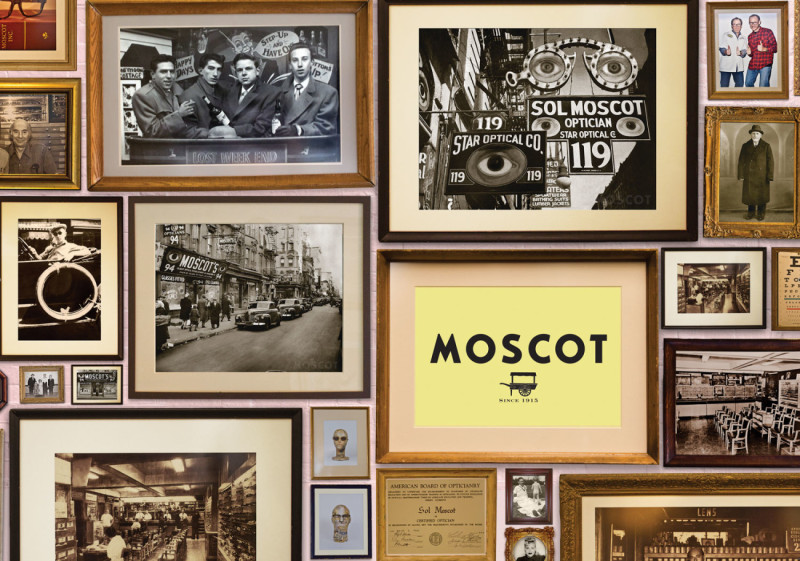 Text by: Marialena Evrenoglou
Moscot is a New York City institution renowned worldwide for its iconic eyewear – The Moscot Originals and Moscot Spirit Collections. Moscot infuses its unmistakably refined, downtown aesthetic with over 100 years of eyewear expertise and craftsmanship to create its timeless eyewear. While now recognized as a global fashion brand, Moscot remains, at heart, a neighborhood optical shop.
They say the Moscot brand is comprised of three core elements: history, fashion and humor. All three elements must always be present, and no single element may outshine the other two. It is the presence of these three elements that makes the Moscot brand unique and we found them interviewing Harvey and Zack Moscot, father and son, in a luxury fivestar hotel during their recent stay in Milan. They share the same open character, never losing sight of their past and where they came from, continuing to craft the future of the brand.
Dr. Harvey Moscot is the Fourth Generation CEO/President of Moscot. As a Magna Cum Laude graduate of Boston University and with a Doctor of Optometry degree with honors from The New England College of Optometry, his expertise spans across the eyewear and optical industry. Dr. Moscot has guided the evolution of the Moscot brand from a neighborhood optical shop to a global fashion eyewear brand, overseeing all aspects of the business from frame design to retail/brand management. He invented the trademarked phrase 'Classiconic' – a conflation of Classic and Iconic frames.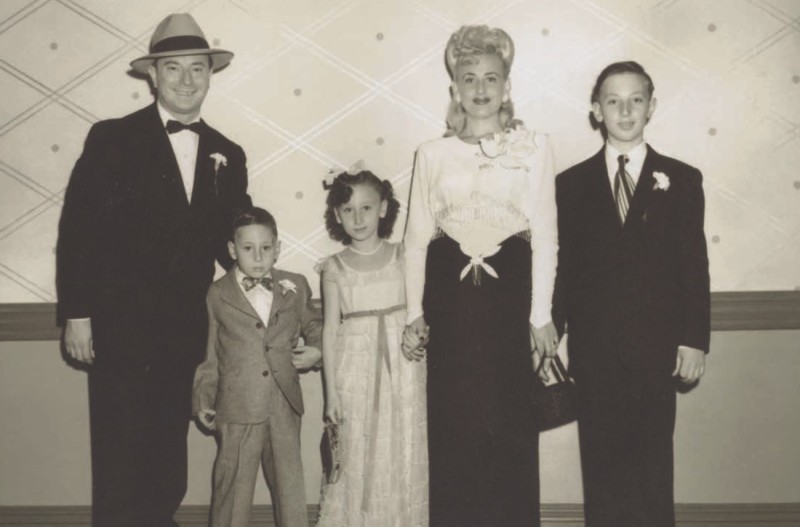 Zack Sol Moscot, named after his great grandpa Sol Moscot, is the creative fifth generation chief design officer. He's the visionary behind each new collection, inspired by his family's deeply rooted heritage in eyewear and eyecare.
Harvey and Zack here they alternate themselves in a conversation about history from generation past and how they are crafting the future. Inspired by his family's deeply rooted heritage in eyewear and eyecare, and motivated by the wealth of knowledge from generations past, Zachary is dedicated to the longevity of the MOSCOT brand. Never losing sight of his past and where he came from, Zachary continues to craft his future within the MOSCOT brand. He currently resides in New York City and loves to surround himself by other free spirits and creative individuals.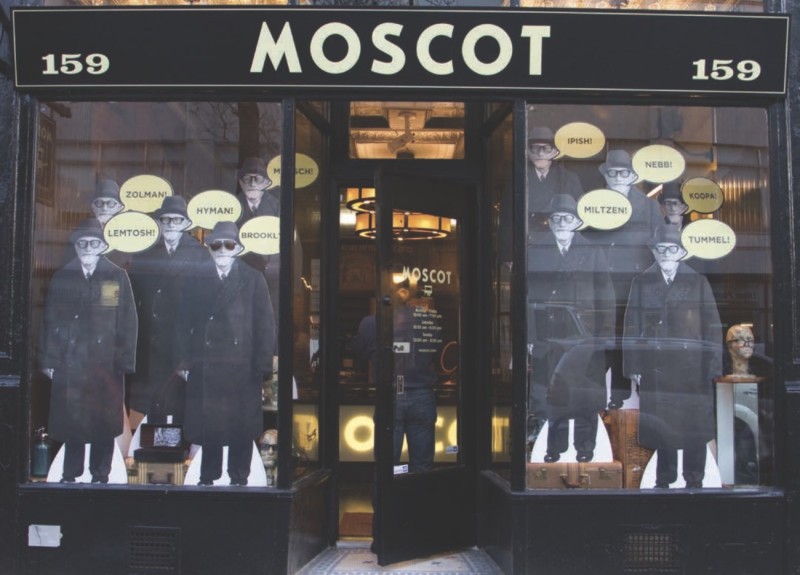 DRY: I was really curious to know where this collection came from. I know about a big heritage history behind your brand. You are more than 100 years old. Is this heritage important for your brand communication?
Harvey Moscot: We are 103 years old. Do we look ok for our age? 103 years old!! (laughter) You haven't seen my insides…!!!! It is a true story, a five – generational immigrant story, from Eastern Europe to New York City.
My great grandfather came in 1899, he was an optician from the old country and that's all he knew, how to make himself glasses. And he came to the Lower East side.
D: Your brand's name is your family name? And you kept it since the beginning for the whole time? It means that Moscot has always been managed by males…
HM: Yes. It started with my great grandfather and his son, my grandfather, my father and myself and my brother and now my son. You've asked the question about the importance of heritage to the brand identity, I think what makes it special is that it is a real story, an authentic story that we didn't make up and that we are just retelling to the rest of the World, our true story of our family's business.
D: Do you think that this is the appeal of your brand?
HM: I think that today there are so many things that are virtual and there are so many tech companies that create stories… This is a true story.
D: Is it a struggle to run a family business against those big companies? How can you succeed in competing with them?
HM: Today every designer just puts his name on a frame. We are true opticians and we understand the craft, what an eye glass frame means, how it should fit and we are steeped in optical history. I think that people appreciate our expertise in the industry. I'm an optometrist and really understand the product.
D: You are doctors?
HM: I am. Zack is a product designer, he is the designer of the collection.
D: The collection refers a lot to old designs…
Zack Moscot: We have a collection called Moscot Originals, they are original because they are authentic replications of the same frame that we have been selling in our shops for decades. They are true to the materials, to the glass mineral lenses, to the real rivets that we used, those core elements that we continued to reproduce from that collection.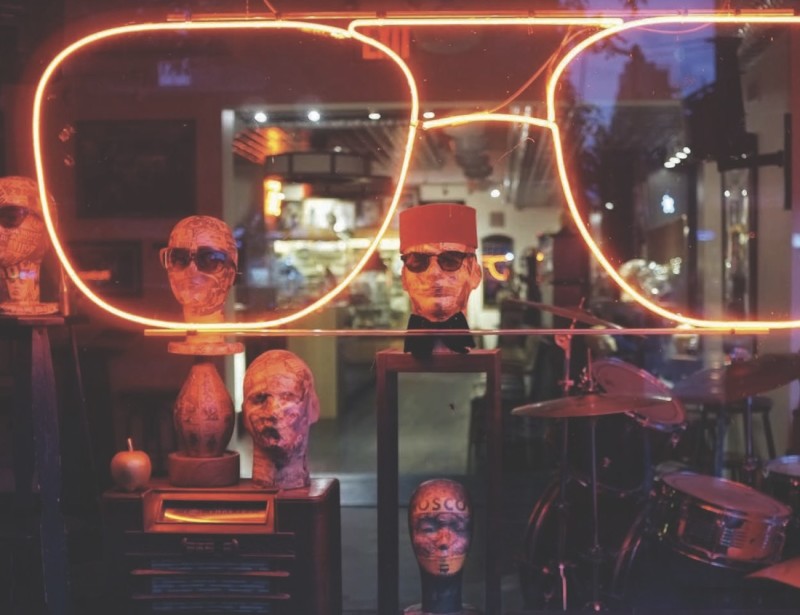 D: How do you mix the new technology with those old heritage materials?
ZM: We keep updating materials, we use new types of screws, we are always enhancing the quality of the frame with new technologies but staying true to the designs and shapes.
HM: For example in the new campaign there is an iteration of a Lemtosh frame which is our most popular style. Zack incorporated titanium temples which were not on the original design and changed this to gold wire core.
D: I was in fact very impressed about the materials that you use. They are very rich but at the same time so comfortable, so cozy and that's not easy, to have something luxurious that feels understated.
HM: Yes, we never put our logos on the outside, we have always been that kind of under the radar quietly cool brand and quality is never sacrificed, that's very important to us. We have always had shops in Manhattan so
we sold our frames to the costumers and we always felt that it was a simple formula: if you treat the costumer fairly and provide good quality and good service they'll tell other people about Moscot.
D: It was just something organic… But you also have a lot of VIPs wearing you brand, and resulted in a really cool brand.
HM: In the 1960s and 1970s the Lower East side was a very gritty, not a fancy or upscale, neighborhood. It was a neighborhood to all the artists, the musicians, the poets, the architects, the painters, the sculptors and they just came through our doors for optical services. And either before they were famous they just remained loyal to us because we treated them fairly, we treated them with respect and we are lucky to have them still to this day come to our shops.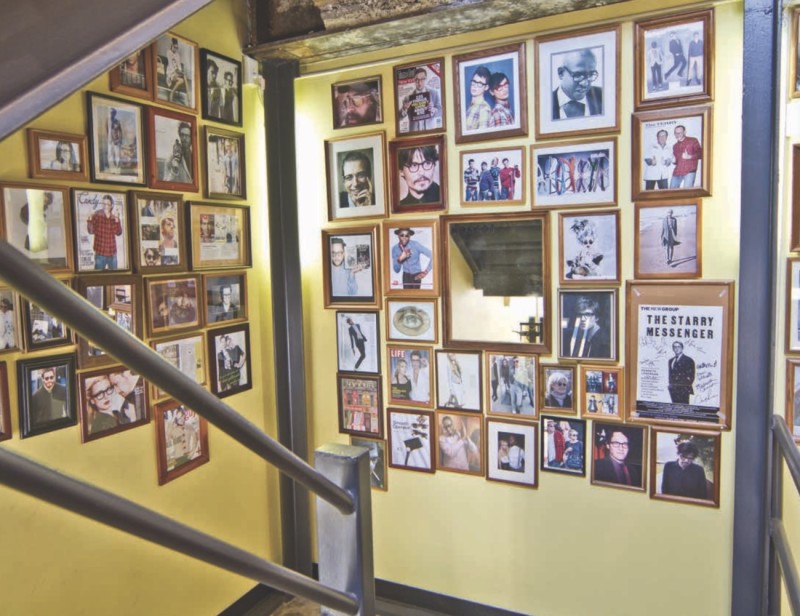 D: It's very important that you have these relationships with creative people for your history and your business…
HM: It's so true! There's something about the sensibility of an artist that we are attracted to. Most of our staff are artists or in the dramatic arts. Most of the people that work in our shops are artistic…
D: I read that you are an artist. Are you a singer?
HM: No, I love to play the guitar. I wish but I can't sing! That's why I'm an optometrist.
D: You have a band? What does it mean?
HM: We have a Moscot band! It means that I love to play guitar, the manager of our retail shop is a great guitar player, another sales woman is a great singer so every year at Halloween we play for the company.
D: And for the costumers too?
HM: We play for the costumers and we bring in other bands, that's how it started. Every three months we have a Moscot Music Event.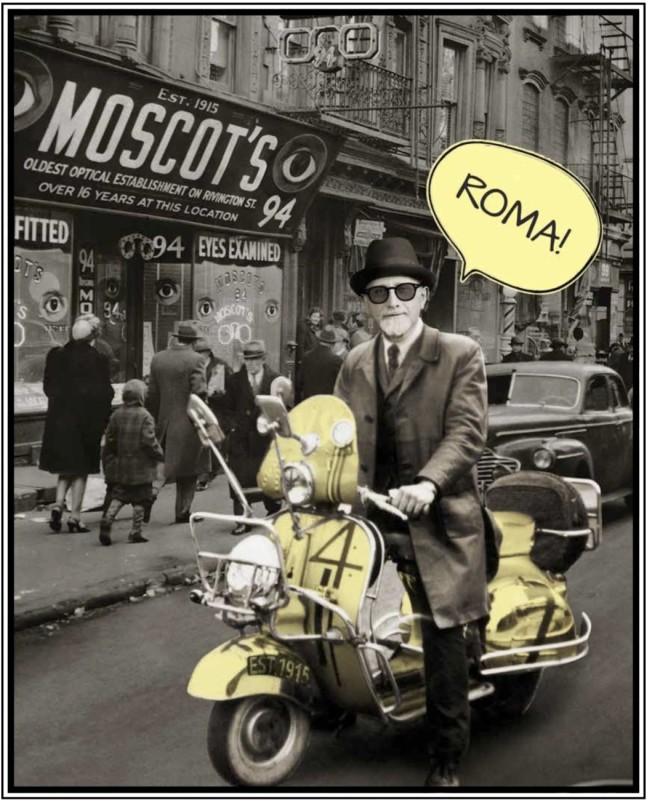 D: How many shops do you have?
HM: We have four shops in New York. Three in Manhattan, one in Brooklyn. We have a shop in London, we opened a shop recently in Rome and then we have a shop in Tokyo with our distributor and a shop in Korea. The ones in Asia are partnerships with our distributor and the ones in Europe and New York we own them.
D: How is it going in Rome? Do you like Rome?
HM: We love Rome. Rome evoked a lot of feelings that we had in the Lower East Side of Manhattan. There's a very big art community, there's a film community, there are museums. We found it more similar to downtown New York City. We love Milan too but we felt that Rome is more aligned to our roots. We'll see how it goes…
D: I think that Rome has always been an attractive city but now, maybe also because of the Pope it's attracting more and more people. Did you sell your frames to the Pope?
HM: Not yet! But since our new shop in Rome is so close to the Vatican, maybe we'll be honored with a visit.
D: You put together the optician knowledge to the design of the frames. You are very attentive to the quality…
HM: Yes, we are very attentive to the proper fit, dimensions and comfort and quality of the materials.
ZM: We are so concerned with having the right fit that we offer multiple sizes too, for a lot of our frames which is unique and very uncommon in our industry.
D: Do you customize frames for your clients?
HM: We can do specialized lens treatment. We do customized special frames only with certain collaborations, because to do a customized frame would be very expensive. We're a hand – made product and that would be challenging.
D: Do you feel that you are a fashion brand?
HM: Absolutely. I mean our glasses have evolved from a medical device to a fashion accessory. It took way too long for that to happen but it has happened. People, especially in Europe, Italy and France, would be people that appreciate fashion and view a pair of eye glasses as a piece of accessory. Our designs are classic timeless designs, we don't chase trends too much and we stay true to what we are but we certainly view our brand as a fashion brand in the eye wear space.
D: Nowadays you see in the Eye Wear World that there are so many strange frame designs coming out, but you are holding onto your classical heritage…
ZM: Yes, that is not Moscot. You know, it is similar to clothing: you have the brands out there that do crazy things and there are very classic heritage brands, where you go to for the classic item. It never gets out of style. We represent the classic genre inside of eye wear.
D: What do you think that you'll future will be?
ZM: Another hundred years…(laughter)
HM: And we'll like to tell our story more through our retail presence because with our own shops we can really tell our story. So that's also in the horizon, just to continue doing what we do. And remember where we came from and the core values of Moscot and the ethics and morals of our company.
D: You are expressing the current trend as today the most important thing for brands is to have a storytelling. There is a bigger consciousness from consumers regarding those values.
HM: Nothing different from what we have been doing. We are very organic, and it's maybe on trend now but it's something that we have been doing forever, my father told a story, my grandfather told a story, and we just continue to evolve that story now, moving forward. We just try to keep everything consistent and make sure that our shops understand that they have to treat the costumers a certain way. We allow costumers who go to our shops to communicate with us. We want to make sure they have a great experience.
D: Do you stay in contact with your costumers through the digital world?
ZM: We are very active on all social platforms and we are very focused on creating contents for our fans. We are probably one of the most communicative brands out there on social in terms of responding to our costumers. We respond to them the way we would like to be responded to, within 24 hours.
HM: I spoke to a costumer today on the other side of the World, personally. Who had some question about the brand and he was persistent, and I didn't think twice to call him directly. That's what Moscot is, we are a family business that thinks that everybody must be treated fairly and nobody is better than anyone else. Whether a Rock Star or just a costumer, you are still somebody with value and we are thankful that you buy your glasses from us. There are many brands and many shops, and when you come to Moscot you make that choice and we are grateful and we'll never forget that.
D: I know that you are behind something special…
HM: We have a not-for-profit foundation called Moscot Mobileyes (it's a play on words, mobile meaning we go out – mobilized eyes-) we started in 2008 and I felt like it was important to get out to New York City and the neighborhood to serve underprivileged people. There was nobody doing it, believe it or not, no one. We go out every three months and we examine eyes of people that are poor, and we give them free eyeglasses. Moscot Mobileyes is something I'm very proud of. Leaving the office we would go to these places where people had just got out of prison, trying to get their lives back on track, and we would examine them and give them reading glasses and they were so appreciative. A lot of them were good guys. Different than a costumer paying you when you do that service, they are like God bless you when you help them.
D: How many doctors do you have in your staff?
HM: We have about five. We examine eyes in all of our shops. We take a lot of pride in our eye care too.