F IS FOR…FIGHTER: the first-ever boxing battle on the top of Palazzo della Civiltà Italiana, starring Chris Eubank JR. With an empowering soundtrack the video fully embraces a profound spirit of strength and reflexivity
The F IS FOR…FENDI crew gets back together and gives life to a magic scenario of shadow-boxing, making Chris Eubank Jr, Super Middleweight World Champion, the first to fight on the rooftop of Palazzo della Civiltà Italiana. Here, the previous F IS FOR…FEARLESS hosted upcoming and renowned artists who live-performed bringing their own values and art in an exchange of positive energies.
Representative of a Rome in-between the modern and the imperialist age, the Fendi headquarter this time is setting up a ring for a unique, solitary boxing session. Immersed into an evocative and balanced coexistence of classic round arches, reinforced concrete, travertine walls and still-faced statues, Chris fights against time, crazy heights and, above all, against himself. The athlete conducts a path of ascent to the top of the building, overcoming extreme weather conditions and reaching the final round with a glorious victory. The incredible view to the Great Beauty, which he contemplates from the rooftop, becomes the symbol of his physical and mental conquest.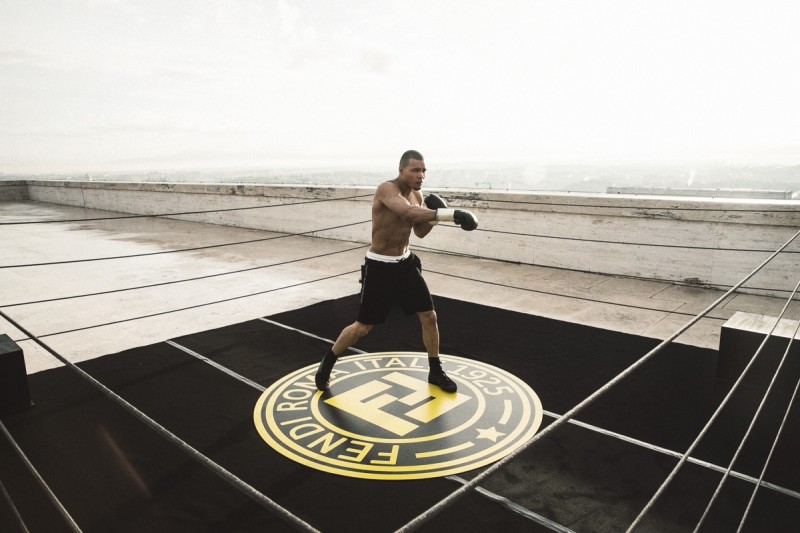 To find out more about the great Eubank…
Chris has been following his dad's steps, former two-weight world boxing champion. Since February 2018, Chris has been ranked as the world's best active super-middleweight by BoxRec, third by the Transnational Boxing Rankings Board. Originally hailing from Brighton, Eubank Jr. spent four years on the United States amateur boxing circuit, culminating in his victory in the Western United States Golden Gloves in 2008. He quickly progressed to the professional ranks and rose to become a world title holder by early 2017. Renowned for his calm and collected manner in the lead up to fights and his explosive punching power in the ring, there is no doubting that Eubank Jr. is on the cusp of greatness.
Outside of boxing, Chris has built a large following on social media and is known for the engaging content he shares. He has built his NEXTGEN brand from scratch and launched a merchandise range in February 2018, recently collaborating with FENDI on their F IS FOR…FENDI Project. He is the first UK sportsperson to partner with AR media house Snatch HQ and is an ambassador for the Chain of Hope charity. As much a businessman as he is professional sportsman, Chris' desire is to break into the upper echelons of sports and entertainment greatness.
…and about F IS FOR… FENDI
F IS FOR… FENDI is a new communication platform made by Millennials for Millennials to share contents and experiences relevant for this generation and to convey the FENDI DNA in a very authentic way. The project is conceived to create and share experiences both online and offline with artists from all over the world performing back-to-back in a high-tech scenario.