Six young street artists from all over the world are involved to create on the Palazzo Della Civiltà Italiana rooftop in Rome, for the very first time, a 6-hands artwork: The Ring of The Future.
Inside a yellow ring, Gary from UK, Cave from Iran, Hillel Smith from the USA, Roes from Hong Kong, Casper from Japan and Jodae from South Korea write the word FUTURE in their own language. It recalls a visual embrace, where the last letter meets and melts into the next one as a cultural hypnotic loop.
The new generations' hope is to overcome cultural barriers and diversities, embracing the power of thinking, celebrating Palazzo Della Civiltà Italiana rooftop as the place where everything becomes possible. Each of the artists bring their own passions to create this shared artwork, mixing their distinctive styles and their cultures in a new collective language. Six different ways to communicate a new creative melting pot – from English to Japanese, from Hebrew to Arabic and from Mandarin to Korean – with only one positive message, which overcomes all barriers, working to build a fearless future.
Who are the six talents?
ENGLISH – Gary Stranger (@gary_stranger) is a British contemporary street artist, renowned for his edged and precise free-hand artworks. His use of bold colors and sharp edges, both on walls and in art galleries, qualifies him as one of the most exciting graffiti artist worldwide.
JAPANESE – Casper (@cmkgallery) is a Japanese artist who started painting graffiti in 1996. He participated in Japan's first graffiti exhibition X-Color held at Mito Art Museum in 2005. As a live-painting artist, Casper participated at the Summer Sonic event in 2007. In 2015, he worked on a graffiti mural art project measuring 70m. x 8m. His work extends from painting stores' exteriors to producing stage costumes and creating logos.
HEBREW – Hillel Smith (@thehillelsmith) is a Jewish\American street artist and graphic designer. He supports the contemporary Jewish art, re-imagining the tradition by using contemporary media. He revitalizes ancient rituals with online projects and also leads workshops, focused on empowerment, continuity and identity creation through the arts.
ARABIC – Cave (@cave_cave) is an Iranian graffiti artist, originally from Teheran now living in London. He alternates between Arabic and Farsi, mixing the two alphabets. He declares to be obsessed with the shapes of the Arabic alphabet which he uses in a way to create new harmonic forms.
CHINESE MANDARIN – Timyan aka Roes is a Chinese artist born in Hong Kong. He started painting graffiti on the streets of his hometown in 2004. He continued to study graphic design and illustration in 2006 and became one of the founding members of the Smile Maker HK collective (@smilemaker.hk). Their mantra? "We love art and love to see your smile too". His inspiration always comes from his daily life.
KOREAN – Jodae(@jodae) is a Korean artist who lives and works in Seoul. He began exhibiting his works in 2008. He is renowned for creating and defining his own street art style by incorporating Korean elements. Jodae has a personal interest in Shamanism and various other cultural beliefs, allowing him to focus on bringing diverse cultural elements into his own symbolism.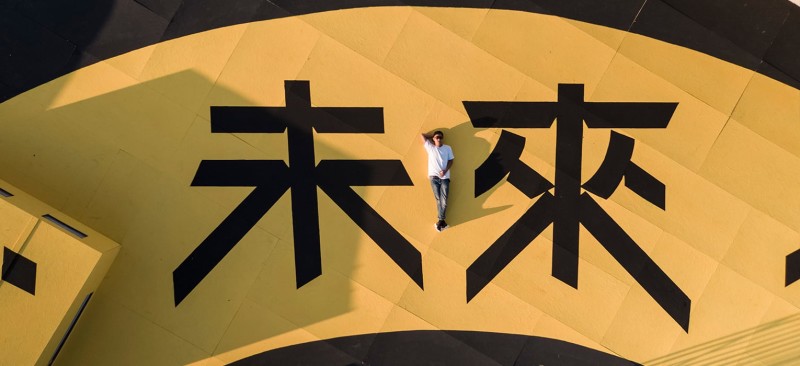 We asked one of the artists, Hillel Smith, to talk about The Ring of The Future .
What does this project mean to you?
It represents an amazing opportunity to make something that's bigger than all of us. All these talents from all over the world came to paint here, working together and learning one from each other. Communicating purely through art as a common language has been very inspiring.
F IS FOR…
F IS FOR… Fearless. To me, the Future should be a place, where everyone is informed, and wants to learn, understand, and be curios.without fear.
Graffiti art is a tool for sharing messages. Which is yours to future generations?
Celebrating heritage is important. Art is something that allows me to share a part of my identity and culture with the world. We should be proud of us, be free to express that, and also be open to learn other people's stories.
What inspires you of Palazzo Della Civiltà Italiana?
This location is so powerful to be in. It has been linked for many years to a specific historical moment, but now it's becoming a welcoming place that champions international collaboration and diverse creative talents.
ABOUT GLOBAL STREET ART
The Ring of The Future project has been coordinated by London-based organization Global Street Art, whose mission is to live in painted cities. As well as arranging almost 2,000 legal street art murals in London since 2012, they are renowned for showcasing street art from around the world, online and through social media to their 400,000+ fan base. Global Street Art Agency works internationally with various partners on commercial murals and hand-painted advertising campaigns.