Ugliness is in a way superior to beauty because it lasts. Serge Gainsbourg
What is exhilarating in bad taste is the aristocratic pleasure of giving offense. Charles Baudelaire
How Ugliness and The Grotesque Body have taken over Fashion
Text by: Riccardo Slavik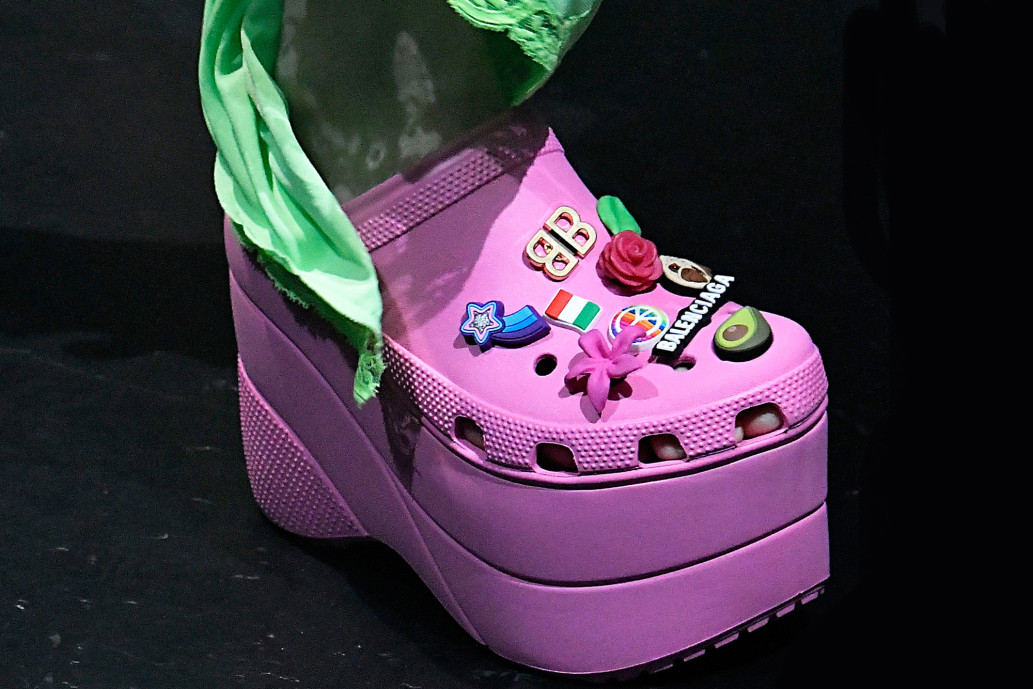 As Miuccia Prada said in 2012: "Ugly is attractive, ugly is exciting. Maybe because it is newer." That was 6 years ago, and looking at the latest shows, at what's 'hot', at where Fashion is going, it appears that Ugly isn't that new anymore, and it shows, amongst other things, in Prada's collections and her ability to shock and push the envelope of the acceptable in luxury fashion.
Miuccia was once the queen of ugly, of the jolie laide, her signature style always pushing the boundaries of good and bad taste, always presenting something that went beyond the limits of accepted beauty or elegance. But can the old guard keep up with designers like Demna Gvasalia or stylists like Lotta Volkova, who, as children of the crumbling Soviet Union, know and understand what true ugliness is? When Miuccia started her reign at Prada, bad taste was simply a splashy, loud print from the 70s; nowadays something as unexpected as platform Crocs at Balenciaga are a bestseller. How do you top that? The irony of ugliness is by now part of mainstream culture, 'neon' is a recurrent theme in RuPaul's Drag Race runway challenges, is showing full on neon looks pushing the boundaries? Not really, neon is quaint; ugliness, bad taste, is something else.
Karl Lagerfeld once famously said 'Sweatpants are a sign of defeat. You lost control of your life so you bought some sweatpants.' such a statement makes no sense nowadays, and even Chanel has offered sneakers and luxury versions of the couch-potato look. What was once the epitome of uncool and unfashionable has been for a few seasons at the forefront of fashion and hip: Post-Soviet, Chav, the search for the ultimate in 'authentic' youthfulness has brought out, or back, a host of 'uncool' fashions; vintage sportswear, logos, quasi-forgotten brands ( Juicy Couture velveteen anyone?), the bumbag, the 'dad jeans', the ugly sneaker: Kids from 'the wrong side of the tracks' often wear 'ugly' trashy, loud clothes, the same clothes that high fashion is desperately trying to appropriate. We already talked about Gucci's appropriation of Camp, and ihe brand's use of unnecessary decoration, of cheap motifs and trashy ornaments, the same techniques that were once the staples of high-street labels that being devoid of a highly desirable brand name or good quality products, made their clothes more alluring to the undiscerning masses by adding unnecessary decoration and detail. Only Gucci does it on clothes that are already luxe and expensive, turning them into anti-camp monstrosities with the price of a small car.
Fashion, in its classical incarnation, is dead, gone is the wave of trends ebbing and flowing every six months, the rising and falling hemlines, the tormented designer imposing a new 'line' on the breathlessly expectant public of high-fashion addicts. Trends are now simultaneous, recurrent, and generally considered 'out', what people are selling and buying now is 'cool' and 'brand'. You won't buy the Helmut Lang yellow taxi sweatshirt because yellow is 'in' but because it's a hip brand and the idea is so 'ironic', the fit might be a part of your decision too, but ultimately if you want to buy into cool you might overlook sizing problems, after all the goal isn't to look 'beautiful', and when in doubt buy XL.
Ugly is everywhere right now, and it's not just that 'ugly' is often also 'comfy,' Crocs are having a high fashion revival because they're trashy, not because they're practical, after all Balenciaga's take on the shoe, which is already sold out on pre-order, is a rather impractical platform version.
Even online, ugly, cheap, trashy, is modern: those inspirational quote memes uncool aunts post, with their cheap sunsets and ugly fonts are at the forefront of fashion, Brutalism is a big trend in web design, websites with bad colors, vintage animations, badly executed cut-outs etc are the vanguard of web design. As with Bad Taste in fashion, Brutalism online was born out of frustration with the homogenous look of 'good' design, and as a reaction to the tacitly accepted guidelines of what works; ' In its ruggedness and lack of concern to look comfortable or easy, Brutalism can be seen as a reaction by a younger generation to the lightness, optimism, and frivolity of today's web design.' As Pascall Deville of webbrutalsim.com writes in its homepage.
'Brutalism isn't an absence of modernity. It is the absence of a modern aesthetic. It merely shows what is normally hidden beneath the gleaming facade. The Brutalist structures in the world are not devoid of modernity in their superstructures or infrastructures. It is merely the external facade that is without pretense and is exposed to the public.' Brian Haferkamp
In this Brutalism shows more than a passing resemblance to Bakhtin's idea of the 'grotesque body', a body that is open, in motion, in gestation.
'The grotesque body ( …) is the body in the act of becoming. It is never finished, never completed ( .., It is continually built, created, and builds and creates another body. Thus the artistic logic of the grotesque image ignores the closed, smooth, and impenetrable surface of the body and retains only its excrescences ( sprouts, buds) and orifices only that which leads beyond the body's limited space or into the body's depths.' Mikhail Bakhtin, Rabelais and His World
We might want to look at Mikhail Bakhtin 's theory of the grotesque body, as opposed to the classical one, for a parallel. For Bakhtin the grotesque body is revolutionary and anarchic, open, distorted, and in complete opposition to the classical body, which is self-contained, closed, rigid. We could use this juxtaposition to similarly discuss Ugliness and Elegance. In a world that doesn't particularly value elegance, ugliness becomes an ideal, and pushing further limits in what is acceptable becomes the quest for the new, the interesting, the cool. Bakhtin believes that the grotesque is counterposed to the classical aesthetic of ready-made, completed being. The carnivalesque body in contrast expressed ideas of simultaneous death and rebirth. It is counterposed to the classicist idea of art as the pursuit of the sublime.
Some of the elements that define 'ugly' fashion are often accessories or elements that distort proportions like Balenciaga's Triple S sneakers or platform Crocs, or shoes that sprout disturbing, grotesque elements like the Gucci embroidered slipper, with its hybrid growths of strange fur, neither beautiful or practical. The grotesque in fashion can be seen as both a refusal of elegance and a rebellious search for the openness of the creative, gestating, body. A good example of the grotesque/ugly in fashion at the moment is the Y/Project extralarge Ugg boots, so high they turn the already rather ugly shoe into a mass of folds and lumps reminiscent of the skin of a fat dog or some strange deep space worm, or maybe, in the grotesque sense of excrescence and hybrid growth, Maison Margiela's Snowboard/Sneaker miscegenation fantasy. Or, if you wish to explore the twin concepts of ugliness and grotesque in a total look , go no further than the first look from Junya Watanabe's latest offering, an ensemble that pairs a gigantic jacket with oversized sleeves, leggings featuring a print straight out of some grandmother's curtains and Buffalo-style platform sneakers. Wonderfully quirky, disturbing, unflattering avant-garde, Elegance has fled the building fearing for its life.
On a side note, designers like Rick Owens and Rei Kawakubo have obviously been exploring the grotesque body in their runway shows for some time, but their approach is more akin to ' artistic' research than the commercialization of ugliness that we're trying to explain.
One does, of course wonder, if this tendency towards the grotesque and the 'ugly' albeit at the moment limited to accessories and specific areas of the body ( think Vetements' football player shoulder pads) might in the future turn something as taboo as Georgina Godley's and Kawakubo's bulbous belly and hip pads into a commercial success.
Of course Normcore introduced the banal and the mundane into high fashion, part of what we see on the catwalk right now can still be traced back to that elusive trend, the reworking and repurposing of the most basic items of clothing 'normal people' wear stems from that, Crocs are a perfect example, when you turn them into platform shoes, effectively SuperSize them, though, normcore leaves the realm of realism to turn into fantasy.
Part of this movement towards a certain ironic ugliness has also a generational connotation, as younger generations become obsessed with the near-past and the creative cycle spins out of control the normal recycling of what was considered out-of-fashion and therefore ugly and undesirable happens faster than ever, leaving those used to a more classical, maybe decade long cycle, between the rise, fall and rebirth of an object or a trend, puzzled by the sudden reappearance on the fashion scene of something that was declared unanimously ugly maybe just a couple of years back. Witness for example the sudden change in the fortunes of that staple of bad taste and regrettable choices, the tribal tattoo. A deal breaker for even the most cursory social interaction until the end of last year then suddenly celebrated by the likes of Dior Homme and Vetements.
The friction here isn't just between the Classic and the Grotesque, but between Elegance and Fashion. As Manolo Blahnik said ' "I think these very big organizations put huge pressure on a designer to produce something of the moment rather than focusing on something that is beautifully eternal. My definition or opinion of elegance is completely different to the version of elegance today. Elegance should be enduring. It should transcend fashion and trends." This puts him squarely inside the Elegance camp, and, at lest for the moment, outside of Fashion. Case in point, the Reebok x Vetements Genetically Modified dystopian sneakers are selling out fast though they look like some mad Frankenstein sneaker dream, Blahnik's own waist-high satin boots, while objectively more beautiful, didn't sell as much.
"Whenever you have designers who are exploring something that's significantly new, it's going to look, for the most part, strange and possibly ugly at first," says fashion historian Valerie Steele. "When Poiret started doing his early designs at the beginning of the 20th century for the House of Worth, people were horrified by them. They thought, 'What are these ugly experiments?'"
The current trend for Ugly, Bad Taste, the Grotesque, is a reaction to the impossible standards of beauty and perfection pushed by advertising and social media, Fashion after all, evolves out of provocation, thrives on novelty, the current epidemic of ugliness is part of its normal reaction to the status quo, its inherently revolutionary, cyclical, role. When the planet strives for youth and beauty Fashion will turn its gaze to the gestating, bulbous body of Ugliness, to find inspiration, in its unstoppable search for the New, the Now.
"A little bad taste is like a nice splash of paprika. We all need a splash of bad taste—it's hearty, it's healthy, it's physical. I think we could use more of it. No taste is what I'm against." Diana Vreeland.