A CONvERSATiON WITh FAUSTo PUGLiSI
Read the full interview to the Sicilian designer by Riccardo Slavik on our 10th issue and have a look to several unpublished photos…
PHOTOGRAPHER: MATT COLOMBO
ART DIRECTION AND STYLING: FAUSTO PUGLISI
STYLING AND INTERVIEW: RICCARDO SLAVIK
HAIR AND MAKE-UP: MATTEO BARTOLINI @ FREELANCER
MODELS: MYRTE BRANDER @ MP, SRDJAN @ IMG
CASTING Mattia Marazzi @ CM Casting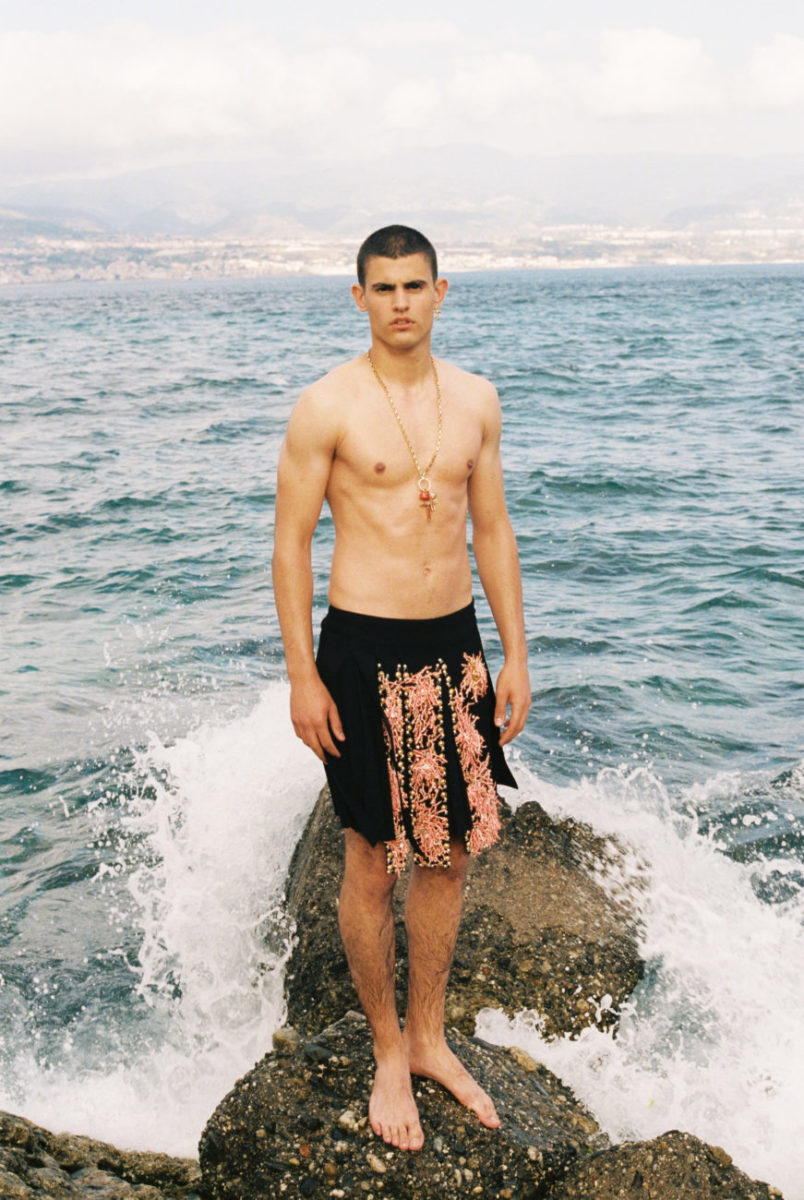 Fausto Puglisi is a rare example of absolute correspondence between a designer and his brand, his impetuous personality, obsession to detail, deep Italian roots, authenticity, all transpire in his collections as a passionate weaving of childhood influences like Greek and Roman myths and art, Catholic iconography, Sicilian Baroque and trans-Atlantic inspirations like Miami Art-Deco and Californian 'celebrity skin' culture.
I met Fausto through a friend and though we might seem on the surface quite different people, we've found we have many things in common, ideas, obsessions, inspirations, and we can talk for hours about Fashion and a myriad other things, often during drinks after dinner that turn into conversations deep into the night. This trip to his hometown of Messina was, for me at least, a way to explore our similarities and differences through a collaboration, and an adventure inside his world, exploring his roots and the Puglisi Family for this portfolio for DRY. What follows is a fragment of our ongoing conversation, a dialogue about Fausto and Fashion:
Riccardo: This trip was intended, if you will, as a trip back to your roots, so, let's start with your family, you've often told me how much your family has been always supportive of you and never fostered any feelings of guilt in you, which I'd say isn't quite usual for a family from the South of Italy…
Fausto: You know what? I don't really see much of a difference between families from the North or the South..
R: Well let's say it wasn't such a common reaction to your being gay and wanting to work in a creative field, my family, for example, though they've never been particularly religious and were rather liberal politically, didn't take it too well when I first came out to them, luckily it happened very early so they've had quite some time to adjust… So I think it's great that your parents have always been supportive even in a less traditionally liberal environment as Sicily…
F: Yes, I never had any problem, they have always been supportive and have never hindered me in any way, and we've always had some very open conversations at home. Even when I decided to go to America, they were behind me 100%, therefore I never had any guilt, or psychological blockage, quite the opposite, and all that is obviously thanks to them… My father, for example, was my biggest fan, he always supported me and my choices, he was very liberal, so cultured and his vision was so essential to me… Unfortunately he passed away last May, I was in New York and I rushed back to Sicily to hug him for the last time, I keep him and always will keep him under my skin, his aesthetic, his ideologies, everything about him was about a deep sense of humanity and respect.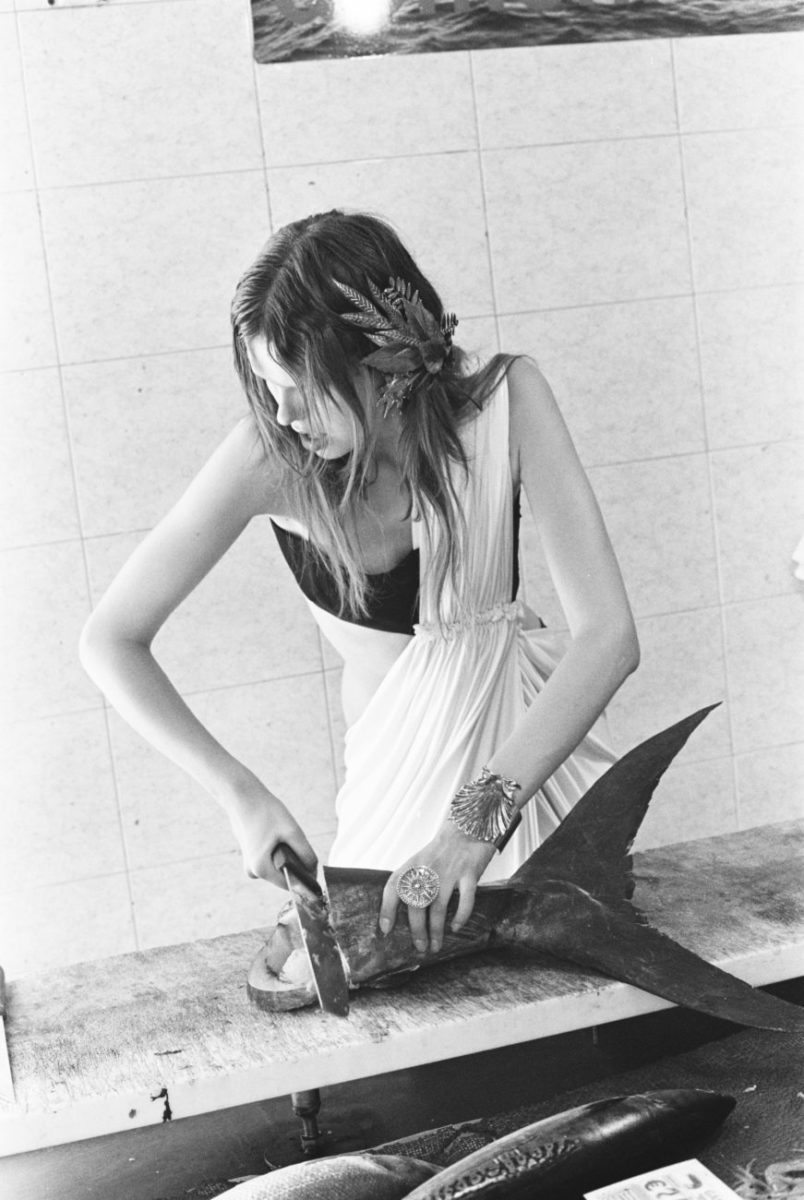 R: Speaking of sense of guilt, one of the themes I wanted to discuss with you was your relationship with religion, as there is obviously an interlocking rapport between Catholicism and Paganism that is also an element we found in Messina, its being a sort of bridge between Ancient Greece and Catholic Italy (Scylla and Charybdis, and all that) but also your relationship with sex, as the Puglisi woman, is very, I wouldn't say sexy, but sexual..
F: Yes, quite, I don't believe in sexuality as a means of seduction, as a tool to seduce a man, that's old hat, I believe in sexuality as a sort of Neo-feminism, I believe we are masters of our bodies and we cannot destroy them by continuously covering them up, by downplaying our physicality. I don't believe women nowadays ,to be modern and conscious of themselves and their role, need to cover themselves up or dress like men. I still believe in a correlation among desire, sexuality and beauty. Especially desire, if we cancel the concept of desire from human relationships I don't think there's really a sense to existence: we already inhabit a moment that is becoming more and more virtual, and I believe that erotic desire, be it, psychological, carnal, what have you, desire is of great importance! I mean nowadays in human relationships women have a very delicate role, because they are more and more independent and self sufficient, but I think it's important for them not to lose that oneiric element… I think personally that women should always maintain a superior level even in aesthetic terms… I still believe in icons, I love representing icons. One of my favorite photographers is Helmut Newton and his depiction of femininity was never… his women were never objects, they were always subjects in the image, but at the same time they were very carnal, very erotic… I think erotism is a very positive thing!
R: That's why, going back to the original question, I think you've used religion as an iconographic reference quite a few times, I mean Catholic iconography, but your own point of view departs quite a bit from a 'catholic' sensibility…
F: Iconographically, absolutely… I love Sorrentino's The Young Pope, I love all that is Catholic imagery, but it has nothing to do with a sense of guilt or religious precepts, my love for the imagery stems from its beauty, I mean it's one of the best testimonials of passion and beauty and art, some of the catholic iconography is incredibly beautiful… And it's clear that I've absorbed so much of it because I've been breathing that atmosphere since I was a child, I can't help representing it, I find it extraordinary, it's 'mise en scéne' it's Pirandello's theatre, pure theatre, like when I was a child and I would see celebrations for the Virgin Mary in Messina and Taormina, that were so over the top, and they became in a sense a link to Paganism, they were examples of a Catholic rite that almost became Pagan, because, and I say this as a believer, that display, that theatre, that excess has nothing to do with real faith or beliefs, it lives only in a setting of total spectacle… In Sicily we have a celebration for the Feast of San Sebastiano, in Palazzolo Acreide, that's such a pageant with fireworks and such a spectacle, so.. artificial.. like a rock concert, and it's obviously a part of cult and faith but inside of that there's an explosion of something at the same time solemn, but also quite material…
R: Well if we go back to the beginnings of Christianity there was a conscious effort to co-opt certain dates and feasts from Greek and Roman cults so that transition for a wider Christian audience could be easier, so there are definitely pagan elements and cult elements in the basis of Christianity. And going back to the iconography of Catholicism, we have to remember that until a couple of centuries ago, certainly before Illuminism, the Church was an incredibly important factor in day to day life, in politics, and very importantly, in Art. A great deal of major occidental Art was commissioned by or created for, Popes, Cardinals, Churches, or to celebrate certain religious or political events, so, as we've seen in this year's big Met Museum exhibition, the influence of catholic iconography in arts is inescapable, even in fashion, some of the most sumptuous robes, artifacts, accessories, were made for popes and cardinals, the Church inspired some of the utmost expressions of handcrafting.
F: I thought about this earlier, people don't understand the importance, for example, the importance of papal rings, the solemnity they represent, the spectacle they are part of, the spectacle that creates a respect for institutions… I think women should be adorned like that, they should have huge rings, with diamonds as big as a tea cup…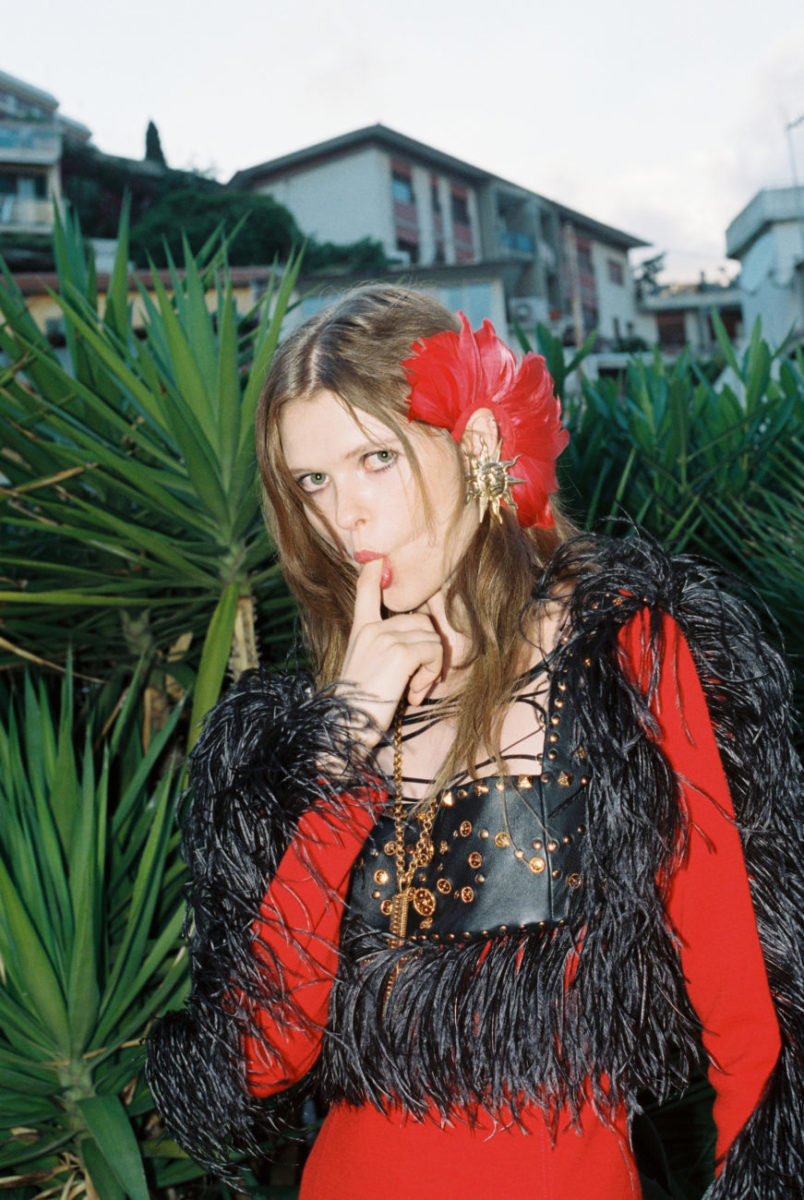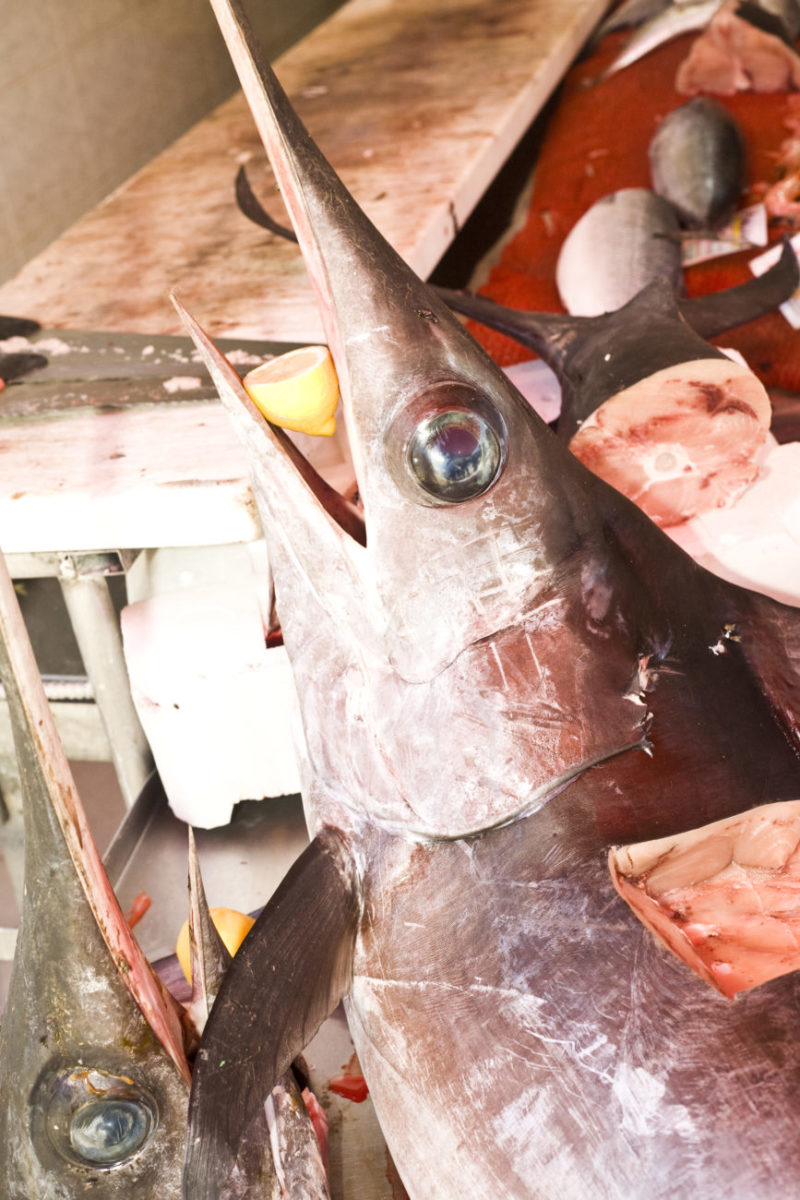 R: About this idea of your dream of the woman as an icon, adorned and, strong… I was looking at the catalogue of an old Versace exhibition that was really technical, about the clothes, the themes, the techniques, and there's a similarity that's more about soul than simply inspiration or decorative themes, similar roots, the Strait of Messina, ancient Greece, women who are strong, and, adorned, rich in decoration and personality…
F: Yes, I mean definitely Versace comes from that same area of the Mediterranean Sea and those women, our women, the women from the Strait, I mean you haven't had a real chance to know them, you've met Lina (one of Fausto's friends and mentors we shot in Messina for this editorial, editor's note) who is very much one of those women, but also Loredana Bertè, who's from Bagnara Calabra, or Donatella Versace herself, if you look at their eyes, those aren't victims' eyes, that's why I always say my vision of Sicily isn't a vision of the mediterranean woman who seduces her man with a glimpse of her breasts or a black-dressed mafia victim covered in lace with her face almost hidden, the kind of woman I grew up with, in the Strait, is a boss, she's the boss, totally in control, like ;Loredana, Donatella, Lina, but even totally anonymous women, like the ones that used to come from Reggio Calabria to Messina to sell fish at the market when I was young , I still remember them, it's not something you see anymore, but I remember these women coming down the street to sell their fish wearing these colorful costumes, incredible dresses and they had these huge woven baskets sitting on their heads, walking around town, almost as if on a tightrope, and selling their fish, these are heroic figures for me, typical of that area. Their femininity is never submissive, it's almost masculine, violent, strong, at times it might be eccessive, but you can't miss it…And I love the Greek heritage, the Greek goddesses, like Athena ( who then became Minerva in Roman mythology ) a warrior but also a patron to the arts, an amazing female figure…
R: I think something you have in common with Gianni Versace is use of extreme decoration as a form of communication.. I see for example a parallel in the use of metal studs, which originally were used as a form of protection, as part of armor, a sort of useful wartime decoration, and then become a means to tell a story or evoke a totally different era… I think your clothes are always telling a story, through a patch, an embroidery, a piece of metal or Swarovski, it's never decoration to add, some sort of extra, maybe pecuniary value to the garment…
F: No I love artistic expression too much, I mean maybe I'm wrong in feeling like this, in my approach to fashion, but I have such an obsession for Art and artistic expressions, I think Picasso, Salvator Dali, they were absolute geniuses, and they used their art to communicate to share with the world, an almost absolute folly, and I have the same fire in me, I communicate my obsessions through clothes, through my use of decorative themes, it's an obsession of mine, almost an addiction…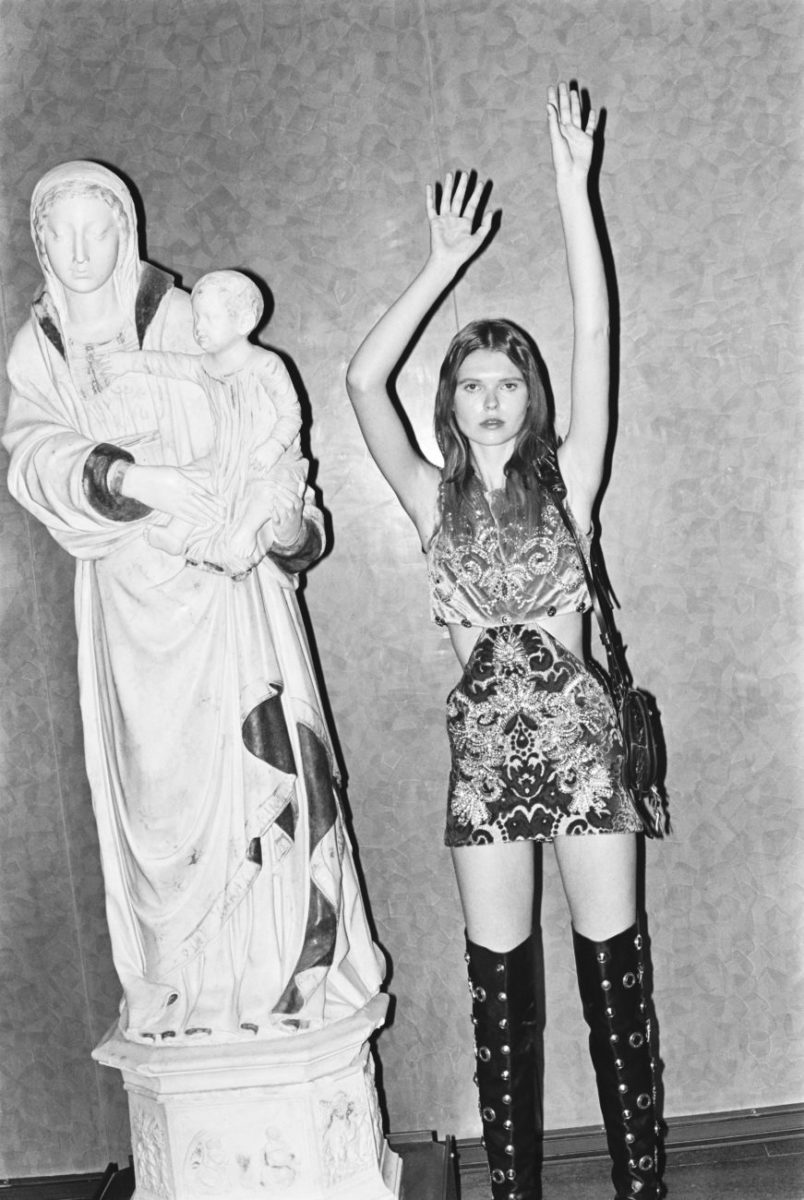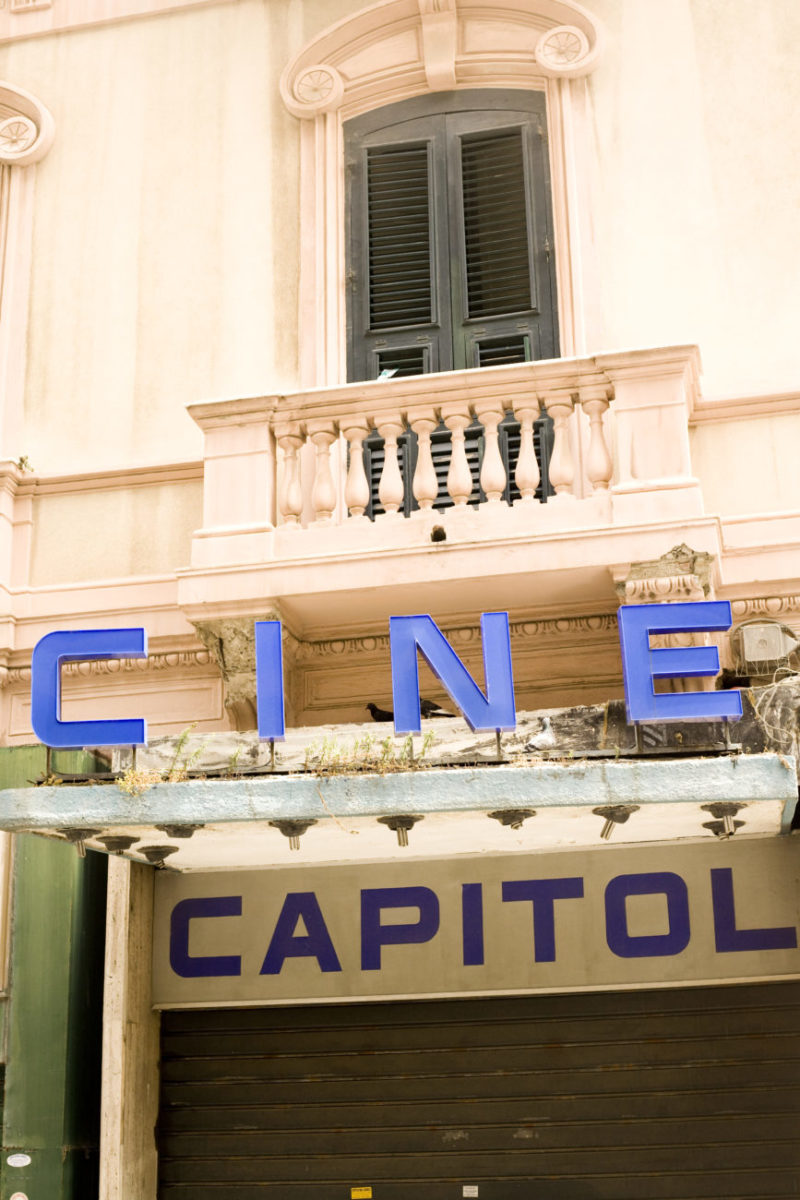 R: I think it's also part of your desire to turn women into icons, to give them strength through decoration, I think your menswear, as much as it relies on prints, patches, symbols, isn't as subject to pervasive decoration, the womenswear is often, almost a tool to turn women into icons, goddesses…
F: I like a strong element in womenswear, and decoration as empowerment, but decoration can be masculine too, my biker jackets, for example, have been worn by everybody, Madonna, Katy Perry, Miley Cyrus, but also Migos, Kayne West, because they originate from menswear, I never designed any sort of slim fitted girly biker jacket, my biker jackets, even in the womenswear collections, are adapted from the ones I originally did for menswear, they are oversize, and heavy with decorations, I realize they are quite heavy sometimes, but they come from an, almost Napoleonic, idea of decoration that is quite virile…
R: That's why I think there's a sense of masculinity in a sense in your idea of decoration, because it appears to create an idea of empowerment, of almost regal strength, it's never effete
F: But the thing is, when I design an embroidery , a decoration, I never really ask myself whether it might be practical, as I guess Tolstoy never really wondered whether War And Peace might be a tad too long, when I design a garment and its decorations I'm really just interested in expressing myself and representing an idea of power, of strength… And going back to Napoleon and menswear, you can't tell me that Napoleon in his red cape with gold embroidery wasn't manly or Henry VIII in his codpiece…
R: I mean just think about high heels, which were originally invented in the 16th century to help riders stay more secure in stirrups, they were invented as part of masculine apparel, and had quite a practical use, women used to wear platforms rather than heels… And decoration, if we just look at the animal kingdom, is usually the province of the male, most species that use some sort of mating ritual give males a more striking appearance, more colorful plumage, more decoration…
But with menswear you have The Great Male Renunciation at the end of the 17th century, the Enlightenment pushing education and rationality and a more sober way of dressing for men, and while during the 1600s women had been co-opting elements of menswear, like high heeled shoes, by the 1700s all color and decoration, volume and extravagance in dress was limited to womenswear. And in a way up until the Belle Epoque, women weren't jus adorned and decorated but also constricted by fashions that weren't very comfortable or practical like bustiers and hoops, as if almost in a conscious attempt to relegate women to the role of an object, like beautiful little statues..
F: Well you can say that now with the clarity of hindsight, but at the times those fashions were normal, certain habits were considered part of a civil way of life, my grandmother for example, from my father's side, was an extremely sophisticated woman, white as a lily, diaphanous and she refused to stay in the sun or get any sort of tan, despite the fact that she lived in Sicily, my grandfather on the other side was extremely leftist, democratic, quite the opposite, anyway I remember her telling me once that farmers get a tan by working in the fields and by being outside to earn a living so it wasn't elegant for the higher classes to get a tan, you had to avoid the sun as much as possible, nowadays obviously that's totally changed having a tan is a must, unless you are Arielle Bombasle, Bernard-Henri Lévy's wife, who's always so pale and chic…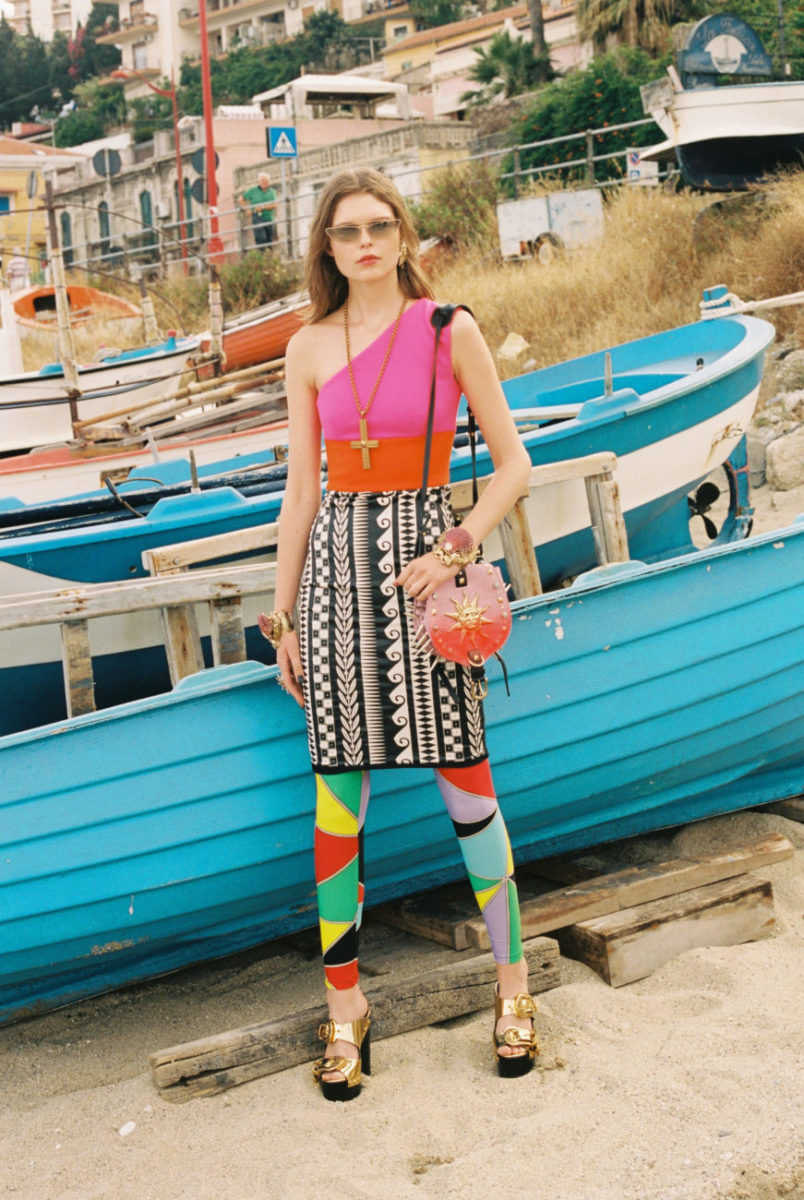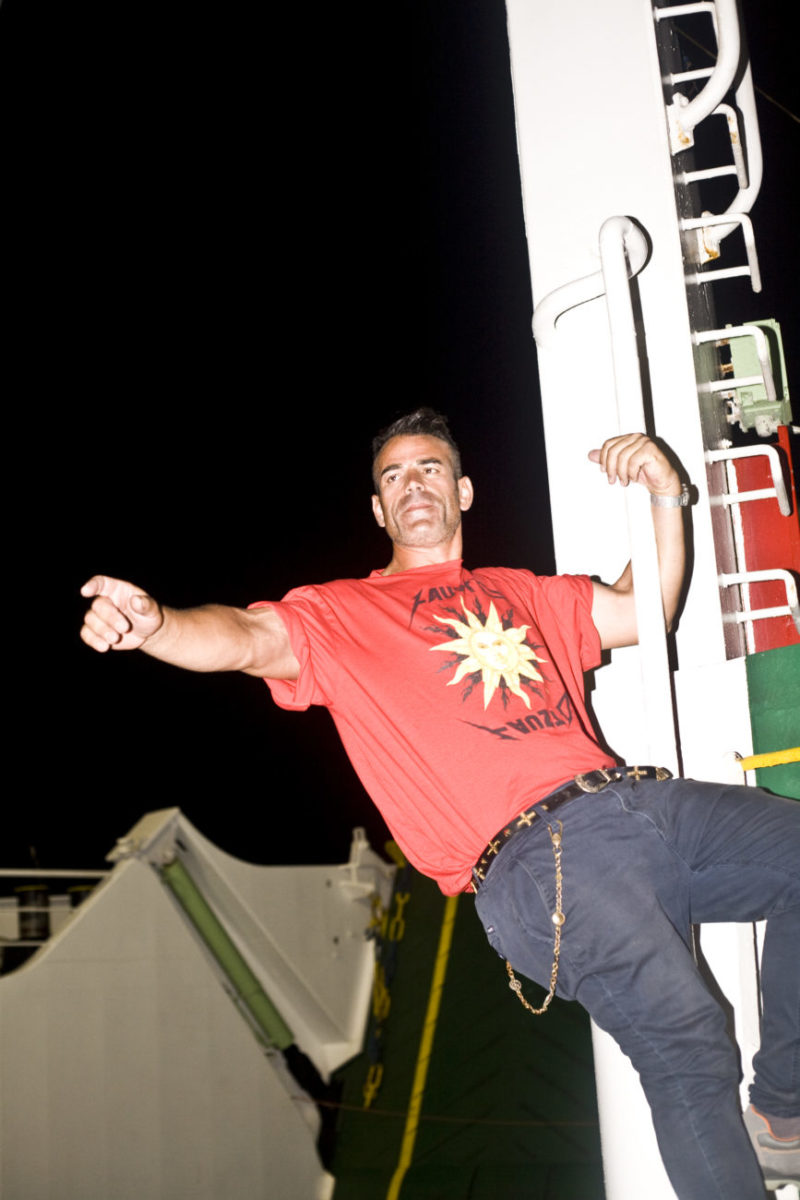 R: There's been a big evolution in menswear, just remember that before the Youthquake in the 1960s, menswear was divided more by ages than trends, short pants until a certain age, then long pants, a uniform at school, a suit for work, menswear was pretty rigid before the 'casual' revolution, the consequences of those revolutions have eroded the tyranny of the suit and are what make it possible for men to be able to wear clothes as unapologetic and adorned as yours…
F: Speaking of which, this idea of adornment and visibility reminds me of the show I did with the help of Matteo Garrone and Armando Punzo, director of Compagnia della Fortezza, which was I a way a reprise of what we did at Pitti, where I used players from the Calcio Storico team and some prisoners from Sollicciano prison. It was a show that mixed the concept of spectacle, of mise en scéne, and the idea of the prison, of criminals that are, in the end dreamers that have been burned by their own dream, they dared too much for their own dreams and they had to pay for it, but they also possess a strong sense of aesthetics and spectacle, I have an incredible respect for whatever exalts visibility, individuality, I hate the dullness of anonymity…
And going back a bit to what is the state of Fashion nowadays, I wonder if what might be the answer to all of our questions, might be, that what is fundamentally wrong with Fashion today stems from a systemic friction between speed and slowness, where speed is required from the product by the market but beauty requires a certain pace, slowness generates beauty… We were speaking before about decoration and extravagant styles of dress but all those things require a certain amount of comfort, and comfort means also leisure, which is at the same time an economical aspect and the ability to take time to do things, just to make an example, my embroideries are all Italian, all hand made, I have enormous respect for the artisans I work with, that have a certain cost and they need a certain amount of time, I shiver when some celebrities or private clients ask me for a beautifully embroidered dress in the same time it takes to make a popeline shirt, and they just cannot seem to understand that the level of quality requires a certain amount of time, and it becomes almost a question of personal pride to be able to say, that I'm sorry, but they cannot have it before a certain date, because if they cannot understand and respect the amount of work that goes into those details, what is even the point? Same goes for the whole 'see now buy now' trend, it seems to be disappearing a bit, but people seem to forget that the whole point of buying a product that has a certain quality, a certain, let me say it, price point, is that real beauty derives from the amount of work and care that goes into an object, it's like good wine, a good massage even, it takes time to do something well, a certain pace is important. A big problem for Fashion, and I mean fashion with a capital F, is that we're all running too fast, and everything, from our lifestyle to the final product suffers, and it seems to me that speed isn't modern anymore, we need to rediscover a slower pace, something more contemporary. Most people understand that the right way to prepare food is slow, it's about quality and ethics, and this is my life…
R: To make this full circle let's go back to the beginning, to this trip we took to Messina to create a vision of your roots, of your own version of Sicily, which resulted in a collaborative portfolio with photographer Matt Colombo…
F: I fell in love with Matt and his work, I really liked his pictures, but when he first arrived in Messina for the shoot our approach was completely different, our characters are complete opposites, we're like the Sun and the Moon, we had completely different visions of how to depict my roots and Sicily, we had a big fight on the day you arrived, remember? And in a way you became a sort of translator between us because sometimes our ways of communicating were so different that they created a friction even when there really wasn't an opposition of ideas, I'm an extrovert, he's an introvert, sometimes I would show him some place that was part of my youth, my personal history and he'd be totally unfazed, he was looking for something different, for another point of view, which at times I found frustrating. But that's also the magic of collaboration, I don't like 'Yes men', I like people who have a personal point of view, and I like to understand that point of view, to understand where it might be possible to find a connection, very often when you can find that connection between opposite point of views is where the very successful creative collaboration happens. And that's what happened, at the end of the day it was amazing, it was magic, and yet it was a big fight, and I think you can see it, you can feel the creative tension. I think when you create it's like an orgasm, it's like coitus, hopefully not coitus interruptus, and like coitus it's good when you sweat, it's good when you feel something. When you work you only feel something when you have real, deep, profound and loyal people, to talk to, to share your vision with, so I think we can sum it up by saying that it was a big, beautiful, creative mess, and I consider it a success, I'm very happy with it!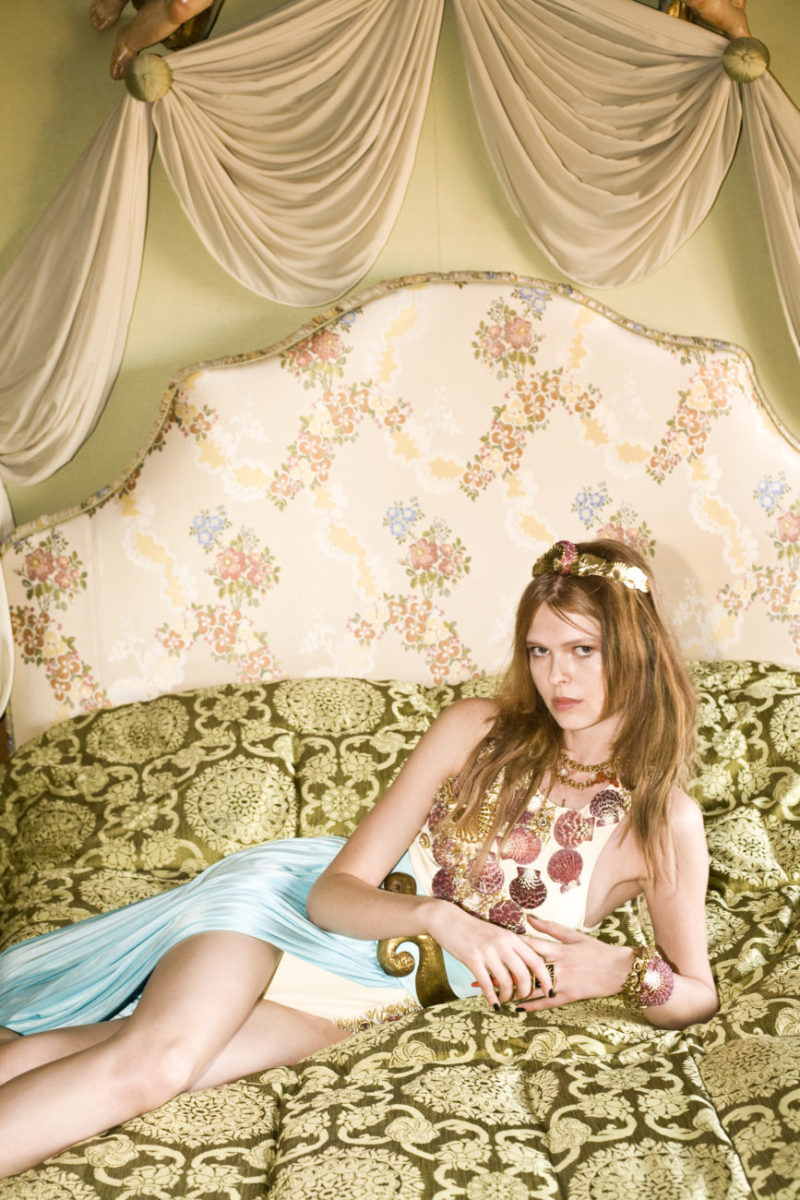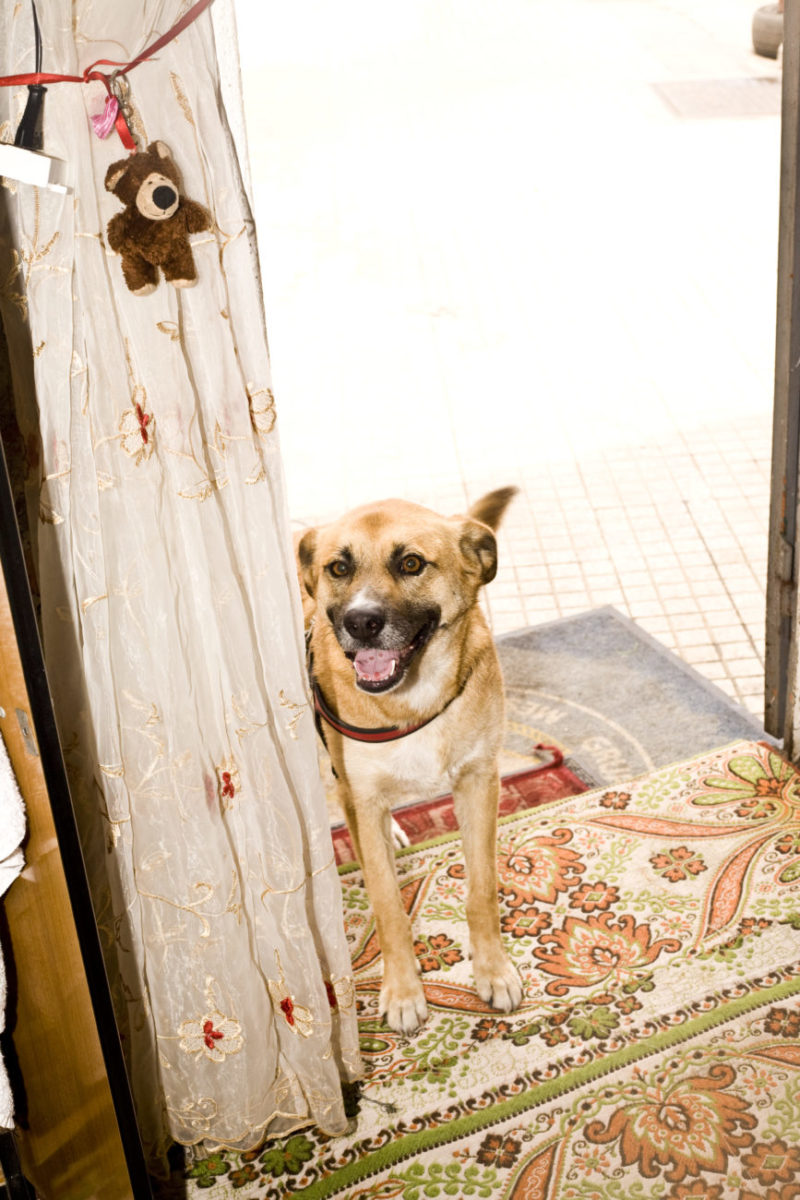 Special thanks for his invaluable help in Messina to Mauro Peditto
Thanks are also due to
Museo Regionale Interdisciplinare di Messina ( all images shot at the Museum courtesy of Regione Siciliana, Assessorato dei Beni Culturali e della Identità Siciliana- Dipartimento dei Beni Culturali e dell'Identità Siciliana- Polo Regionale Messina per i Siti Culturali- Museo Interdisciplinare di Messina )
Antonella Corio
Caronte & Tourist S.p.A.
Town House Messina Paradiso
ALL CLOTHES AND ACCESSORIES FAUSTO PUGLISI, EXCEPT
Headdresses Gianmarco Bersani, Francesco Ballestrazzi
Feather Earring Francesco Ballestrazzi
Sunglasses Versace, Prada