AN "M" FOR MONCLER AND MILAN: THE BRAND'S FW20 COLLECTION IS DEDICATED TO BOTH SOULS OF THE CITY
Text by Fiammetta Cesana
After getting our digital fill of the trends for the next hot season (see our articles on Digital Fashion Weeks here, here and here), let's have a look to the urban story of a winter wardrobe, entitled "Finding Milan".
"Urban", now we know, are not only garments thought for the city's lifestyle, but those with that street style charm that today conquer any landscape, the mountains included. So it is right the half-city-half-mountain brand par excellence to present us a new collection inspired by its most vintage puffer jackets and dedicated to the exciting vibrations, among historic corners, hypermodern glass buildings and international encounters, of the Lombard capital, which we all hope won't lose heart dealing with the impending challenges of the post-Covid era.
In this Fall Winter 20 collection, a flamboyant M, obviously as stamp of Moncler but this time also of Milan, lands on new down jackets by staying on the sidelines for a more formal and classic kind of outfit, or exploding in a dense constellation of other Ms which cover up the whole garment satisfying the logo-mania that hit the youngest and not only.
For men, indeed, we discover two alternative puffers, Corborant and Frioland, a symbol of today's Milanese and global fashion, as well as society, divided between the desire for elegance and visual entertainment. Both faithful to the maison's tricolor, Corborant adapts to a more formal look by taking up the classic Moncler monochromatic puffer with horizontal padding; while the invasive Ms in Frioland give a youthful and cheerful verve, and above all functional with the removable hood, for cold weekends in the city and up in the alps.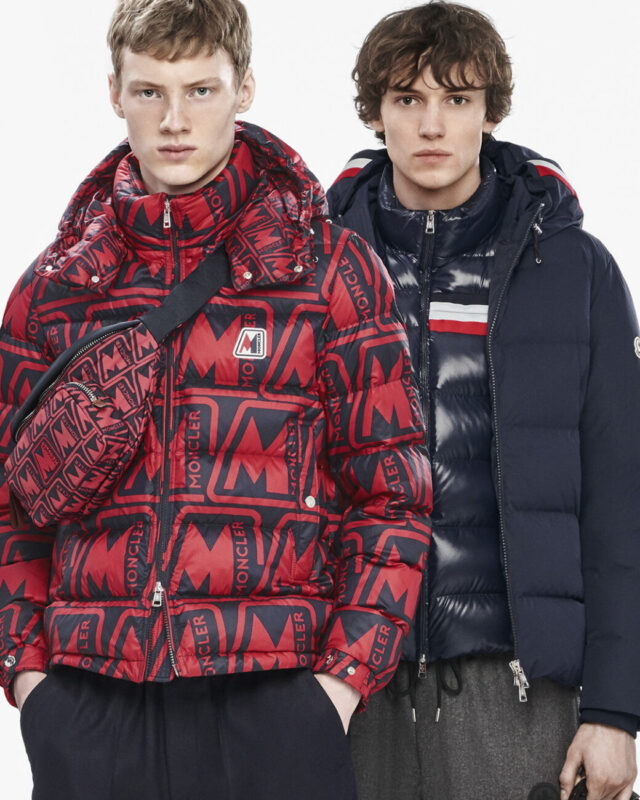 Even for women, "Finding Milan" collection preserves two big novelties. In an exuberant and also sensual fire red version and narrow at the waist, the classic Moncler down jacket for women in nylon laqué, provide with a belt and diagonal padding to accentuate the slim fit. Finally, the Maire puffer, inspired by winter Milanese nights that can caught you with unpredictable atmospheric changes, is a useful and refined garment, embellished with a belt with gold details.