Pitti Guest Designer Wales Bonner's collection is a crossroads of different cultures
Words: Gianmarco Gronchi
Melodies ring forward like the flight of a bird-Sanfoka arrives,
adorned in the radiance of the past, pointing towards new
paths, alternative processions for an eclectic cast.
On one side, university students claming against education funding cutbacks in Cavour Street. On the other side, photographers looking for the best street-style snap in an overcrowded Ginori Street. In between, Medici Riccardi Palace, one of the marvelous architectonical bequest of the Renaissance, and the Spring/Summer collection designed by Grace Wales Bonner in the spotlight. Named Guest Designer for the 102nd edition of Pitti Uomo, the London-born fashion designer Wales Bonner bring inclusive and ethnic fashion to Florence. Recently, she admits to be very fascinated about subculture and the collection shown in Florence is a melting pot where African heritage meets Western fashion to celebrate artisanal know-how. In fact, Ghana hand made macrame dresses and hand dyed jersey and woven cotton made in Burkina Faso stands along silk opera coats developed by the House of Chavret in Paris or cashmere tuxedos and camel hair coat realized by well renowned Savile Row tailors Anderson & Sheppard. The result is a composite collection in which tailoring is enriched with applied details, animal print inserts, and cuts that transform classic garments into African tunics. The collection thrives on the tribal rhythms that animate the research of the designer, who has always been fascinated by her roots and the black culture. Wales Bonner best quality is creating a dialogue between different identities and her fashion creations mirrors a vision where there is no space for intolerance. Nowadays everybody talks about inclusivity, but very few designers are able to express this message so strongly through their collections.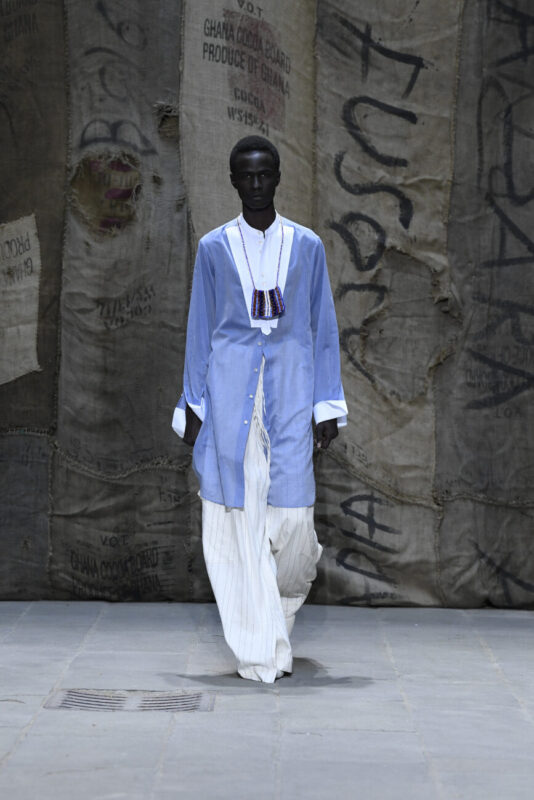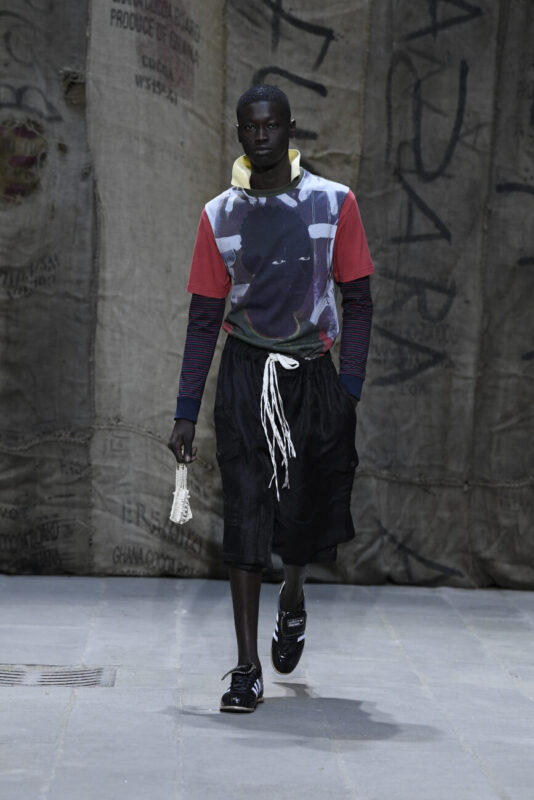 On the other hand, there are some aspects that deserve to be explored.
Grace Bonner is a very young and talented designer, but her research has always been focus about African cultural heritage and its influence on contemporary Western fashion. Her Central Saint Martins graduate collection was called Afrique and it was informed by broad cultural research too. Perhaps there is a risk that this interest, which is certainly genuine and up to date with the times we live in, will lead to a mannerism that may upset future collections. At just 30 years old, the British fashion designer is called upon to rethink the codes that have characterized her style so far, to offer contemporary solutions without betraying her identity.
An additional aspect that deserves attention is the choice of the location. Medici Riccardi Palace was chosen to ideally connect fashion with the Medici court. The journey through Renaissance history that Wales Bonner undertook started with the presence of black characters in Benozzo Gozzoli's frescoes in the famous Magi's Chapel. Moreover, the set was curated by Ghanaian artist Ibrahim Mahama, who covered the architectural space with jute sacks hand stitched together, to reveal instances of exchange, while leaving behind material traces and intertwined histories. But are we sure the contemporary fashion really need such an historical stage to be legitimate? It almost seems that fashion wants to sit next to ancient art because of an inferiority complex. But if it really wants to reflect contemporaneity, perhaps fashion should claim spaces of its own. It is now a perfectly grown discipline and it has the skills to do so.