It all started at The Batcave.
by Riccardo Slavik
"Look past the slow black rain of a chill night in Soho; Ignore the lures of a thousand neon fire-flies, fall deft to the sighs of street corner sirens — come walk with me between heaven and hell. Here there is a club lost in its own feverish limbo, where sin becomes salvation and only the dark angels tread. For here is a BATCAVE. This screaming legend of blasphemy, Lechery, and Blood persists in the face of adversity. For some the Batcave has become an icon, but for those that know it is an iconoclast, it is the avenging spirit of nightlife's badlands — its shadow looms large over London's demi-Monde: It is a challenge to the false Idol. It Will Endure." ( from the liner notes of the Batcave compilation album Young Limbs and Numb Hymns)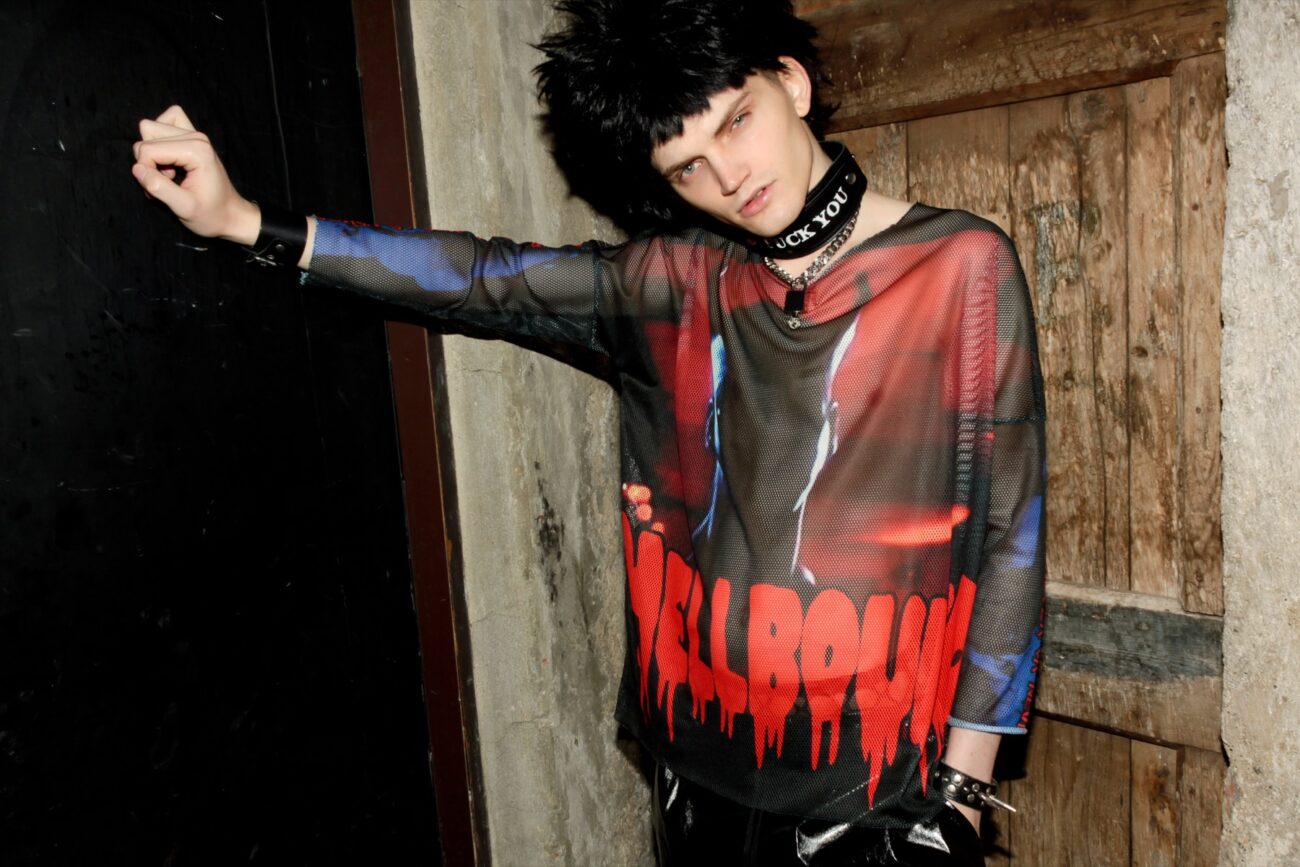 "The Batcave was marvelous," enthuses Nik Fiend of Alien Sex Fiend. "I wouldn't change a day about it. It was this mental idea of loads of people — photographers, clothes designers, musicians, artists, people from all different walks of life all thrown together — everybody helps everybody through."
The Batcave was opened in July 1982 by two members of the Specimen as a sort of surreal clubbing experiment, a post-punk cabaret with decor inspired by cheap horror movies and a rather eclectic taste in music, it soon originated its own subculture, a look that took the androgynous sexuality of Punk and the Blitz kids to new extremes: fishnets, heavy make up, big hair, leather, vinyl, anything sexy, black and shiny. It became the template for the ultimate teenage subculture: Goth.
Siouxsie Sioux, the ultimate Goth icon, to this day rejects 'goth' as a definition for her music, it's a label few of the bands normally associated with the genre feel comfortable with. As a reaction to the ultimate failure of the punk experiment, and what became a very macho, violent punk scene, quite a few bands that had started as punk turned darker and moodier at the end of the 70s. The romantic glamour and theatrical costumes of the New Romantics were the base for another evolution of Punk. Goth mixed this newly found romanticism with irony, a penchant for horror B-movies and the original sex-shop trappings of punk for a look that became iconic in a very short time, the success of bands like The Banshees, The Cure, Bauhaus and Sisters Of Mercy created an unlikely cult which has lasted for more than 3 decades.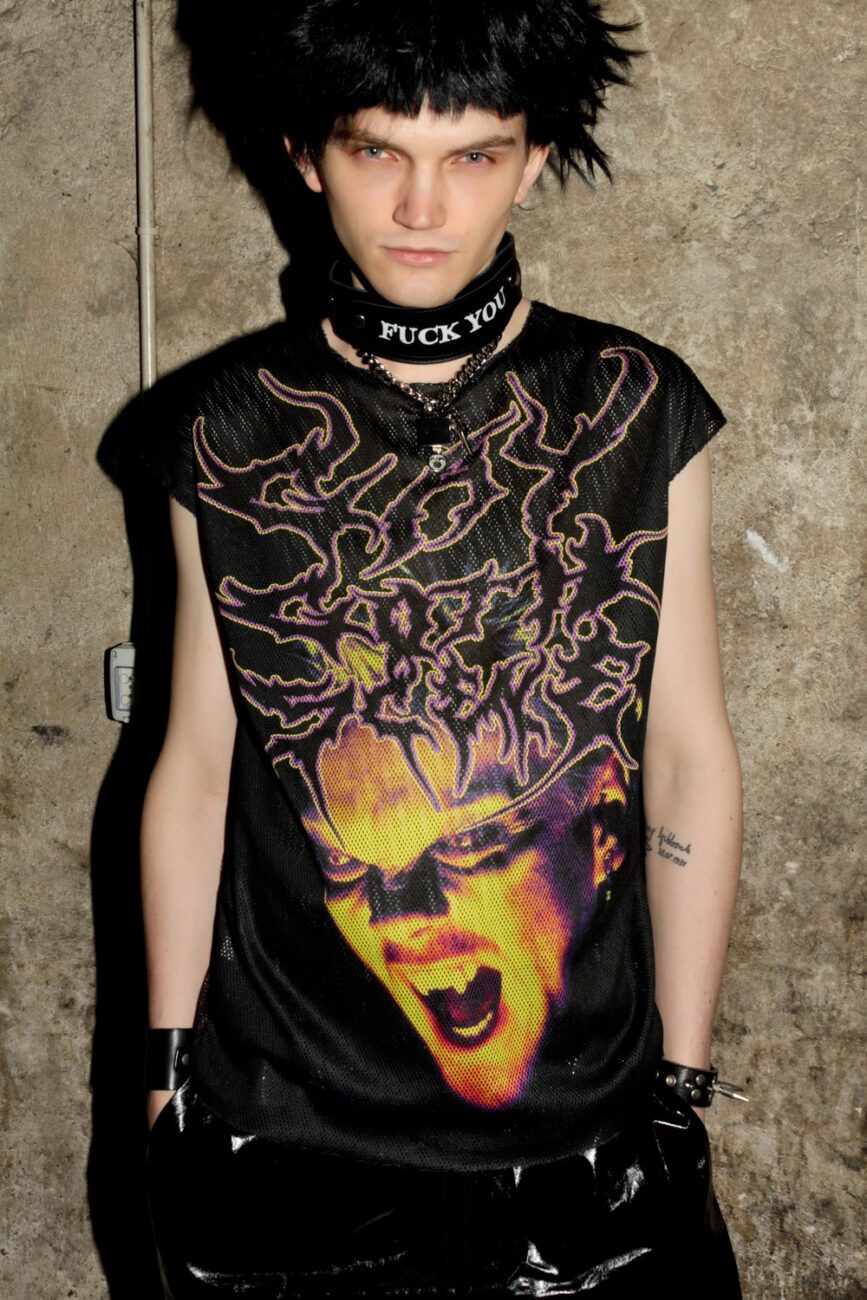 In our post-subcultural age, the 'Goth' look of black clothes, make up, big hair has become the ultimate symbol of teenage angst and it appears to match a certain feeling of 'otherness', the tension between fitting in and standing out and adolescent dark impulses so well that its appeal has muted and evolved but hasn't quite faded since 1982.
Inspired by the Gay Goth Scene video by The Hidden Cameras, the homonymous STILL ILL capsule collection tries a modern take on the original goth look by taking inspiration from horror movies like A Nightmare on Elm Street 2:Freddy's Revenge and The Lost Boys , Gay Liberation slogans and vintage porn for a tongue in cheek mix of heavy metal lettering, slasher flicks, mesh and vinyl that celebrates teenage hormonal tension and fascination with darkness, with graphics that explore a nostalgic world of sexual awakenings and guilty pleasures, fetish and romance.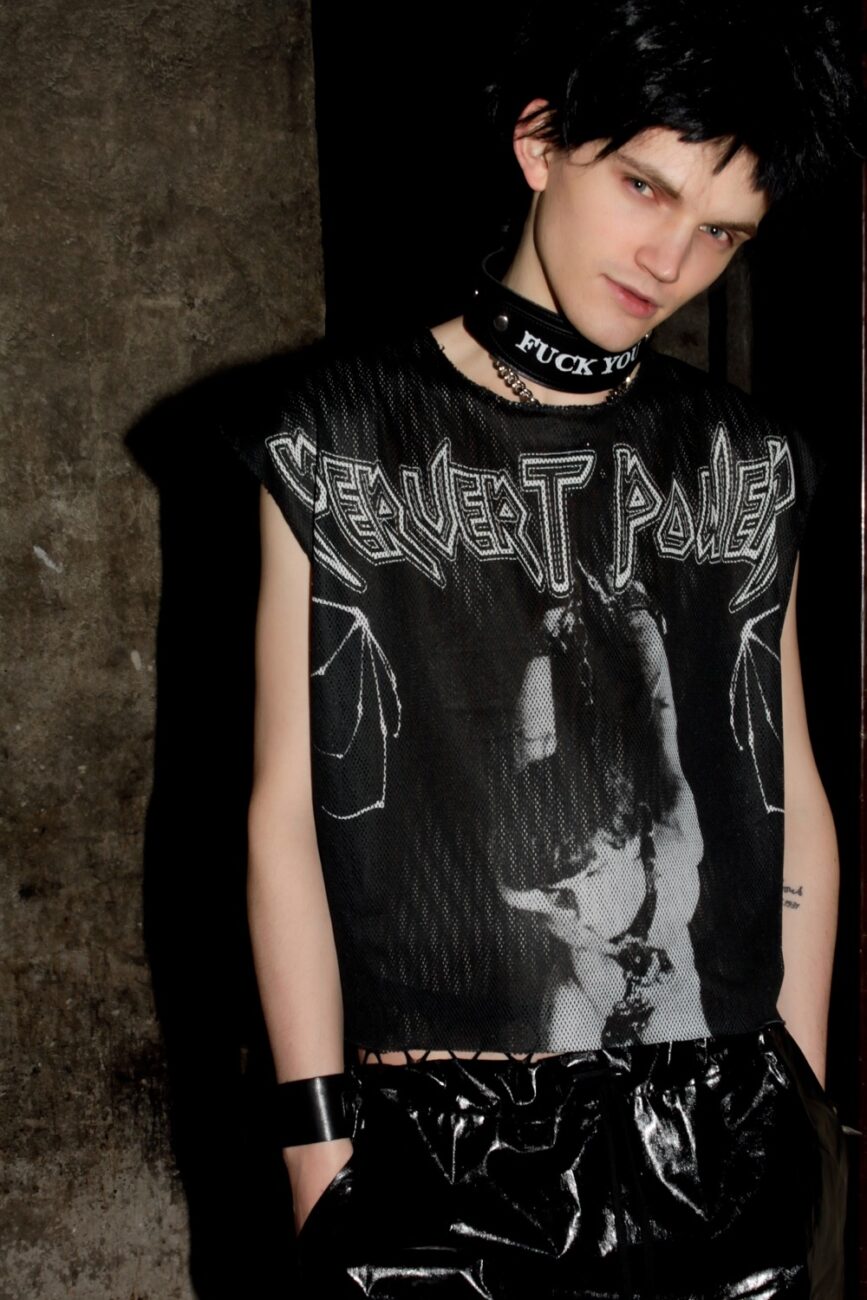 Photos & Styling : Riccardo Slavik @riccardoslavik
Model : Morris Pendlebury at Independent Management @morrispendlebury
All clothes STILL ILL @stillilluk except vinyl jeans and fake fur stylist's own
all accessories stylist's own
special thanks to Monica Pollara and Blanco Milano