GILBERTO CALZOLARI, WINNER OF THE 2018 GREEN CARPET AWARD FOR BEST EMERGING DESIGNER, PRESENTED YESTERDAY HIS SPRING SUMMER 2020 COLLECTION
Interview by: Annarosa Laureti
The 100% eco-friendly Milanese designer has a mission: spreading out his fashion concept and making people more conscious about dressing themselves up.
After almost 15 years spent on working for the main brands – from Marni to Alberta Ferretti passing through Valentino, Miu Miu and Giorgio Armani – he decided to create his own label knowing well that "there is no Planet B". On the occasion of his "Dune" fashion show, that took place at the very start of Milan Fashion Week, he told us about pollution, sustainability and, above all, about how making eco-friendly fashion is funny.
Annarosa: Let's start with your latest collection…
Gilberto: The collection is called "Dune" and, as all my collections, it has a reference to cinema: "Dune" in fact is the name of a 80s David Lynch's movie. It is, as the others, eco-friendly and it has almost zero impact. Last Fall Winter was named "Unnatural", meaning unnaturally colored, and it deals with plastic abuse. In this Spring Summer the natural element completely disappears and the main theme is that of desertification, actually one of the current hot topic, not only because of deforestation problem but also due to what happened last August in Amazonia. The 20% of the world's oxygen is at risk and people begin to worry about it, also thanks to Greta's phenomenon. In my opinion young designers who are approaching the industry presenting their collections has the duty to make sustainable fashion because fashion is the second cause of pollution, just after petrol. It is for this reason I chose to talk about deforestation: several garments in fact are made in viscose and viscose is cellulose so come from trees. That's because I use viscose FSC certified where, according to how many trees are cut down to make textiles, they will replant as many.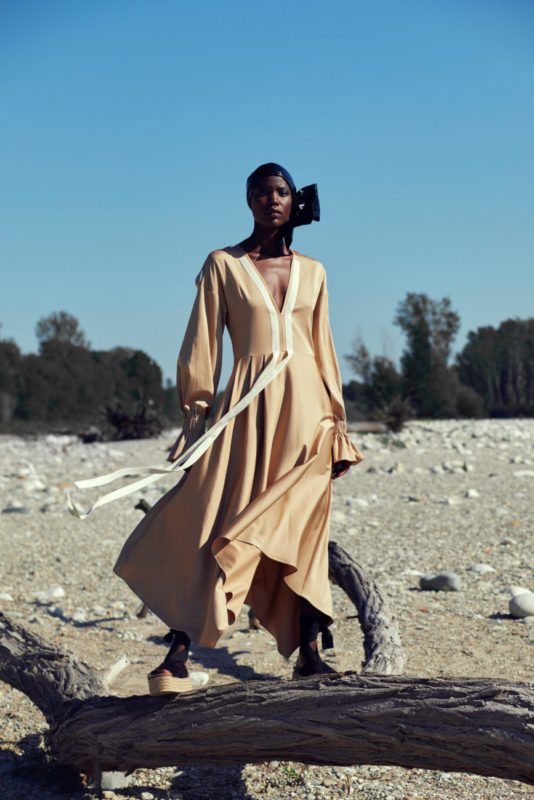 A: Last year you won the Green Carpet Award for Best Emerging Talent presenting a dress made of jute bags from Brazil bought in Milan. In a sense you demonstrated how poor materials can reveal a second life turning into couture garments…
G: For me, as Milanese, stepping on Teatro alla Scala stage and being awarded in front of fashion masters, it was a true honor.
Last Spring Summer I made a dress with jute bags, this Fall Winter I embroidered citrons' nets. I like do a work of "upcycling": taking the waste, sick stuff, scrap materials to throw and make them glamour, to ennoble them. And this is so funny. Everybody is able to use beautiful fabrics to create marvellous dresses. Eco-Friendly fashion is also an opportunity to be creative pushing boundaries. For "Dune", for example, I collaborated with Volvo Car Italia. I made a dress with exploded airbags, it seems a space overall. "Dune" refers to the desert and with this piece I have the opportunity to talk about those deserts become tire's dumps, like that of Kuwait. I join together technical and super eco materials. For example I create also a biodegradable canvas cotton jacket that in one year becomes compostable; or again a dress and a coat are made of cork matched with organic cotton (cork is a entirely eco-friendly fiber, washable, and also used in decor). I love used unusual textile to made fashion. I like provoking. For me material research is fundamental. I go to textile industries and I recover materials giving them new life. Sustainable fashion also means avoiding wastefulness. And the nice thing is that you can really have fun and we have to communicate this to young people because this is future!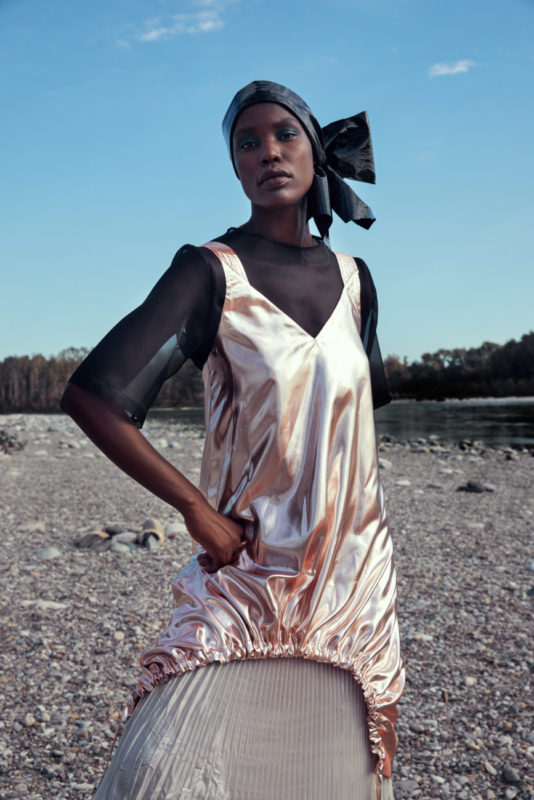 A: Always talking about sustainability… During the last years fashion world is increasingly taking care about "the green factor". Do you think we are walking down the right path or are still there several goals to achieve?
G: I like talking about "green punk". New punk is sustainable fashion. I also often talk about new luxury. Fabrics in fact are research ones so a bit more expensive. My moto is "Reduce. Reuse. Recycle.". We could buy less but consciously, trying to be more respectful of the Earth.
Yes, green is the new glamour but I think that there is still a lot to do and we often abuse using the word "green". There are several labels that say they do sustainable fashion but actually they make only little capsule. They are big brands and obviously they can't completely overturn their work routine.
I can, indeed, being at the very start, use sustainable fabrics ex novo. My collection is entirely sewed with FSC and GOTS certified wires and it is 100% made in Italy. So we are also talking about "Kilometre zero" production and we also pollute less from this perspective. Eco-friendly fashion isn't my copyright, we must communicate it. Now companies are getting ready: more designers ask for sustainable fabrics more companies are forced to furnish them.
A: Your label born in 2015 after you spend years and years working for some of the most prestigious fashion houses. Why you decide to start your personal project?
G: I worked for big brands but I never married their purposes. It was like going to Renaissance ateliers. I needed to go to school in a way but I always knew I wanted create my own collections. And now I'm realizing my dream is carrying on my mission.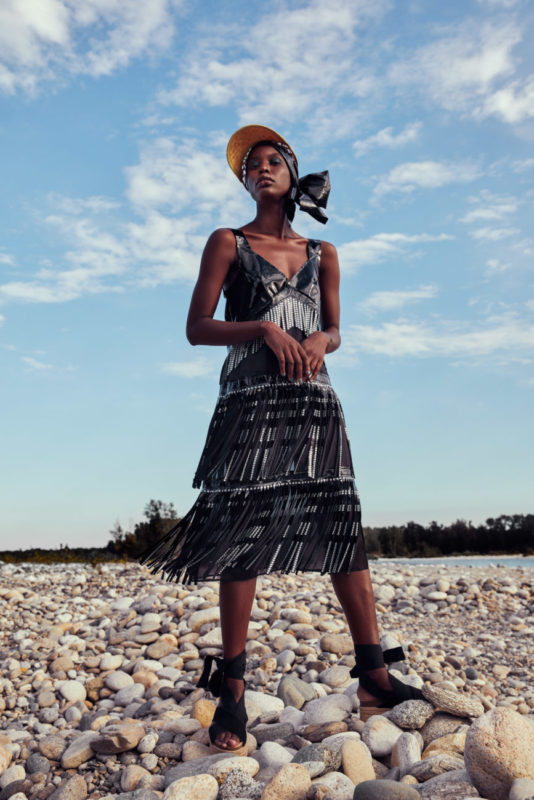 A: "You never foget your first love". You attend "Accademia delle Belle Arti di Brera" getting a degree in scenography and theatrical costume. Are still art and theatre living inside your luxury prêt-à-porter creations?
G: I'm a scenographer and a costume designer but my father always worked in fashion and I loved follow him during fashion shows. However I didn't forget my first love because I always think about my presentations as truly performances. They are fashion shows contaminated with theatre. I want that public remembers the emotions felt. There is a story, a message behind them. "Dune" for example narrates the desertification: collection's colors refers to the sand, to desert's dunes and natural element as I told before that doesn't exist, except from a black and white print reproducing palms. The latter represents a kind of hope for humanity: an oasis that is gone or maybe that still exists.
Some neon pieces refers to breakdown service's overalls: lemon yellow, reflectors suggest an idea of alert. Dresses become warning signs. And then there is the final red colored "warning dress". Finally colors turn darker and there is the last pattern I used called "petrol spotted", truly criticism against industries. To end I also realize in partnership with Volvo belts using safety belts.
The message I want to communicate is "Keep attention world, we must change for future generations!".
If we continue at this rate in 2050 world global temperature will grow up of 2 degrees so Equator zone will expand and we will deal with bad consequences: people migration and glaciers' melting.