WHAT ARE THE MEANINGS (AND MYTHS) OF THE CHINESE YEAR CALENDAR EVOKED BY BRANDS' CAPSULE COLLECTIONS 2020?
Text by: Fiammetta Cesana
Posts of embroidered, patched and printed rats all over vermillion-shifting garments have been blasting across social media these days. Several brands indeed decided to create full capsule collections to celebrate the Chinese New Year, that on January 25th officially marks the coming the zodiac sign of the Rat. Unfortunately, the beginning of this new lunar calendar has been hit by a serious national emergency, the diffusion of the coronavirus, that forced government to cancel all the festivity's scheduled public events. However, this dreadful happening shouldn't let down the positive spirit of this celebration, on the contrary it should raise even more thoughtful actions and prays throughout Chinese and global population in the hope of stopping the disease.
Also called the Spring Festival, the New Year is the most important festivity in China and, as it follows the lunar cycle, its date is always different. On this day people clean up their home getting rid of past year's bad, dirty traces to make space for fresh happiness and good luck. Saying goodbye to the coldest days, the Spring Festival was originally spent praying gods and ancestors for the harvest, and it has no lack of myths around it…
The legend says that a monster called Nian used to come every chunjie (Spring Festival) scaring people and making them hide in their homes, but one year a young man bravely fight the monster defeating it with firecrackers. For this still today, honoring the arrival of the New Year, Chinese people start firecrackers to keep monsters and bad luck away.
Joining the festive spirit of chunjie, many brands propose a theme-y capsule collection, where Chinese traditional red color and stylish mouses will keep bad taste away!
"The collection and the set were both very joyful with lots of red, a color that symbolizes good fortune. I really wanted to portray the importance of Chinese New Year and its traditional values through the campaign images. My favorite Chinese New Year memory is setting off fireworks with my family. I believe that the person who launches the first firework of the New Year will receive good luck!" – Said the Burberry's model He Cong
As every lunar year, this one is associated to an animal which, on its turn, is cyclically linked to a particular element. 2020 is guided by the Rat of Gold, and whoever will be born under its influxes is said to be a clever and talented individual combined with a jealous, impetuous spirit and strong self-awareness. So are they going to the kind of personality suggested by these new collections too?
Let's discover some of them and see…
Burberry: Chinese New Year 2020 campaign
Starring the brand ambassador Zhou Dongyu alongside models He Cong and Liang Jiyuan, Burberry's New Year campaign completes its fully Asian team being photographed by the Shanghai-based artist Leslie Zhang.
This vivid red painted collection, comprising refined tailoring and sporty pieces, reflects the important ambitions of women and men "on fire" who have no fear of big challenges and want to lighten up the world around them. Real Golden Rats!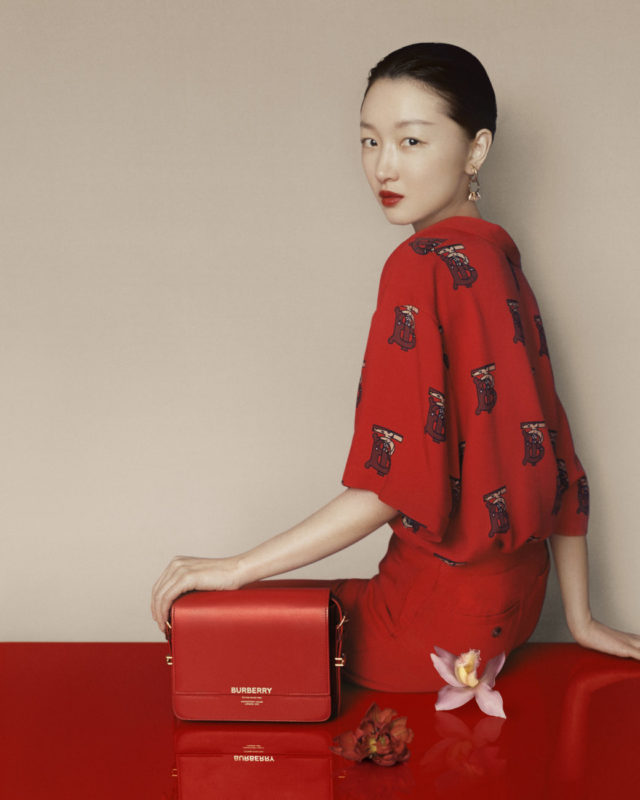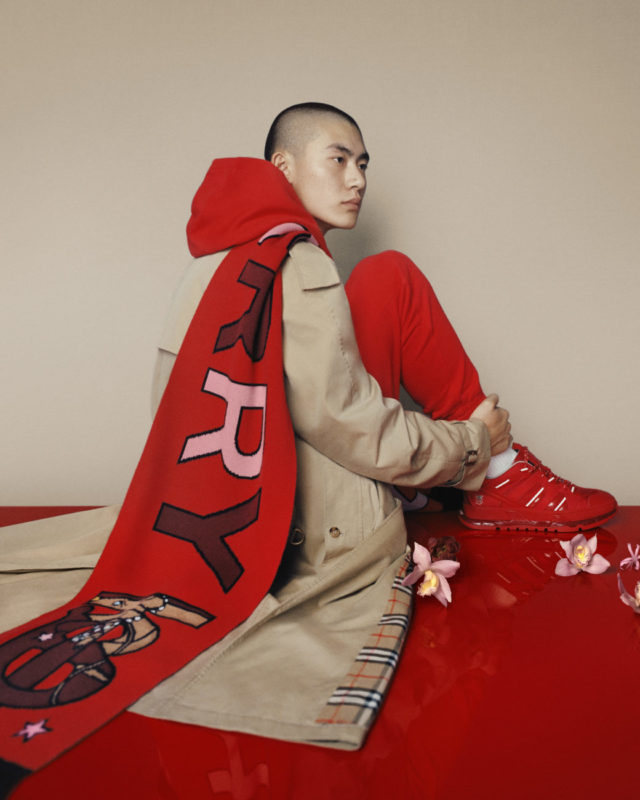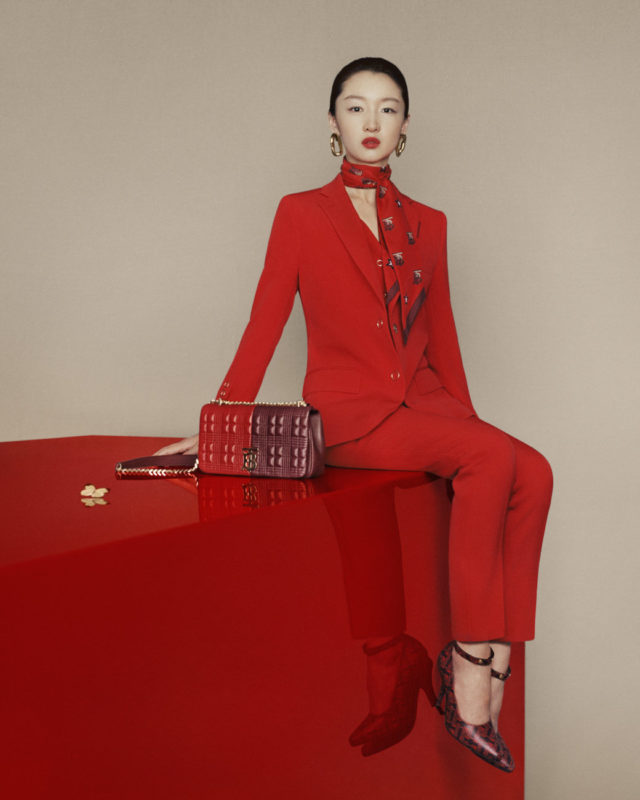 With new iterations of the brand's iconic Union sneaker and Lola bag, the collection particularly fulfills Chinese zodiac's inspirations in a limited-edition Thomas Burberry Monogram motif with original rat-featuring illustrations.
"To me, Chinese New Year has always meant the reuniting of family. But now, for me, it also means a long holiday that leads to new beginnings and goals to strive for. I used to love it when the whole family got together and prepared for the most important dinner for the whole year, on New Year's Eve. We would go to the supermarket together, cook together, have a really good time together." – Leslie Zhang said
Burberry's capsule collection is available to purchase now in select stores globally.
Gucci: Chinese New Year 2020 campaign
Now landed on a very fashion playground, the Year of the Rat signed by Gucci is set up in the fantastic world of Disneyland. Through the lens of the photographer and filmmaker Harmony Korine, the Maison chose to celebrate the Eastern festivity with the top Western-born character, our cherished rodent entertainer Mickey Mouse. Korine captures the actors Ni Ni and Earl Cave with the designer and poetess Zoë Bleu having fun – and glamor of course – with Mickey Mouse in person in his marvelous Californian reign.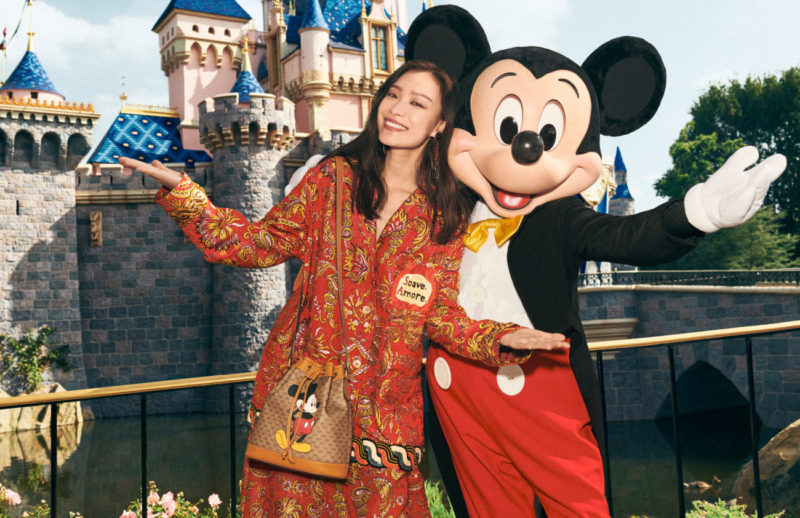 In a retrò technicolor ambient, among the unmistakable pink and blue castle and spinning tea cups, the protagonists of this 2020 Gucci's campaign show a series of dedicated items, from bags to shoes and shirts, launching the new Mini GG Supreme fabric with Mickey Mouse print.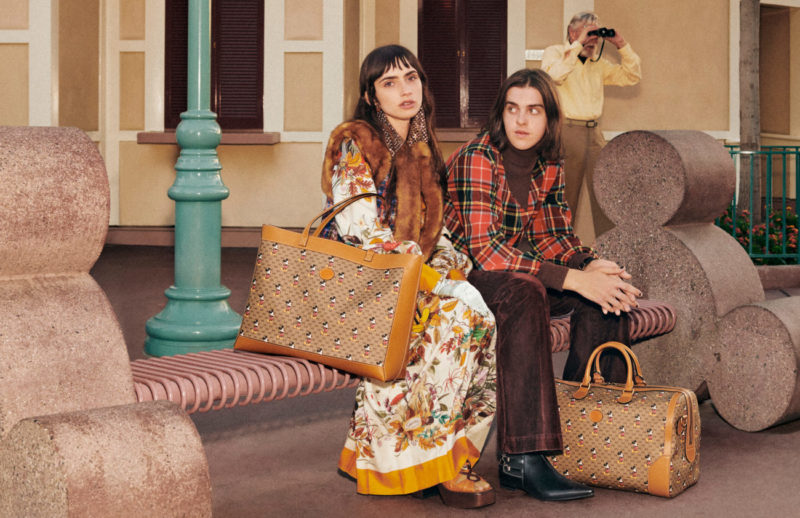 Gucci's woman and man lay claim, once again, their powerful and free-minded spirit by proposing an eclectic and also cathartic way of dressing, that affirms the value of past styles and techniques enriched by today's technology achievements.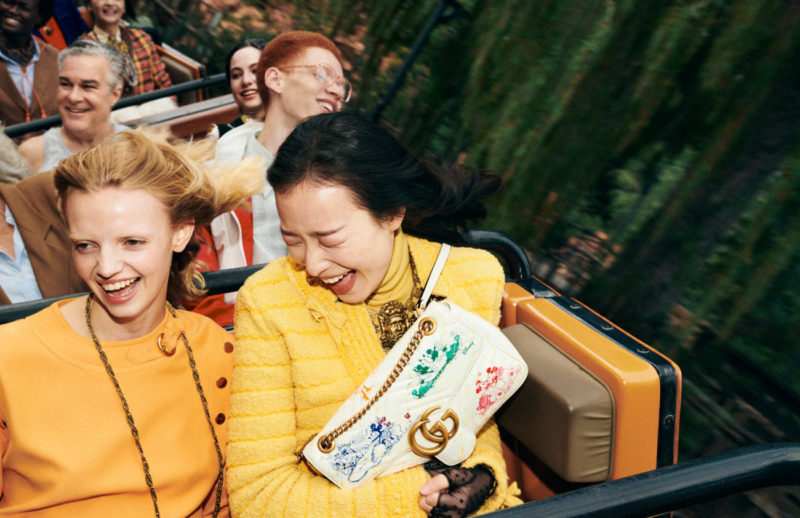 The beige and ebony fabric with Mini GG motif and Mickey Mouse indeed reinvents a Maison's fabric of the 80s whose original design, color and linen-like-appearance have been reproduced thanks to a high-definition digital printing process. Then, to add a further modern twist, a leather brown plate signs officially the collaboration with Disney.
The capsule collection is now available on gucci.com and at Gucci's stores worldwide. Also bespoke entertainment is provided through the Gucci App where costumers-users can see themselves "wearing" Mickey Mouse's ears.
Moschino: Capsule collection Mickey Rat
The parody of Mickey Mouse itself, Mickey Rat – created by the cartoonist Robert Armstrong in 1971 – becomes the protagonist of Moschino's limited edition capsule collection. With again a full Chinese cast of excellence, the creative director Jeremy Scott directed the campaign with the stylist and model Mia Kong, who poses alongside Jun Kai Qi. Photographed by Shxpir Huang in New York, the duo reinterprets in a cool, very pop key the Spring Festival's traditions, showing new ready-to-wear, sporty pieces and accessories, for both women and men.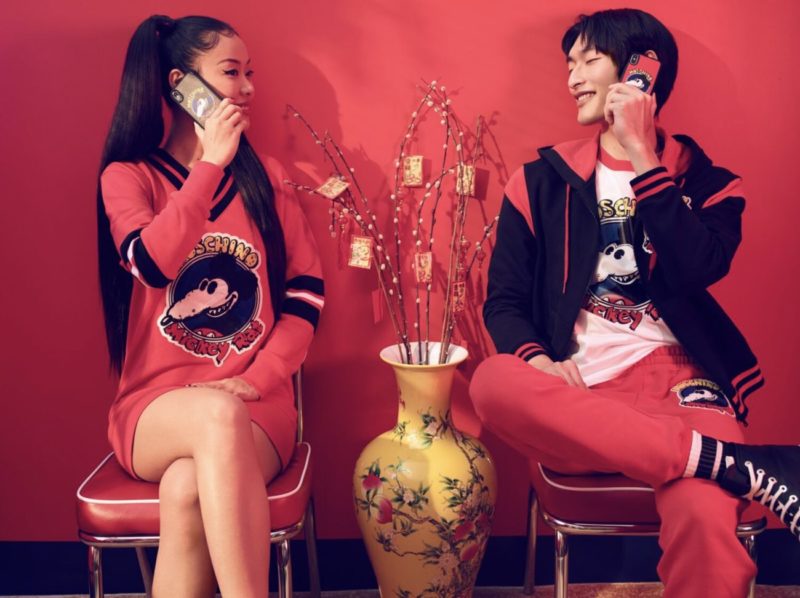 Mickey Rat jumps out of a red playful set among mahjong, red envelops and peach flower, which remind the festivity's typical board games and decorations.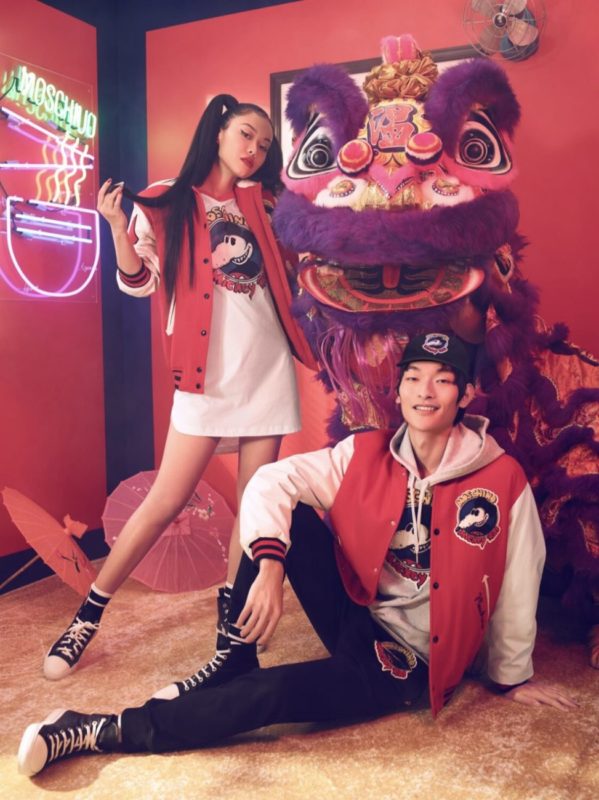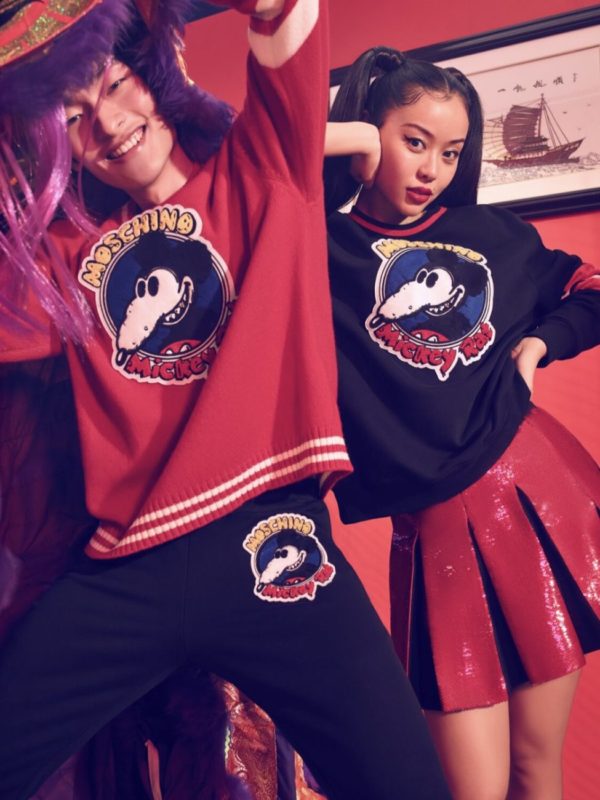 Entering this fantastic world of neons and dancing lions, the alter ego of Mickey Mouse comes from Western culture to honor the China of past and present time. The funny rat gives Moschino's looks some extra appeal turning on vivacity and carefreeness on whoever is wearing them.
The limited capsule collection is now available on moschino.com, at Moschino's boutiques and selected multi-brand stores worldwide.
Fendi: Chinese New Year 2020 capsule collection
In line with the Chinese spiritual sense of life and aesthetics, especially during this time of the year, Fendi's new capsule collection selects particular color tones, for women and men, according to their auspicious significance.
The female wardrobe is tinged with rose gold. The Maison's iconic bags are presented in different sizes, regular mini and nano, and different materials, from nappa leather to handcrafted sequins, where the use of such romantic nuance symbolizes good fortune and blessings for the upcoming year. From Pequin motif jewelry boxes, rose gold wallets, card holders to bijoux, the capsule creates a lucky-charm selection of gifts.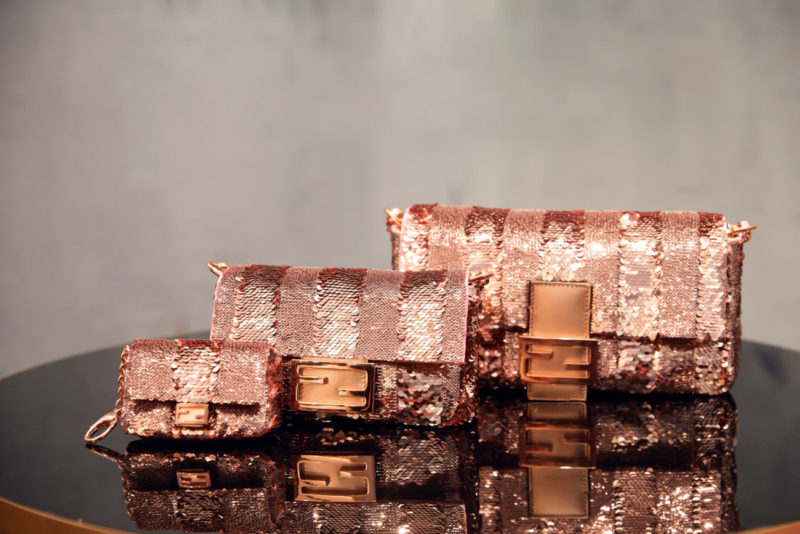 Then, for men, Fendi chooses to provide fashion items with a real festive spirit by using red and gold hues, which in addition to good luck are considered as the color-carriers of joy. To honor the entry of the Rat in the new lunar calendar, a cartoonish mouse motif inspired by the Maison's monster eyes has been specially designed for the capsule embracing a mini bag, a wallet and a card holder.
For this new year, therefore, Fendi wants to make its woman and man feel empowered by the positive meanings of the colors she and he wears.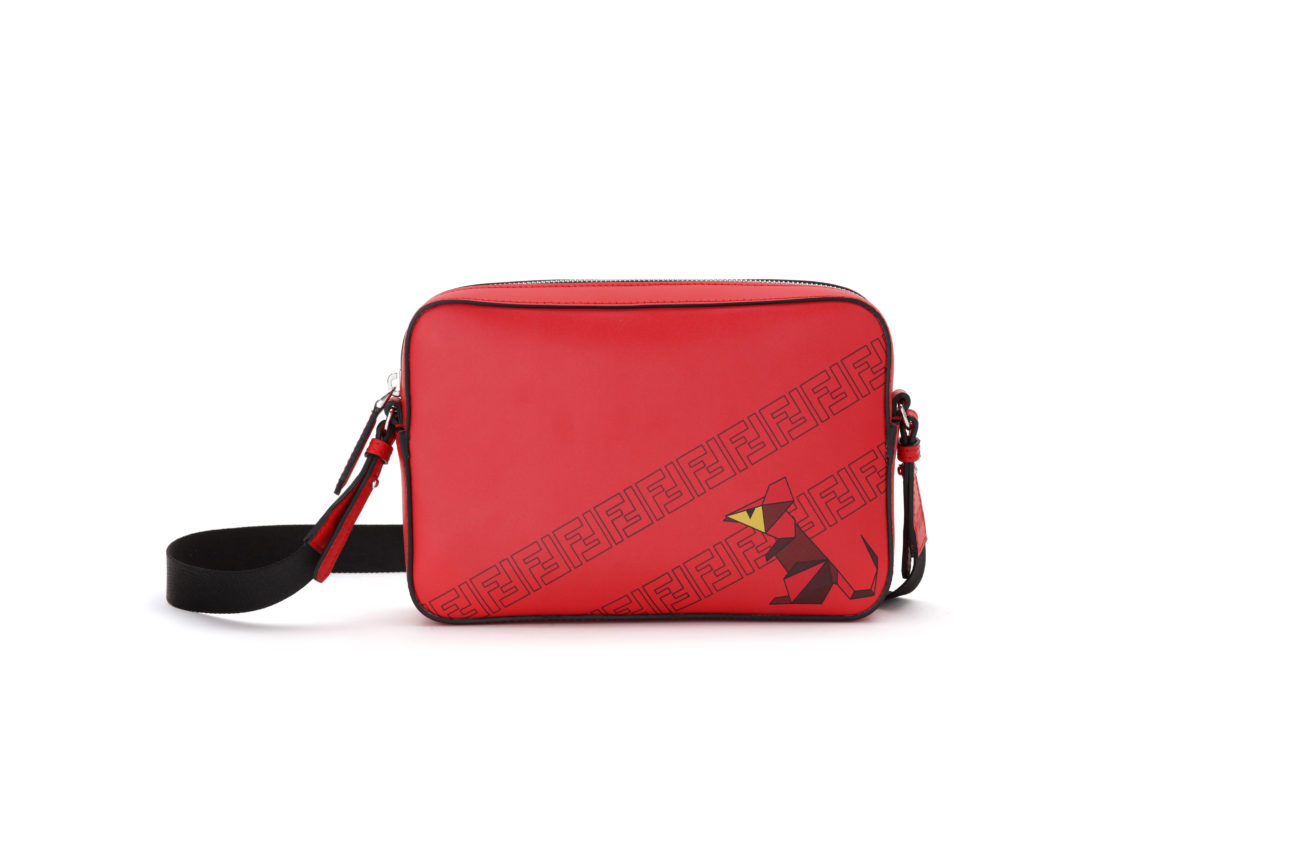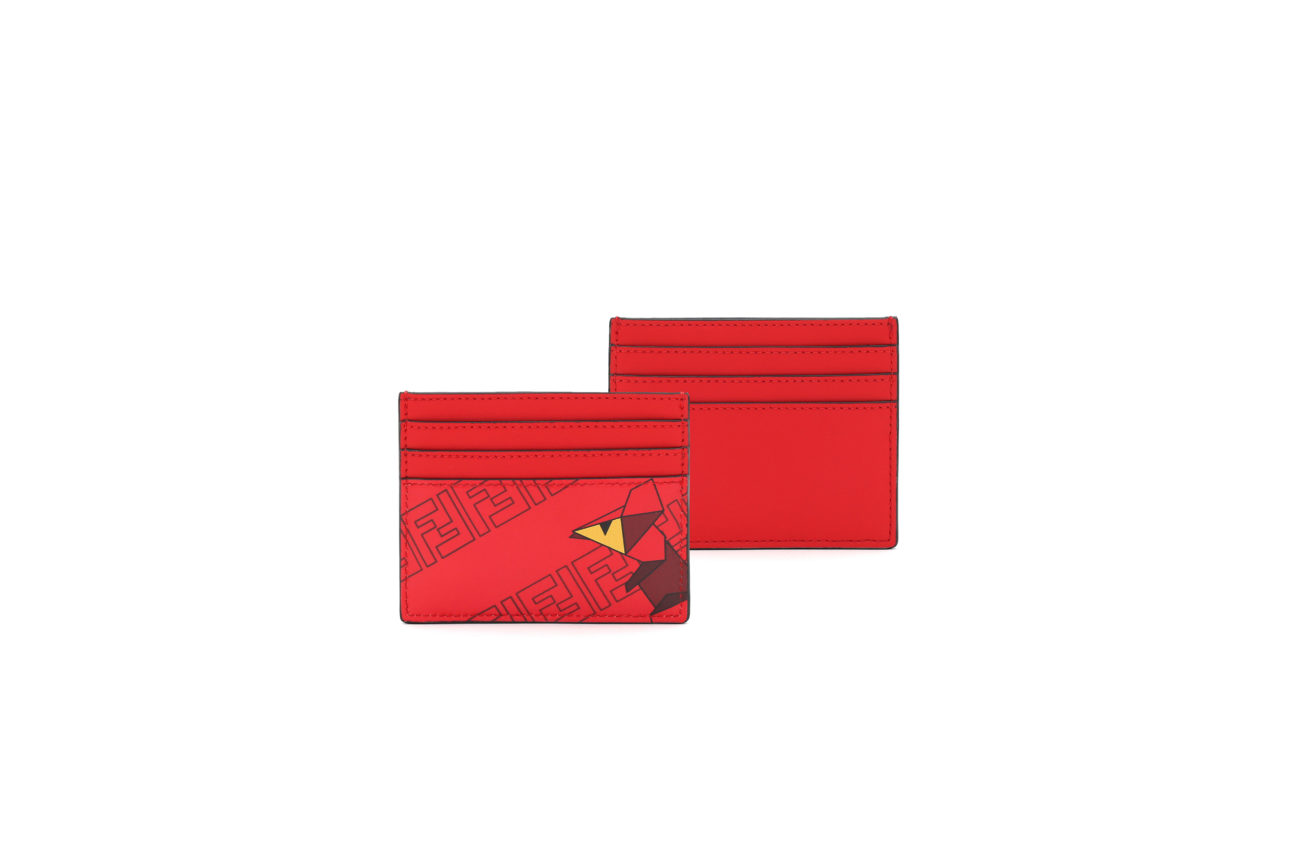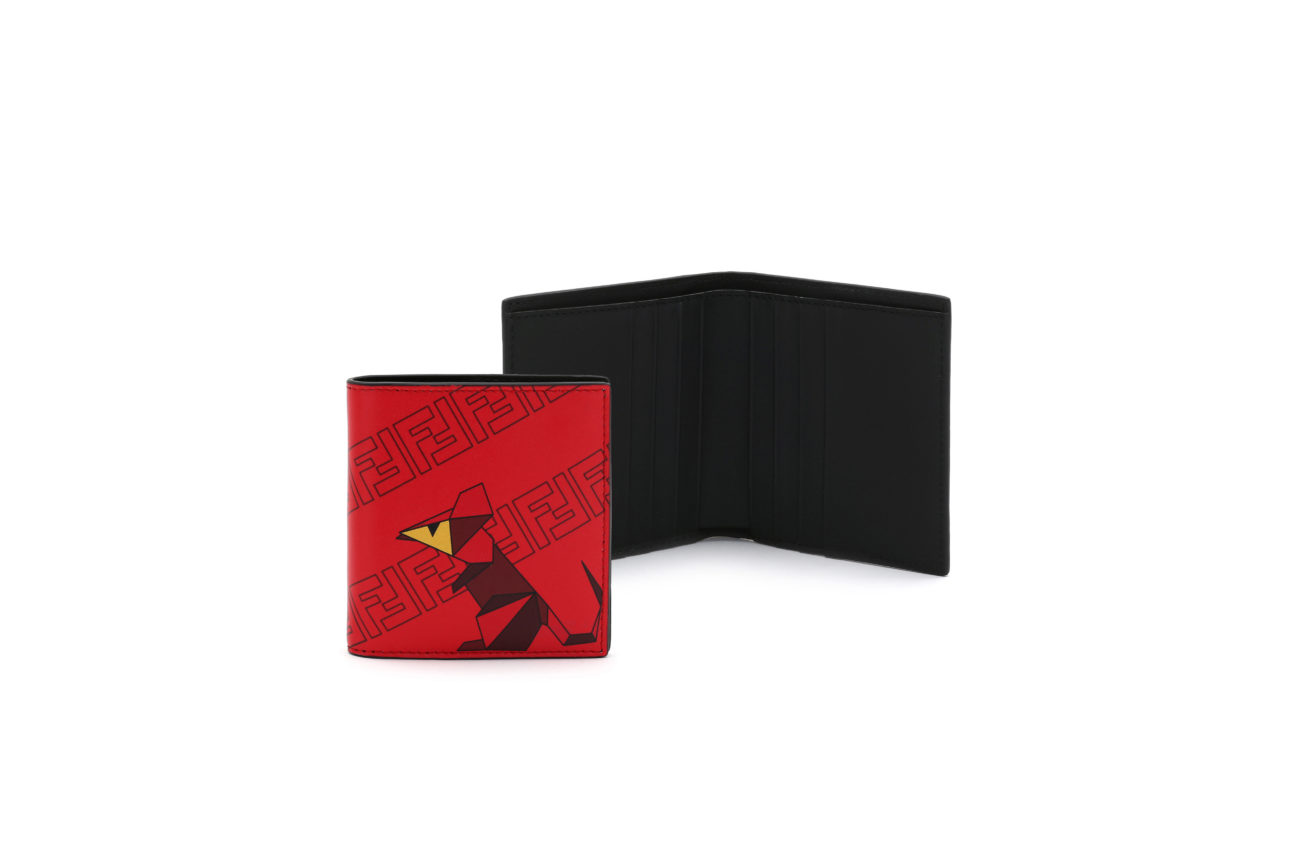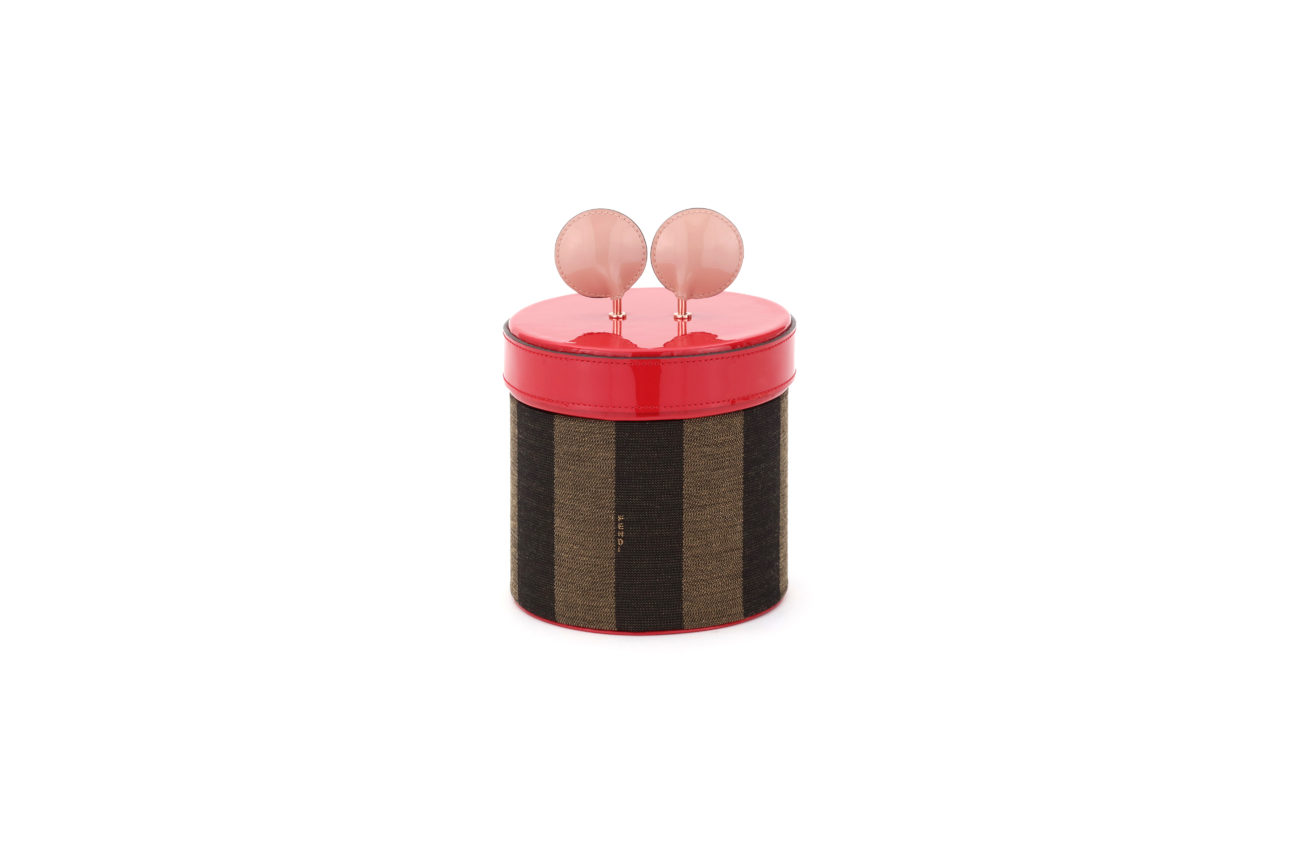 Golden Rat Fashion's Eve_Fendi Chinese New Year 2020_capsule collection
Golden Rat Fashion's Eve_Fendi Chinese New Year 2020_capsule collection
Golden Rat Fashion's Eve_Fendi Chinese New Year 2020_capsule collection
Golden Rat Fashion's Eve_Fendi Chinese New Year 2020_capsule collection
The capsule collection is available on fendi.com and recently also at Fendi's boutiques worldwide.
Marni: Chinese New Year capsule collection
In a more vintage frame, Marni's collection pays homage to the Spring Festival with a colorful, vibrantly 90s, mood starring a stylized mouse. Alongside denim jackets and contrast-patchwork pants, the rat protagonist sticks out of cotton and knitted tops, wool hats, socks, as well as décolleté, shearling sneakers and a series of bijoux, pendants, and lucky charms – much helpful to start the new lunar year fighting bad fortune!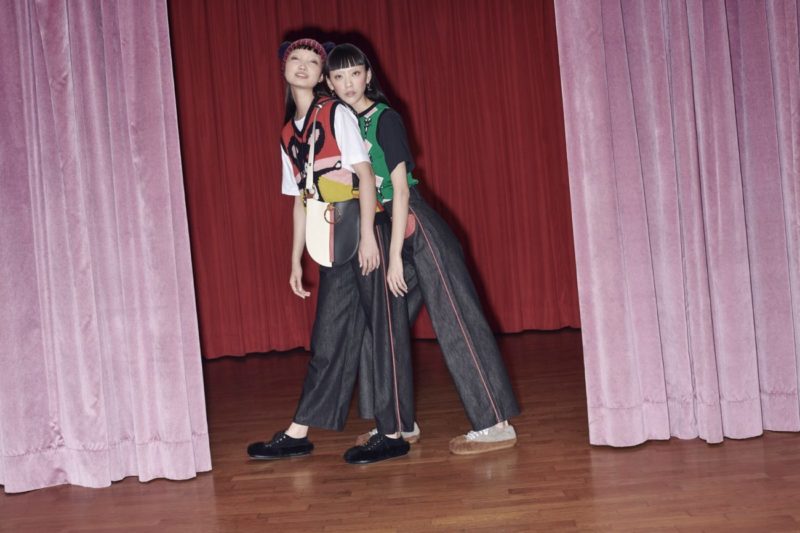 Marni's woman moves with stealthy step to new astral ready-to-wear influences, expressing, silently, her well-defined personality and style.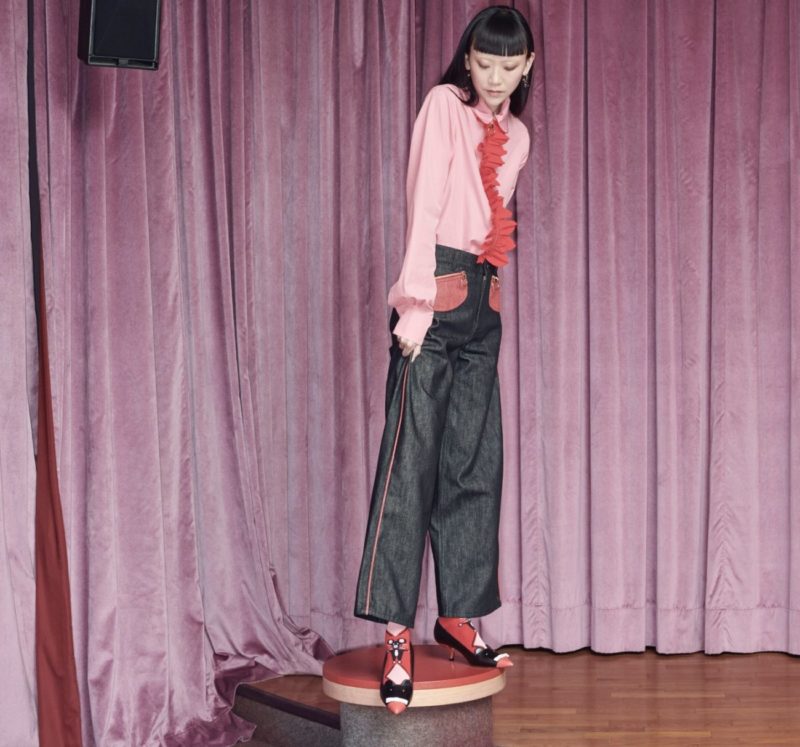 In addition to mouse-shaped accessories, this collection presents an exclusive edition of the Earring Bag, in small and medium size and in two new variants, backpack and pouch. Each bag is made with soft leather and defined by a golden circle embellishing the zip, which quietly resembles the rounded ears of the tiny animal that this year goes gold.
The capsule is now available on marni.com, at Marni's boutiques and multi-brand stores.
Chloé: 2020 Chinese New Year capsule collection
The brand's iconic light color palette is animated in this new capsule collection by a lively mouse protagonist, creating an attractive combination of softness and positive energy which perfectly characterizes the Chinese balanced attitude.
An exclusive joyful motif with the rat has been designed by the British artist and illustrator Julie Verhoeven, which spread out across new pieces like the Mini Chloé C and Aby Lock bags, and the Sonnie sneakers. A selection of accessories that adds to female delicacy and elegance a fun original twist!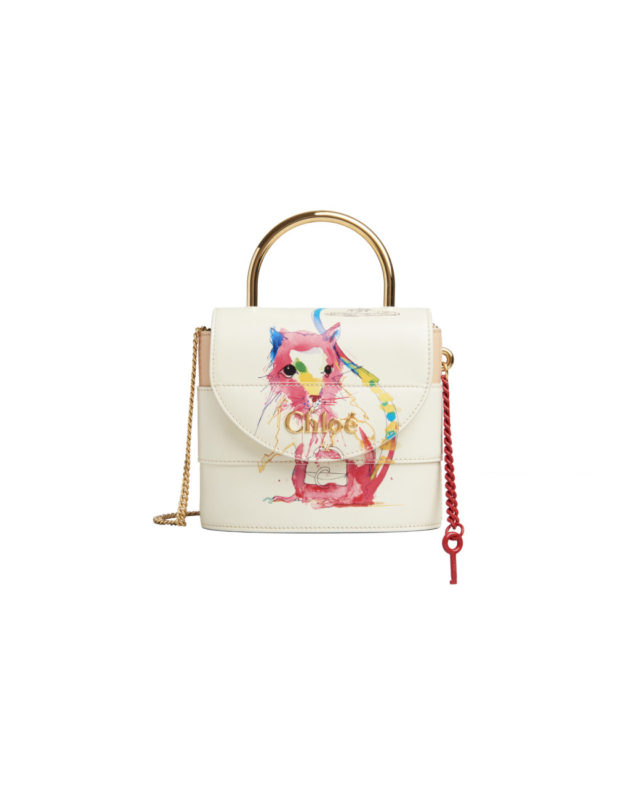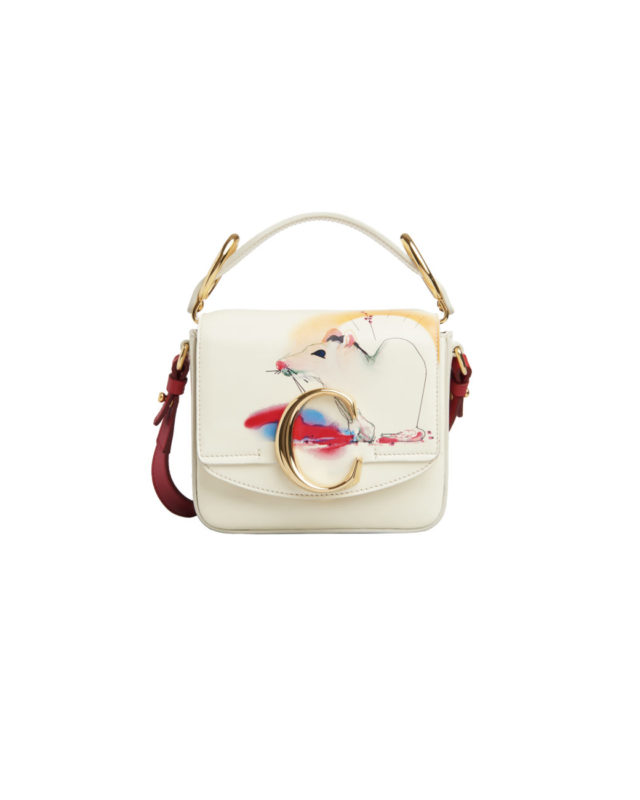 The mouse's whimsical personality is also presented in a series of T-shirts as a good omen for women that can feel themselves classy and youthful all over the year.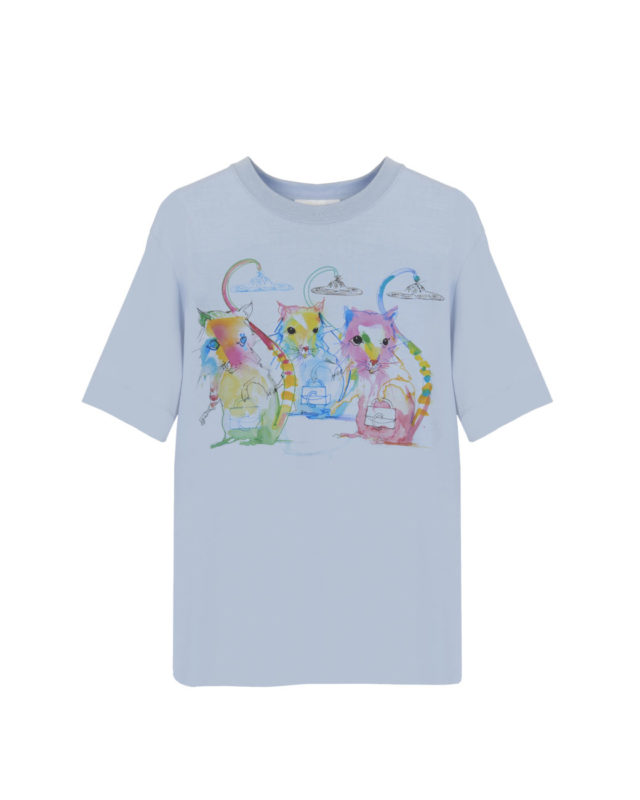 The capsule collection is now available on chloe.com and at Chloé's boutiques globally.
So now it's time to choose your favorite items and have the glamorest New Chinese Year – being blessed by good luck and excellent style!