IF SO, IT'D BE 70 AND OVER! GRACE & FRANKIE SHOWS HOW THE STYLE OF TWO SEPTUAGERIAN LADIES TURNS OUT TO BE EXEMPLARY FOR YOUNG GENERATIONS
Text by: Diletta Accorroni
That's really the case to say Old but Gold.
Starring the fabulous (80-something) Jane Fonda and Lily Tomlin, the new Netflix series "Grace & Frankie" will definitely give some verve to your quarantine days, keeping up your mood and fashion inspos!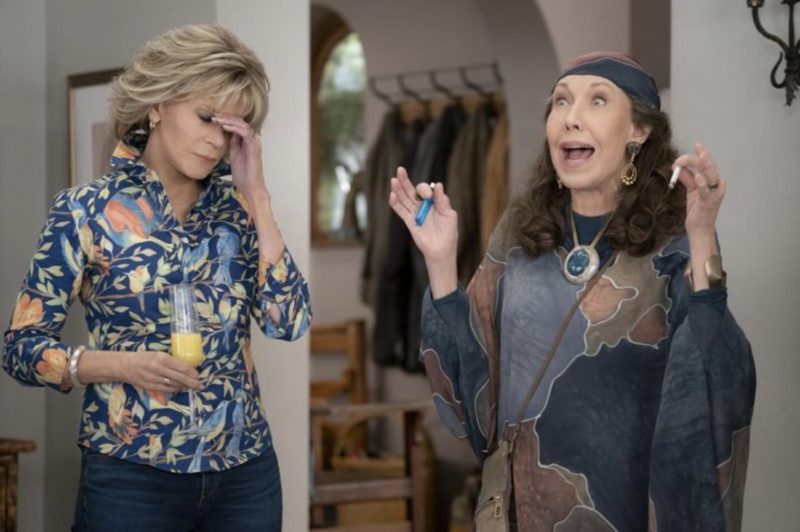 What is the outcome when a chic wasp version of Molly Bloom is forced to live under the same roof with an out of time freak, boohoo and naïve, who seems to be just headed back from Woodstock? The answer is easy: a brilliant, hilarious masterpiece.
Through this Netflix series, Marta Kauffman and Howard J. Morris created a gem based on the tragicomic story of two women, brought together after they have been told by both their husbands that they were gay, in a secret relation for years and now ready to get married.
However, the film Direction is not the only great thing about "Grace&Frankie", considering that the costume Designer Allyson B. Fanger has put into practice a sophisticated styling and sociological artwork which truly mirrors our society and deeply describe the personalities of the two characters.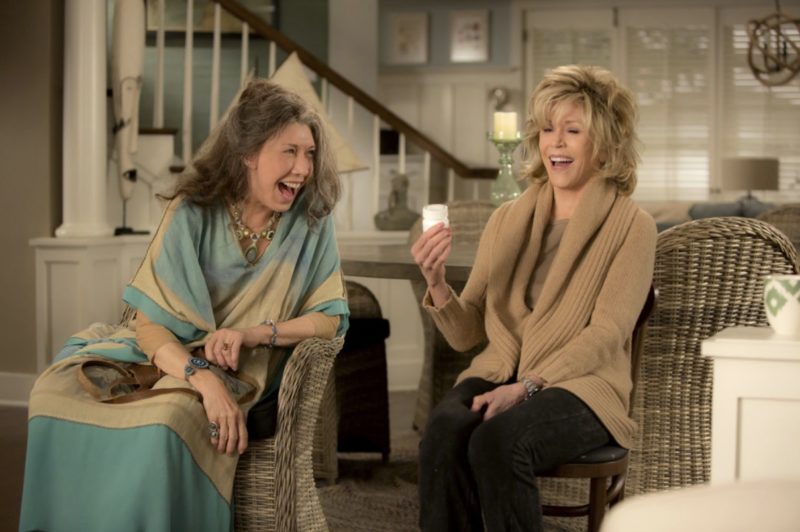 To confirm the success of the format, it's enough to say that both the stylish protagonists – Grace Hanson and Frankie Bergstein – are perceived as style gurus by the younger generation.
After all, who among us, doesn't have a grandma or an auntie to look towards, as her own style heroin?! Who said that with the passing of time, people stop being expressive? Just think about the 98 years old style icon Iris Apfel or to all those chic old ladies to whom many Instagram accounts are dedicated today.
The two characters are completely different one from each other's in any sense: lifestyle, background, beliefs, tastes…and so their looks are.
Frankie is eccentric and chic. She wears pieces coming from all over the world; starting from vintage patchwork shirts, passing to colorful silk kaftans and ethnic-print tunics, embellished with wonderful handmade pendant necklaces. She also loves overall, cozy, layered garments which remind a lot the first Japanese designers. Furthermore, in every single outfit she wears, you can spot a glimpse of her artsy style and punkish DIY attitude.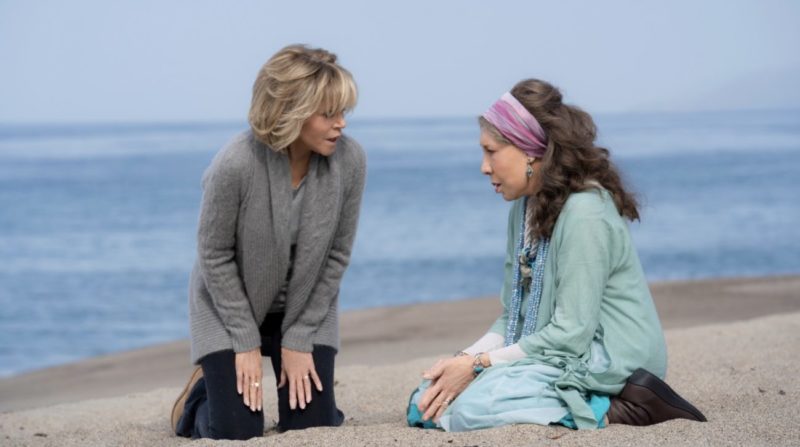 Frankie is a strong idealistic woman, spiritual, empathic, deep and aware about all the political and climate issues of the current era. Most of the time the garments she wears are naturally dyed and we can guess most of them are sustainable\ethical- which is most likely a further reason to explain why Millennials are obsessed with her so much.
In addition to this, it happens quite a lot to spot Frankie walking around her art studio wearing a pair of clogs (analogous to the best-seller Dansko) and rock bands tees (emblematic of her disobedient past) while carrying alternately a tea-mug, a joint or a paint brush.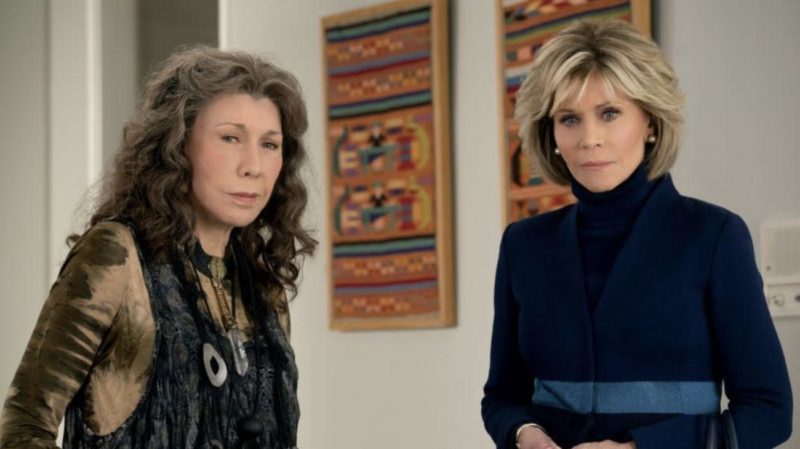 On the other side we have the posh Grace – for her, no fairtrade infusions nor weed (well, she tried it once), but instead classy glasses of Martini.
She is basic yet elegant at the same time, and loves to "play it safe" with colors, opting for neutral and pastel shades, only.
Her outfits are composed by a few must-haves: lovely cashmere sweaters, tailleurs, pearl earrings, collars, foulards and soft silk scarfs.
Although Grace spends most of her time at home, she always dresses up as she would be inside her office, possibly located in the most exclusive district of the city.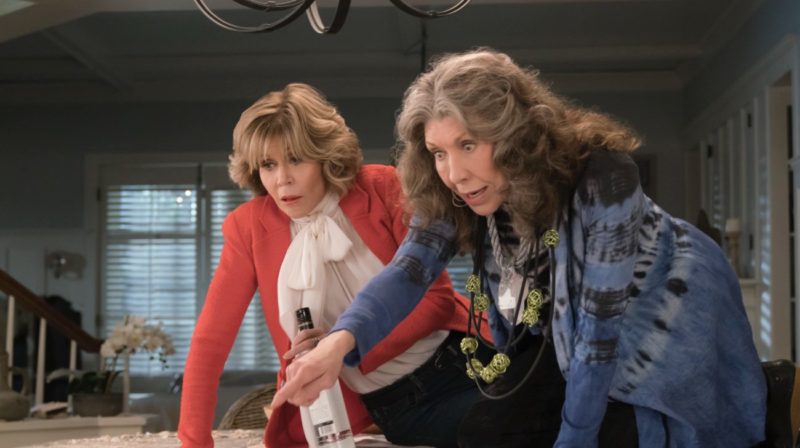 Even when home alone at night, she manages to be classy and chic, in wonderful linen matching pijamas.
Differently from Frankie, all she wears can be easily associated to famous classy brands, such as Ralph Lauren or Carolina Herrera.
With female jackets and blazers as the nowadays "big thing", it doesn't come as a surprise that Grace embodies a role model for many teenagers and for all those "wannabe business girl" with a passion for the 90s.