Gucci Cosmogonie: A bright new fashion constellation fashion, presented last night in the evocative and magical setting of Castel del Monte in Apulia, inspired by the work of philosopher Walter Benjamin
Words DOMENICO COSTANTINI
For his Gucci Cosmogonie fashion show, Alessandro Michele continues his dialogue with historic places. The fashion show was set against the suggestive setting of Castel del Monte, a historical location that Alessandro Michele holds dear.
From its very inception in 1240 by Frederick II of Hohenstaufen, Castel del Monte has been imbued with symbolic significance, which reveals itself through precise geometry. The number eight becomes a leading theme in the medieval structure, demonstrated through the central octagonal floor plan divided into eight rooms and surrounded by eight octagonal towers. Crowning a hill in the Apulian city of Andria, the monument sits seemingly isolated 540 meters above sea level where it is bathed in light at every hour of the day. Given its formal perfection and harmonious blending of various elements from Northern Europe, the Islamic world, and classical antiquity, Castel del Monte perfectly represents a crossroads of the different peoples, cultures, civilizations, and religions that have shaped the Mediterranean.
Alessandro Michele's references are seldom decipherable, typically littered with far-reaching metaphors and hyperbole that create an air of extravagance, joie de vivre, freedom and opulence. For Gucci's latest collection Michele looked to the stars, delivering "Cosmogonies," a galactical array of looks that are both typical of the house and its designer, yet also performative and transformative, showing that there is no fixed aesthetic to Gucci — rather simply, an attitude.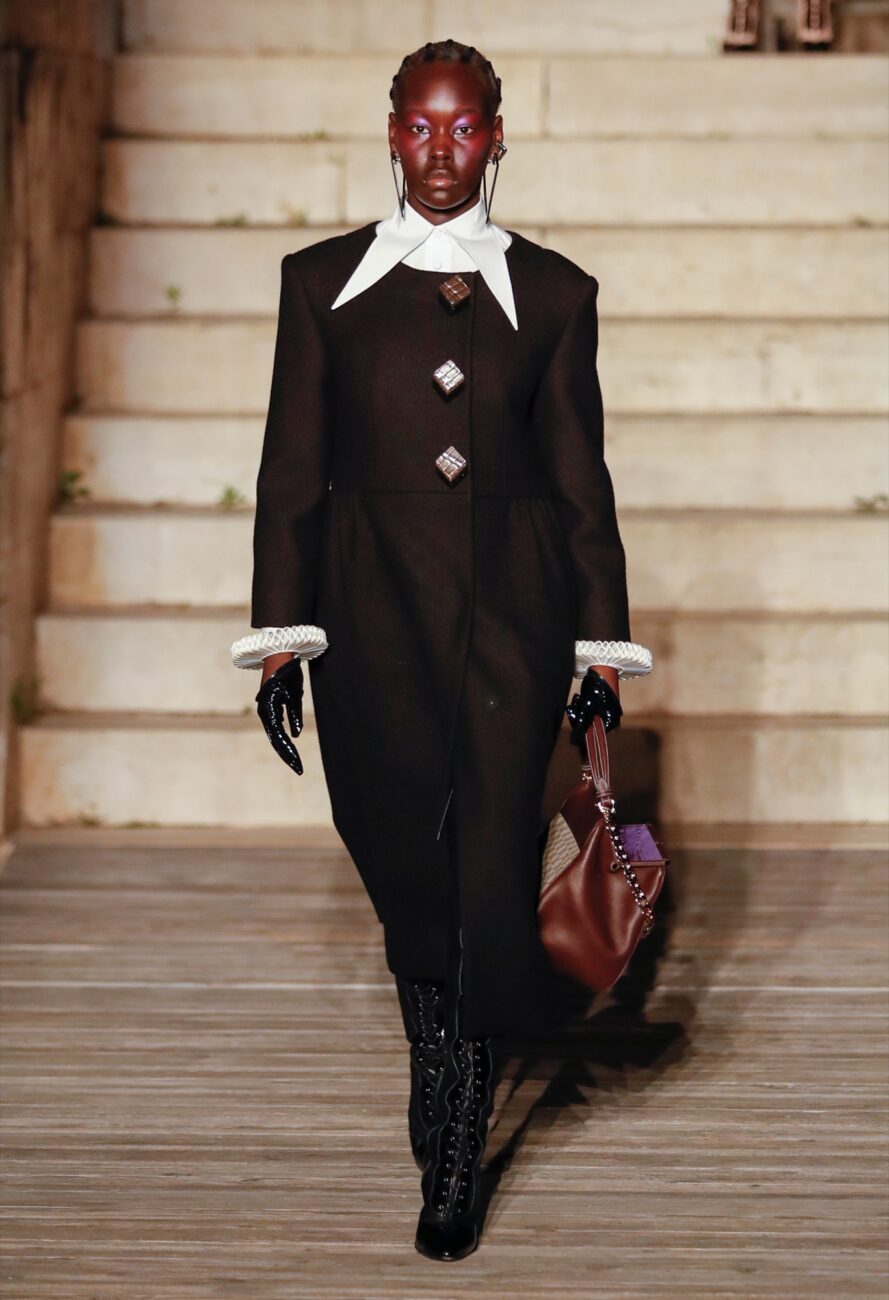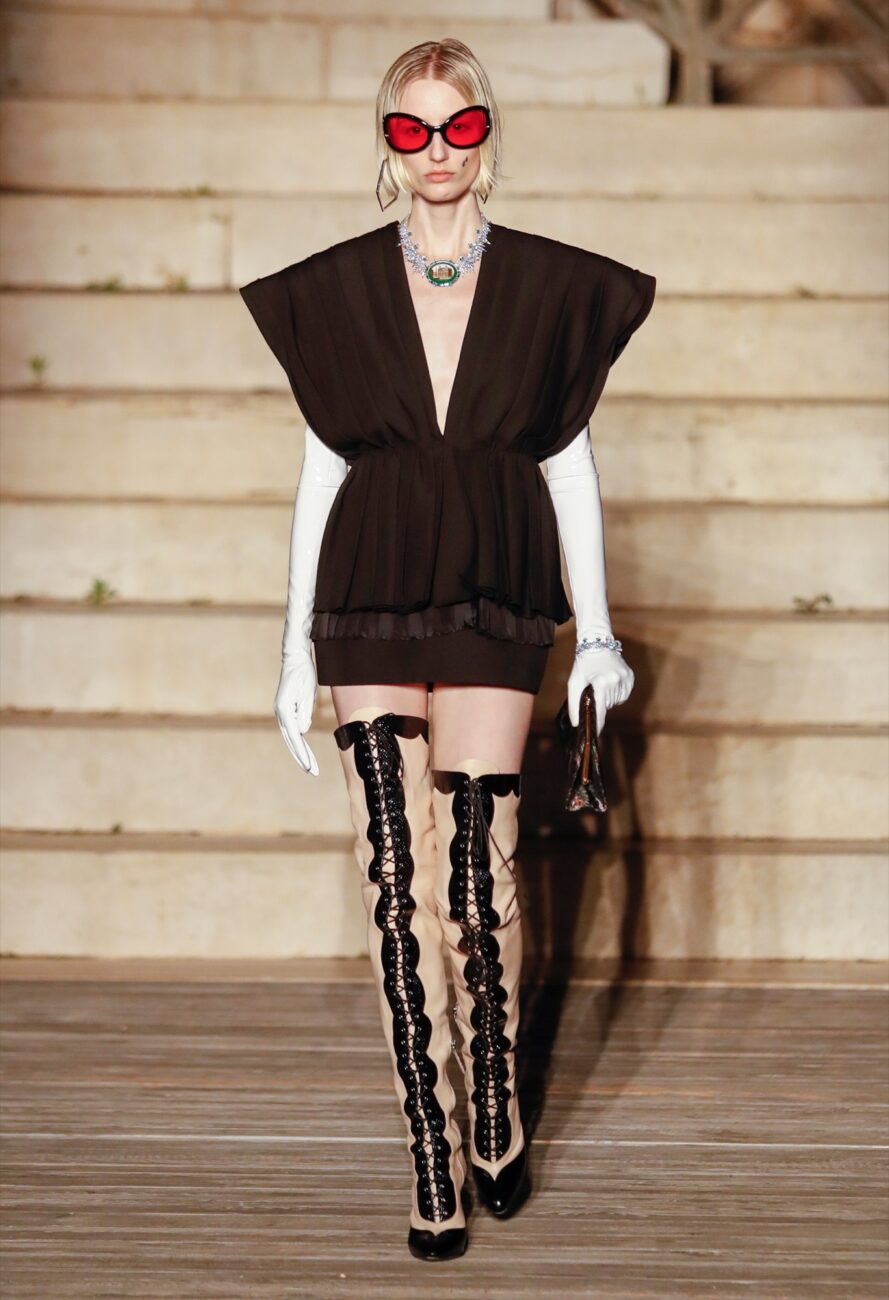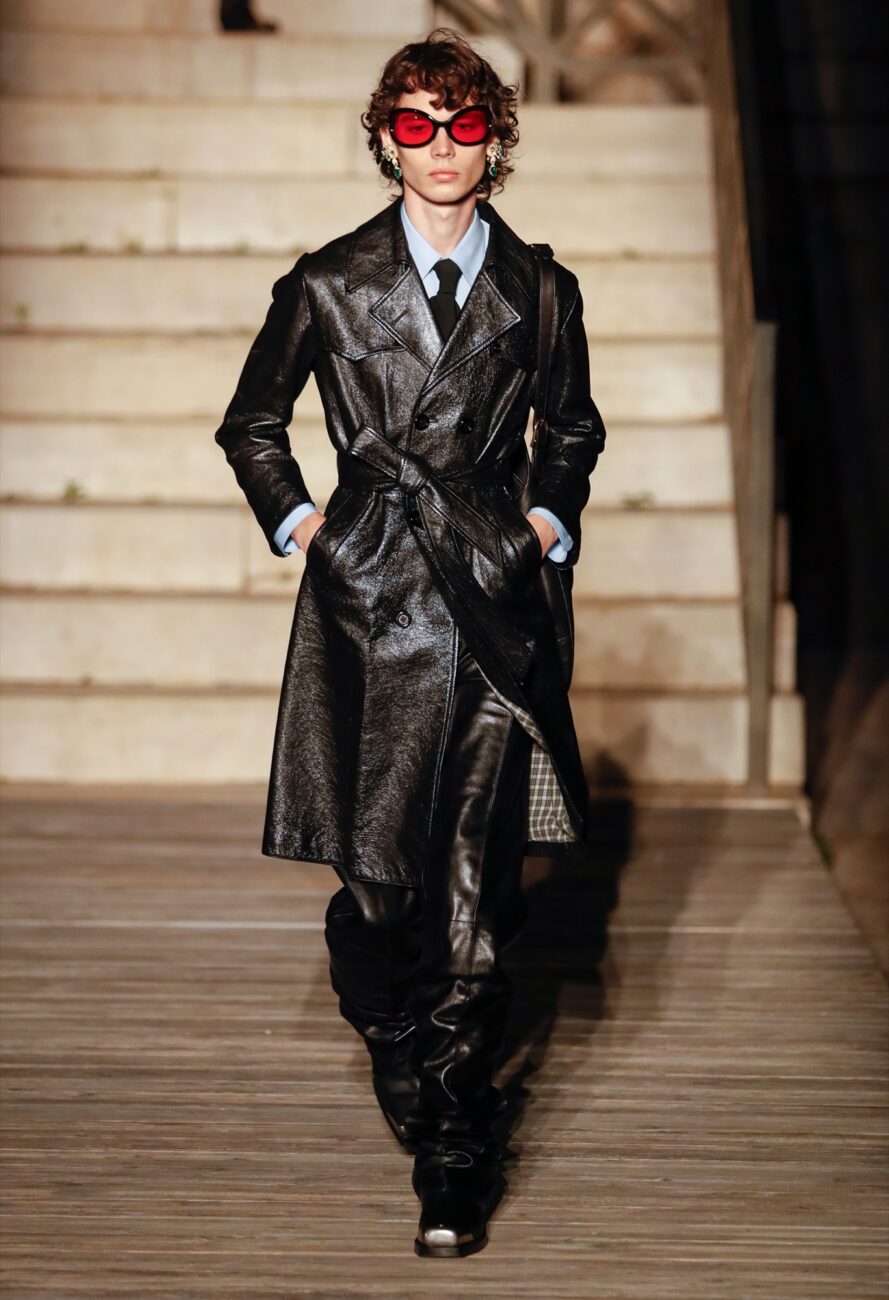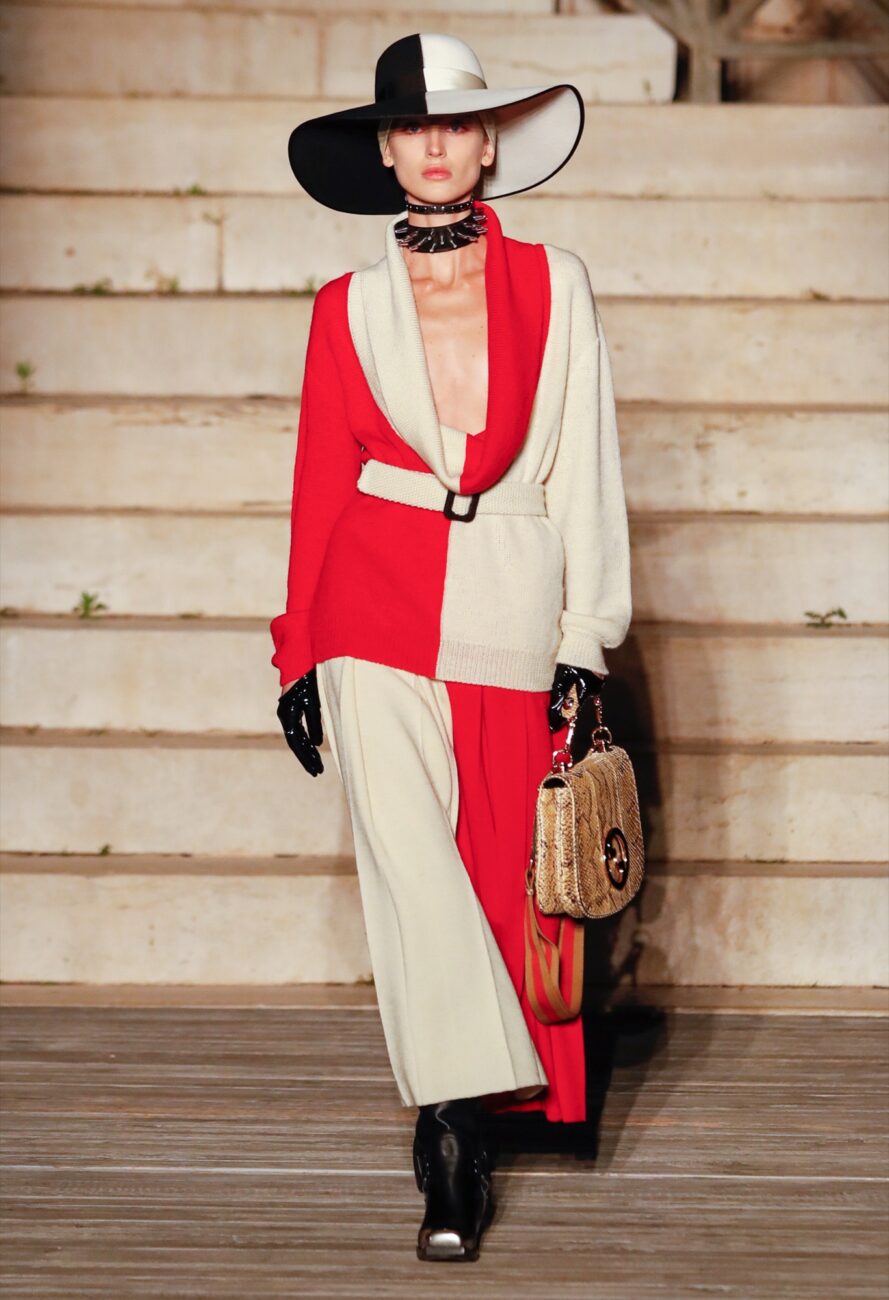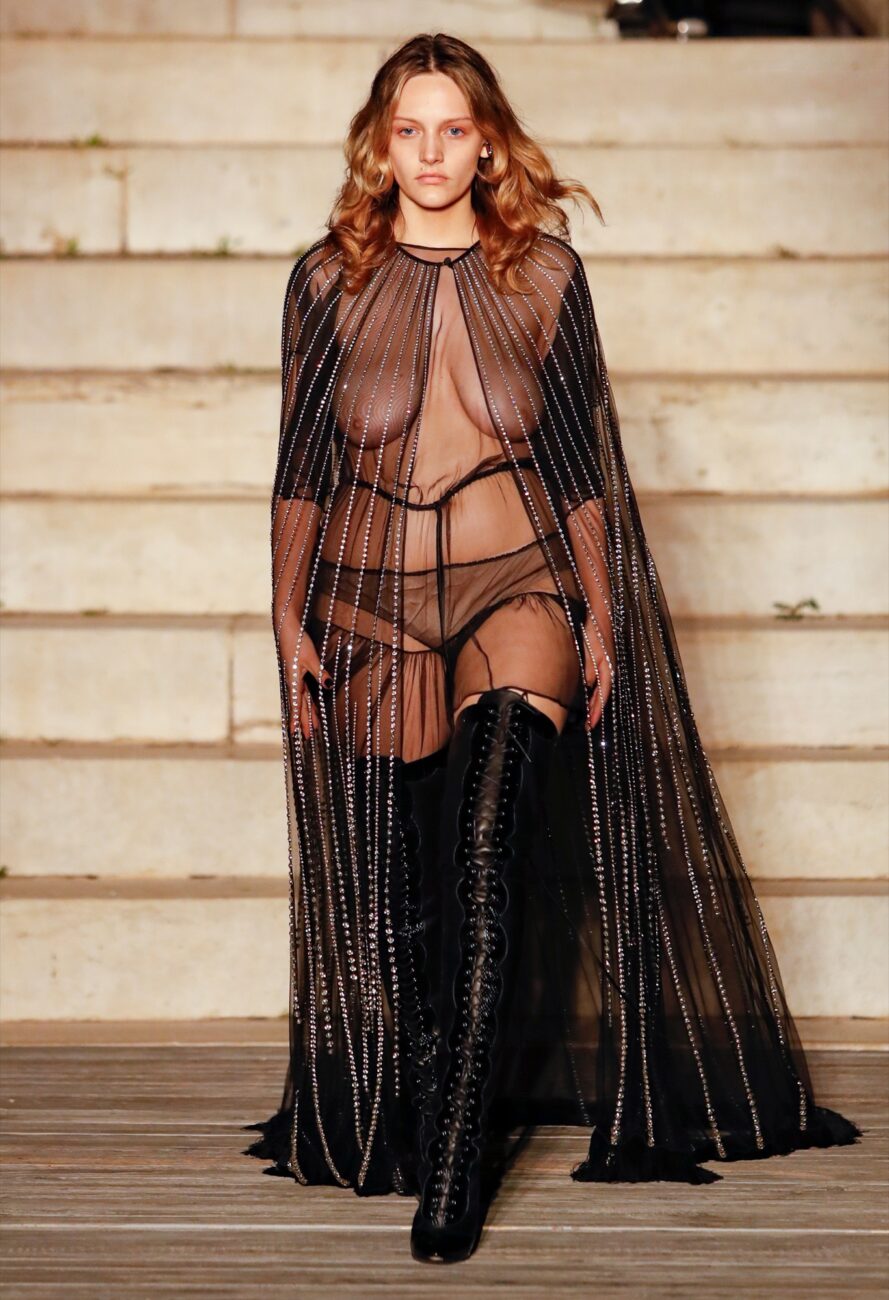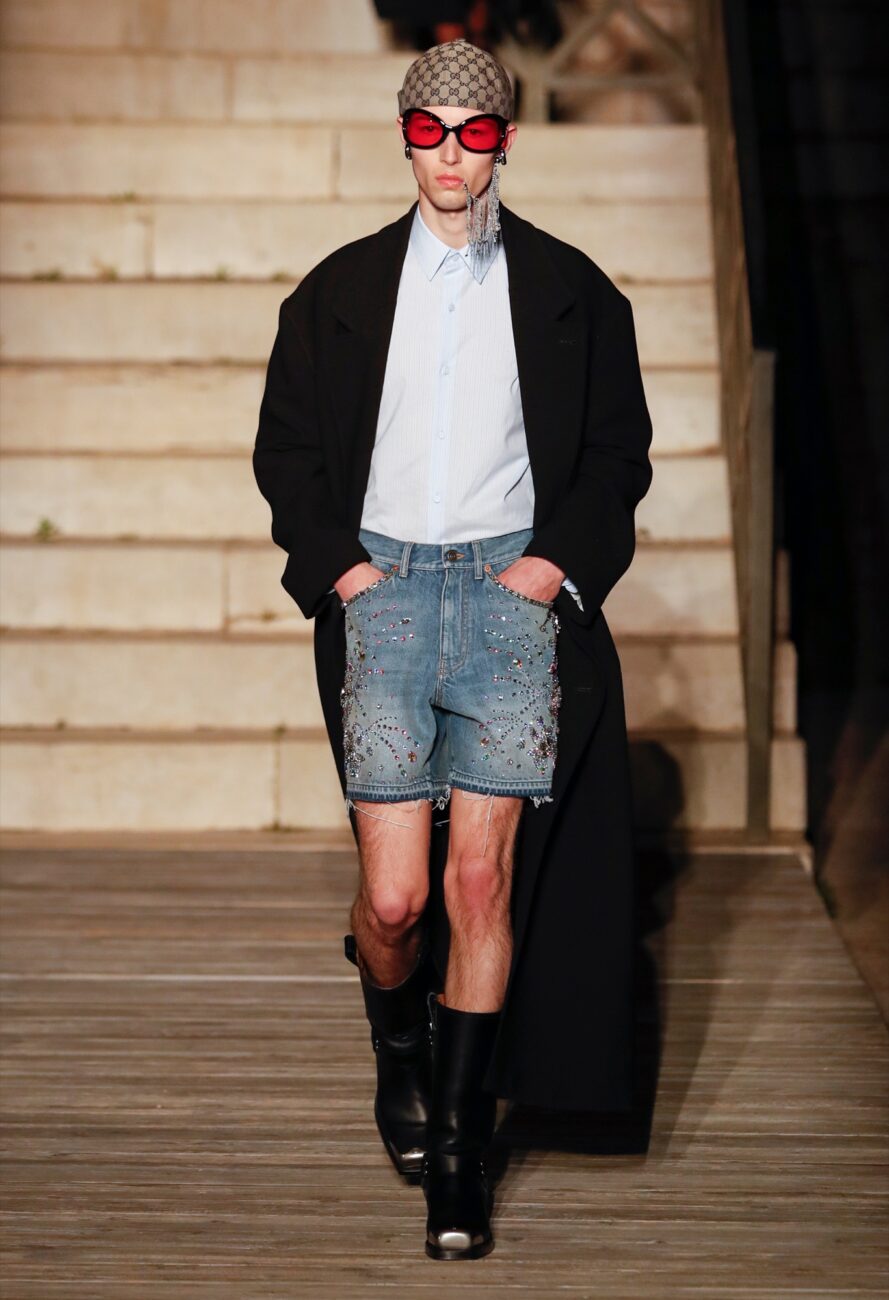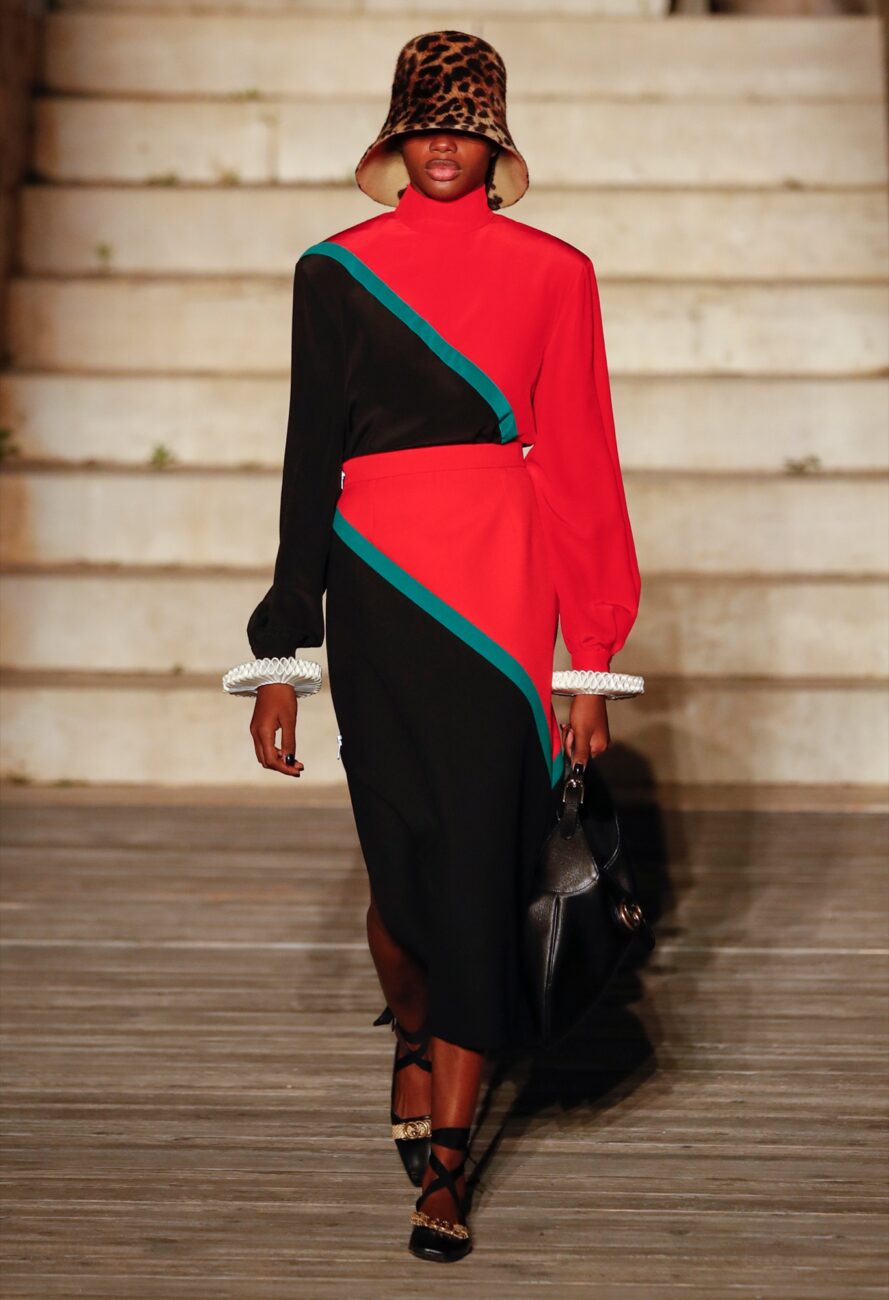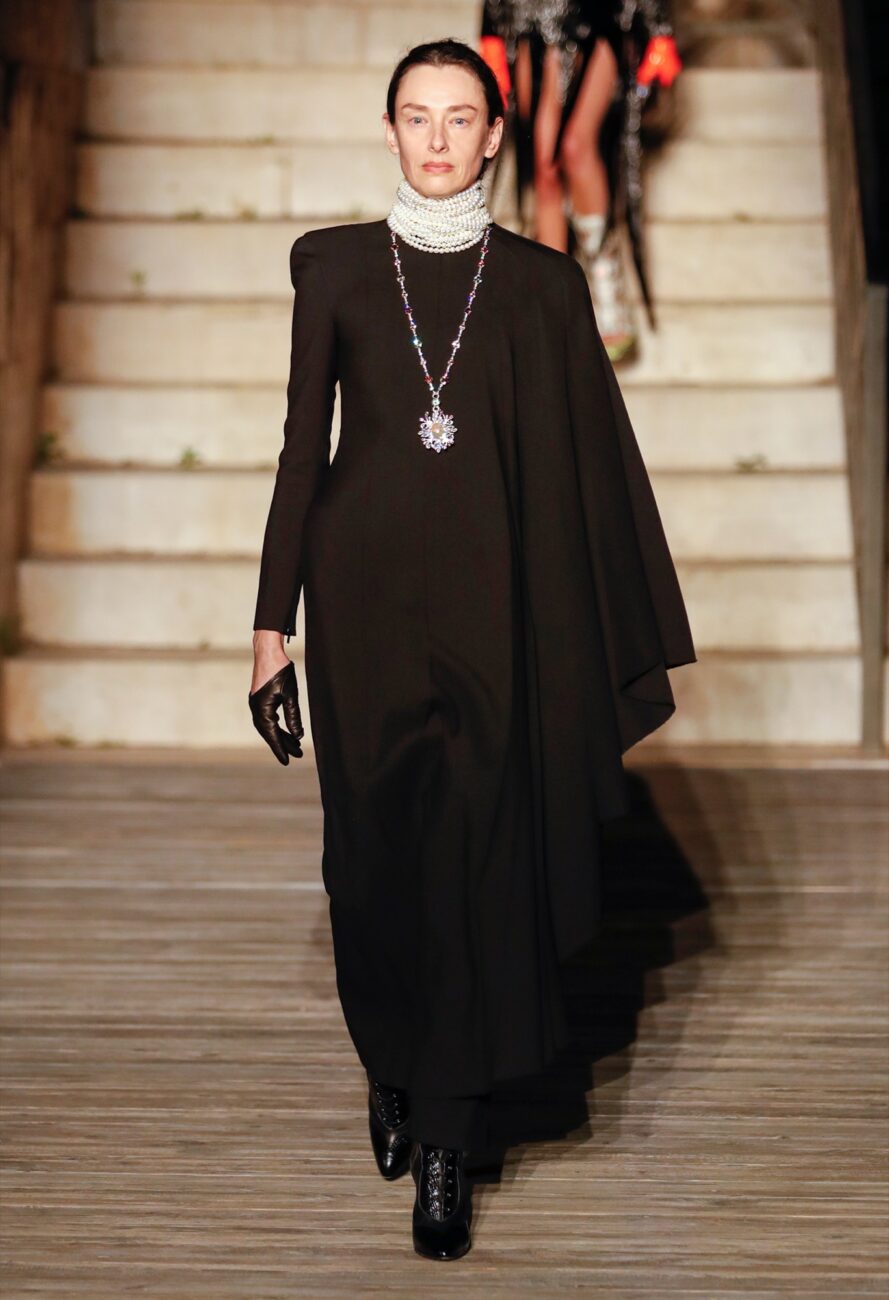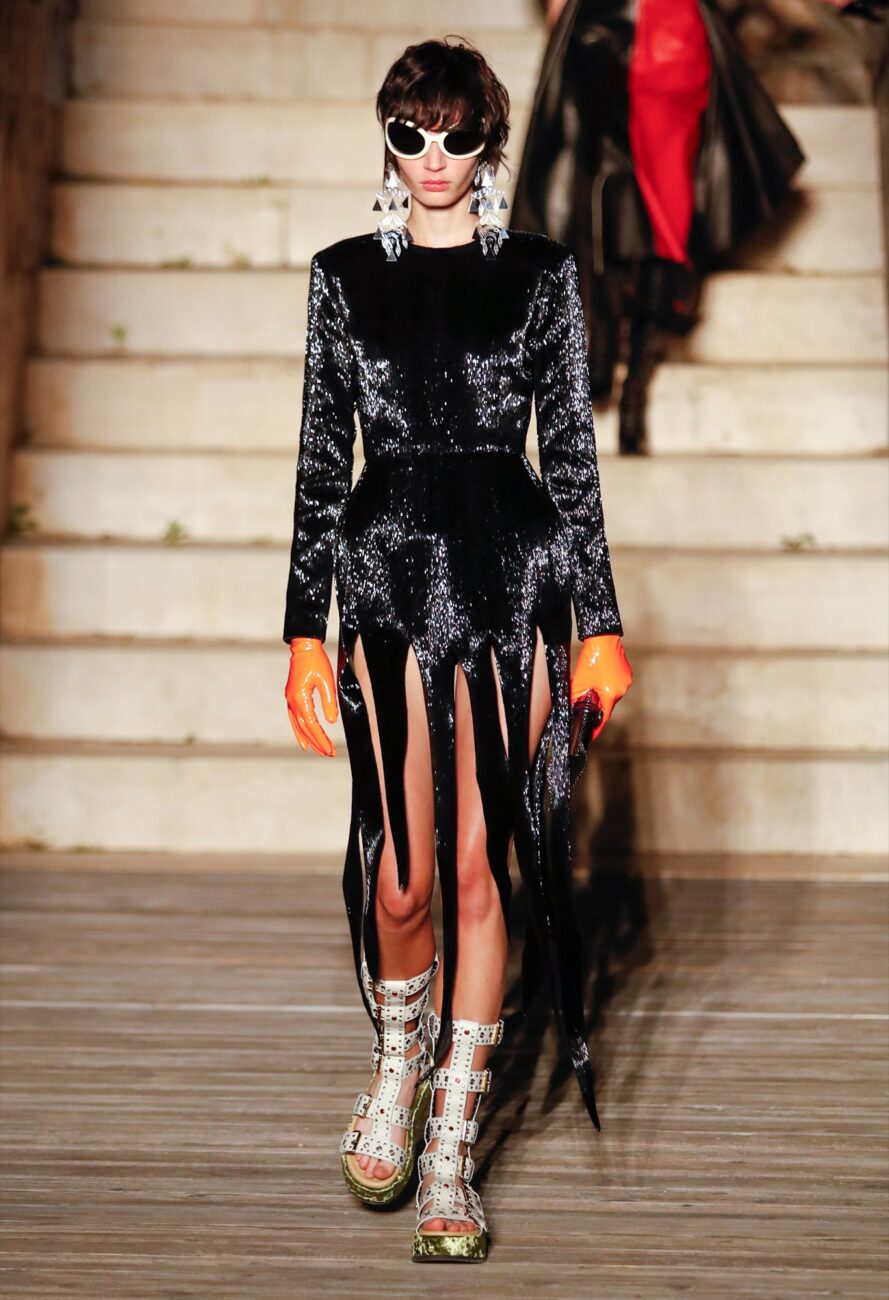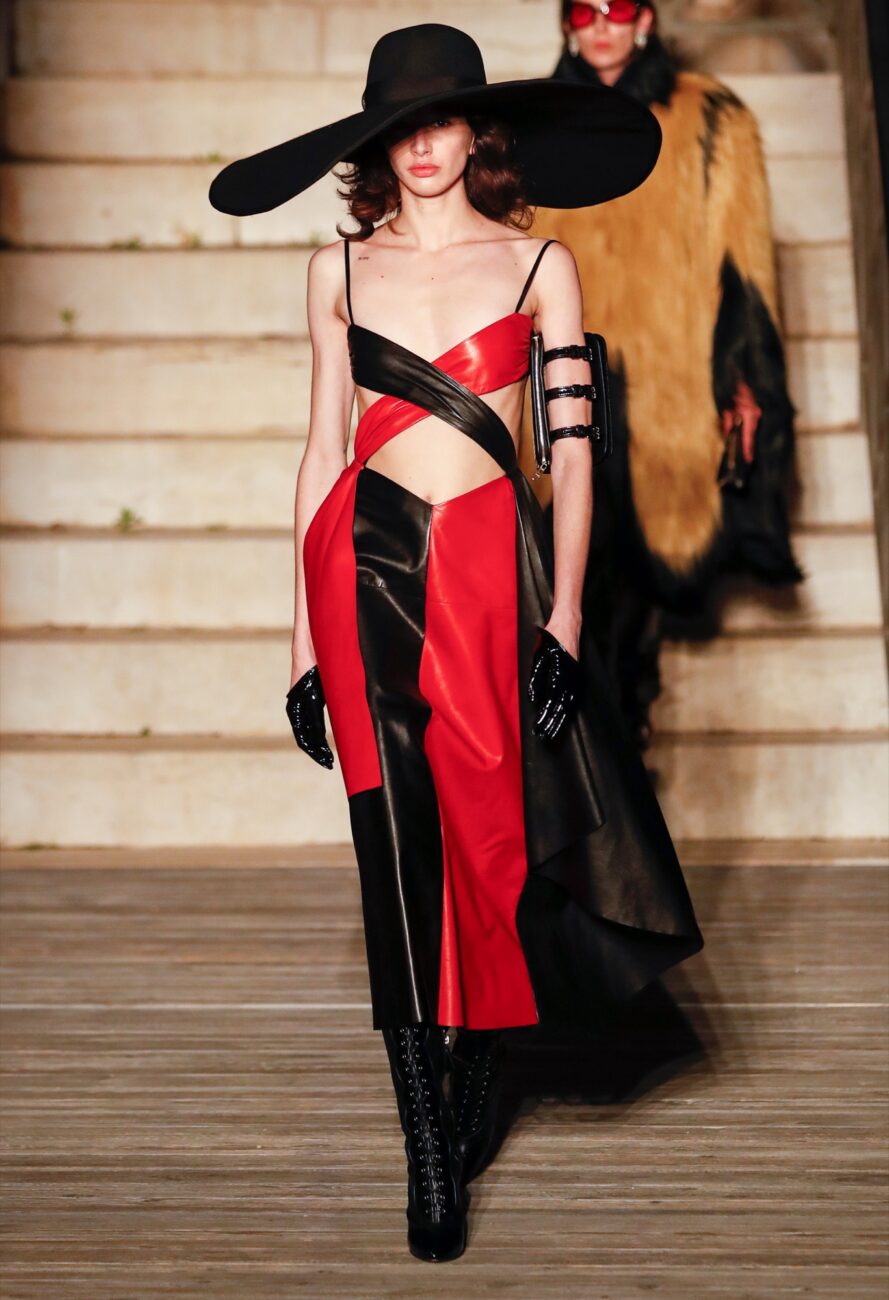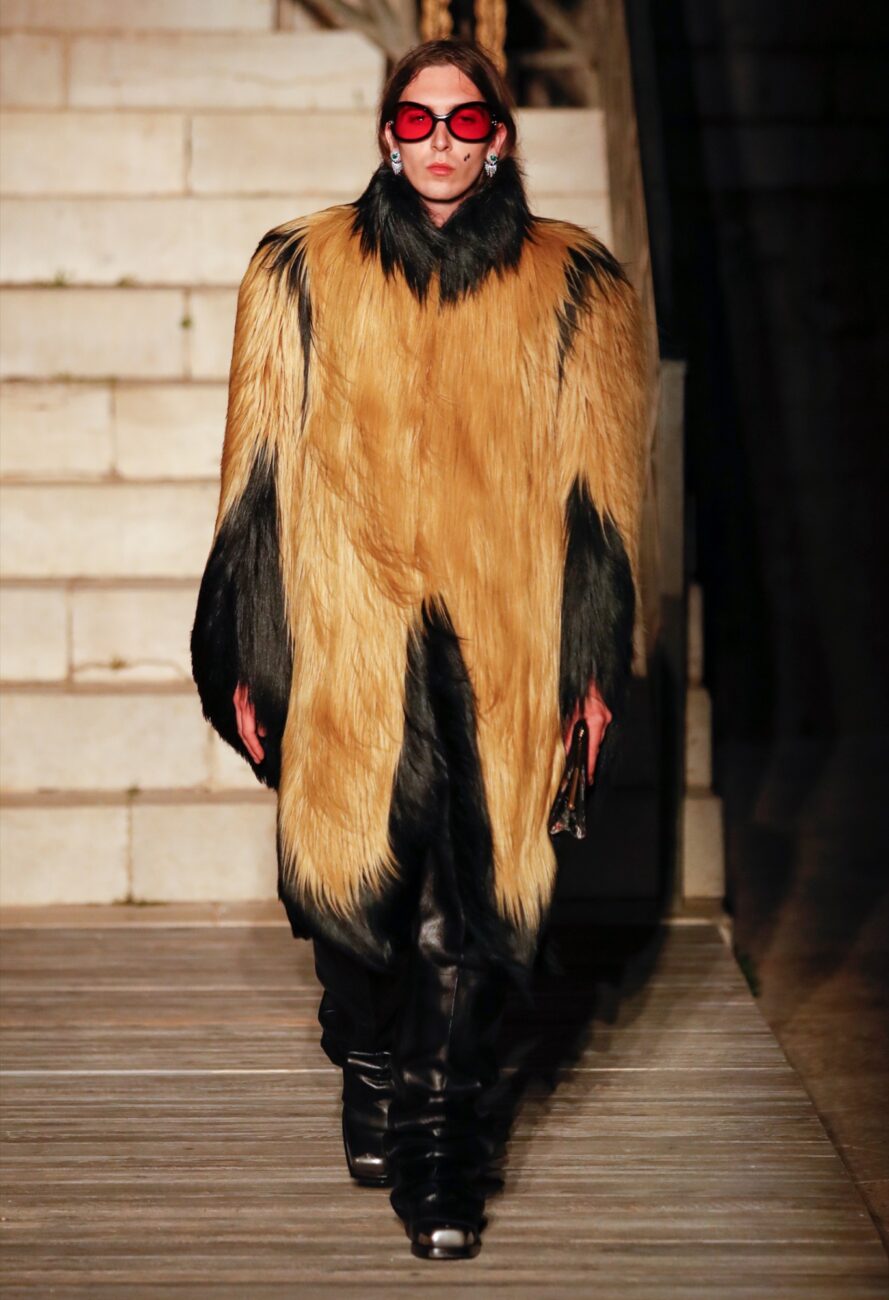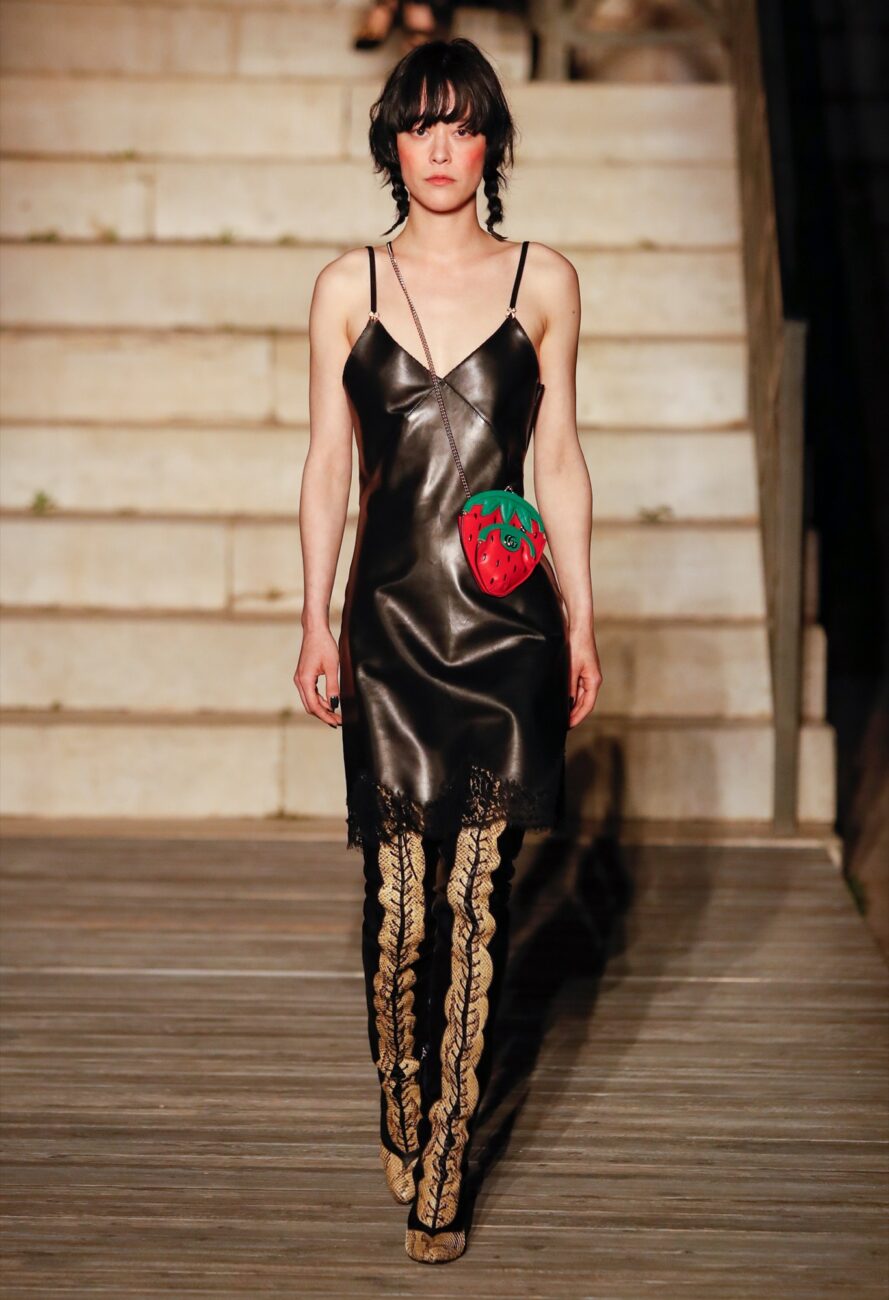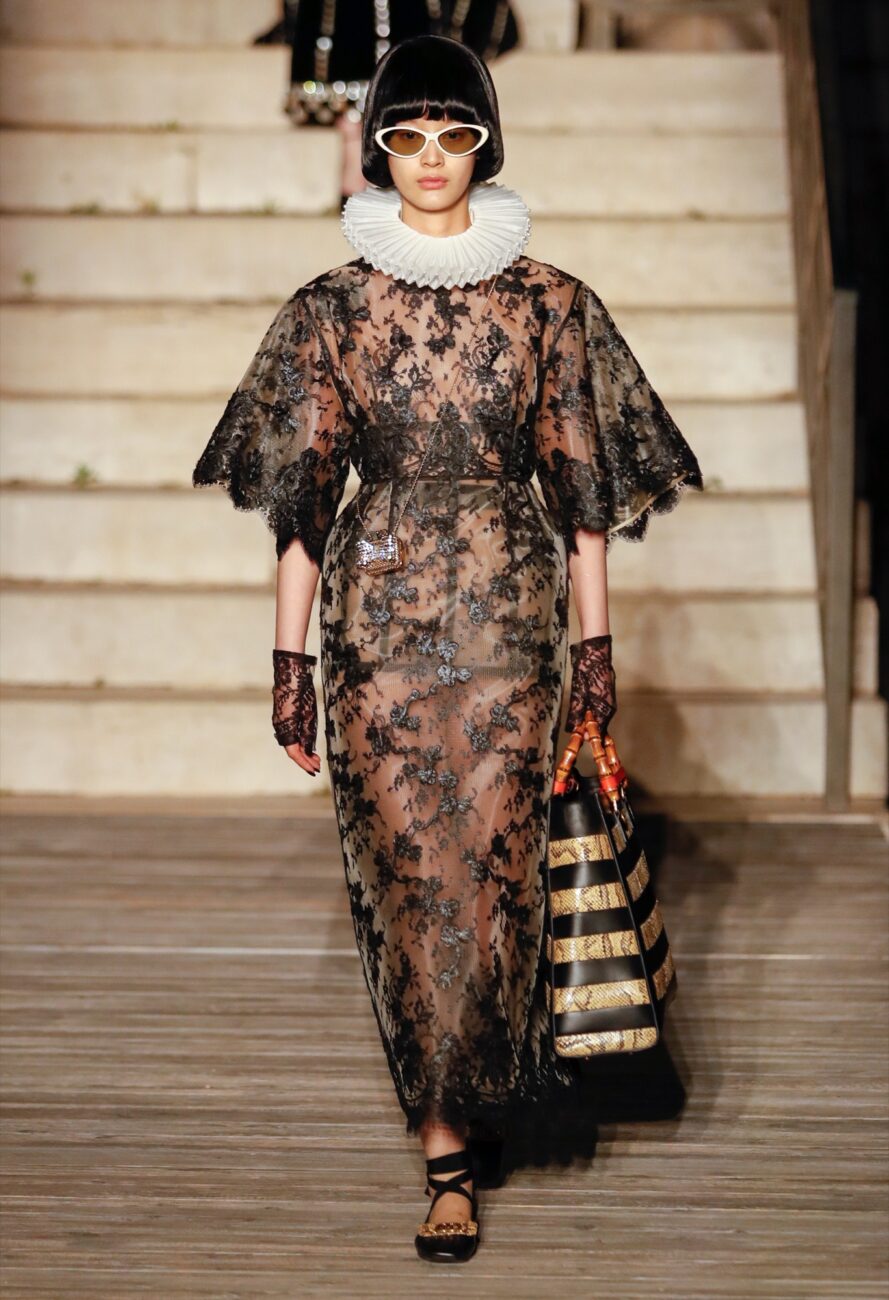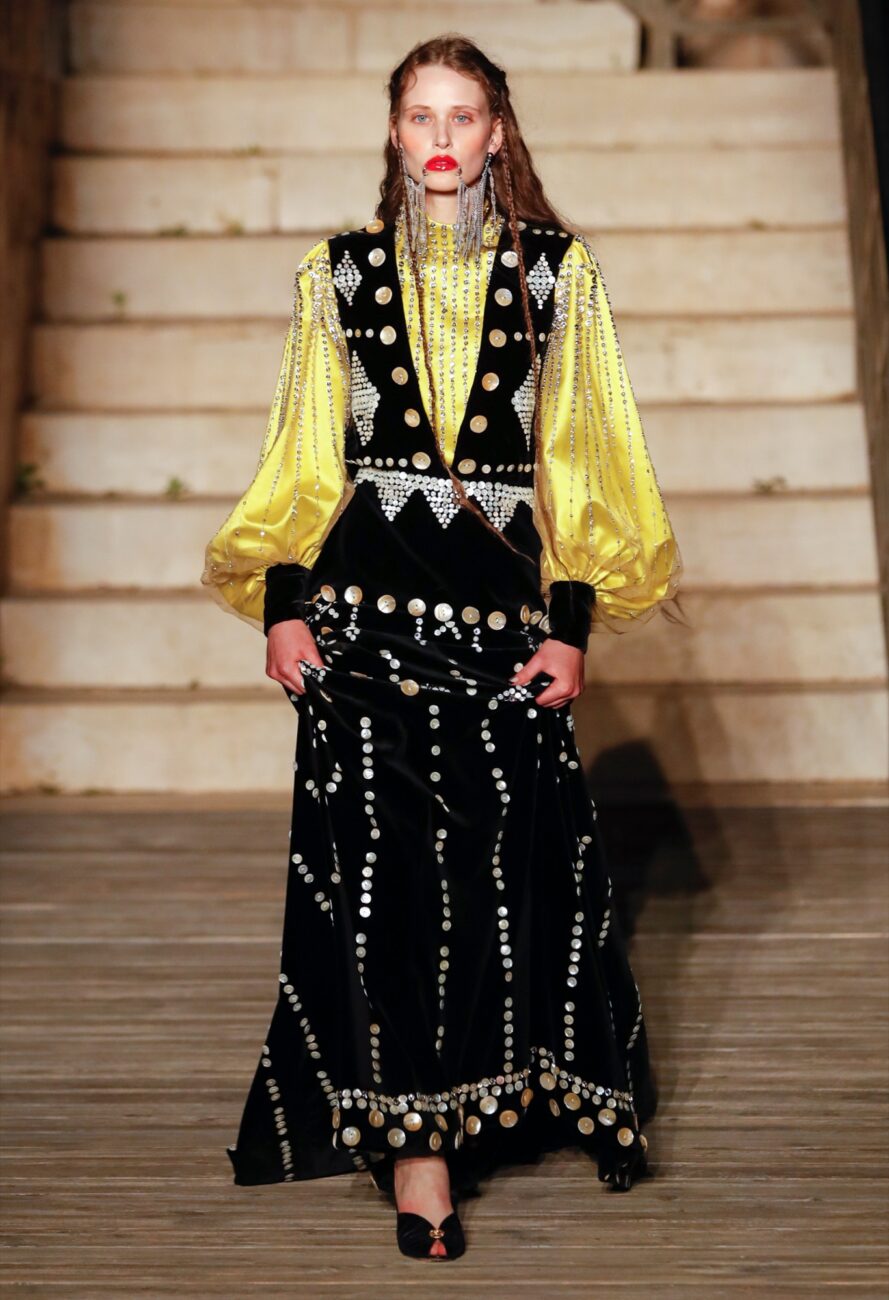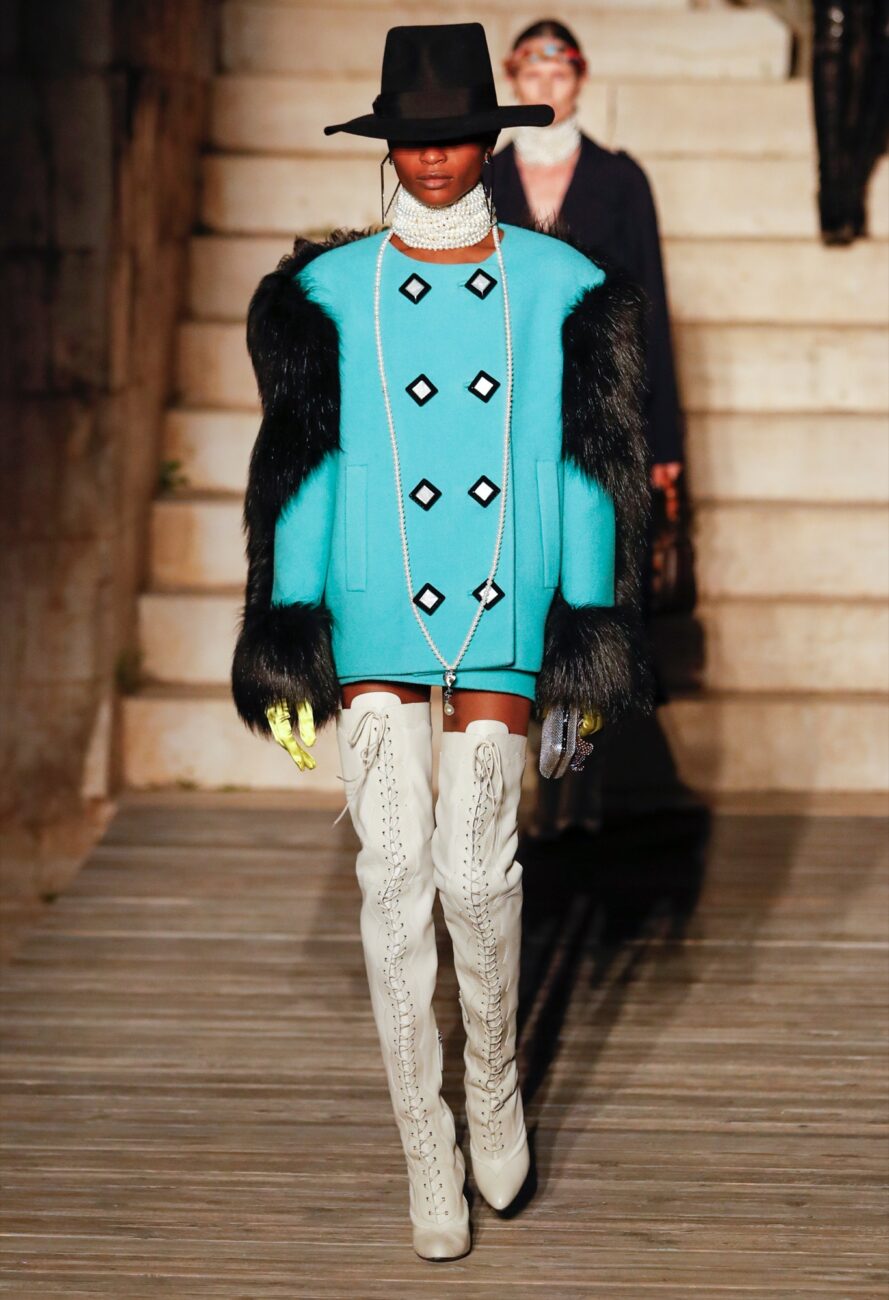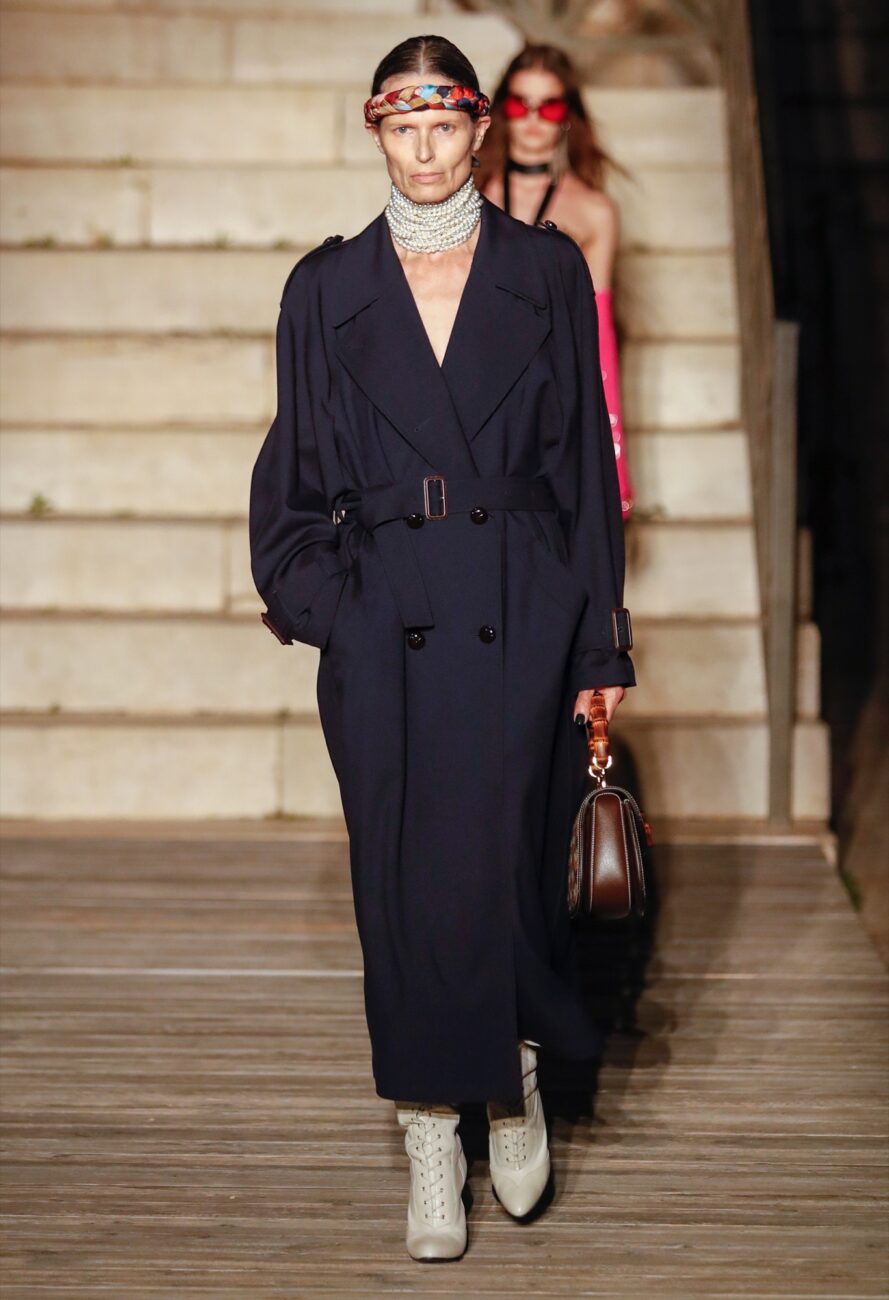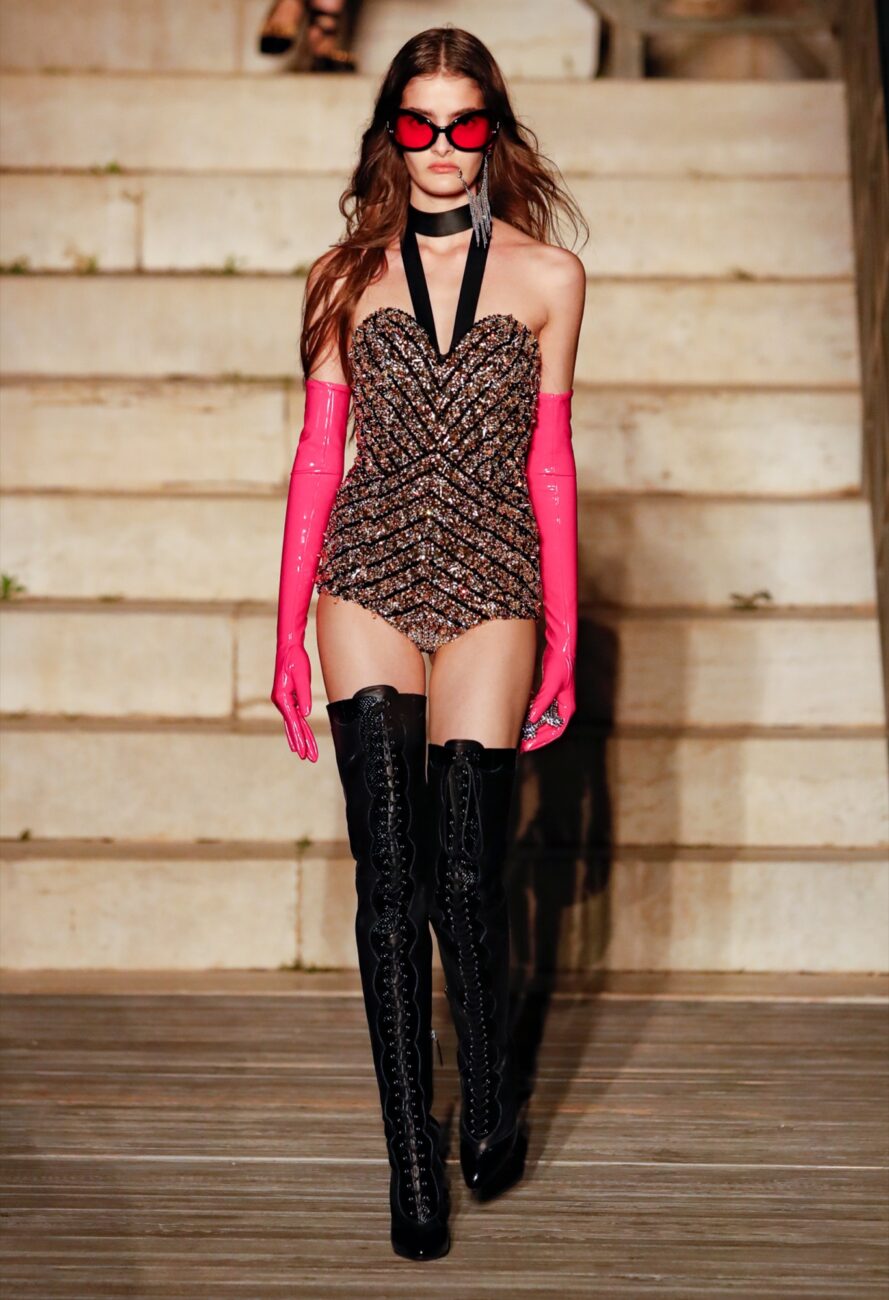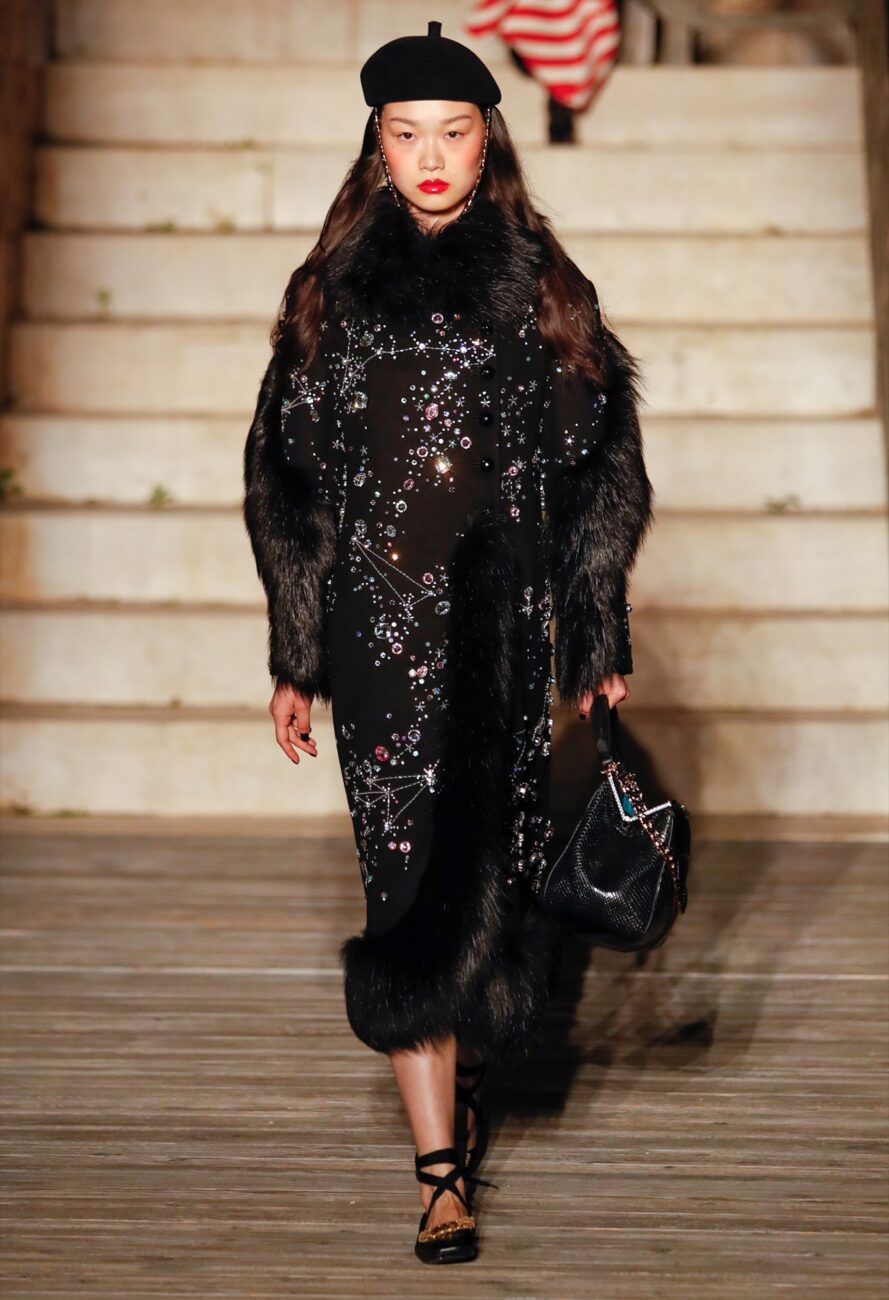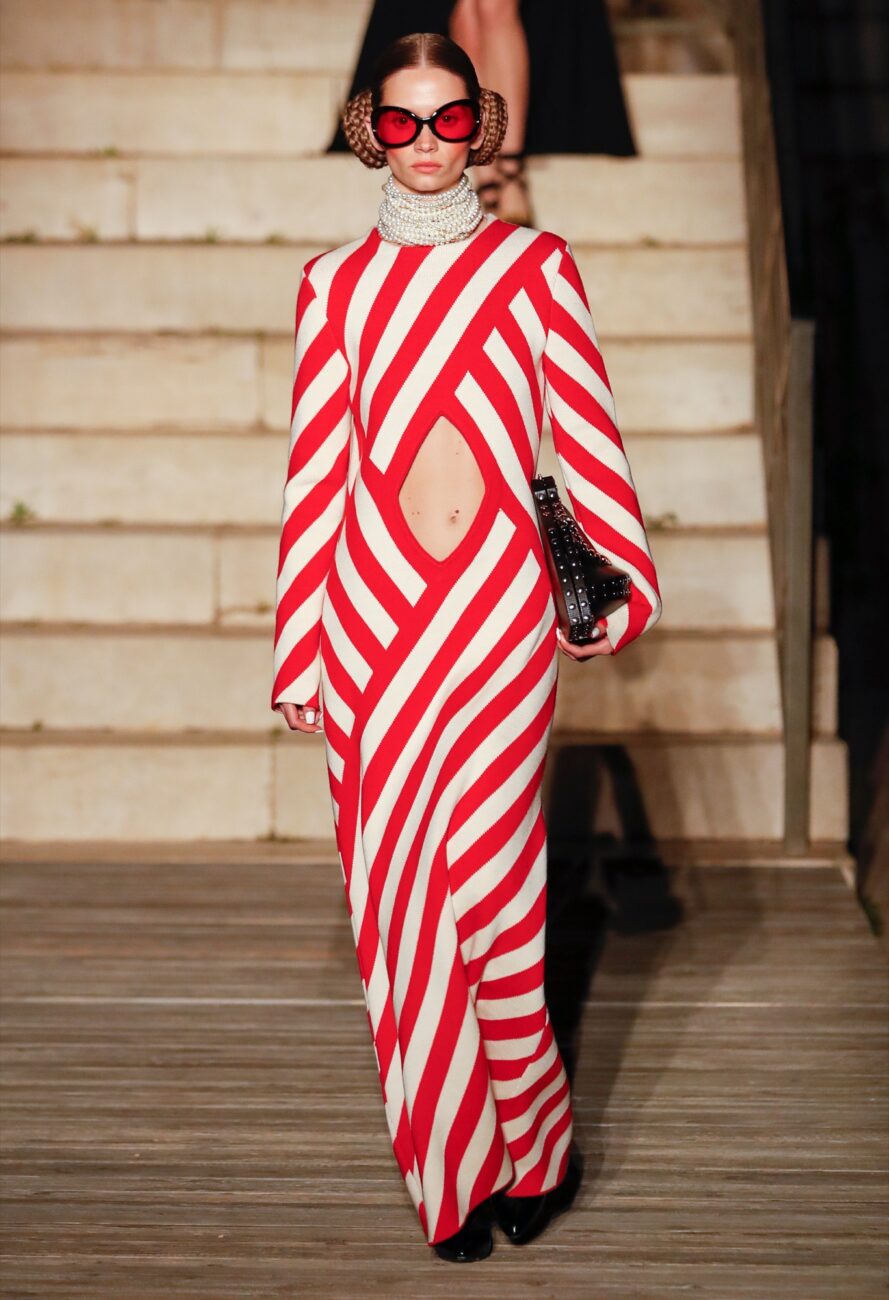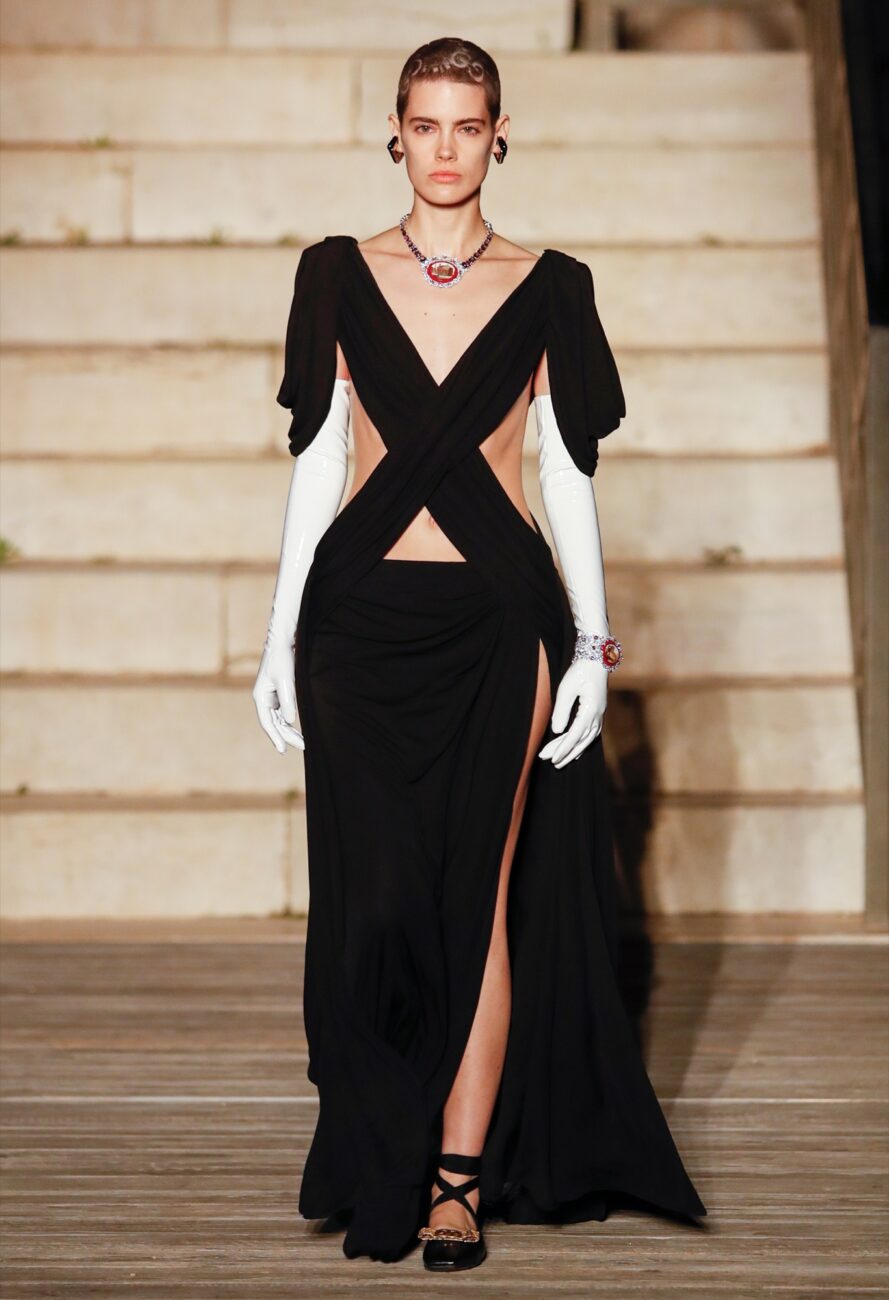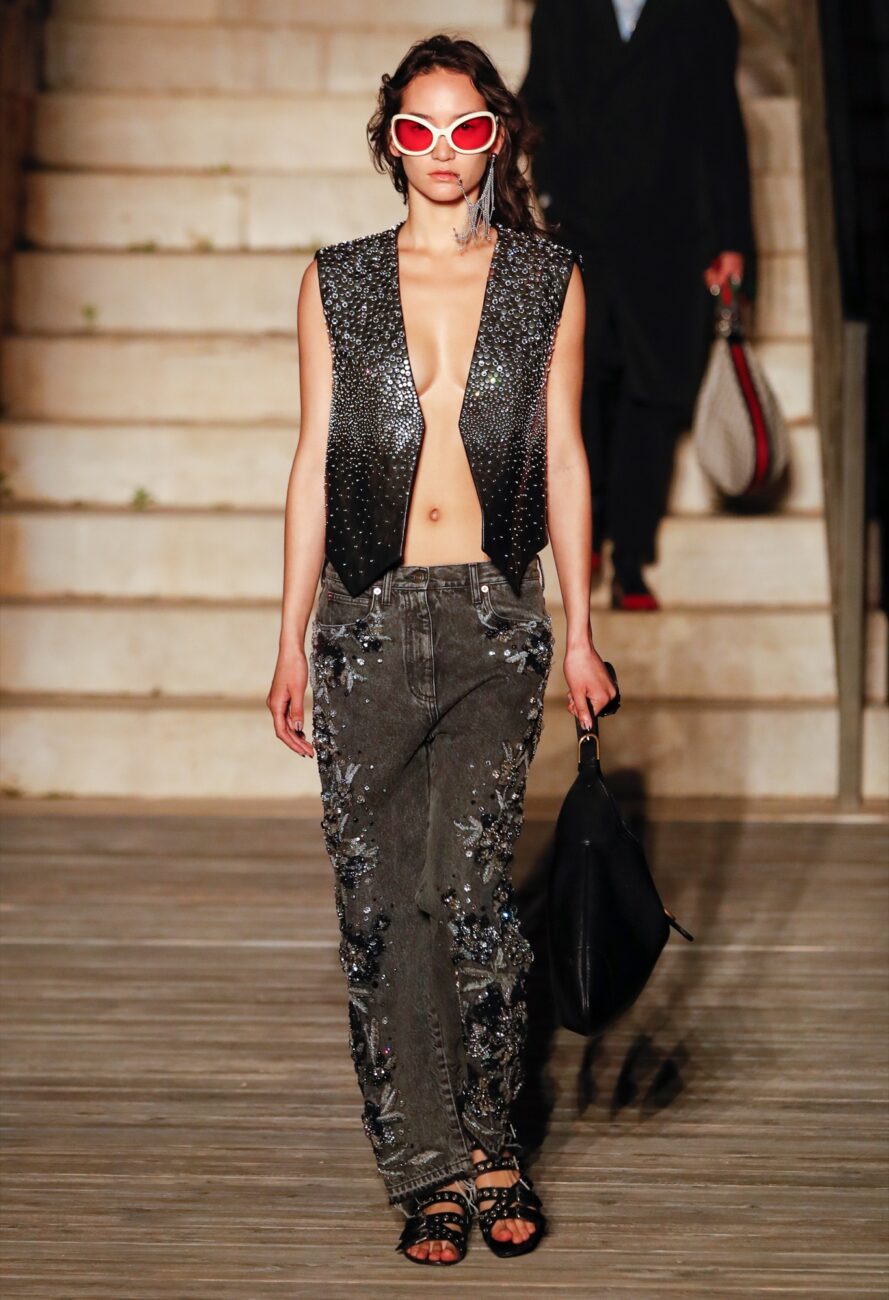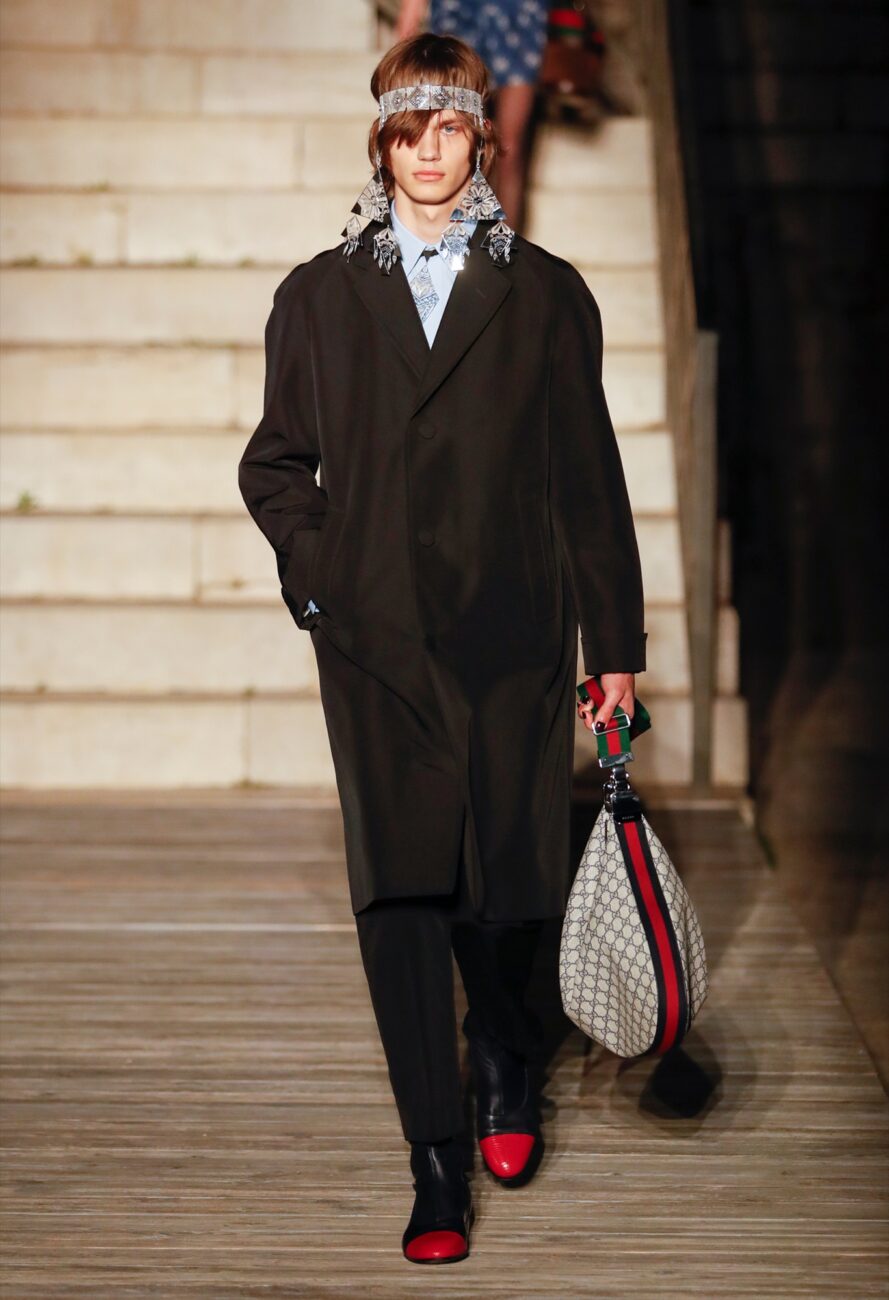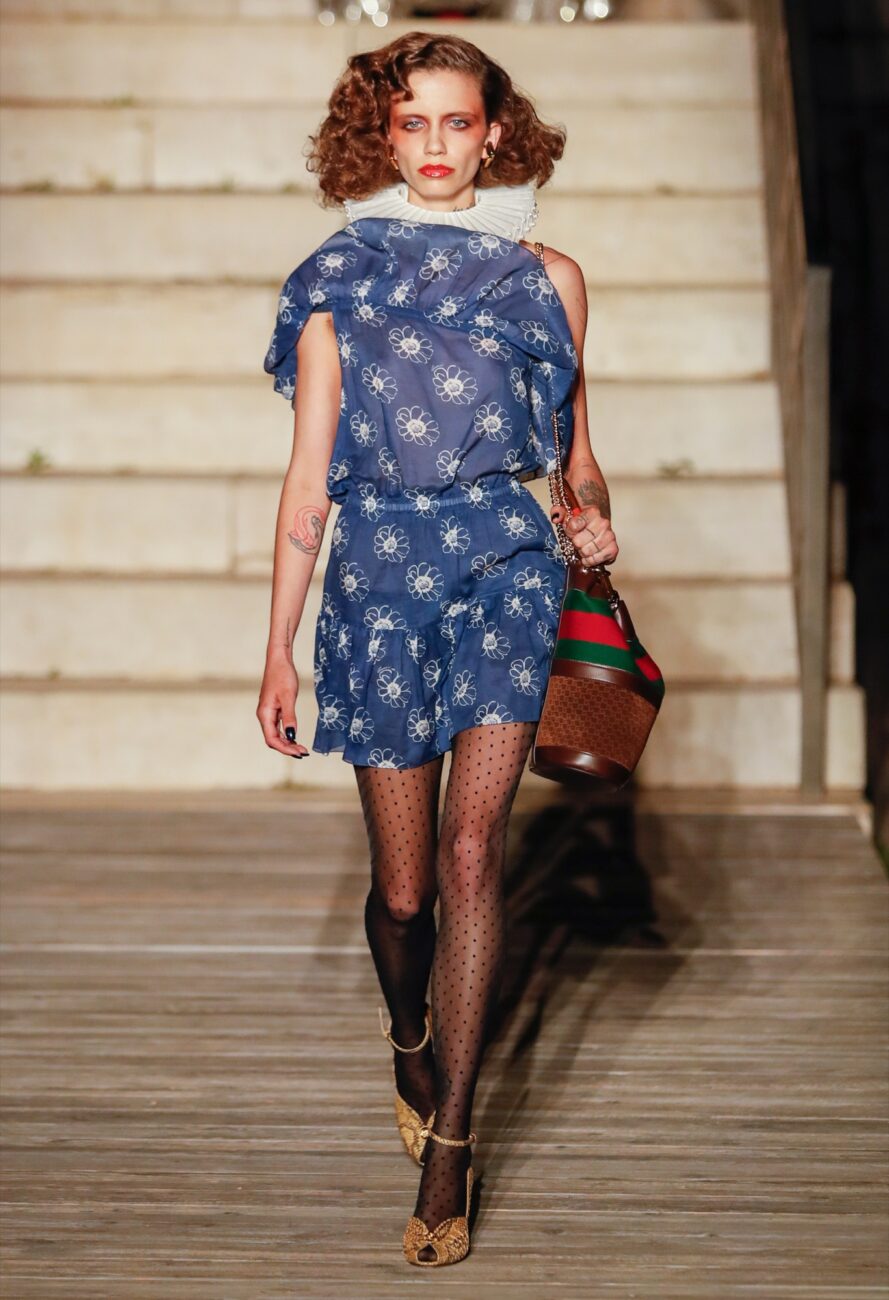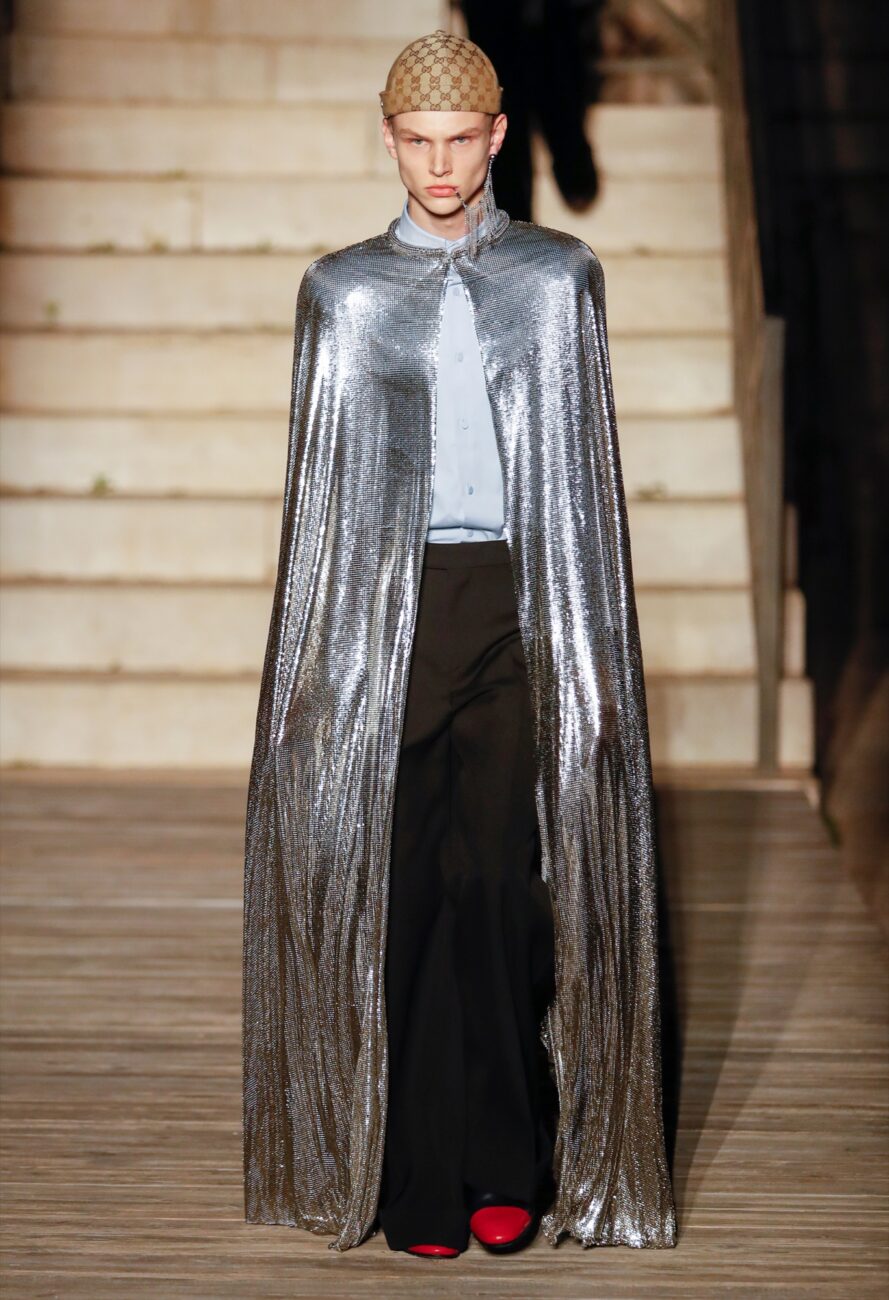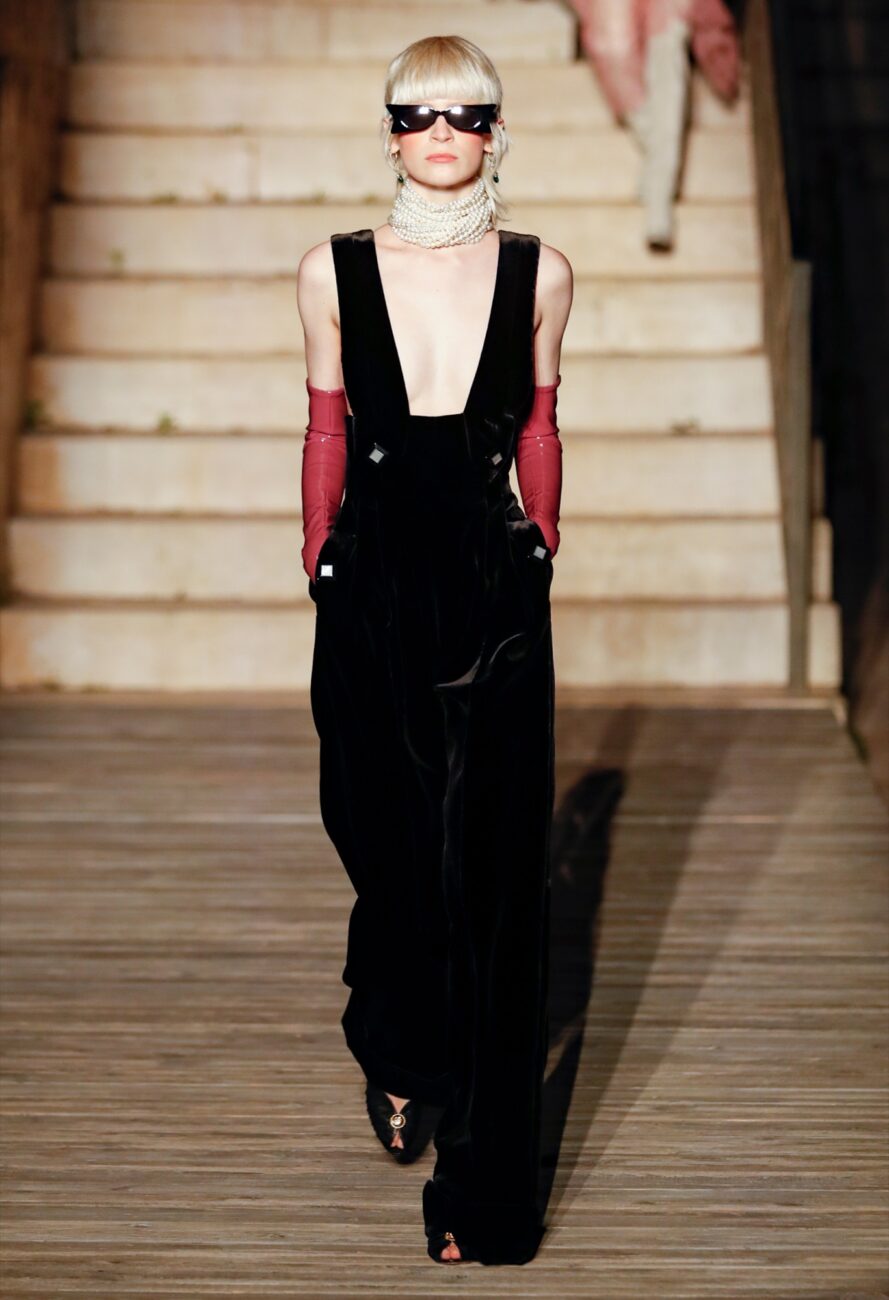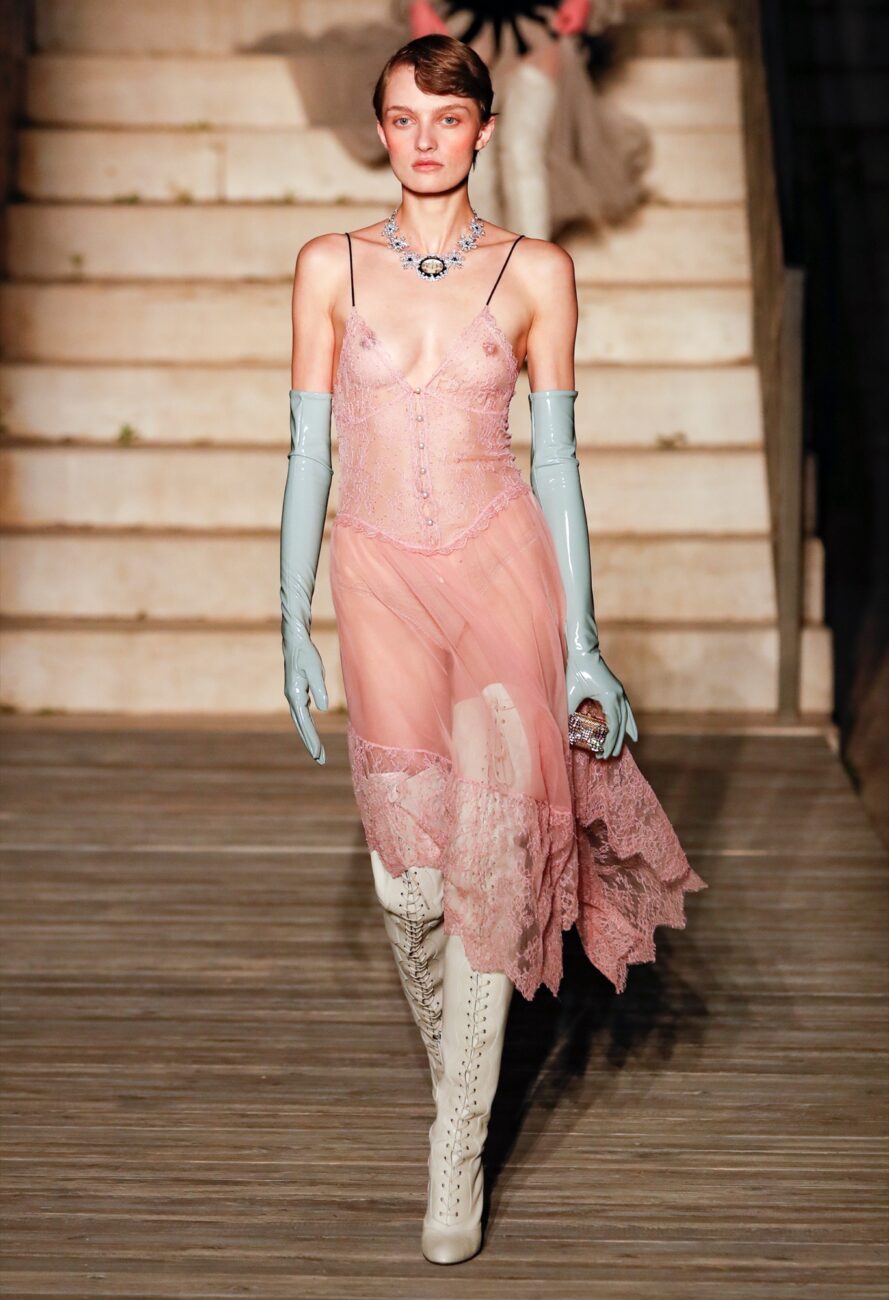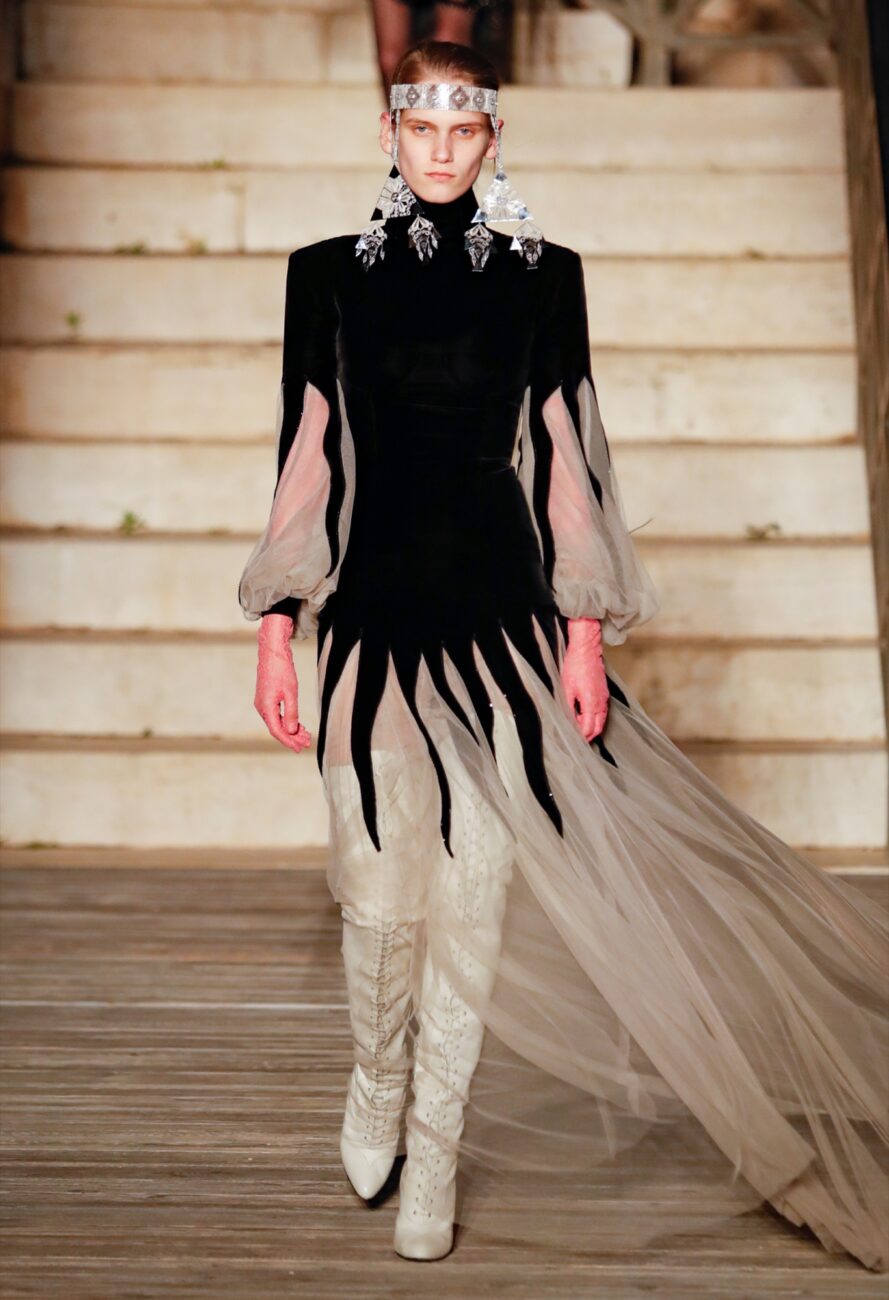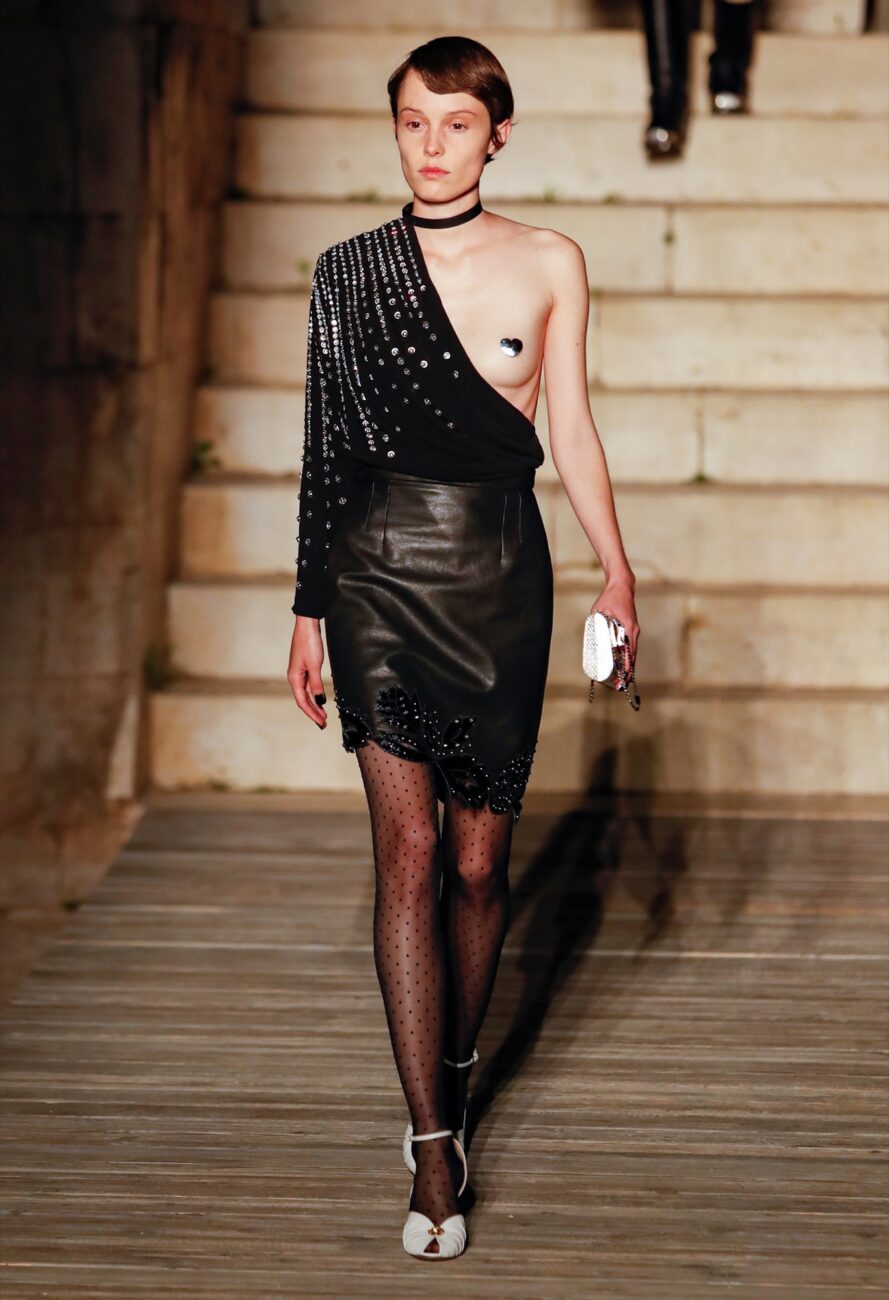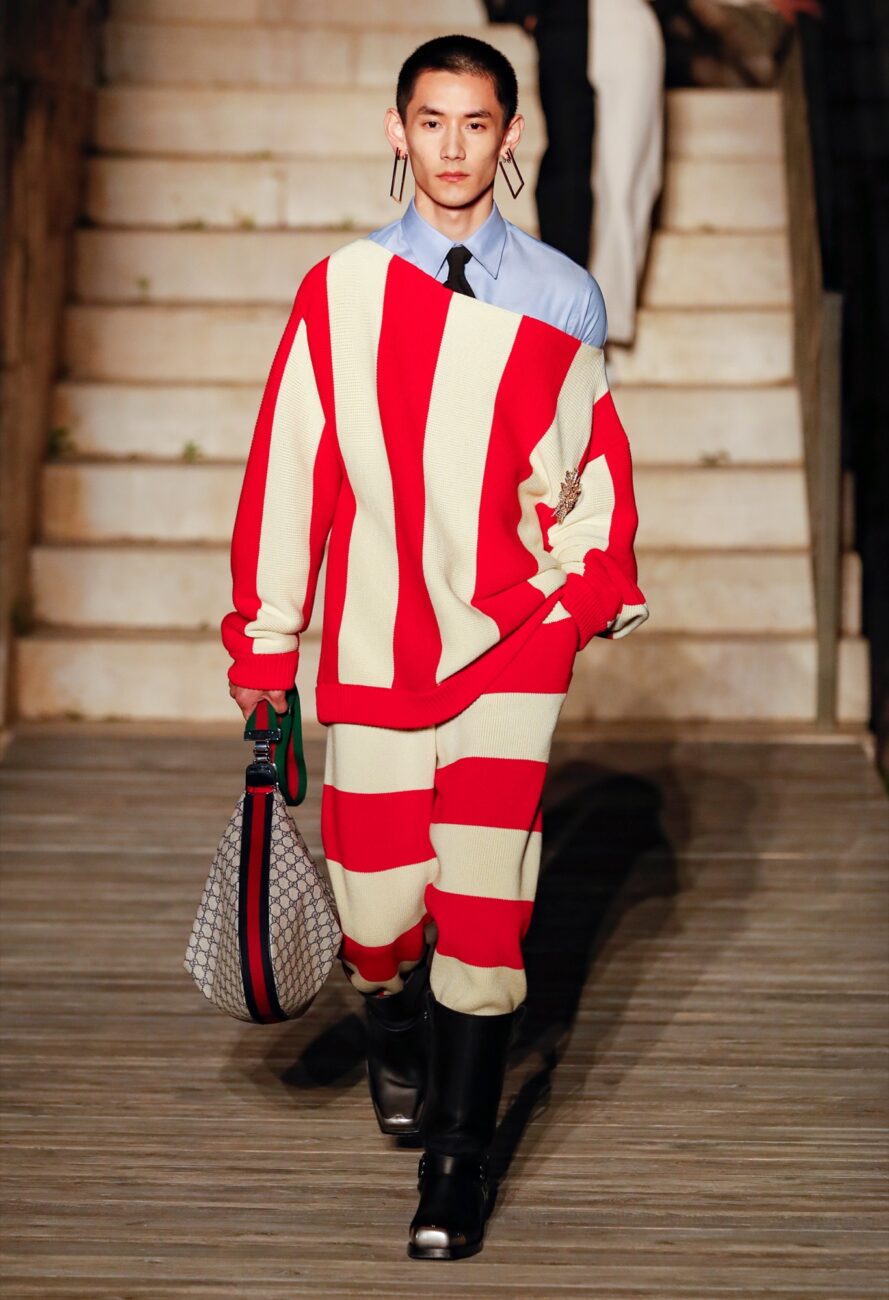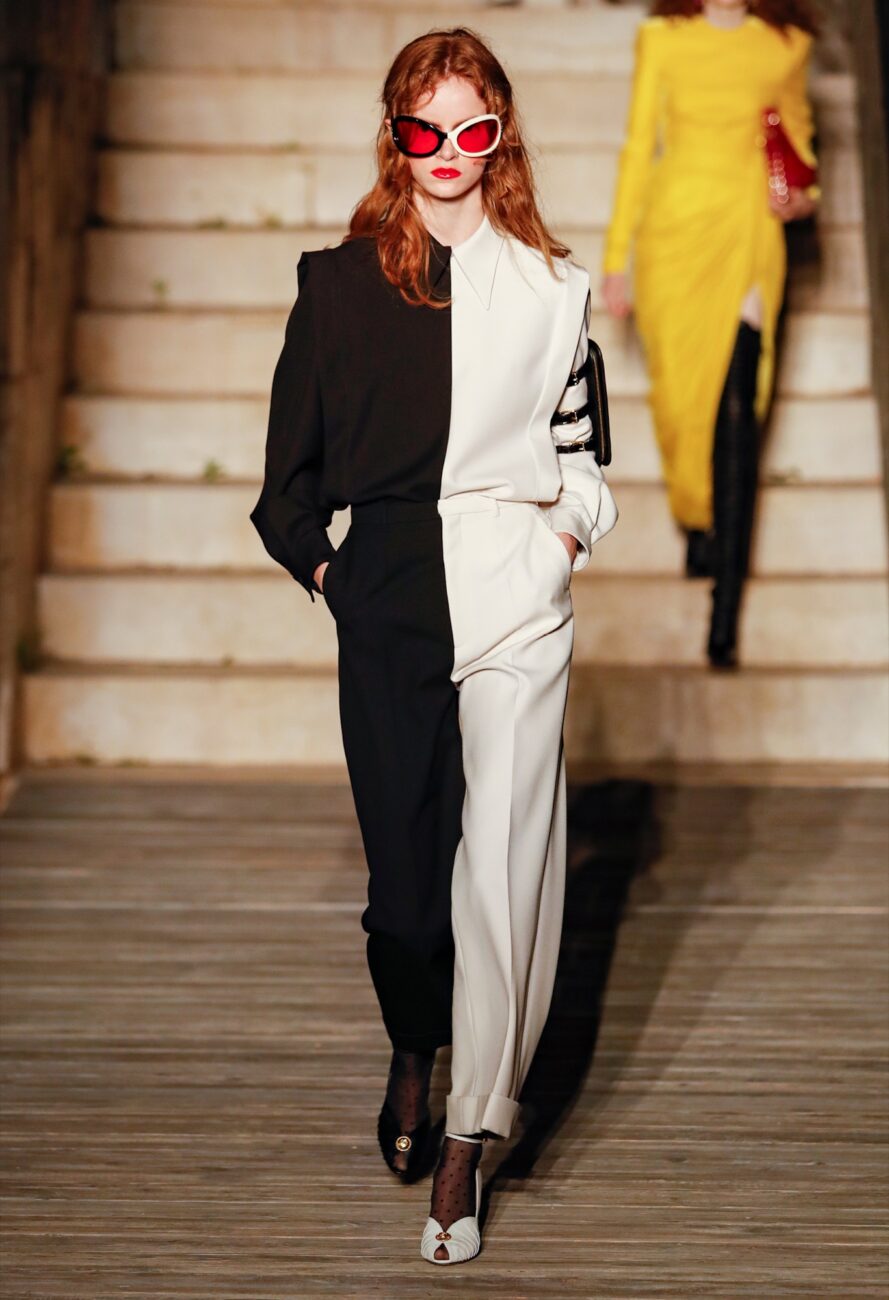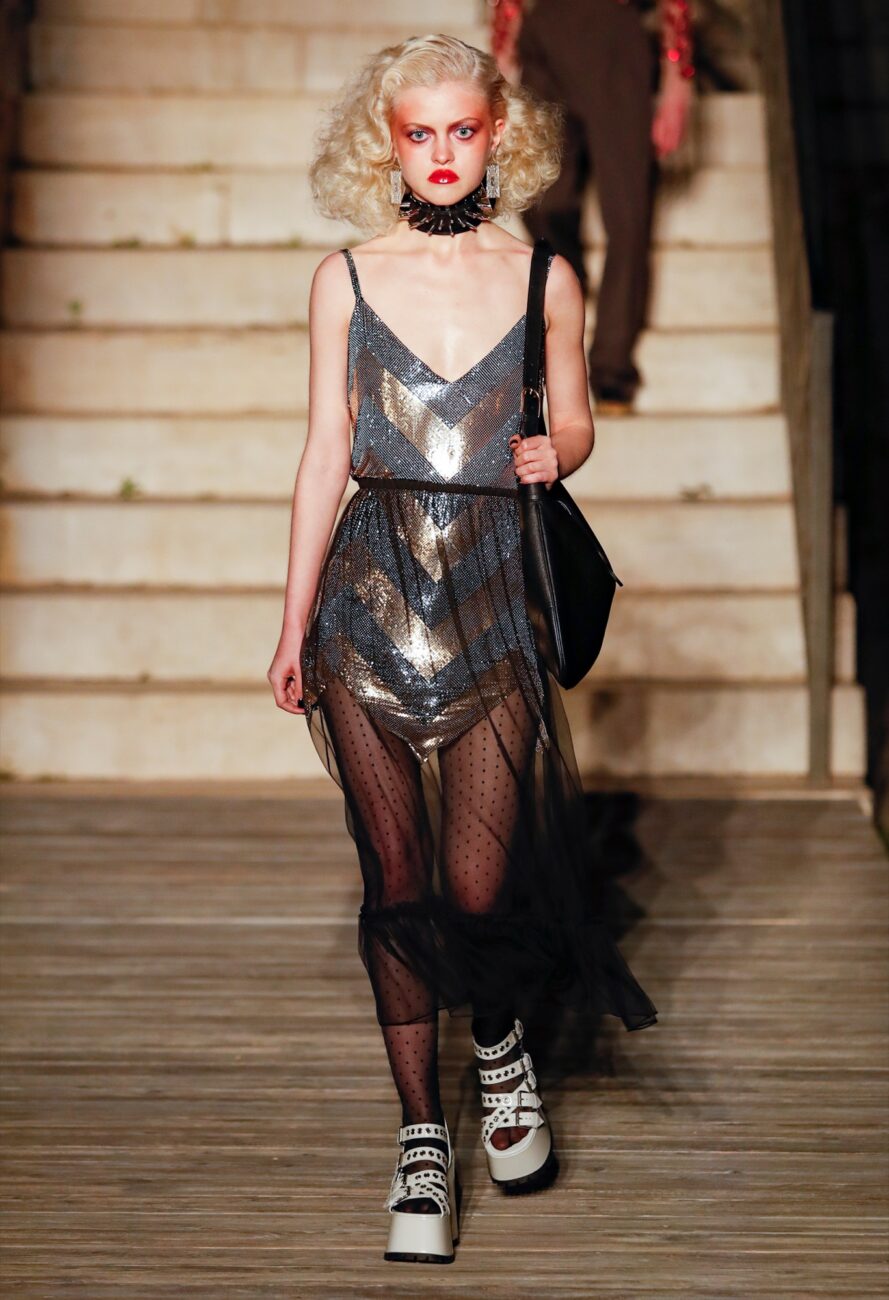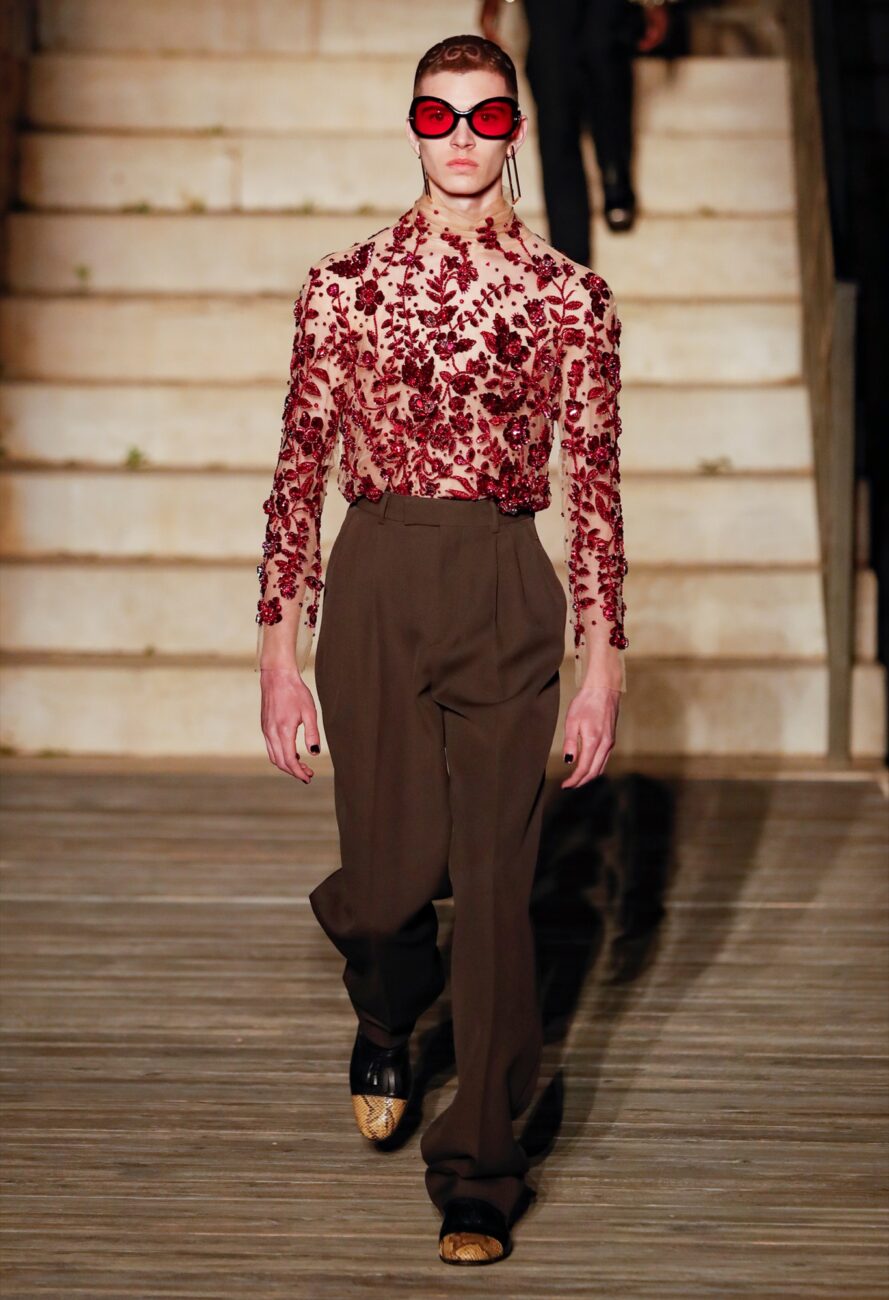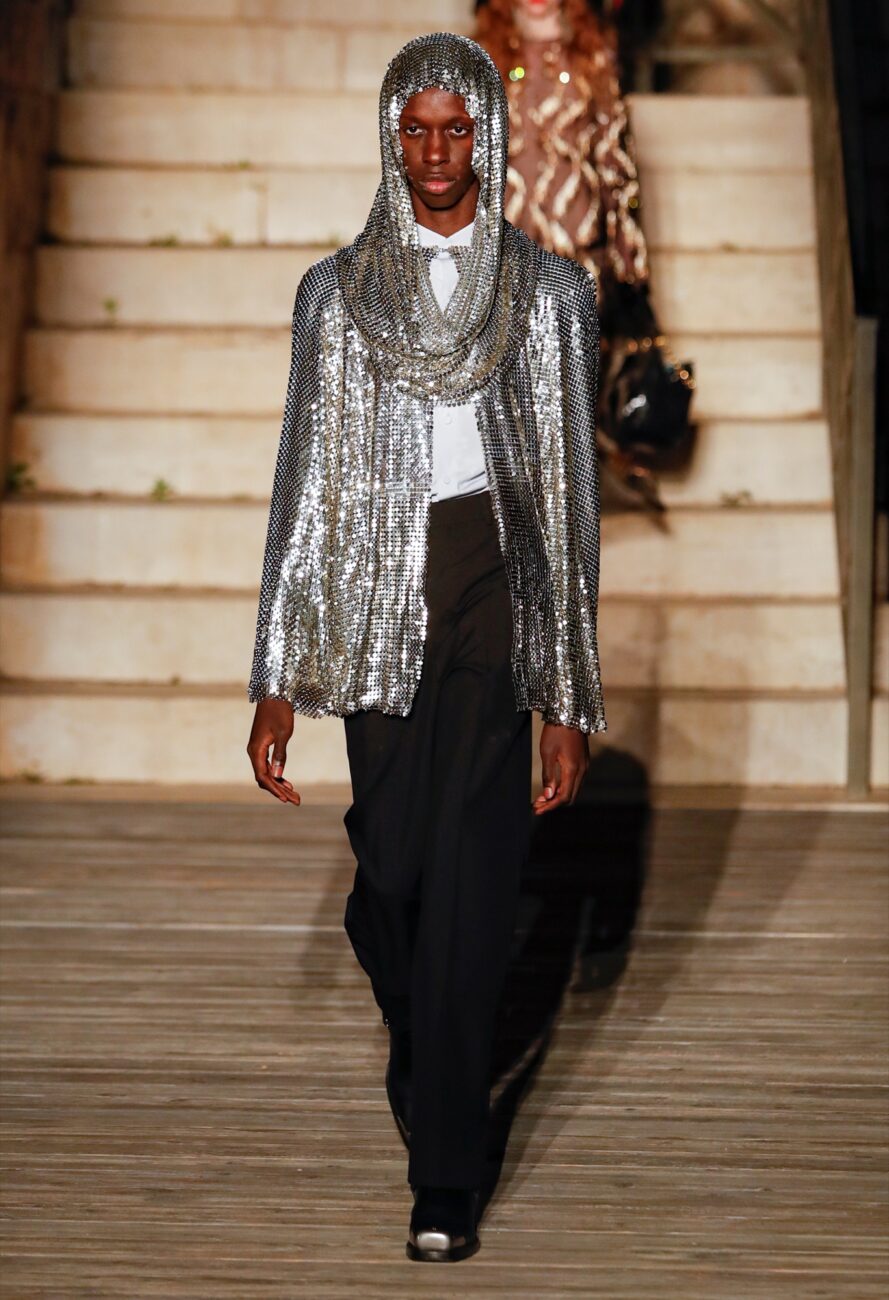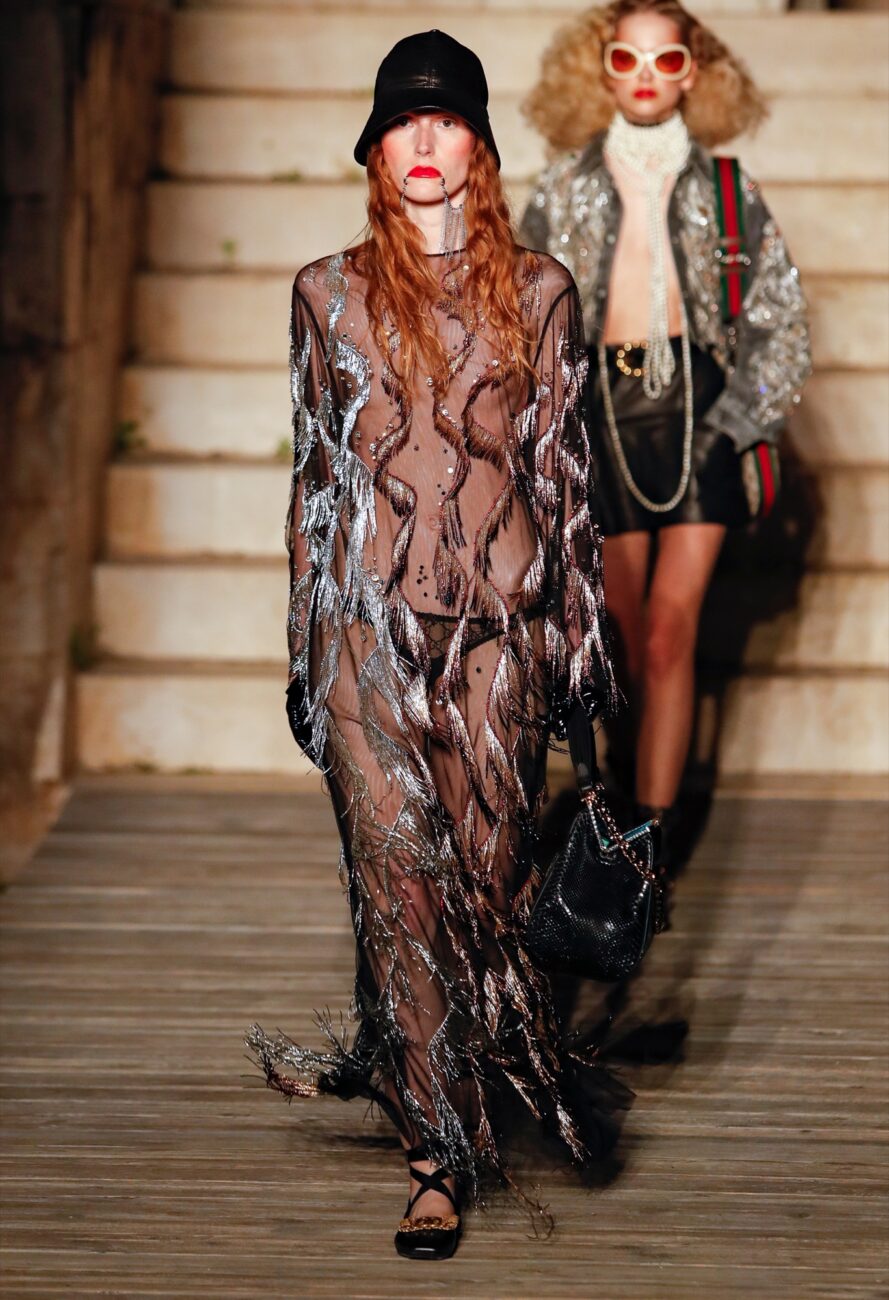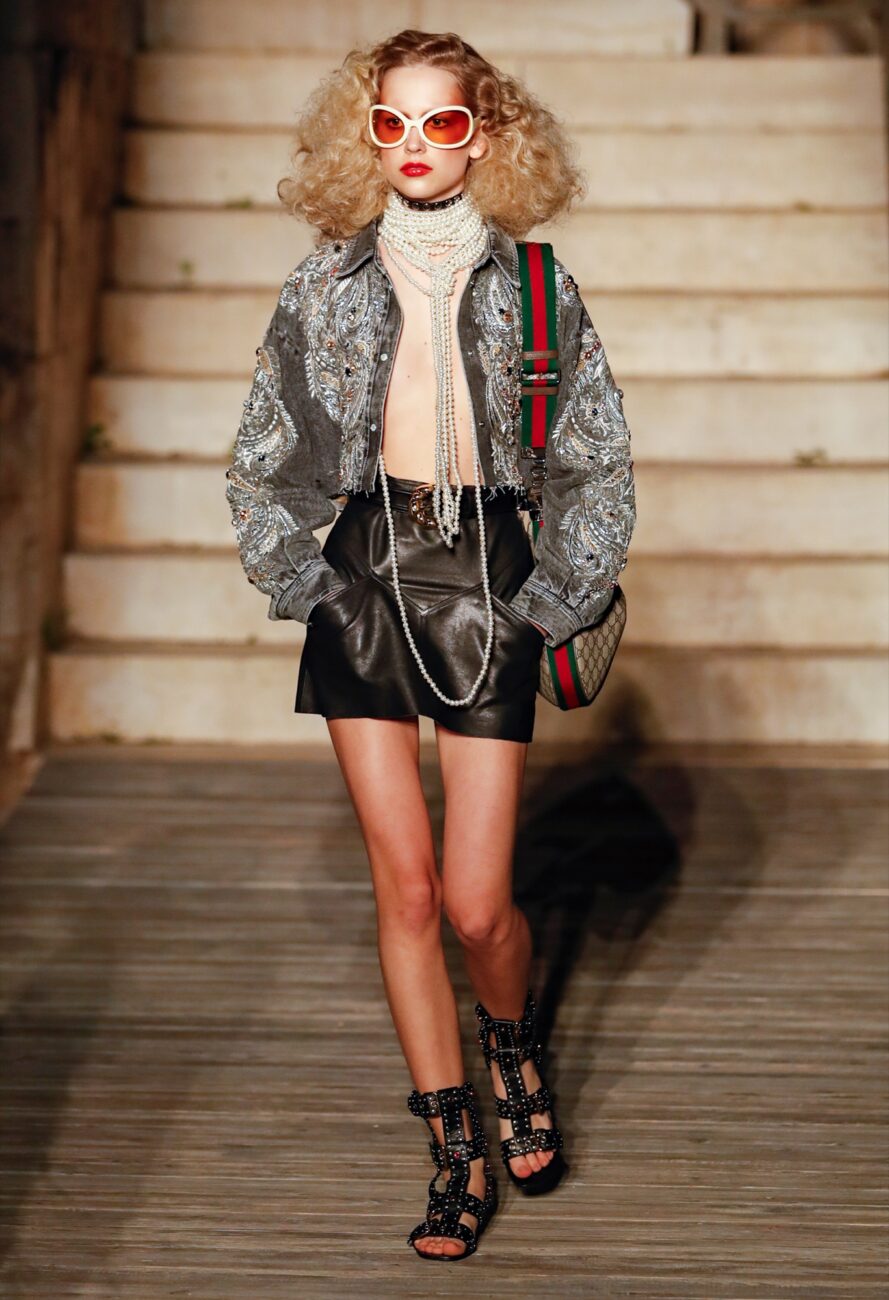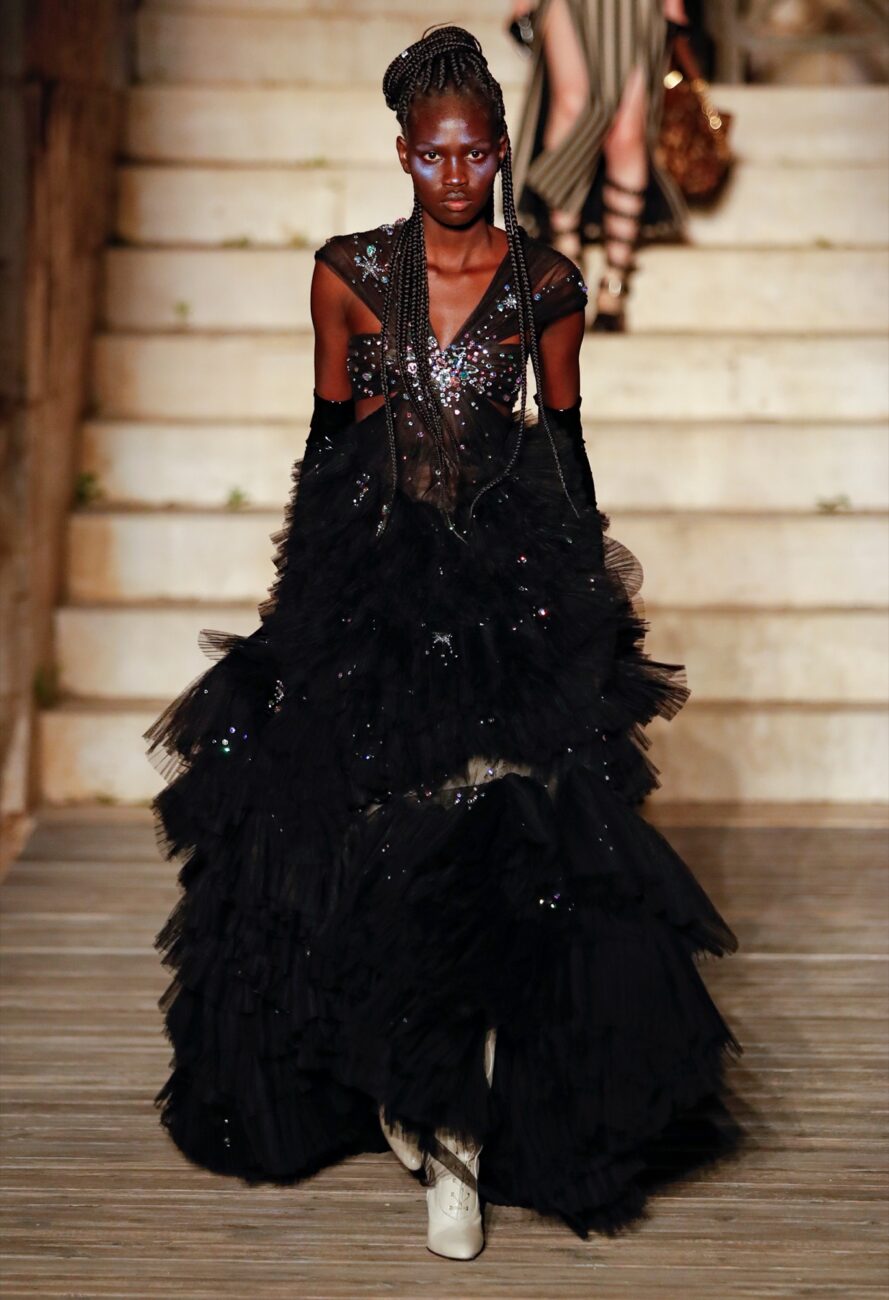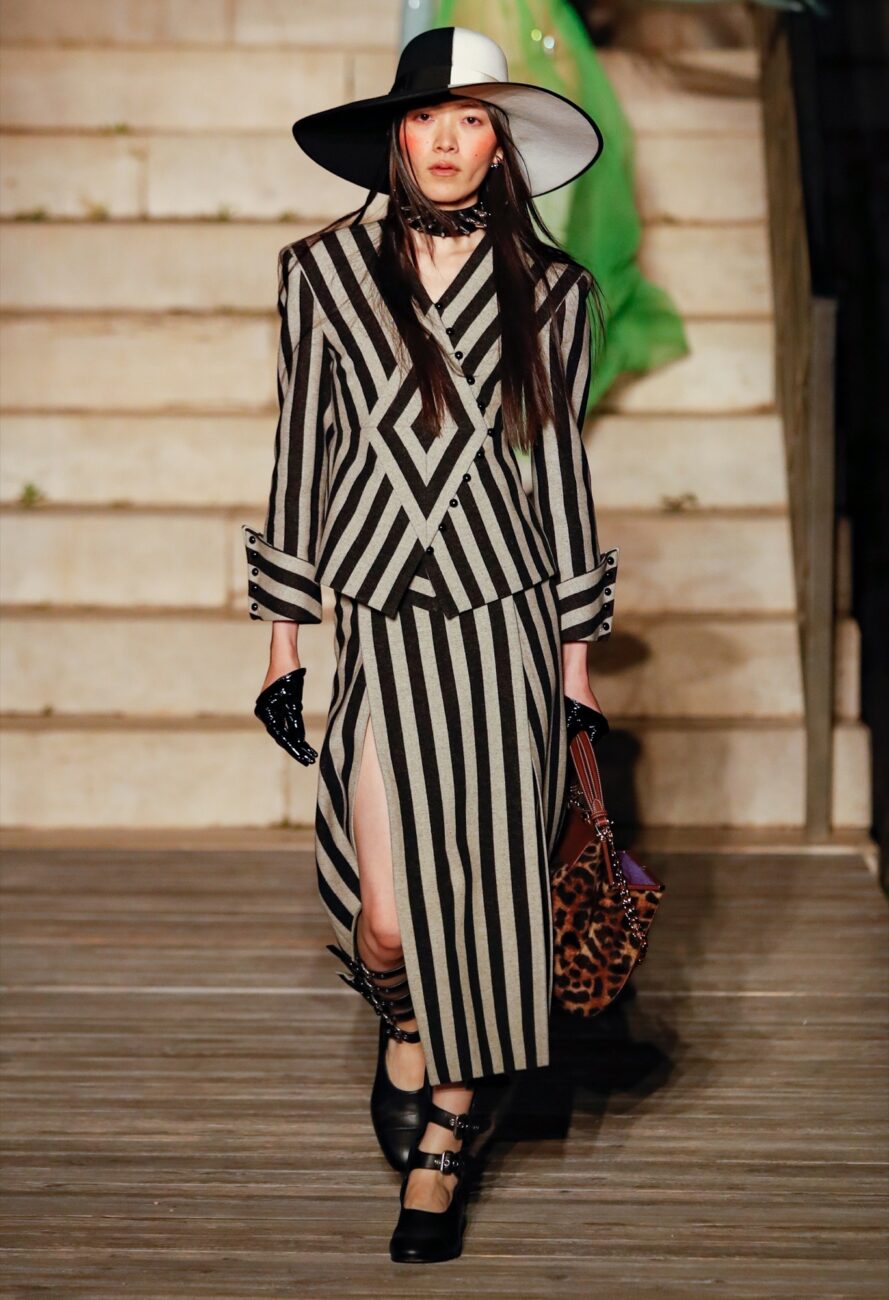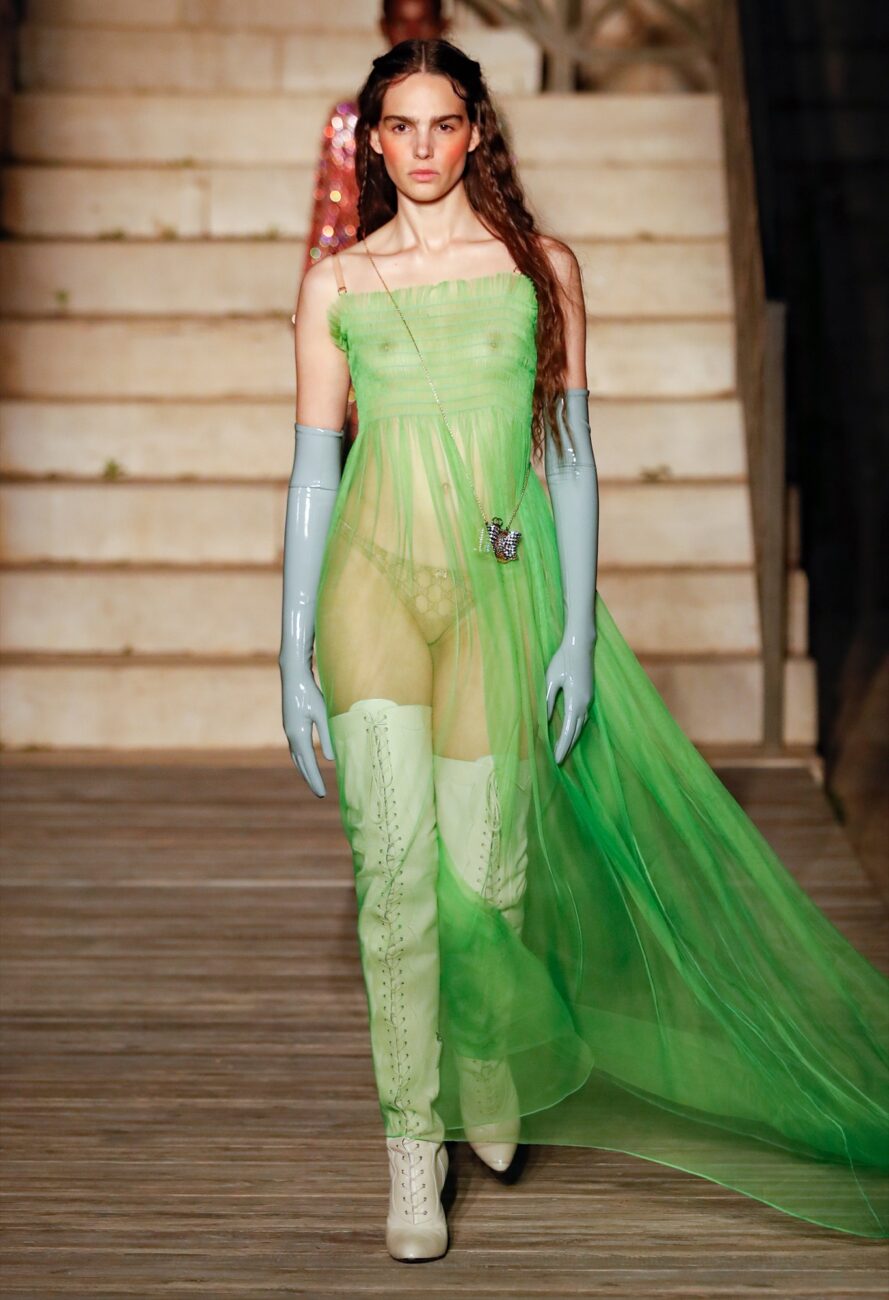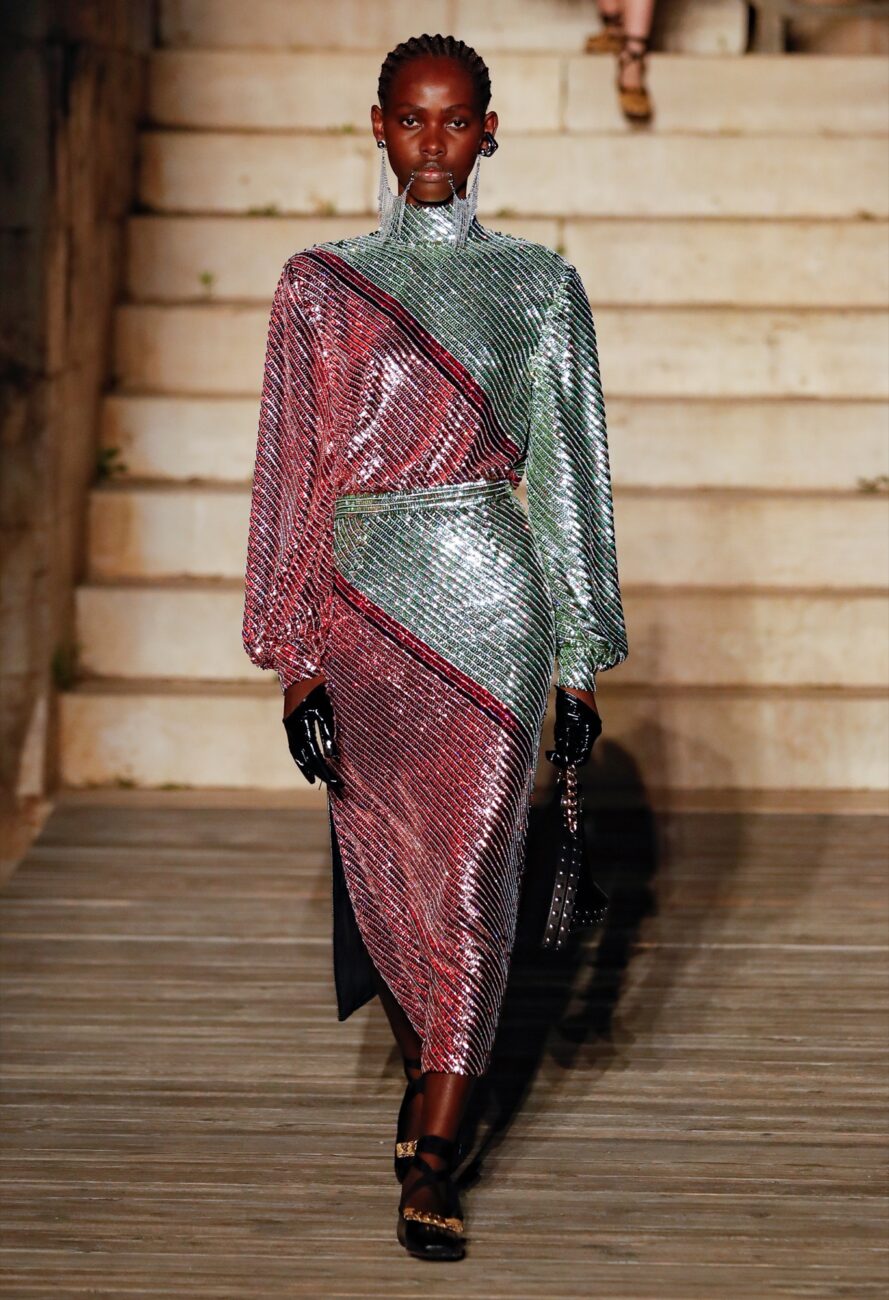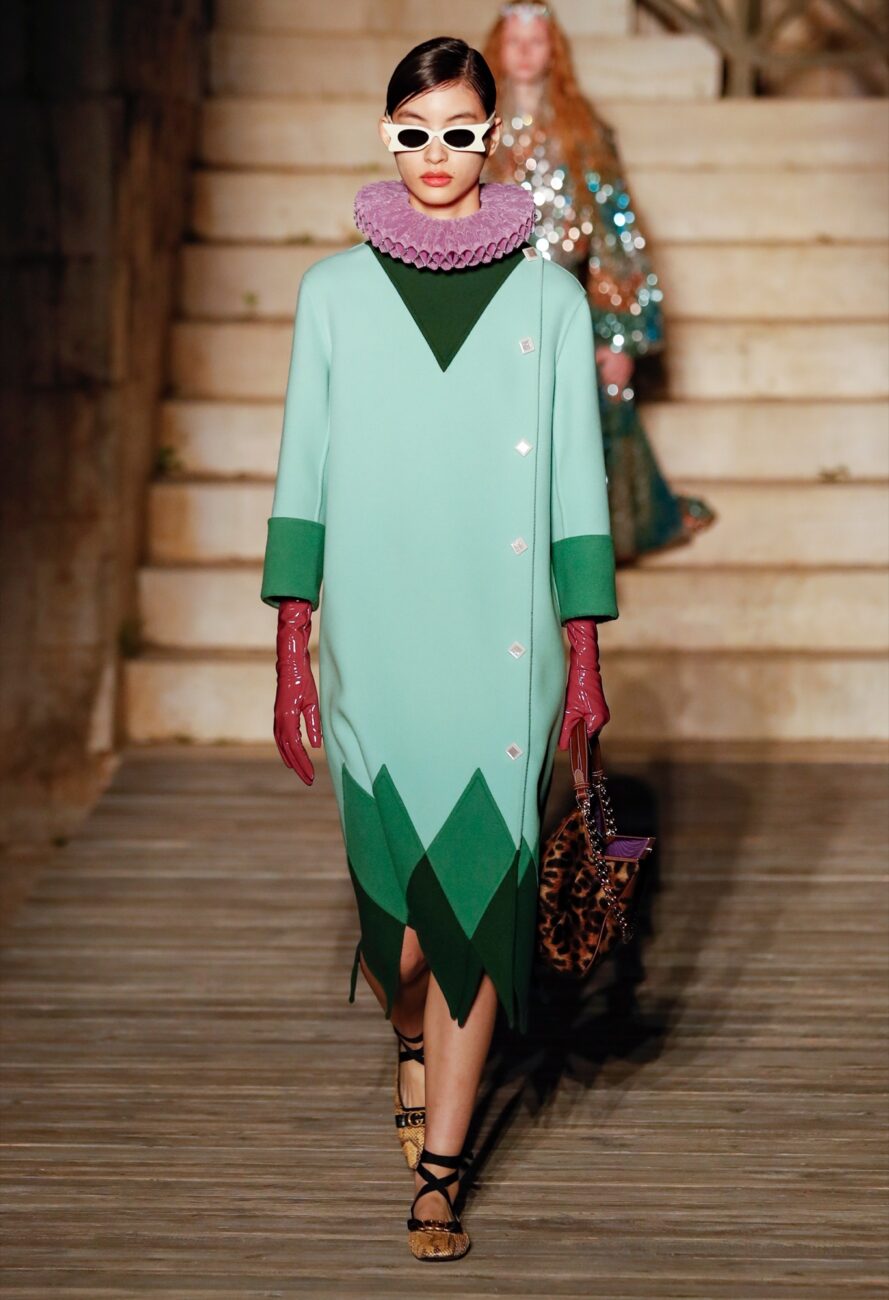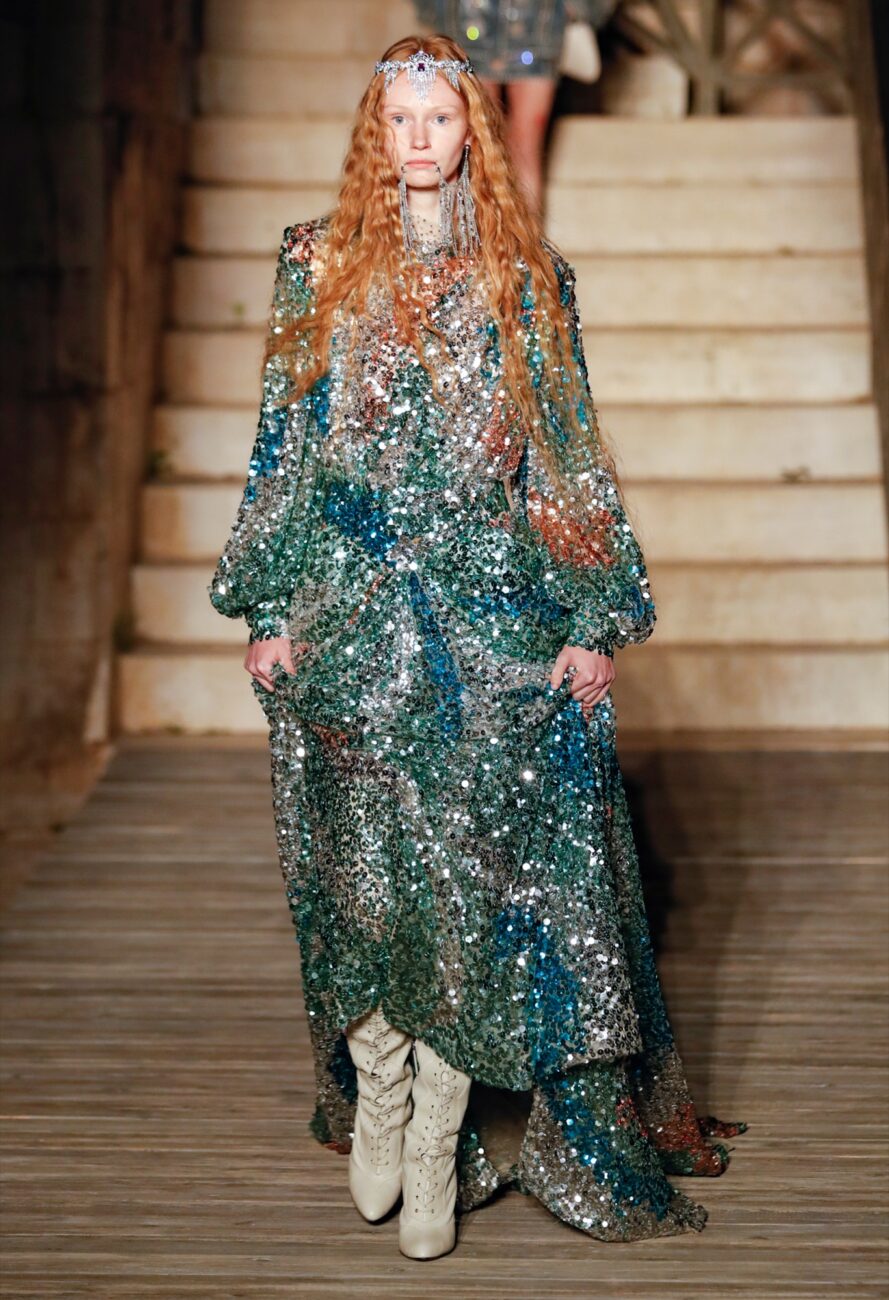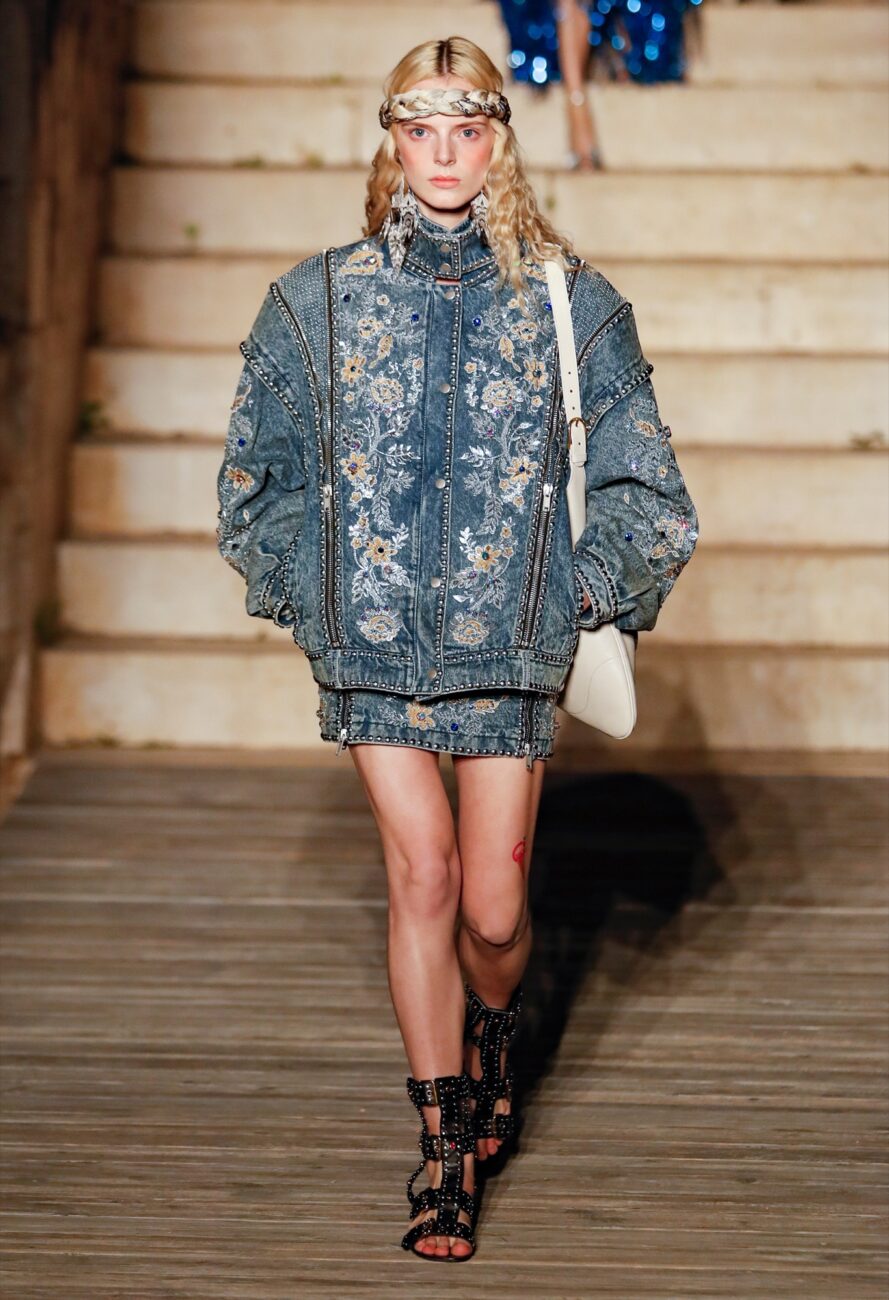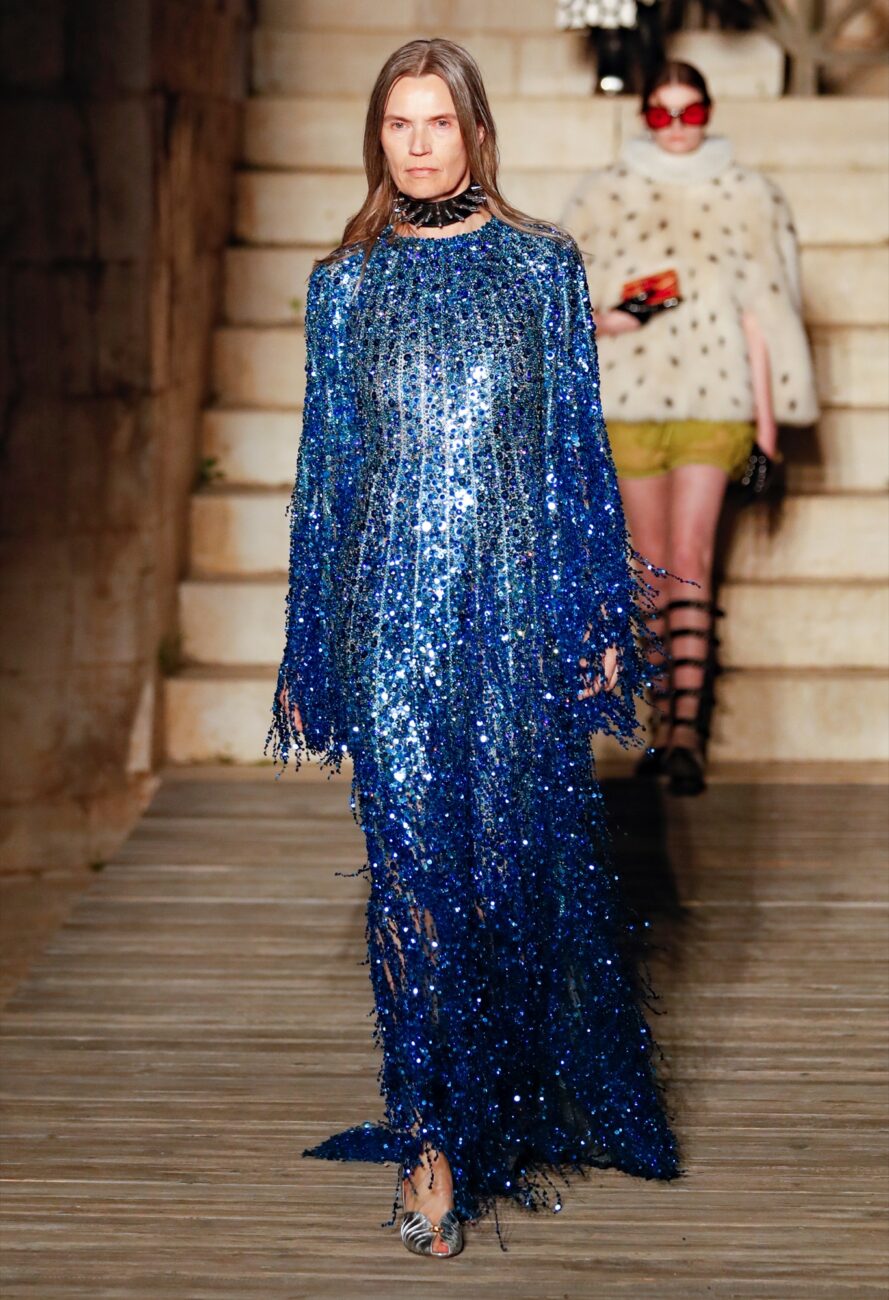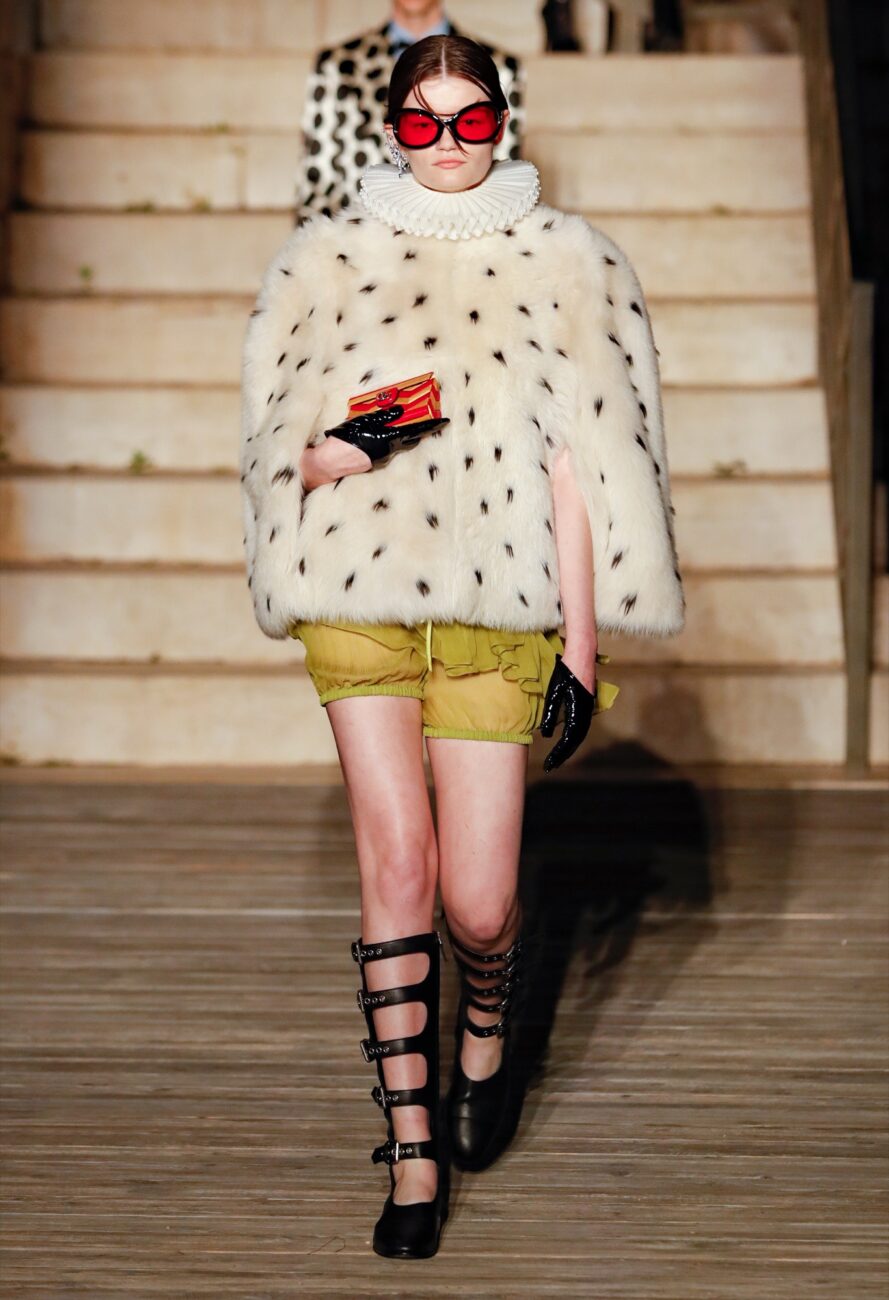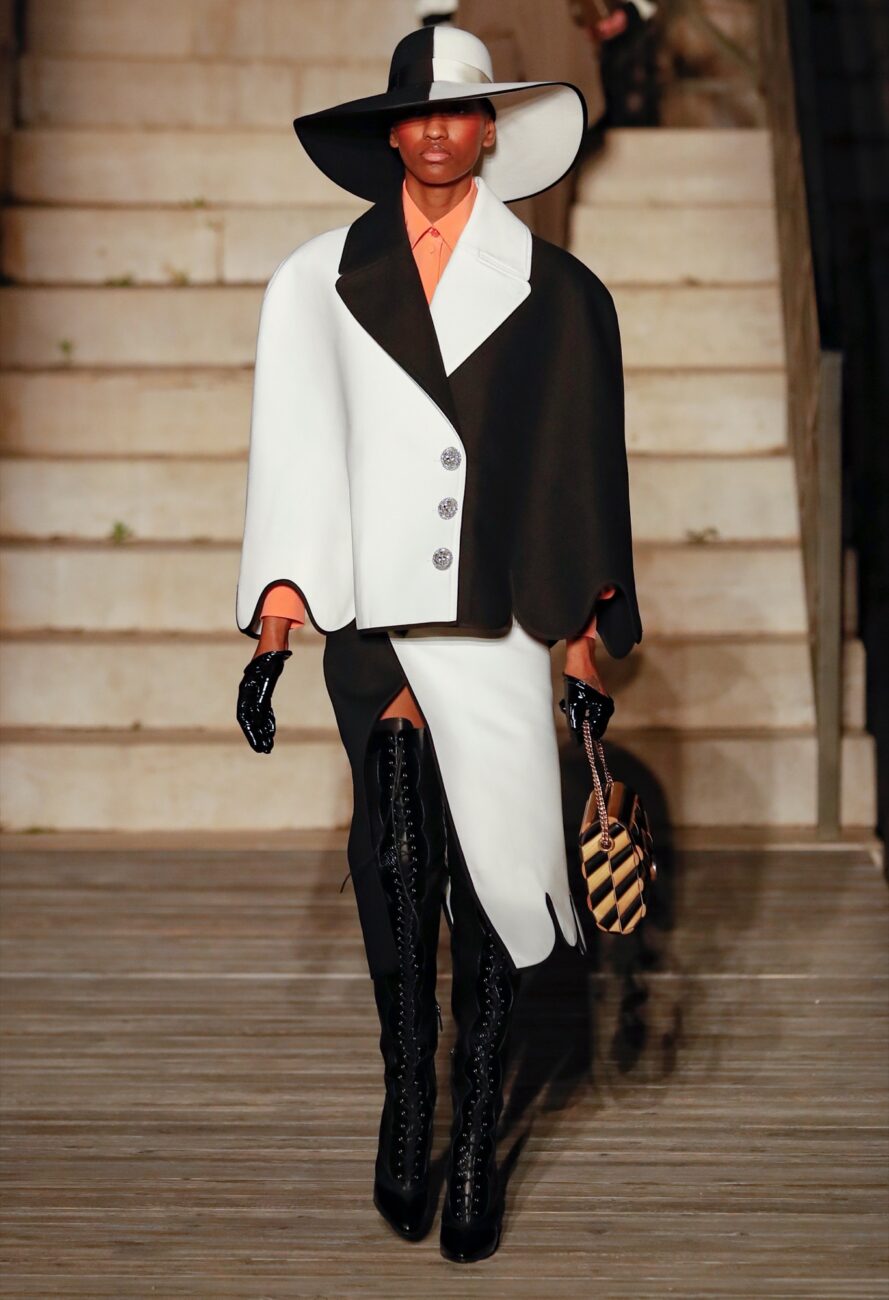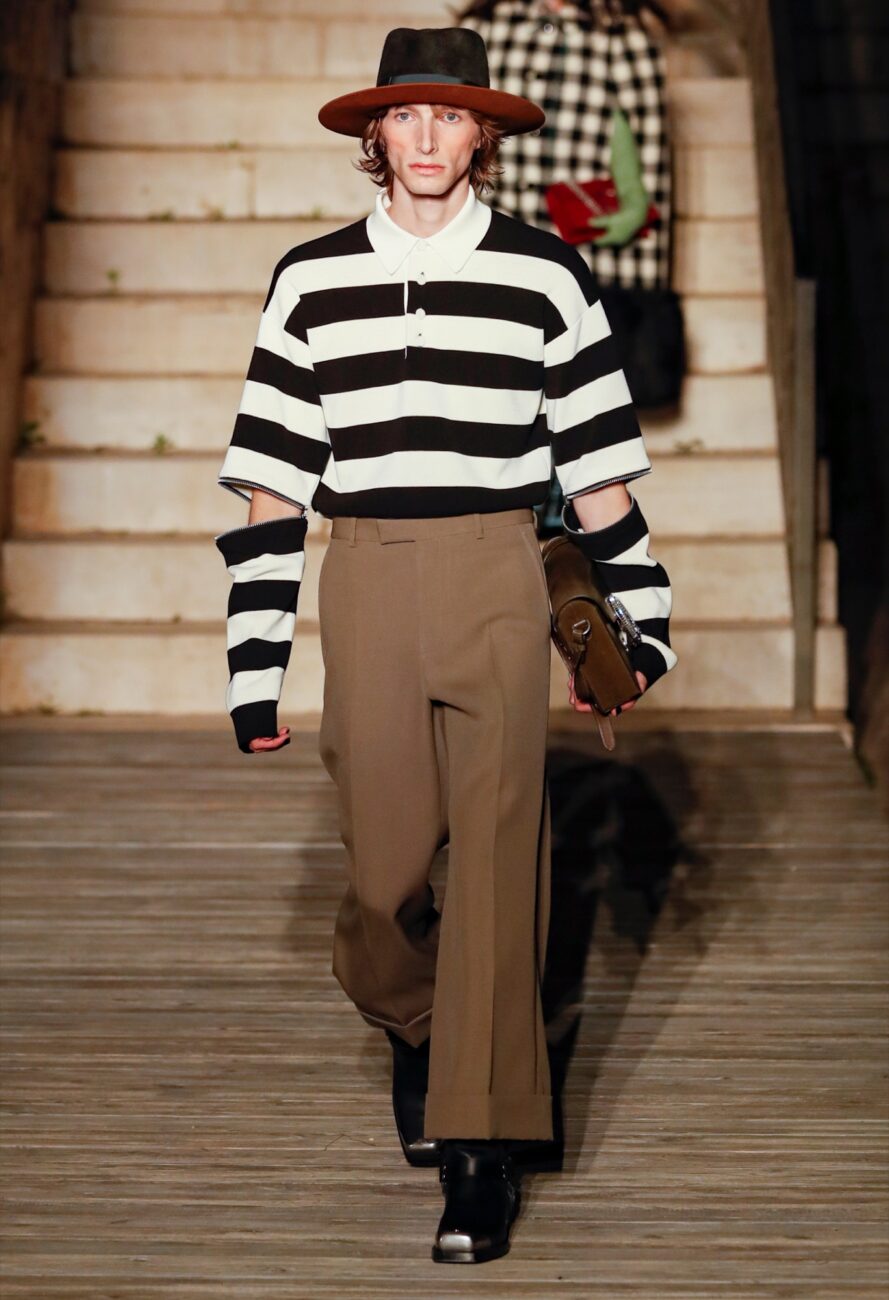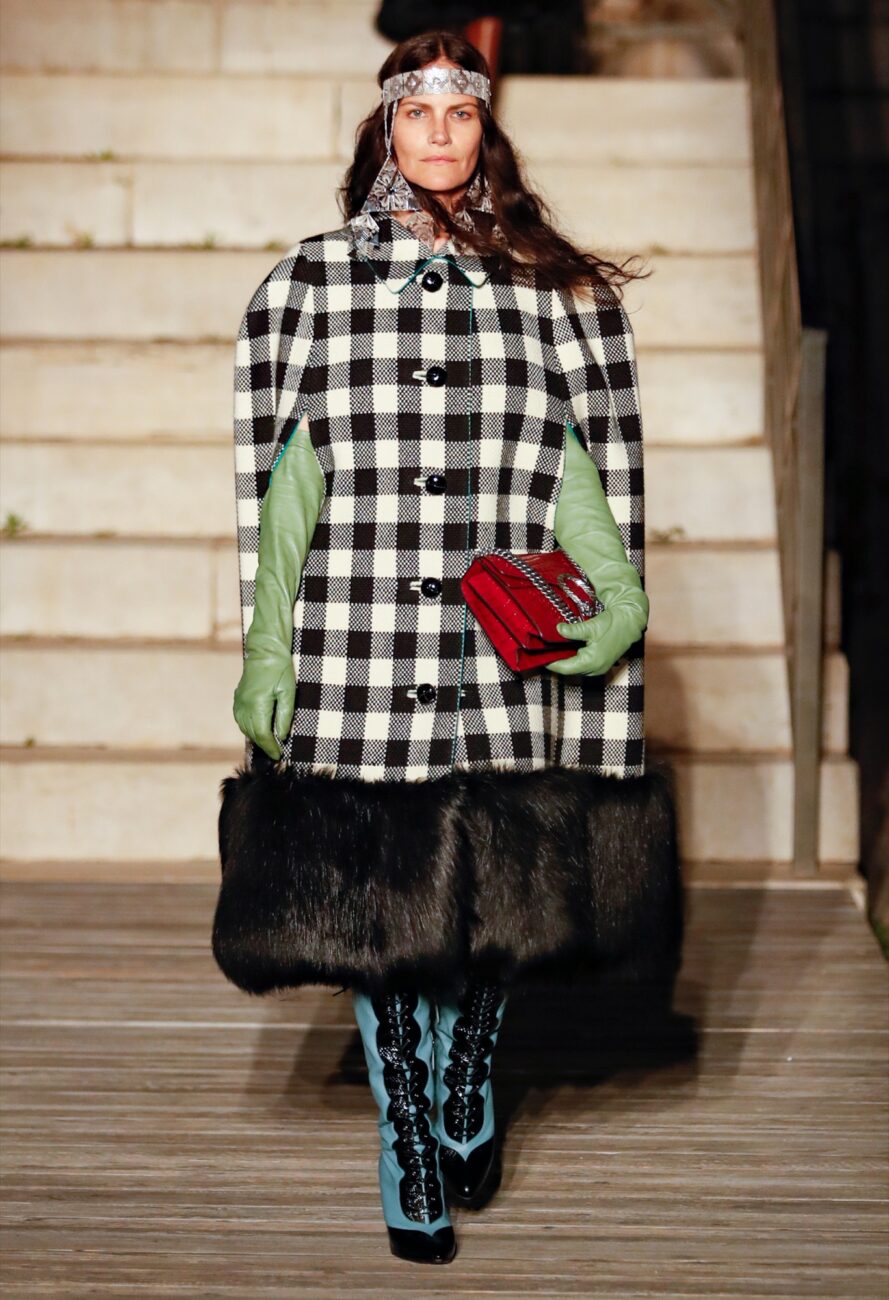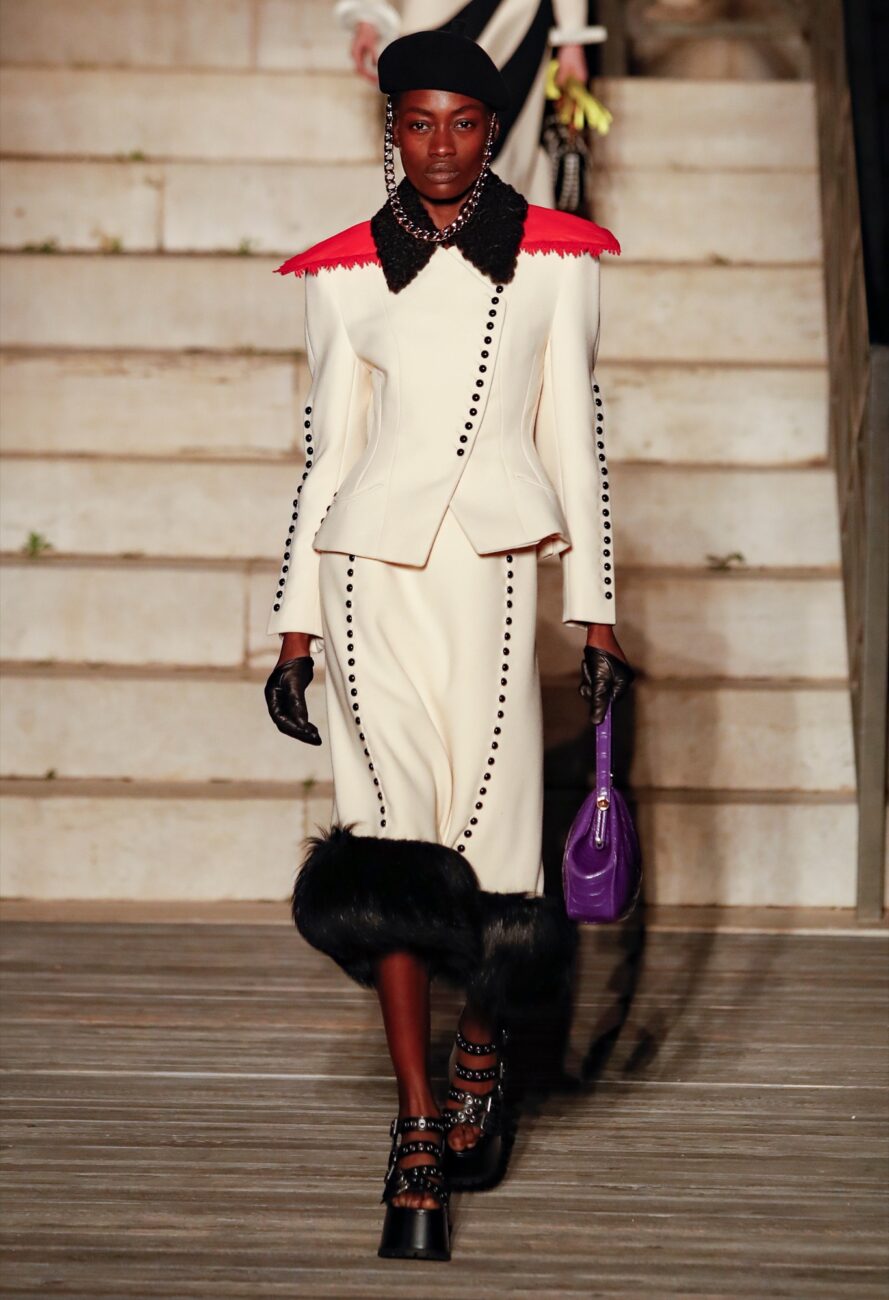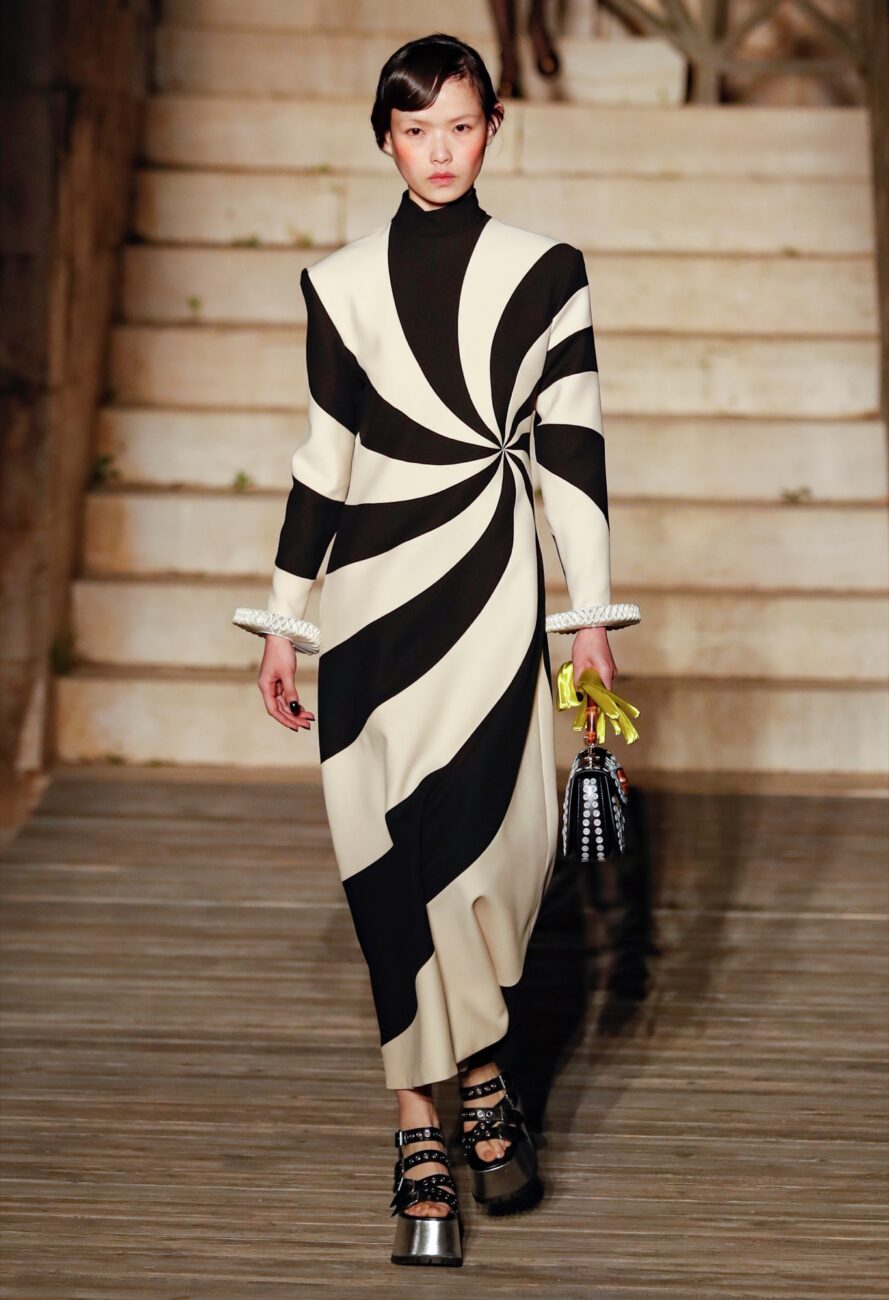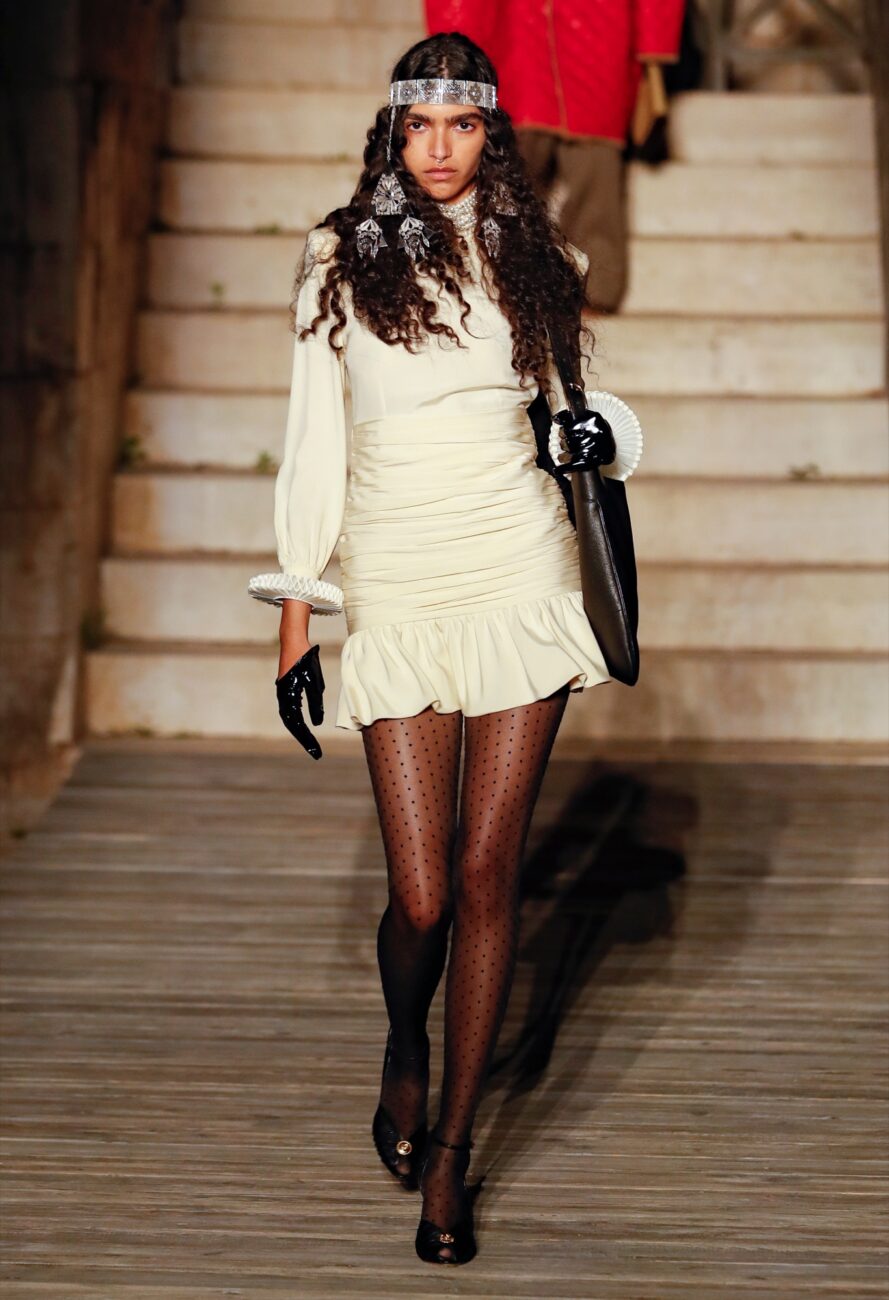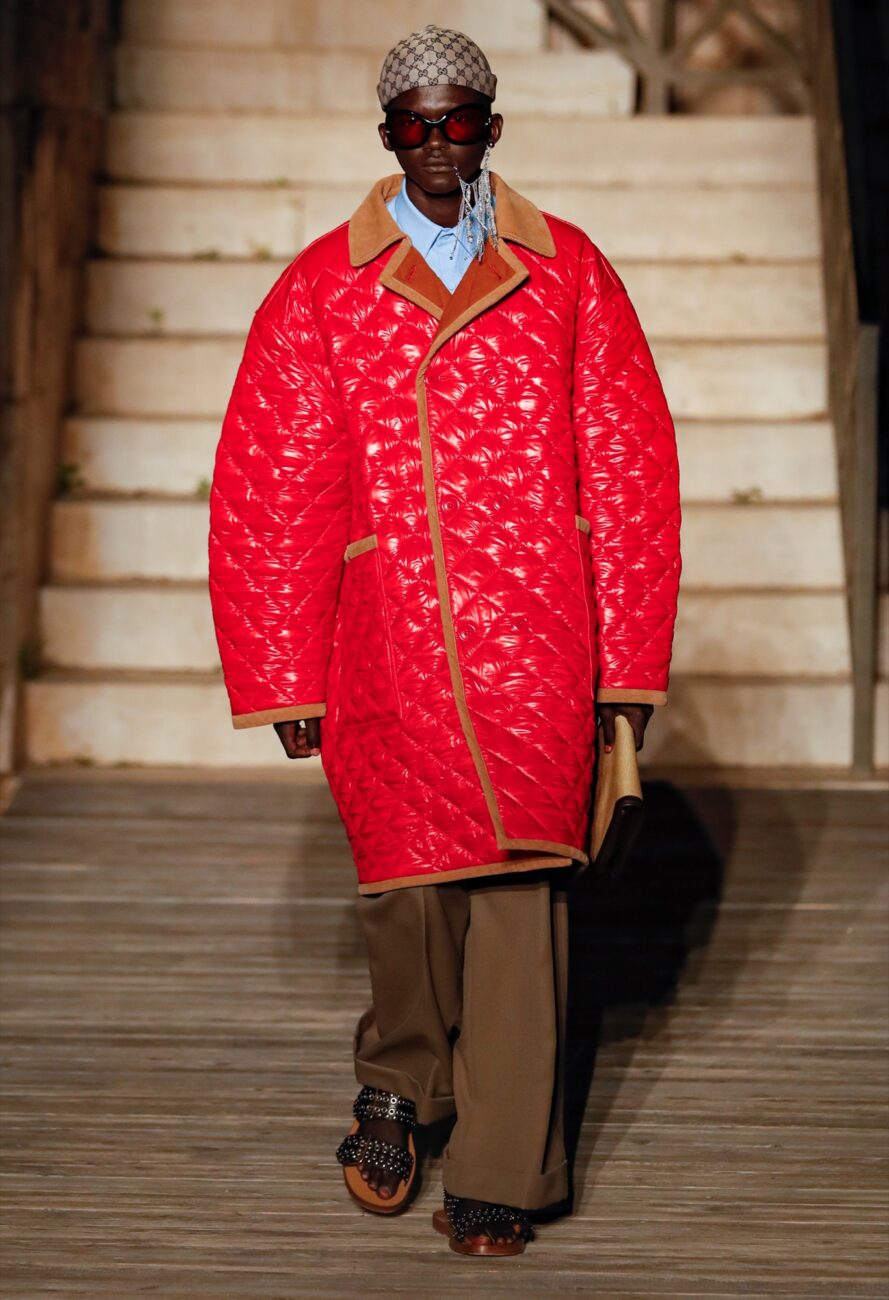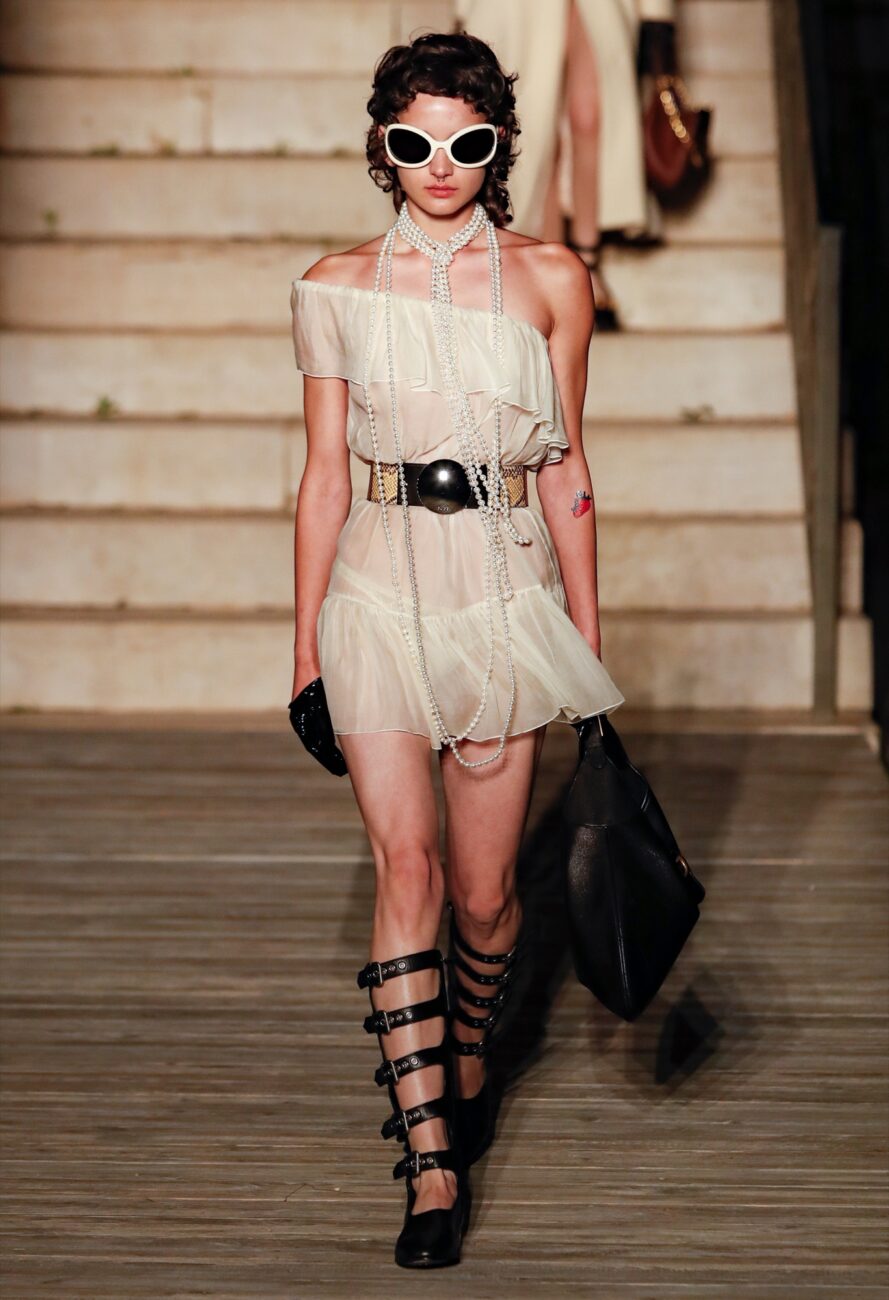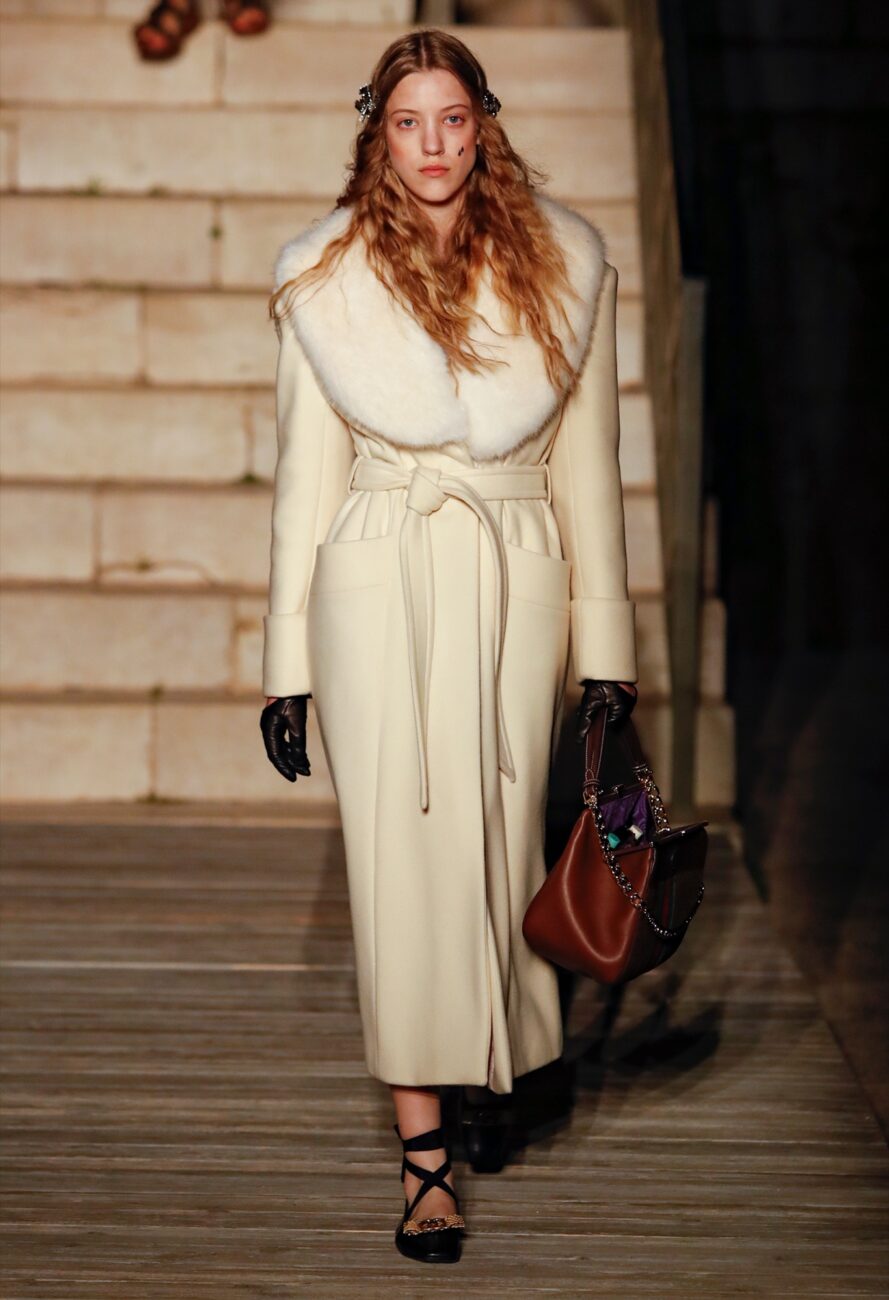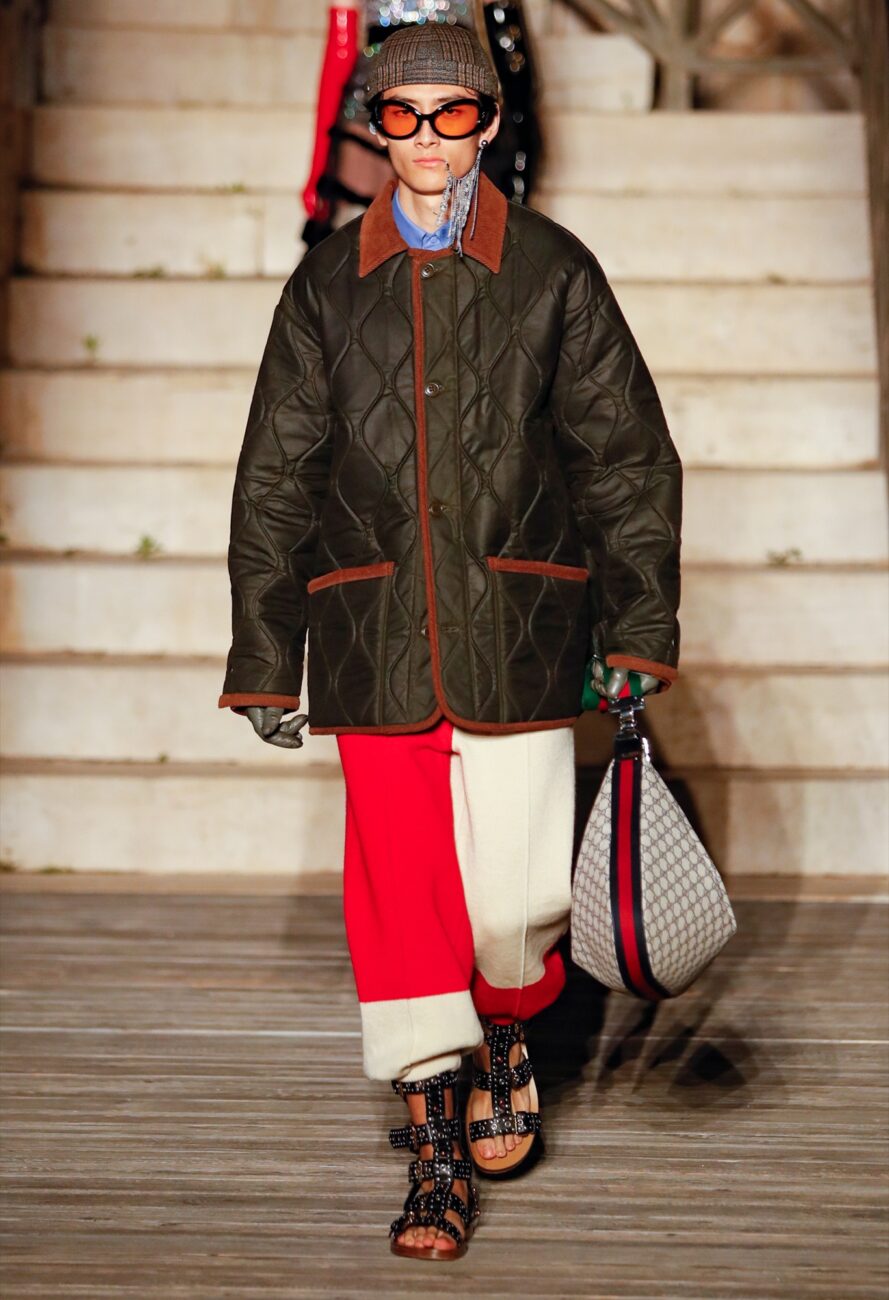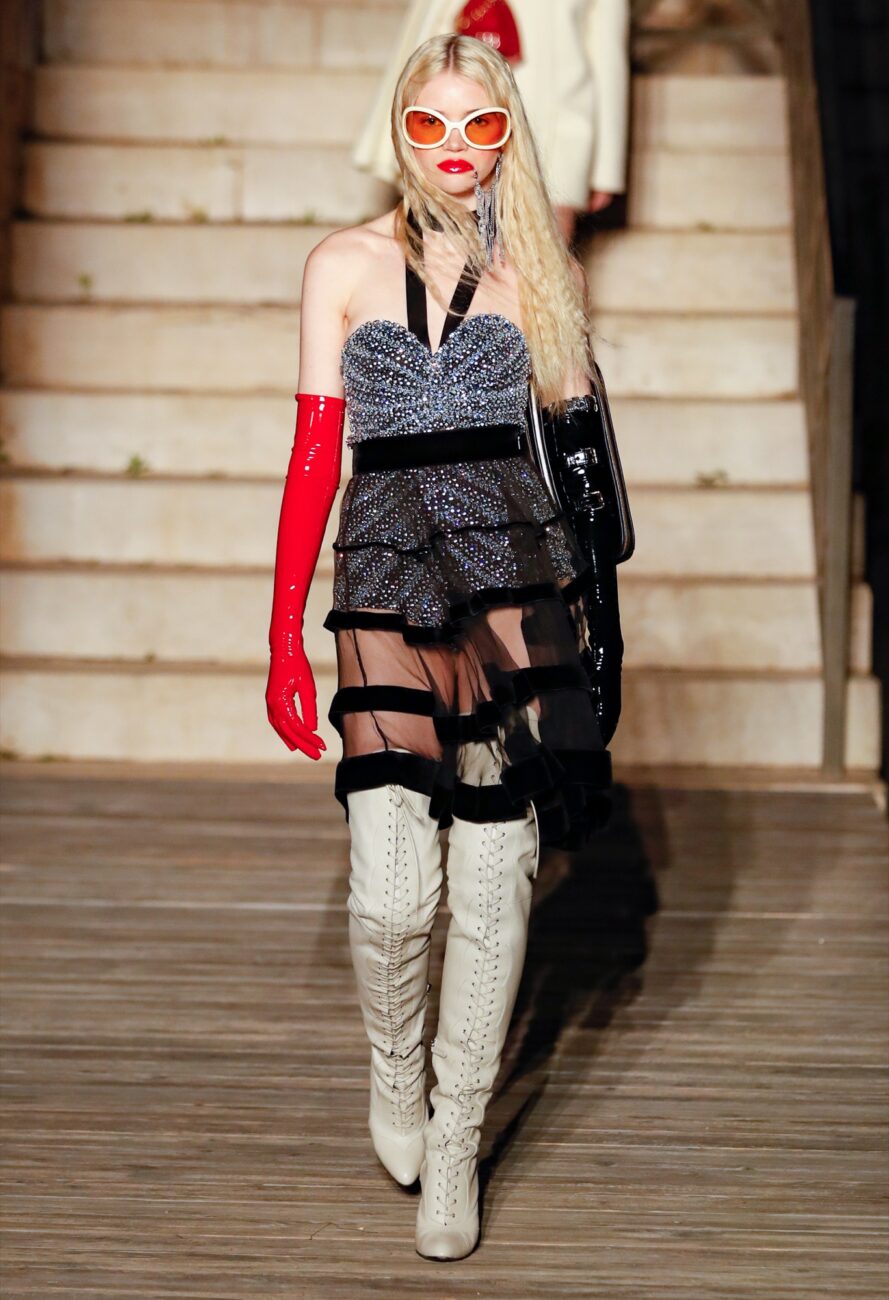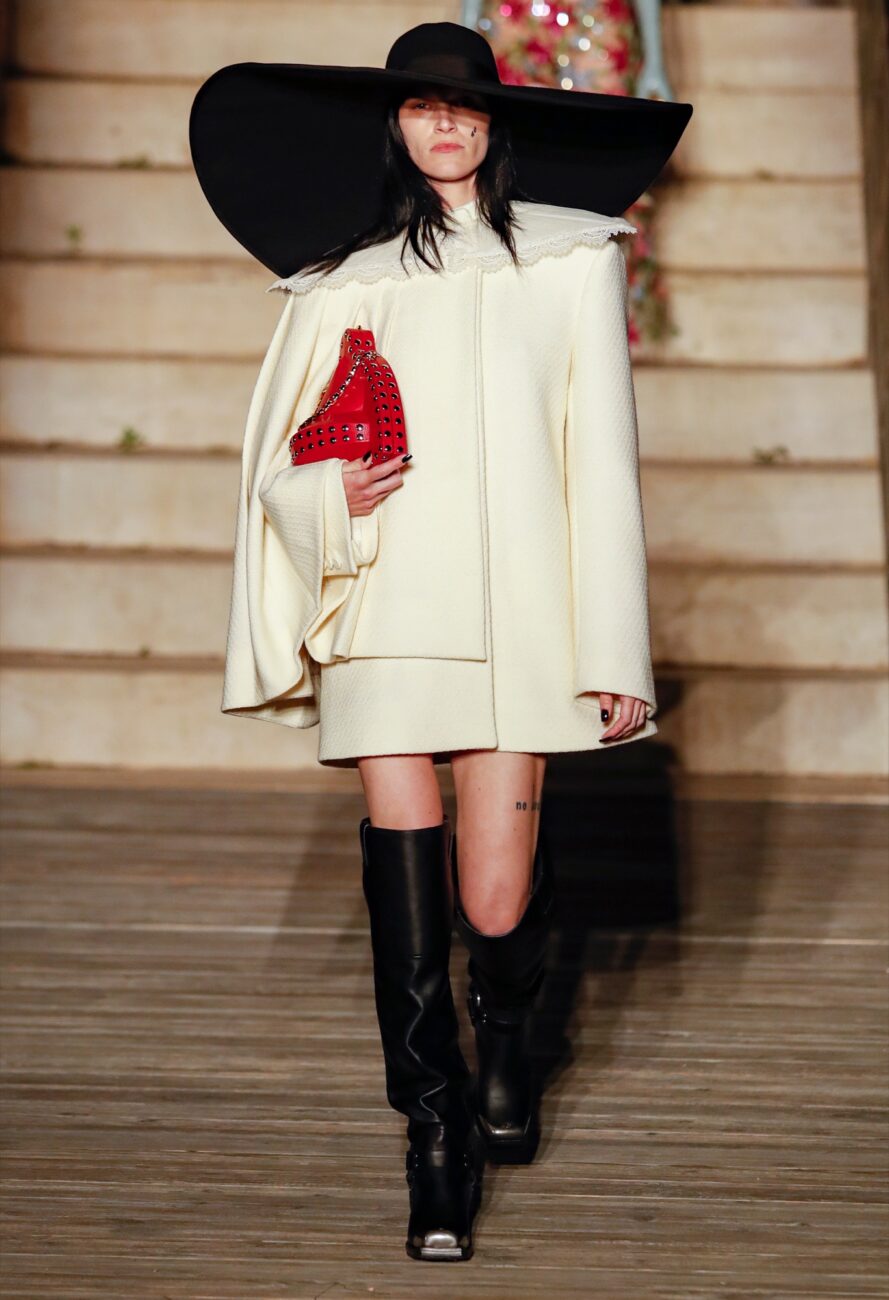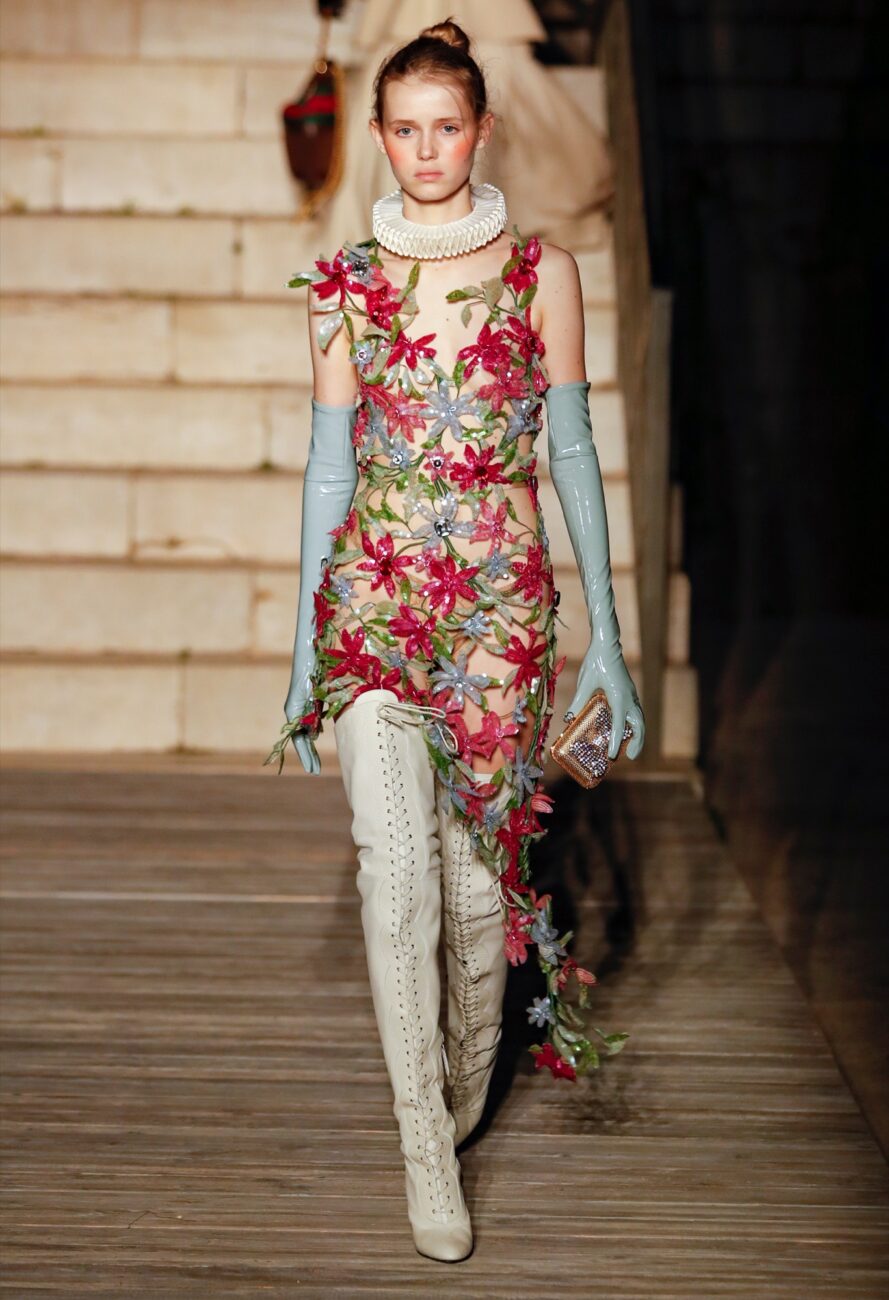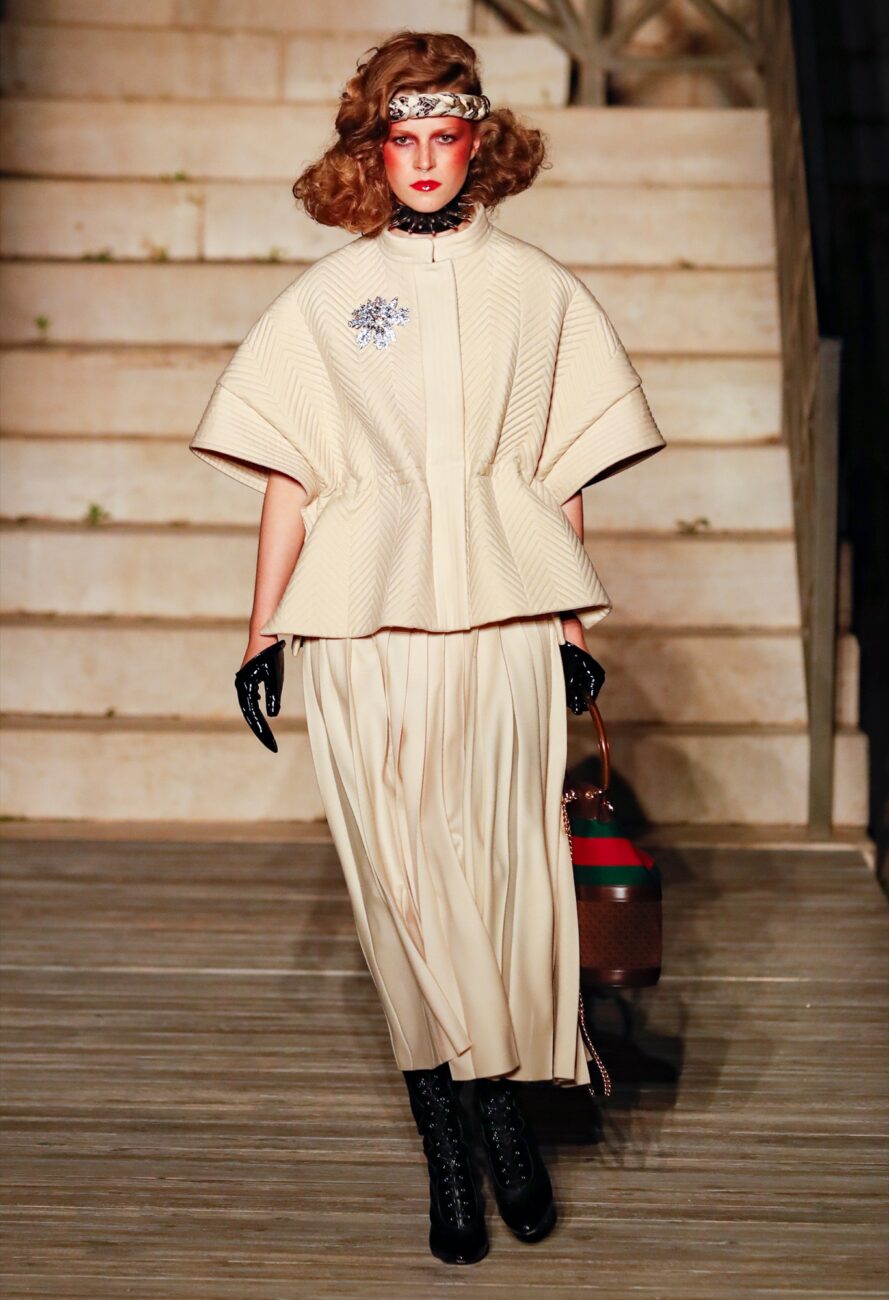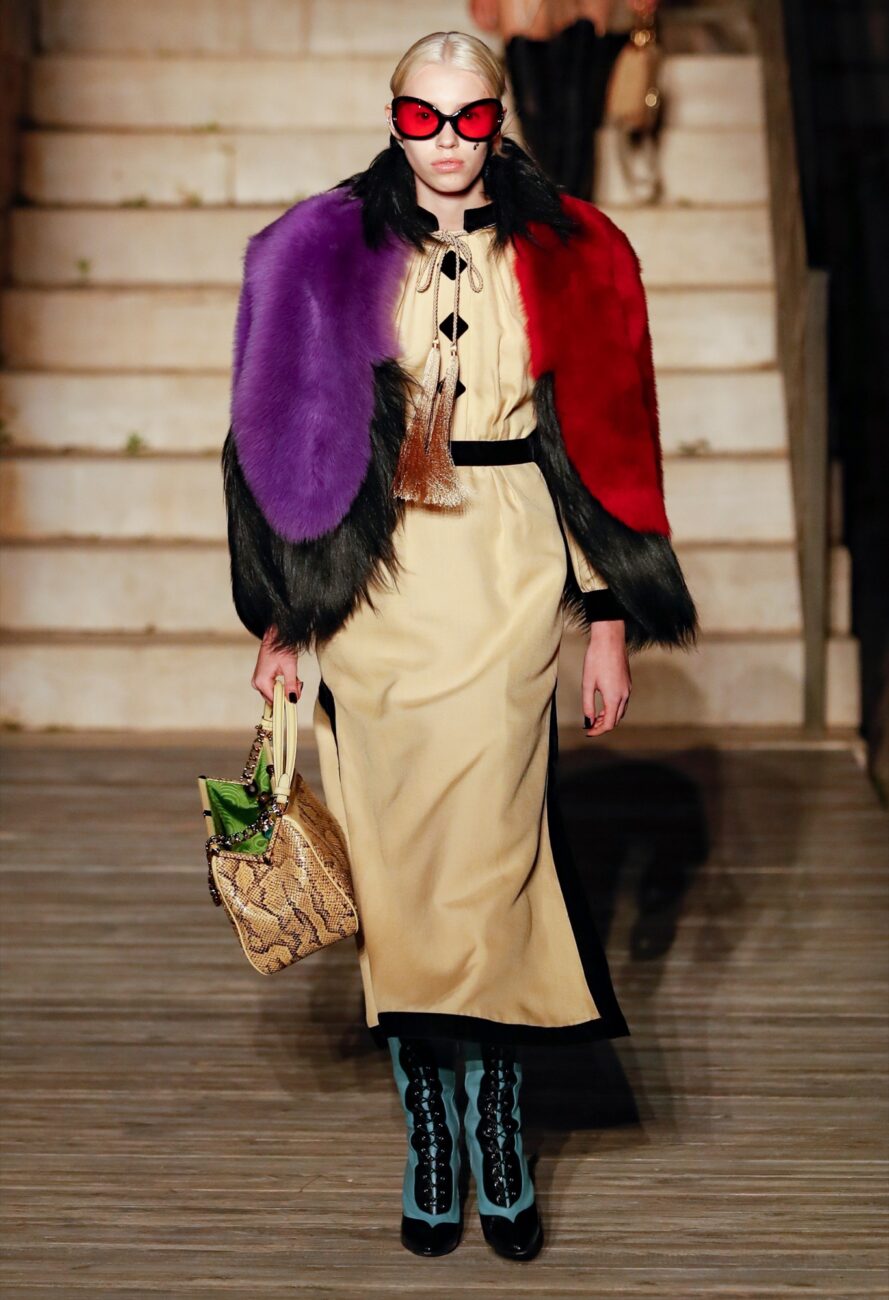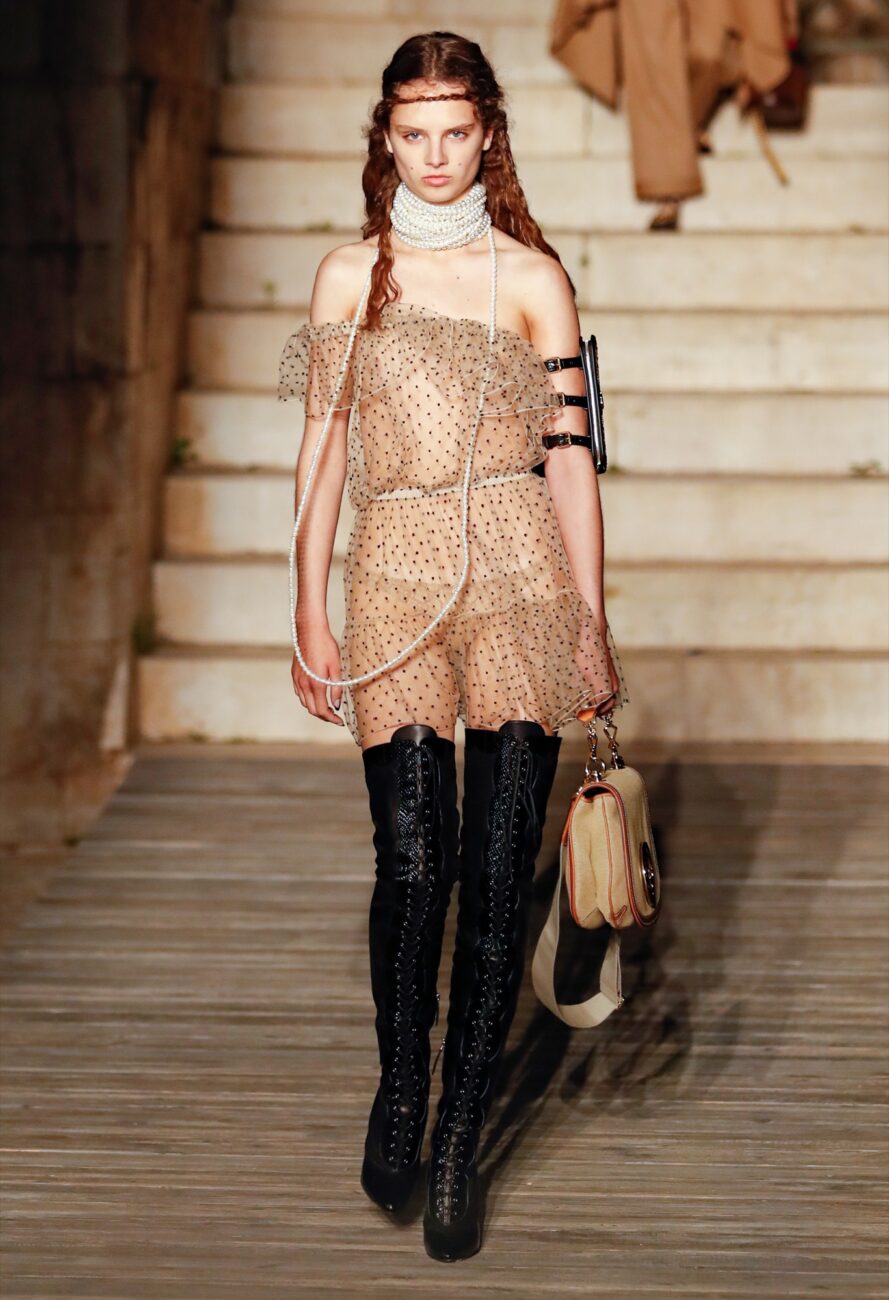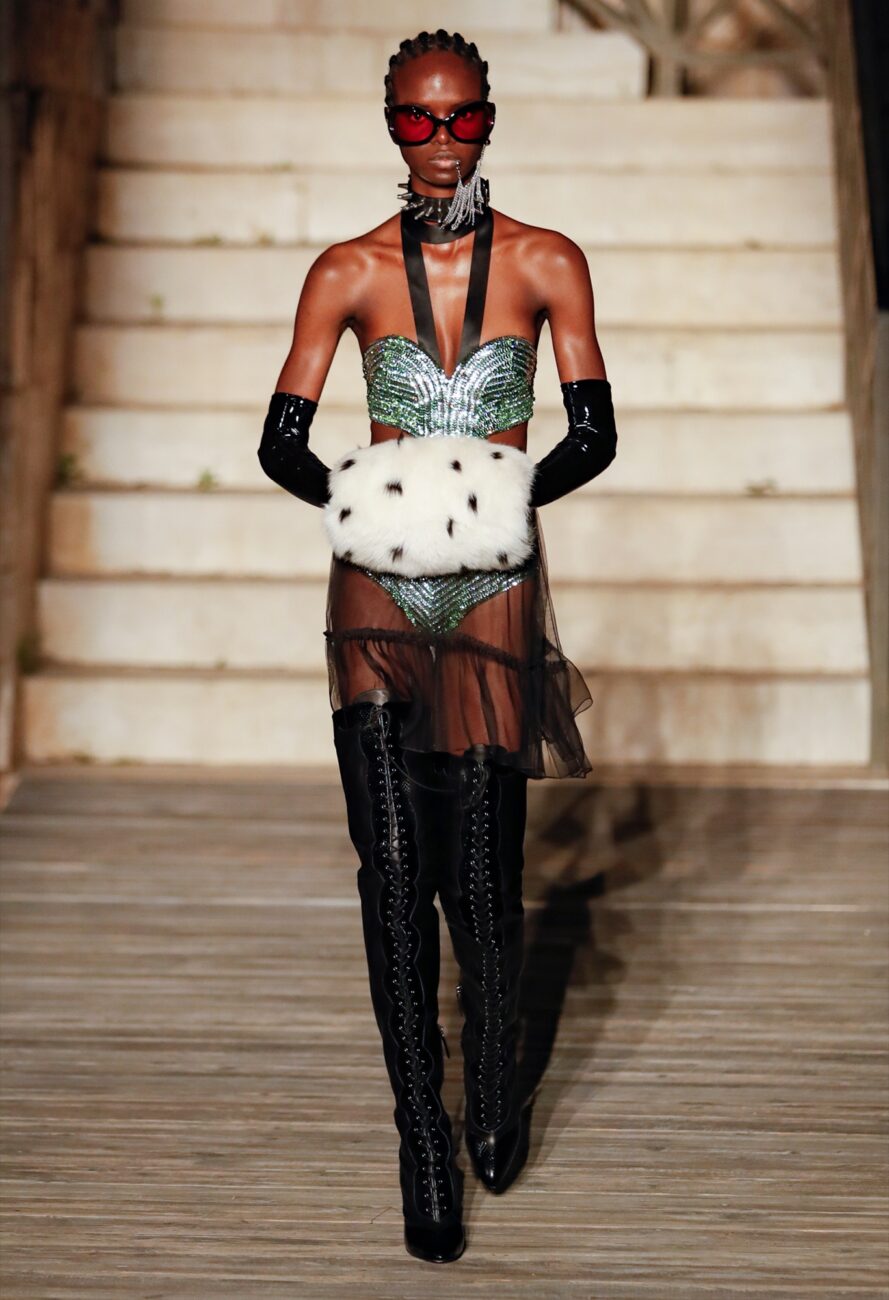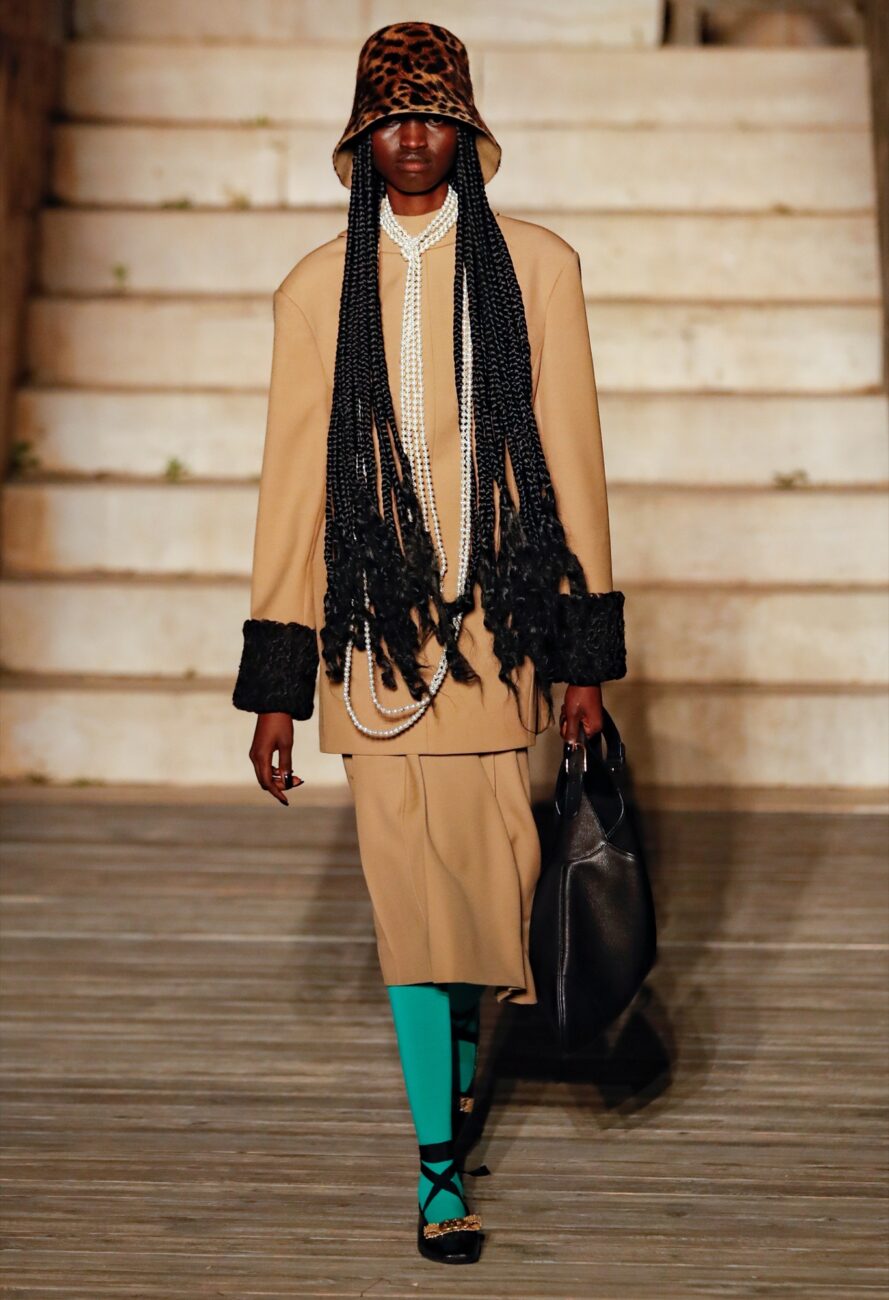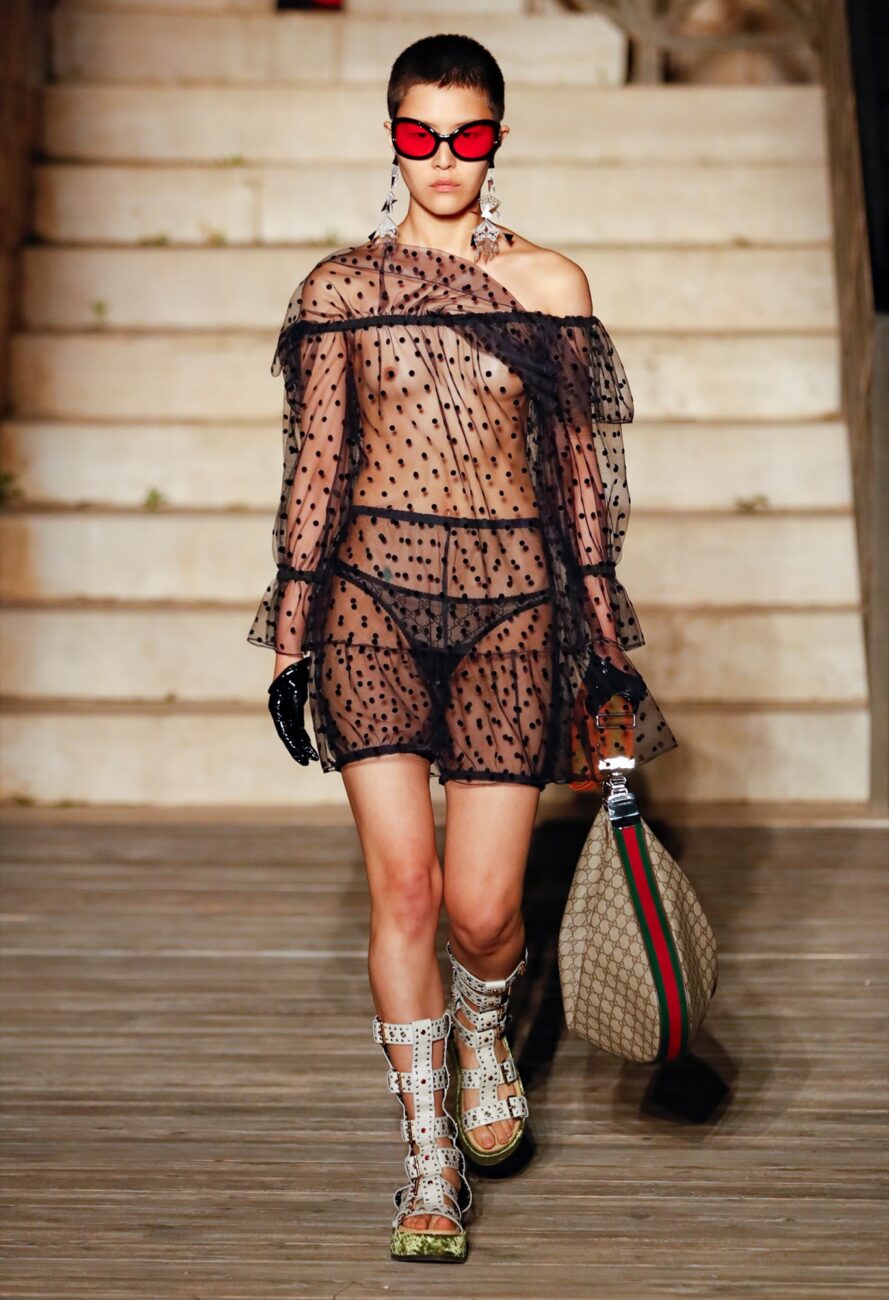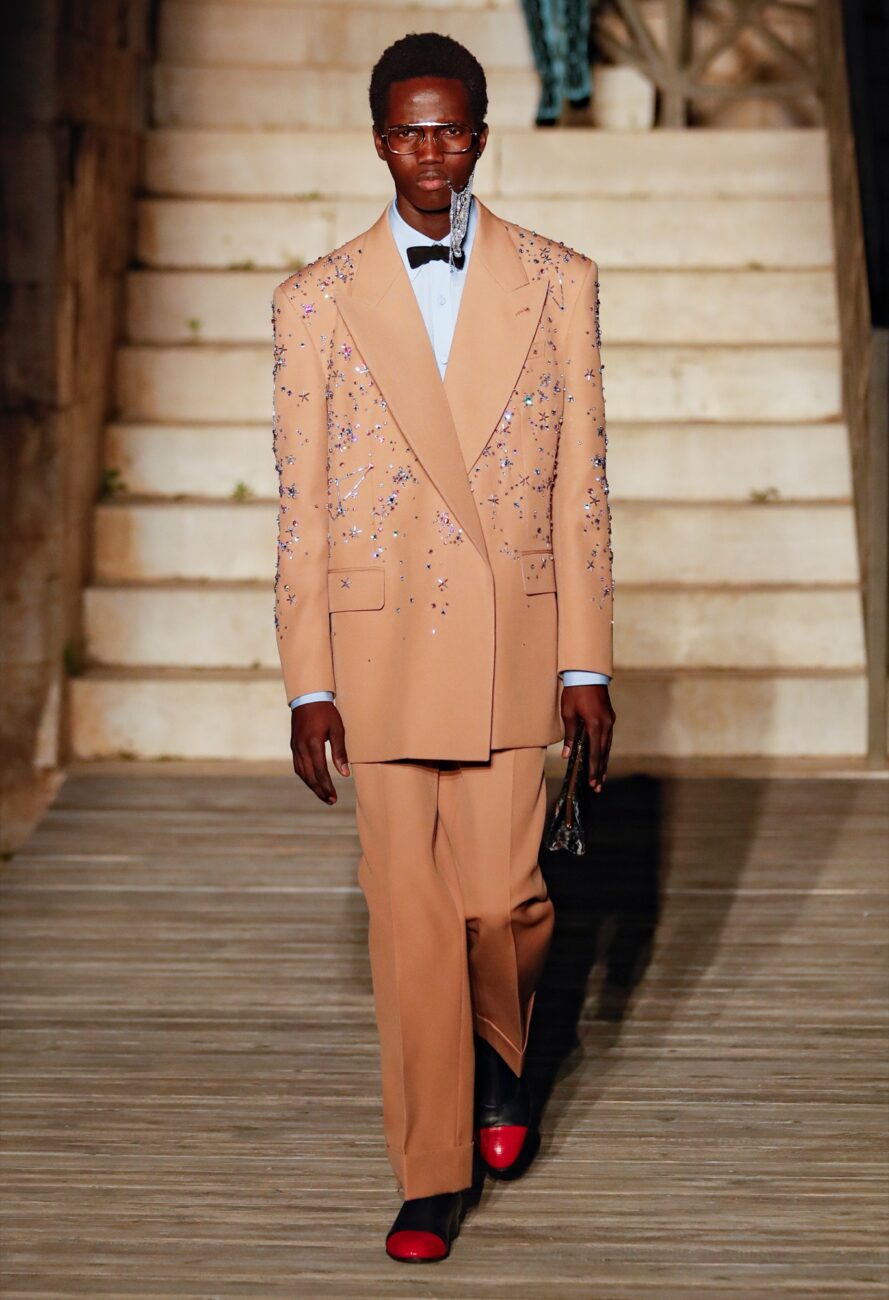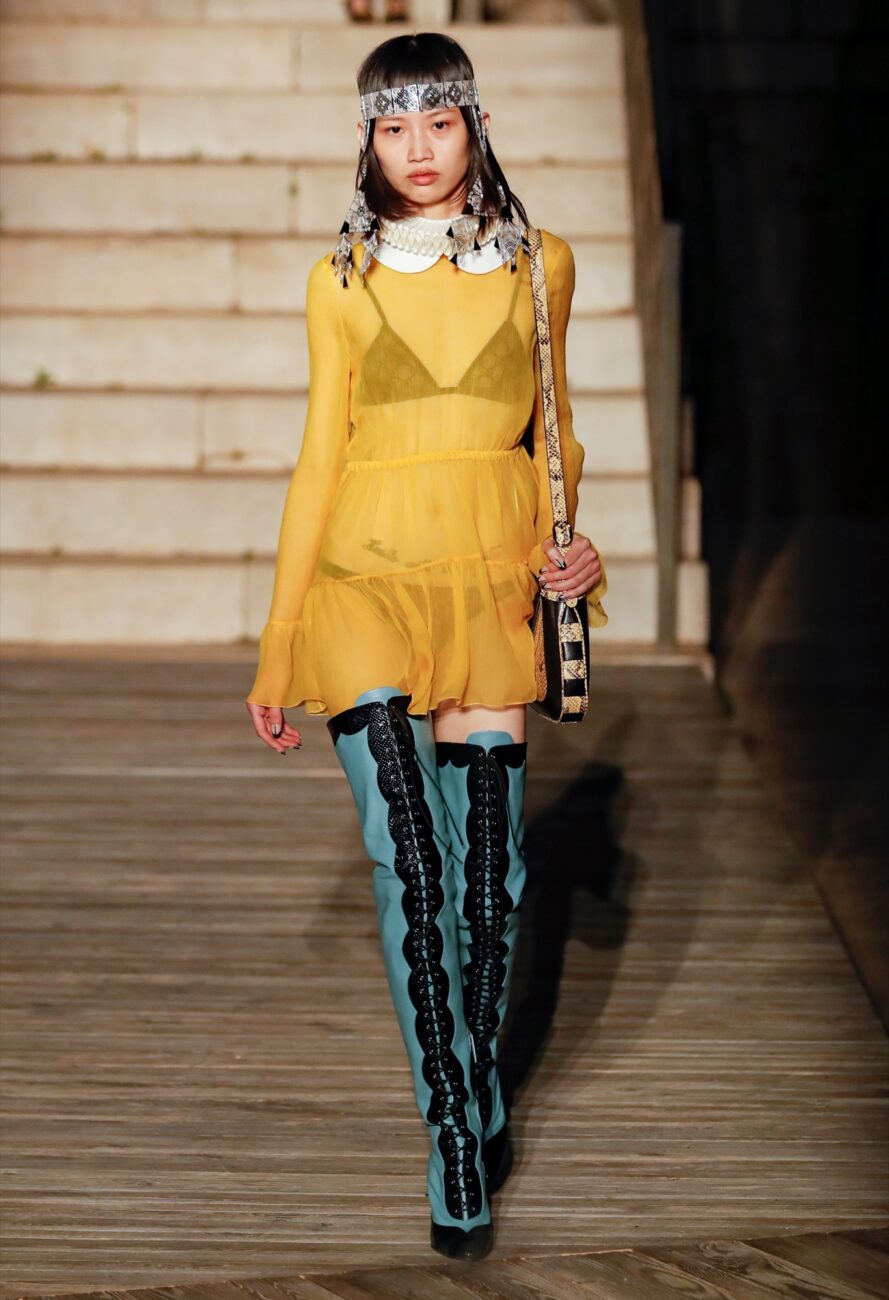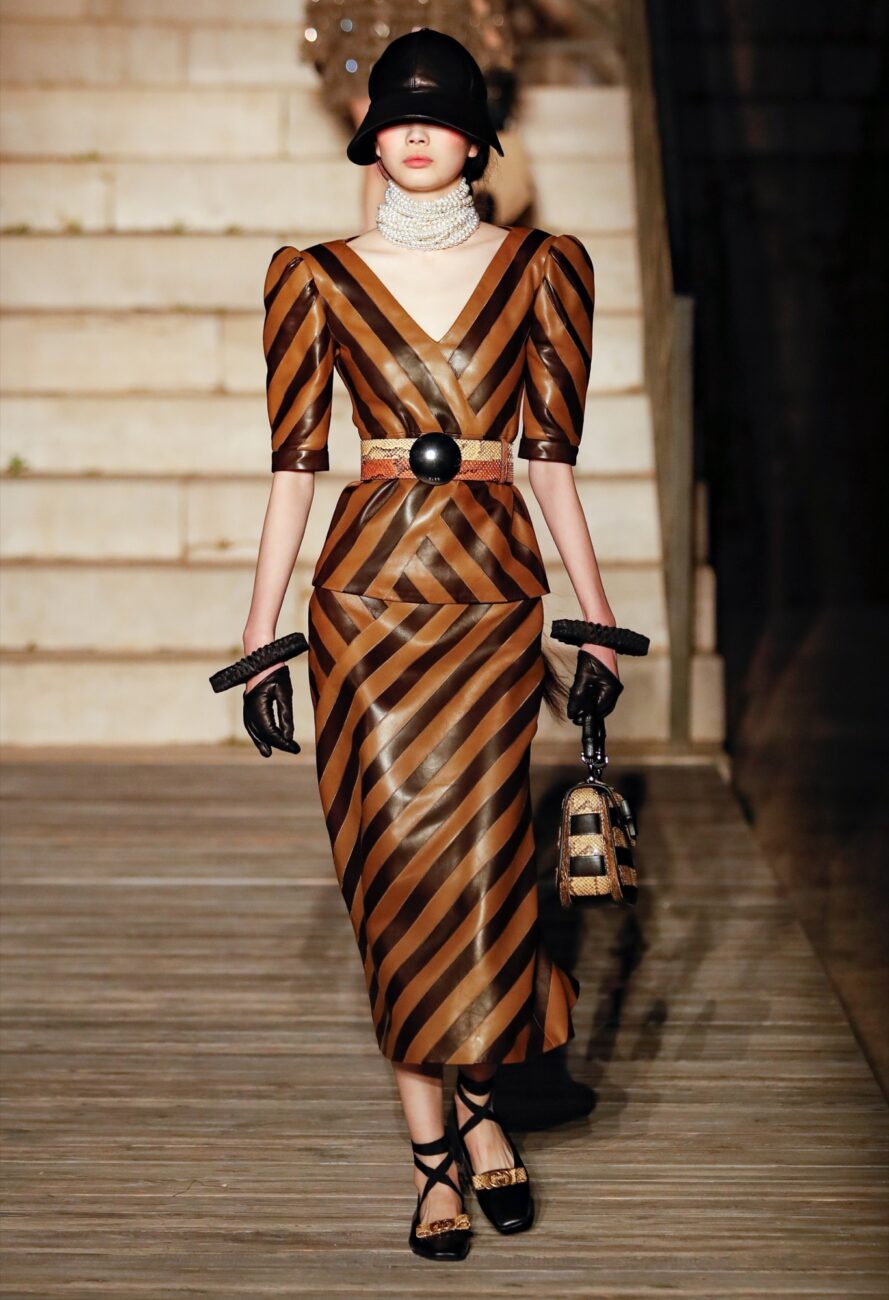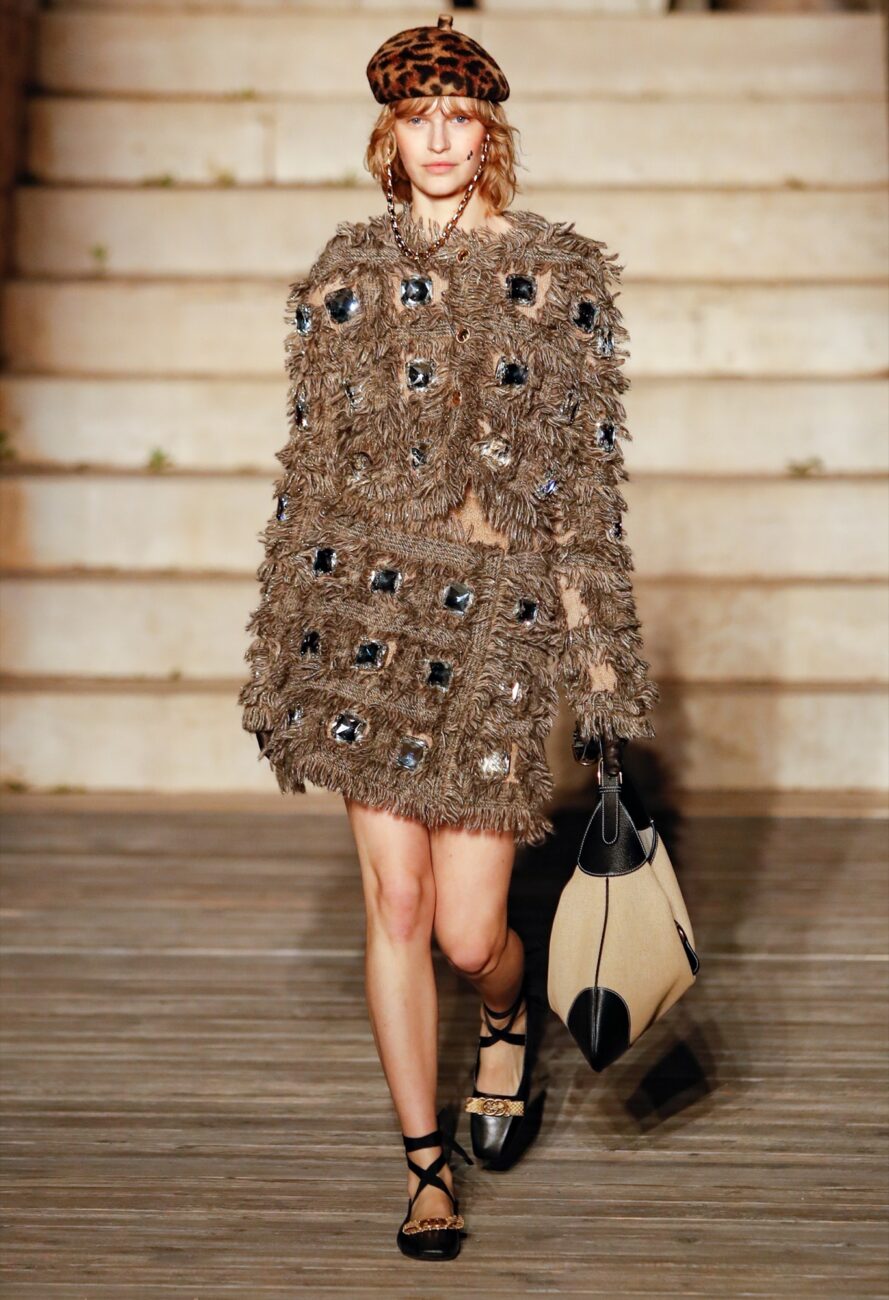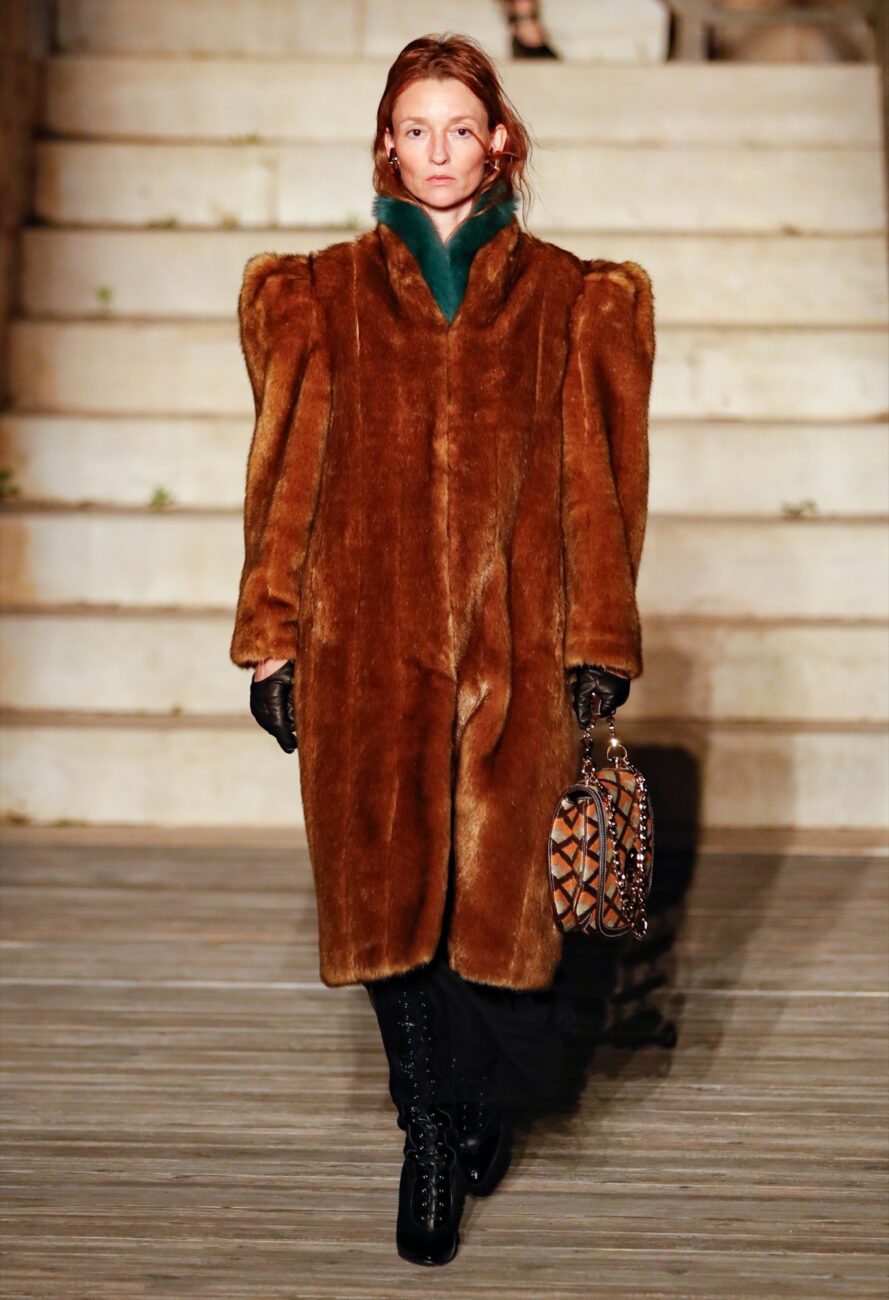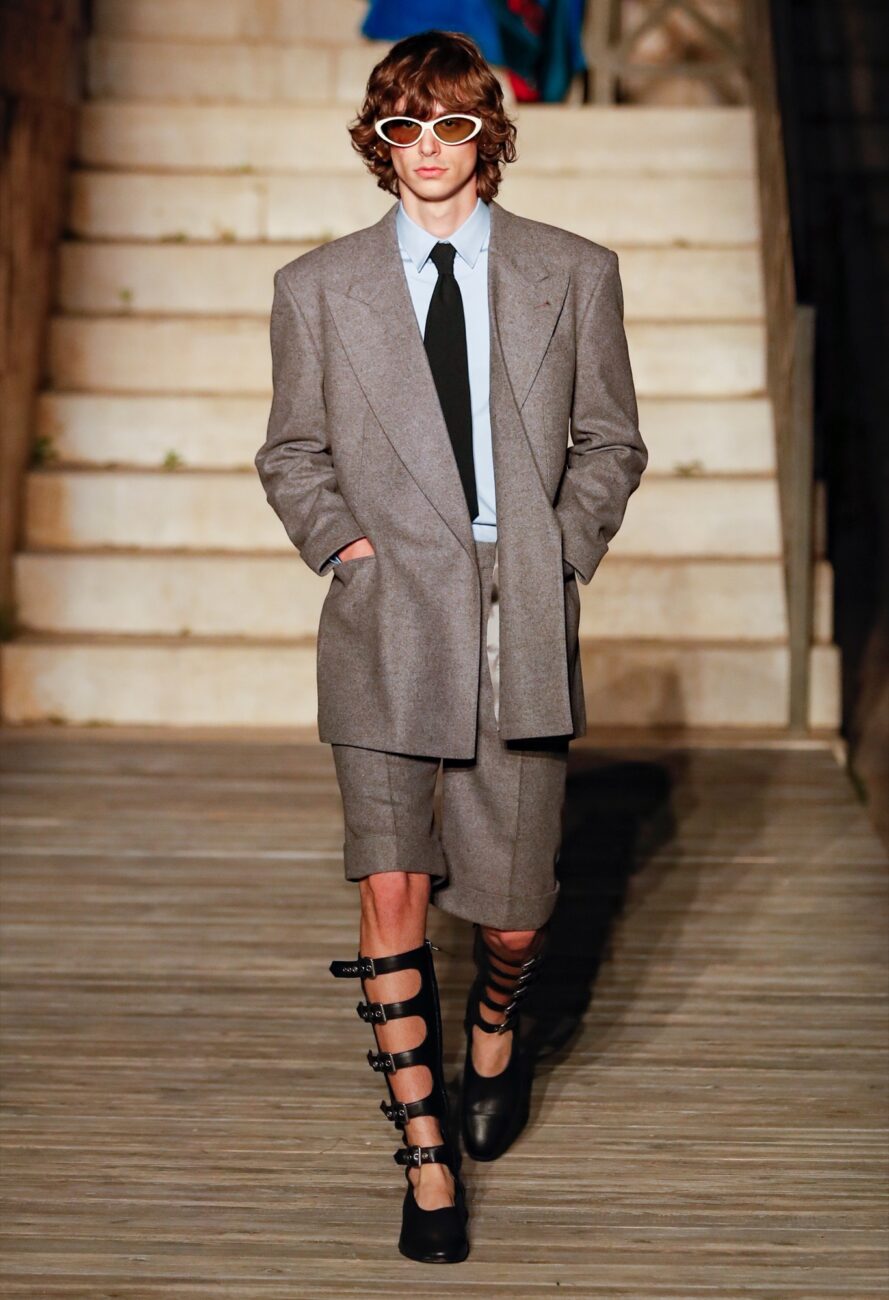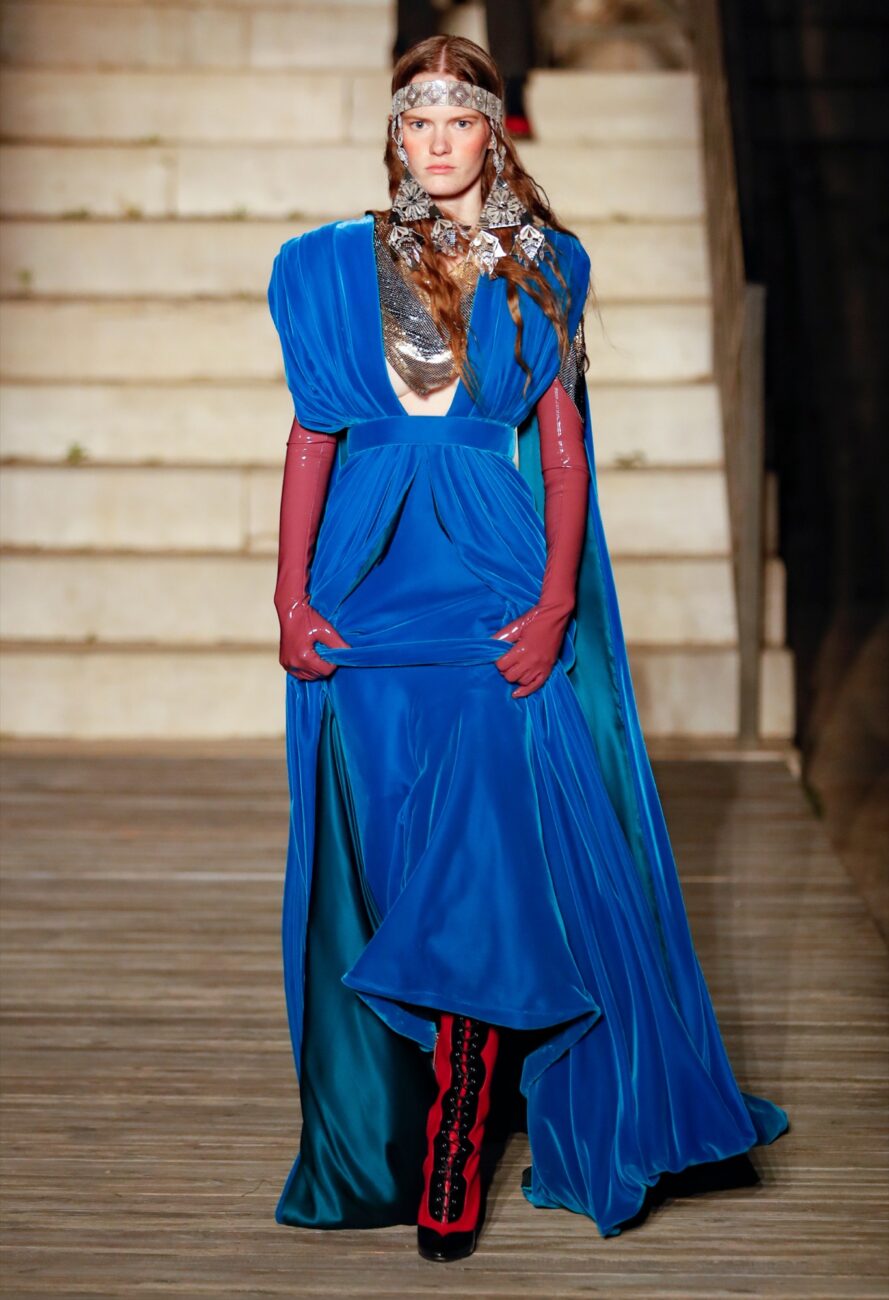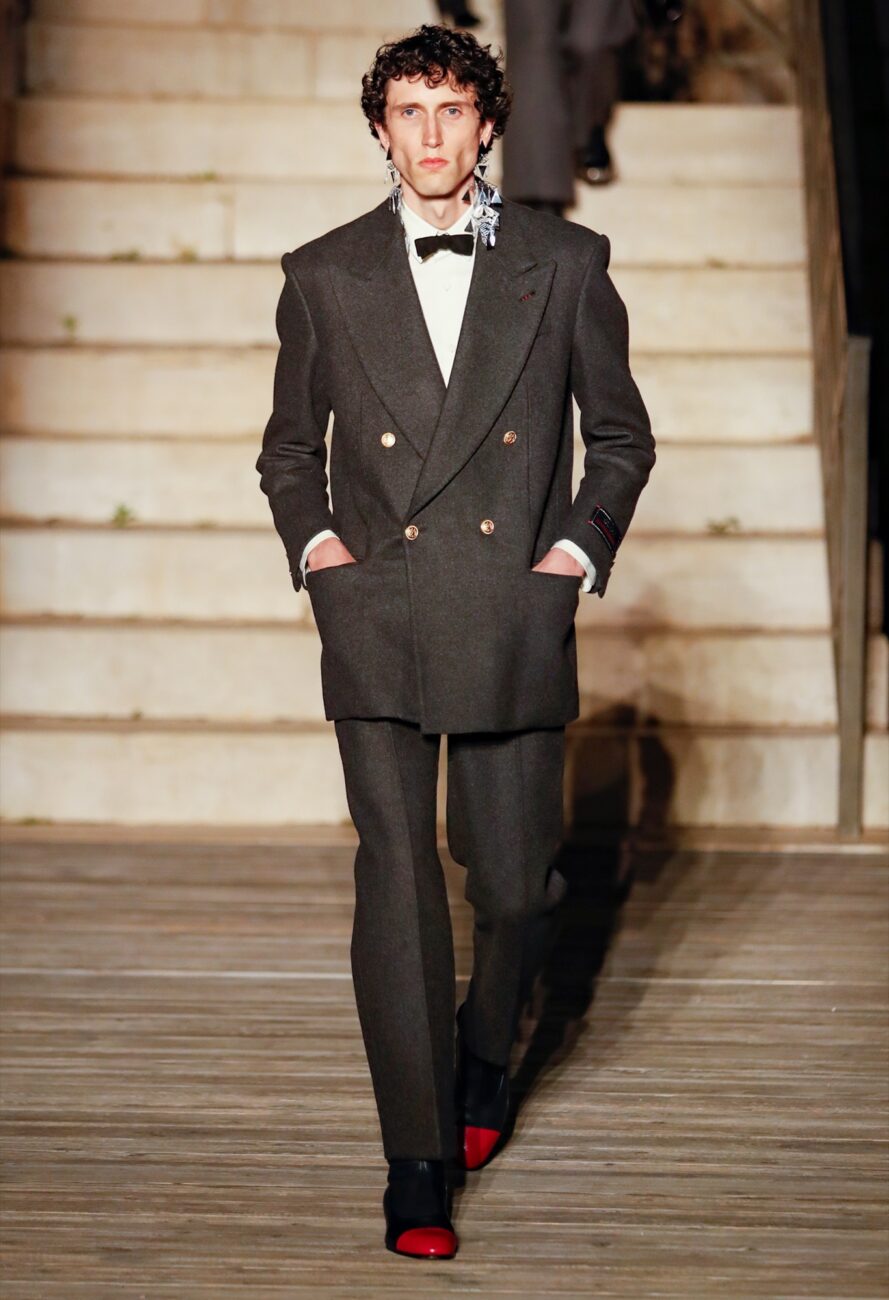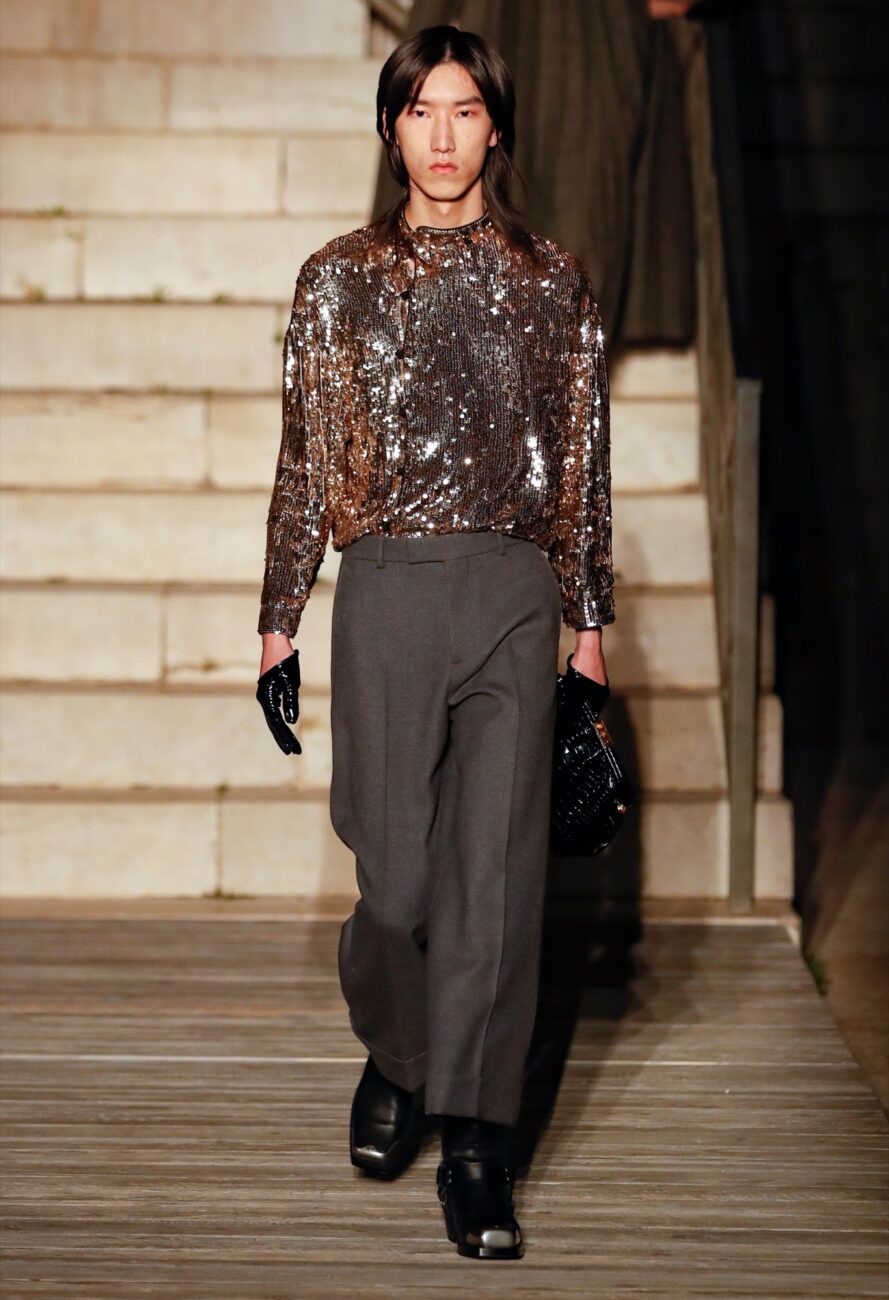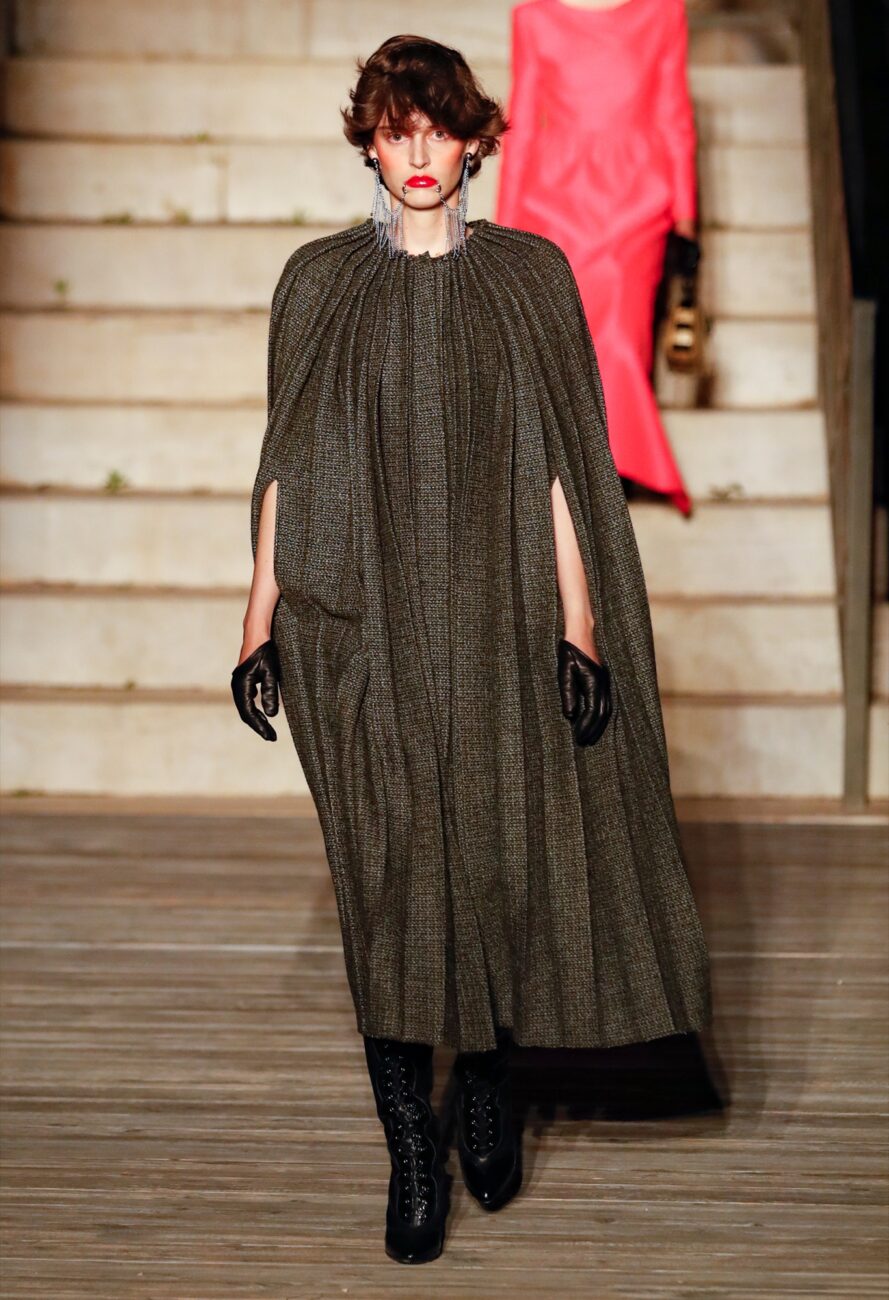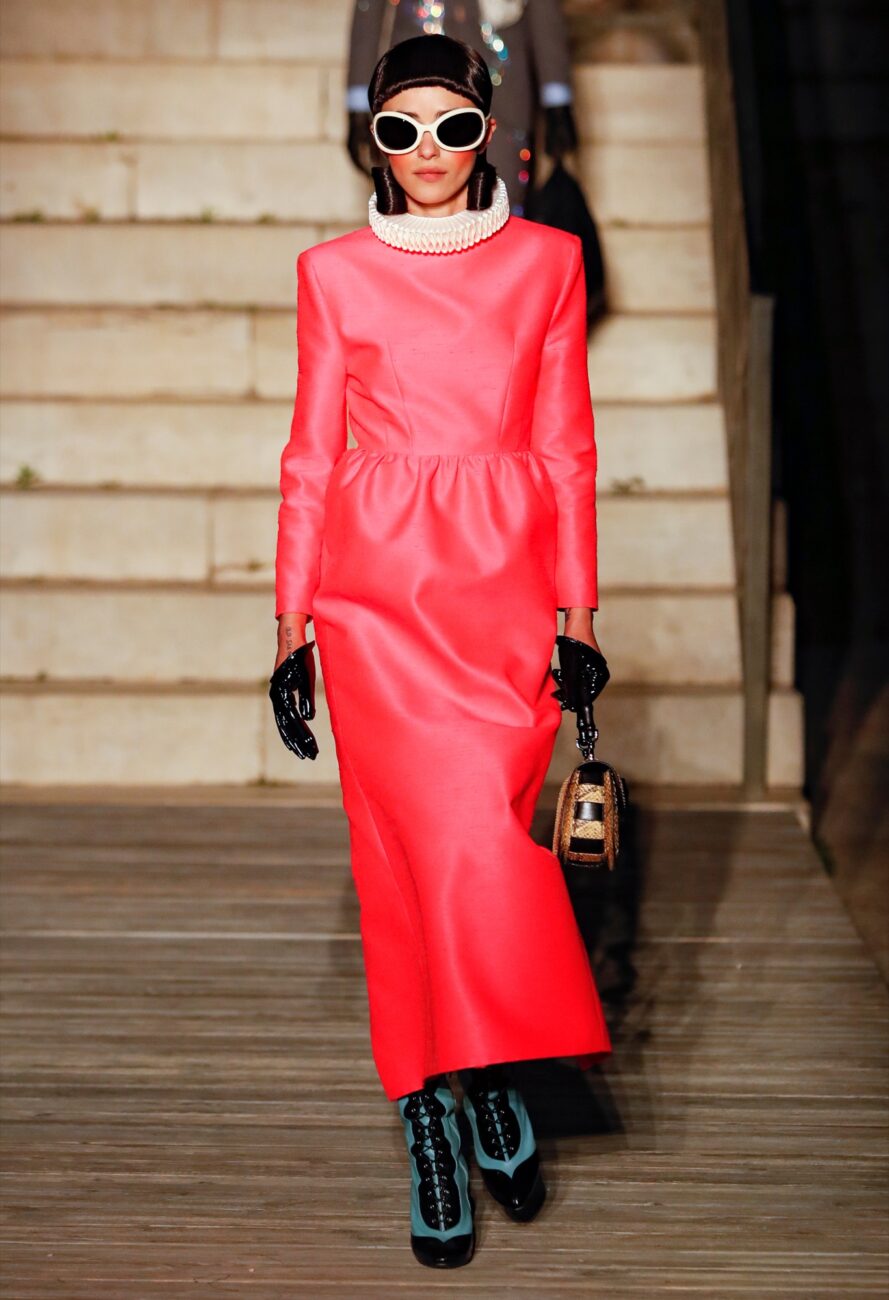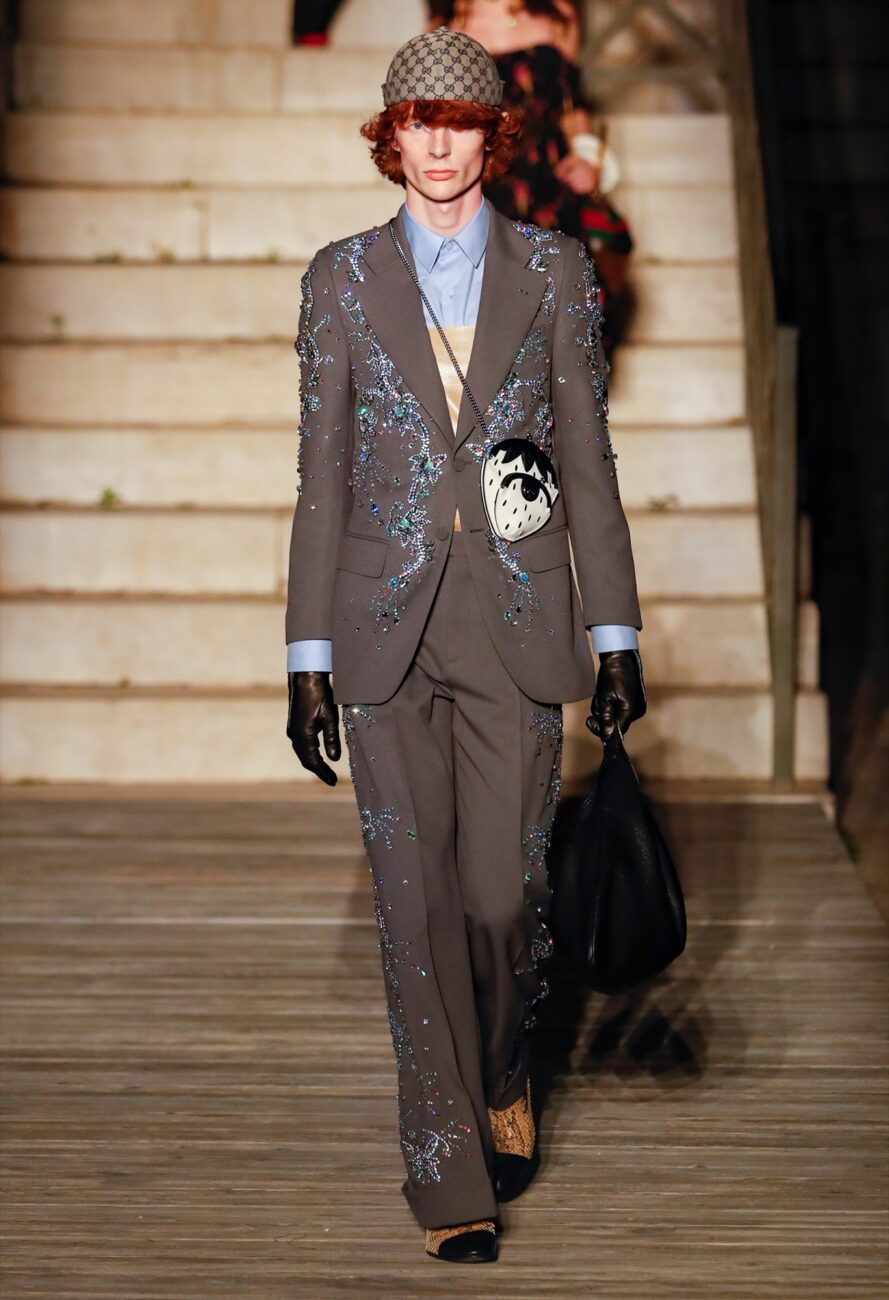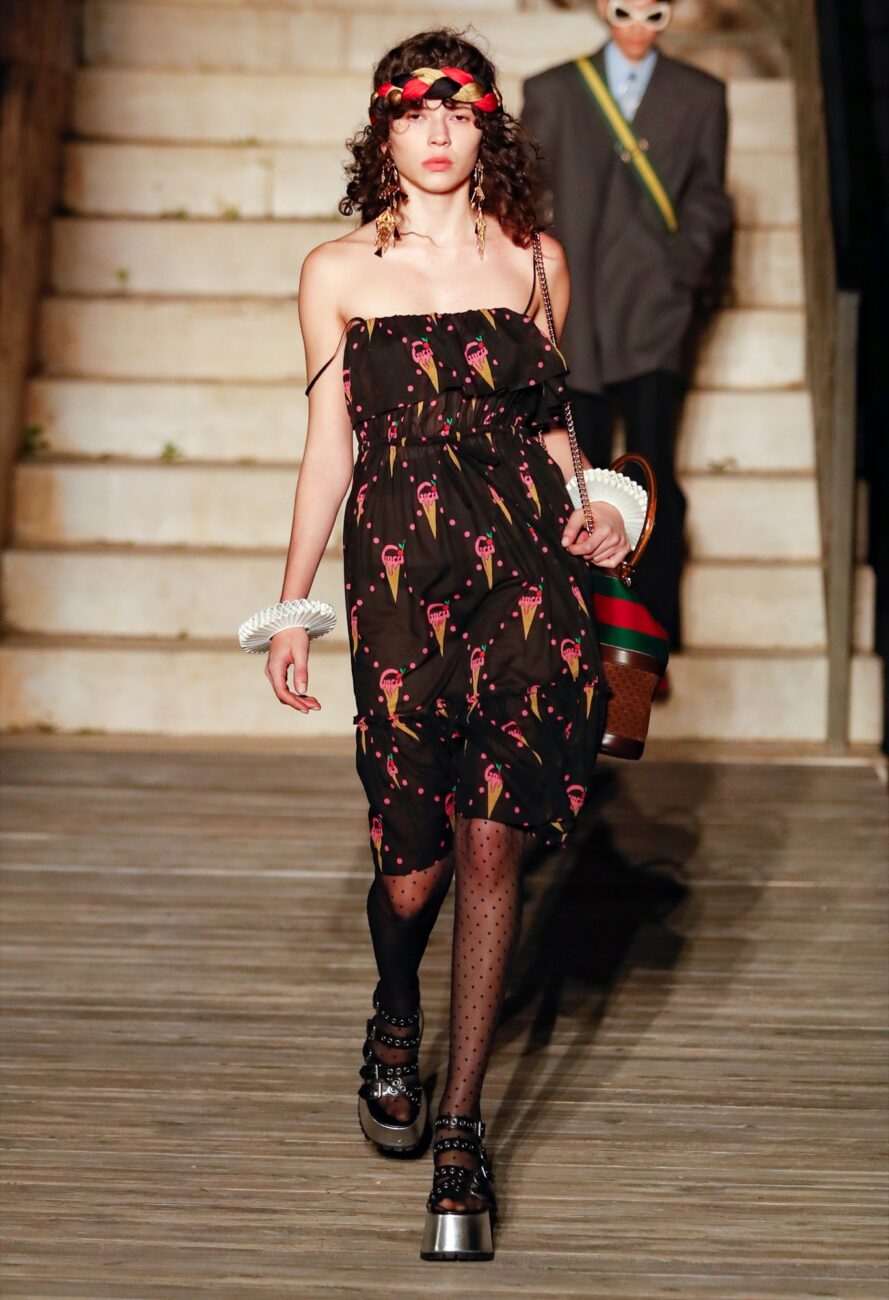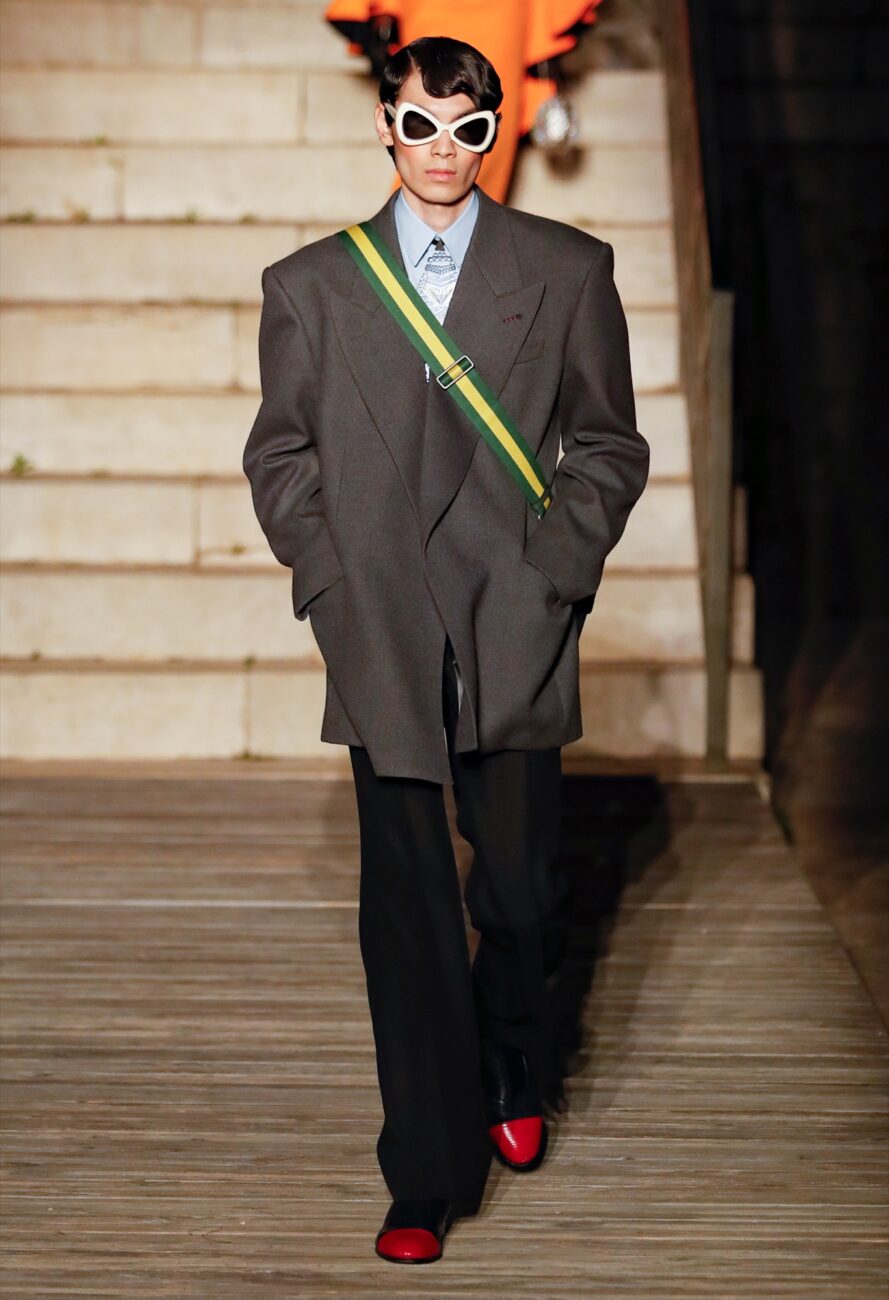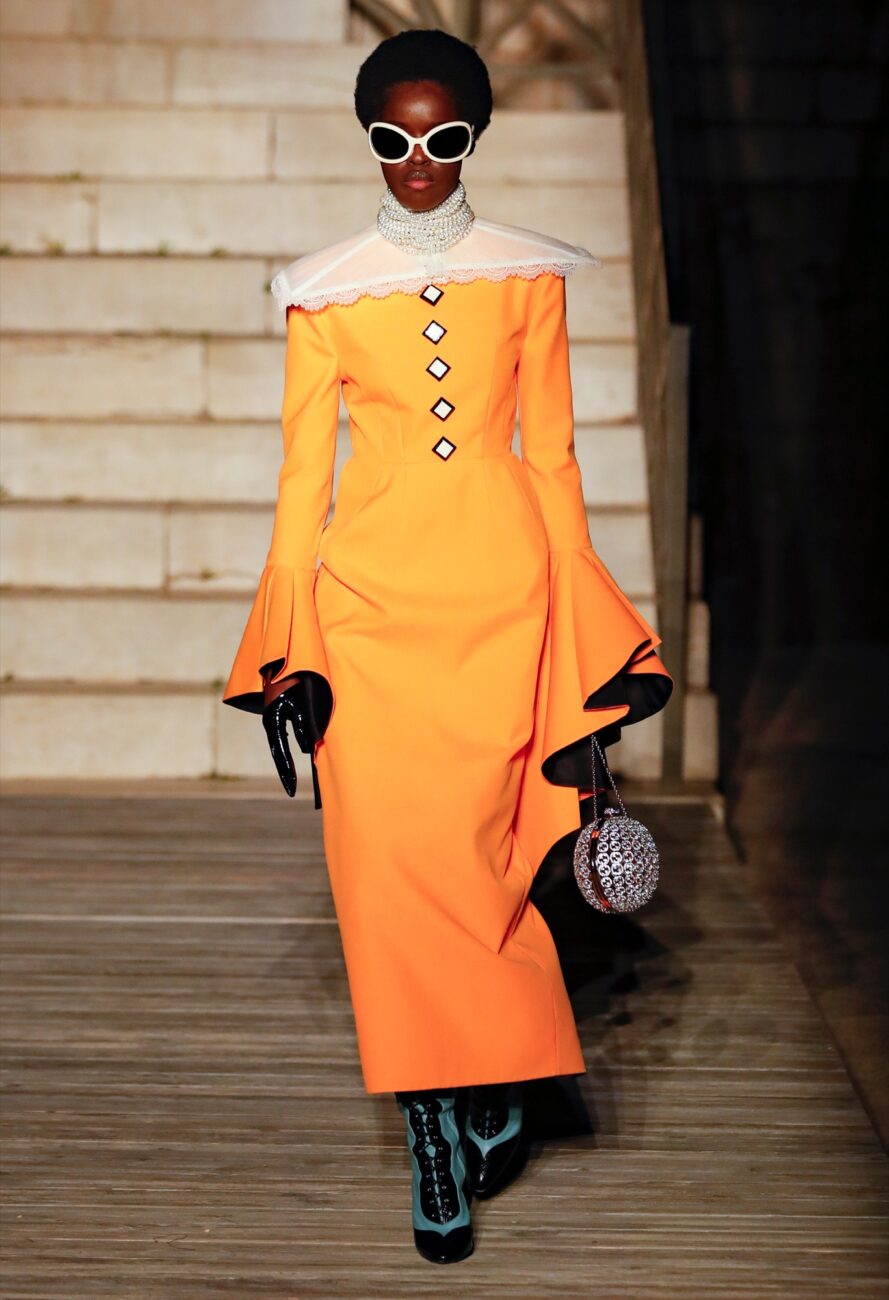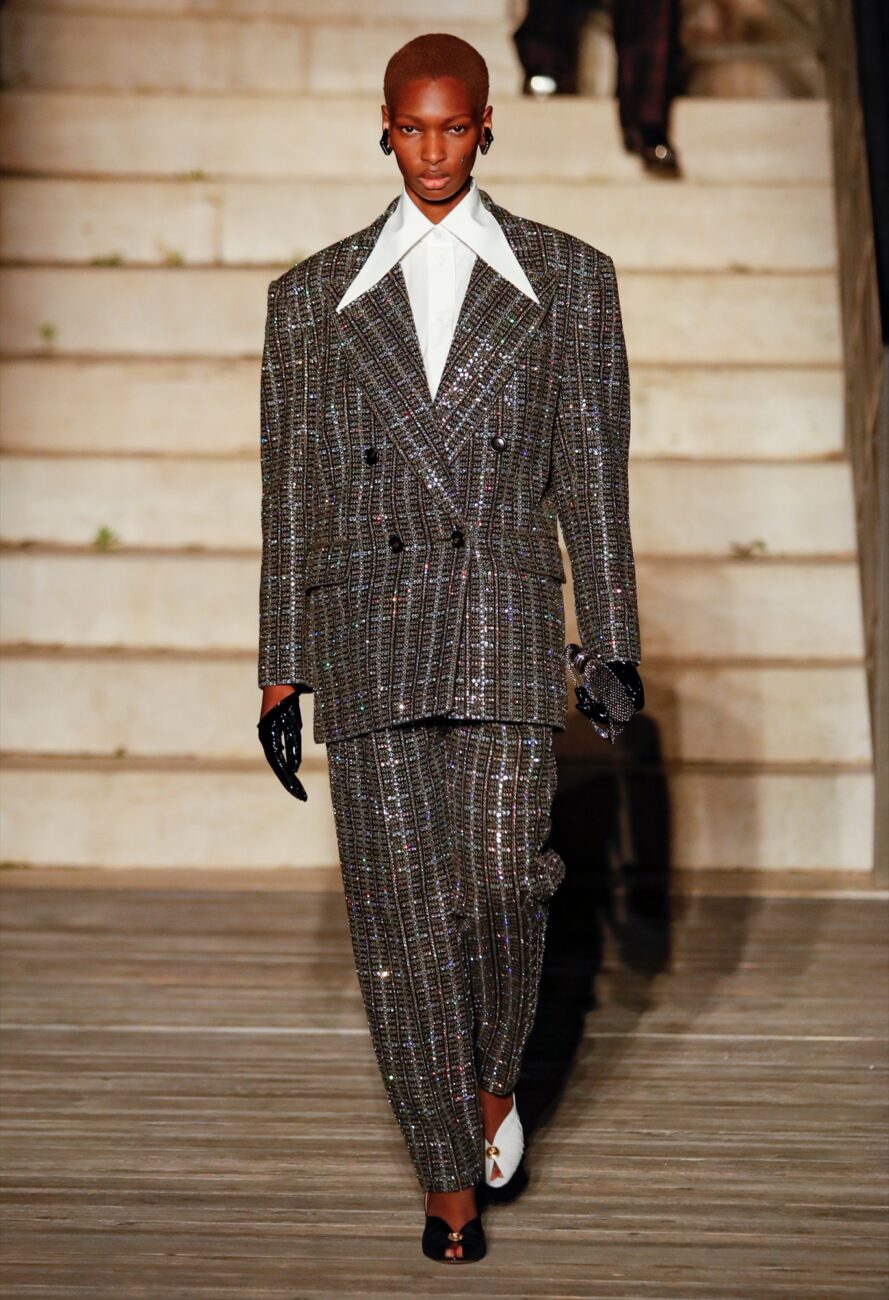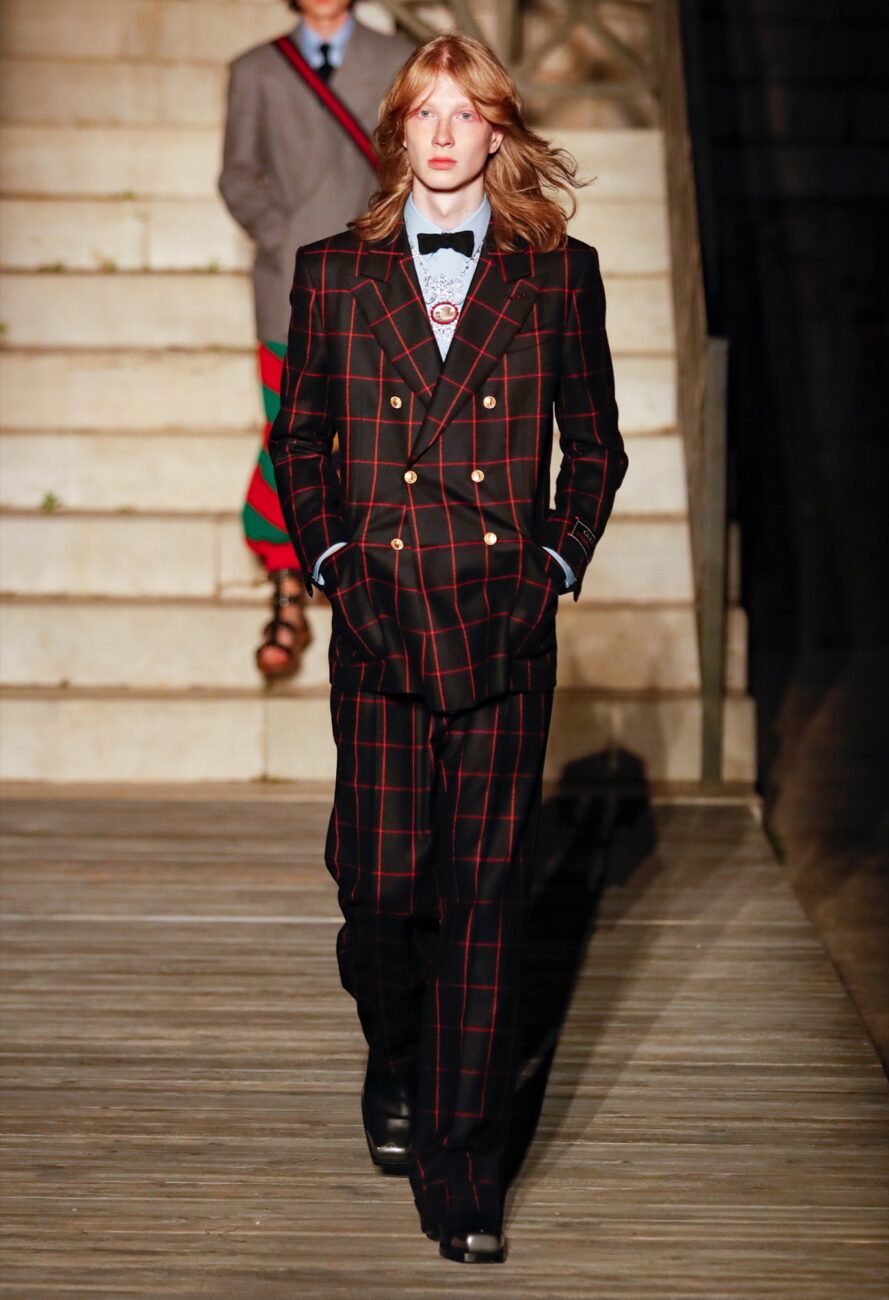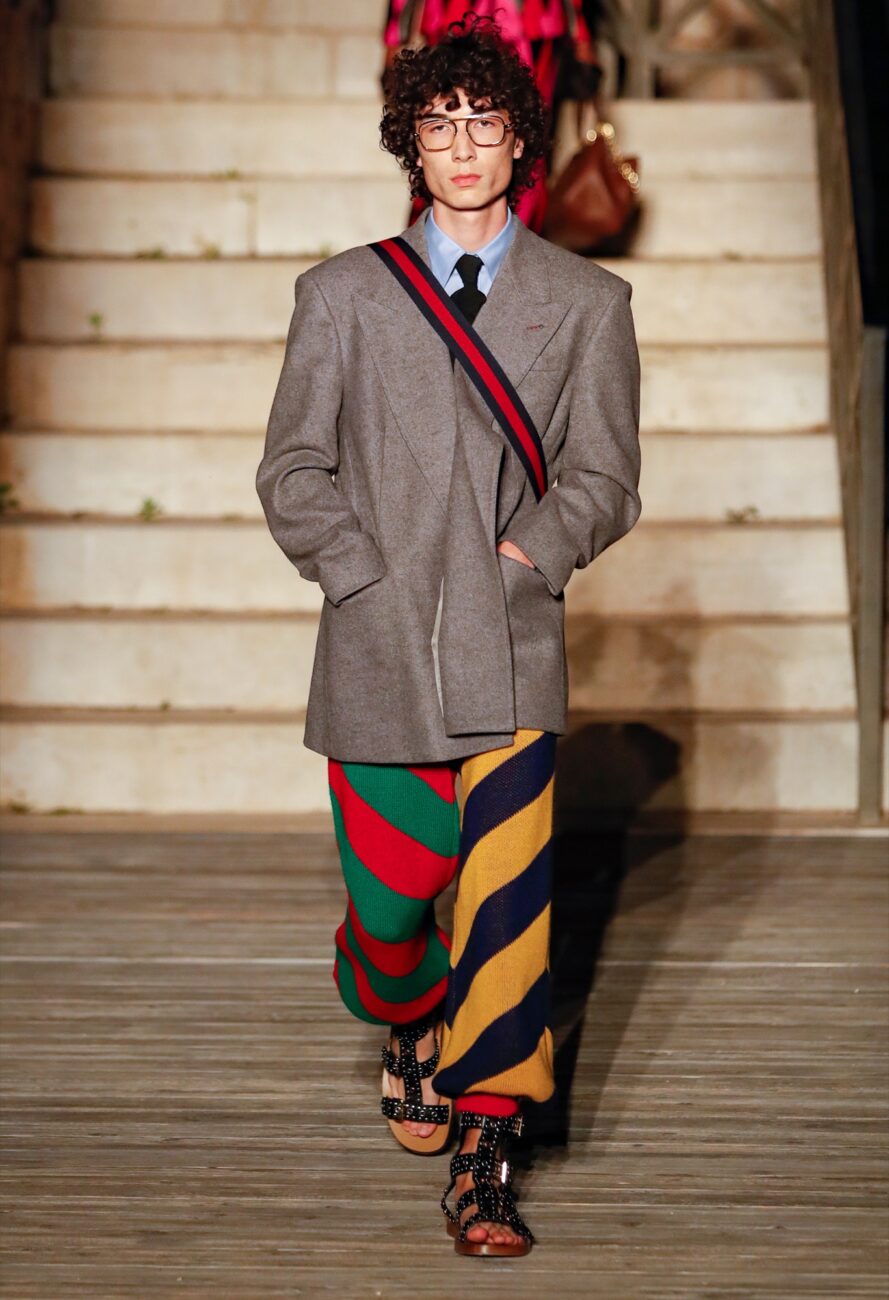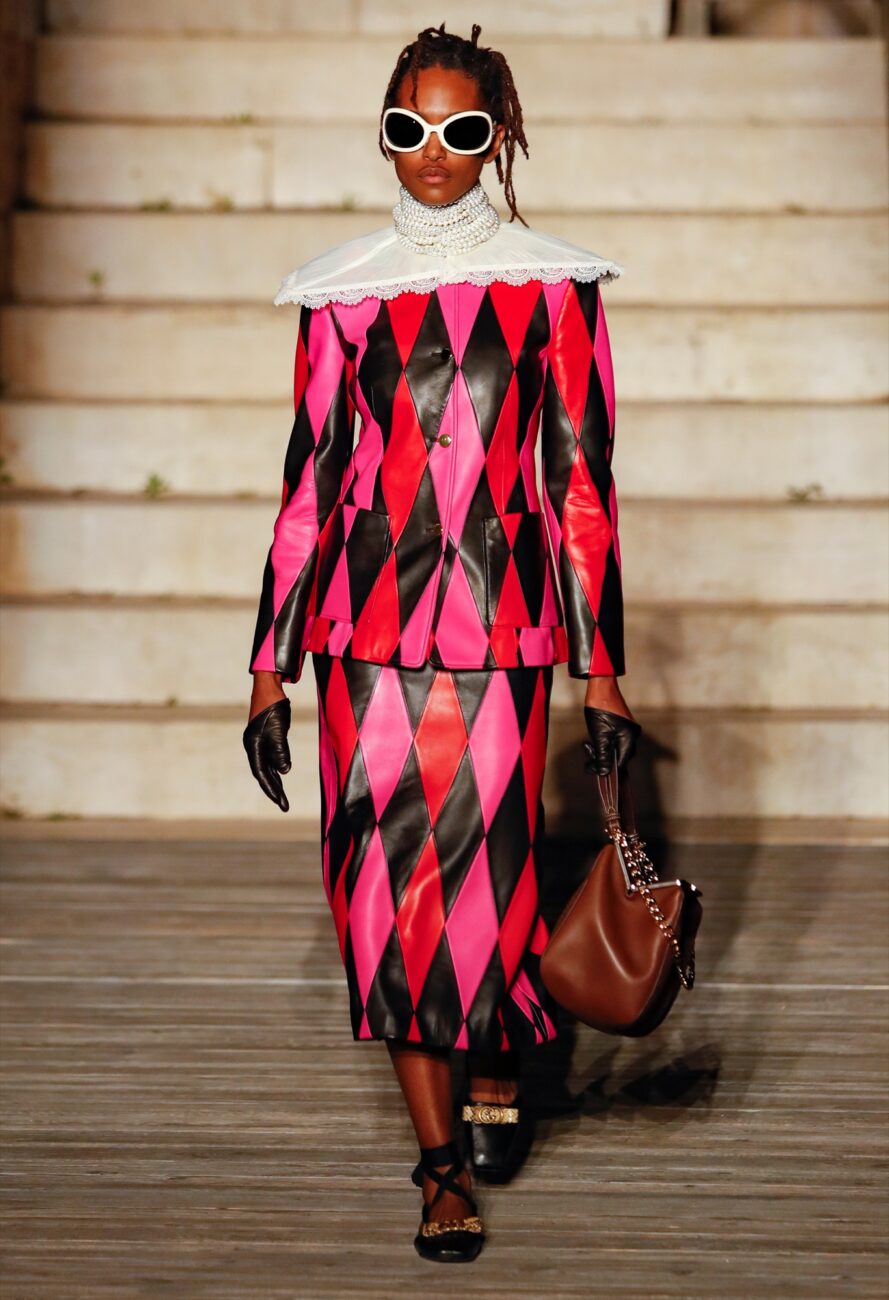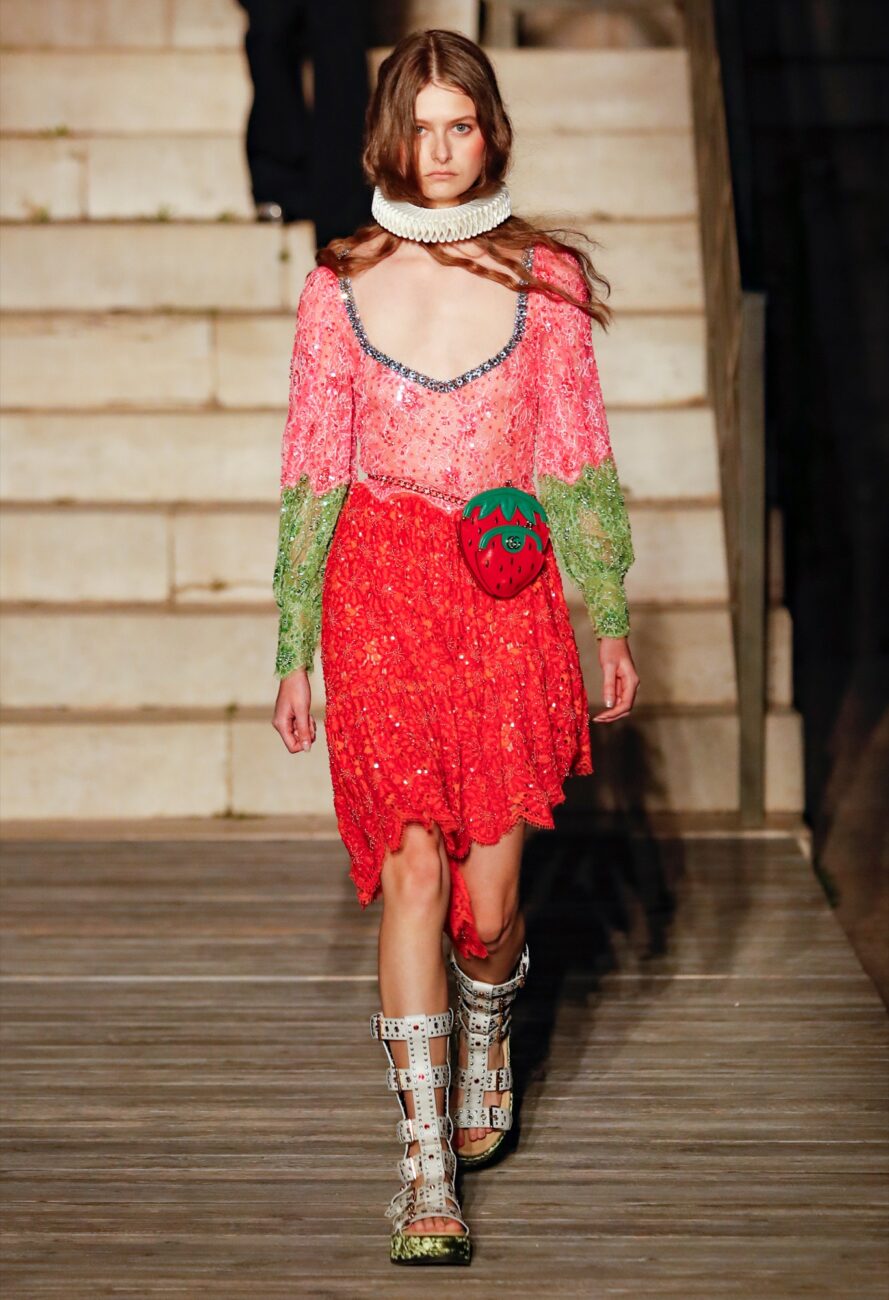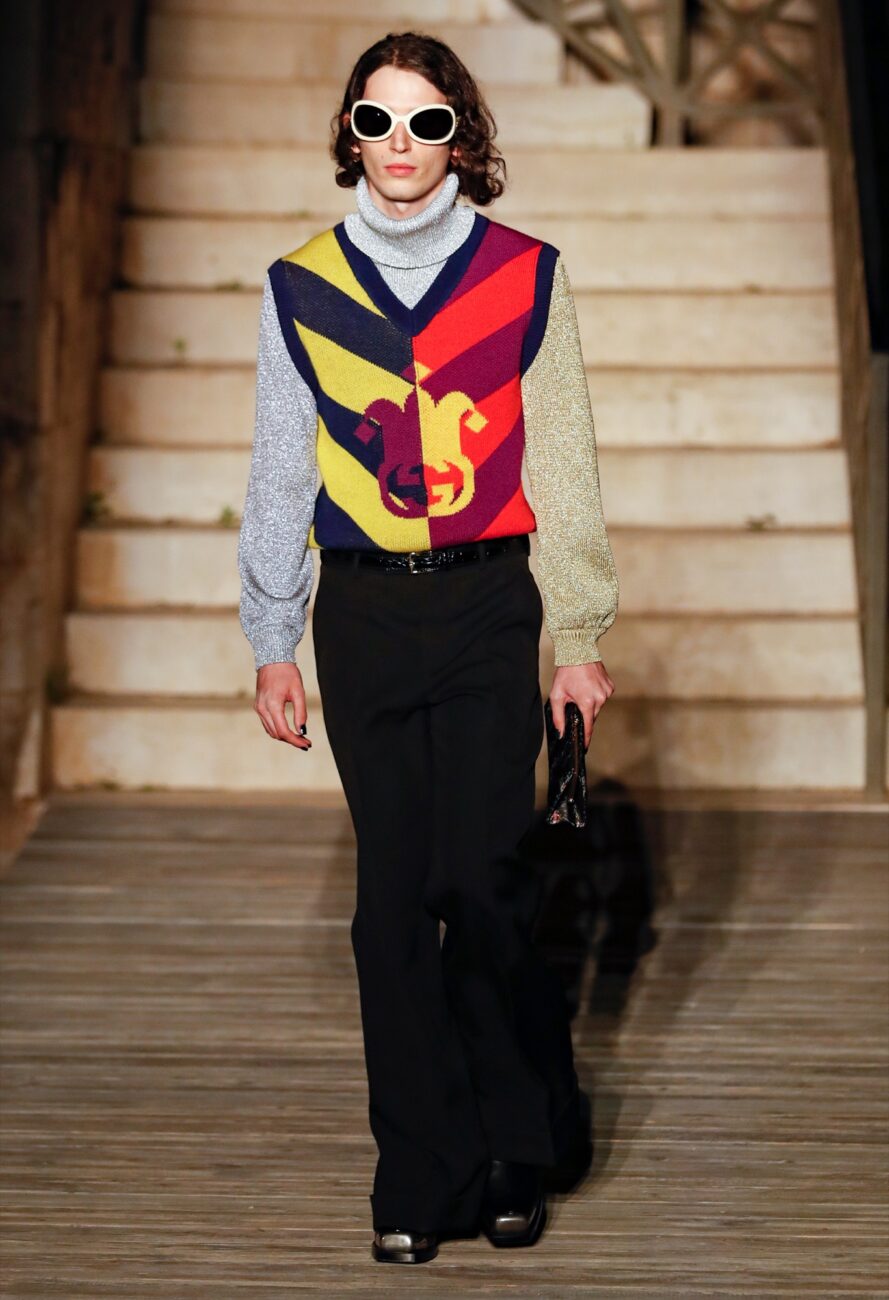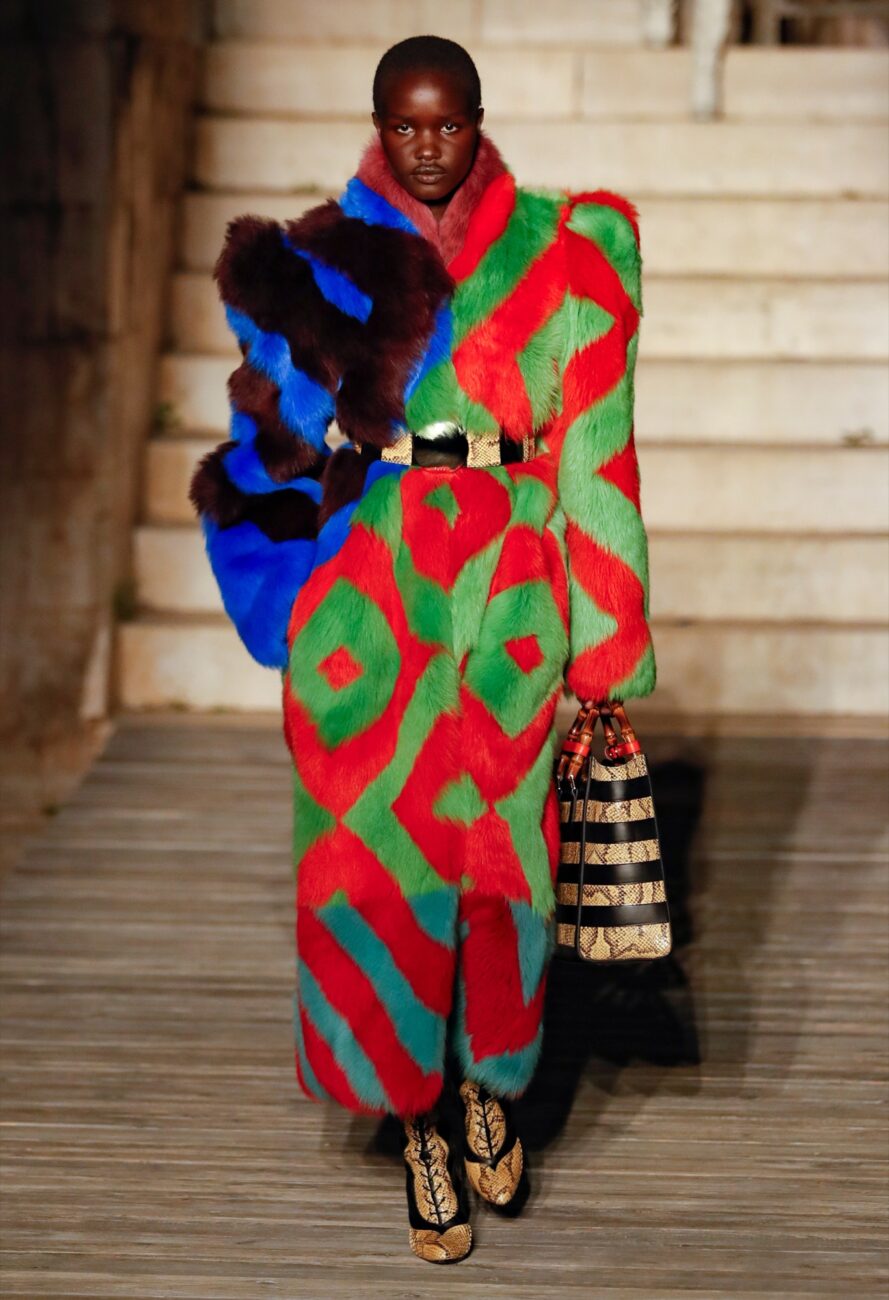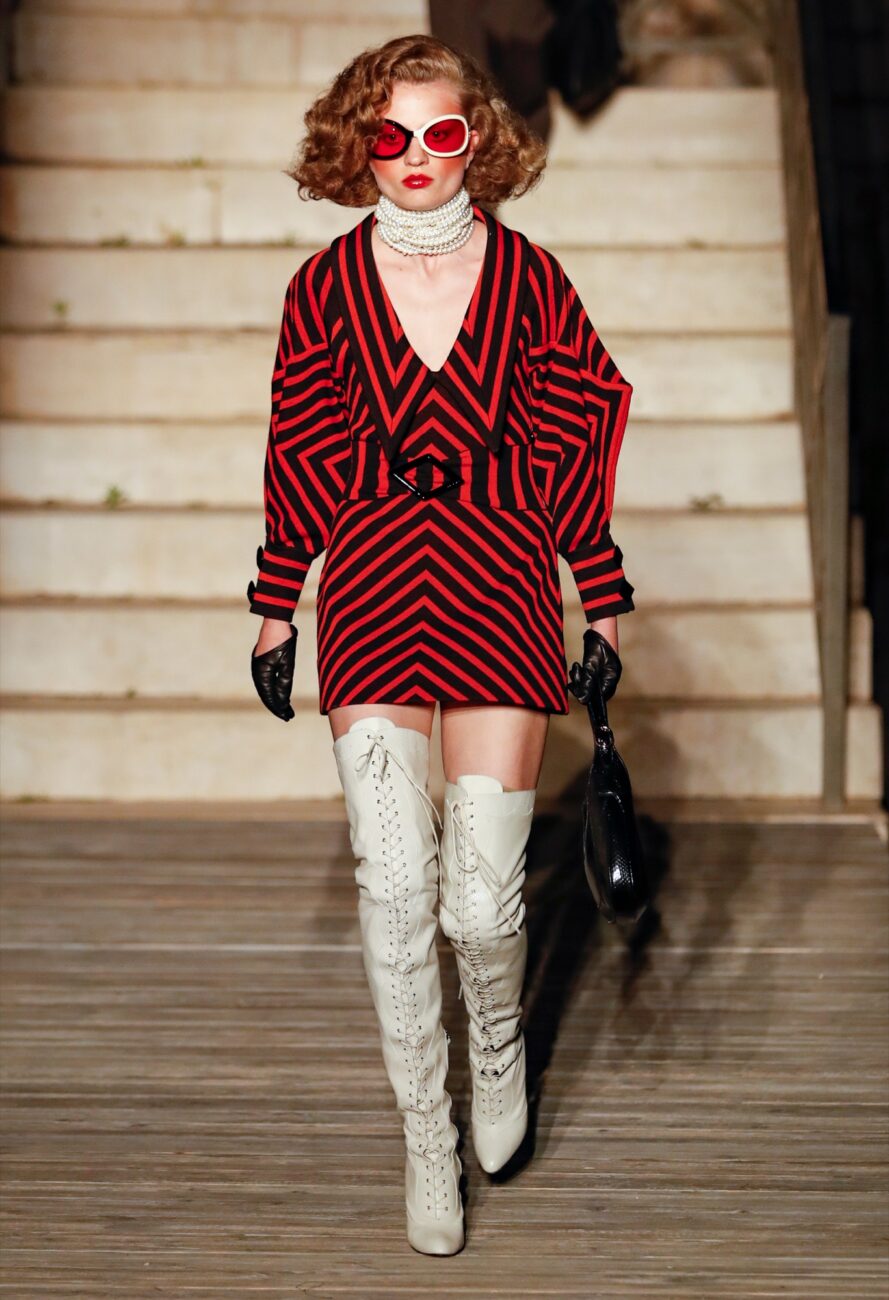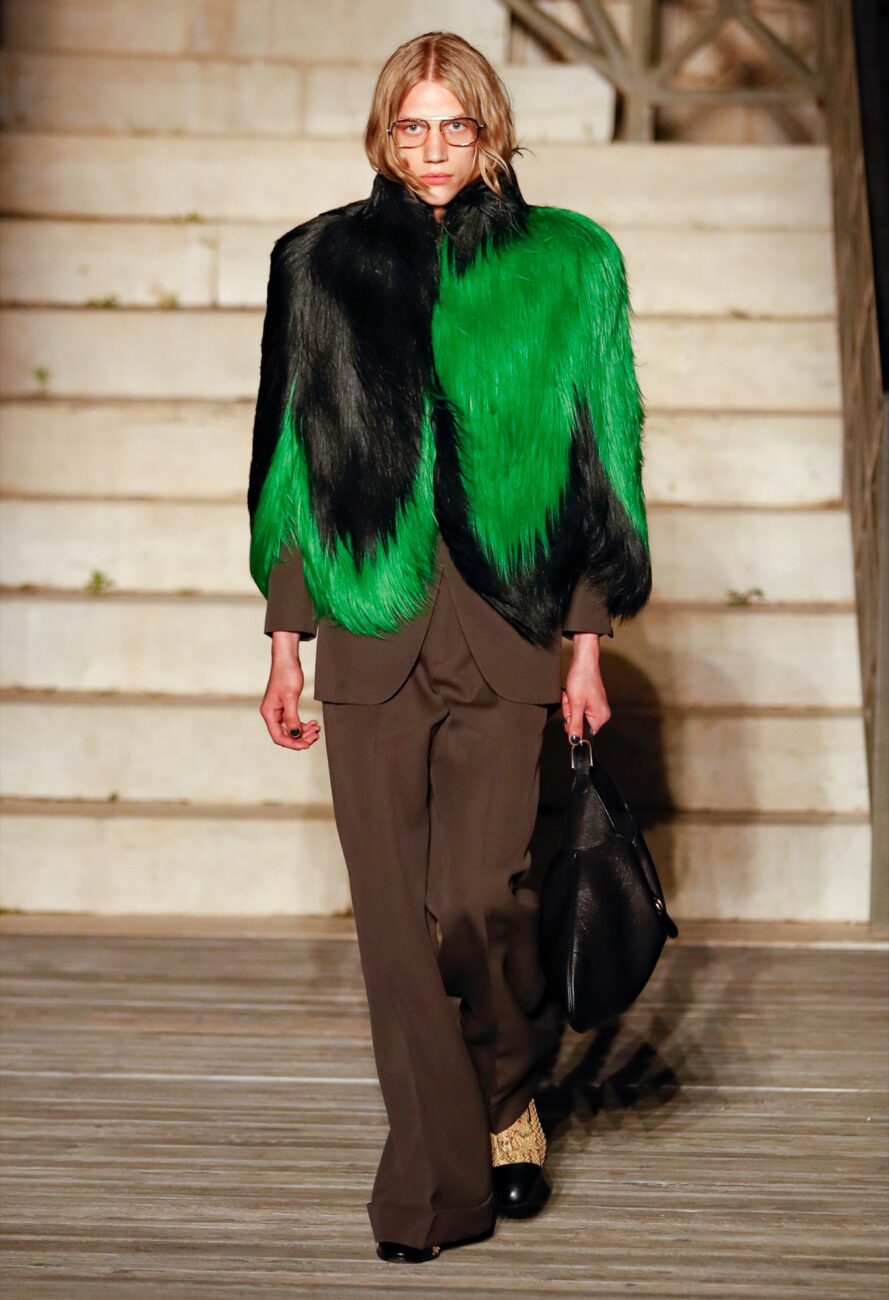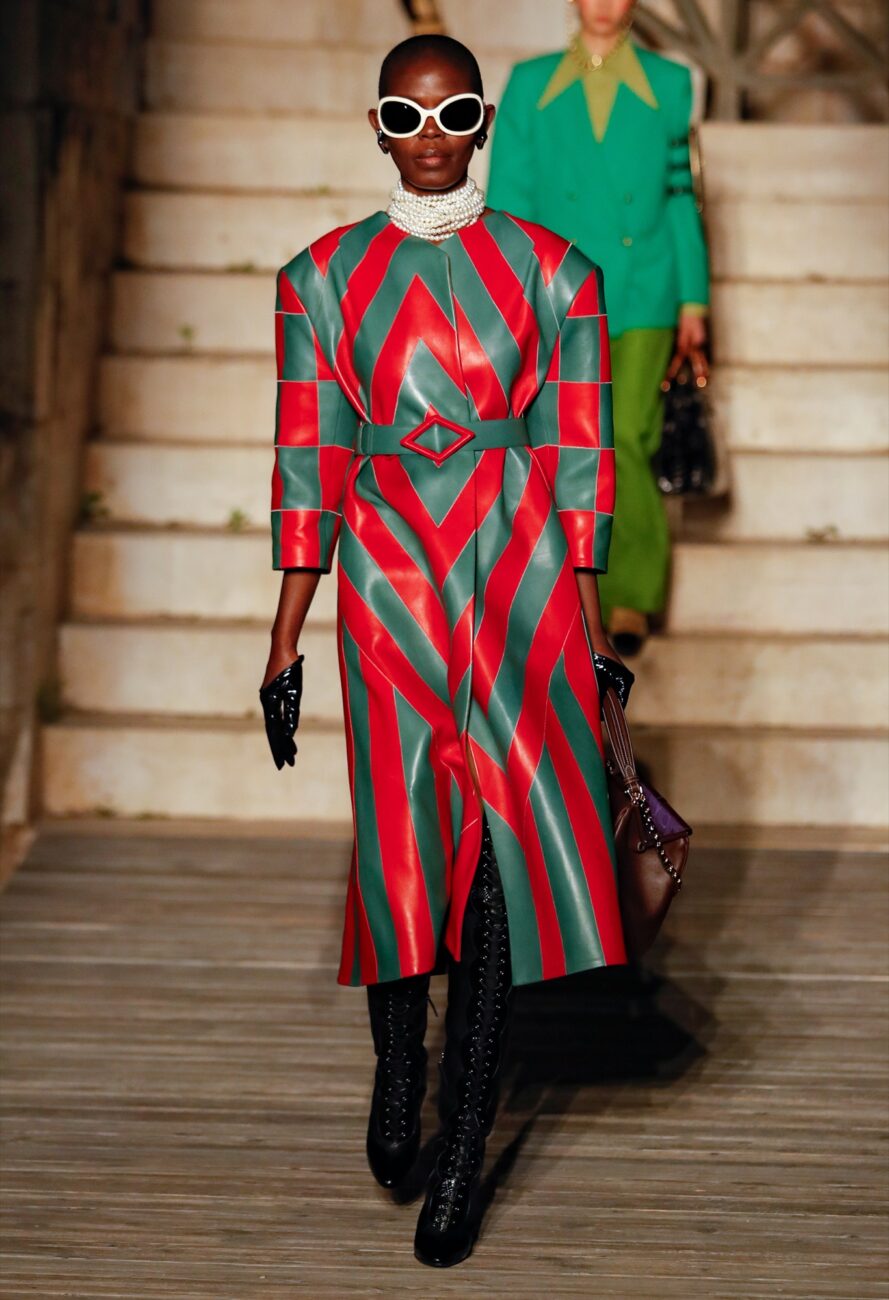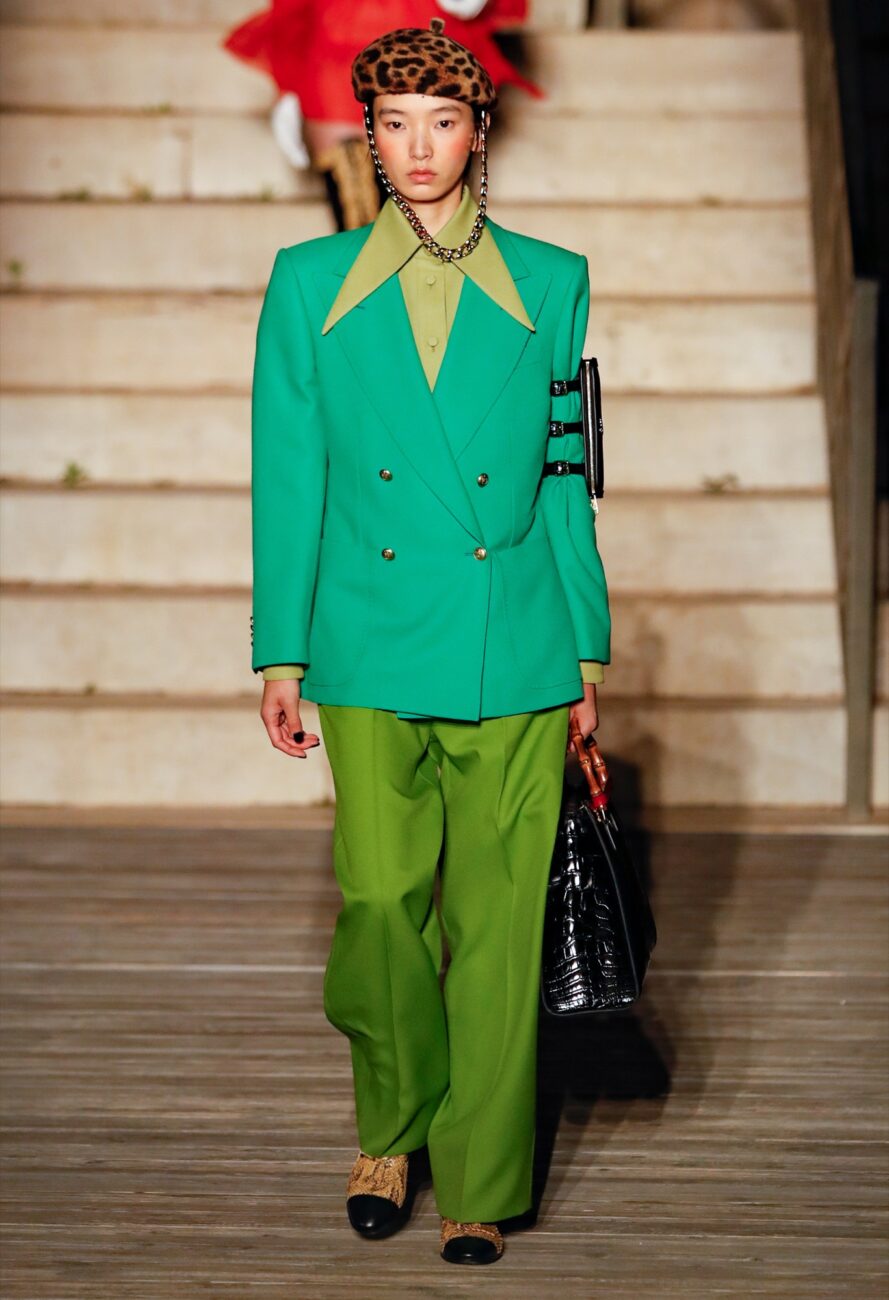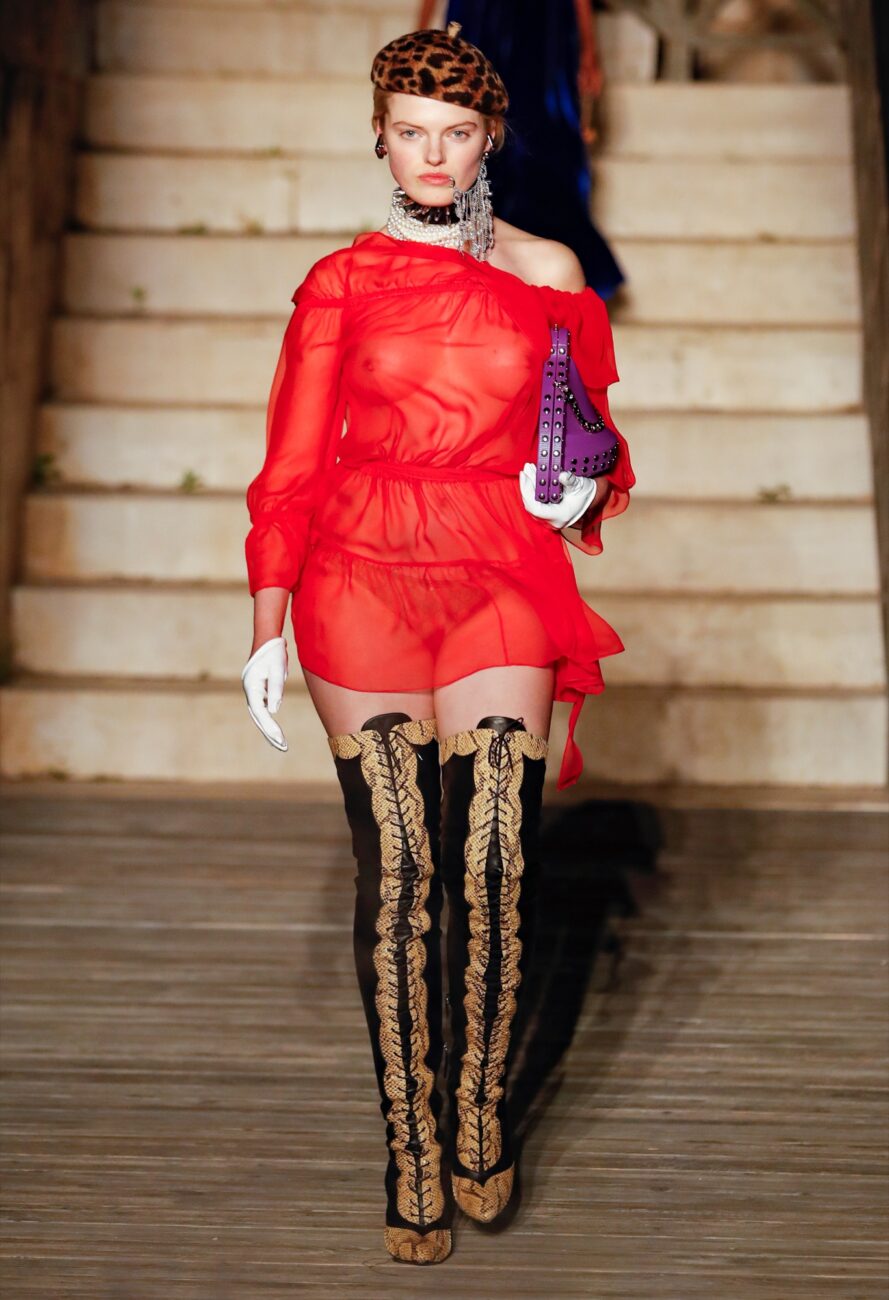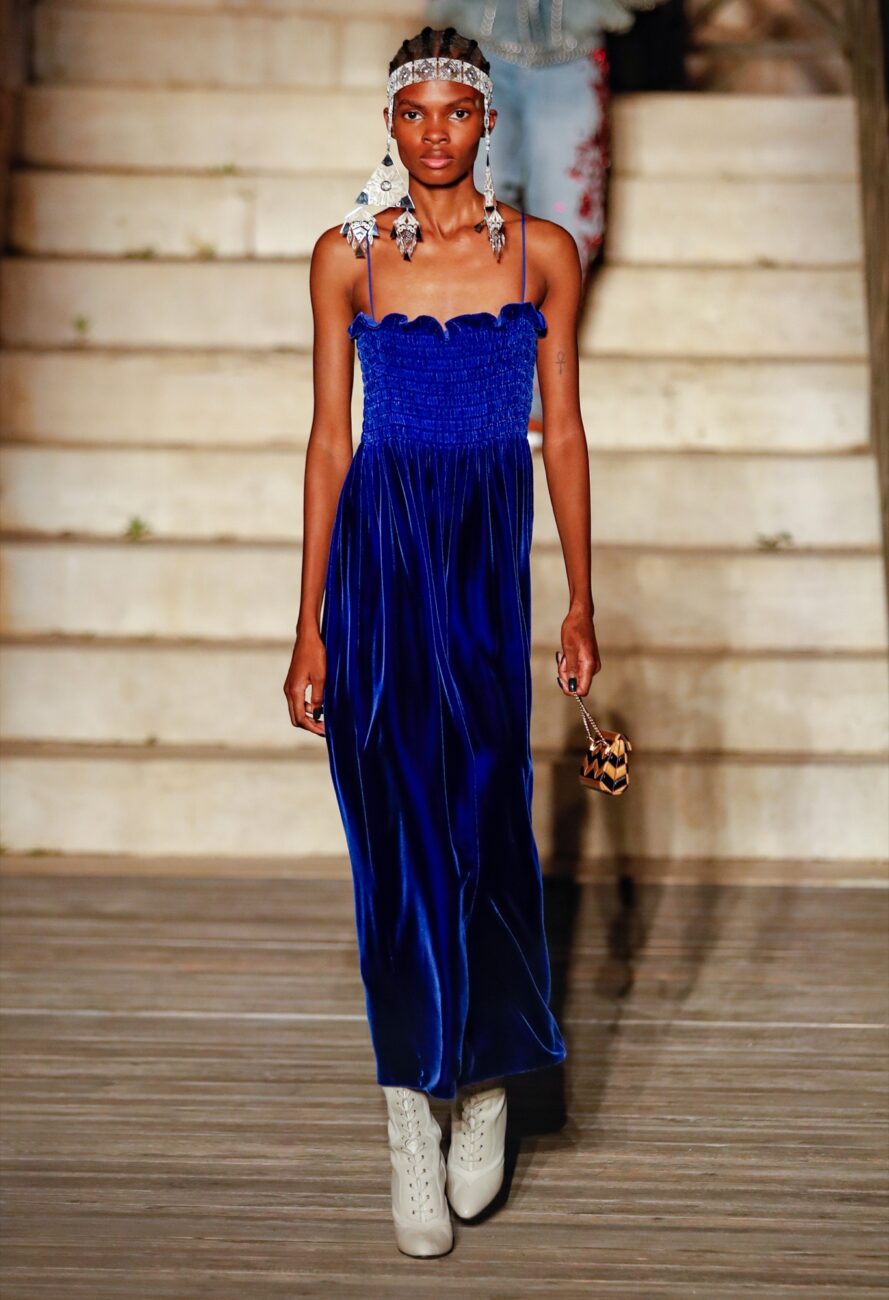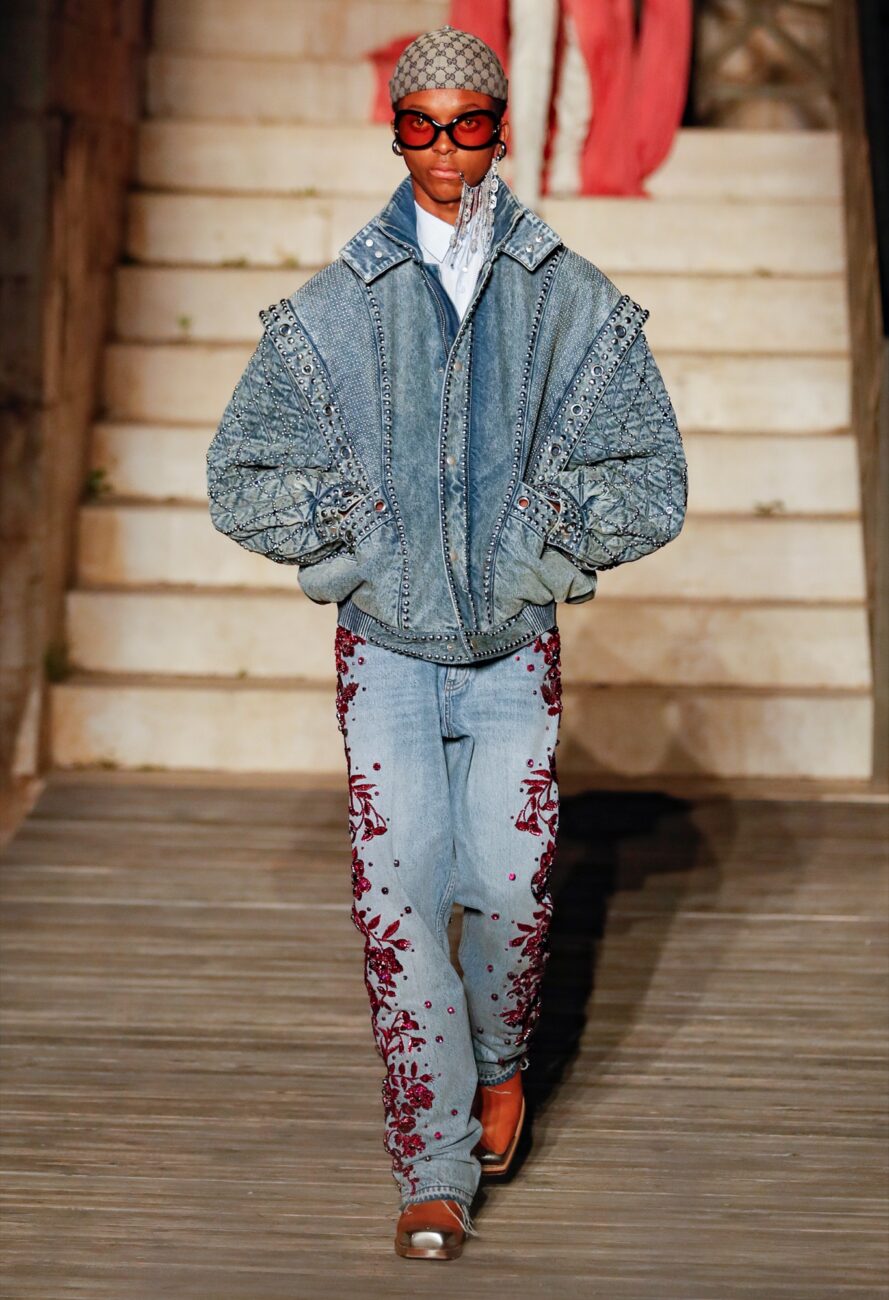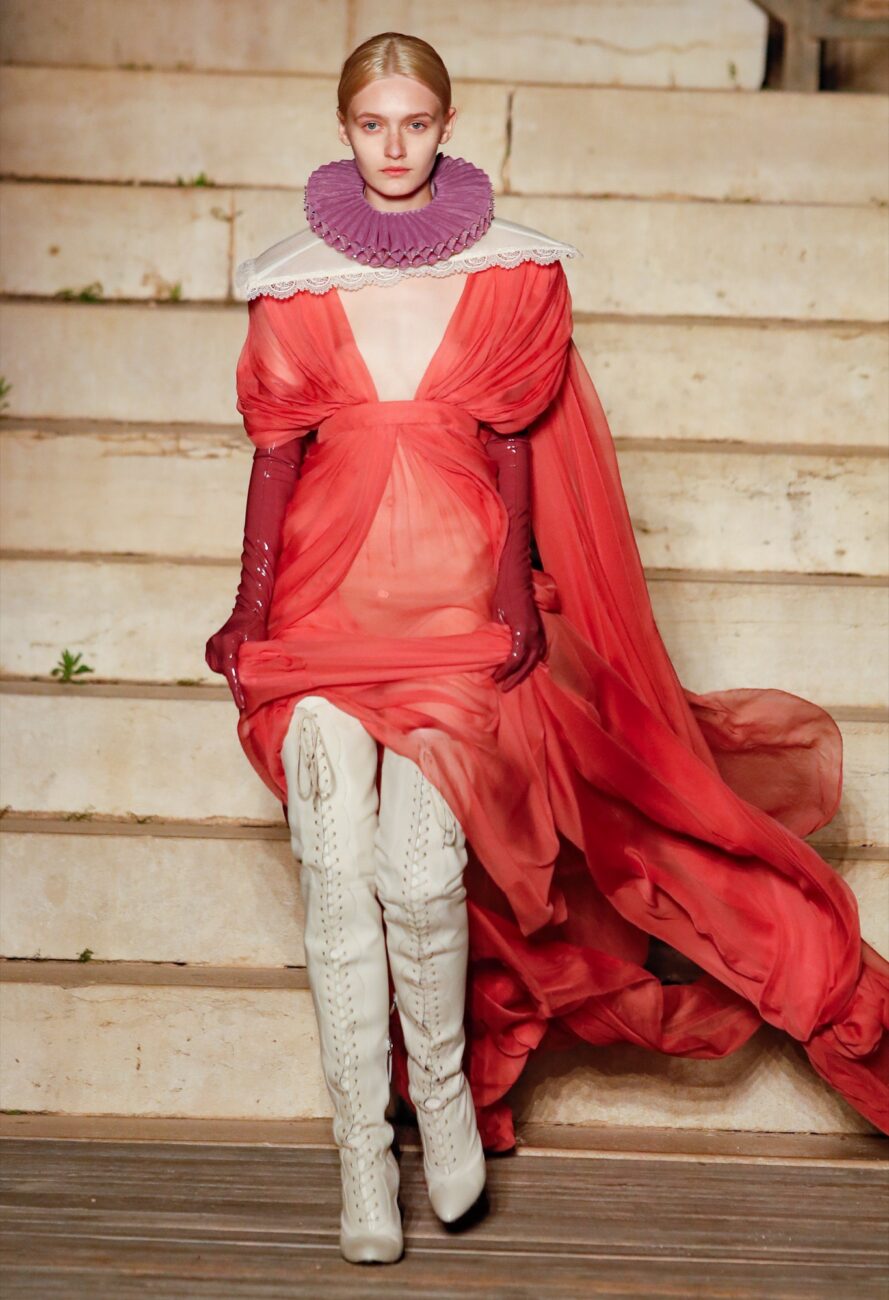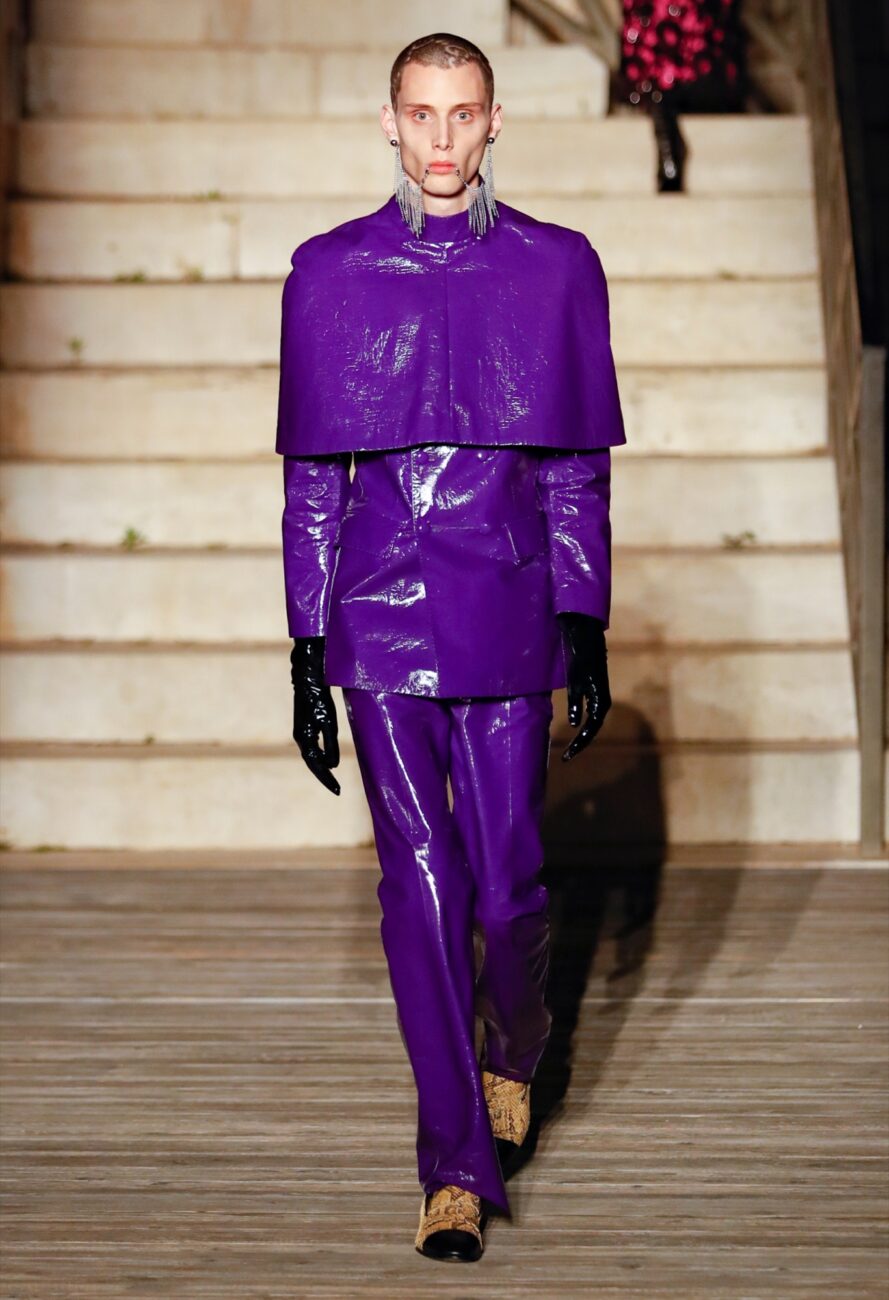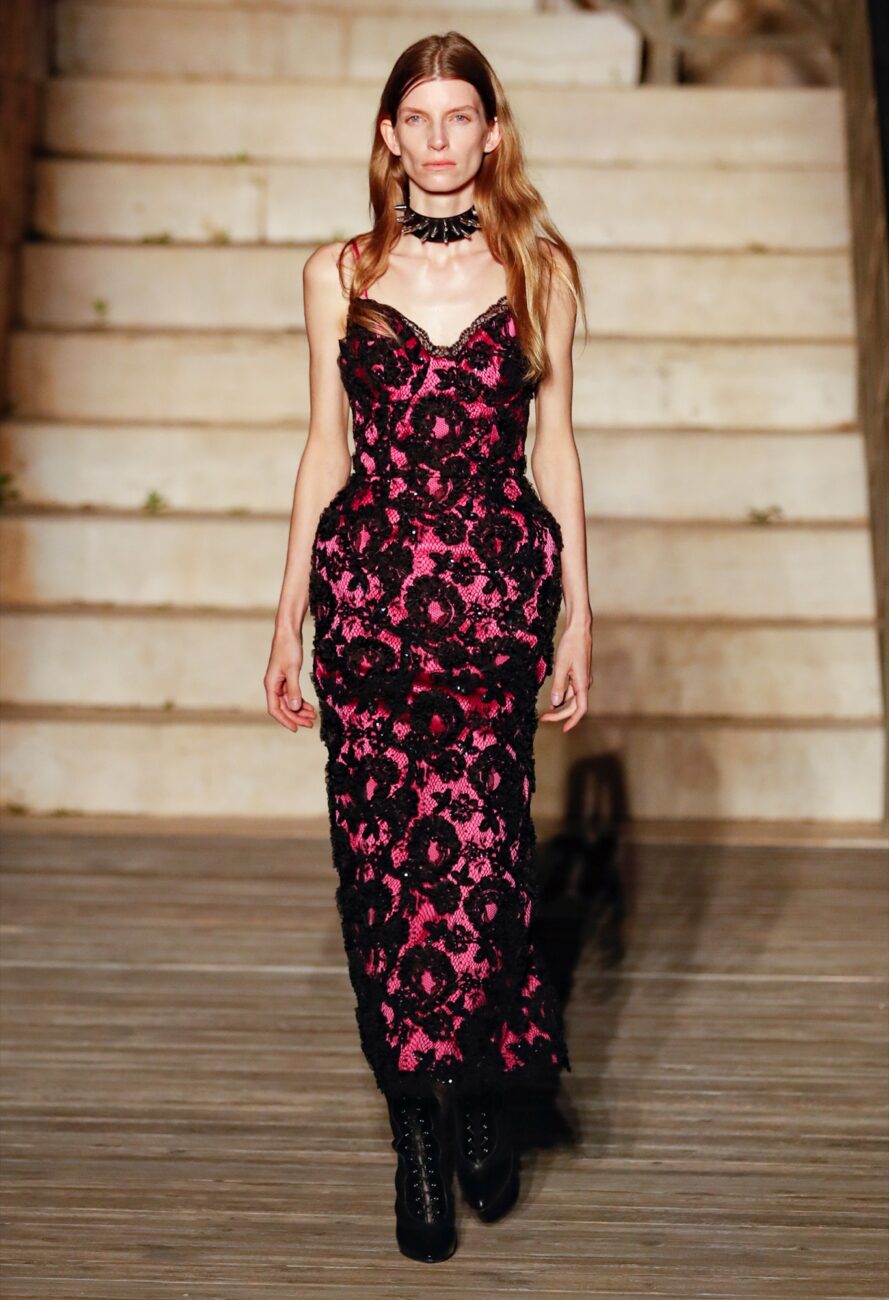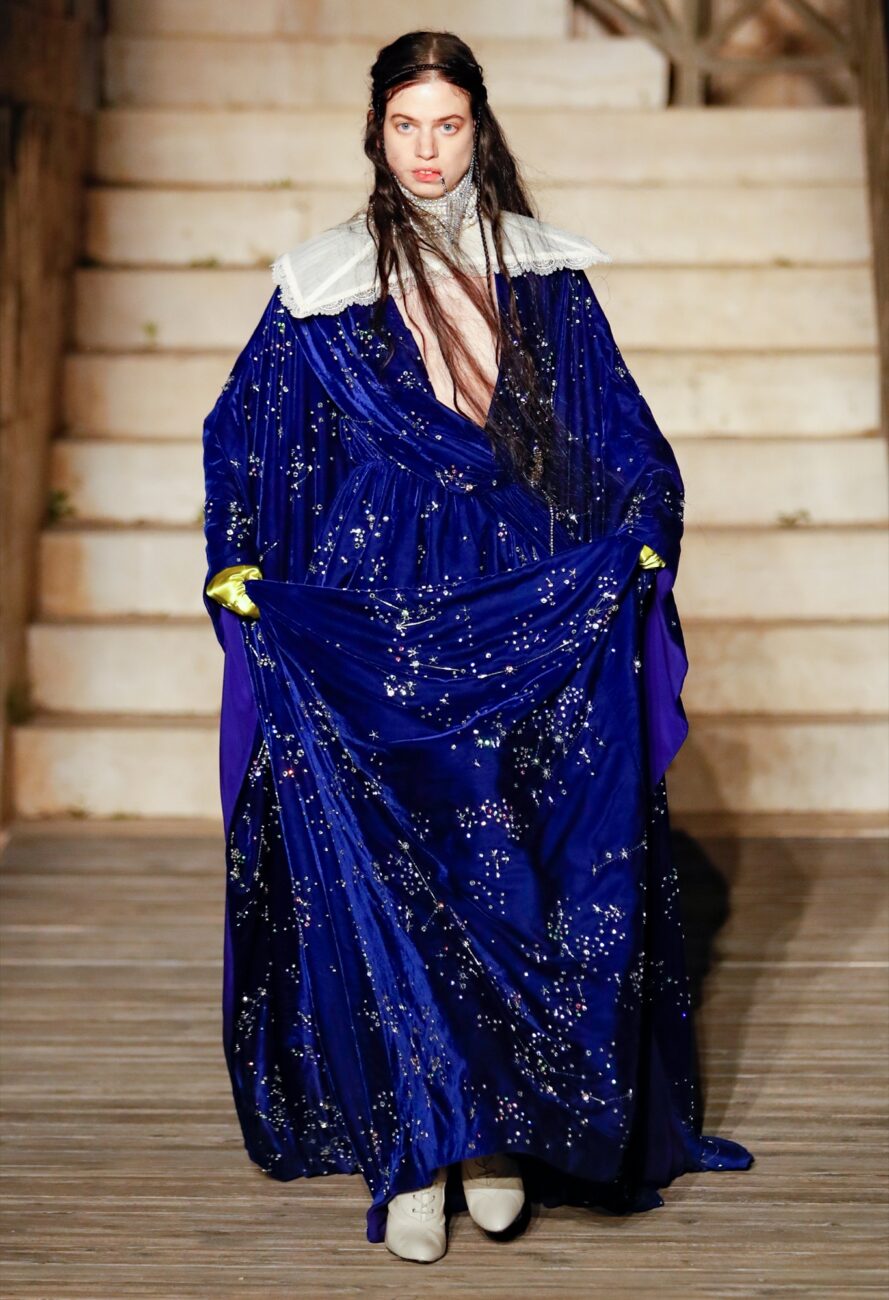 300dpi_TAGLI PR FORMAT_EXIT45
Heaven, heaven's bodies
Whirl around me, make me wonder
And they say back then our universe was an empty sea
Until a silver fox and her cunning mate
Began to sing a song that became the world we know
Björk, Cosmogony
"Cosmogonies" was born after Michele read the German philosopher Hannah Arendt's essay on Walter Benjamin. The two shared an intense intellectual exchange and bond, and following Benjamin's death in the early 1940s, Arendt published her biographical diary that recalled who she called a "precious Pearl Diver," while also recalling the moment the Gestapo confiscated Benjamin's library. It was something he could not live or function without — as Michele refers to Arendt in his collection notes, "How was he to live without a library, how could he earn a living without the extensive collection of quotations and excerpts among his manuscripts?"
Michele continues to note: "Benjamin, after all, is a collector of quotations. He discovers them from the depths of the sea and he brings them back on the surface of the water, as rare and precious pearls. He reassembles them, like shreds of thoughts that need to be recomposed, reconstructed, updated. Retying knots through a passionate remodeling, unveiling interrelations and articulations. Such an extraordinary ability to illuminate connections, which would otherwise be invisible, makes Benjamin the paradigmatic figure of those thinking in constellations. A term that he turns into a philosophical concept. What can seem, at first sight, atomized and dispersed, like the stars in the sky, through Benjamin's eyes becomes an assembly of complicity: a connective structure that lights up the darkness through the epiphany of a constellation."
It's this, the metaphor of a constellation, that inspires Gucci "Cosmogonies." A constellation born out of tension and a desire, eagerness, wanting for casting a light on something real — like a constellation itself. Michele takes it further once more, looking into constellation thinking, a concept of bringing the past and present together as one. Per the designer, these are "previously unknown configurations of reality that can break the constraints of tradition."