GUCCI FIRES UP THE DANCE FLOOR WITH 70S PSYCHEDELIA VIBES – WATCH THE VIDEO!
February, 2020. Mirror, mirror on the ball… A new campaign for Gucci's GG Psychedelic Collection creates a dreamscape of nocturnal refractions and reflections. In keeping with the colour, energy and dreamlike attitude of the pieces – inspired by the spirit of '70s psychedelia, with its visual distortion, surreal imagery and wide colour spectrums – the campaign takes us into a fantastical night club where visitors are dressed up for the occasion.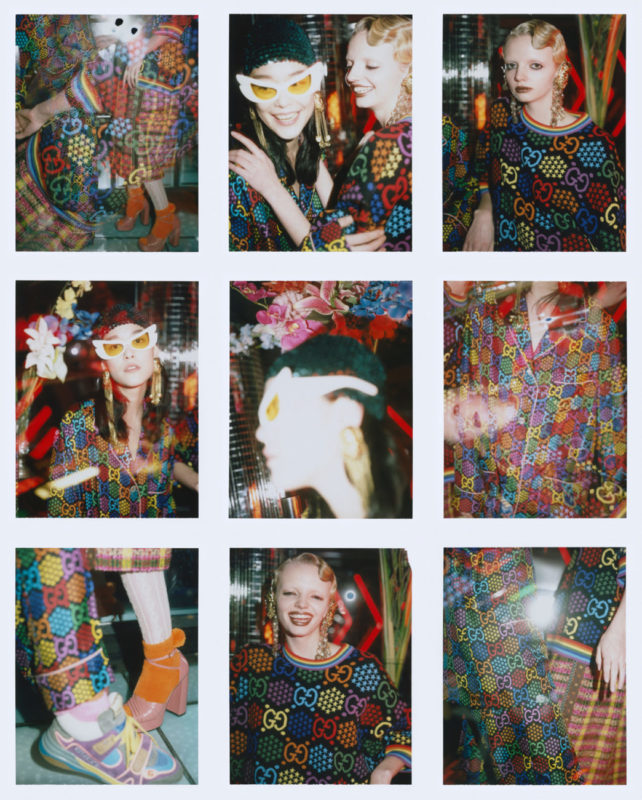 From the cloakroom to the dance floor, the images by Jordan Hemingway are infused with the reflected light from mirror balls. As the night-loving creatures mingle and dance, the spinning ball picks up pace and hypnotises, eventually playfully absorbing the clubbers into a surreal space with giant mirrored walls. Have they been captured by the ball? Is this a waking dream? Who can tell?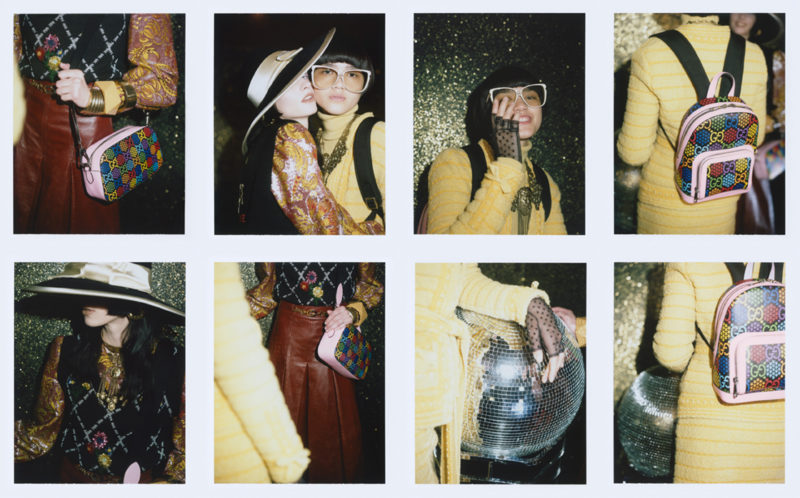 The campaign is given a graphic treatment to complement the energy of the imagery. Layouts for social media are composed of multiple "Polaroid" shots, referencing the visual medium par excellence of the club scene of the 1970s. The dynamic use of multiples suggests a refracted aesthetic, referencing the reflections of a mirror ball.
The pictures and accompanying film take their cue from the spirit of the collection, where Gucci Creative Director Alessandro Michele has whimsically reinterpreted the Gucci logo, rendering it in a new form with a streetwear attitude through the addition of a multicolor stars motif, creating a thoroughly contemporary and distinctive pattern applied to different pieces, including men's and women's ready-to-wear, handbags, luggage, shoes, small leather goods, accessories and a watch, and inspires a range of fine jewelry.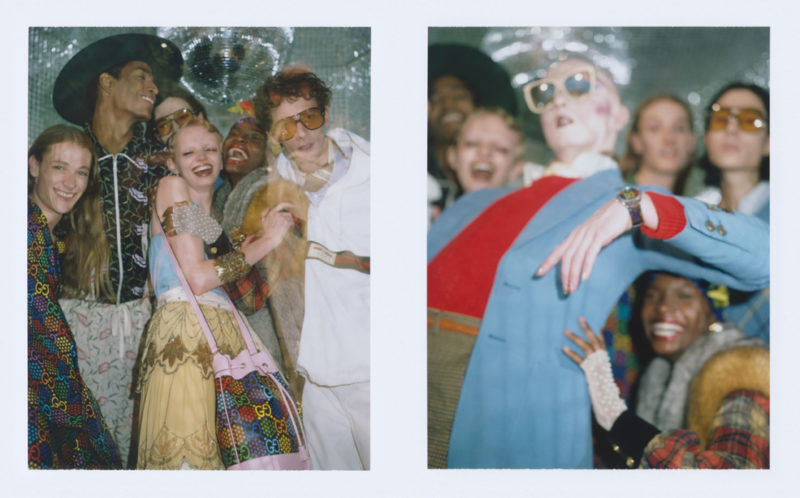 The GG Psychedelic Collection will be promoted at selected Gucci stores worldwide, which will feature dedicated windows, and across Gucci's digital channels. Gucci Pins, ephemeral stores inspired by the pins seen on interactive digital maps, will also highlight the Gucci Psychedelic items in several cities. Bespoke entertainment will also be unveiled on the Gucci App and in several Gucci Pins, furtherly leading visitors in the immersive spirit of the collection and welcoming them to join the party.
#GGPsychedelic