HAUTE COUTURE BRINGS US BACK TO A DREAMFUL LIFE FROM BOTH SIDES OF THE ALPS: DOLCE&GABBANA'S AND CHANEL'S COLLECTION
Text by Fiammetta Cesana
To conquer life you must surround yourself with beauty and internalize it: you just need to take some time to observe, letting it sprinkle your eyes with lustre, capturing its finishes, details, divine expressions of human creation. Just meet and admire such splendor to catch your breath. The luckiest ones, then, will also have the privilege to wear it.
Haute couture is now our antidote for a terrible historical crisis that have obstructed our most important view, that of imagination, trapping our mind in overwhelming practical hindrances, and calcifying every fissure over that room of purest and most vital beauty.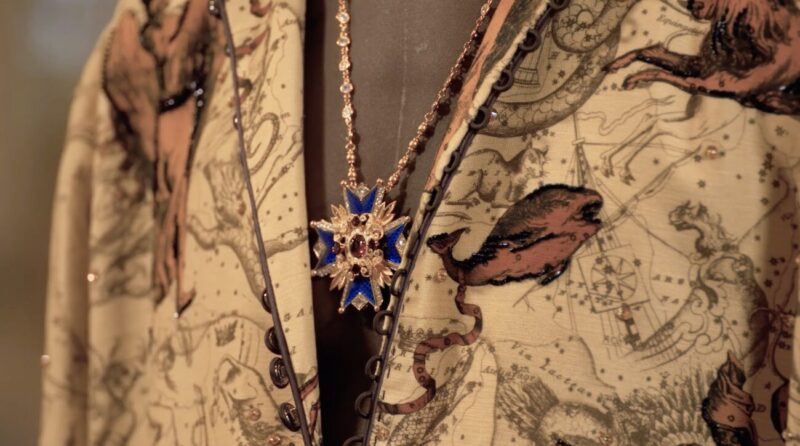 What's more magical and precious than the work of the tailors? So precise, scrupulous, and finally magnificent, that it really appears as the fruit of fairies' hands. The operas by the artisans of Domenico Dolce and Stefano Gabbana are clothes not only handmade but entirely made at home. The goal of the house's new haute couture collection is to bring us back to the much-coveted normality through a sensational journey rediscovering the treasures of Bel Paese. After the happening of a serious rupture, as that forced by the Covid-19 outbreak, to re-build a daily rituality, we cannot think of behaving as we have always done: we must accept and face the drastic nature of change. To do this, the half-Sicilian-half-Milanese brand has decided to overturn our imaginary by bringing it back to its origins in a surprising way. The value of Italian beauty, which is made up of stratified history and culture, ethnic and landscape contaminations, manual skills, ardent passions and authenticity, is narrated through a collection enhancing the diversity of our cities, from Venice, to Portofino, Capri, up to Taormina, while merging them with design structures with an oriental and exotic taste.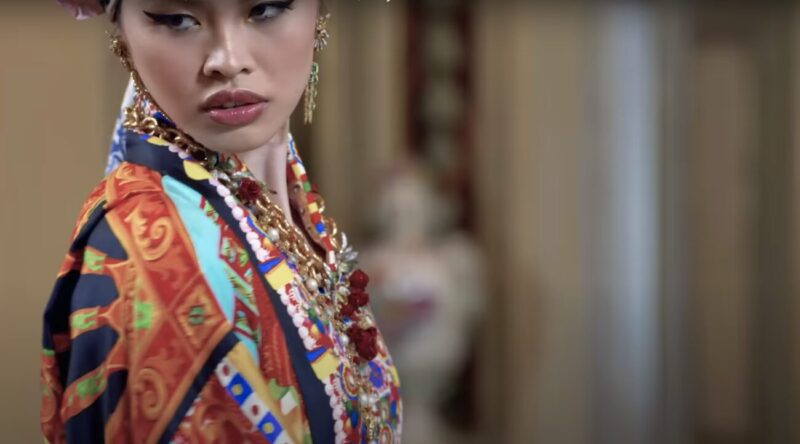 Among the sumptuous and draped dresses in fact stand out kimonos, for women, and kaftans, for men, which make this unusual trip to Italy the starting point to embrace a new normality, made of artistic and social intersections, of fresh consciousness, of dream and fantasy which, unleashing our mind and emotions, brings us back to reality. Kimonos composed by foulards, floral chiffon dresses, Capri pants, kaftans and tunics embroidered with astral themes, and pyjama suits (of which during the lockdown we celebrated the anniversary with the princess-designer Irene Galitzine), all covered by the glow of unique pieces of high jewelry. The love and business Dolce&Gabbana's couple wanted to create garments that convey sentiments and that are tangible proof of the extraordinary Italian talent. With this haute couture collection they incorporate "the Italian spirit that is in people's hearts" and, continue Domenico and Stefano in unison, "which we told about to show the world how good Italy is".
Watch the Haute Couture's show at Dolce&Gabbana's Palazzo in Milan on the brand's YouTube channel.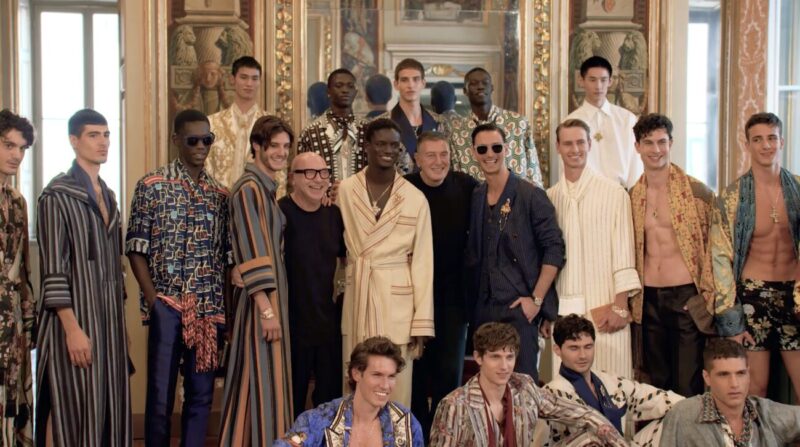 The love for Italian creative instincts and technical dedication certainly does not exclude awareness of the skills from beyond the Alps. As a video teaser shows us, created by Loïc Prigent inside the Haute Couture ateliers at 31 rue Cambon, also the work of Chanel's dressmakers – today directed by Virginie Viard who took the baton after the passing away of kaiser Lagerfeld – is been incessant even with the obligation of face masks. The haute couture autumn-winter 2020-2021 collection, presented on social channels and on the maison's website yesterday, July 7th, alongside a video by Mikael Jansson, is a blend of opposite and complementary sensations that seems possible only in the oneiric sphere, an expression of tenacity and gracefulness, delicacy and richness, which only a leader of taste and elegance as Chanel could have made real.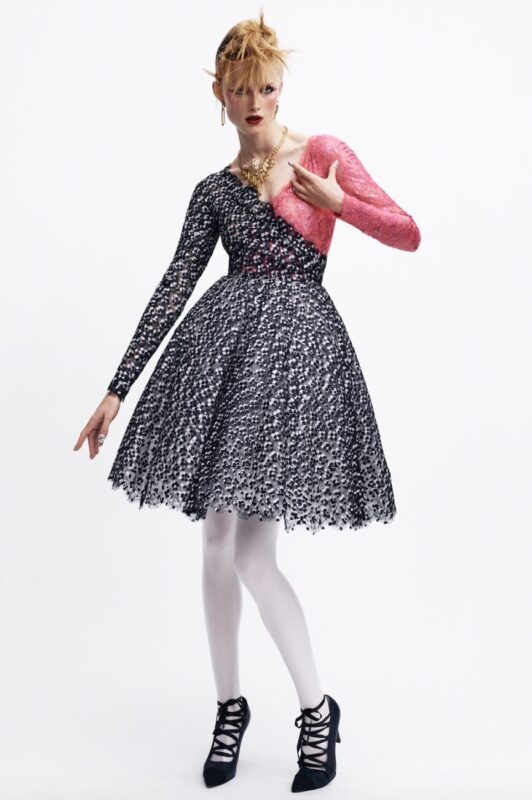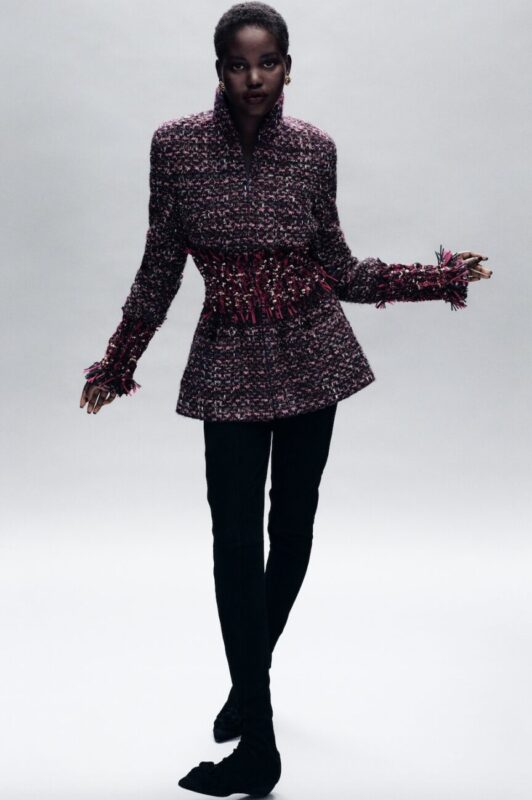 Beauty, this time in the French way, rediscover its own dimension through a new form of refinement, recalling contrasts of past epochs and even achieving a punk-ish extravagance. The Mademoiselle's clothes, like the course of our lives, have found new and regenerated perspectives. The authoritativeness of the past should never be denied though, and for this reason the collection explores Chanel's signature lines and fabrics, such as the tweed suit, but placing them in a renovated atmosphere, by creating specular dresses with combination of different colors and textures that complement each other as new hemispheres of style, by giving the garments the preciousness of real jewels and by showing off audacious cuts and volumes. Viard indeed has always in mind what led house of Gabrielle to reach what it is today and makes use above all of the teachings of her master and predecessor. The creative director claims to have been inspired right by the "eccentric princesses" that Karl Lagerfeld used to bring to the parties and at Le Palace.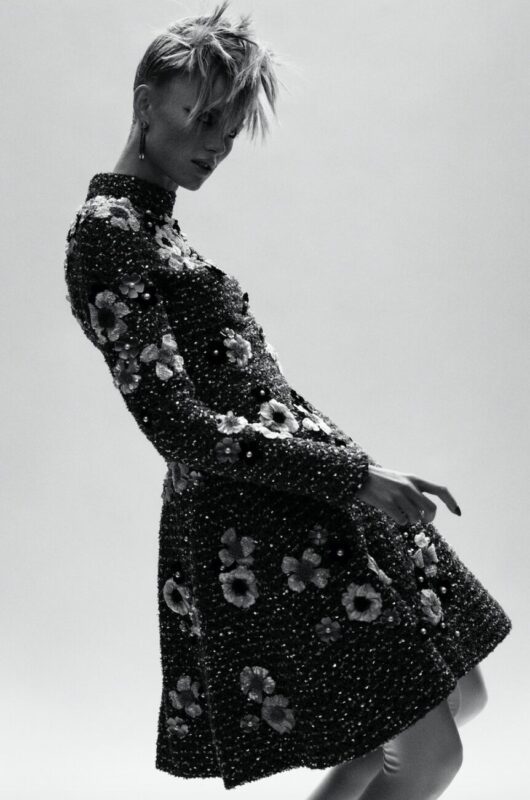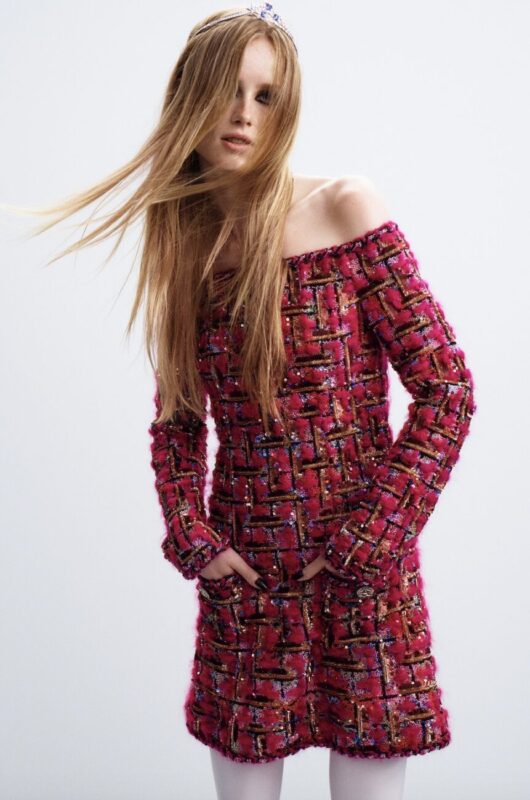 Now we can dream about life and beauty again abandoning ourselves in such "desire for shimmering opulence and jewelry", where diamond-like braiding adorns the ink black trouser suits, short dresses with cinched waists and corolla skirts rustle alongside long dresses with a very Grand Siècle allure and the noble authority of heroines escaping from 19th century tableaux…
Have a look to the whole Chanel Haute Couture Autumn-Winter 2020-2021 collection visiting: Chanel.com