"I'M BEYOND" IS THE STORY OF A COOL WITCH BORN FROM THE COLLABORATION BY I'M ISOLA MARRAS AND BEYOND
Text by: Fiammetta Cesana
From the beginning of this new fashion season, several brands have decided to go riding the dark wave: from MSGM's FW20 man collection inspired by the horror master Dario Argento, to that of Magliano presented in the dimmed lights of a gambling-like club, to Marni's new clothes worn by the models-performers in an intense, eerie dance, up to the pre fall 20 lookbook by Louis Vuitton which used pulp movie's playbills to show the collection in a captivating horror-trash effect…
Thus, this spooky-glam tsunami has overwhelmed also a newborn fashion engagement, that of Efisio Marras's design, I'm Isola Marras, and Beyond.
This is a fantasy story called "I'm Beyond", a capsule collection raised from the collaboration of the two brands. Staging not the typical fairytale world, here the protagonist is no longer an ethereal blondie princess, but a fancy, punk witch that enters boldly in the impervious wood.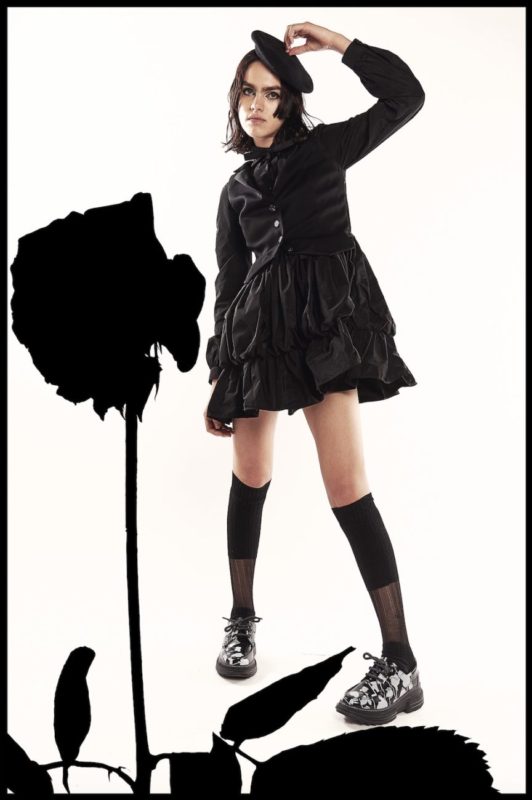 This is the beauty and strength of today's girl: having abandoned the unreachable model of that impeccable, long golden haired lady, whose pure and devoted spirit does not allow any imperfection or transgression, and instead reflects herself in a real woman with contrasting aspects, some romantic and other dark, who accepts her flaws and affirms an eclectic identity through her variety of colors and feelings.
The witch of I'm Beyond wears a mix of styles, from the prints of white and red roses applied by Marras, to grunge sweatshirts and sporty garments, becoming the image of a free generation, in soul and unique aesthetic appearance. This groovy witch dresses comfortably without giving up on her elegance, she loses and re-finds herself again in the forest, like every woman does in everyday life, exploring lights and shadows, experiencing moments of invincible attitude and others by falling apart, but, above all, realizing that even in the dark, in what is not so coated and immediately understandable, true beauty can be unexpectedly captured.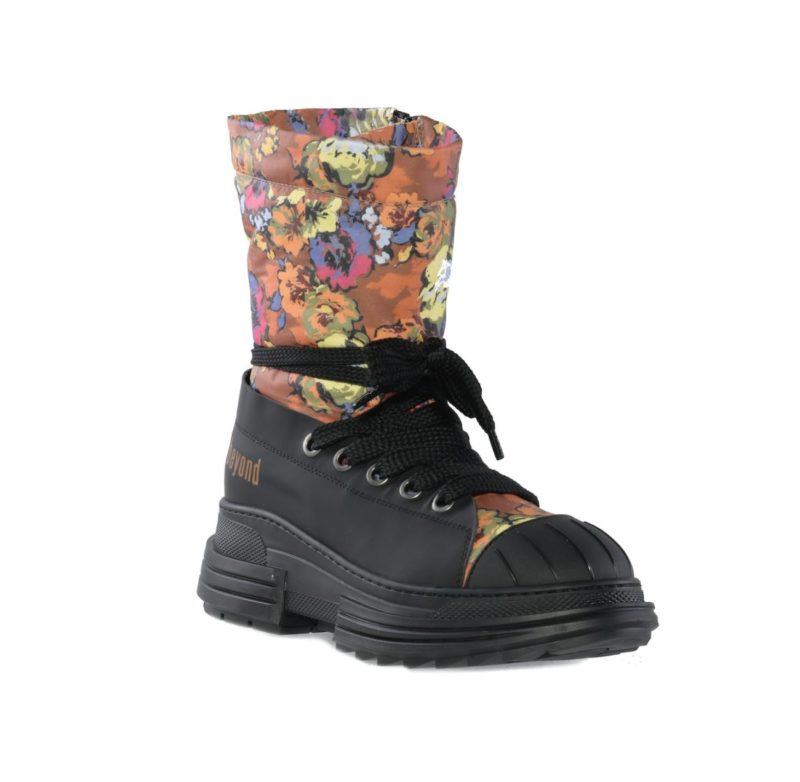 And so then from her sneakers, as from a vase, sprout colorful flowers… these, suddenly blossomed among the black-dominant collection, seem to be the symbol of a hidden wonder, of a treasure preserved in the inaccessibility of the wood, which has not to be grasped unconsciously, but to be cared for durably – just like for any woman, who at the end of the day is both witch and princess, with "magic powers" and frailties.