EVERY SINGLE THING COULD HIDE A LITTLE, INNOCENT ANECTODE. DESPITE THE GOOD MANNERS DEEPLY RECOMMEND TO KEEP IT SECRET I CHOSE TO BEND THE RULES FOR ONCE…
Photo Jessica De Maio
Fashion Simone Rutigliano
Starring Barbara Crimella
Interview by: Annarosa Laureti
It's really funny how much time this short interview to Barbara Crimella – a Milanese DOC sculptor – took to be published: almost three month! Amongst summer holidays, the beloved and damn Fashion month and several delays by everyone involved in the feature (me included obviously).
All's well that's ends well… we made it and I have to admit that was pleasant having such a long mail correspondence with this very kind artist! Passing the modelling test with flying colors, Barbara told me about the importance of being guided by Nature, of fighting against prejudices and, above all, she demonstrated to me what being extremely patient means!
Dress Vivienne Westwood Archive Necklace Gucci Bracelet Roberto Cavalli
In all the pics armchair, blanket and screen Gucci Décor
Annarosa: Let's start from the shooting… Is this the first time you play the main role in a fashion editorial? Do you think being a model could be a sort of artistic performance?
Barbara: Yeah, it's the first time. Actually it was very funny (ahahaha) and seductive at the same. I also modeled some times for other artists on the occasion of performances but this particular work could be related to an artistic performance only in case it corresponded with my own current research.
A: You model seating near pieces from the "Gucci Décor" Collection that are – referring to the very creative director Alessandro Michele – more than simple furnishing objects, truly "objects of decoration". The word "decorative" attributed to an artwork could in somehow diminish its intrinsic value?
B: The beauty and the charm of the selected objects portrayed in this photo shoot are timeless. The word "decorative", in an art piece, is often used rather than to diminish it to define unnecessary elements which convey a message. When I create something I often like being essential: I try to "smooth" the shape because I want that the message could be transmitted in the most fluid way. So sometimes I wrongly say I remove all the decorative parts as they are frivolous.
But on the contrary the "décor" is also the definition of the "art of beauty", of an excellence, of a great technique and ability or again of a precious materials' choice. I think it depends on how we use it, on what kind of subject and on what kind of tone of voice.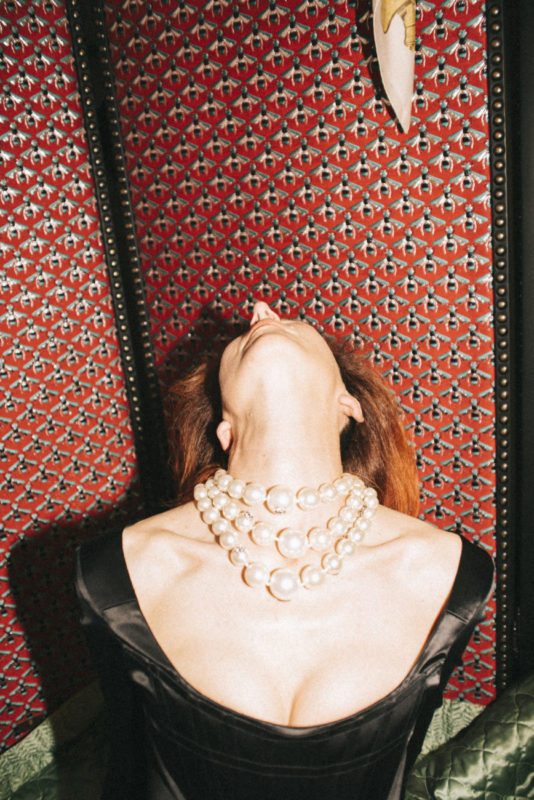 Corset Vivienne Westwood Archive Necklace Gucci
A: You demonstrated your ability as a model but actually you are a sculptor, specialized in site specific artworks. How is your own creative process organized? Do you look for a certain harmony between the art piece and the surrounding environment?
B: Oh yes, absolutely! I'm always saying that "the place said to me what I have to create"!
I turn around it, I step on it, I observe it from different points of view, I usually talk with locals too to discover anecdotes and memories.
I usually to learn about the history of the territory, I try to understand its geological characteristics and I look for a particular natural element, a value that I could highlight, like for example a wind.
The wind in fact brings words, but also thoughts, it recalls warm hugs of caring nannies and again terrible events of uprooted trees… lukewarm breaths that in the past used to transport goods on waterways now protect olives and vineyards' harvests while cold and moist ones take with them the passing of autumn seasons.
I always come back to the place several times during the day to smell it and to see the light's variation trying to understand if my artwork could be a new element able to reinforce and not to annoy the entire environment.
The art piece must be seen but it mustn't stand above the place, it will be help the eye to see and the heart to hear what the routine doesn't let us feel.
A: The creation of a sculpture inevitably involve a tight contact with different materials. During the working process have you ever changed your own creative project because of the encounter/collision with the chosen materials?
B: Sometimes it happened that I had to change or integrate the materials' choice since the research and the message worked better only if "underlined" by the force – or at the same time by the fragility – of the very material. During the working process you always keep the bottom of things and you are able to see more than before. This could make necessary changing, lightening or reinforcing your own research in a dialogue with the environment.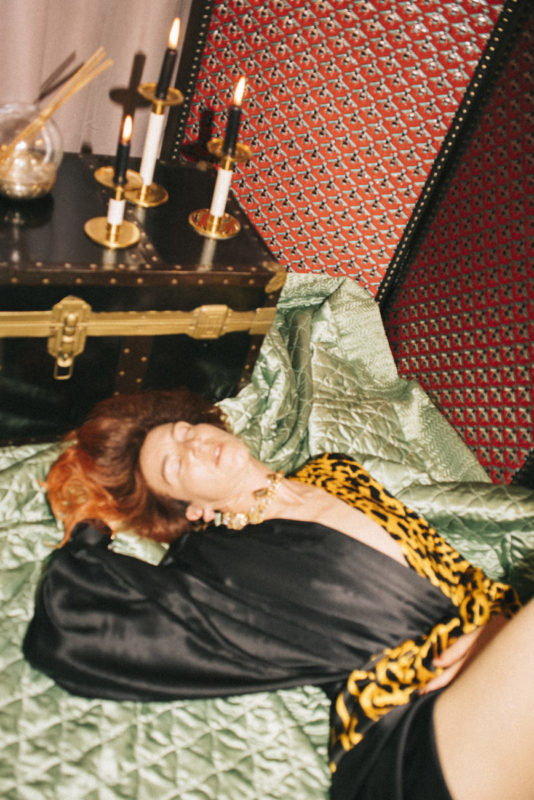 Dress Angelo Archives Necklace Carlo Zini
A: Actually you are also one of the main characters of "Borgo degli artisti" project in Bienno, Brescia. Can you tell us more about it?
B: The "Borgo degli Artisti" is a marvellous international reality, a creative turmoil, a source of inspiration, a collective community of ideas, managed by the artist Daniela Gambolò in Bienno, Brescia. The very municipality – together with the Cultural District of Valle Camonica and the "Bienno Borgo degli Artisti" and "Bienno Turismo" associations – gave life to this project inviting new artists, designers, creatives to move in the historical centre of one of the most beautiful "Borghi d'Italia" (Italian villages).
The very artist tries to instill throughout his own art a contemporary dialogue with the history of the territory and its community/people. Furthermore silent paths and boundless landscapes become the coveted medicine that every artist needs to listen to himself.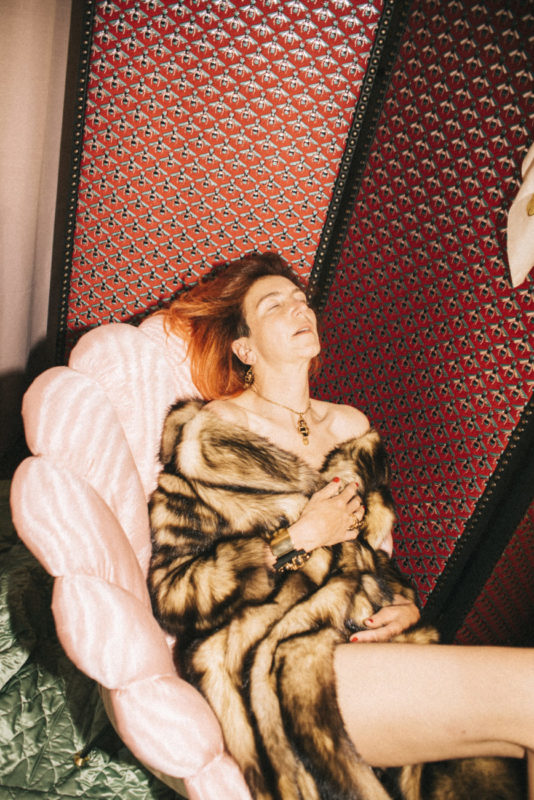 Fur and accessories Roberto Cavalli
A: Among the female sculptors you love most there is Louise Bourgeois. In a such male environment like that of the art do you feel being a woman is still today a prejudiced factor?
B: Compared to twenty years ago it is much less but unfortunately in Italy I still feel little prejudices.