HOW MUCH DO YOU KNOW ABOUT LAST FENDI'S GUEST ARTIST NICO VASCELLARI? HERE'S OUR INTERVIEW WITH SILVIA VENTURINI FENDI AND THE ITALIAN ARTIST, WITH TWO EXCLUSIVE DESIGNS OF THE PLAYING CARDS HE MADE FOR THE SS19 COLLECTION
Interview by: Alessio de' Navasques
Translation and editing by: Fiammetta Cesana
If like us you are still very intrigued by the last Fendi fashion season, between word games, anagrams, and references to a natural mythological world, this is your opportunity to find out more about the artist and punk music passionate Nico Vascellari who collaborated with the maison.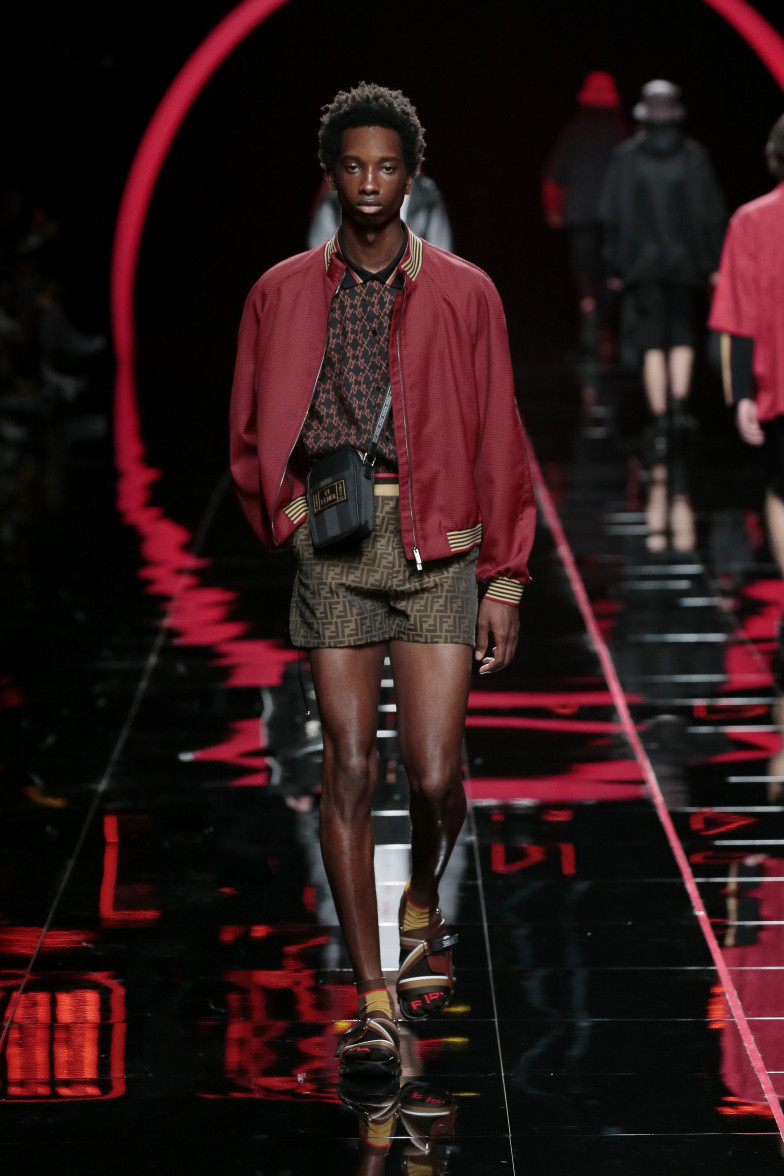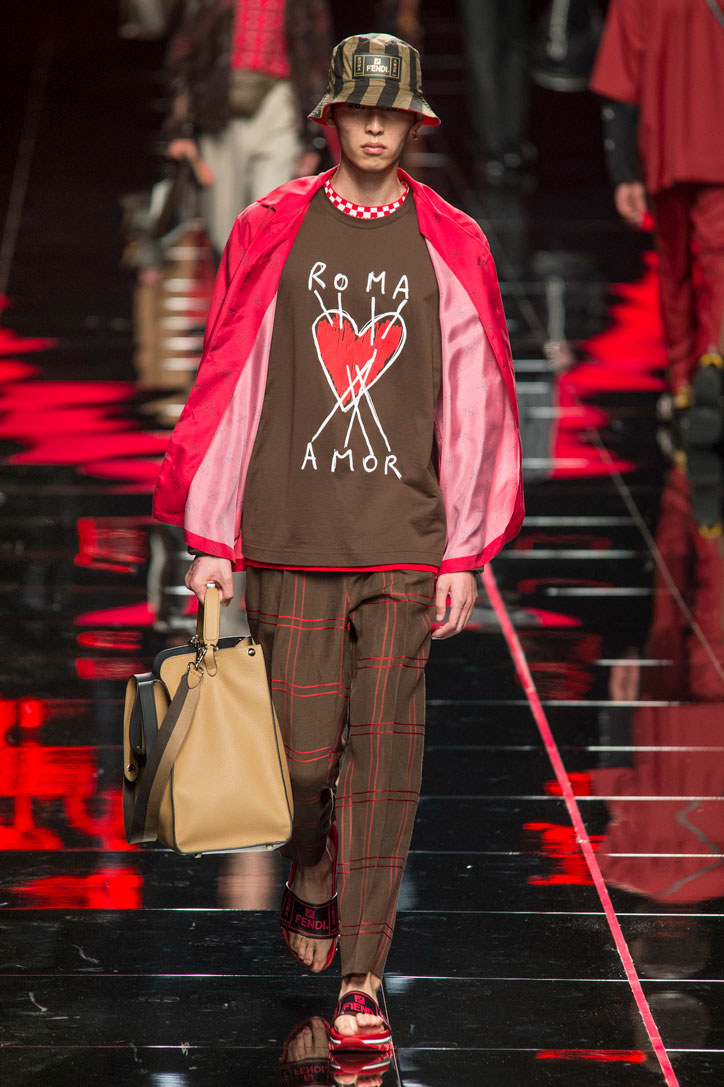 Fendi SS19_Nico Vascellari_Silvia Venturini Fendi
Fendi SS19_Nico Vascellari_Silvia Venturini Fendi
For SS19 menswear show, Nico Vascellari designed the collection using a series of logos and anagrams, especially word games like Fendi – Fiend and Roma – Amor, as well as in the intrinsic duality of the double-F logo interpreted with watercolors. Snakes, frogs with claws and horned demons create mosaic motifs on clothing and accessories, adorning embroidered patches, printed t-shirts, silk shirts and the new men's bag, the Peekaboo X-Lite . The playing cards designed for the collection illustrate the Fendi monster as king, Silvia Venturini Fendi as queen, and Karl Lagerfeld as the joker, or rather "JoKarl". For the fashion show, the artist also worked for the catwalk's design with a dark room where the models enter through a trompe l'oeil cave made of Perspex with his illustrations.
With the duo-interview with Vascellari and the creative director Silvia Venturini Fendi, let's see two exclusive designs of the playing cards he made for the collection: JoKarl and the ace of hearts Rome – Amor.
When did you first feel you "belong" to the creative world?
Silvia Venturini Fendi: I understood that I was different from other children when I started going to school. I remember as a child I found all excuses to sneak into the atelier, where my mother worked with her sisters. I was very curious to see what was going on there. Among three sisters and seven cousins, I was the only one to go there almost every day. I wanted to be in the place where things happened: it was great to be there. I loved the creativity we breathed: that's how I learned the value of experimentation and research, of craftsmanship and high quality. Every time I enter the atelier, I realize that artisans are a crucial value, an essential part of the company. My mother has a strong personality. I have wonderful memories of her working side by side with my four aunts. That was the heart of the Fendi family. I picture myself there as a child, surrounded by extraordinary women, at a time in which women had to show that they were as good as men. Although they worked together, each had its own aesthetic and identity. This is why Karl Lagerfeld calls them "the five fingers of the hand"! Through a sort of osmosis, each of them helped me to appreciate the rarity, quality and humanity of the products, making me become the creative person I am today. Fendi DNA is transmitted from one generation to the next.
Nico Vascellari: I grew up in a small town in north-eastern Italy; from my window I could see mountains and a large valley covered by fog. At fourteen, during my days there was nothing interesting, I was considered too young to hang out alone. But boredom was a powerful trigger for imagination. In a short time I realized that I had to make things happen, so I started organizing concerts, mainly punk and hardcore, at my parents' house when they were leaving. Then I started my musical journey, also writing fanzines in my own hand.
What does it bind you to the world of art?
SVF: The world of art has always been an important aspect of our family life. I grew up in our ateliers, places of energy, of meeting, of discussion where after sunset actresses, directors and writers passed by. Catherine Deneuve, Silvana Mangano, Sofia Loren, Monica Vitti, Grace Jones are just some of the women who attended our ateliers and who inspired Fendi. In particular, our family has always been very attached to the world of cinema and already in 1977, for the first prêt-à-porter collection, my mother and my aunts with Karl Lagerfeld preferred a film to a fashion show. It was called Histoire d'Eau and directed by Jacques de Bascher, a visionary director very dear to us.
NV: In my teens I used to go to museums; art attracted me a lot, although I didn't know much about contemporary art. I had a diary where I took notes. Over the years I've realized that artists like Mike Kelley, Paul McCarthy, Bruce Nauman have touched me deeply. Initially, I told myself that such artists were not so interesting because they created things I could have thought of – or at least that's what I naively believed. Only later I realized that the things we think about are not necessarily trivial. This thought was the basis of a great deal of work.
How did this collaboration was born?
NV: It was born thanks to Silvia's proposal to collaborate on the SS19 Men's Collection a few weeks after visiting my show Bisca Vascellari, at the Basement in Rome. I had decided to transform the entire exhibition space into a backroom, a sort of gambling den where people bet on games I had created for the occasion, winning my other works. There was something really ironic about my first performances: they were really dramatic, but at the same time they made people laugh. Over time, I lost this ability in my work. I believe, however, it has returned with Bisca Vascellari, a fun and jovial moment all focused on the game. Then Silvia told me that she was fascinated by the theme of the game of Bisca, deciding to use it as a starting point for a collaboration… and then we headed towards magic. In someway, the classic Fendi logo with its two large Fs facing upwards, the other downwards, reminded me of the theme of opposites, like heaven and hell, for example. Working with you on this project was fantastic. Dualism and irony were the key.
SVF: I was fascinated not only by Nico's work and but also by his personality, because I see two sides of him. When he is at work, he becomes a "devil", but when he is with his children, he is tender and calm. This is what I find really interesting, its duality, the coexistence of opposing forces. For this reason I chose him as the fourth guest artist, on the occasion of the Fendi menswear Spring Summer 2019 show, asking him to express his obsession with playing with anagrams and his mythological vision of the natural world. For the first time, I decided to also interpret the artist's catwalk, which for the occasion was composed of a dark room where the models enter through a trompe l'oeil cave made of Perspex with illustrations made by Nico through a sculpture kinetics of neon.
How important is irony to you?
SVF: It is essential. In 1965 Karl created the double F logo for "Fun Fur". This term expressed the fur revolution that until then had been a status symbol of economic and social value. From then on, in all our collections we like to play with the concept of Fun. For example, our Bag Bugs, which everyone calls Fendi monster best express this concept. They are therapeutic cartoons, keep you company by making you smile. I had just been on vacation in Brazil and I had in my eyes these incredible colors, of birds and parrots that a friend of mine collects. Back, we designed a small parrot that then became a kind of exotic monster. This is how Bag Bugs were born. I am convinced that fashion should lighten your life. It must have a playful aspect, make you feel better and make you think of yourself lightly. People need color, zest for life and don't take themselves too seriously: that's exactly what we do at Fendi.
NV: For me, irony is very important. In all my works, like the Bisca, irony is at the center of the work and the rest revolves around it. When I started working with Silvia on the collection, I immediately realized how important the Fun side is for Fendi. Irony is the basis of everything. The collaboration with Silvia allowed me to explore this side, combining it with other aspects of my work that concern opposition and contrast. You can see it from the result: it's fun and everything clashes.