Gelasio
Gaetani
d'Aragona
Editorial:
Like a true nature's child
We were born, born to be wild
We were flying' so high,
I never wanna die
Steppenwolf, Born to Be Wild, 1969 Mars/Bonfire@Universal Publishing Group
This year has seen more than one celebration of the anniversaries that marked history and changed, in some aspects even unconsciously, our perception of reality and our way of life. The first man to set foot on the Moon, 50 years ago, raised the American flag. In 1989 the Berlin Wall, that ideologically divided the world into two opposing factions, fell. They are (or seem to be) two great achievements towards freedom and democracy. But 1969 also sees the success of masterpieces of the cinema – Easy Rider, Midnight Cowboy, The Damned -, of literature – Portnoy's Complaint -, of music – Je t'aime… moi non plus, Space Oddity, Give Peace A Chance -, just to mention a few, which will become the icons of an era.
They are hymns to the individual, to the liberation from conventions and rules, to the explicit and universal declaration of desires and wish to transgress. Everyone claims their own space of free expression. Everyone can become the hero of themselves. Eighty years ago, 1939, one of the most famous fictional superheroes, Batman, was born appearing in American comic books published by DC Comics. The famous Tim Burton film was released in 1989 and this year – 2019 – the celebrated sequel Joker, starring Joaquin Phoenix. Stormy stories with alienated individuals, borderline, and superheroes, who reveal themselves, beyond the mask, fragile and disturbed. Instead, today, in movies, it is the superheroine who is strong, who has a clear mission, both terrestrial and in the role of a super-powered character, like the new Captain Marvel. A clear and decisive choice of Hollywood Majors after the rise of the #MeToo movement.
Women claim a role in society and at this time it is not the movement inspired by the film stars that is filling the streets all over the world. These women, even in countries that seem to our eyes to deprive them of equal rights as compared to the men and where they actually play important roles in society, are marching together and claiming what is still missing. That is what today, after the conquests of the feminist movements of the 60s and 70s, turns out to be an increasingly dramatic request, because it is accepted by the male counterpart with suspicion and unfortunately, even more frequently, with violence. The request to always be able to be a woman, to manage her own identity, external and internal, and own sexuality, in an autonomous way, disconnected from serving the needs and desires of men. "My body, my choice" the women shouted in the 1970s, now they hope in "The Future is Female", recently brandished as a manifesto. A still relevant dilemma faced by the feminist movement is how to challenge the definition of femininity without compromising the principals of feminism. There is talk about worrying increase of violence, especially in countries where women's empowerment should be stronger. These data express a sharp contradiction: the need of women to reaffirm their femininity, at any cost, and the respect of unwritten rules, which males have internalized in years of relationship with the other sex. Rules dictated by a civilized society, but which often mediate behaviors that have to do with the sphere of sexuality and uncontrolled emotional-psychological courses. Women as a whole need to acknowledge that they own their own body, not each other's, and need to stop making decisions based off men, when women are the ones who will actually be affected. But when does it stop being your body that you control and when does it become a threat to feminism and "giving in" to the male gaze? Unfortunately the female models proposed by many pop music stars, who claim their adherence to empowerment movements, often represent in their videos even violent scenes of female submission, or the objectifying exhibition of their bodies as sexual prey, followed by millions of young, even very young girls. Certainly not better are women as social media influencers, often adolescents, who mostly transmit images of stupidity and vulgarity – not vital, it would be magnificent! – but deadly homologated and crushed on a single model of idiocy and insolent superficiality. Of course, there is a global strategy to spread these idiotic stereotypes that threaten the growth of healthy and independent self-esteem in young women. And even in men, forced from an early age to deal with a one dimension femininity with pernicious consequences.
Bullying, physical violence, oppression, frustration. And inability to express themselves and understand what are the real feelings that can lead to the choice to be able to love, and the necessity of the respect towards the own partner.
For young women the conquest of "my body belongs to me" must not become the key for a new form of slavery. It must be the awareness that being born as a woman and being a woman means knowing how to use this power to become a heroine, but not as a victim of violence and abuse, or survivor of those horrors. Superheroic, like so many women who fight every day for their families, at work, in missions where courage and empathy are needed.
But in Italy, where I live, this is also the year of a tragic anniversary, the 50th anniversary of the Piazza Fontana massacre, when a bomb exploded in the Agriculture Bank on 12 December 1969, in Milan. A hell made up of heroes, 17 victims, 100 wounded, the two anarchists unjustly and falsely accused: the artist Pietro Valpreda, and Giuseppe Pinelli, then dropped from a window of the Milan police headquarters. Heroes and Aliens, against their will. Because a state conniving with terrorism for subversive purposes, which, instead of protecting, exposes its citizens to the insult of crime, makes from ordinary people, Martyrs and Heroes for a better society.
"But when they see a really free individual, it's gonna scare 'em."
"Well, it don't make 'em runnin' scared."
"No, it makes them dangerous."
Easy Rider, 1969, Jack Nicholson talks to Dennis Hopper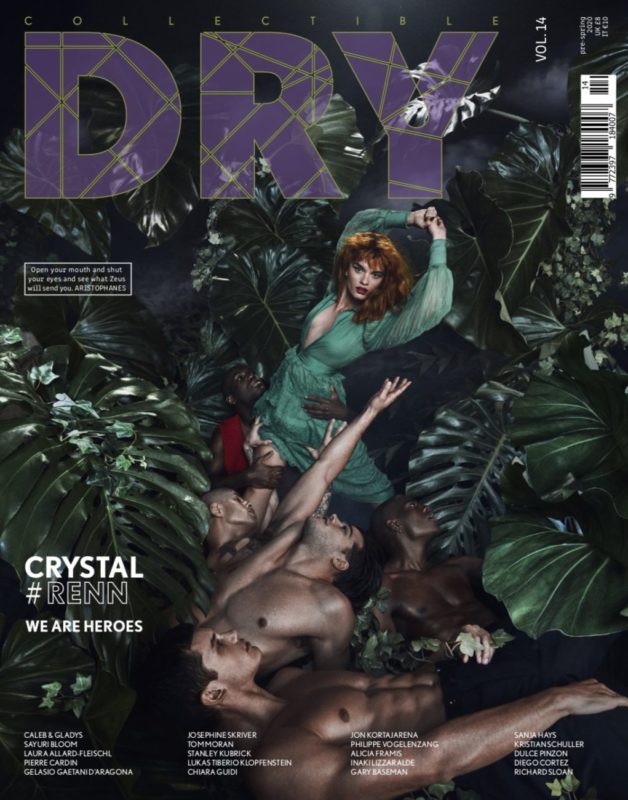 ON COVER WE ARE HEROES
Crystal Renn wears a green dress with lace details Gucci
Women who by nature give everything and immediately, generously, with no restrictions, are irresistible. Feelings in the first place. Like Gucci Bloom Ambrosia di Fiori, the new Eau de Parfum, structured not to slowly disclose into the classic hierarchy of fragrant notes, but to open them all in a flowers explosion. Velvety iris and damask pink make this intensified version of the basic bouquet a vertigo of ambrosia, nectar of the gods. Gucci.
Photography Caleb&Gladys. Fashion Sayuri Bloom. Make Up Carolina Dali @The Wall Group. Hair Felix Fischer @Factorydowntown using Kérastase. Hair Assistant Connie Tsang. Manicurist Kana Kishita using @Apres Nails. Producer Jean Jarvis @area1201. Casting Director Bobby Gutierrez. Production Assistant Rafe Andrews. Set Designer Sergio Esteves. Retoucher Mario Seyer. Model Crystal Renn @JAG Models. Male Models Justin Halley @One MGMT, Andres Mosquera @New Icon, Tucker Des Lauriers @Next MGMT, Cory Alexander @Muse Models, Aaron Turner @New York Models. Photographer Assistant Sergio Avellaneda.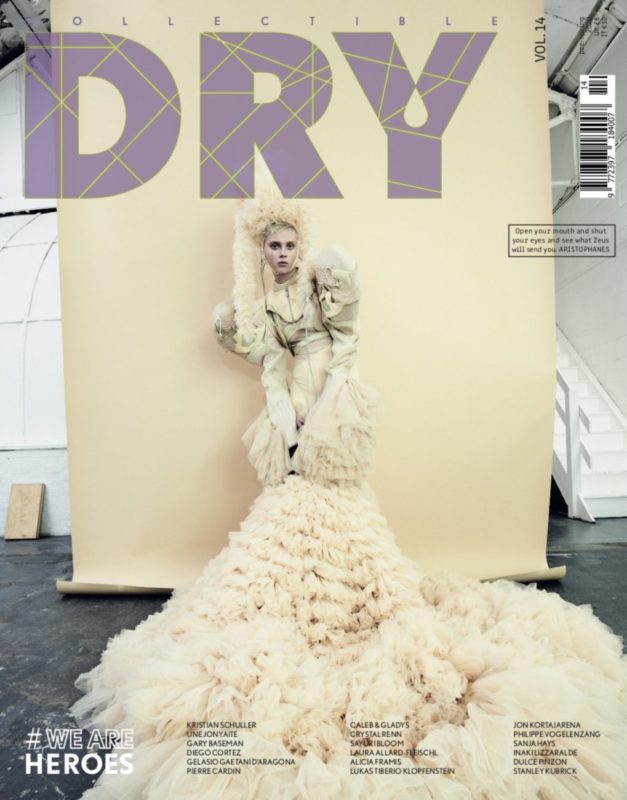 ON COVER WE ARE HEROES
Une Jonyaite wears a mermaid dress with long ruffled skirt Windowsen
Dance with joy. As Tiffany declares, the highest authority in jewelry as a token of love, "The feeling that unites two people creates a flow of energy, arousing sensations of happiness and optimism". So Tiffany & Love For Her and Tiffany & Love For Him: just launched and already bestsellers, the two bright fragrances have different bouquets but "tied" in the sharing of the blue sequoia, a precious woody note that recalls the iconic shade of the Maison. Tiffany
Photography Kristian Schuller @Andrea Blood & Co Management. Fashion Sayuri Bloom. Make Up Shinobu ABE @CLM. Hair Keiichiro Hirano @Thelondonstyleagency. Casting Director Andrea Deanesi. Model Une Jonyaite @Premier Model Management. Photographer Assistant Florian Koellisch and Chris Chudleigh. Assistant Angeliki Sofronas.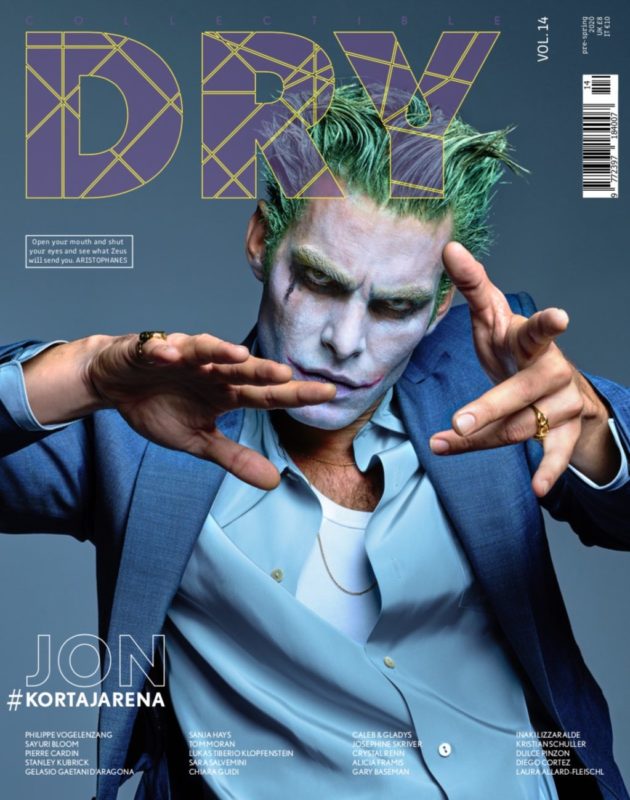 ON COVER WE ARE HEROES
Jon Kortajarena wears a tail-coat suit with a short cut jacket Moschino
The type of man who hides the feeling with a veil of irony perfectly fits with an aura of Moschino Toy Boy, the new brand's fragrance of that amazes and always entertains with maximum charm. Amber woody-spicy freshness with surprising floral notes, including the unusual Rose NeoAbsolute, exclusive reinvention of the classic rose, the Eau de Parfum in several ounces is presented in the teddy bear bottle: here it is, the real toy. Moschino
Photography Philippe Vogelenzang. Fashion Andrea Colace. Model Jon Kortajarena @Select Model Management. Make Up Kathinka Gernant @Unspoken Agency using @Chanel and Egyptian Magic. Hair Hester Wernert @WSchupfer. Photographer Assistant Jorin Koers. Fashion Assistants Rashmita Goyal and Vasudha Arora.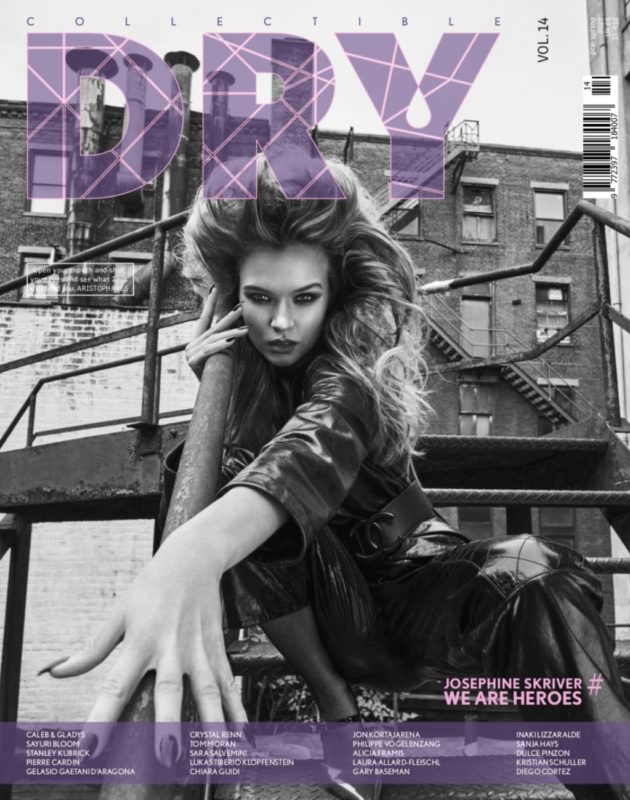 ON COVER WE ARE HEROES
Josephine Skriver wears a shiny lambskin jumpsuit and shoes Chanel
Personalities who make their mark. Starting from the manicure maquillage: here Chanel with Le Vernis N. 18, Rouge Noir, and Rouge Allure Ink Fusion No. 828, velvety radiance for the lips. Ultra Teint Velvet face base, Stylo Yeux Waterproof No. 451 eye contour, Khaki Intense, Ombre Première No. 58, Poupre Brun, shading. All by Holiday 2019 Collection Les Ornements de Chanel
Photography Caleb&Gladys. Fashion Sayuri Bloom. Make Up Victor Noble using @Maybelline. Hair Felix Fischer @Factorydowntown using @Kérastase (Factory Downtown). Hair Assistant Connie Tsang. Manicurist Kana Kishita using @Apres Nails. Producer Jean Jarvis @area1201. Production Assistant Rafe Andrews. Retoucher Mario Seyer. Model Josephine Skriver @Model Management Hamburg. Photographer Assistant Fernando Sippel.
-In USA/WORLDWIDE it will be out late FEBRUARY-
PHILIPPE VOGELENZANG /
ANDREA COLACE
LAURA ALLARD-FLEISCHL / JESSICA DAOLIO
TOM MORAN \
RICHARD SLOAN
AU PALAIS DE TOKYO à PARIS