Chantecler celebrates 70 years with a new collection of Campanelle
Text by: Rebecca Rizzi
With its unique Faraglioni set against a deep blue backdrop, fragrant lemon trees adorning jewel-box streets and the flavor of a place forever immune to the passing of time, the island of Capri was the place to be for any celebrity in the shining seventies. Swirling around the mythical Piazzetta, the touristic elite of Hollywood divas and political personalities, from Maria Callas to Audrey Hepburn, from Liz Taylor to Franklin Delano Roosevelt, all found a common landmark in Chantecler's boutique on Corso Vittorio Emanuele.
Thank you for your artistic taste, my fabulous Chantecler. The incision inside the signature campanella is a tribute to the words pronounced by Jacqueline Kennedy as she stepped outside Pietro Capuano's store, while Grace Kelly made her way in.

Chantecler's tale began in 1947, when Pietro Capuano, nicknamed Chantecler due to his habit of entertaining the islanders' nights till sunrise, and Salvatore Aprea, a law graduate with a goldsmith vocation, opened the first shop in Capri, crafting lively, carefree jewelry that soon attracted stars from all corners of the globe. Since then, the Maison established its headquarters in Milan and opened stores in Tokyo, Astana and Hong Kong, amplifying visibility while carrying out its glorious tradition to this day.
Anima 70, the new collection celebrating Chantecler's most iconic symbols
The Italian boutique celebrates 70 years of activity with a new collection, a special edition of 22 precious jewels: 4 rings, 8 earrings and 10 pendants, small, medium and large-sized, capturing the brand's distinct spirit. The outer shell is available in all three golds, studded with diamonds, emeralds, rubies and blue sapphires. A small rooster, the label's symbol, is enclosed in a heart-shaped diamond frame.
Iconic items revisited with modern touch. Anima 70 interprets Chantecler's much-loved classics with contemporary appeal: Campanella, Rooster, Logo, Corno (Horn) and Joyful. Some of the standout jewelry in the collection include delicate necklaces to be worn alone or in layers, vibrant multi-charm bracelets, small pendant bells and hoop earrings. Colorful gems and precious stones, assembled with the finest Italian craftsmanship, reflect the light and colour of the Parthenopean island, thanks to a successful combination of corals, turquoise, kogolong and onyx.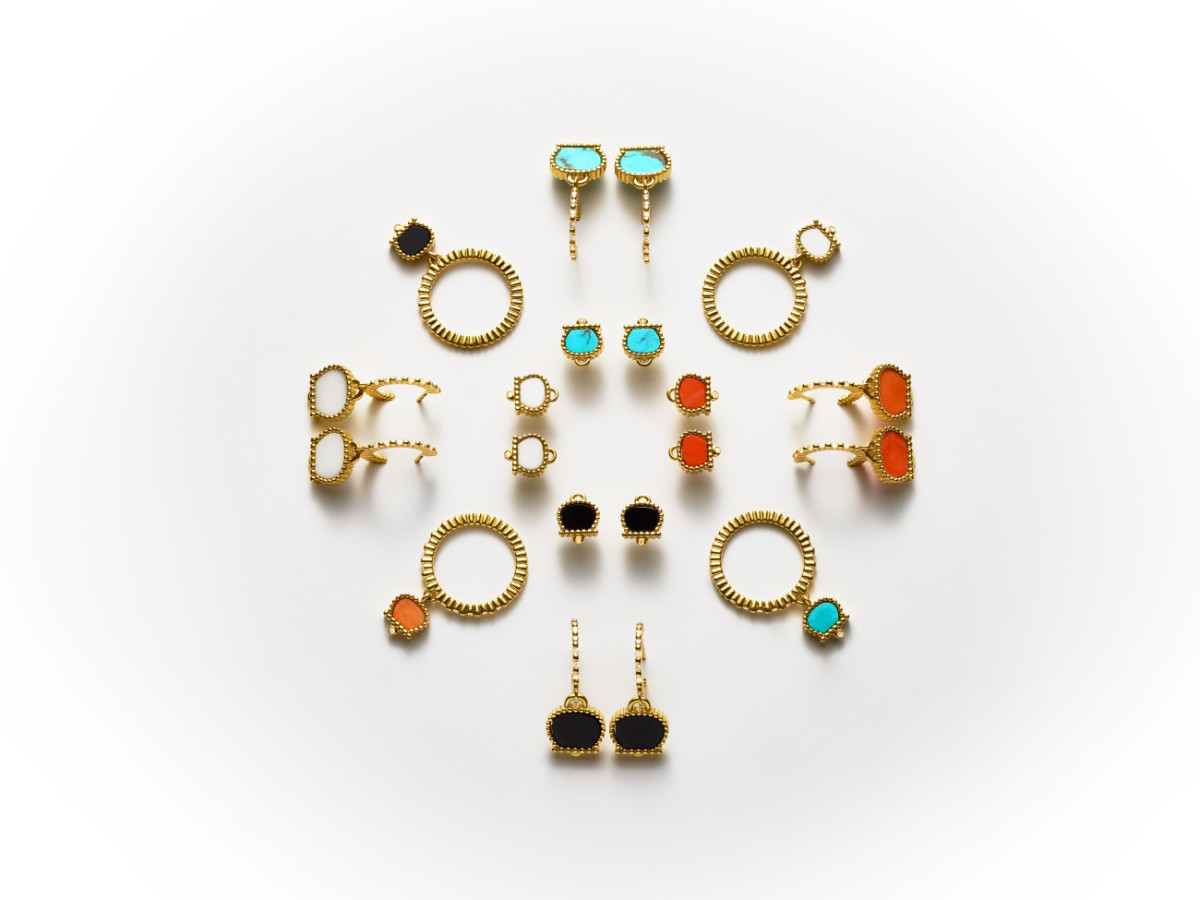 A secret oasis where one can dive into the essence of Capri's myths and icons
Luxury Hotel Capri Tiberio Palace joins Chantecler's celebration by naming one of its most beautiful suites after the high-jewelry Maison.
An island within an island, the hotel is a secret retreat; the atmosphere is pervaded with the irresistible beauty of la Dolce Vita, able to satisfy the most demanding globetrotters. Appointed with the task of restyling the hotel, architect Giampiero Pinto created a place of refined and eclectic elegance where past, present and future blend together harmoniously, dancing to the same tune.